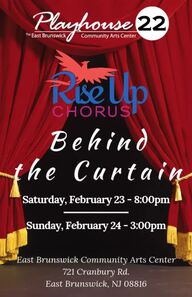 Return to flip book view
Behind The Curtain
Page 1
Page 2
From theArtistic DirectorThe adventure began about a year ago; at the time, it was just a thought -- a "spark" of an idea. However, the thought has since blossomed into the execution of something much larger than we ever could have imagined, and I am so honored that you are sharing this production with us today.It all started right here at Playhouse 22. Angela Dohl (Board member of both Rise Up Chorus and Playhouse 22) and I had been talking since early 2017 about a collaboration between Rise Up Chorus and Playhouse 22, but the timing didn't seem to work. After many informal conversations, Angela brought Adam Neary (Executive Producer of Playhouse 22) and me together to discuss the possibility of some sort of collaboration, a joint venture between Playhouse 22 and Rise Up Chorus. It didn't take much time to realize that our two organizations were a perfect match. Immediately, the ideas started flowing, and we had a plan. Adam identified Rupert Ravens (a Playhouse 22 director and actor) who would be a perfect producer to represent Playhouse 22 in this joint venture. Angela Dohl volunteered to be Rise Up Chorus' representative producer, and, without hesitation, I agreed. With these two in place, I already knew we were in great shape.The following months included behind-the-scenes meetings, emails, and phone conversations between Angela, Rupert, Mary McGuire (Youth Chorus Director with Rise Up Chorus), Thomas DeLessio (Rise Up Chorus' Collaborative Pianist), and me. In these meetings, we fleshed-out the details -- repertoire, vision for the production, general story line, and we identified possible script writers. We even created the title, "Behind the Curtain."Our next step was to identify the script writer. Rupert quickly settled on Fred Dennehy, a regular Playhouse 22 actor and brilliant writer, who agreed to give our script a "go." From the very first draft of the script, we saw vision - we saw direction. It all started to make "sense."
Page 3
COME AND SING WITH US!Rise Up Chorus' next session begins Friday,March 15, 2019All are welcome, no auditions necessary!For information and to sign up email or call: mlapine@riseupchorus.org  732-662-4469Sunday,June 220195:00 pm"An Evening Of American Composers"The Barn at the Willow SchoolGladstone, NJJOIN US AT OUR NEXT PERFORMANCEThe characters we dreamt-up around a dining room table had a voice, they had life. We could see their faces, we could hear their voices. There were subtleties in the script that only a true artist could have created. I was so excited! For the purposes of the flow and timing of the production, there were a couple more drafts of the script. Finally, it was ready!During this drafting period, Angela had been in touch with a friend of hers, Kate Raymond (choreographer and Board member of Playhouse 22) about including dance into a few songs of the production. She also quickly agreed, and thus began rehearsing with a cast of dancers.The set was one of the things we planned right in our very first meeting, and, thanks to Matt Nickles, the set has come alive. Jennifer Moffett has designed the lighting to help us tell our story, and Monica Alia designed the sound so that each piece of dialogue and every note of the music is crystal clear to you, our audience.There were so many people who worked on this project, and each one of them played a crucial role in its production and success. However, I would be remiss to not mention the countless hours over a period of months that Chris Bishop (President of Rise Up Chorus) and Rise Up Chorus' Fundraising Committee put into securing a grant from the Middlesex County Board of Chosen Freeholders. Without this grant, we would not have been able to afford to produce "Behind the Curtain." It has been his vision and leadership that has kept Rise Up Chorus running strong, and I couldn't be more grateful.It's time for the show to begin -- "Another Op'nin, Another Show!"
Page 4
Much effort by many people has been required to get us to this day, and there are so many to thank for bringing this event to fruition. On the occasion of this concert, only ourfifth since our formation, we extend our heartfelt gratitude…To Playhouse 22 in East Brunswick for working with us to provide such a wonderfulstaging and venue for this concert. To Father Zelley and the staff of St. Luke's Episcopal Church in Metuchen forallowing us access to sorely needed and much appreciated rehearsal space. Theirbelief in our mission and trust in us has laid the groundwork for a brilliant andhopefully lasting collaboration between their faith community and the community atlarge. To our Chorus Members, both adults and youths, for their time in practicing andpresenting the music we share this weekend. Whether with Rise Up Chorus since thebeginning or newly joining this session, their efforts are acknowledged and very muchappreciated.  To our Donors for their generous financial support towards this second year for RiseUp Chorus. It is difficult to adequately express how much we appreciate their creativeapproaches and personal sacrifices towards funding all that we do. Thesecontributions, and those that we hope will come following your example, are essentialto the communities we serve. To my fellow Board Members and Committee Members for the support theyvolunteered for Rise Up Chorus from their time and talents for these many priormonths of planning, refining and fund-raising for the organization. Special thanks toAngela Dohl for her creativity and hard work in preparing this program booklet, andfor connecting us to the possibilities of working with Playhouse 22. Without all thesetalented indivduals, we would have been unable to bring this organization forward forthe benefit of its members, the community, and those we will serve over the comingyears. To our Founders and Music Professionals for their vision, and selfless contributionsof artistic and technical talent. Matthew LaPine, Jessica LaPine, and Thomas DeLessiocalled this organization together from their vision, and they, together with YouthChorus Director, Mary McGuire, help us to see all that is possible through music. Rise Up Chorus would simply not exist without the contributions, dedication and trustof all those mentioned. We are so very grateful that we are on this journey togetherwith you!With sincere appreciation to all,Chris M. BishopPresident, Board of TrusteesRise Up Chorus Inc.
Page 5
Grant funding has been provided by the Middlesex County Board of Chosen Freeholders Through a grant award from the Middlesex County Cultural and Arts Trust FundDonations to Rise Up Chorus can be made directly at our website www.riseupchorus.org or by mail to:Rise Up ChorusPO Box 4335Metuchen, NJ 08840Rise Up Chorus is a registered 501(c)(3) non-profit organizationRise Up Chorus is made possible bythe generosity of the following donors:AnonymousIsabel BadilloNancy BelfordJane & Robert BerrySuzanne & Chris BishopLaura BogertCarol & Glenn BrinksYolande CallenderB.J. CamireStephen CaputoO'Neil CassellsJack ClaypotchMike ConroyTina CorserTina Kush CrepezziKathy & Chris DaltonJoann DanielsDottie DargisChristine & Thomas DeLessioNancy DuddyGJ FlanneryDonald GibsonSusan HamiltonDeborah Herman &   Jeffrey SteinhornSusana HernandezCheryl HicksKristina HornSusan JankiewiczStanislav Jaracz Andy Kennedy-SiebertSusan KingsleyDavid KirpanTed & Norma KleinJessica & Matthew LaPineLinda LaPineChris LeslieDiana LuntAmy MalzoneDiane MansmannKaren Meyer MarkleyJean MeyersMaryann McGuireAlexis MonacoThe Morace Family FoundationWeng PinedaBob PublikShelley & Steven RohanAlan RogersBarbara & Robert SandermanKaren SiegelTrish & Bryon SmithShirley SmoyakKathleen & Michael SpadafinoMargie & Thomas ThomasThrivent FinancialMelissa TiceRebecca WeisbergBeth WilsonAnne & John Wright
Page 6
Page 7
Page 8
Page 9
Page 10
Page 11
Page 12
Behind theCurtainScript by Fred DennehyEmily - Phoebe HallGramps - Mike LevineDancers - Lynda Chornomaz, Angela Dohl, Michele Greenspan, Kimberly Hart, Megan Liberty, Angie RicciProducers -Rupert Ravens, Angela DohlArtistic Director -Matthew LaPineAdultChorusDirector -MatthewLaPineYouthChorusDirector -Mary McGuireCollaborative Pianist - Thomas DeLessioChoreographer - Kate RaymondStage Manager-Adam NearySet Design -Matt NicklesLighting Design -Jennifer MoffettSound Design -Monica Alia The CastGrant funding has been provided by the Middlesex County Board of Chosen Freeholders Through a grant award from the Middlesex County Cultural and Arts Trust Fund
Page 13
Behind the CurtainThe Setting -Modern DayThe Place-A BedroomAnother Op'nin, Another ShowSingin'In The RainI Just Can't Wait To Be KingNot While I'm AroundI Got RhythmFor GoodAlways Look On The Bright Side of LIfeLittle Shop Of HorrorsDo You Hear The People Sing?Kiss Me KateSinging In The RainThe Lion KingSweeney ToddCrazy For YouWickedSpamalotLittle Shop Of HorrorsLes MiserablesI N T E R M I S S I O NBe Our GuestSomewhereAgonyI'd Do AnythingDo, Re, MiThe Impossible DreamFootlooseBeauty And The BeastWest Side StoryInto The WoodsOliver!The Sound Of MusicMan Of La ManchaFootlooseProgram funded by Middlesex County, a partnerof the New Jersey State Council on the Arts.
Page 14
Isabel BadilloMaria BalboaCarol BaldiNancy BelfordNancy BernheimerTom BishChris BishopSuzanne BishopBruce BussellMachiko CaputoStephen CaputoSue CeaAlison ChaplinMary Jane ConnollySherri DamociChris DamociAnita DaughertyKenneth DengLynne DengAngela DohlShauna EvansElly FadenFord FosterMichael GuidoKaren HartSusanna JamisonKaren KeitherSusan KingsleyDavid KirpanTerry KohlMaryLu KorkuchStephanie LaCavaLogan LaudenslagerChris LeslieDiane MansmannAngela MartinezJoan MastMary McGuire Maryann McGuireJean MeyersDanielle MiyagishimaBeth MoroneyMary Jo PaulmennJo Ann PollEmily PresutoLinda PrietoAmy RosenbergLuisa SchoepfEric SchwarzMickey SeppiKaren SiegelShirley SmoyakKathy SpadafinoKathy StaegerDonna TiuLaurie WoodAnton YudinSarah OgariNikul MalooRobert PagliaKanisha ShivDillen AlenBecca CordraySophia DimayugaJakub JaraczYouth Chorus MembersAdult Chorus MembersMartina JaraczovaAnna LeonMildred OgariRise Up Chorus Board MembersChris M. Bishop -Board PresidentThomas DeLessio - Board AdministratorAngela Dohl - Events ManagerSusan Kingsley - Communications ManagerJessica LaPine -Board MemberMatthewJ. LaPine - Founder & Artistic DirectorKathleen Spadafino - Director of Education& Outreach
Page 15
Page 16
Page 17
Page 18
Page 19
Page 20
Page 21
Page 22
Page 23
Page 24