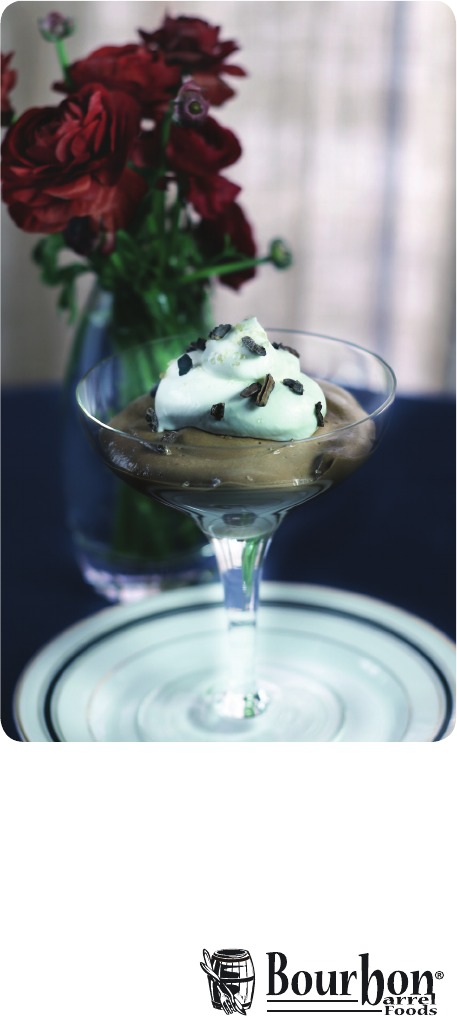 In a small saucepan, add about an inch of water and
bring it to a simmer. Place a small, heatproof bowl over the
saucepan and add the chocolate, butter and a pinch of
smoked salt. Over low heat, cook just until the chocolate
melts. Remove from heat. Stir to combine.
Spoon ¼ of the chocolate into the egg yolk mixture and
mix just until combined. Pour this mixture into the remaining
chocolate and place over the simmering water in the saucepan. Add the vanilla extract. Stirring constantly,
cook over low heat for two minutes or until the mixture thickens. Remove from heat and cool for a few
minutes, stirring frequently.
Stir in 1/3 of the whipped egg whites into the cooled chocolate mixture. Gently fold in the remaining egg
whites. Gently fold the chocolate mixture into the whipped cream, being careful not to over mix. Pour the
mixture into two serving cups or bowls and refrigerate for a minimum of 4 to 6 hours.
To serve, sprinkle top with a pinch of smoked sea salt, a dollop of whipped
cream and smoked cacao nibs.
* this recipe easily doubles to make 4 servings
bourbonbarrelfoods.com
Method
1.
Set a medium pot of salted water to boil. Place our in a shallow dish. Season cutlets with Bourbon Smoked
Sea Salt And Bourbon Smoked Citrus Pepper. Dredge cutlets in our, shaking off excess. In a medium
skillet, heat 1 tablespoon oil over medium-high. Lay chicken in skillet, cooking until light golden brown on
one side and edges look opaque and cooked, about 3 minutes. Flip, adding remaining oil as needed and
cook for 1 to 2 minutes more. Do not overcook. Transfer to a plate.
2.
Add broth to skillet and bring to a boil. Cook until reduced slighlty. Add artichokes, capers and the chicken,
along with any juices. Gently shake to combine and bring just to a boil. Remove skillet from heat. Swirl in
butter and cover to keep warm.
3.
Add pasta to boiling water. Cook until al dente as instructed on package. Drain. Divide pasta between
two plates. Lay two chicken cutlets and sauce over pasta. Top with parsley and grated Parmesan cheese.
Garnish with a lemon wedge.
* this recipe easily doubles to make 4 servings
Serves 2
1 large egg white
½ cup of heavy cream (plus extra to whip for garnish)
1 large egg yolk
2 Tbsp granulated sugar
⅓
cup semi-sweet or dark chocolate, chopped
1 Tbsp of butter, unsalted pinch Bourbon Smoked Sea Salt,
plus extra for garnish
½ tsp Bourbon Barrel Aged Madagascar Vanilla Extract
1 Tbsp Bourbon Smoked Cacao Nibs
Method
1.
In a small bowl with a clean whisk or electric hand mixer,
whisk the egg white until it forms stiff peaks. In a medium
bowl, whisk the heavy cream until it forms stiff peaks. Set
both aside in the refrigerator.
2.
In a small bowl, beat the egg yolk and sugar for 2 to 3
minutes or until it becomes thick and pale in color and
the sugar dissolves. Set aside.* this recipe easily doubles
to make 4 servings
CHOCOLATE MOUSSE WITH SMOKED
CACAO NIBS & SEA SALT