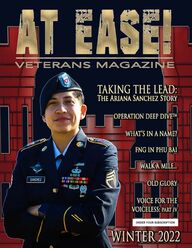 Return to flip book view
AT EASE! Veterans Magazine Winter 2022
Page 1
Page 2
Page 3
PUBLISHERDevil Doc PublishingEDITORChristine WalkerINTERIM ASSISTANT EDITORLes StevensonSTAFF WRITERSEric McNailLes StevensonChristine WalkerFEATURE WRITERSDaniel DancerChristina MortelRomy MortelCristie RemmelStuart SaxPaul SullivanSALES STAFFEric McNailJennifer McNailChristine WalkerLAYOUT & DESIGNChristine WalkerCONTRIBUTING WRITERS:Richard F. AllenChuck 'Jarine' BradleyDavid DrakeGy.Sgt. Jesse EsterlyJames BoydAndrew HastyDiane HightOlivia HughesSgt.Maj. G. LealOperation Deep DiveTMTony PriceShannon RobinsonJim RobertsAaron RochaBob WartmanFIND US AT:TheATEASEmagazine.comCopyright 2021-2023 © AT EASE! Veterans Magazine and Devil Doc Publishing All Rights Reserved.AT EASE! Veterans Magazine, a subsidiary of Devil Doc Publishing, reserves all rights connected to all copyright and proprietary property contained in our official publication, website(s), social media accounts, videography, email marketing, branding and printed materials. This includes, but is not limited to, authoritative and/or written content, photographs, graphics and infographics, ad design, artwork including official company logos in design, color, and format and video(s). Any use of the above aforementioned in whole or in part may not be used for any reason without the express written consent of Devil Doc Publishing. The subject matter and opinions of Contributing, Feature and Staff writers are their own and are covered under their First Amendment Rights.A MESSAGE FROM THE EDITORA MESSAGE FROM THE EDITORChristine WalkerWinter 2022 | AT EASE! Veterans Magazine 3Cover Photo: SSG Ariana Sanchez Photographer: SGT Bradley Payne, Sapper Training Management NCOAs we look forward to our third publishing cycle for 2023, I can't but help to look back and see how our publication has grown, not only in readership and pages, but more so in what the heart of AT EASE! Veterans Magazine has become.As Veterans, we are intrinsically connected to one another. And regardless of war era, branch or MOS, the ties that bind us together as those who served are unbreakable. Like a tapestry, each Veteran who served, whether in a support or combat role, adds a thread to the tapestry of military history and tradition. We've seen a lot of changes in our country over the past 80 years. And I dare say, some have been great, some good, but unfortunately some recent changes threaten to undermine the fabric of our Constitutional Republic and our God-given freedoms. We are all aware that there has been a growing movement to silence anyone whose school of thought does not mirror the presiding narrative of the approved echo chamber. As a publication, there is denitely pressure to water down our voice to be more acceptable to that storyline. Most publishers will succumb to some level of appeasement for the almighty ad dollars. But rest assured, Devil Doc Publishing is not 'most publishers' and AT EASE! Veterans Magazine is most certainly, not your typical publication. As Veterans, every single one of us has been forged in the re, and therefore, most of us still have a backbone of steel. What that means to us as a Veteran community, is that we have the maturity and common sense to agree to disagree, knowing that at the end of the day we are still family! Our commitment to our readers and what that means to the magazine's future content is that we will not yield to prevailing and ever-changing political ideologies. From its inception, AT EASE! Veterans Magazine's purpose was to give a real, honest, and often unltered voice to our fellow Veterans, and we will continue on that mission. As we complete our second year, it has denitely been one hell of a ride! As our team grows, we look forward to bringing you more amazing stories and content from Veterans across our Nation. MERRY CHRISTMAS & HAPPY NEW YEARMERRY CHRISTMAS & HAPPY NEW YEAR, from all of us at AT EASE! Veterans Magazine!
Page 4
Table of ContentsTable of ContentsMessage from the Editor 311th Hour of Hope 9It's A Wonderful Life 11DD-214 & Beyond 22The 70/20/10 Model 24Forever Young Veterans 32Gold Star Stories 34On Air with Stuart Sax 38'I Remember When...' 40Outside the Foxhole 41Paws for Purple Hearts 42OCB's Five Paragraph Order 44What's In A Name 46V2VG: To Honor 'Old Glory' 48From My Point of View: Finding Wisdom 51The War At Home & Within 52A Voice for the Voiceless, pt. IV - Alex Harkrider 54Story One: Arrival at Dong Xoai 56TAPS 61Book Review: 'Heroes Live Here' 62Book Review: 'The Ivy Hero' 63 Fitness: Yoga for the Wounded 64Veterans Path 66Remembering the Four Freedoms 6825 Veteran Podcasts 70Crossword: 'Winter' Scavenger Hunt 72Excerpt from 'Born in a Bar II' - Buffer Rodeo 73Army Issued? 74Coming Up in our Next Issue 7613EVERY VETERAN HAS A STORY TO TELL2520TAKING TAKING THE THE LEADLEADTAKING TAKING THE THE LEADLEAD4 AT EASE! Veterans Magazine | Winter 2022Silent NightSilent NightSO WHY THE QR CODES? It is simply a way for us to utilize technology and help make your reading experience more interactive. IT'S EASY!1. Open your phone's QR Reader or Camera.2. Hold it over the QR Code3. A drop down link will appear, just tap it and it will take you to the extra content/website.630302525NOT ON OUR WATCH!If you are a Vet struggling with thoughts of suicide, know that you are NOT ALONE! You are loved and there is no shame in reaching out for help! VETERANS CRISIS HOTLINE988Press 1 For Immediate Help
Page 5
LtCol Stuart Scheller, USMC LtCol Stuart Scheller, USMC Recently, I had the privilege to speak with LtCol Recently, I had the privilege to speak with LtCol Stuart Scheller, well known for his now infamous Stuart Scheller, well known for his now infamous video calling on top brass to video calling on top brass to be accountable for their lack of be accountable for their lack of leadership in the 'reckless' and leadership in the 'reckless' and horric pull-out from Afghanistan. horric pull-out from Afghanistan. Since his separation from the Since his separation from the Marine Corps, Stuart has authored Marine Corps, Stuart has authored a book titled a book titled Crisis of Command: How We Lost Crisis of Command: How We Lost Trust and Condence in America's Generals Trust and Condence in America's Generals and Politiciansand Politicians that dives into his mindset, the that dives into his mindset, the subsequent aftermath of his decision, and his subsequent aftermath of his decision, and his continued vigilance to hold high-ranking Generals continued vigilance to hold high-ranking Generals feet to the re. feet to the re. Clearly, there is so much more to his story than Clearly, there is so much more to his story than sound bites and social media posts. sound bites and social media posts. AT EASE! Veterans Magazine is excited to announce AT EASE! Veterans Magazine is excited to announce that LtCol Stuart Scheller will be our cover story for that LtCol Stuart Scheller will be our cover story for our Spring 2023 issue. In our exclusive interview, our Spring 2023 issue. In our exclusive interview, we will delve into the stories never we will delve into the stories never heard before, as well as follow his heard before, as well as follow his 17-year career that forged him in 17-year career that forged him in the re, preparing him to confront the re, preparing him to confront the hypocrisy, lack of integrity, and the hypocrisy, lack of integrity, and politicization creating the perfect politicization creating the perfect storm causing the death of thirteen storm causing the death of thirteen services members on August 26, services members on August 26, 2021. 2021. Whether you agree or disagree with Whether you agree or disagree with LtCol Scheller's actions, you will LtCol Scheller's actions, you will not want to miss this story. It will not want to miss this story. It will be honest, possibly unltered, and be honest, possibly unltered, and real! real! Owner | Editor in Chief** Our Print edition has limited copies and sell out fast! Make sure to pre-order your Print Subscriptions & Single Copy Print orders prior to February 1, 2023. To Pre-Order this issue or Subscribe to AT EASE! Veterans Magazine, Scan the QR Code below: theateasemagazine.com/subscribe
Page 6
6 AT EASE! Veterans Magazine |Winter 2022DoD data focused on male and female FSMs between the ages of 18-64. This population provides the greatest detail of the military service experience and is validated by DoD.3OpDD™ used the denition of SIM cited by the CDC and NIH as accidents or undetermined deaths aligned with self-harm/suicidal behavior, which have been attributed predominantly to overdose deaths.MAJOR FINDINGSStates undercount FSMs deaths at a combined error rate of 25%• States undercounted FSMs status 18% of the time and counted non-FSMs as FSMs 7% of the time.OpDD™ identied a 37% greater suicide rate than reported by VA for years 2014-2018. The difference in the data is likely due to under-counting of FSMs deaths and the greater specicity of the decedent's demographics, military experience, and death details available to OpDD™.OpDDTM identied that the number of suicides represented in the eight states (18% of US veterans), are 1.37 times greater than reported by the VA from 2014-2018. If these eight states and age adjustment represented a national rate:OPERATION DEEP DIVE™ SUMMARY OF INTERIM REPORTEXECUTIVE SUMMARYOperation Deep Dive™ (OpDDTM), a former service member (FSM)1 suicide and self-injury mortality (SIM)2 study encompassing eight states and ve years of death data corroborated by the Department of Defense (DoD), indicates that FSMs take their own lives each year at a rate approximately 2.4 times greater than previously reported by the Department of Veterans Affairs (VA). OpDD™ data analytics was able to identify FSMs with the greatest probability of taking their own life. This interim report highlights the need to expand data sets to include additional states and the VA, and jointly identify suicide and SIM prevention efforts for FSMs. The implications of the data for prevention analysis and prevention application raise awareness to help prevent FSMs from taking their lives because "Together, We Can Do Better."ABOUT OPERATION DEEP DIVETMAmerica's Warrior Partnership (AWP) has contracted with the University of Alabama to obtain state data. In phase two, AWP has contracted with Duke University to analyze state-provided death data, coordinate with DoD to corroborate military afliation, and identify commonalities of the person, military service, and their death. This rst phase of OpDD™ was funded by Bristol Myers Squibb Foundation.OpDD™ has examined ve years of FSM and civilian death data from eight states: Alabama, Florida, Maine, Massachusetts, Michigan, Minnesota, Montana, and Oregon.In our Spring 2022 PTSD feature, we wrote an article on the Veteran suicide rates based on the VA's 2021 annual report. In reading the fine print of that report, we found that they were utilizing their 2019 data, essentially making the 2021 report void. In October, I saw a news article, explaining that the Suicide rates among Veterans was much higher than previously reported. This data came from Operation Deep DiveTM, of America's Warrior Partnership. I reached out to the lead investigator and through that conversation, we created a partnership to follow their ongoing study and share that information with our readership, as it continues to become available.Christine Walker | Editor in ChiefAll data and graphics are used with the express permission of America's Warrior Partnership and Operation Deep DiveTM. NEW STUDY FINDS VETERAN SUICIDE FAR EXCEEDS VA REPORTS
Page 7
Winter 2022 | AT EASE! Veterans Magazine 7• Approximately 24 FSMs die per day by suicide (determined by coroner or medical examiner) compared to the VA's 2014-2018 average of 17.7 veteran suicides per day.• Approximately 20 FSMs die per day by Self-Injury Mortality (SIM)– previously listed as accidents/undetermined – over 80% are coded as overdose deaths.• If these eight states collectively represented the national rate, the combined death rate would be at least 44 FSMs per day which is 2.4 times higher than the VA suicide rate.OpDDTM analysis identied military service experience characteristics to rene the identication of FSMs with the highest probability of taking their lives.• The longer someone has served in the military, the lower their probability of taking their own life is 2% for every year served.• Those who served in the military for less than three years were at greatest risk for suicide/SIM.• Receiving a demotion during military service increased the FSM's odds of dying by suicide/SIM by 56%.• FSMs from the Coast Guard were most likely to die from suicide/SIM, followed by Marine Corps, Army, Navy, and Air Force.OpDDTM analysis exposed lifestyle experiences to rene the identication of FSMs with the highest probability of taking their own lives.• In general, gender and race diversity were not associated with increased odds of suicide/SIM. Most FSM suicides and SIM were male and white.• Local and state communities differed for at-risk demographics and specic areas of concern depending on the characterization of FSMs in the community.• Living with a partner decreased the odds of suicide/SIM by nearly 40%.• Data indicate that FSMs are at a higher risk of dying from suicide/SIM or natural causes such as heart disease or cancer before age 64 than those who never served in the military.RECOMMENDATIONS• SIM must be included in any analysis of FSM and veteran death.• Improvements are needed at the local, state, and national levels regarding death reporting:o Data standardization and the use of ICD codes regarding suicide and SIM would improve insights.o Coroners and Medical Examiners need better funding with standardized tools and approaches for accounting for FSM deaths.o DoD and the VA should make available a tool for coroners/medical examiners to validate military service as a part of the death record.• VA must share data to ll in important gaps in OpDDTM datao Incorporating other sources of data, such as VA health care and benets, will improve the success of prevention approaches.o Integrating identied state death data with military service data enables the nation, states, and counties to develop impactful/measurable suicide/SIM prevention approaches.• States must make death data available, with proper controls, for research purposeso More state data are needed for OpDDTM. By participating in OpDDTM it will help the states and counties reduce FSM death.• This can be used to effectively identify those at higher risk. Increased participation by states will provide further details and data accuracy to assist in greater specicity of those most at-risk.One-size-ts-one approach is needed to prevent premature non-natural death. Former service member suicide and SIM methods of death differ signicantly from state to state and from community to community.• Prevention strategies must begin at the community level by holistically focusing on housing, meaningful employment, nancial security, relationships, purpose, physical health, and mental well-being. Solely focusing on the mechanism of death does not address the root cause of suicide/SIM.NEXT STEPS FOR OPERATION DEEP DIVETM• AWP moved OpDD™ to Duke University in order to expand the data set over the next four years and develop strategies that can be used at the national, state, and county levels to prevent FSM deaths.• Increase the number of states sharing data and participating in OpDD™• Incorporate US Department of Veterans Affairs data into OpDD™• With a larger data set, further analyze the cause of death in relationship to:o Years of military serviceo Time since discharge from military serviceo Characterization of dischargeo Military Service, Specialty, and Unit of Assignmento Military deployment historyo Incidents occurring during military service (e.g., MST, trauma, or exposure)o Protective factors of those who transition in the National Guard or Reserve prior to deatho Services received from the Department of Veterans Affairso Community services available• Work with government and non-government stakeholders to use OpDD™ ndings to help prevent FSM suicide/SIM.For more information regarding study design, methodology, data, and limitations, please refer to the Methodology Report.TO FIND OUT MORE ABOUT OPERATION DEEP DIVETM, SCAN THE QR CODE >> OR VISITAMERICASWARRIORPARTNERSHIP.ORG/DEEP-DIVE
Page 8
8 AT EASE! Veterans Magazine | Fall 2022
Page 9
Winter 2022 | AT EASE! Veterans Magazine 9There is no doubt that many Veterans experience food insecurity. It is a terrible thing to not have the basics of survival. This situation is exacerbated in many areas including in the Northeast Region of our nation due to the rising costs of utilities, where many have to choose between food or heat. Thankfully, there are a variety of organizations and charities that step up to ll in the gap and try their best to help. One of these groups was, for a brief time, Project New Hope of Vermont. This chapter of the larger Project New Hope organization assisted many Veterans in the immensely undeserved Middle and Northern Regions of Vermont and New Hampshire. Not only providing food, but by providing a variety of other needed items as well. Some of these items included feminine hygiene items, baby formula, diapers, incontinence pads, and so much more. These items were distributed freely to all Veterans based upon service and the folks who worked and volunteered there were patriots of the nest order.One of those volunteers, Heaven Leigh, who comes from a proud military family, was counted among them. Her goal and her mission is to serve those who served us. And we here at Veterans2Veterans Group couldn't agree more. Lesia Vorachak, another Volunteer, and a board member of V2VG, informed us in September of 2022 that the Vermont Project New Hope ofce needed an immediate influx of new families to support in order to avoid being shut down due to nancial constraints. Right away we contacted many of the Veterans we serve and created a list of families who needed the assistance. It wasn't difcult and the families were excited to be enrolled in what we both thought was going to be a new program.Although the Vermont Project New Hope ofce was over an hour away, the President and Vice President began to take trips down to the ofce and load up boxes in order to deliver them to the needy Veteran families further up in New Hampshire. This was a much appreciated, and desperately needed service. On October 28th , just one month later, they received an email that not only would the Vermont Project New Hope ofce be shutting down, but that they would be closing down THAT DAY. This was, as one could imagine, shocking to the Veterans who were coming from miles away the next day to get an allotment of food. Even more appalling, was the fact that locks on the doors had been changed seemingly overnight and the staff and volunteers had no access to the building. There was nothing that could be done. By all appearances, the decision to shut the ofce down had already been made in September. Heaven and the other volunteers were not offered a ghting chance to increase their numbers signicantly and the Veterans in need were forced to turn around empty handed. As emotionally and mentally shattered as Heaven was about the situation, she did not give up. She immediately pivoted and contacted her friend Lesia who serves as the 2nd Vice President of ALA and the AL Riders Historian at the Guyer-Carignan American Legion Post 22 in Lebanon, New Hampshire. Heaven thought of a new idea to help 'My Veterans', as she affectionately calls them. And with the help of Leisa, the blessing of the American Legion Post 22 Commander, Mr. Ken Olney, and support of the on-site Veterans of Foreign Wars Commander Travis Bill, Heaven established an independent food and supply distribution program within just a few short weeks, operating out of the Post 22 building. This new program is generously supported by the Lebanon Food Co-Op Operations Manager, Doren Hall, along with private donations.To that end, if you are a Veteran and you and your family are experiencing food insecurity and within driving distance of Lebanon, New Hampshire, PLEASE consider contacting Ms. Leigh by email at missleigh12187@icloud.com. To nd out more about the American Legion Post 22 or to make a donation, please scan the QR Code. Heaven LeighLesia VorachakCmdr. Ken OlneyFood distribution hours are Monday from 0900-1300.American Legion Post 22 189 Mechanic Street Lebanon, NH 03766by Eric McNail & Chuck Bradleyby Eric McNail & Chuck BradleyVeterans2VeteransGroupVeterans2VeteransGroup
Page 10
Page 11
Winter 2022 | AT EASE! Veterans Magazine 11IT'S A WONDERFUL LIFEIT'S A WONDERFUL LIFEActor Jimmy Stewart was by all accounts an icon during Hollywood's Golden Age including winning the Academy Award for Best Actor for the Philadelphia Story in 1940. But in 1941, immediately following the attack on Pearl Harbor, he enlisted as a Private in the Army Air Corps. Jimmy Stewart was a civilian pilot and 'Uncle Sam' needed pilots. Jimmy Stewart came from a long line of Soldiers, including his father who served in WWI. It was a matter of duty for him and so many others. He was the very rst Hollywood actor to wear the uniform and quickly rose in rank, becoming a 2nd Lieutenant, and then Captain. "He began ying combat missions and on March 31, 1944, was appointed Operations Ofcer of the 453rd Bomb Group and, subsequently, Chief of Staff of the 2nd Combat wing, 2nd Air Division of the 8th Air Force,"1 ying 20 combat missions over France and Germany earning the Distinguished Flying Cross and the Croix de Guerre. And by the end of World War II, Stewart had made the rank of Colonel. But his service did not come without the fallout of war. He struggled with PTSD, known at the time as Shell Shock or battle fatigue.Robert Matzen, author of Mission: Jimmy Stewart and the Fight for Europe, in a 2016 article with the Chicago Tribune, recounts, "I spoke with the guys that ew with him, who told me about the fact that he went ak-happy on a couple of occasions — which means shell shock, battle fatigue, what we now know as PTSD. He wasn't afraid of bombs or bullets. He was afraid of making a mistake and causing someone to die. That was his endless stress, and that's what ended up grounding him."2It is true that Jimmy Stewart suffered horrible survivor guilt for the men he lost, and the innocent civilians caught in the crossre. And after returning stateside, he returned to his parents' home in Indiana, Pennsylvania. But Hollywood was beckoning …1https://www.nationalmuseum.af.mil/Visit/Museum-Exhibits/Fact-Sheets/Display/Article/196679/brig-gen-james-m-stewart/2https://www.chicagotribune.com/entertainment/movies/ct-jimmy-stewart-book-mov-1202-20161201-column.htmlby Christine Walker In 1946, Stewart reconnected with his old friend and director, Frank Capra. Capra, also a combat Veteran and having just returned from the European theater, had started Liberty Films and was writing a screenplay called, It's A Wonderful Life. Capra enlisted Stewart for the lead role of George Bailey. During lming of the movie, Stewart's performance of his meltdown in the Baileys' living room stunned everyone on set. The raw emotion and that old familiar thousand-yard stare genuinely frightened the cast, especially the children. The tears you see from the kids are real. In the cemetery scene with his angel, Clarence, George Bailey nds the grave of his brother, Harry. Capra's dialogue is one of the most poignant moments in the movie. "All I know is this should be Bailey park. Where are the houses? 'You weren't here to build them. Your brother, Harry Bailey broke through the ice and was drowned at the age of nine.' That's a lie. Harry Bailey went to war. He got the Congressional Medal of Honor. He saved the lives of every man on that transport. 'Every man on that transport died. Harry wasn't there to save them. Because you weren't there to save Harry. You see, George, you really had a wonderful life. Don't you see what a mistake it would be to throw it away?'"While the lm at the time wasn't a box ofce hit, both Capra and Stewart have stated in interviews over the years that it was by far one of their proudest accomplishments. In 1949, Jimmy Stewart married Gloria McLean and adopted her two sons, Michael and Ronald. The couple went on to have twin girls, and while his career was important, everyone who knew him knew that his family was more important. A little-known fact about Jimmy Stewart, while he still took acting roles, he never stopped serving in the military. Stewart transferred to the newly formed US Airforce Reserves in 1947 and continued to serve, including stints in Korea & Vietnam, until his retirement as a Brigadier General in 1968. It's A Wonderful Life... (Continued on Page 59)The Service of Brigadier General James StewartPhoto: Major James Stewart confers with B-24 crew member. Photo Courtesy of: National Museum of the United States Air Force
Page 12
"T . C   "T . C                      .      . M      M        ,     ,             ."."~ G M~ G M12 AT EASE! Veterans Magazine |Winter 2022
Page 13
Written by: Christine WalkerWinter 2022 | AT EASE! Veterans Magazine 13Photographer: SGT Bradley Payne, Sapper Training Management NCOTAKING LEADTAKING LEAD
Page 14
14 AT EASE! Veterans Magazine | Winter 2022On occasion, you have the opportunity to meet someone who is extraordinary, and SSG Ariana Sanchez is absolutely one of those extraordinary individuals. Not only for what she has accomplished in her career as the rst female Sapper Instructor, but her humility, grace, inner strength and erce determination making her a force to be reckoned with. Coming to AmericaAriana was born and raised in Ambato, Ecuador located in a valley surrounded by the Andean Mountains. At two years old, her parents immigrated to the US while Ariana and her sister stayed in Ambato with her grandparents. "My mom came back to Ecuador when I was ve years old because she missed my sister and I so much. I was raised by my mom and my grandparents while my dad stayed in the United States," she recounted. Ariana's formative years were happy and very similar to kids growing up in the 70s in the US. "Since I was a kid, I always liked to be outdoors. [In Ecuador], it's not like over here. There's a lot of technology over here, we didn't have that much. So, it was like you're forced to be outside to play," she laughed.Ariana's father was able to nd an excellent job in the US and his employer helped him procure his residency visa and American citizenship. By the time her father could bring his family to the US, Ariana was 17. She had only seen her father once in that 15-year span, but as she puts it, "I have a very close family. I had my mom; she was always there for me, and my grandparents were always there for me. My grandpa was like a dad to me and my uncle too." Sapper Instructor, SSG Sanchez overseeing PT at Fort Leonard Wood.Sapper Instructor, SSG Sanchez overseeing PT at Fort Leonard Wood.
Page 15
Winter 2022| AT EASE! Veterans Magazine 15Ariana's last year of high school was spent in the United States and along with the challenge of learning English, she was faced with a smorgasbord of opportunities for her future. Growing up, Ariana's dream had always been to become a Veterinarian, but her well-meaning Ecuadorian grandmother, did not understand that Americans are very proactive with the health and well-being of their animals. She just didn't think that would provide a livable income. So, Ariana, heeding her grandmothers council, turned her attention to creating a different future for herself. She knew she needed a challenge, and preferably, something "outdoorsy."And the Journey Begins…And that new opportunity was about to be dropped in Ariana's lap. Her High School counselor suggested that she take a skills assessment test they were giving in the Library. Game for just about anything, Ariana thought, why not! So she signed in, sat down and … "I don't understand what this is saying, I don't even remember what the test said. That's how bad I spoke [& read] English. But I've always been good at math and maybe I'm really good at accounting or something like that," she laughed.Unbeknownst to her, Ariana had taken the ASVAB for the Military. Ariana's best friend was looking into the New Jersey National Guard, and she thought she would look into it too. She talked with the National Guard recruiter, as well as the Active-Duty Army Recruiter, but Ariana's mom wasn't thrilled with the idea of her daughter going active duty Army. "she was like, I don't want you to die. I don't want nothing to happen to you. I'm like, Mom, I'm just going active duty. I'm not going to die. [But], I'm very close to my mom, so I was like, OK… ne, I'll do National Guard," she recalled. Enlisted in the New Jersey National Guard 'Battle Buddy' program with her best friend, she knew they would be going to basic training together, what thrilled Ariana less, was that her friend's chosen MOS meant that she was also committed to the same MOS School for Water Purication Specialist. A Whole Lot of 'Firsts'Ariana got all of her paperwork squared away and they were off to basic. "I loved basic. I thought it was the most fun because it was something out-of-the-box that I'd never done. I always liked working out and people are telling me, 'hey go do this, go take a lap, go do that.' I was always engaged in sports. And it was my rst time shooting a weapon. It was a lot of rsts."Ariana laughs as she recounts another rst; the rst time eating a peanut butter and jelly sandwich. "I did not like [the] peanut butter smell. In the eld, you always get the bread, the peanut butter and the Jelly. And peanut butter, bread and Jelly are very American. I remember I always rejected it and gave it to my battle buddy. Until one day I was really hungry, I'm starving, so I'm gonna try it. I fell in love! I was like, how was I missing all this for no reason?" Since basic, the good ol' American PB&J has become a regular 'go to' meal. Making Her Own Road…During AIT school for Water Purication, Ariana knew right away that this was not the MOS for her. She approached leadership to request a change. Unfortunately, with a limited budget at the time, The New Jersey State National Guard was not opening billets for alternative MOS schools. Ariana was stuck right where she was for the time being. But instead of copping an attitude, Ariana's exceptionalism began to shine. She determined to bloom where she was planted, so to speak, and purposed to give her all while continuing to pursue the conditional release to go active-duty with the Army. After two-years, multiple rejections and a whole lot of paperwork later, Ariana nally received the Sapper Instructor, SSG Sanchez overseeing PT at Fort Leonard Wood.Sapper Instructor, SSG Sanchez overseeing PT at Fort Leonard Wood.
Page 16
16 AT EASE! Veterans Magazine | Winter 2022green-light. She had two-weeks to go to the Army recruiter to be released from the National Guard and go active-duty Army. "[My Recruiter] took me immediately, 'let's go to MEPS.' We got the process done. ' you gotta choose your MOS because you cannot keep the same MOS since you want to go active-duty'. I want to be combat, I always wanted to be Airborne. I just want to get the experience." The Army gave Ariana several options like Tank Crew Member and Combat Engineer. She chose Combat Engineer. "I was so happy and I told my friends and they were like 'are you sure you want to do that? They work with explosives and [it's] dangerous too.' Yeah, combat engineers are pretty tough MOS, but it will be fun."Even though Ariana had already been through basic, she went straight to Fort Leonard Wood to connect with a basic training company already in process. After two and a half weeks in reception, Ariana joined a company in Blue Phase, the last 18 days of basic training. "They picked me up and the next day [I was] doing an 8-mile ruck with the privates. [It was] kind of like the 'rite of passage' of passing basic training, again, and [then] going to the MOS training portion," she said.What is a Sapper?According to the US Army's website, "A sapper or combat engineer is a combatant soldier who performs a wide variety of combat engineering duties; typically including, but not limited to, bridge-building, laying or clearing mineelds, demolitions, eld defenses, general construction and building, as well as road and aireld construction and repair. They are also trained to serve as infantry when needed in both defensive and offensive operations and is fully involved in modern counter-insurgency operations."1The Sapper program was originally established by the Continental Congress at the bequest of Louis Duportail in 1778. The French-born Engineer, Duportail brought valuable knowledge of combat engineering and was appointed as Commandant of the Continental Army Corps of Engineers during the Revolutionary War. It is easy to see where they got their name. Sapper or the French Sappé in it's original medieval translation is 'spadework' or 'trench'. The modern translation means 'to undermine' taken, interestingly enough, from 1 https://www.army.mil/sapper/history.html
Page 17
it's military engineering origins. Since the induction in 2004, Sappers are an elite group of Combat Engineers that make up the third tab in the US Army's Special Forces that include Rangers, Airborne & Sappers. To earn the insignia, both Ofcers and Enlisted must rst complete the Sapper Leader Course. "The Sapper Leader Course is a demanding 28-day leadership development course for combat engineers that reinforces critical skills and teaches advanced techniques needed across the Army. This course is also designed to build esprit de corps by training Soldiers in troop leading procedures, demolitions (conventional and expedient), and mountaineering operations. The course culminates in an intense eld training exercise that reinforces the use of the battle drills and specialized engineer techniques learned throughout the course."2If there is anything that this exceptional soldier thrives on, it's a challenge. In 2019, Ariana took her Combat Engineer experience to the next level and went on to attend the grueling 28-day Sapper Leadership Course. With an attrition rate of just 35-40% of both ofcer and enlisted candidates, Ariana went on to graduate earning the coveted Sapper Tab, defying yet another test of resilience!2 https://home.army.mil/wood/index.php/units-tenants/USAES/SapperOut of the Frying Pan & Into the Fire In the Spring of 2021, SSG Ariana Sanchez is the rst female Sapper to accept the role as Instructor for the Sapper Leadership Course. She arrived once again to Fort Leonard Wood, took a few days to get her house in order and reported for duty … just in time for the 2021 Robert B. Flowers Sapper Competition. After two weeks at the Common Faculty Development-instructor Course, with just a few days' notice, SSG Sanchez was ordered to get a list, pack a ruck and get ready to jump Winter 2022| AT EASE! Veterans Magazine 17Left Top: Sapper candidates listen to instructions by SSG Sanchez. Left Bottom: Leading by exampleRight Top: SSG Sanchez could do this all day! Right Bottom: Checking calculations of a Sapper candidate. Photo Credit: Martel Goldman
Page 18
18 AT EASE! Veterans Magazine | Winter 2022into the re that is the Sapper Competition. "I remember my Committee Chief telling me 'hey, you're doing the full-dress validation for the 2021 Best Sapper Competition.' And I was like, that's it. OK. It shouldn't be that bad. And the [guys] were making jokes, like 'oh, good luck, I hope I don't get injured.' Like they knew what it was about, but I did not know. And then a [few] days later, [they asked] 'you have the packing list?' I asked do we need a full packing list? 'Yeah, you have to have everything that the competitors have.' So, I'm doing the whole thing, the whole three days and they responded, yeah, you have to validate the lanes. And I was like, oh shit! I had to get the packing list ready out of everything I had. I had to buy some shit, borrow some shit, and nally got it done the next day." Once again, challenge accepted! Ariana remembers, "It was like a PT test [with] a 3-mile run and several physical events. The next day was a day full of surprises. It was a lot. It was three days of what best Sappers do. I came out from COVID, and I didn't really work out as much during that time. I went from that to my TDY leave, to instructor school, to three days of hell! [But] It was fun. I hope one day in the future I get to compete in the Best Sapper Competition because I just want to see how far I can make it."Having been a Sapper Instructor for almost two years, one of Ariana's favorite aspects is seeing the new candidates arriving to Sapper Leadership School. "I love when I see new [candidates] arriving. it's like a brand-new soldier who's about to get all this knowledge dropped that [I'll be] teaching them for 12 days. You see them trying their hardest with the lack of sleep, with their hard work, the PT, the hours of lessons and they're still killing it. They're still motivating each other." The little girl from Ecuador, who came to our big, beautiful country at 17 years-old, had no idea that in 11 short years, she would become a trailblazer! SSG Ariana Sanchez never set out to break a glass ceiling or prove herself to anyone but herself. But, in taking on every challenge she has faced, with enthusiasm; the doors of opportunity have presented themselves and she has humbly walked through every damn one of them. She is not fearless, but she knows how to overcome her fears and no doubt inspires others to do the same. SSG Sanchez is without question of a woman of valor, character, and dignity. Nevertheless, make no mistake, she is unequivocally erce and the very denition of a Bad-Ass! BUILD IT.BREACH IT.BLOW IT!WE DO IT ALL. ESSAYONS!
Page 19
Page 20
20 AT EASE! Veterans Magazine | Fall 2022World War 1, also known as the 'Great War,' was fought between the Central Powers of Germany, Austria-Hungary, Bulgaria & the Ottoman Empire and the Allied Powers of Great Britain, France, Russia, Japan, Italy, Romania, Canada and eventually the United States, who entered the war in 1917. The Great War was an especially brutal and bloody war, utilizing trench warfare tactics. At the wars end, it is estimated that over 16 million soldiers lost their life.Just six months in, the bodies of dead soldiers from both sides littered the Western front; the weather was bitter cold and damp, the kind of cold that makes it impossible to get or stay warm. Rations were difcult to get because the supply trucks were being bombarded with artillery re from the opposite sides. Throughout human history, there are, on rare occasions, a moment in time when faith and humanity poke through the apogee of division and war. The following story, while not only inspirational, but also absolutely true, shows us one of these rare moments. On Christmas Eve in 1914, in a remote eld in Belgium, our story begins. Allied Forces were on one side, German Forces on the other…and in between was 'no man's land.' Out of the darkness, like the fog settling overhead, so too did an eerie silence fall on the frozen battleeld; when just mere minutes ago were the constant sounds of gunre and artillery re, now … nothing. Then, the sweet soft melody of a very familiar tune broke the silence from the German trenches. "Stille Nacht, Helige Nacht, Alles Schlaft, einsam wacht" and then a chorus from the allied trenches joined in: "Silent Night, Holy Night, All is calm, all is bright…" As this simple familiar Christmas carol was being sung, there was peace. Suddenly, it was "a beautiful moonlit night, frost on the ground, white almost everywhere," as recalled by Pvt. Albert Moren of the Second Queens Regiment. Another soldier, Graham Williams of the 5th London Rifle Brigade describes in a letter home, "First the Germans would sing one of their carols and then we would one of ours, until when we started up 'O Come, All Ye Faithful' the Germans immediately joined in singing the same hymn to the Latin words 'Adeste Fideles.' And I thought, well, this is really a most extraordinary thing – two nations both singing the same carol in the middle of a war." There was no ofcial truce, no orders coming down from the top on either side, but according to historians, this unofcial Christmas truce extended to an estimated 100,000 troops along the 500-mile Western front. Even more astounding is the next morning, one account recalls German troops holding up a sign that read "You no shoot, we no shoot." Exhausted, battle-weary soldiers on both sides began to hesitantly climb out of the trenches. They met in 'No man's land' shaking hands, exchanging cigarettes, buttons and other small gifts, and even having a friendly 'football' game (that's Soccer for us Yanks). It also gave them the opportunity to properly honor and bury their dead, some of whom had been laying in the eld for weeks.During a newspaper interview, Alfred Anderson, of the 5th Battalion the Black Watch, remembered "It was a short peace in a terrible war." WWI German Veteran, Stephan Westmann, said in a BBC interview in 1961, "We were civilized people, after all. But I felt that the culture we boasted so much about is only a very thin lacquer which chips off the very moment we come in contact with cruel things like real war." And British Soldier, Murdoch Wood, speaking in 1930 said, "I then came to the conclusion that I have held very rmly ever since, that if we had been left to ourselves, there would never have been another shot red."There is a time for every season under Heaven, a time for war, and a time for peace. And while yet again it may seem that darkness has enveloped our world, it is important to remember that all it takes is one spark to be a light in the dark. Hope is not lost and peace within ourselves and our community is possible - all it takes is one simple act of faith to see the humanity in each other to change everything.Silent Night:The Unexpected Christmas Truce of 1914A German Solider lights the cigarette of an English soldier. Christmas Day, 1914.by Christine Walker20 AT EASE! Veterans Magazine |Winter 2022
Page 21
Silent night, Holy night, Silent night, Holy night, all is calm, all is bright. all is calm, all is bright. Round yon virgin, Round yon virgin, mother, and child. mother, and child. Holy infant so tender and mild. Holy infant so tender and mild. Sleep in Heavenly peace, Sleep in Heavenly peace, Sleep in Heavenly peace. Sleep in Heavenly peace. Winter 2022 | AT EASE! Veterans Magazine 21
Page 22
DD-214 & BEYOND2023 Veteran Legislative UPDATEWritten by: Christina Mortelveteran related bills you should be aware of:22 AT EASE! Veterans Magazine | Winter 2022Prior to the Mid-Term elections, Congress was busy working on legislation that will directly impact the veteran community. Many bills have been introduced in the House, and now will go to committee for additional discussion and review. I have chosen to highlight a few bills that address entrepreneurship, employment, education, and healthcare. You can read the full text of these bills, and all bills, by visiting the government website, Congress.gov, https://www.congress.gov. If you don't have time to read the bill, you can select to listen to the audio le of the bill, which makes it even more accessible for all Americans. You can also use this site to nd your elected representatives and view what legislative meetings and activities are scheduled. As we begin 2023, let's stay informed of Congress' agenda and track the movement of bills through the House and Senate. As of the writing of this article, Congressional races are still being decided in the House of Representatives, and committee assignments will change.House Legislation: Verbiage below taken from the bill (s)HR 8660 – Post 9/11 Veteran Business Acceleration Act: The bill requires the Department of Veteran Affairs to collaborate with the Small Business Administration to implement a pilot program to provide nancial as-sistance( in lieu of educational assistance) to eligible individuals under the Post 9/11 Educational Assistance Program, for the purpose of (1) establishing and operating a new qualied business enterprise, or (2) operating an existing qualied business enterprise. Eligible individuals are those who (1) are entitled to 36 months of edu-cational assistance under the Post 9/11 Educational Assistance Program, (2) are not in bankruptcy proceedings at the time of application, and (3) meet credit score requirements. Sponsor: Rep Byron Donalds (R - FL) Introduced 8-5-22. Referred to Veteran Affairs Committee.HR 8705 - Veteran Recruitment Act - To strengthen United States leadership through the recruitment and hiring of veterans of the United States Armed Forces to civil service positions, and for other purposes. Sponsor: Rep. Yvette Herrell (R-NM). Introduced 8-12-22.
Page 23
HR 8735 VETTs on Campus Act - Veteran Treatment Teams on Campus Act – To Amend Title 38 US Code, to expand the Veterans Community Care Program to include health providers at certain institutions of higher learning. Sponsor: Rep Trent Kelly (R- MS) Introduced 8-19-22 Referred to Veterans Affairs Committee. HR 8736 – GUARD VA Benets Act – Governing Unaccredited Representatives Defrauding VA Benets Act – To Amend Title 38 US Code to reinstate criminal penalties for person charging veterans unauthorized fees related to claims for benets under the laws administered by the Secretary of Veteran Affairs, and for other purposes. Sponsor: Rep Chris Pappas (D-NH) introduced 8-19-22. Referred to Veteran Affairs and Judiciary Committees.HR 8750 - Expanding Veterans' Options for Long Term Care Act- To require the Secretary of Veterans Affairs to carry out a pilot program to provide assisted living services to eligible veterans, and for other purposes. Sponsor: Rep Elissa Slotkin (D-MI) Introduced 8-26-22. Referred to Veteran Affairs Committee. HR 8758 – Building Credit Access for Veterans Act of 2022 - To Require the Secretary of Veterans Affairs to carry out a pilot program on using alternative credit scoring information for veterans and members of the Armed Forces, and for other purposes. Sponsor: Mike Levin9 D-CA) Introduced 8-30-22.What Congressional members serve on committees? Use the links below to nd members of the committee. You can also signup for the newsletter and receive notications on the latest issues and topics in front of the committee.House Veteran Affairs Committee: https://veterans.house.gov/about/membersHouse Armed Services Committee: https://armedservices.house.gov/meet-our-membersNote on Veteran Small Business Certications: Beginning January 2023, the Small Business Administration (SBA) will become the certifying agency for the Service-Disabled Veteran Owned Small Business and Veteran Owned Small Business Certications, formerly conducted through the VA CVE ofce. Check the SBA website www.sba.gov for more information and updates on the certication process. You can also reach out to the VEP team at TVC for updates by sending an email to VEP@tvc.texas.gov.Christina Mortel is a US Army Veteran and Business Consultant with Texas Veterans Commission Veteran Entrepreneur Program. She also hosts Texas Veterans Mean Business Podcast. Christina is a business owner and Managing Member of Get Write to Business LLC.Do you have a start up story? Connect with Christina www.linkedin.com/in/christina-mortel/
Page 24
Individuals have different perspectives about money and this model allows for exibility towards goals and priorities.This model splits take-home paycheck into three categories: The model is exibleIf there is high debt, then adjust the model into these categories: LIVING EXPENSES or "LIFESTYLE" EXPENSES; THE 70%Lifestyle expenses reect the attitudeto which people live their lives. For example, enjoying a good bottle of wine along with a gourmet dinner. There is no "judgment" whether this is excessive, but it is a choice that that reects a lifestyle perspective. Consider that no matter how expensive the lifestyle is, it should not exceed 70% of take-home pay to maintain the integrity of this budget model. Expenses are in two categories: xed and variable. Fixed expenses are those that do not change every month such as rent/mortgage payments, utilities, insurance, etc. A partial list of variable expenses that vary monthly are dining out, entertainment, groceries, hobbies, etc. Reviewing variable expenses is an effective way to lower monthly expenses. This can accelerate achieving the objectives in other categories such as reducing debts or increasing savings.SAVINGS AND INVESTMENTS: THE 20%This category is the amount of monthly savings needed to start building the nancial foundation in which committing 20% of take-home pay per month accelerates building the emergency fund. Consider also committing a portion towards retirement investments such as 401(k) or IRA. Investing in retirement funds through time allows investors to take advantage of the compounding effect allowing the gains to be reinvested until retirement.However, with an elevated level of debt, this category can be directed towards reducing debt.DEBT PAYMENTS and/or DONATIONS: THE 10%Ideally, this category is to pay down any consumer debts and also donate to charities. However, the model's exibility is that if the 20% category is to pay down debts, 10% of take-home pay should go towards building the emergency fund before making any other type of investmentsIf the current nancial picture does not align with the 70/20/10 model, one can adjust through time by reducing the monthly expenses or if debts are high, pay down debts as a priority. It's important to realize that this is a model used to analyze spending and be able to reduce expenses to achieve established nancial goals and priorities.For example, If the current nancial picture aligns with the budget model, then one can set aside $800 per month towards emergency funds. To have the minimum three times monthly expenses of $2,800, $8,400 needs to accumulate in the emergency fund. If all $800 is dedicated to the emergency fund, it will take 10.5 months to achieve this goal.Achieving a level of nancial resiliency does not happen overnight. The initial nancial picture may not neatly align with the model. This is the strength of the 70/20/10 model in which it can adapt to specic priorities and objectives and through time, allows for exibility to reduce expenses and debts. Barring any nancial emergencies along the way, it's up to one's priorities and commitment to build nancial wealth through time. Regardless of the current nancial situation, with behavioral changes and commitment to setting priorities, one can achieve a resilient Financial House.ReferencesBennet, K. (2022, January 19). Survey: Less than half of Americans have savings tocover a $1,000 surprise expense. Savingshttps://www.bankrate.com/banking/savings/nancial-security-january-2022/Foster, S. (2021, July 21). Survey: More than half of Americans couldn't coverthree months of expenses with an emergency fund. Savingshttps://www.bankrate.com/banking/savings/emergency-savings-survey-july-2021/Romy Mortel Romy Mortel is an Army veteran and an Accredited Financial Counselor® (AFC®) through the Association of Financial Planning and Education®(AFCPE®). Romy has over 25 years of experience in nancial services, providing nancial education and counselling. He has a Masters degree in Personal Financial Planning, a graduate Certicate in Financial Therapy and Financial Planning. You can reach out to Romy in LinkedIn: https://www.linkedin.com/in/romy-mortel/24 AT EASE! Veterans Magazine | Winter 202270% | Living expenses or "Lifestyle" expenses20% | Savings, Investments, Retirement:  Individually or a Combination10% | Debt payments and/or donations.70% | Living expenses or "Lifestyle" expenses20% | Debt payments and/or donations.10% | Savings, Investments, Retirement:  Individually or a Combination
Page 25
EVERY VETERAN HAS A STORY TO TELLUSMC, USA & USAF Written by: VL StevensonUSMC, USA & USAF Written by: VL StevensonUSN Written by: Shannon RobinsonUSN Written by: Shannon RobinsonWinter 2022 | AT EASE! Veterans Magazine 25
Page 26
Living in Santa Rosa, a small town in northern California, Amy grew up listening to World War II stories from her grandparents. Her grandfather was a U.S. Marine who drove Amtracs (amphibious tractor) during the war and her grandmother was a U.S. Army nurse stationed in Saipan and Guam where they met. Their stories were both interesting and inspiring. That's when Amy developed her afnity for the Marine Corps. In high school, Amy discovered her passion for journalism and photography. She was on the high school yearbook staff which planted the seed for her future career. She went on to attend college and worked at the same time, but it wasn't fullling for her. Amy was always interested in the military, especially the Marines, so in 1993 she decided to enlist. She scored well on her aptitude tests and was assigned to train as a Combat Correspondent/Photographer (MOS 4341) and Print Writer & Radio/TV Broadcaster (MOS 4313). After graduating from boot camp, Amy attended the Defense Information School (often known as DINFOS) at Fort Benjamin Harrison in Indiana, where she trained in public affairs, print journalism, photojournalism, photography, television, radio broadcasting, and various other forms of multimedia. In 1994, she graduated from DINFOS and was assigned to her rst duty station at Naval Station Guantanamo Bay, Cuba. DINFOS is now located at Fort Meade, Maryland, and continues to be the joint training center for all military communications specialists. First Duty AssignmentShe was assigned to the Navy Broadcasting Detachment and worked as a TV and radio broadcaster. During that time, Operation Sea Signal was initiated which was a Cuban and Haitian migrant "rescue from the sea" mission. The migrants were picked up at sea and housed in several different camps around the Navy base where Amy reported on the daily conditions, as well as interviewed senior leaders.A year later, Amy returned to Southern California and was assigned to Camp Pendleton near Oceanside. She was assigned to the base TV station as a reporter and anchor. She also worked for the base newspaper, The Scout, and covered local training exercises and events happening on base. She also coordinated with the local media and community members with base tours.9/11 Changed EverythingAfter eight years of active duty, she transferred to the Marine Reserves performing the same previous duties and was promoted to the rank of staff sergeant (E6) in 2000. Not long after the attacks on Sept. 11, 2001, Amy was mobilized to active duty in late 2002 and deployed to Kabul, Afghanistan. She was assigned to a Joint Task Force for Civil Affairs where she escorted the media covering stories all over the country. Some of her stories involved humanitarian work the U.S. was conducting such as rebuilding hospitals, schools, and infrastructure. On this deployment, Amy was in Afghanistan for seven months and during that time, she took hundreds of photos and videos, many of which were used by international and national news agencies.When Amy returned home to the U.S., she continued serving in the Marine Reserves and remained in Oceanside, California, where she worked as a TV reporter at a local news station. She also used the GI Bill to complete college and earned her bachelor's degree in Communications from California State University at San Marcos and later a master's degree in Global Leadership from the University of San Diego.Operation Iraqi Freedom As the war in Iraq continued to get worse, she was mobilized to serve two more times for deployments in the restive province of Al Anbar, known as the 'Triangle of Death.' She spent all of 2006 and 2008 deployed to Fallujah and Ramadi covering stories and working with civilian media who wanted to get to the front lines of combat.Being deployed in hostile environments always has its risk. But on Dec. 6, 2006, risk became reality and tragedy struck close to Amy. A friend, colleague, and sister Marine, Maj. Megan McClung was killed instantly near Ramadi, Iraq. She was escorting some Newsweek journalists when her vehicle was struck by an IED. Major McClung was 34 at the time of her death and the rst female Marine ofcer to be killed in Operation Iraqi Freedom, as well as the rst female graduate of the U.S. Naval Academy killed in action since its founding in 1845.Amy received the news at her Public Affairs Ofce in Camp Fallujah, Iraq, and was devastated. Major McClung's death not only sent shock waves through the public affairs ranks but also through the military and civilian communities. The face of war had changed forever to now include a women's face.Recently, Amy commented, "I've tried to keep her legacy alive and share with people the courage it takes to serve and that women also sacrice, although you may never know about it. This was the catalyst for writing my book, "Heroes Live Here: A Tribute to Camp Pendleton Marines Since 9/11," which showcases the memorials on Camp Pendleton that honor those who served in Iraq and Afghanistan." Her book was published in May 2022 and explained, "it is a book by Marines for Marines."Continuing the Journey in a New UniformIn 2010, she took a chance, and applied and was accepted into the U.S. Navy Reserve direct commissioning program to become a Public Affairs Ofcer. Meanwhile, combat operations continued in Afghanistan and she was deployed to Mazar-e Sharif in 2012 and again to the capital of Kabul in 2018 where she was assigned under the NATO command to support the train, advise and assist mission there.She's spent nearly 30 years telling the story of military service members and has won many awards for her reporting. She was named the Marine Corps Broadcaster of the Year in 2007 and 2009, as well as having earned a Bronze Anvil from the Public Relations Society of America in 2009. Amy was also named one of Success magazine's Top 50 Women of Influence in 2022. She's also the host of The Victory Podcast which explores leadership styles and features guests with important life lessons to share with others. In 2023, she plans to travel more and continue storytelling, writing, and publishing more books which can be found at her website: heroeslivehere.com."GUARDIAN OF LEGACIES"The Story of Amy Forsythe - USMC – Marine Combat Correspondent/Photographer26 AT EASE! Veterans Magazine | Winter 2022
Page 27
Arbogast and the other Apache helicopter were given the command to engage and destroy the enemy. Within minutes, the target was located and laser-guided Hellre missiles were launched. During this same time, Arbogast began to take small arms re from the hilltop. Luckily, none of the rounds hit his Apache. The enemy on the hilltop was obliterated within minutes by the strikes. "I know the DShK was destroyed because I could see the barrel sailing through the air and landing some distance away," commented Arbogast. After using all his ammo and low on fuel, Arbogast headed back to base where he would refuel and rearm. Anxious to return to the LZ and continue his mission, he was attempting to hurry the refuel and rearm process when he was ordered to stand down. Shocked and puzzled, he started asking questions and received an answer he never expected. The men walking around on that hilltop he just rocketed were Afghan soldiers (friendly forces) out of uniform. How could this happen he thought. All proper protocols were followed, and the Afghan authorities stated there were no friendlies in the area!Further investigation revealed the soldiers were in a shift change and hadn't put on their uniforms yet. Unfortunately, they were identied as enemy combatants, and everything went downhill from that point. The result was ve Afghan soldiers were killed and eight more were wounded. "There were probably many more," stated Arbogast. This was a tragic error but after a thorough investigation, Arbogast was exonerated of any wrongdoing. After the investigation and being grounded for 3 weeks, he continued to fly missions until he returned to Ft. Campbell in October 2014. Although he was not responsible, the tragedy weighed heavily on his conscious. After several years he nally sought counseling to deal with the lingering guilt.Arbogast served ten years of active duty and decided not to reenlist. He was honorably discharged from the Army in 2017 and returned to civilian life. He took a job at a large corporation and soon received several notable promotions. He was progressing nicely along the corporate path but, he wasn't fullled. One morning in November 2020, an idea emerged that he couldn't ignore. His father had perfected a cheese dip that had always been a hit with family and friends. His idea? To start a business, to make and sell his father's cheese dip locally in Memphis and beyond.Andrew tweaked the recipe, branded it Arbo's Cheese Dip, and packaged it for a local grocer. It was an immediate success. Since then, he has expanded the line and distributed it to grocers nationwide. He's now living his dream of pursuing a career in the food service industry, making Arbo's Cheese Dip a national brand, and sharing all his success with his wife and young twins. "A DEFINING mOmENt"The Story of Captain Andrew Arbogast - USA – Apache Helicopter PilotThe moment you realize you've taken part in a tragic error may haunt you for the rest of your life. A dening moment that many have experienced at least once in their lifetime. This is one of those moments that Captain Andrew Arbogast encountered while piloting an Apache helicopter during the Afghanistan War.Andrew grew up in a large family in Memphis, Tennessee, and always had a propensity for the culinary arts, a trait he inherited from his father. He had planned on attending a culinary school after graduating from high school. During his freshman year, a buddy encouraged him to join the ROTC with him. Andrew always had a yearning to belong and the ROTC gave him that satisfaction. But a greater calling came after 9/11 occurred when he was a high school junior—to serve our country. In his senior year, he began applying to colleges, and at the same time, an Army ROTC recruiter gave him an aviation flight aptitude test. He passed it with flying colors. Immediately after high school, he signed up for an Army ROTC college scholarship which committed him to four years, but once he graduated , he would become a full-time Army ofcer.In 2007, after four years of college, Andrew was commissioned as an Army 2nd Lieutenant and went on to attend flight school in Fort Rucker, Alabama. As a lieutenant, he passed the Apache helicopter course and after graduating from flight school, he was assigned platoon leader for the Attack Reconnaissance Battalion at Fort Riley, Kansas. In 2010, he deployed to Camp Taji, Baghdad, Iraq. After returning from Iraq to Fort Riley he took the Captain's Career Course and was promoted to Alpha Company, 3rd Battalion, 101st Aviation Regiment Commander in 2013. Shortly after, he was deployed to Afghanistan ending up in the FOB (forward operating base) Shank aka Rocket City. In the early morning hours of March 6, 2014, Capt. Andrew Arbogast was called out on a mission in the eastern Logar Province near the village of Nawer. The mission entailed protecting a landing zone (LZ) where two CH-46 Chinook helicopters would be en route to offload friendly forces. However, the mission was delayed so Arbogast and another Apache, known together as an Attack Weapons Team, were sent to recon the area. The LZ was surrounded by a high ridge line which provided an excellent offensive position on the LZ below. Arbogast and his wingman were tasked with protecting the LZ from any assault. They circled the area several thousand feet above, panning the area around the LZ for enemy insurgents using their night vision goggles. After about an hour of circling, Arbogast spotted a DShK (pronounced Dushka) 12.7 MM Russian-made machine gun being set up on a small hilltop overlooking the LZ. Several men were walking around with weapons, and none were wearing uniforms. Arbogast radioed back to his command center to report his ndings and ask if he should engage. The command center contacted the Afghan authorities and they conrmed there were no friendlies in the area. Winter 2022 | AT EASE! Veterans Magazine 27
Page 28
When you talk about someone with self-determination and blazes her own path, you would be talking about Meghann Trapp. Fiercely independent, she came from an extremely large family, being one of six in her immediate family along with 48 cousins on her dad's side and 22 on her mother's. With all that competition, at an early age, her quest for self-reliance was already forming. However, it was only after a traumatic encounter in her military career, that she nally found her true purpose and changed herself from a victim to a survivor.Meghann's father was in the Army so the family moved around. She split her high school years between Colorado and Michigan, and never felt like she t in—understandable not having solid roots in either school. She experimented with marijuana a few times but rejected it and found alcohol more suitable, using it as a coping mechanism as many other high schoolers did. Her parents were extremely strict with her but not so much with her older brother. So, when she graduated from high school, she was ready and determined to strike out on her own, removing herself from her parent's control. She immediately found full-time employment in a car dealership in the service department. With a steady job, she rented an apartment and nanced her rst car all without help from her parents. "Out of all my friends, I was the rst to become free of parental dependency," she recalled.She had no fear of nding jobs and wherever she applied for a job, she usually landed it. One of the most enjoyable jobs she had right after the car dealership was being a salesperson in a motorcycle dealership. "I was 20 and the only female," she recalled. She continued to move from one job to the next trying to nd fulllment. Many of the friends she hung out with were in college, but Meghann knew college was not right for her. As her friends began to graduate, moving on with their lives and careers, she began to question what she was doing with her life. "Then one morning at the age of 24 ½, I woke up and decided I wanted to be a reghter. I had two uncles that were reghters so that was my inspiration," she commented. Researching the requirements to be a Colorado reghter, Meghann discovered she also needed to be trained as an emergency medical technician (EMT). The EMT programs in Colorado cost $3-4,000 and Meghann couldn't afford the fee. She told her dad she wanted to be a ghter but rst, she had to be an EMT. He reminded her that his sister was a National Registry Emergency Medical Technician (NREMT) instructor in Illinois. While on deployment to Kuwait in 2016, Meghann was sexually assaulted by a married Air Force senior enlisted man. She reported the assault to her direct supervisor and he and the others in command were incredibly supportive. She stated the command in Kuwait managed her case appropriately. She was eventually diagnosed with PTSD-MST (-military sexual trauma). It was only when she returned to the States to her home base command that everything began to unravel. Instead of a military court, her case was overseen by a commander active investigation. The perpetrator was charged with adultery and physical assault but not sexual assault which is usually career-ending. "His commander was protecting him, so he only received a six-month demotion and was allowed to stay in the military. The betrayal by my command ended up being worse than the assault," Meghann commented. As soon as she was diagnosed with PTSD-MST her command wanted her out of the military. "They considered me emotionally unstable and treated me like a problem child," stated Meghann. Her career in the Air Force ended in 2019 and she was honorably discharged after 10 years of active duty.From the trauma she experienced, Meghann was ghting depression and found herself in a very dark place mentally, emotionally, physically, and spiritually. Eventually, she started to wonder what her purpose was in life. Then, in the spring of 2019, a friend recommended she take a course in neuro-linguistic programming (NLP). "Within six months after attending the course, I was able to release all my negative emotions surrounding my trauma," she stated. The next year she took the NLP Master Practitioner course and started her own coaching business, Meghann Trapp Coaching. Meghann is also involved in Veterans' Outreach programs helping others deal with mental health and PTSD. She co-authored an international best-seller book called "She Did It," and does public speaking to address sexual assault in the military. Meghann has nally found her purpose in life…helping others cope with trauma.Her aunt invited Meghann to stay with her so she could take the course in Illinois. She immediately put all her things in storage and made her way to her aunt's house. From January to May of 2006, she took and passed the EMT course. While in Illinois she also took the reghters course and graduated. When she returned to Colorado, she was a fully qualied reghter/EMT and was accepted to her rst re department in Franktown, Colorado.Meghann had a friend in the Air Force who was now a pilot and encouraged her to join as a reghter or medic. She thought being a reghter in the Air Force and getting to travel would be exciting. So, in January 2009, she talked to a recruiter who said there weren't any reghter openings at that time. The recruiter was condent she could meet all the requirements especially since she had already been a civilian reghter for three years. She went to basic training without knowing if she could get into the reghter's school. About the third week in basic, they were going to assign her to a mechanical school, and she refused, threatening to leave the Air Force in any way possible if she couldn't get into the reghters' academy. After looking through all her certications, and experiencing her undeterred determination, they reconsidered and accepted her into the reghters' academy. With a 95% washout rate for women, in July 2009, Meghann graduated and became an Air Rescue Fireghter. Her rst duty station was at Aviano Air Force Base in Italy where she stayed for two years. In 2011, while stationed in Italy, she won Military Fireghter of the Year which is voted on by your peers. "A FORCE tO BE RECKONED WItH"The Story of Mehgann Trapp - USAF – Post 9/1128 AT EASE! Veterans Magazine |Winter 2022
Page 29
Winter 2022 | AT EASE! Veterans Magazine 29Born in Albuquerque, New Mexico, and the youngest of eight kids, Joe Dawson had the Navy in his blood. His father and older brother both served in the Navy. It felt natural for Joe to follow in their footsteps. Joe's journey started with the Navy ROTC in college. Everyone thought that he would make a better Marine because he was so physically strong and active, but Joe joined the Navy because of family ties to the branch. Joe studied Political Science at the University of New Mexico and drilled with the ROTC for two and a half years. The summer before his Senior year of college, Joe went to Long Beach, California to drill on the USS Wabash. They went out to sea for six weeks to refuel ships outside the coast. He graduated in 1989, and soon went off to Newport, Rhode Island for Surface Warfare Ofcer School.In four months, Joe learned everything from ship handling and warfare systems to understanding American and enemy ships and damage control. He learned how to navigate by the stars, using the rst star at dusk, a sextant, and our solar map to direct a helmsman. Joe was also trained to use top-secret military GPS navigation, which could spot you within four feet of your location. This technology wasn't available to the public at the time, but it enhanced the technological warfare on a ship. After four months, Joe continued on to Legal Ofcer School. One of his collateral duties on board was to present any unruly sailors at the Captain's Mass or to the adjudicating ofcer. This collateral duty involved a lot of paperwork, but Joe presented A-WOL, court martialed, and unruly sailors to the Captain's Mass. They were usually dishonorably discharged.Dawson reported to the USS Guam in July 1990. Three weeks later, he shipped out to the Persian Gulf for an 8 ½ month deployment during Operation Desert Storm. "Every single day at sea is a work day" he says. Joe's primary duty was standing bridge watches, navigating the ship. The shifts ran 6 on, 12 off, and his off-duties included supervising the deck department and acting as an Electronic Warfare Ofcer. He could locate missiles in the water and jam their radar or shoot them down before they hit the ship. In January of 1991, the USS Guam shipped off the coast of Somalia for Operation Eastern Exit. There were 2,000 Marines, 600 Navy, and a SEAL team ready to run an evacuation mission at the American Embassy in Mogadishu. Joe remembers standing on the bridge when two Jolly Green Giants launched from deck, one with Marines and one with a SEAL team. They flew into the city, secured the US Embassy, and flew Americans and refugees back to the ship. The refugees knew that the Americans would come to save their own, so they swarmed the Embassy knowing they had a better chance of rescue from the violence in the city. "I remember one person died, one woman had her baby, another person got shot," Joe recalls of the refugees on board. "Everybody got sick too," he says, with people of all nationalities and backgrounds spreading germs.A couple weeks later, another 2 am night standing on the bridge, Joe heard about the Iraq invasion over the shortwave radio. "Sure, you're scared and nervous and everything, but really, I felt relieved that something happened, and we didn't have to anticipate anymore." After floating and waiting for so long, they nally knew what was going to happen. Off to the Persian Gulf.Sailing through the Straits of Hormuz at 0600, the sun peeked over the horizon as a 26-year-old Joe was standing on bridge. He looked starboard and saw the USS Wisconsin sailing alongside them. The WWII-era battleship looked especially majestic with the rising sun. "I will never forget that to the day I die."60 miles off the coast of Kuwait, their ship's primary duty was to fly marines in and out of the coast. They had helicopters, Harrier Jump Jets, and bombers on deck. Joe remembers loading the bombs, and all the sailors would write nasty words and an "F you, Saddam" to send a more personal message. There were three or four other ships there as well, prepared to "FAmILy tRADItION!"The Story of Joe Dawson - USN – Desert Storm
Page 30
30 AT EASE! Veterans Magazine | Winter 2022Just west a few miles and looming high above the coastal plains surrounding Phu Bai Combat Base, South Vietnam, was a distinct land feature called Hill 1801. The hill's primary military purpose was to promote communications via radio relay. It was treeless with only short knee-high scrub covering the hillside, and some days it was in the clouds. Hill 180 had a commanding view of all sides extending out to the South China Sea.During the time I spent in Phu Bai and on Hill 180, I never remember receiving enemy re inside either perimeter. I started to think this Vietnam tour was not going to be too difcult after all. However, that would soon change in the months ahead as our battalion moved farther and farther north toward the DMZ and eventually ended there!I should start at the beginning. My trip to Vietnam took the route of Dallas—San Francisco—Hawaii—Okinawa—Da Nang—Dong Ha—Phu Bai: a total of ve days of ying and a little more than 10,000 miles on both commercial airlines and military planes. I was almost halfway around the world from my home but I wasn't scared. I was surrounded by one of the ercest ghting forces in the world, the United States Marines!Leaving Okinawa, I ew on a C130 military aircraft arriving in Da Nang, South Vietnam on December 11, 1966, and spent one night there in transit barracks. The next morning, I boarded another C130 that 1 Military designation for hills was developed using meters above sea level as a name. Therefore Hill 180 was 180 meters high or about 600 feet.ew me to Dong Ha to meet up with my assigned battalion, the 2nd Battalion 9th Marine Regiment. When I arrived, I was trucked over to an area where some GP (general purpose) tents were erected. As I approached, a head peered out from the open-sided tent, and I saw an energetic waving hand, a big grin, and heard a "Hi, Steve." Everyone in the service acquired a nickname, mine was Steve, short for my last name, Stevenson. I knew the voice, the face, and nally recognized Valento, a Camp Pendleton radio school buddy. His trousers were caked with mud, his shirt sweat-stained, and the red dust on his face blended perfectly with his red hair. As I walked inside the tent I recognized Long, Johnson, and Parker all from radio school. They were all as miserable-looking as Valento. They would be some of my new radio crew, all rough, battle-worn, and bedraggled from the recent operation. Here I stood in their midst with my clean, fresh stateside boots and utilities. I really felt like, and was, the proverbial FNG (frikin' new guy)…so obviously out of place. This is how I remember my rst day in Vietnam 56 years ago. On that same day, I started my 395-day2 countdown calendar!The next morning we loaded our gear on C130s and headed for Phu Bai, about 58 miles southeast of Dong Ha along Highway One which paralleled the coastline. Fifteen C130s were required to transport 1,176 Marines from Dong Ha to Phu Bai, but we all made it. Just behind us, thirty-one C130s airlifted 620,000 lbs. of equipment. Moving a battalion is no small task.2The Marine Corps required a 13-month tour. The Army only required 12 months. The Marines said the extra month was "one for the Corps."Hill 180 on a good day. Any resupply had to take the only road to the top. When it rained even a 4-wheel jeep couldn't make it. © 1967 VL Stevenson2/9 area main street. My hootch is 5th on the right. In the background is Hill 180. © 1967 VL Stevensonby VL Stevenson
Page 31
Winter 2022 | AT EASE! Veterans Magazine 31When I arrived in our battalion area I was pleasantly surprised. Our barracks (living quarters) were called "hardbacks" built by the Seabees, a simple construction of an elevated plywood oor, a tin roof, and side walls with one-third plywood and two-thirds open screen with drop-down aps. They were large enough to hold about 20 cots. We also had a mess hall nearby with a tin roof and concrete oor serving hot meals for the entire battalion twice daily. Monsoons in the I Corps usually started in October and lasted through February. When I arrived in Phu Bai it was warm and sunny. Hardbacks, great weather, hot meals, and no one shooting at me—what could be better? But of course, that wouldn't last. About a week after I arrived it started raining, and for a month and a half it was constant. The base turned to deep red mud which would easily devour our feet up to ankle and shin deep. Everything was damp. Even our utilities stuffed inside our dufe bags would develop mold. Not seeing sunshine for an extended time can work heavily on one's psyche. It was the letters from home that kept our spirits up…like manna from heaven.The base had a small PX (post exchange) that sold personal care items and sundries. When I arrived in Vietnam I was carrying a small 35MM Sears camera with B&W lm. One day in the PX, I saw a Petri 7S 35MM camera which I immediately purchased for $35. With that camera, I took almost 300 color slide pictures. Those pictures are now scattered throughout all my "At Ease" magazine stories. I still have the camera, and it still takes great pictures 56 years later. I also still have the Timex wristwatch I bought and wore during my entire tour. It still works too!I was assigned to H&S Company, Radio Section which was comprised of about 20-25 radio operators with military occupational specialties (MOS) of 2531 or 2533 Field Radio Operator. Our assignments varied from operating a radio for our line companies to an FAC (forward air controller) team to maintaining radio communications for the battalion operations (S3) in the command bunker. The latter was my job the entire time I was in Vietnam.Our command bunker was a formidable structure. It was about eight feet deep with steel beams extending across the roof with massive amounts of sandbags piled on top. I'm sure the VC didn't possess anything large enough to penetrate the roof. It was sizeable, large enough to house about a dozen Marines and all the radios needed to maintain communications with the company, battalion, and regimental commands.The radio section was responsible to provide radio operators to Hill 180. Each week two of us were assigned duty on that hill. We manned the radios for the battalion radio relay station 24/7. The radio we used was the PRC25. According to the specications, it was a short-range, manpack portable receiver/transmitter for eld applications. It had an operating range of 3, 5, and 30 miles, depending on the antenna. The PRC25 was primarily a line-of-sight radio. Therefore, with the command bunker on one side of Hill 180 and a company out in the eld on the other, communications between them were near impossible. Hence, a radio relay station was necessary at the top of the hill.The radio relay worked by receiving a voice message from one side of the hill and in your voice, resending it to the other side. This required concentration, listening closely, having a good memory, and reciting exactly what was said immediately without error. One evening while on radio watch on the hill, I listened as a company commander captain was getting his ass chewed by our battalion commander, Lieutenant Colonel Peeler. Of course, this back and forth required a radio relay, and I was the operator in the middle. The conversation was escalating and Colonel Peeler was extremely irritated at the captain, so much so that he was cursing with every other word. We were taught in radio school that proper radio procedure forbade profanity over the radio net, and I always followed procedure. As Colonel Peeler spoke, I was relaying every word to the captain except I was dropping the profanity. Now the colonel was pissed off at me because I wasn't relaying his exact message with the same emphasis—cussing and yelling. I've never had a senior ofcer, a Korean War veteran with two silver stars and a purple heart, swearing at me, and it was terrifying! I was between a rock and a hard place, so I chose what I knew was correct. I quickly thought about my next move, then with a deep breath started conveying his message and yelling at the captain. Here I was, a lowly lance corporal, yelling at a Marine captain. It was awkward since I knew both the colonel and the captain from my time in the command bunker. The captain got the colonel's message very loud and very clear, but I still accomplished it without profanity. At the time, I wasn't against using profanity, it was practically in every sentence we uttered. I was only against breaking radio procedure. The Marines trained me well.Phu Bai and Hill 180 never lived up to one of those life-changing events dening a watershed moment; that would come later in my tour. Still, it was a memorable time. The head on Hill 180. At least no one can sneak up on you! © 1967 VL StevensonView of the top of Hill 180 with all the radio antenna clutter. My radio relay tent is the farthest to the left. © 1967 VL StevensonMy radio crew taken June 15, 1967. Every Marine in this picture is a 2531 Field Radio Operator. © 1967 VL Stevenson
Page 32
32 AT EASE! Veterans Magazine | Winter 2022There is a popular saying, "Take your mess and make it your message."You see, my father, Leland Oliger, enlisted in the U.S. Coast Guard in 1943 at the age of 17. He was thrilled to ght for the country he so deeply loved. Besides, he thought war had to be easier than working the farm in Arkansas. But the combat he experienced had a lasting impact on him and our family. After serving faithfully in World War II and Korea, my father became an alcoholic.From a very early age, I could see my dad was struggling. By trade he was a barber and his hair was always impeccably combed, except for when he was drinking. As a little girl, I remember trying to straighten his hair, thinking if I combed it, maybe it would make everything okay. I had a strong desire to help him, but unfortunately, I couldn't give him what he needed. I was too young to understand what was really going on. He was long-suffering with the lasting stresses of war.Even with his struggles, my father's deep love of country had a huge impact on my life. It put me on the path to help bring healing to our WWII, Korea, and Vietnam veterans. In 2006, I founded Forever Young Veterans as a tribute to my father; to give these heroes what I was unable to give my dad. He, unfortunately, died in in 1982.When I started Forever Young, I intended to simply fulll wishes for our older veterans, like reuniting a veteran with a comrade or helping them obtain a medal that they never received. However, as I went further into this mission, I had no idea how many of our veterans were still suffering silently, just like my dad. There had to be more that we could do for them.We discovered that returning these battle-hardened heroes back to the places they fought softened them. Walls began to come down and relationships began to heal. For the rst time they were able to see that their sacrice mattered and it wasn't in vain. They were able to get a new image in their minds of the places and people they fought to liberate. Memories of death and destruction were replaced with those of a beautiful, free land and the praise of a grateful people. And the most important part is they don't have to go at it alone. They share these experiences with men and women who have similar stories. Forever Young Veterans has honored more than 2500 senior veterans by granting their individual wishes and returning them to the places where they fought 50, 60, and even 75 years ago. Places like Normandy, Belgium, Pearl Harbor, Italy, Luxembourg, Iwo Jima, Okinawa, as well as "Trips of Honor" to Washington DC.When we've returned WWII veterans to Normandy or Belgium, they'd by Diane Hight
Page 33
Winter 2022 | AT EASE! Veterans Magazine 33often hear, "our dear liberators," as they traveled around the country side. It moved them to tears because they weren't expecting such honor from the locals. At Utah Beach, a Frenchman hugged one of our vets, put his head on his shoulder, and wept, saying over and over again, "Thank you for saving France." W.T. Hardwick, who landed on Utah Beach on D-Day, was captured in the hedgerows of Normandy. He was stuffed into a boxcar so tightly he couldn't move. No water was available, unless his tongue happened to reach a raindrop while en route. Memories of soiling themselves, sleepless nights in the boxcar, and abuse in the camps gave W.T. nightmares for years. However, after returning to Normandy for the 70th Anniversary, something happened. "Before, I would dream of being tortured as a prisoner," he stated, "but now when I dream, I'm coming home."After a recent DC trip, a wife called and told me, "My husband has suffered from PTSD our whole marriage and has had a lock on his heart since Vietnam. The FYV trip was the key that unlocked his heart and love came pouring in. He's a changed man!" Many family members have stated that their fathers are much happier, more out-going, and easier to be with after returning to the places where they fought. Not only do these trips change the veterans lives, but they often change the dynamics of the family. It's like throwing a stone in a pond and watching the ripple effect of the rock entering the water. There is no limit to the never-ending impact of a restored life.What seemed to be a family tragedy with my dad's alcoholism has actually brought goodness and healing to many lives, including mine. Through Forever Young Veterans my father now has a new legacy. He is no longer remembered for his struggles, but for bringing honor, healing, and hope to America's heroes.FOREVER YOUNG VETERANS BOOKForever Young Veterans: Stories of Sacrice, Healing, and Hope contains 22 personal stories of our veterans from World War II, Korea, and Vietnam. The cost is $20 and all proceeds from the sale of the book will help honor senior veterans on a Trip of Honor. The book releases on Nov. 11 and can be purchased online at amazon.comDIANE HIGHT | FOUNDER/PRESIDENTDiane founded Forever Young Veterans in 2006 because of her love for seniors. The organization has given her the opportunity to show the importance of those who have given so much. When she's not loving on older people, you'll find her with her husband, Greg, and three grown children.To find out more about Forever Young Veterans, scan the QR Code. Vietnam Veterans scan the names of fallen brothers, in thier recent trip to D.C., with FYV.
Page 34
34 AT EASE! Veterans Magazine | Winter 2022SOMEWHERE IN THE MIDWESTOne day, in the middle of the afternoon, I stopped for gas in Iowa or Missouri or Kansas, or Nebraska (I forget which), and went inside to tell the manager about my work.The woman standing behind me in the line interrupted, "you do what for Gold Star Families?" There was a sadness in her eyes."Are you a Gold Star Mother?" I asked, hoping that she wasn't."No," she said. "Where are you going next?"I explained and excused myself to pump my gas.She came out a moment after me."It's really a great thing you do," she said, a little shyly."Thank you.""Nobody did that sort of thing when I was in," she offered."Thanks for your service to our country. When were you in?" She had my full attention now."I was in seventy-eight. My daughter was in for two and a half years, and my son is still serving over in the Middle East.""Forgive me for asking, but your daughter was in for two and a half years?" The number seemed strange to me."Yeah," she said slowly, her eyes moistening, "she's one of the twenty-twos."I immediately understood. Twenty-two is the ofcial number of veterans who take their own life every day. "Oh, my God, I'm so sorry to hear that. That makes you a Gold Star Mom in our book. I'm so sorry." My eyes were getting moist, too."The Army didn't see it that way.""We are not the Army," I said, using the words to enforce some stoicism, which in hindsight seems completely unnecessary."Thank you," she said, pausing and looking away a little. I could see she was looking for words."I've got something I'd like to share with you," I said, putting the hose back into the gas pump. I walked around the bike and opened a saddle bag, retrieving a plaque. "You don't know me," I offered, "but when I meet a Gold Star Family, I leave them with this plaque. If you'll accept it, I'd like you to have this.""Okay," she said, a little shocked."I feel how weak and fruitless must be any words of mine which should attempt to beguile you from the grief of a loss so overwhelming. But I cannot refrain from tendering to you the consolation that may be found in the thanks of the Republic they died to save..." Letter to Mrs. Bixby - Abraham Lincoln, 1864She wiped a tear from her eye, then reached out to accept the plaque I offered to her."You know," she said, not taking her eyes from the plaque, "so many people need just a little help. Sometimes the bravest thing you can do is ask for help.""I think that is totally correct," I said, fumbling for words."I wasn't sure what I would do; I was on my last ounce of strength," she paused. "Then, when I couldn't deal with it anymore, I went to the VA.""Are you service connected?" I wondered out loud."No, but I missed my daughter, and I served in the Navy, so I went to the VA.""And they were able to help you?" I asked."They," she stumbled over the words, "Well, they helped a little," she spoke like someone who was still hurting. "But the bravest thing I ever did was nd the strength to call them and ask for help.""It's not something we like to do.""No, it's not, but when it was done, after I went to see them, they were able to help me cope a little; it wasn't so bad. I don't know why it was so hard to do," she explained the feelings of depression and sadness that so many veterans and Gold Star Families know about."I'm glad you found the courage to do it.""I wouldn't be here if I didn't," she said."It saddens me. I hate hearing about the twenty-two a day. It's really a lot more than that, but one is too many. I understand how horrible it is to lose a child, and I'm so sorry for your loss.""I'm so glad I stopped to talk to you," she said, "but I have an appointment. Can I hug you?""Of course," I said. We gently embraced. Then she turned and opened her car door. I waved as she drove away, then turned to get back on the bike.I never learned her name, but she knows mine and is welcome to call anytime.THE SEVEN THOUSAND MILE SNIPER'S BULLETI was riding something like thirty-two days in the peak of summer when I arrived at a restaurant to meet not one, not two, but three different Gold Star Families. I was surprised to see local news cameras waiting for me in the parking lot. Just to make it GOLD STAR STORIESby Tony Price
Page 35
ofcial, I circled the lot once or twice to make sure they could lm something with me on the bike.Kickstand down, I pulled myself off the bike, and in a good mood, well rested (which was highly unusual), I walked toward the camera and a small group of people who looked like they were waiting for me. I stole a line from Bill Murray in the comedy classicStripes, saying as I walked, "What? A surprise party! Whose idea is this?" I don't think anybody understood the joke.We greeted each other warmly, everyone anxious to know everyone else. The Gold Star Brother had not met the Gold Star Mother and neither of them had met the Gold Star Son. After the introductions, we went inside to a table that had been waiting for us.We sat around a large table and the camera operator did his best to make sure we could all be captured and heard, and the dialogue rolled along casually."What do you think you'll have?""How was the ride over here?""What's your favorite part of the country?"You get the idea. That sort of talk continued for a while. The waiter delivered our lunches and everyone was chewing and wiping the crumbs of food from the corners of their mouths when the Gold Star Mom looked at me directly. "I just don't know," she said as her eyes glistened with the formation of new tears, "why my son would take his own life."The people at the table, the camera operator, and the people at the surrounding tables, all fell dead silent.I'd like to share with you how I thought about what to say, but I didn't. I didn't know what to say, and to this day, I have no idea from where this came, but I acted and spoke without hesitation, and without a crackle to show my nervousness. I placed my right hand on top of her left hand and just let it lay there. As I looked at her eyes, I could see the blank sadness that comes from wishing you knew why something very sad had to take place, but you just can't gure it out. I moved my lips and allowed words to fall out of my mouth. It was unscripted, unplanned, but altogether quite natural. "He didn't take his own life," I said, quite matter-of-factly, "it was a sniper's bullet from seven thousand miles away."It was as if I had reached across a sink and turned the water on. I can't recall ever seeing a pair of eyes moisten and drop tears so quickly and easily. I felt the tears trickle down my own cheeks as well. After a moment or two, when I thought it seemed okay, but before anyone spoke, I glanced around the table and realized there wasn't a dry eye in the place. Out of respect, we all stayed quiet for another moment.Then, someone said, "These mashed potatoes are so much better than I thought they would be."As quickly as it had changed, the conversation changed back. We were all happy to be there. We nished our meal, made jokes about the waiter mixing up the drinks, asked the camera operator when it might be on the news, paid the bill, and walked out to the parking lot."I didn't know what to expect," the Gold Star Mom shared. She seemed like she was still a little shy about talking with me."I didn't either," I quipped. It was true. I never know what to expect when I meet a Gold Star Family.We thanked each other, and we parted ways. I climbed back onto my motorcycle and started it up. The rst few minutes of riding after meeting a family are always the most surreal. Nothing seems like it should. Going sixty miles an hour feels like fteen miles an hour. Ten miles of highway feels like two.I rode south to the next state, turned west to the next Gold Star Family – another Mom, then I rode west some more and some more. After a few days, I turned north to ride to other states, cover more miles, and meet other Gold Star Family members.After about a week of riding, nursing sunburn, and trying to live through heat exhaustion, I showered in the cheap motel and found this in my email from the best friend of that Gold Star Mom:I wanted to share with you that your visit to us was very special. After you left, she tore up her own suicide note.I couldn't see the computer screen through the moisture that formed on the surface of my eyes involuntarily, so I buried my face in my hands and allowed myself to weep for a short time.The preceding stories were shared with us by Tony Price, of the Gold Star Ride Foundation. And like Tony, we also recognize and honor the families affected by Veteran suicide as Gold Star families. Both the battlefields abroad and those within have taken far too many of our Sons & Daughters, Brothers & Sisters, and Mothers & Fathers. ~ AT EASE! Veterans MagazineGOLD STAR RIDE FOUNDATIONSCAN THE QR CODE TO FIND OUT MORE >GOLDSTARRIDE.ORGWinter 2022 | AT EASE! Veterans Magazine 35
Page 36
36 AT EASE! Veterans Magazine | Winter 2022Walk A Mile ...Moving to our dispersal areas, Marines everywhere are going over the battle plan. They are ready. As this war machine begins to roll, clouds of dust, mixed with fuel make for a nasty stench. But, the stench of dead, decaying bodies would obviously exceed anyone's imagination and would be much worse. It's always been known that we look to our leadership for guidance and wisdom. We also look for experience. When we look at our leaders, and often we see the medals on their chest as to an indication of their level of experience. What we don't see, is the personal sacrice or what they have gone through to gain that experience. I remember the Vietnam Veterans and seeing the 1000-yard stare; so often referred to as the 'man who has seen all too many times the horrors of war.' The pain that they carry is massive! And many times, he caused it; many times, he directed the re by his own hand. The Vietnam war was more personal on a much grander scale. He may have used a knife or pulled the trigger at point blank range. In either case, he more than likely had seen the whites of the eyes of the enemy prior to doing his duty; "for God, Country, and Corps." When it came his turn, he without hesitation, ended another man's life. As often as we speak about having been there, done that; nothing compares to the Marine who is doing it now. How many times has the junior Marine heard, 'ten years ago' or in the 'old Corps', shame on those who think they know what active duty are going through. We have to remember that warfare evolves with each new generation of Marines. Combat stress goes beyond the schoolbook trained psychology. The closest most have come to combat is watching the movie 'We Were Soldiers.' What goes on in the mind of someone who knows all too well that there is no glory in combat, only that death is coming. And when it comes, it will come in a rage of fury never experienced by civilians. Only the atomic bomb will surpass the destructive force of Marines on the ground. Their shear ability to focus on the enemy and destroy them is truly fundamental to the Corps itself.Where were you when this county was attacked on 9/11? What did you do about it? Did you wave a ag and say "send in the Marines?" Then at the end of the day, run home and tell your …family you love them, all the while holding them tight and feeling no shame in letting others do the dirty work.Stop sucking your thumb, let go of your mother's apron strings. Pick up a weapon, join the men in the trench line, and do something to help keep this country free. For if you do, you will join those who have given their all, who gave their lives for those who cannot. Yet, the sad thing is, our nation didn't care. Out of sight, out of mind. Can you tell me the name the rst Marine killed in action? Do you even care? His name was LCpl. José Antonio Gutierrez, born in Guatamala and died in Umm Qasar Iraq on March 21, 2003, just four days before completing one-year as a Marine. The problem is the world is full of takers not willing to do their part, yet feel they have the right to enjoy freedoms that they themselves won't ght for. The things we do for a country that doesn't care, ours and theirs. I was told by a neighbor that I needed a light on my ag for ying at night. I told him until he ghts for it don't tell me how to y my ag. For those who have fought for it, freedom has a avor the protected will never know.'Kuwait D-Day -1'
Page 37
Winter 2022 | AT EASE! Veterans Magazine 37We Marines will cross this desert land while ghting along the way, an enemy who in some odd way, thinks that through their belief in a god that only their leader has spoken to, has told him that they will win against this invader, this indel will die!We came that day as a force of condent men with only one thought in mind 'Winning'.I believe in a person who gives it his all and wants nothing in return. To sacrice all for a worthy cause. They do it for the sake of patriotism, but they don't see the injustice until they have given away their innocence. I have seen good men fall for what they consider a noble cause. Should you fall while trying to achieve greatness, don't despair at how others will look at you. Know that those who mocked you, know only emptiness in their hearts. And in order to ll that emptiness they must put you down. You are the one who at least stood tall and ran to the sounds of the guns. You ran to the sounds of the guns without hesitation. While cowards lay in their beds hoping and praying that you would put down the tyrant, so he could lay in comfort and not have to ght for the freedom you provide. His freedom is free. Leading men in battle, I sometimes see myself as the dark angel and other times as the savior of the world. While people who think they're better, will talk, causing other men to look at us with shame. But for the rest of their lives, we will only remember them as shameless cowards. Only the brave who speak the words of freedom; will speak of ghting for it. Fight for freedom!Do men ght with rie in one hand and the good book in the other? Do they believe that their God has brought them here to this battleeld, is this his faith to live or to die? Will he today, meet his maker?I am but a warrior, who by the will of others, send those who ght for the weak, who cannot ght for their freedom. If I should fall on the battleeld this day, I know not what will be remembered. But I do know what I and others have done. By giving our lives we will guarantee the freedom of others. Should I live this day I will keep in my heart those faces of the fallen, for they too had dreams of living. They too gave all, so that others shall sleep in their beds as old men. While other old men will realize their life lived for so long has no meaning. They will wish that they could have been the hero. For those who have fallen, will know that their life, though short, was more fullling.In Our BootsSgt. Maj. Gregory Leal was born and raised in Abilene, Texas and enlisted in the Marine Corps in May 1976. After completing Communications School at Twenty-Nine Palms, Pvt. Leal reported to Headquarters Battalion, 1st Marine Division, Camp Pendleton, CA. Just three years later, after a deployment to Okinawa Japan, now a Sergeant, Leal returned to MCRD San Diego First Battalion as a Drill Instructor from 1979 - 1981. In 1982, Staff Sgt. Leal reported for duty as an Instructor, Twenty-Nine Palms. From 1983 to 1985, Staff Sgt. Leal Reported back to MCRD San Diego, as a drill instructor, senior drill instructor and series chief drill instructor for First Battalion, Alpha Company. He was meritoriously promoted to Gunnery Sergeant, and completed his tour as the standard operating procedure instructor and physical training instructor at Drill Instructor School in January 1987. Over the course of his exemplary Marine Corps Career, Sgt. Maj. Leal participated in Operations: Desert Shield, Desert Storm, Joint Task Force-6 Counter Drug Operations, Anvil 2, Desert Fox, Southern Watch, Enduring Freedom and Iraqi Freedom. His personal awards and decorations include the Legion of Merit, Bronze Star with Combat "V" Device, Meritorious Service Medal, with one gold star, the Navy Achievement Medals with two gold stars and the Combat Action Ribbon. He currently holds a 2nd-degree black belt in the Marine Corps Martial Arts Program.Sgt. Maj. Leal is married to the former Elena Hernandez of San Diego. They have two daughters: Monica and Sonia.by Sgt,Maj. Greg Leal
Page 38
There is often a ne line between a written interview and a broadcast version. Without photos in a magazine article or book, the images in the story are left solely to the reader. In radio, voices assist in formulating those mental images. In visual podcasting, the follower can easily connect with the participants.We hope to broaden your perspectives of the stories that veterans tell by sharing some of them gathered through my broadcasts. You will meet some people that you may know, and many more that you don't. All have careers and hobbies and military stories to tell, and we go out of our way to share some of the back stories that got them to where they are today. Some are humorous, some shocking but all of them relevant to the mission of AT EASE! Veterans Magazine. These are their stories and they are your stories, and we hope that you enjoy them and even connect with some.One of these is the story of David Jordan. Originally introduced to me through his non-prot We Got Your Six I found David to be a visionary in what he wants to accomplish by making veterans and non-veterans (who we affectionately refer to as Patriots) aware of veteran homelessness and suicide. David knows of what he speaks. In our conversation, I learned that David not only talks the talk, but he has personally walked the walk.Sgt. Jordan's twelve-year service in the National Guard included service in communications and as a combat medic with a tour in Iraq. His additional involvement as a combat instructor and motivator helped him develop the leadership skills he covets today. With a desire and passion to hit the ground running after the military, David had big hopes and dreams of a successful business career and, at the same time, giving back to those who also put on a uniform to serve our country.Sometimes our visionary plans get derailed, and it happened so deeply for David that, for a period of time, he was homeless and even contemplated ending his life. In talking with this proud veteran, I became aware of his drive and tenacity to turn things around. He put together a business plan and opened a sandwich shop which he appropriately named the Patriot Sandwich Company. Not only does he serve the freshest custom-made sandwiches, but David builds all of them himself! And the shop reects his commitment to his service as it is furnished with handmade shadow box tables; each one lled with authentic military memorabilia. There is even a special honorary table set in honor of our POW-MIA comrades. Often while building his incredible sandwiches, he shares stories of the memorabilia around the shop. It is like having a great meal in the middle of a museum.All was going gangbusters like charging that hill to reach the objective at the top. Then the pandemic hit and forced David to close his doors for an unspecied time. He fought the closure like every good soldier does. He had a backup plan to continue making sandwiches for curbside pickup and delivery. This worked for a while even though the cost side was greater than the income side. But this soldier was determined to regroup, reassess and return to protability.Sgt. Jordan is always thinking about others before himself. We Got Your Six is a metaphor for watching someone's back while they focus on the task at hand. For David this means putting his money where his mouth is. A portion of the sale of each sandwich helps a homeless or depressed veteran to nd the light at the end of their dark tunnels. This is not an easy task as the statistics are growing faster than David can address them. But we are talking about a former soldier and now veteran with a mission. He is now in the process of expanding his sandwiches into other shops, preferably veteran owed and operated establishments. One of those is the American Coffee & Tea Company recently opened in the area. When talking to David Jordan you never get the sense that it is about him. Everything he does reects his passion to make life better for his customers and fellow military veterans. It was difcult to draw out his personal points of view because the other guy's viewpoint was always more important. It was that part of our conversations that allowed me to see the true spirit inside this man. His past is his past and always will be, but it is his vision of his future that is the lesson to be learned. He will continue to succeed because failure is not an option. And because he has the veteran community behind him. In other words, we got your six, Brother.To find out more about WE GOT YOUR SIX, Scan Here >38 AT EASE! Veterans Magazine | Winter 2022David Jordan, Patriot Sandwich Co. | We Got Your Six
Page 39
Rudy Richards was born and raised in St. Thomas, US Virgin Islands. When he graduated from high school, he had grand plans for attending college to get a degree. However, after learning that he could only afford one class he needed to develop a Plan B. Four days after his 18th birthday he joined the U.S. Air Force with the plan of getting an education while traveling the world and serving his country.So, what was initially planned as a 4-to-6-year military and educational experience became a 22 year and 8 months military career. Rudy spent half of his career in Communications and the other half in Operations. In those 22 years he permanently relocated 10 times with residences in Texas, Mississippi, South Korea, New Jersey, Turkey, Georgia, Virginia, and Belgium. During his career Rudy was deployed to Kuwait in support of Operation Iraqi Freedom. His unit was one of the rst to arrive and provided communications vital to the mission. He was also deployed to Afghanistan in support of Enduring Freedom where he led his team at a FOB (Forward Operating Base) in setting up and operating surveillance communications. He also deployed to Haiti to provide humanitarian relief after Hurricane Matthew by ensuring that there was orderly operations at the Airport with the arrival of Aircraft. Rudy retired from the Air Force at the rank of Master Sergeant.When Rudy was close to getting out of the military, he started thinking that maybe now is the right time to start his own business. Being a business owner was always a dream of Rudy's since both of his parents owned their own businesses, and he always felt that there was nothing like working for yourself. "I kept that business ownership mindset with me throughout my military career and thought that if I can work this hard for my superiors and my subordinates, I can do the same for myself and my employees in my own business."A few months before leaving the military, Rudy received a call from a Franchise Consultant by the name of Irving Chung. After a comprehensive consultation, Rudy was introduced to three business opportunities to explore based on his interests and skills. After some in-depth research, Rudy decided to open an ACE Handyman Services business. After just one year, he already is in the process of expanding his business by acquiring another territory.DREAMS OF BUSINESS OWNERSHIP"I can honestly say that I proud to have had the opportunity to be a part of something bigger than myself throughout my military career."Why are Veterans Why are Veterans Selecting Franchises?Selecting Franchises?•• Proven track recordProven track record•• Less riskLess risk•• Established infrastructure Established infrastructure •• Full operating proceduresFull operating procedures•• Comprehensive training and Comprehensive training and ongoing support ongoing support •• Brand awarenessBrand awareness•• Experienced leadership teamExperienced leadership team•• Marketing resourcesMarketing resources•• Easier fundingEasier fundingWhy are Veterans Why are Veterans Selecting Franchises?Selecting Franchises?•• Proven track recordProven track record•• Less riskLess risk•• Established infrastructure Established infrastructure •• Full operating proceduresFull operating procedures•• Comprehensive training and Comprehensive training and ongoing support ongoing support •• Brand awarenessBrand awareness•• Experienced leadership teamExperienced leadership team•• Marketing resourcesMarketing resources•• Easier fundingEasier fundingIrving Chung is a franchise consultant with FranChoice. He is also the Director of Entrepreneurship and Board Member at the Dallas/Fort Worth Veterans Chamber of Commerce.To learn more, contact Irving for a free consultation.Irving ChungFranChoice Franchise Consultantichung@franchoice.com(214) 908-9791bigconsideration.comRUDY RICHARDSMaster Sgt., USAFWinter 2022 | AT EASE! Veterans Magazine 39
Page 40
I Remember When...I Remember When...My United States Marine Corps decided my unit would involve itself in a division-brigade operation in which my battalion would sail off to sunny California and compete on maneuvers against members of the Marine Division at Camp Pendleton for a few weeks. I was assigned the duty of an Embarkation Ofcer. As Embarkation Ofcer, it was my responsibility to make sure each and every single Marine was assigned a rack (bunk/bed) and all his gear stored properly, and his two sheets, one blanket, and one pillowcase were issued to him.Being the Embarkation Ofcer, I had the nal say as to where everyone was to be. At one point in time, a platoon Sergeant told me that a company commander had arbitrarily forced him and his men to vacate the assigned area which I had designated them. It being a weapons platoon, with the need to have more space due to its machine guns and other large weapons, this particular captain had no right to make changes on his own. In this case, allowing his men an area far too big for the number of men he had. I confronted him and informed him of the situation. He proceeded to blast me out. I stuck to my role as the responsible ofcer of embarkation. He had to remove his men. At this time, I'm a 2nd Lt. and he is a Captain. Under normal circumstances, I would have had my ass reamed out, but my responsibility (title) did the trick and he moved his men. However, the Captain chose to report me to our Battalion Executive Ofcer. The issue was something about the way I presented him with no alternative.The Battalion Executive Ofcer invited me to the ofcers' mess (dining area) and informed me that I had done the right thing. He then told me something extremely important about leadership. He let me know that from all the reports he had gathered about the incident, it appeared I was right and the Captain was wrong. The Captain was the one who was demanding and I was the one commanding. There's quite a difference between those two actions the BXO told me. Demand and one can easily lose respect. Command and one can easily win respect. I won the respect of those who witnessed the situation. The BXO thanked me and sent me on my way to gloat about my command status.I settled in with my men for the night as our ship cruised out of Pearl Harbor and headed east. The next morning, we saw the sun rising at our backs. How the hell could that be? The sun comes up in the east. What were we doing heading west? Come to nd out, the Communists in and around Laos were planning on doing some harm to somebody. Don't ask me who. I probably didn't know then and I still don't today. John Fitzgerald Kennedy and his cabinet felt someone needed help so they would send in some troops.I can remember sitting on my bunk on board the ship and listening to the President talk at his press conference. Some reporter inquired about a large battalion of Marines being lost at sea. We were being augmented with an extra 150 men. Apparently, the reporter had gotten word about us. President Kennedy said, "I'm not sure what you're talking about, but no Marines are lost. We know exactly where all of our Marines are." I can still hear myself yelling, "Here we are! Here we are!" That was the end of the press conference. That was the rst time we knew we were heading to the Far East, not California, and since we had blank ammunition on board for Operation Blue Star, we would stop in Okinawa to pick up live ammunition, and then on to Laos. We headed for Okinawa, Taiwan, Japan, Hong Kong, and the South China Sea area with the possibility of going to Laos. Fortunately, we did not have to go into Laos. I often wonder about a battalion of Marines taking on the divisions of Chinese who were massing along the Laotian/Chinese border at that time. We probably would have whipped their asses! Or as General "Chesty" Puller would have said, "Now we got the bastards!! Right!". COmmANDING vS. DEmANDINGby Paul Sullivan, Ret. Captain, USMCPaul Sullivan, Ret. Captain, USMC resides in Massachusetts with his wife Beverly. 40 AT EASE! Veterans Magazine | Winter 2022
Page 41
Winter 2022 | AT EASE! Veterans Magazine 41OUTSIDE THE FOXHOLEWe all know that veterans love to tell war stories. How they took the objective single-handed. How they captured the enemy and saved the day. You know, something like the angler's story about the one that got away! But some of the best war stories are the ones that happened behind the scenes when the ocers and sta were not looking. And some of the better stories are those that took place when the ocers and sta were, in fact, looking! This is one of those stories.Having gone through the then mandatory two-year ROTC program in college during the Vietnam years, one of our dilemmas was taking our chances with the draft. Taking advanced ROTC and receiving an ocer's commission upon graduation would increase the chances of serving as an ocer from the rear rather than as a grunt from the front. It also meant spending the summer between your junior and senior year in basic training with a haircut that more resembled a follower of Hare Krishna than the more popular Beatles style of the day.Basic training in Honolulu would have been ideal. I got Fort Riley, Kansas for the summer which meant very little precipitation and temperatures mostly at or near triple digits. The only upside was that if you were a smoker, you rarely had to eld strip your cigarette butts. You could simply drop them into a split in the open soil and listen for them to reach the Chinese border. And if you thought that the state of Kansas was a at prairie for growing crops, then you have never visited the vast acreage around Custer Hill with or without a full backpack!I have always wondered why they call it Boot Camp and Basic Training. In no way did it resemble any camp that I ever attended as a kid and there certainly wasn't anything basic about it. We quickly learned what it was like to get up about the time we had been used to going to bed in college. And what was this running three to ve miles before breakfast? We were used to having a nice breakfast before a one-mile walk to our rst class on campus at about 10 am.What I do know is that we worked our butts o all week learning tactics, practicing drills, reading maps in addition to polishing boots, cleaning latrines, and making a bed so tight that you could bounce a quarter from it back into your hand. And since that summer experience more than fty years ago, I have never peeled another potato! You did what you were told (like we had an alternative?) so that you could earn the right to a weekend pass following our second week of training. And with that pass in hand, you now had more choices to make. Did you head north to Manhattan to hang out with the girls at Kansas State University, or did you head south from the base to Junction City which was famous for women who…..well, let's just say this was not their rst rodeo!! Either way, your Hare Krishna head and rich suntan from the wrists down were dead giveaways that you were not in town looking for a long-term relationship.I chose Manhattan because the consequences of visiting Junction City were too risky for my health and limited bankroll. A few of my platoon buddies and I walked into a local o-campus saloon (that's what they were called in Kansas) and sauntered up to the bar to grab some beers and meet some ladies. If this sounds like a scene from an old western movie, it kinda was. We were out to make an impression until we saw our reections in the mirror. Yes, the girls there were friendly and thirsty, and they knew how to separate us from our hard-earned pay.Most of that weekend is a blur. I did learn that mixing drinks is not a good idea and beer is not a suitable therapy for a headache. I also do not remember driving back to the post on Sunday to arrive before curfew or how I managed to even get there in one piece. I do recall the thunderstorm in my head when reveille sounded, and it was boots-on-the-ground time once again. by Stuart Sax
Page 42
42 AT EASE! Veterans Magazine | Winter 2022SERVING THOSE WHO SERVEDBy: Olivia HughesAdvancement Associate at PPHPurple Heart recipient, Carlos, developed PTSD while serving in Iraq and struggled to resume his normal life once he returned home. The trauma from his service was not something that could just go away. It was difcult for him to leave the house. His family could feel his change. Years passed and his difcult symptoms continued.When Carlos' wife, Rosa, began searching for assistance, one organization kept coming up over and over again, Paws for Purple Hearts. Rosa had previously looked into Service Dog costs and knew that they, like most people, wouldn't be able to afford $35,000 for a Service Dog. With Paws for Purple Hearts providing Service Dogs free of cost to Warriors, it sounded like it could be the help they had so desperately been looking for. Rosa decided to reach out.From that initial contact, Carlos' life was forever changed. After hearing about his story, Carlos was brought to meet the dogs at the San Diego facility. As Carlos met all the dogs-in-training, one thing was clear, he and Liberty were immediately drawn to one another. Everyone in the room felt their immediate bond. Liberty could sense his pain and was determined from day one that she was going to help in any way possible. Their connection felt like it was meant to be.In preparation for placement, Carlos went through the two-week client training designed to secure the pair's bond and prepare the team to take on the outside world together. Client training involves classes and hands-on experience working with their Service Dog. The class is designed to set up a foundation for the partnership. Service Dog teams practice both in the classroom and in public to ensure they feel prepared in learning how to navigate through the new landscape they are facing. Paws for Purple Hearts works to give clients support in any way possible, both during and after placement. As Carlos advanced through the client training their bond grew ever stronger."Liberty is always looking at him, waiting for him, and checking in to make sure he is alright, almost like Carlos does for the kids all the time. She tags along with him everywhere. If Liberty senses Carlos starting to get worked up about something, she calms him down before it can spin out of control."- Rosa, Carlos' wifeSince their graduation in the Summer of 2021, Carlos has regained his independence. Liberty comforts him in a way that no others can. When Carlos received an invitation on the LA Dodgers eld to recognize his service, his family was floored when he said 'yes'. Rosa is sure that this would not have happened without Liberty. Their partnership has given Carlos his life back.PAWS FOR PURPLE HEARTS MISSIONPaws for Purple Hearts improves the lives of America's Warriors (veterans and active-duty service members) facing mobility challenges and trauma-related conditions such as Post-traumatic Stress Disorder (PTSD) and Traumatic Brain Injury (TBI) by providing the highest quality assistance dogs and canine-assisted therapeutic programs, and by building public awareness about the important role dogs play in helping Warriors along the road to recovery.To nd out more about PAWS FOR PURPLE HEARTS, scan the QR code >
Page 43
DID YOU DID YOU KNOW?KNOW?DID YOU DID YOU KNOW?KNOW?Because each offers different benets, having both at your disposal will broaden your health insurance coverage options.If you're a veteran, it's important to understand how VA benets and Medicare work in tandem before you make the choice. The VA's health care package and Medicare are two distinct programs. They do not work together, but rather, alongside one another.Our organization can help you understand those benets and show you how they work together.tracy@tracybrileyandassoc.com or 940-597-2001Veterans who receive health care benets through the U.S. Department of Veterans Affairs (VA) can also enroll in Medicare upon turning 65. SELF-RESPECT LEADS TO SELF-DISCIPLINE. WHEN YOU HAVE BOTH FIRMLY UNDER YOUR BELT, THAT'S REAL POWER.Clin Eastwoo
Page 44
44 AT EASE! Veterans Magazine | Winter 2022OCB's Five Paragraph Order for Veteran Suicide & Homelessness"IMPACT OR DIE TRYING" Sounds a bit extreme right? No, this isn't the title of Nicholas Cage's newest action movie. In reality, this is the newest mantra of a Non-Prot Organization. You might be thinking "Wow, that's pretty intense for a Non-Prot" and you'd be right. But according to Operation Combat Bikesaver (OCB for short), that sort of intensity is exactly what it takes to put a dent in two of America's top crises. Veteran Suicide and Homelessness. Using the Marine Corps O-SMEAC format for the ve-paragraph order, let's delve into OCB's mission and how they are executing it. ORIENTATION:The terrain of mental health for Veterans is an ever-changing battleeld. One can nd themselves under attack at any moment. While at home with their family, out and about or even while asleep. An attack can be sudden or a slow chipping away of one's well-being and psyche. Just like the Vietcong, Taliban, or Al Qaeda the enemy knows no boundaries and shows no mercy. This adversary will use its tactical advantages to wreak havoc on the lives of our nation's heroes. SITUATION:Unlike the Orientation, the Situation is pretty cut and dry. Quite simply, our Veterans have not been given the tools or resources to help combat the onslaught of mental illness plaguing and destroying their lives. According to MilitaryTimes.com, Veteran suicide has uctuated between 6 and 6.5 thousand a year since 2001. Another statistic suggests that Veterans make up an estimated 8% of the US homeless population. Day in and day out Veterans are living their lives helplessly hoping that someone or something can keep them from pulling the trigger or falling into disparity. "Traditional" Veteran organizations may offer a place for Vets to sit at a bar and drown their sorrows. But it's not enough. Today, Veterans need something more. MISSION:OCB's primary mission is to help prevent Veteran Suicide and Homelessness across the Nation and someday worldwide.Secondarily, which is just as important, is to empower Veterans to take charge and to be proactive about their mental health and personal lives. They aim to give them an opportunity to not only impact their own lives but the lives of their fellow Veterans as well. To act as resources for each other when they see or know that something is wrong and to offer a helping hand to a drowning brother or sister. EXECUTION:OCB has been executing this mission through a wide array of near-peer programs, camaraderie, and (to put it bluntly) giving a shit. According to Founder and CEO Jason Zaidemen, they already know the "recipe" works, it has been for nearly seven years. This recipe is really quite simple. Andrew Hasty, USMC VeteranOCB's Jason Zaideman (R) & Justin Burns (L)Photo by: William DeVore | Garage Brewed Moto Show
Page 45
Put Veterans in an environment where they can be or nd themselves, can do something productive or creative, surround them with other Veterans who can relate, and genuinely care about them. What will you get? A happy, well-adjusted, productive member of society. Where the rubber meets the road is the agship program at OCB. The "Hot Rod Therapy" program, sets up Veterans with disabilities with other Veterans and gives them the task of building a custom motorcycle. They're given everything they need. The motorcycle, space, tools (including a team), and budget to complete their very own functioning work of art that they get to keep at the end of the process. Free of charge, of course. Other programs at OCB include a Veteran peer support group aka "Lima Charlie", the "Blaster Program" which provides Veterans with needed transportation, a Fitness and Tranquility (FAT) Program, and nally nancial assistance through the "On Your Feet Program." These are just the tip of the metaphorical iceberg as Jason and his crew hope to offer an even bigger selection of programs and services in the near future. They hope to one day be a "one-stop shop" for any and all Veterans who could potentially benet from their services. ADMINISTRATION & LOGISTICS:The organization is governed by a board of directors. Operationally, Jason himself runs the day-to-day as the Chief Executive Ofcer. Answering to him is a team of six department heads that all run a specic part of the organization. Within each department is a team of volunteers working diligently to keep OCB running like a well-oiled belt-fed machine gun. By the way, the majority of these department heads and volunteers are Veterans themselves. Some of them made their start at the organization in one of their many programs. This ties back into the concept of giving these men and women a purpose and a way to help make an impact on the Veteran Community. OCB headquarters in Northwest Indiana have made quite the leap this year. They went from a roughly two-thousand-square-foot building they had rented since 2016 to owning a fteen-thousand-square-foot facility just on the other side of town. This new facility allows them to not only work on more motorcycle projects but to also allow the space for other types of "therapies" in the near future such as wood or automotive work. COMMAND & SIGNALOver the years OCB's main methods of spreading the word have been through social media and community engagement. To keep their doors open they have been taking every opportunity to set up at local events to spread the word and inspire community support. While increasing donations and supporters is a major goal of the team, their main purpose for reaching out is to bring their "recipe" to Veterans across the country. If they can inspire the right people to open up other chapters across the US, they know they can make an even bigger impact than they already have. To do this, all you have to do is visit https://www.combatbikesaver.org/chapter-application.html and ll out the application. If you meet the requirements, you too could help bring OCB's recipe to your local Veteran Community.
Page 46
46 AT EASE! Veterans Magazine | Winter 2022In Shakespeare's play Romeo and Juliet, where Romeo and Juliet both came from feuding families who did not want them to marry, Juliet suggested changing their names and whispered, "A rose by any other name would smell as sweet." Shakespeare wrote this line in 1587 to convey his belief that the naming of things is irrelevant.While the initial naming of most things might be somewhat irrelevant, as we will see, RE-naming some things can trigger a whole different situation.In 1757, the British Army established a military barracks in the area of Carlisle, PA (named by Scott-Irish immigrants, after Carlisle, England). 19 years later, in 1776, the US Army took possession of this outpost and the Continental Congress authorized the construction of a War Arsenal on the site. They named it Washingtonburg (after George Washington). It was later, renamed Carlisle Barracks and is presently the home to the United States Army War College.Since those early days of the United States of America, we have established hundreds, if not thousands of military Camps and assigned a name to each of them…usually the name of a person or a nearby city. Most of these Camps have since, been deactivated but some have grown into large, permanent bases and many have been re-identied as Forts. The US Army denes a "Camp" as a temporary installation while a "Fort" is a permanent installation.It is estimated that today, the United States has around 500 Domestic1 military bases and 750 Foreign2 military bases. That's over 1,2003 US Bases that had to be named. On each of these Bases, numerous streets, facilities, and areas are also tagged with commemorative names. Adding to that, there are hundreds of ships, aircraft, and vehicles that get named. There are literally thousands of DOD "things" that are assigned commemorative names.When it comes to commemorative naming, each military branch has its own set of rules. These rules (conventions) change periodically to accommodate the whims and 1Domestic refers to all US military bases located in CONUS (the 48 contiguous States) + Alaska + Hawaii + the 5 inhabited US Territories (Puerto Rico, US Virgin Islands, Guam, Northern Mariana Islands and American Samoa). 2Foreign refers to all other US bases around the world.3The numbers of US bases are estimates. It appears the DOD and the individual branches are either unable or unwilling to give an accurate count of the number of bases under their own commands. https://www.thesoldiersproject.org/how-many-us-military-bases-are-there-in-the-world/ ...The Soldiers Projectdesires of many groups (both civilian and military). Over the years, while some conventions have changed, very seldom have existing Base names changed. An example of these rules being changed can be seen on page 34 of the Fall 2022 issue of AT EASE! Veterans Magazine, in Buddy Blouin's article, How the USS New York Is a Living 9/11 Memorial. Marine Corps (USMC) - Of the 17 Domestic bases and 3 Foreign Bases, 5 are named after notable Marines, the balance is named for nearby cities.The Marine Corps has Bases, Camps, Air Stations and other types of installations, but no Forts. One example of a USMC installation is Camp Lejeune, NC, constructed in 1942 and named in honor of the 13th Commandant of the Marine Corps, John A. Lejeune. During WW I, Major General Lejeune became a very successful and well-respected commander. US Army General John Pershing selected Lejeune, a Marine, to command the Army's 2nd Division, a position he held for over a year, throughout numerous victorious battles.See the USMC Policy Letter outlining the Marine Corps' Commemorative Naming Program: https://www.mcieast.marines.mil/Portals/33/Documents/Adjutant/MCICOM%20POL%20LTRS/MCICOM%20Policy%20Letter%203-15%20Commemorative%20Naming%20Program.pdfAir Force (USAF) – Their Bases for the most part, are named for Airforce personnel (mainly Pilots) and sometimes a politician or a nearby city.•One example of an Air Force installation is Edwards Air Force Base. Originally named Muroc AFB, after the nearby city of Muroc, CA. Muroc is the backward spelling of the name of an early settler family named Corum. On October 14, 1947, Chuck Yeager flew out of Muroc AFB to be the rst human to break the sound barrier. In 1950, Muroc AFB was renamed after World War II USAF veteran and test pilot Capt. Glen Edwards.•This interesting article outlines the origins of Air Force Base names: https://media.defense.gov/2014/Feb/24/2001329861/-1/-1/0/Base%20Names%202.pdfNavy (USN) - Every US Navy Base, domestic and foreign is named after its host city or a nearby city. However, all of its ships and boats are tagged in accordance with a long list of conventions, including names of people, places, battles, animals, weather conditions, SiFi names, etc.•A good example is the USS Michael Murphy. She is named for Medal of Honor recipient Lieutenant Michael P. Murphy (1976–2005). Murphy, a Navy SEAL, was posthumously awarded the Medal of Honor for his actions during Operation Red Wings in Afghanistan in June 2005. He was the rst sailor awarded the Medal of Honor since the Vietnam War.•Here is a sampling of a few other US Navy ship names: USSThe Sullivans (people), USSSeawolf +USS Wahoo (Fish), USSMount Whitney (Mountain), USSMonsoon + USSHurricane (Weather), USSTexas (place), USS Seminole + USNS Navajo + USSChinook (American Indian tribes), USSIwo Jima (Battle), USSConstitution (Document), USS Enterprise (Star Trek's Starship Enterprise).•See the Federation of American Scientists website for more information on US ship naming conventions: https://man.fas.org/dod-101/sys/ship/names.htm•The naming of streets, facilities, and areas on naval installations is also fairly interesting: https://www.history.navy.mil/research/library/online-reading-room/title-list-alphabetically/n/naming-of-streets-facilities-and-areas-on-naval-installations.htmlCoast Guard (USCG) – Naming conventions for Stations and cutters seem to be quite like the Navy's in that their Stations are named after their host city or a nearby city and their cutter names are all over the map.•This branch falls under the Department of Homeland Security in times of peace and under the US Navy in times of war.There are over 100 active Coast Guard Stations in the US. The largest and busiest is the Clearwater, FL Station. •One example of a Coast Guard commemorative naming is the USCGC Calhoun, named after 1st Master Chief Petty Ofcer Charles L. Calhoun. MCPOCG Calhoun originally served in the US Navy during WWII on an escort carrier and saw very heavy action during naval battles and beach landings throughout the Pacic Theater. After the war, he was discharged from the Navy and enlisted in the Coast Guard. He served on a CG Cutter in Vietnam and later, became the CG's rst Master Chief Petty Ofcer.•This Commandant Instruction has been suspended, but it is still an interesting read: https://media.defense.gov/2017/Mar/14/2001716387/-1/-1/0/CI_5726_10C.PDF"Hey! What's your name?"…Possibly the most asked question of you, and by you. In the neighborhood, in school, on the job, at every new post…virtually everywhere you have been, one of the rst replies you had to give was your name.by Bob Wartman
Page 47
Space Force (USSF) – The United States Space Force is a separate and distinct branch of the armed services, organized under the Department of the Air Force in a manner similar to how the Marine Corps is organized under the Department of the Navy.•They have not yet established naming conventions and are presently using USAF rules, regulations, enlisted and commissioned ranks, etc.•Currently, their operational units are stationed on twelve existing Air Force Bases located in Alaska, California, Colorado, Massachusetts, New Hampshire, North Dakota, and Greenland plus a freshly minted squadron of 20 airmen stationed at Qatar's Al-Udeid Air Base.Army (USA) – The Army took a slightly different approach to naming Bases. It seems that over the years, their process has been more strongly influenced by local civilian sentiments.•In 1917, the Army initiated an informal policy used to name newly created Camps. A few key criteria for naming new Camps were that the name should: (1) represent a person from the locale of the troops stationed there, (2) not be unpopular in the vicinity of the Camp, and (3) focus on Federal commanders for Camps of divisions from northern States and Confederate commanders for Camps of divisions from southern States. The mere act of naming US Army Camps after Confederate commanders give credence to the argument that Confederates were accepted and respected members of the US Military Brotherhood. https://history.army.mil/faq/naming-of-us-army-posts.htm • One example of an Army installation is Fort Knox, KY, named in honor of Henry Knox, Chief of Artillery in the American Revolutionary War and the rst United States Secretary of War. Knox and his wife, Lucy were similar to Romeo and Juliet. Knox fought against the British throughout the Revolutionary War and Lucy came from a family of British Loyalists who vehemently opposed her marrying him. Once a commemorative name is assigned, can it be changed without too much protest? Some probably can be changed as was Washingtonburg when it was changed to Carlisle Barracks. This name change was in no way a denunciation of George Washington. It was more likely done to give identication to the Base's locale.However, if the name change is intended to denounce a person who is still cherished by many or if the name being changed is a long-standing name that many look at as a piece of who they are (troops often speak with great pride about the Bases where they trained), it will likely cause widespread protest and anger.Today, the US Army has several Bases named for Confederate commanders and there is a movement afoot to have at least nine of these Bases renamed. This is a report from the Federal Government's "Naming Commission": https://www.thenamingcommission.gov/ So again we have to ask, "What's in a name?" Would Fort Benning be any different today if, in 1918, it had been named Fort Independence instead? Had Fort Independence been its original name, I believe it would still have become the training ground for some of the world's nest military combatants and its graduates would be as proud to say, "I trained at Fort Liberty" as they are proud today to say, "I trained at Fort Benning."Yes, Fort Benning is named after a Confederate General. RE-naming Fort Benning after 100+ years of glorious history will very likely create a problematic situation. The proposed new name for Fort Benning is Fort Moore, in commemoration of Lt. Gen. Hal Moore, who unarguably deserves high recognition. https://history.army.mil/faq/army-posts-documents/035-Camp_Benning_1918.pdfThis Base RE-naming is being done under the guise of the National Defense Authorization Act, H.R. 6395 (116), authored by Sen. Elizabeth Warren (D-Mass.). Even though in 1914, the US Government recognized all Civil War soldiers (including Confederate soldiers) as American Veterans, this new legislation mandates the removal of Confederate names, symbols, monuments, and other honors from Defense Department property (including bases, buildings, streets, ships, aircraft, weapons, and equipment).The problem as I see it is that the forces driving the removal of Confederacy commanders' names from US Army Bases will not stop at the RE-naming of 9 or 10 Bases. Once that is achieved, "they", whoever "they" are ("they" stay in the shadows and have their minions do the public work) will go after other military Base names for other manufactured reasons and eventually, drill down to virtually everything DOD. There is no point of satisfaction. It is simply a power struggle to be able to change anything and everything that suits their agenda…to change and disguise American history. Looking again to the Fall 2022 issue of AT EASE! Veterans Magazine, headlining C. 'Jarine' Bradley's article, "fractured, not severed" on page 51 is George Santayana's quote, "Those who cannot remember the past are condemned to repeat it".The US Army and the entire DOD, and especially the members of the Naming Commission should be aware of not only what is right and wrong but also understand the overall consequences of making such changes. They should also remove the politics and unreasonable arguments and misinformation from the decision-making process. This is a very serious situation that demands very serious deliberation.Semper Fi… Bob Wartman Winter 2022 | AT EASE! Veterans Magazine 47
Page 48
48 AT EASE! Veterans Magazine |Winter 2022TO HONOR 'OLD GLORY'Growing up in the eighties we were taught respect for the ag of the United States of America. We collectively recited the Pledge of Allegiance before the start of classes every day and it was proudly displayed during parades and other communal events. However, no one ever talked about what happened when a ag became tattered, dirty, or as we call it in the military, unserviceable. The general assumption was that the colors were simply tossed in the garbage like anything else that was no longer of use. That, however, is decidedly not the proper way to dispose of our National Flag. In fact, in the United States Code, Title 36 Chapter 10 (The Flag Code) Section 176 (k) it very specically delineates how our National Colors are to be disposed of. The ag, when it is in such condition that it is no longer a tting emblem for display, should be destroyed in a dignied way, preferably by burning. Not all respect has been lost though. It has been maintained in certain quarters, namely the United States Military and in some patriotic homes and businesses. One of these businesses is Casella Waste Systems headquartered in Rutland, Vermont. One of Casella's locations is the Fifty-One-acre North Country Environmental Services (NCES) Landll in Bethlehem, New Hampshire. This location, like many Casella branches, is proud to employ veterans and patriots and one such person is the Operations Manager Bruce Grover. While inspecting the grounds Mr. Grover and a couple of other NCES employees noticed that there were many instances of our National Colors being simply thrown in the trash and ending up in the landll. They would then take them out, fold them up, when they could, and began to pile them up while searching for a place to properly retire the ags.Enter Veteans2Veterans Group of Littleton, NH. As soon as Bruce learned of this 501c3 (nonprot) he contacted them and asked if they did retire ags, which they proudly did, and he promptly turned over the dirty pile. V2VG is happy to retire our National Colors and even more so when they have been rescued from a landll. In fact, the rst time Bruce brought the ags to Veterans2Veterans Group they immediately contacted their Board and invited everyone and especially their children, to the retirement ceremony. The motto of the organization is Written by: Eric McNailFamily Through Service so family, as an overall theme is quite important to the members of V2VG, and this was a perfect opportunity to teach the kids of the group how, and importantly, why we retire our Colors.In this instance, the staff of V2VG had the children properly fold the ags, when they could and while wearing gloves of course. Some of the ags however were simply too soiled or tattered to be folded, and in those cases, they were treated with as much respect as possible. Soon a roaring re was built and, one by one, they were gently, although swiftly, laid on the ames as the Vice President of Veterans2Veterans Group, Chuck Bradley told the children what the ag stood for. Her individual colors, her stars, and her history. After thinking on this situation for some time, Bruce headed up a project at the NCES location to establish a Flag Drop Box for residents to come and simply drop off unserviceable or unwanted American Flags in a dedicated bin which, once full he would turn over to V2VG for proper disposal. This act of seless patriotism has inspired other Casella locations to consider implementing these Flag Boxes as well and, ideally will cause an uprising in the communities they are near to properly respect the National Colors while they proudly y, and when they no longer can. To that end, all Veteran organizations in your area will likely be happy, proud, and perhaps even surprised if you contact them to retire your ag(s). Let's get the word out everywhere we can, our colors deserve respect at all times. Men and women have fought and died, cried and bleed for it, for what it stands for. Let's not dishonor their memories. Times may have changed and indeed be changing still, but their sacrice is not lessened or cheapened because of it.
Page 49
Casella actively recruits Veterans and helps match their valuable skills with careers that best suit their interests and experience.Thank you, Veterans, for your service, your sacrifice, and your hard work protecting our freedom.To learn more, text CASELLA to 97211, visit casella.com/careers or scan here >>CASELLA EMPLOYEES HAS A BACKGROUND OF MILITARY SERVICEOUT OF1 20EVERYBruce Grover, NH
Page 50
As veterans ourselves, we know the challenges of service and being a veteran. We want to help…no strings attached! We will be vetting organizations and businesses to provide you with trusted places to shop, communicate, reach out, and interact with those that will understand you best. OUR MISSIONTo provide the "One Place" for Veterans of the Armed Forces to find everything they may need as they exit the military. We want to make our military ecosystem work for the Veterans. www.vetxchange.app
Page 51
Winter 2022 | AT EASE! Veterans Magazine 51wisdom in everything that doesn't always go right, to analyze the failures, and to learn from them. Failures are not bad, they are an opportunity to grow and become better. Failure is a part of life, a learning lesson that today is seen as something bad and something we should not allow. Life is about what you create and your decisions, taking responsibility for all your actions, and not worrying about what others think, say, or do. Finding wisdom in my life means that I have to be willing to look at my life and grow from my mistakes and also from my wins. To stay humble, to develop discipline, and consistency, and to develop my mind to be tough. The mind will play games with you. It will feed you lies, ll you with worry, fear, and anxiety will give you all the worst scenarios, and will paralyze you. Develop your mind to think differently, see what your left side of the brain is feeding you and be willing to stand in your conviction that it is not reality and you can change and overcome those thoughts. Find Wisdom, it is within you…Interested in my art? check it out: https://cristiesart.com FROM MY POINT OF VIEW:By Cristie RemmelArt has been part of my life since I can remember. As a child, my grandfather would take me with him on his walks to his favorite place. We would sit and enjoy the scenery, listen to the birds, and watch the valley and the river owing below. We'd sit under his favorite tree where he had placed a bench and enjoy nature for a few hours before going home. He would take a stick and he would show me how to draw birds. He loved listening to the birds sing and y by. He would smile, close his eyes, and enjoy the breeze. This was his (our) daily routine and one that I remember with fondness and appreciation.I fell in love with birds just as much as he did. I like looking at them, listening to them, and watching them y. I enjoy everything about all birds. One of my most favorite birds is the owl. Not really sure why, but every year I draw or paint a bird. I enjoy looking at different kinds of owls because they signify wisdom. Today I'm sharing an owl I painted last year. His name is Wisdom. He is a barn owl and he is out early in the morning during autumn, the leaves have fallen and it is a crisp foggy day. Wisdom is gazing in the distance. He sits on a tree stump watching and waiting. He is majestic and has lived a long life. He is the master of his territory and he will defend it ercely. He is lled with wisdom and patience.I had so much fun creating this little creature. I rst started with a pencil drawing which was then transferred onto the prepared 8 x 10 egg tempera panel. He was created in the traditional way of the old master painters, which is egg, and powdered paint mixed with water until the right consistency and then layered until I had enough depth and Wisdom looked perfect. After the paint had time to cure for a few days I sealed it and then waited a few days for that seal to dry completely and then came back on top with thin oil paint glazes to give it more dimension. Once I was satised and nished the painting was sealed again to protect it. Wisdom sits in my ofce where I can see him every day. He is a constant reminder to nd
Page 52
52 AT EASE! Veterans Magazine |Winter 2022ChildhoodJames was born in a beautiful little village North of Belfast, Northern Ireland, in 1958.When he was 11, the conflict began.This conflict was also known as "The Troubles." Peace walls were built between the Protestants and Catholics following the Northern Ireland riots.Military Service James enlisted in the UDR (Ulster Defense Regiment) in March of 1980, at the height of "The Troubles"; he was deployed as a soldier in Belfast and the border areas as part of the clean-up operation. Everywhere the police went, those in the UDR went too, as a means of protecting them. "We were subjected to terrible violence. I witnessed multiple bomb explosions, found the mutilated bodies of informers who had been subjected to long periods of torture, and close friends were blown up and killed."Unlike British troops from England who stayed in the barracks, those in the UDR had to return home each night. As a result, James was in constant fear for his life."The rst thing I would do once I got home was to remove my rifle from the trunk of my car for protection. I went to bed with my cocked and loaded handgun under my pillow every night. I never cleared it - always ready in case a knock came to the door. Likewise, the rifle I used on duty lay under my bed, loaded and ready. If I had a bath or went to the bathroom, I had my handgun on me. The nights were so dark. The lighting was curbed because of "The Troubles. It was a nightmare. I would put empty beer tins on a string hanging from my back gate so they would rattle if anyone tried to get in. Every morning I searched under my car for bombs, not knowing who might be waiting for me."On duty in Belfast at the border area, one's life was always in danger. James was not the only one who felt the constant fear and pressure of service in Northern Ireland.Several members of his regiment committed suicide, including a few of his friends."Serving in Northern Ireland in the 1980s, there were constant death threats. I had two targeted attempts on my life. The rst attempt was when I was off duty in Belfast at a local pub. A neighbor invited me to attend a gathering at a nearby flat. Strangely, there were only two people there. Feeling that something wasn't right, I decided to leave. While leaving, I heard people running up the stairs. I quickly found my way onto a re escape. Afterward, the police informed me that my neighbor was actually an IRA 'sleeper agent', living in the Protestant community! Looking back, I believe God was protecting me.The second attempt was when I was driving home from the military base one evening after a 24-hour stint. I got into my car around 5:45 AM. On my journey home, I noticed a vehicle tailing me, accelerating until it was dangerously close. As the car pulled up, a person in the passenger seat aimed a handgun out the window. I heard two shots and instantly grabbed my handgun. I turned to shoot back and lost control of my vehicle. It overturned, landing upside down. As I tried to get out of my car, an elderly woman suddenly appeared and helped me out of my car. Sirens wailed and the two men who were chasing me took off. When the police arrived, they found one bullet hole in the rear bumper of my crashed car. They wanted a statement from the lady who'd assisted me, but she was gone. I still yearn to know her name to thank her for saving my life.Since the crash was in the Catholic section of Belfast, I wonder if she might have been a loving Catholic who cared enough to help but was afraid to stay because of the animosity between Catholics and Protestants…or did God send an angel to help and protect me?Whoever she was, it was a miracle! I could have been killed by those pursuing me.As a result of FROM ACROSS THE PONDFrom 1968 to 1998, the conflict in Northern Ireland, also known as 'The Troubles', pitted neighbor against neighbor, Catholics against Protestants, and political factions against each other. The 30-year conflict took a horrendous toll on the citizens and soldiers within the City of Belfast and surrounding communities that is still felt to this day. 'The Troubles' was an extremely complex political and bloody conflict, with a death toll over 3500. Even 25 years after the 'Good Friday Agreement' was signed, tensions are rising again among the youth who do not feel their voices are being heard, and in 2021 a violent protest erupted on Shankhill Road, the very epicenter of where the conflict began 57 years earlier.As Veterans, we know all too well that whether the war is abroad or in our own backyard, the price we pay isn't just in the immediate death and physical injury of battle, but a lifetime of battling the demons within our own memories. It is our hope and prayer that calmer heads will prevail in Northern Ireland and that this generation, and those to come, can live in peace and peace of mind. "I am sharing my story to let people know that help and hope are available for those suffering from this mental illness.I feel compelled to reach out to all who are facing it. Don't continue to live in the darkness of depression!I want others to know that they too can survive and live a fuller life – a life well worth living."James Boyd & Peggy SimpsonAN EXERPT FROM 'FLASHBACKS'
Page 53
Winter 2022 | AT EASE! Veterans Magazine 53the injuries I incurred, I spent two weeks in the military hospital, seriously injured but grateful I hadn't become another fatality of a senseless war.I made the difcult decision to leave the Forces, but the horrors I'd experienced continued to haunt me. My Catholic wife received death threats from the Protestant community where we lived, leaving us in constant fear, and straining our relationship. Despairing one night while my wife was upstairs bathing the children, I attempted suicide. But as she came down the stairs, my gun jammed. She saw everything. Our relationship was never the same again. My entire family life in Northern Ireland was complex and in constant jeopardy."Eventually, James' marriage fell apart and he moved to England. For the safety of his two children and ex-wife, he didn't maintain contact and he hasn't seen them since. James was honorable discharged from the Army at his request.Life After the MilitaryJames went on to remarry and have three more children, all the while struggling with the anxiety, fears, and depression that accompany an illness he did not know how to name. By 2016 he desperately needed help. His wife worked hard to pay their rent and debts, but he was unable to work.Help for Heroestold him about a military charity, which helped immensely."Finally, after suffering from flashbacks, anxiety, and depression for most of my life, I received a proper diagnosis in 2018:Complex Post Traumatic Stress Disorder (CPTSD). I have no doubt been suffering from it for most of my life. No aspect of my life has gone untouched by this illness. And I know others suffer, too. I've learned there should be no shame or guilt; mental trauma is just that – anillness. You break a leg you x it.Same here. For me, there is no healing, but there are things I can do to ensure that I never have to suffer as I did before being diagnosed. I'm no longer at the mercy of my disorder and I would not be here today had I not had the proper diagnosis and treatment."Into the FutureWhen James left the regiment, he did not receive any help. Support systems weren't available. Too many people then – and now – suffer in silence and don't know where to turn. They served their country; they deserve help. It begs the question: How can these resources become more accessible and how can we erase the stigma associated with mental health? Not only in the UK but throughout the world?James' CPTSD was triggered by more than just a few traumatic events, from childhood and well into adulthood. Numerous other events intrude on his thoughts and leave him feeling anxious, fearful, and in a dark place. Some events remain unprocessed and impact his mood and motivation, sometimes daily. In the past, he used alcohol to numb his pain and avoid intrusive memories, flashbacks, and nightmares. With the help of God and having nally been diagnosed with CPTSD and learning coping skills, he's no longer at the mercy of his disorder. Fifty years from the start of "The Troubles" James now feels he has the condence to tell his story."It's difcult, but I'm getting there. Lots of things are still triggers, like children playing and screaming in the street.As I said, for me there is no total cure, nofull healing, but there are things I've learned to ensure that I never have to suffer as I did before. And I'm certain I would not be here today had it not been for Almighty God looking over and protecting me. I lean on Jeremiah 29:11 which says, 'For I know the plans I have for you, declares the Lord, plans to prosper you and not to harm you, plans to give you hope and a future.' I believe God's mission for me is to be able to help others see that thereislight ahead. I hope by walking alongside others who are in the healing process, to guide those in need of quality services, we will all become OVERCOMERS!"While in the UDR, the military regularly recited Psalm 91:4-6, which reads:He will cover you with His feathers,and under His wings you will nd refuge; His faithfulness will be your shield and rampart. You will not fear the terror of night,nor the arrow that ies by day,nor the pestilence that stalks in the darkness, nor the plague that destroys at midday.To this day, James continues to repeat this Psalm, which gives him great comfort.As of 2020, James has begun to walk alongside other Veterans in the United Kingdom, listening to their stories and sharing his story with them. He would like to expand that mission to speak into the lives of young people who have been suffering at the hands of mental trauma leading to PTSD or CPTSD (Complex PTSD), not only in the UK but in other countries such as the U.S. and Canada as well. Thanks be to God for His protection throughout James' life.James Boyd's complex PTSD, which ran all the way from his childhood through his military service left him emotionally crippled and unable to hold down a steady job. Between professional counseling provided by the military and writing about the many causations that ultimately left James with CPTSD have helped tremendously to loosen the power this disease has held over him for so many years. James is now able to walk alongside others in the military, Helping them on the road to healing.To find out more about the history surrounding 'The Troubles', scan the QR code.
Page 54
54 AT EASE! Veterans Magazine | Winter 2022ALEX HARKRIDEROn January 18 of 2021, Alex Harkrider woke up at 0530 to nd his house surrounded by FBI agents, SUVs, and an Armored vehicle. As they breached his front door, Alex and his dog Opie were greeted with a 'flash-bang', he was immediately taken outside in the cold January morning, wearing nothing but his boxers. What was the horric crime that would cause so much drama? Well, he was present on January 6th at the Capital. Alex would go on to spend 101 days conned in the 'DC Gulag', allowed only one hour a day out of his cell. Thankfully, he was released to prepare for trial, under the condition that he did not speak to anyone about the day of January 6th. For almost two years, Alex, an OIF & OEF Marine Combat Veteran, has had his voice silenced. He has been vilied in the press as a domestic terrorist, received numerous death threats, and continues to receive hate mail on a regular basis. But when asked how he is doing, his response is "Surprisingly, this whole legal situation I'm going through right now; it sucks, but I don't consider it to be the worst thing I've ever been through. I'm not happy about it, but I know I'm able to handle it." But Alex is so much more than what happened on that single solitary day. Growing up in East Texas, Alex had a typical childhood. His claim to A vOICE FOR tHE vOICELESS pt Ivby Christine WalkerHARKRIDER - USMC - OIF & OEFALEX & OPIE
Page 55
Winter 2022 | AT EASE! Veterans Magazine 55fame in school was being a class clown. "I just tried to make people laugh," he said. But school really wasn't his thing. After high school, Alex got married at the age of 18, "So the marriage didn't work out. We were apart within a year and a half. Go gure, right?" He jokes. However, during that time, the reality of life started to set in. Alex felt lost, and deep depression set in. "I wanted to do something meaningful with my life." He didn't know anything about the Military or the difference between branches. The only family member who had joined the Military was a cousin who became a Marine, at the same time a friend of his was joining the Army and suggested Alex join with him in the 'buddy' program. He declined. He wanted to do more research and found that he really liked the challenge that the Marine Corps would give him. Alex did well on his ASVAB, and when given a choice of MOS, he chose 0311, Infantry. "I wanted to see combat, that's what I want. So, I said [to my recruiter], which one of these is most likely to see combat? He said, 'Well, that's the Infantry. They're the ones that kick in doors and blow shit up.'" "Before I went to boot camp, I was all motivated and I thought I was going to make it a career. I think that motivation disappeared the second my feet hit the yellow footprints. Getting off the bus from the airport and stepping on those yellow footprints, those DIs just came out like dogs that just got released." Alex said, laughing at the memory. After nishing boot camp at MCRD San Diego, Alex went on to infantry school. His DIs were yanking his chain at the prospect of being stationed in Hawaii, what he got instead was 'Camp Swampy'…otherwise known as good ol' Camp Lejeune. Attached to the 3rd Battalion 9th Marines (3/9), Alex was barely there for one month before his unit was deployed to Iraq. "We didn't have time to do a full workup, you know, work-ups usually last around a year and a half. We went to CAX for the Mojave Viper desert training. That's a month long. And god, that sucked. Fresh boots, getting hazed out in the desert rst thing getting to the fleet. Man, it was awful! By the time we got to Iraq in 2009, the action had slowed down a lot."Afghanistan, on the other hand, was a completely different animal. On December 3, 2010, the 3/9 deployed to Marjah Afghanistan in the Helmand Province, to replace the 2/6, in support of Operation Enduring Freedom. "Afghanistan was pretty much hell on earth. I was in Marjah in the Helmand Province, known for being one of the worst areas for Taliban," Alex said. Thankfully, Alex was not injured in the ght, but in the typical dark humor of a combat Marine, "I did go off of a roof at one point, but I don't have a Purple Heart. I was good at war," he laughs. Alex is without question, a Marine's Marine! After his enlistment, as with many Veterans, the transition from active duty back to civilian life took a horrible toll on him. "Well, I didn't have a very good transition. I'm a 100% disabled veteran with permanent and total disability. And with my circumstances as they were, that helped to contribute losing my sense of purpose and going downhill. I had suicidal thoughts, I guess, but I don't think I would have ever actually [followed through]. At the time I didn't care if I lived. I pushed my limits just to see what happened with my vices of alcohol, women, and eventually, I started doing drugs. I just hit rock bottom. I didn't see any way out. But Ryan [Nichols] ended up inviting me to join Rescue the Universe, and that was the game changer. As hard as that time was in my life, there was light at the end of the tunnel, and just because I couldn't see it at the time, didn't mean it wasn't there. I'm glad I experienced that darkness because it made me stronger. I know I've got that resilience, sense of purpose, and a life worth living," Alex said. Alex Harkrider, without question, is an inspiring Marine on a mission. Even with the strict conditions of release, the Judge has graciously allowed him to travel with Rescue the Universe for search and rescue efforts for Hurricane Ida, the December 2021 Tornado's that ripped through Kentucky, and just recently, to Florida to help with the devastation of Hurricane Ian. In addition to the rescue missions, Alex has also connected with a Veteran organization in his area; Panola County Texas Veteran Relief Fund. "The guy that runs that, he found a Vietnam Veteran around my area that needed his floors replaced. So, I got to go out there with the other guys and spent the weekend doing that. That's something I'll never pass up, I have so much respect for Vietnam Vets." The Corps values of Honor, Courage & Commitment are embedded into Alex's DNA. And someday, he will be able to tell his whole story without restrictions. But until that day comes, as all good Marines do, he will continue to improvise, adapt and overcome. Semper Fi, Marine! A vOICE FOR tHE vOICELESS pt IvALEX WORKING SEARCH & RESCUE WITH 'RESCUE THE UNIVERSE'ALEX HARKRIDERTO ASSIST WITH ALEX'S DEFENSE FUND, SCAN HERE.
Page 56
56 AT EASE! Veterans Magazine | Winter 2022The journey from West Virginia where I enlisted to the village of Dong Xoai had lasted eighteen months and involved varied and intensive training at seven different locations in the States and Vietnam. My actual travel to Vietnam was no different from that of many of the soldiers who made the same trip: a twenty three hour ight with two stops for fuel and leg stretching; a very steep aircraft dive towards the ground before landing; hot, humid, fetid air rolling into the cabin when the door opened; the bus ride with protective wire mesh over the windows; the issuing of our clothing, web gear, weapons — it was the same set of carbon copy experiences for most of 2.7 million men who served in Vietnam. My "copy" happened at MACV Annex (Military Assistance Command Vietnam) in Saigon; the rst stop for newbies processing into the giant war machine as advisors. The next stop was two weeks at Di An (pronounced Zee Ahn) for a school that attempted to compress my previous six months of training (three months at Ft. Bragg with the Special Forces and three months at the Defense Language Institute studying Vietnamese) into two weeks.For many of the advisors in this two-week school, it would be their only introduction to and training for what they were about to undertake in the next eleven months. Those of us who had the extended advisor training sequence before arriving in country were very fortunate. I cannot imagine how my tour would have turned out with only two weeks of training.From Di An, Air America ew me north to Phuoc Long Province which was situated along the Cambodian border. The plane landed at Song Be, province capital and the location of the headquarters for Advisory Team 67 which was responsible for all advising activities in the province. Province level advising was multifaceted in all areas of government. Military advising was just one part of this effort. Almost all of the tactical operations involved the MAT teams at the district level.I was met at the air strip and driven to Team 67's compound where I would be for the next two days as part of my ongoing in-processing. I reported to the Province Senior Advisor's (PSA) ofce, a Colonel who gave the usual brief welcome reserved for new Lieutenants and turned me over to his First Sergeant who gave me a brief tour of the camp and introduced me to some of the ofcers with whom I would be working; the Province S-2 (the Intelligence Ofcer — a Major) and the Province S-3 (the Operations Ofcer — also a Major). The next stop was the S-4 shop (Supply — run by a senior NCO) where I was issued more equipment and ammunition for my rie. Then the First Sergeant took me to the small mess hall and made a group introduction to the few men who were there. He left me there to have some lunch. While I was sitting there eating, I noticed that unlike what I saw in Saigon, everyone's jungle fatigues here were unpressed, torn, and faded to a much lighter green than my newly issued fatigues. Nothing here was wrinkle free or even close to being starched. The color difference stood me apart from the others in the mess hall in a way that I found unsettling. A messenger found me (easy to do given my fatigues) and bringing me back to reality, and told me to report to the S-3 shop. The S-3 told me to get my eld gear together and report to the aid station. I was going out on a Med-Cap this afternoon. A Med-Cap was a Medical Civic Action Patrol. I was both excited and nervous. I was going on my rst operation — granted only as an observer on my rst day in province. I assembled my web gear, lled my canteen, and loaded 28 cartridges into each of the four magazines for my M-16.The mental image that I formed of the Med-Cap while organizing my gear turned out to be very different from the actual Med-Cap. Expecting to nd at least a squad, if not full platoon of Vietnamese soldiers riding in trucks for protection and a doctor, what I saw when I got to the aid station was An Excerpt from "MAT III Dong Xoai, Vietnam. 1971" by Jim Roberts
Page 57
Winter 2022 | AT EASE! Veterans Magazine 57a medic sitting alone in an idling jeep outside the aid station building. He greeted me as I walked up and said, "Good, you brought your M-16." I was to be the protection for this operation. Driving much faster than I would have (then), the medic headed out of the compound and down a rutted, muddy road to a Montagnard village a few miles away.Based on my training, the village was what I expected. The Montagnards lived in long elevated communal houses with their various animals living beneath the houses. Before the war the Montagnards were nomadic moving from place to place and their houses were temporary. The political situation today made their villages more permanent. Arriving at the village, we were surrounded by children waiting for the medic to hand out candy bars that he carried in one of his many bags. With that done, the Village Chief met us and the medic communicated with him using a few words and a lot of hand gestures and pointing. These Montagnards spoke Stieng but did not speak Vietnamese, much less English, so our Vietnamese language skills were useless. The medic spread a green army poncho on the hood of the jeep. Then he laid out his supplies, a stethoscope, and blood pressure cuff, and the villagers lined up for our clinic. He greeted each person, gestured "What is wrong?", and made a visual evaluation. Then he listened to their hearts with the stethoscope. Sometimes a shot was indicated but they were limited to antibiotics and vitamins. Unless the medicine was a single dose, pills were out of the question. The Montagnards did not understand, "Twice a day" or similar. If they were given an envelope with 14 pills to be taken twice a day for a week, they would simply take all of them at once. Rashes received a smear of ointment; minor cuts and abrasions some antibiotic cream and a bandage. For serious cuts and sprains I assisted him as he treated and dressed them. Fortunately, there were no broken bones this time which would have required our transporting the villager to the hospital in Song Be and then bringing the villager back. One round trip on the road in the jeep was risky enough. A second round trip could be quite dangerous.After this was over, the Village Chief invited us to a celebration that I had heard about during my training. A villager brought out a large clay jar with a long neck and a long hollow reed which would serve as a straw.The pot contained some type of fermented Montagnard brew that did not have an inviting smell. The Village Chief put the reed down into the neck of the jar and pulled it out measuring the level of the liquid. Then he put the reed back in the pot and took a long swig with the reed. Pulling it out, he measured the new level of the liquid with his ngers. Holding two ngers apart to show the amount he had drunk; he handed the jar to the medic who was obligated to repeat the action. This time when the medic drank, the villagers urged him on to drink more and more and they cheered when he nished. All of this was fascinating to me. Culturally it was quite educational and I was pleased to be a rsthand witness to the ceremony — until the medic, holding two of his ngers apart to show how much he had managed to drink, passed the jar and the reed to me. There was no way out. This is what advisors in Vietnam did; win the hearts and minds of the people. I copied the Village Chief and the medic putting the reed into the jar and withdrawing it to mark the level. Then I put the reed back into the jar, exhaled as deeply as possible, and did my best to drink as much as I could. My total body reaction to this vile brew as I struggled to drink my share generated a loud and hearty reaction by villagers. The only good side effect of this stuff was that it made the drive back to Song Be much less worrisome and the road seemed smoother.
Page 58
TIRED OFFACEBOOK?"It may sound corny, but what's wrong with wanting to fight for your country. Why are people reluctant to use the word patriotism?" ~ Jimmy Stewart
Page 59
Tax Preparation | Income Tax Advice and Planning Virtual Accounting Department | Taxpayer Representation5099 US Hwy 377 S, Suite 400 | Aubrey, TX 76227 Phone: 940-365-3115 | linda@financialfitnesstx.comWe are a financial services firm offering a wide menu of disciplines to meet the many needs of our clients – both personal and business. Focused on building long-term relationships, we provide a professional and personal approach to our business. Our clients' goals and concerns are our focus; our commitment and professionalism are our tools and our training, experience and credentials ensure our successful outcomes.In 1966, "Stewart's last visit to Vietnam was on an active-duty mission with the Air Force," the AP reported. It was well known at the time the North Vietnamese offered cash for the death or capture of celebrities visiting the country. One could only imagine the price tag for Jimmy Stewart as a well-known actor and Brigadier General. He was part of a Bomber crew, and while the clandestine mission went off without incident, the landing was a little more precarious.3 In January of 1969, Stewart, now a civilian and his wife arrived in Vietnam to visit their son Ronald McLean who was now serving as a 1st Lieutenant in the Marine Corps. Five months later, tragedy would strike when Ronald and his Recon Team were ambushed during a mission near the DMZ.4Jimmy Stewart never talked about his war experience with family or friends, except in a moment of candid honesty during an interview with author J. Truby, PhD. "Stewart recalled the words of Gen. George Patton, "No man wins a war by dying for his country. He wins it by making the enemy die for his country." But, the actor and combat veteran went on, "In real war, things are never that black and white."5Even throughout his struggles with PTSD, and the loss of his son in Vietnam, the words of Clarence ring true, "You see, George, you really had a wonderful life. Don't you see what a mistake it would be to throw it away?'"Jimmy Stewart was the epitome of humanity and lived his life with purpose. Yes, he did indeed, have a Wonderful Life. 3https://www.indianagazette.com/news/author-recounts-stewarts-1966-vietnam-mission/article_319e223b-2f20-52e8-8705-5d51440a9b00.html4https://www.historynet.com/jimmy-stewarts-stepson-ambushed-in-dmz/5https://www.indianagazette.com/news/author-recounts-stewarts-1966-vietnam-mission/article_319e223b-2f20-52e8-8705-5d51440a9b00.htmlIt's A Wonderful Life... (Continued from Page 11)Photo: Brigadier General James Maitland StewartPhoto Courtesy of: National Museum of the United States Air Force
Page 60
Page 61
In an effort to NEVER forget, this page will serve as a Memorial to our Brothers & Sisters who gave everything! If you would like to have a fellow soldier or loved one remembered, Please email TAPS@theateasemagazine.com with name, rank, branch of service, war and death date. WE WILL NEVER FORGET!WE WILL NEVER FORGET!WE WILL NEVER FORGET!WE WILL NEVER FORGET!T A P ST A P SRANK/NAME BRANCH DEATH DATE DEATH LOCATIONABBOTT, NATHAN R. MARINE CORPS 19-FEB-45 IWO JIMABAHNSEN, CLIFFORD E. MARINE CORPS 19-FEB-45 IWO JIMACAREY, ROBERT L. MARINE CORPS 19-FEB-45 IWO JIMADALE, THOMAS V. MARINE CORPS 19-FEB-45 IWO JIMAECKMAN, ELMER G. MARINE CORPS 19-FEB-45 IWO JIMAFALZONE, CHARLES W. MARINE CORPS 19-FEB-45 IWO JIMAGANGES, FREDERICK MARINE CORPS 19-FEB-45 IWO JIMAHALL, RICHARD S. MARINE CORPS 19-FEB-45 IWO JIMAIVERSON, WILLARD MARINE CORPS 19-FEB-45 IWO JIMAWALKER, SAMUEL C. MARINE CORPS 21-FEB-45 IWO JIMAAGIN, HUBERT R. NAVY 21-FEB-45 IWO JIMA - USS BISMARK SEABAKER, WAYNE L. NAVY 21-FEB-45 IWO JIMA - USS BISMARK SEACALABRESE, JOSEPH F NAVY 21-FEB-45 IWO JIMA - USS BISMARK SEADACKE, JOHN H. NAVY 21-FEB-45 IWO JIMA - USS BISMARK SEAEARL, THAYER W. NAVY 21-FEB-45 IWO JIMA - USS BISMARK SEABOURELLE, BURTON L. ARMY AIR CORPS 26-MAR-45 IWO JIMACANFIELD, GEORGE E. ARMY AIR CORPS 26-MAR-45 IWO JIMAERICKSON, CHARLES N. ARMY AIR CORPS 26-MAR-45 IWO JIMAFRYER, LLOYD B. ARMY AIR CORPS 26-MAR-45 IWO JIMAHOWARD, DONALD J. ARMY AIR CORPS 26-MAR-45 IWO JIMAThis issue we remember the names of our Brothers & Sisters who Gave All at Iwo Jima.Winter 2022 | AT EASE! Veterans Magazine 61
Page 62
62 AT EASE! Veterans Magazine | Winter 2022HEROES LIVE HEREHEROES LIVE HEREBOOK REVIEWBOOK REVIEWHeroes Live Here: A Tribute to Camp Pendleton Marines Since 9/11By Amy ForsythePublisher: Two Palms Media | Fallbrook, CACopyright © 2021 Amy Forsythe."Camp Pendleton has been home to several generations of Marines, Sailors, and their families since it's opening in 1942. The base is rich with history and has a legacy that continues to thrive with each passing year."AMY FORSYTHE began her career as an enlisted military journalist in the U.S. Marine Corps and is currently serves as a Public Affairs Officer in the U.S. Navy Reserve. Her career has included five combat deployments and several other overseas assignments. A portion of the proceeds from this book will go to 'The Semper Fi & America's Fund.' When I rst received the 204-page, Heroes Live Here: A Tribute to Camp Pendleton Marines Since 9/11, I was surprised. Having done several book reviews, I suppose I was expecting a more traditional 'book'. What I was not expecting was a stunningly beautiful, full-color, coffee table book that begins with the rich history of the land and unique insight into the legend and namesake, which would one day become Camp Pendleton in 1942.As I turned each page, the induction of the formidable modern history of the United States Marine Corps associated with Camp Pendleton, built into a crescendo of decades-long honor, courage, and commitment, nally culminating into the dedicatory sacrice of Marines during Operation Iraqi Freedom and Operation Enduring Freedom. The author, Amy Forsythe, a Marine combat correspondent, made it her mission to impart the stories of Post 9/11 Marines who gave the ultimate sacrice and share the little-known Memorials, spread out throughout the hills of Pendleton, which honor their memories. One very impressive memorial, although not in size or grandeur, is a simple stone placed in the favorite running spot of Major Megan McClung. Major McClung served as a media relations ofcer and was also a personal friend of Amy Forsythe. Major McClung lost her life on December Scan the QR Code to Find Out More...6, 2006, as a roadside IED detonated, striking the vehicle she was in. She was the rst female Marine Corps Ofcer killed in action in Iraq. By the time I reached the Wall of Honor in chapter 6, I stared at the names and faces of Marines who gave everything, for a very long time. Travis Manion, Chance Phelps, Douglas Zembiec, Robert Cottle, Joseph Ellis, Megan McClung, Christopher Antonik, and Ricardo Crocker… their stories followed. Each one of them represents the thousands of Marines Killed in Action over the course of the past two decades and each memorial is a testament to their exemplary service to Country and Corps. I highly recommend Heroes Live Here: A Tribute to Camp Pendleton Marines Since 9/11. Every Marine with a connection to Camp Pendleton should without question, add this book to your library. Amy Forsythe did an outstanding job! Semper Fi!
Page 63
Winter 2022 | AT EASE! Veterans Magazine 63TheThe IvyIvy HeroHeroBOOK REVIEW The Ivy HeroBy: Sara Shemin Cass & Dan BursteinIllustrations by: Gary BullockPublisher: City Point Press citypointpress.com Westport, CTPublication Date: October 25, 2022The Ivy Hero: The Brave Life of Sergeant William Shemin was brought to my attention in an email by the publicist for the book. And while AT EASE! Veterans Magazine typically doesn't promote, or review books written by non-Veterans, I was intrigued by the story of William Shemin. Jewish immigrants from what is now Belarus, the Shemin family settled in the Lower East side of New York City. William was the rst to be born in the United States. And as with many rst-generation Americans, he felt called to Military service when the US entered WWI in 1917, much to the dismay of his parents. "But Bill believed that because America had given his family its chance to start over in a free country, now it was his duty to join the US Army and become part of the ght. Back in Russia, so many things had been forbidden because the Shemins were Jewish. Here in America, there was freedom, safety, and the opportunity to work and raise a family. Bill wanted to ght to protect those rights that existed in his family's new country." - Page 32 In 1918, Bill was on a troop ship that set sail for France. Once there, Bill was attached to Company G, 47th Infantry Division, 4th Regiment (also known as the IV or 'Ivy' Regiment) who were sent to the front lines near Bazoches. It was BOOK REVIEWduring this time that Bill's courage and athletic prowess would save not one or two, but three wounded soldiers lying in the terrifying 'no man's land.' For this act of bravery, William was recommended for the Medal of Honor. Unfortunately, it was denied without explanation, but later it would be found out that the anti-Jewish sentiment of the times played a major factor. It would take 97 years and new legislation introduced into Congress for William Shemin to posthumously receive this honor for his sacricial courage. The Ivy Hero: The Brave Life of Sergeant William Shemin, overall is the story of a rst-generation American who lived a life of integrity and sacrice. The historical documentation of William's service is well done, and the illustrations beautifully represent the seasons of his life. I denitely recommend this book to all our Veterans interested in nding out more about this American Hero!
Page 64
64 AT EASE! Veterans Magazine | Fall 202264 AT EASE! Veterans Magazine | Winter 2021I have been in the tness industry since 2010, and know what types of workouts I love. However, as a personal trainer, we can't just offer one type of program. We offer Strength Training, CrossFit, Yoga, High-Intensity Interval Training, and everything else you can think of. Education is continuous just like hydration. There was a time I worked at Wounded Warrior and got to participate in many of their programs. The number one program that stuck out to me is Yoga. The Wounded, Injured, and Ill were offered Yoga to help them regain their strength, balance, and core muscles. Not to mention the benets of mental wellness. This is something that I was always impressed with. Let's be honest, most of us are not big fans of stretching. I love lifting heavy weights but stretching has never been exciting. Being on staff at Wounded Warrior, we were encouraged to participate. So yoga became a normal thing for me with my Marines. This was time well spent stretching, falling over, and laughing. Fast forward six years later, I am doing an intake with our new client (Melanie) and we are discussing her medical history. This turned out to be somewhat of a nightmare. She couldn't do crunches, had to modify squats and heavy weight was not an option. Because of not able to do crunches her core was weak. We had many barriers to overcome. Thank God for the Marine Corps and thank God for Yoga. Because of Melanie, I created a completely adaptive Yoga program. Just like many of the injured Marines, spine issues, balance, coordination, and body mechanics had to be considered. Melanie was the rst of our clients to complete the programming and move on to High-Intensity Interval Training (HIIT). Meaning that because her body became stronger she was able to handle tougher workouts. She Veteran Fitness:YOGA FOR THE WOUNDEDBy Daniel Dancer | USMC...
Page 65
Winter 2021 | AT EASE! Veterans Magazine 65This journey wouldn't be possible without my amazing wife Deanna. She's the CEO of Camp Freedom Fitness. She cooks for our clients and does all the back end, behind the scenes work. I run the programs and coach the clients. The best part about this journey is that most of it is online. Most of our clients are all over the US. We send them workouts, build their diets, coach them, and train them. Having an online platform means we can work with more people more often. You can always nd us on Facebook at @campfreedomtness or visit our website at campfreedomtness.org . We would love to meet you. even started to gain weight and became completely shredded. Did I mention Yoga also helps improve flexibility, metabolism, athletic performance, and protection from injuries? Although Yoga is not my favorite type of training it has been proven to have many benets. With that being said here is a very simple Yoga exercise that you can do at home. Keeping it simple is what many of us have been trained to do. Check out Darbee.com. This website contains a ton of workouts. It's also a free site! Yes, a free site where you can enjoy a plethora of tness content. Just to get an idea of how amazing Melanie improved, here is a current photo of her. Next check out this amazing Darbee workout. I hope you enjoyed this content. You can always nd us on Facebook @CampFreedomFitness. My Wife Deanna Dancer is the Owner of Camp Freedom Fitness and I am the Coach/Trainer. We love being able to serve. We are a Woman Owned and Veteran run Business. ......Enjoy the Workout! I hope you enjoyed the workout! I know Melanie did. Take care of yourselves and remember to make yourself a priority. Graphic used with permission of Darebee.com
Page 66
66 AT EASE! Veterans Magazine | Winter 2022In August, 26 women veterans from across the country gathered at the historic Bear Trap Ranch, a sacred 30-acre property located in the foothills of Colorado Springs, CO, to begin a four-month journey of self-exploration, healing, and transformation. As participants met for the rst time and began to share their military backgrounds and stories, they donned sweatshirts with BRAVE stenciled across the front in honor of the journey they were about to take and for one of their own, a veteran who had taken her own life just a year before. "To confront past trauma and nd a way forward, that's not easy," said one participant, "and far too many have not received the support they need to continue the journey after the military."Veteran's PATH was established in 2007 by Lee Klinger Lesser and Chris Fortin, two long-time mindfulness and meditation teachers with backgrounds in western mental health, emotional intelligence, and sensory awareness. They came together to share a mutual concern about what was happening to veterans returning from Iraq and Afghanistan. As mothers of children the same age as current returning veterans, and as people who lived during the Vietnam era and watched what happened to returning veterans then and the suffering that has continued over decades, they wanted to contribute to a more welcoming and productive transition from the military into civilian life.By David Drake, Executive DirectorVeteran's PATHPO Box 38546Colorado Springs, CO 80937info@veteranspath.orgVeterans supporting veterans on the journey forwardFree Mindfulness Events, Retreats, Programs, and Training VideosFor Veterans by Veterans
Page 67
Winter 2022| AT EASE! Veterans Magazine 67What started as one-day events quickly grew into numerous programs with formats ranging from online courses lasting 6 weeks to the 4-month BRAVE retreat. In the second year, a whitewater rafting trip was added which continues to bring Veteran's PATH alumni and new veterans together on rivers throughout the western U.S. "In every program, we've had the transformation among the participants in just a short time has been profound," said Lee "however, the women veterans coming to our events began telling us, early in our evolution, that because of their unique needs and experiences and the growing incidences of Military Sexual Trauma (MST), we needed to offer an event for women veterans only, so we started the women's anchor program, later named BRAVE.The rst BRAVE retreat was held in 2011 at Tassajara Zen Center in California. It was a very moving experience and many women veterans found that for the rst time they were able to share openly, without fear, and to be supported by other women who truly understood their experiences. "People don't realize that the path towards post-military transformation is challenging life work," said a recently retired Army veteran. "Though I accomplished much in my military career, I carried so many invisible wounds, along with my physical injuries, that leading a 'normal' civilian life seemed diaphanous and out of reach. That despair has been difcult to describe and even harder still for others to understand." That's where the BRAVE program can help.BRAVE is run by Veteran's PATH and sponsored by donors such as the Wounded Warrior Project. BRAVE stands for Breathwork Recalibration And Veteran Empowerment and it is a program designed specically for veterans. True to its founding principles, mindfulness training remains at the center of the curriculum. Participants learn how to rest and recalibrate their nervous system and begin to trust the process of recovery. The team of veteran instructors are peers, not professionals, all of whom were once participants themselves before deciding to become certied mindfulness instructors with Veteran's PATH. The organization's acronym stands for Peace, Acceptance, Transformation, and Honor, and its programs are offered free to veterans without disqualication. "Our mission is to improve the overall quality of life for veterans and to prevent veteran suicide by giving veterans the tools they need to build resilience, and to heal the invisible wounds of war through mindfulness training and peer support," said David Drake, Executive Director. "Veteran's PATH programs utilize a peer-to-peer support model, where we tap into the trust, camaraderie, and fellowship of the military family that supported veterans when they were on active duty. In essence, we are building a network of stateside "battle buddies" who are veterans with the same lived experience as those they help." Since its founding, Veteran's PATH has expanded its programming to include online courses in Accelerated Mind Performance (AMP) and a program specically adapted for veterans who have undergone psychedelic assisted therapy (AMP Dojo™). "Over the past year, we have trained 70 Navy SEALs in meditation integration after psychedelic assisted therapy in partnership with another veteran service organization, Veterans Exploring Treatment Solutions (VETS)," said Veteran's PATH COO Mark Williams. "VETS chose Veteran's PATH because veteran-led meditation maximizes the effectiveness of psychedelic assisted therapy.A Vietnamese monk once said, "if veterans can achieve awareness, transformation, understanding, and peace, they can share with the rest of society the realities of war and they can teach us how to make peace with ourselves and each other." That's what Veteran's PATH is all about.For more information on Veteran's PATH and its programs, please visit https://veteranspath.org/.
Page 68
68 AT EASE! Veterans Magazine | Winter 2022Remembering The Four FreedomsIf the veracity of history has taught us anything, there will always be tyrants scheming behind the scenes for power. They patiently wait for complacency among the masses and then swoop in like vultures; promising virtue, but delivering devastation instead. "Perhaps you and I have lived too long with this miracle to properly be appreciative. Freedom is a fragile thing and it's never more than one generation away from extinction. It is not ours by way of inheritance; it must be fought for and defended constantly by each generation, for it comes only once to a people. And those in world history who have known freedom and then lost it have never known it again." - Ronald Reagan, Gubernatorial Inaugural Address, January 5, 1967TWO PARTIES, ONE TRUTHBoth Roosevelt and Reagan understood this, and even during times of relative peace and safety within our own Country's borders, they had the foresight to recognize the coming storm. They understood that we needed to be vigilant watchmen, not only for the liberty of our Constitutional Republic, but for freedom around the world. "If no European power remained as a check against Nazi Germany, the United States could become isolated in a world where the seas and a signicant amount of territory and resources were controlled by a single powerful dictator. It would be, as President Franklin Delano Roosevelt put it, like "living at the point of a gun," and the buffer provided by the Pacic and Atlantic would be useless."1 RECOVERINGOn January 6, 1941, President Franklin D. Roosevelt delivered his 'Message to Congress,' what we know today as the 'State of the Union Address.' The nation, as a whole, had just come out of a decade-long economic depression caused by the crash of 1929. And while Americans were nally seeing a light at the end of an exceptionally long dark tunnel, Europe was once again at war, led by Hitler and the Fascist Nazi party of Germany. This put many Americans on pins and needles, wondering if the United States would enter into the war raging 1https://www.nationalww2museum.org/war/articles/great-debateFREEDOMFreedom at its core is embedded into the very DNA of the human spirit. It is not something that can be granted, earned, or subject to control by another. On the inverse, we must continually safeguard our God-given freedoms, not relinquishing them to those who seek to rob our liberty through coercion, restriction, or fear of draconian retribution. FRANKLIN D. ROOSEVELTby Christine Walker
Page 69
Winter 2022| AT EASE! Veterans Magazine 69in Europe. WWI and the tremendous death toll it took on America's sons was still fresh in the hearts of many citizens, who wanted nothing to do with the war. On the other side of the coin, some thought intervention was inevitable because Great Britain, our strongest ally at the time, was embroiled with Germany and barely holding their own. Roosevelt's message to Congress and the American people encouraged lifting the restrictions set in place that kept the United States from supplying allies with much-needed resources to help combat the tyranny raging through Europe. THE SPEECH"In the future days, which we seek to make secure, we look forward to a world founded upon four essential human freedoms.The rst is freedom of speech and expression–everywhere in the world.The second is the freedom of every person to worship God in his own way–everywhere in the world.The third is freedom from want–which, translated into world terms, means economic understandings which will secure every nation a healthy peacetime life for its inhabitants-everywhere in the world.The fourth is freedom from fear–which, translated into world terms, means a worldwide reduction of armaments to such a point and in such a thorough fashion that no nation will be in a position to commit an act of physical aggression against any neighbor–anywhere in the world.That is no vision of a distant millennium. It is a denite basis for a kind of world attainable in our own time and generation. That kind of world is the very antithesis of the so-called new order of tyranny that the dictators seek to create with the crash of a bomb.To that new order, we oppose the greater conception–the moral order. A good society can face schemes of world domination and foreign revolutions alike without fear.Since the beginning of our American history, we have been engaged in change–in a perpetual peaceful revolution–a revolution which goes on steadily, quietly adjusting itself to changing conditions–without the concentration camp or the quicklime in the ditch. The world order that we seek is the cooperation of free countries, working together in a friendly, civilized society.This nation has placed its destiny in the hands and heads and hearts of its millions of free men and women; and its faith in freedom under the guidance of God. Freedom means the supremacy of human rights everywhere. Our support goes to those who struggle to gain those rights and keep them. Our strength is our unity of purpose. "To that high concept, there can be no end save victory."2 2https://voicesofdemocracy.umd.edu/fdr-the-four-freedoms-speech-text/HOPE IN UNCERTAIN TIMESUnbeknownst to our Nation at the time, this speech was a precursor to the attack on Pearl Harbor 11 months later and became a pinnacle of hope for the years following. Because of the example of our Greatest generation 80 years ago, even today, citizens around the world are pushing back against tyrannical rule. And just as it was then, our hope today fuels the action of defending the freedom we hold so close to our hearts. VIEW THE FULL 'MESSAGE TO CONGRESS' HERE: " " T            , T            ,     . A  . W             . A  . W           ,        . W        ,        . W              , P  ''  . W         , P  ''  . W                                  A E       ." ~ FDR A E       ." ~ FDR
Page 70
25 VETERAN PODCASTS YOU SHOULD CHECK OUT25 VETERAN PODCASTS YOU SHOULD CHECK OUT1. Operaon Freedom Recovery :Hosted by Dan Miller. hp://www.ofrp.org/2. The Unprofessional Veterans: Hosted by The Rev & The Kid. hps://anchor.fm/unprofessional-veterans3. The Red, White & You Show: Hosted by Dean McMurray. Website: hp://deanmcmurray.com/radio-show/4. The Truths We Hide: Hosted by Annee Whienberger. Website: hps://anchor.fm/annee-whienberger5. Someone You Should Know: Hosted by Stuart Sax. Website: hps://stuartsax.com/my-shows6. NonProt Architect: Hosted by Travis Johnson. Website: hps://nonprotarchitect.org/7. Entrepreneur on Fire: Hosted by John Lee Dumas. Website: hps://www.eore.com/8. Vercal Momentum: Hosted by Richard Kaufman. Website: hps://anchor.fm/richard-kaufman69. Jocko Podcast: Hosted by Jocko Willink. Website: hps://jockopodcast.com/10. Airman to Mom: Hosted by Amanda Human. Website: hps://www.airmantomom.com/11. The Stoned Vet: Hosted by Sgt G. Website: hps://www.youtube.com/channel/UCJk55bmjx03NpyWSOyCbBGw/featured12. The Hoarding Soluon: Hosted by Tammi Moses. Website: hps://anchor.fm/tammi-moses13. Veterans Be Real: Hosted by John Valenne. Website: hps://www.veteransbereal.com/14. Disgruntled Docs Podcast: Hosted by Disgruntled Docs. Website: hps://podcasts.apple.com/us/podcast/disgruntled-docs-podcast15. The Military Veteran Dad: Hosted by Ben Killoy. Website: hps://www.militaryveterandad.com/16. The Ambious Vet: Hosted by Chris Homan. Website: hps://theambiousvet.libsyn.com/17. Home-Bound Veteran: Hosted by Keith and Laura. Website: hps://homeboundveteran.com/18. Mind of the Warrior: Hosted by Dr. Mike Simpson. Website: hps://podcasts.apple.com/us/podcast/mind-of-the-warrior19. Team Never Quit: Hosted by Marcus and Morgan Lurell. Website: hps://teamneverquit.com/podcast/20. Borne the Bale: Hosted by Tanner Iskra. Website: hps://www.audible.com/pd/Borne-the-Bale-Podcast/B08K568Z9121. Frontlines of Freedom: Hosted by Denny Gillam. Website: hps://frontlinesoreedom.com/22. The Warrior Soul: Hosted by Chris Alpert. Website: hps://podcasts.apple.com/us/podcast/the-warrior-soul-podcast23. Mentors for Military: Hosted by Robert Gowin. Website: hps://mentorsformilitary.com/24. Bale Buddy: Hosted by Keith McKeever. Website: hps://www.balebuddypodcast.net/25. Veteran on the Move: Hosted by Joe Crane. Website: hps://veteranonthemove.com/70 AT EASE! Veterans Magazine |Winter 2022
Page 71
"We make a living by what we get, But we make a life by what we give"– Winsto ChurchilWinter 2022 | AT EASE! Veterans Magazine 71
Page 72
'WINTER' SCAVENGER HUNTACROSS1 FOURTH FREEDOM IS FREEDOM FROM …2 VETERANS … HELPS PRODUCTIVE TRANSITION FROM MILITARY INTO CIVILIAN LIFE.3 HE CHOSE THE … MOS FOR THE COMBAT4 CHRISTMAS PEACE OF 1914 OCCURRED IN …7 OWLS SIGNIFY …9 … HAS BEEN PART OF REMMEL'S LIFE SINCE SHE CAN REMEMBER10 SPRING 2023 COVER STORY11 SULLIVAN WAS ASSIGNED THE DUTY OF AN … OFFICER.12 THE UNITED STATES HAS AROUND 500 … MILITARY BASES.15 "BUFFER ..."18 AMY DISCOVERED HER PASSION FOR JOURNALISM AND PHOTOGRAPHY IN …19 ONE OF OCB'S PRIMARY MISSIONS IS TO HELP PREVENT …21 FORSYTHE WROTE A BOOK CALLED, "… LIVE HERE."23 "THE GENERAL ASSUMPTION WAS THAT THE … WERE SIMPLY TOSSED IN THE GARBAGE."25 SSG SANCHEZ WAS BORN AND RAISED IN AMBATO, …26 ARBOGAST PILOTED … HELICOPTERS"DOWN5 SAPPER MOTTO6 "ONE THING WAS CLEAR, HE AND … WERE IMMEDIATELY DRAWN TO ONE ANOTHER."8 HIS CLAIM TO FAME IN HIGH SCHOOL WAS BEING A …10 SCUTTLEBUTT WAS THE … WAS PERFORMING ALL OVER VIETNAM13 BASED ON A NEW STUDY, FSM RATES ARE CLOSER TO ... %14 "THE IMAGES IN THE STORY ARE LEFT SOLELY TO THE …"16 "THE ISSUE WAS SOMETHING ABOUT THE WAY I PRESENTED HIM WITH NO …"17 CALLED OUT ON A MISSION IN THE EASTERN … PROVINCE20 CARLISLE BARRACKS WAS FORMALLY CALLED …22 TRAPP'S FUN JOB WAS AT A … DEALERSHIP.24 OPERATION COMBAT …27 HE ENLISTED IN THE … DEFENSE REGIMENT28 RUSSIAN MACHINE GUN29 TRAPP'S FIRST DUTY STATION WAS AT … AIR FORCE BASE."72 AT EASE! Veterans Magazine |Winter 2022
Page 73
CROSSWORD ANSWERS:EXERPT FROM 'BORN IN A BAR II'...Any Marine who has spent at least one day on active duty in the fleet knows Thursdays are for Field Daying. It's a ritual written in the Marine Corps Manual that all barracks rooms must be cleaned top to bottom on Thursday, or the ghost of Chesty Puller will haunt you.While other services may have a different day to clean, and a different ghost haunting, one thing is one hundred percent certain: It's mandatory that Field Day must be accomplished while drinking and listening to music. Loud music.A major part of barracks eld day is the stripping and waxing of the tile floors between the barracks rooms. This is a shared duty of members of each quad of rooms. This was a pain in the ass of a job; dirty and tiring. It's also the very rst thing your chain of command saw coming in to inspect and we were going nowhere until it was so shiny we could see our assholes while squatting above it.Now, anytime you ask a junior Marine to do something they don't want to do, it's going to get done eventually, but they are going to bitch about it the whole time, which turns into our own version of humor.Enter the Buffer Rodeo.Step One: Remove anything not bolted to the ground. Drink a beer.Step Two: Sweep and mop. This was also the time where we put down as much water in the hallway as possible to make a swimming pool or a Slip-N-Slide. Allow to dry. Drink more beer while waiting.Step Three: Apply stripper. Then make jokes about strippers. "Hey Lance Corporal E, I heard your stripper girlfriend goes down just as easily as this," or "I don't think I've ever seen the floor so wet from a stripper unless you count the time I tipped Lance Corporal E's girlfriend twenty bucks!" Continue drinking.Step Four: Remove stripper from floor. "Hey, how do you get the stripper off the floor? Depending on how much they've had to drink, usually you just tell them their daddy is here to take them home."Step Five: Scrub the floor, or what we like to call: Buffer Rodeo. Set the seventeen-inches-wide electric stand-up buffer in the middle of the hallway, switched in the ON position with the forty-ve feet long cord laying on the floor next to the electric outlet. A Marine will then sit or stand on the buffer the same way they would mount a mechanical bull, with one hand in the air (cue up "Rodeo" by Garth Brooks). Once they give the ready signal, another Marine will then plug in said buffer and the 175 revolutions-per-minute unit will very quickly go around and round. The buffer cowboy will then try to hold on for as long as they can before either being flung off onto the wet floor, usually hitting a wall or wall locker, or until the forty-ve-feet long cord wraps completely around them."I haven't seen anyone get thrown off that fast since I told your mom that's how your sister likes it too!"Repeat this process until all the scuff marks are removed, or until someone gets blood on the floor.Step Six: Rinse the floor and any blood that may have been shed. Apply wax. Let dry for at least two to three beers before applying another coat of wax.This is the point that no living soul will step on the waxed floor until the inspection has been done. Go out windows if you must, but never, ever step on a newly waxed floor. FOR mORE INAppROpRIAtE SHENANIGANS, SCAN tHE QR CODE BELOW: BUFFER RODEO by Gunny Jesse EsterlyWinter 2022 | AT EASE! Veterans Magazine 73
Page 74
ARmy ISSUED? The Pacic Hotel served many purposes in Vung Tau Vietnam during the war. It was a BOQ, a transient billet for those in a travel status, and an in-country R&R facility for ofcers. It housed the ofcer's eld ration mess, and was a combination ofcer's club/community center, with a well-stocked bar and a short order grill for those who grew tired of mess hall food. It had a barbershop, a pool room, and, of course, a slot machine room, where one of my warrant ofcers once spent 24 hours trying to hit the progressive jackpot on the nickel machine, only to have someone else take it an hour after I made him go back to work. Completely walled off from the outside world, it also had a large patio on one side for outside dining or just talking over a beer, a Coke, or a cup of coffee. At the far end of the patio stood an elevated stage, whose backdrop also served as a movie screen. An even higher fence sat atop the compound wall, and the fence and wall were well covered with a tangle of vines that added to the privacy, if not the security of the patio. Two or three nights a week, live entertainment graced the Pacic's stage.As a small logistical base, Vung Tau did not get the top acts—Bob Hope never came, nor did Ann-Margaret. The most famous personality to visit us was Ohio State football coach Woody Hayes, before he was retired in disgrace after taking a swing at an opposing player on the sideline of a bowl game a few years later. A Korean country and western band came through once or twice, as did a Korean "big band" that played Miller and Goodman swing tunes. Occasionally, a female singer, accompanied by a lewd comedian who acted as the MC, would make an appearance, but mostly we were entertained by a Vietnamese rock band that played once or twice a week.The local band's repertoire was limited, and I'm not sure they understood a word they were singing, but they pounded four songs into my head night after night—"Sonny," "Black is Black," "Blue, Blue, my Heart is Blue," and "So Happy Together." Even today, as soon as I hear the rst note of any of those songs, I am transported through time and space back to Vung Tau and the Pacic Hotel. The sight of a C-130 taking off or landing sometimes has a similar effect. It was not surprising that a great deal of interest and curiosity was generated when a notice was posted announcing a strip show to be performed the following Tuesday at 2100hrs, following a 1900 hrs performance at the enlisted R&R center on the beach.Scuttlebutt had it that the stripper was performing all over Vietnam at ofcer and enlisted clubs and that her transportation and accommodations were being provided by the Army. I thought to myself that if these rumors were true then this woman, whoever she was, must be the Ofcial U.S. Army, Vietnam Stripper. Why else would she be getting VIP treatment? And if that were the case, how good could her show be? The Army would never condone an act more risqué than what could be seen in movies being shown to the troops none of which, in 1968, involved nudity. I resolved not to waste my time watching a woman stripping down to what amounted to a two-piece bathing suit. On the night of the big show, I had supper at the Pacic as usual, then went to my room to read a while before joining the perpetual poker game that usually got organized around 2000hrs. When I went down for the game, the door was locked. I then noticed the BOQ was as quiet as a tomb. As I walked through the usually noisy building, I soon realized that, except for the security guard and me, the building was completely empty. Shaking my head in disbelief, I went back to my room to wait for my comrades to return so I could hassle them about wasting good poker time on a worthless show. Feeling superior, I recalled the episode from Huckleberry Finn, where the two charlatans enticed half the rubes in a small town to see a show that was so bad no one would admit it until the other half of the town had been taken in by the next night's performance. Am I the only person in this town with half a brain, I smugly thought to myself? At ten minutes to nine I hurriedly dressed and quickly walked to the Pacic.The Vietnam Stripper...by Richard F. Allen74 AT EASE! Veterans Magazine |Winter 2022
Page 75
When I arrived I found the place packed. It was a standing room only crowd, and I was just about the last to get there. I could see the Aussies were out in force, and there were people I had never seen before— probably pilots from the Delta in town just for the show. French doors opened from the bar onto the patio, and it was impossible to get out of the doors because of the mass of male humanity eagerly waiting to be disappointed. I stood back a little from the throng, not wanting to be a part of it, but not wanting to be a second night rube either.Music announced the start of the show, and the crowd became silent as every eye focused on the makeshift curtain set up on left center stage. Letting the anticipation build, the stripper delayed her entry until 2 she knew the time was right. She then burst on the stage in all her full-clothed glory to a roar of approval from her appreciative, and, by now, slightly intoxicated audience. Tall and statuesque, she was dressed to the nine's, in a high-neck, scarlet, floor-length, rhinestone studded, evening gown, with red high-heel shoes and white gloves that extended beyond her elbows. Long, dark hair cascaded from under a wide-brimmed, red hat. Her face and small patches of her shoulders were the only areas of exposed skin, but that was not to last long. To a skeptical, near-sighted man in the very back of the crowd, she appeared to be quite a handsome woman indeed.Her routine was performed, ttingly, to the music of "The Stripper," from "Gypsy." The hat was the rst item to go and that took about two minutes; each glove about ve minutes, and these she flung across the stage. She teased with the dress for an eternity—probably nearer to ten minutes but placed it carefully on a hanger and a coat rack. Off next came the wickedly dark stockings that she pretended to have difculty unfastening from a black, lacey garter belt, requiring her to seek assistance from the audience; then the belt itself. The performance lasted about 30 minutes and when the music stopped, the Ofcial U.S. Army, Vietnam Stripper was still wearing her black, lacey undergarments and the red shoes she had slipped back on, and I said to myself "There, I told you so." The rabble, of course, had been worked into a near frenzy, and shouts of "More, more," and "Take it off' could be heard above the din as the stripper took a bow. Suddenly the music started again, and just as suddenly, a black, lacey bra went flying across the stage! The noise was so loud I could hardly hear myself think "Well, O.K., the bra. But I'm sure that's all—this is an Army sponsored show, after all." Wrong again. It took a while, but before long only the red shoes stood between this lady and her birthday suit. With my bad eyes, and from my vantage point, the details of the female's anatomy were not visible, but the guys down in front literally got an eye full. At this point the show, which had been somewhat artistic, turned downright raunchy. At one point she invited an audience member to join her, and like a flash, one of my warrant ofcers, who must have been there since 1800hrs to be on the front row, was on stage. He was still in his jungle fatigues, and she took off his shirt and undershirt and he would have removed his pants had she not stopped him. She used his T-shirt as a prop, rubbing it between her legs and teasing him with it.After she had made a complete fool of him, much to the delight of the crowd, and to him, in ways I choose not to describe, but that did not involve actual sex acts, she sent him sheepishly back to his seat.When the show was over, I stayed around for a few minutes, still in disbelief, to talk to my now famous warrant ofcer, who, because of the combination of beer and the night's activities, was almost delirious. He was wearing his fatigue jacket, but was carrying with tender, loving care, the T-shirt, which reeked with an unholy combination of sweat and cheap perfume. He vowed he was going to sleep with it and never wash it, and he kept that vow until the perfume wore off. The next day he was back to humping (only) ammo.Richard F. Allen received his undergraduate degree in Mathematics and Chemistry from Florence State College (now the University of North Alabama) and was commissioned a 2nd Lieutenant in the Regular Army of the United States in May, 1963. After seven years on active duty, including tours in Vietnam and Germany, Richard left the active Army in 1970 to attend law school, but he remained a member of the U.S. Army Reserve.Winter 2022 | AT EASE! Veterans Magazine 75
Page 76
Coming Up In Our Next Issue: • Exclusive: Lt.Col. Stuart Scheller• Letters Home• CreatiVets• Veteran Stories• Day 1 of 179• Plus our regular feature articles
Page 77
LIKE WHAT YOU SEE SO FAR? HAVE ANY SUGGESTIONS? LET US KNOW YOUR THOUGHTS ...A Soldier's A Soldier's Christmas Christmas Call Call to Actionto ActionHIGHLY RECOMMENDS: SCAN THE QR CODE TO WATCH
Page 78
"MAKING EVERYONE A CRAYON EATER ONE CRE AT A TIME"Each Crayon Ready-to-Eat™ (CRE™) tastes like delicious, Belgian White Chocolate, in a Crayon that is EDIBLE. And YES, you can write and/or color with them. And because of their triangle shape, you will not lose one because it rolled off your table. TThey are also much easier to hold and grip onto for just about anyone... yes, especially a Marine! Easy to clean up with soap & water or even your tongue for that matter.Crayons Ready-to-Eat™ are just about the safest crayons on the market. CRAYONSREADYTOEAT.COM6 Crayons Ready-to-Eat™1 Jarhead Red™ 1 Squid Blue™ 1 Dawg Face Green™ 1 Flyboy Yellow™ 1 Puddle Pirate Orange™ 1 Space 1 Space Cadet White™ GET YOUR CRE™ TODAY! EACH PACKET CONTAINS:SCAN TO SHOP NOW!
Page 79
INTRODUCING...BLACK ON BLACKLONG-SLEEVE T'S COMING SOON!
Page 80
 VETERAN STORIESVETERAN STORIES  MILITARY HISTORYMILITARY HISTORY  DD-214 & BEYONDDD-214 & BEYOND  GIRLS & GRITGIRLS & GRIT  SALUTE TO SATIRESALUTE TO SATIRE  VETERAN VETERAN ENTREPRENEURSENTREPRENEURS  AND SO MUCH MORE!AND SO MUCH MORE!SCAN THE QR CODE TO SUBSCRIBE TODAY!Visit: theateasemagazine.com/subscribeVisit: theateasemagazine.com/subscribeSUBSCRIBE TODAY!SUBSCRIBE TODAY!PO BOX 133 | PILOT POINT, TX 76258PO BOX 133 | PILOT POINT, TX 76258940.209.0022 | DEVILDOCPUBLISHING.COM940.209.0022 | DEVILDOCPUBLISHING.COM