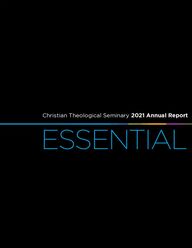 Return to flip book view
Christian Theological Seminary 2021 Annual Report
Page 1
1ESSENTIALChristian Theological Seminary 2021 Annual Report
Page 2
In many respects, this annual report departs from past years' reports. While you will nd traditional elements like nancial statements in this report, it will also share how CTS has shown up during an unprecedented moment—and how we are moving in creative and compassionate ways to meet essential needs.Especially during times of uncertainty, every journey benefits from a roadmap. Developed under the leadership of its Core Team and in dialogue with more than 400 stakeholders, in April 2021 the Board of Trustees approved a visionary new strategic plan for the seminary. CTS 2030: Project Transformation acts as a framework for practically guiding the seminary as we navigate the next chapter of our journey. Looking back on the dynamic aspects of this plan, we are inspired by the collaborative spirit that inuenced, guided, and crafted its development. As we write this letter, our nation, world, and the CTS community are learning to navigate a "new normal" following a prolonged season of extreme disruption. A global pandemic, chaos in our nation's capital on January 6, 2021, and extreme weather events placed burdens on our bodies, psyches, and spirits. Yet even amid a sea of disruptions, we reect and rejoice as we see abundant examples of grace and mercy lived out through acts of faith, hope, and love at CTS. In the following pages, we oer a glimpse of a remarkable season and the essential work CTS continues to advance. As the role of essential workers has been much discussed since the onset of the pandemic, we recognize that the work of pastors, educators, and caregivers has never been more essential.DEAR CHRISTIAN THEOLOGICAL SEMINARY COMMUNITY:
Page 3
3faculty, and sta embrace a new normal, we continue to embrace the essential work of scholarship and spiritual formation. Through this work, we lay the foundation for God's liberative and life-arming message of healing and wholeness for our life in common.Peace and blessings,David M. Mellott, PhD PresidentLeah Gunning Francis, PhD Vice President for Academic Aairs and Dean of the FacultyWhile the plan guides our journey, the essential ethos of a seminary transcends any document or institutional infrastructure. The core values manifested in our culture arm God-given human dignity, work toward justice for all, embrace diversity, advance scholarship and formation, and promote healing and wholeness. These values are lived out in our actions and visible in our physical infrastructure. For example, new installations at the fountain entrance and west wing of our building reect more than a century of people coming together from dierent points on a journey of discernment and discovery. We hope you will visit these new installations and engage with the experiential journey they represent on your next visit to CTS.In the pages that follow, we'll share glimpses of faith, hope, and love lived out through caring, conversations, and connections. As students, DEAR CHRISTIAN THEOLOGICAL SEMINARY COMMUNITY:
Page 4
44CARE, CONVERSATIONS, CONNECTIONSThe essence of an institution—including a seminary—is most evident not in its ocial statements but in the life of its community. Challenging times pose a dilemma. Is it better to hunker down and wait for the storm to subside before taking meaningful action in a sea of uncertainty or step forward with acts of faith? Since the massive pivot required by the pandemic, students, alumni, faculty, and sta have continued to live out CTS's mission in faith, hope, and love.As we reflect on an extraordinary year, we see countless examples of the CTS community working to foster community, oer compassionate care, and build connections at a critical time. Through dynamic engagement, CTS faculty, sta, and students collaborated with faith leaders, non-profits, and broader community members during a most extraordinary time. While the collaborations transpired on a dierent landscape—via ZOOM, the pod-o-sphere, or simply the telephone—the spirit of love, service, and commitment was sustained. As our journey moves forward, CTS 2030: Project Transformation will carry some of these technologies into the future.Akin to a tapestry representing our vision for the next decade together, CTS 2030: Project Transformation draws on hundreds of conversational threads that, woven together, steer a path toward the next 10 years. CTS leadership used the pandemic pause to reimagine the future as we inquired about an essential question: "What is God inviting us to consider?" The strategic plan integrates stakeholders' responses to this question and crystallizes our mission to form disciples of Jesus Christ for church and community leadership to serve God's transforming of the world. Informed by CTS's core values, this plan outlines an academic vision to foster a challenging and relevant scholastic experience while witnessing to God's liberative, restorative, and life-arming message.
Page 5
55CARE, CONVERSATIONS, CONNECTIONS
Page 6
6In light of the increased trauma and isolation caused by the pandemic, the need for mental health services increased. The CTS Counseling Center provided more than 7,900 services in fiscal year 2021, an increase of about 12% compared to 2020. The Counseling Center leadership was able to leverage earlier investments in telehealth technology to support the remote delivery of mental health services. These investments allowed the Counseling Center to quickly transition all operations to a digital platform and avoid any interruptions in services. From the IT team to Finance and Opera-tions to Communications, all sta played a role in the pivot to telehealth. Even alumni contributed, with one member oering to provide the entire Counseling Center with telehealth training at a very reduced rate. The transition to a new Electronic Health Record system also helped support ecient service during a time of increased demand. Providing CAREservices on a sliding scale basis, the Coun-seling Center delivered essential care and counseling at a time of unprecedented need. While we are still living into what the future of online services may eventually become, the Counseling Center plans to oer a blend of in-person and virtual services based on clinical need in order to oer accessible care to clients and comprehensive education to students and post-graduate residents.Although caring for others involves more than responding to episodic events, CTS made sure to check in on the well-being of its community members during the pandemic. The Advancement team made routine check-in calls to alumni and friends of the seminary. Extraordinarily moving conversa-tions occurred in these simple "how are you doing" moments, spotlighting the spirit of humanity, caring, and kindness that arises during dicult times and on ordinary days.6ESSENTIAL
Page 7
7In addition to caring for the mental health needs of its community, CTS also invested in caring for and supporting the needs of new ministers. Under the leadership of Prof. Bill Kincaid, the Center for Pastoral Excellence launched the First Season Project in May 2020 to support new pastors and their essential work during the first 3-5 years of their ministry. In the past year, the project began providing accompaniment, support, and community to 20 new pastors repre-senting 9 dierent seminaries and 8 church traditions across the country in varied ministerial settings. Nine of the current participants are CTS graduates. Retreats and monthly meetings helped new pastors build bonds of community and strengthen networks of support. Friends of CTS showed their care for the seminary during the inaugural Day of Giving in spring 2021. An online event, funds raised on the #CTSDayofGiving support the CTS Annual Fund and other programs that sustain the seminary's mission. The Day of Giving touched the hearts of many, resulting in gifts from the most diverse range of constituents and generating the largest number of individual gifts in a single day in the seminary's history. Each gift builds capacity to support the formation of ministers, leaders, and counselors.7
Page 8
8Ironically, as the world went quiet, CTS turned up the conversation, albeit by engaging new and dierent channels. Indeed, a hidden blessing was the opportunity to reach a larger community via technology. Digital media allowed us to convene conver-sations that ranged from the future of theological education in the United States to meaningful ways to mitigate poverty in central Indiana.Within the realm of higher education, CTS collaborated with leading figures from academic, cultural, and faith-based insti-tutions to consider the promise and possi-bilities for theological education in the 21st century. Funded by a grant from the Henry Luce Foundation, CTS launched the podcast "Imagining the Future of Theological Educa-tion," which brought together big thinkers to explore the future of theological educa-tion in the United States. CTS President Dr. David Mellott and Dr. Deb Mullen, Professor Emerita at Columbia Theological Seminary, facilitated podcast conversations touching on gender equity, interfaith relations' influence on theological education, and demographic trends influencing faith in America. We were honored to engage with voices from the Hispanic Theological Initiative at Princeton Theological Seminary, Forum for Theological Exploration, Pew Research Center, Auburn Theological Seminary, Association of Theo-logical Schools, and the Interdenominational Theological Center in authentic, generative conversation. A prevalent theme in these conversations evaluating the future of theological education was how to establish justice resources for the faith community. It became clear that today's resources are simply insucient to meet the needs of leaders and communities. Conver-sations in the podcast series helped uncover significant gaps between what is available and what is needed to take meaningful steps toward a more just future. Moving forward, CTS is working especially to address inequi-ties related to race, sexual orientation, and economic status, as well as their intersections.CONVERSATIONSESSENTIAL8
Page 9
9CONVERSATIONSCTS also hosted a number of online gath-erings that addressed concerns relevant to challenging times. Among the best-attended events was a session on caring for care-givers and another on supporting grieving congregations, which focused especially on the undue hardships faced by persons and communities of color during the pandemic.The Faith & Action Project hosted several of its own virtual conversations that connected national thought leaders with grassroots leadership. Initiated in 2016 with a generous gift from the Mike and Sue Smith Family Fund, the Faith & Action Project inspires and empowers faith communities and stakeholders throughout the community to discover and implement eective solu-tions for people confronting poverty. For the Faith & Action Project Fall 2020 Event, CTS welcomed award-winning journalist, docu-mentarian, and author Soledad O'Brien. Dean Leah Gunning Francis facilitated a conver-sation with O'Brien exploring how racial and healthcare crises in the United States have aected the fight to end poverty. A moder-ated panel convening leaders representing the Indianapolis Urban League, Indianapolis Public Schools, and Project Azul considered their conversation through a local lens. National poverty-mitigation leader Nisha Patel keynoted the Faith & Action Project 2021 Spring Conference and explored "data-driven and heart-led" approaches to build on the momentum of poverty reduction eorts. Patel's remarks were followed by a moder-ated conversation with Faith & Action Grant recipients who shared their journeys on creating lasting change. 9
Page 10
10As the literal foundation of CTS, the seminary's physical loca-tion houses Sweeney Chapel, oces, and classrooms, along with space for community events. CTS alumni and friends have long loved this communal space and what it represents to those who live, work, and learn here. In spring 2020, following an agreement to lease space from Butler University, eorts commenced to honor the CTS footprint in the building at 1000 W. 42nd Street. The result, unveiled in May, is an evocative and interactive installation that reflects discovery, heritage, and connectivity. Comprised of sustainable wood and other materials, the moveable, tactile installation is a fluid and organic representation of CTS's history and is designed to evolve with the seminary in the future.The beautiful grounds surrounding the seminary also played a role in helping CTS gather as a community. In May, CTS held an outdoor commencement ceremony that allowed students and faculty to come together for a masked and socially distanced celebration. The ticketed, limited-attendance event used "pod seating" to preserve the celebratory elements of a conventional ceremony. The return of an in-person event also created an air of expectancy and optimism as the CTS community looked forward to the resumption of many in-person activities in the 2021-22 academic year.CONNECTIONSESSENTIAL10
Page 11
Page 12
12The pandemic moment allowed CTS to show up in new ways and in front of new audiences. As the world begins to open up and recover from a painful moment in history, we continue our mission with new momentum. The pandemic pause provided people with an opportunity to reflect, inquire, and, in some cases, redirect. The moment is fluid and the future is unknown, but with God's help, the grace of of a community, and a bold and exciting strategic plan in place, CTS is well positioned to continue our transformational work in the years to come.MOMENTUMESSENTIAL12
Page 13
Page 14
14European American 83, African American 68, LatinX 5, Asian/Asian American 5 | Female 102, Male 59United Methodist Church 17%Christian Church (DOC) 13% Baptist 9% Nondenomenational 8%Natl. Baptist Convention 6%No Denomination 6%United Church of Christ 6%Baptist Missionary Assoc. of America 4%African Methodist Episcopal 4%African Methodist Episcopal Zion 4%American Baptist Church 4%Episcopal Church 4%Evangelical Lutheran Church in America 4%Roman Catholic, U.S. 2% *All Other Denominations 9%DEMOGRAPHICSDEGREE ENROLLMENT 57 MDIV 31 MAMFT34 MACMHC 21 PhD 21 DMIN 9 MTS 5 NON DEGREE 161 TOTAL STUDENTS SPRING 2021 *17 DUAL DEGREE14COUNSELING CENTER SERVICESMore Than 7,900Client SessionsTHEOLOGY PROGRAM ENROLLMENT BY DENOMINATION10:1Students to Faculty
Page 15
15SELECT FINANCIAL DATAYou, our alumni and friends who gave so faithfully and generously, continue to bless our students and faculty with your wonderful gifts. Whether you support the CTS Annual Fund, our outreach and academic programs, or an endowed scholarship fund, your gifts to Christian Theological Seminary are deeply appreciated.Fiscal Year End June 30, 2021ANNUAL GIVING $362,034$1.6 MIllion DESIGNATED GIFTSDisciples Mission Fund23%74% Unrestricted3% Annual Restricted34% Programs29% Operations16% Annual Fund15% Endowment5% Disciples Mission Fund1% Annual RestrictedENDOWED FUNDS 33241% Board Designated18% Scholarship34% Program7% Faculty Support56% Admin.30% Programs14% AdvancementCORE EXPENSES15GIVINGREVENUE1.5% Net Tuition.5% Other77% Endowment19% Grants & Contributions2% Counseling Center
Page 16
16Alumni Association Board of DirectorsMelissa Bauzo Linda Mac Bellner Jeffrey L. Bower Hilary E. Cooke Luis Gierbolini Barbara Anne Fisher Kimberly J. King Timothy Knight Lynn Martin Miki L. Mathioudakis Nicholas T. Orange Sherri L. Session Willie J. Newton, Jr. Student Council RepresentativesLaura Marine Zach LeCroneBoard of TrusteesMelissa Bauzo Jeffrey L. Bower Rodney Byrnes Eric Dozier Gene Fisher Merillat Flowers Tim Franson Fred Green Philip Gulley Richard B. Gunderman Richard Hamm Elizabeth H. Klimes Donald E. Knebel Lynn Martin Patty Martin Andrea McGordon Holiday Hart McKiernan David M. Mellott Saundra Michael-Bowers David Miner Nicholas T. Orange Jerry Roberts Dennis Sasso Carolyn J. Scanlan Holmes Myra Selby Dana Sherwood Michael L. Smith Richard L. Spleth Jo Taylor Ted Waggoner Sharon E. Watkins John WilliamsLEADERSHIPFaith & Action Advisory Board Keira Amstutz Molly Chavers Jennifer Dzwonar Rob Fuquay Jay Geshay Matt Gutwein Sarah Hawkins Donald E. Knebel Brett Krichiver Sarah Lund Sam Odle David Shane Joe Smith Michael L. Smith Sue Smith Jo Taylor Michael Twyman Sara Van SlambrookESSENTIAL
Page 17
Page 18
18Legacy Society AnonymousMrs. E. June ArnettRev. and Mrs. Bruce A. BarkhauerRev. Bill L. Barnes*Dr. and Mrs. Jack L. BarnesMrs. Julia P. BeanMr. and Mrs. Albert F. CapertonRev. Dr. Sue Webb CardwellMr. Albert E. Crandall*Ms. Nancy S. DickinsonRev. Errol J. Dietrich*Dr. and Mrs. Ronald L. FaustRev. Carmen R. Fernandez and Mr. Enrique OcasioMrs. Harriett Fielder-DuffMr. Thomas L. FreundRev. and Mrs. Jerry R. GalbreathMr. and Mrs. Max E. GlennMr. Harry H. Graham*Mrs. Jean E. GrahamJack L. Graham and Mary J. Graham*Rev. Donnamae Grannemann and Mr. Glennen R. GrannemannRichard L. and Melinda A. HammMr. Richard B. HarrisDr. and Mrs. William C. HineMrs. Caroline HughesDr. John M. Imbler and Mrs. Toni W. ImblerMrs. Mary Blair ImmelRev. Dr. Arleon L. Kelley and Rev. Dr. Donna J. MeinhardDr. and Mrs. William B. KincaidMrs. Bonnie H. KirkmanMs. Elizabeth H. Klimes and Mr. David KlimesMr. and Mrs. David W. KnallMr. G. Thomas Landis* and Mrs. Joyce M. LandisDr. and Mrs. Alec J. LangfordMr. Samuel T. Long, M.A.Rev. Dr. Perry C. Mattern and Mrs. Maureen E. MatternDonald and Ann H. McCordRev. Susan M. McIverMr. John W. McKiernan* and Mrs. Mercedes McKiernanDr. James W. Miller and Rev. Dixie J. MillerMr. and Mrs. John M. MutzRev. and Mrs. Arthur Neumarkel, Jr.Mrs. Esther L. PadrickDr. Frances Parker-SmytheRev. Dr. Linda K. PatrickMr. and Mrs. Bruce A. PolizottoDr. and Mrs. Calvin L. PorterRev. James L. Powell and Mrs. Margaret PowellRev. Kathryn A. PuckettRev. Dr. George A. PurnellMr. John C. RexrothMrs. Sallie W. RowlandMr. and Mrs. Vernon H. ScottDr. Scott D. SeayMs. Elizabeth K. StoneMr. Vernon J. Stover, Jr.Rev. and Mrs. Timothy N. TiffanyRev. Andrea R. ToonderMrs. Marian K. TowneRev. and Mrs. Wendell R. TurnerMrs. Joan S. UnderwoodDr. H. Keith WatkinsRev. and Mrs. Charles H. Webb, Jr.Dr. and Mrs. Donald WeiserRev. Milton D. WillfordRev. Doris J. Woodruff-Filbey and Chaplain Edgar E. Filbey*deceasedBequests Albert E. CrandallMarjorie M. Turner1924 Lifetime Society AnonymousE. June Arnett and Loren E. Arnett*Harold W. Brown* and Eldred E. Brown*Richard D.N. Dickinson* and Nancy S. DickinsonDaniel F. Evans, Jr. and Marilyn S. EvansAlan S. Farwell* and Elizabeth B. Farwell*Wanda FortuneMary H. Goodwin*Jack L. Graham* and Mary J. Graham*David K. Herzog and Erasmia J. HerzogJohn H. Holliday* and Phyllis B. Holliday*Arleon L. Kelley and Donna J. MeinhardRebecca O. Kendall and Charles E. KendallElizabeth H. Klimes and David KlimesThomas H. Lake* and Marjorie L. Lake*Ruth Lilly*P. E. MacAllister*Ralph Manger* and Chloie Manger*Blanche Maxwell*J. Irwin Miller* and Xenia Miller*William I. Miller and Lynne MaguireJ. Mark MutzJohn M. Mutz and Carolyn MutzNaomi E. Norman*C. Richard Petticrew* and Sylvia Petticrew*Herbert Simon and Bui SimonMichael L. Smith and Susan L. SmithNathaniel K. Sutton and Mallory SuttonGRATITUDE
Page 19
19Individuals $25,000 and aboveMrs. E. June ArnettMr. Albert E. Crandall*Ms. Elizabeth H. Klimes and Mr. David KlimesMichael L. Smith and Susan L. Smith$10,000 - $24,999Dr. Michael E. DysonNiel and Karen EllerbrookDon KnebelDana and Bill SherwoodMs. Marjorie M. Turner*$5,000 - $9,999AnonymousDr. Ronald J. Allen and Ms. Linda J. McKiernan-AllenEric D. DozierMr. Richard C. KraegeHoliday and Philip McKiernanRev. Dr. Gina StewartRev. Karl D. SwainJo and Kirk TaylorRev. Dr. Frank A. Thomas and Dr. Joyce ThomasMr. and Mrs. Ted A. Waggoner$2,500 - $4,999Rev. Jeffrey L. BowerMr. and Mrs. Clarence CrainTimothy R. Franson, M.D.Mr. Fredrick J. Green AIA, NCARB and Mrs. N. Angela GreenRichard L. and Melinda A. HammRev. Lynn M. Martin and Mr. Wells P. Martin*Ms. Patricia A. Martin and Mr. Kevin J. MartinDr. David M. Mellott and Rev. Lance F. MullinsRev. Saundra Michael-Bowers and Rev. Howard E. BowersDavid and Robin MinerMr. and Mrs. J. Mark MutzMr. and Mrs. John M. MutzDr. Jerry D. Roberts and Mrs. Elizabeth RobertsRev. Dr. Ozzie SmithDr. and Mrs. John N. Williams$1,000 - $2,499AnonymousMrs. Ellen K. AnnalaMrs. Julia P. BeanBishop T. Garrott Benjamin and Lady Beverly BenjaminRev. and Mrs. John H. BoazMrs. Berlena BrockMs. Donna S. BrughMr. and Mrs. Rodney ByrnesMr. and Mrs. Albert F. CapertonRev. Dr. Sue Webb CardwellKristin and Lou ChampaMs. Nancy S. DickinsonMr. and Mrs. Daniel F. Evans, Jr.Ms. Sarah D. Evans and Mr. Glenn EvansMrs. Merillat Flowers and Rev. Trey FlowersMrs. Elizabeth J. GossLaura and Richard GundermanDr. and Mrs. Alvin O. JacksonRebecca O. KendallRev. Dr. Larry J. Kuntz and Mrs. Sherry E. KuntzMr. and Mrs. Aaron C. LaramoreMs. Lori LongMr. Fred MoseleyMr. Ed Norman and Mr. Tim ParnellMs. Margaret E. Paddock*Rev. In Suk Hong Peebles and Mr. David S. PeeblesRev. and Mrs. Ralph E. Ricksecker, Jr.Mr. N. Clay Robbins and Mrs. Amy McConkey RobbinsMrs. Gloria S. Rosenzweig and Mr. Lyle A. RosenzweigDr. Scott D. SeayRev. Robert J. Shaw and Ms. Susan B. McNeelyThe Reverend Jean M. SmithRev. Richard L. Spleth and Rev. Diane E. SplethRev. Dr. Rose Carol TaulMs. Diane G. ThompsonMr. Nathan TurnerDr. H. Keith WatkinsDr. Sharon E. Watkins and Rev. Dr. Richard H. LoweryRev. Brian K. WilliamsRev. Doris J. Woodruff-Filbey and Chaplain Edgar E. FilbeyMs. Mamie L. Young*$500 - $999Pastor Neil W. Allen and Mrs. Nora AllenMs. Wendy L. BaldwinMs. Kathleen BellMrs. Martha B. Branaman*Rev. and Mrs. Richard C. BrayRev. Dr. Mary Linda BushRev. Dr. Hilary E. CookeRev. Rosemary E. Cooley and Mr. Dexter H. CooleyDr. and Mrs. Donald R. DurrettMs. April L. ErvinRev. and Mrs. T. Eugene FisherMrs. Cynthia FornPastor Diane M. GattoneDr. Howard B. Goodrich, Jr. and Rev. Darlene B. GoodrichMrs. Jean E. GrahamDr. and Mrs. Marvin E. GroomsDr. Leah Gunning Francis and Rev. Rodney FrancisRev. Kyle T. Harris and Rev. Elisa E. HarrisDr. and Mrs. Matthew R. HarrisRev. and Mrs. Robert L. HarrisMr. and Mrs. David K. HerzogRev. Dr. Stephen C. Hsieh and Mrs. Susan C. HsiehDr. Carol F. JohnstonRev. Robert J. KintnerRev. Dr. John R. Koppitch and Mrs. Judy L. WoodsDr. John W. LandonRev. Dr. Amy Lindeman AllenRev. and Mrs. William D. MarshallDr. John E. McCaw*Mrs. Valerie A. MillerMr. and Mrs. James T. MorrisMs. Victoria L. NelsonMr. and Mrs. James G. NullRev. R. Janae Pitts-MurdockRabbi Dennis C. Sasso and Rabbi Sandy E. SassoRev. and Mrs. Nelson S. ScottMs. Myra C. Selby and Mr. Bruce CurryRev. and Mrs. Tim S. ShapiroRev. and Mrs. Tom ShiffletKumiko J. Takeuchi, Ph.D.Rev. Dr. John E. TunstallRev. and Mrs. James W. Whitaker$250 - $499AnonymousRev. and Mrs. Charles M. BabcockProf. Matthias BeierMr. Joseph G. BozzelliRev. and Mrs. J. Maynard BraggRev. and Mrs. Kenneth W. BryantDr. and Mrs. David R. CartwrightProf. Suzanne M. Coyle and Rev. Peter ZinnRev. Edward L. CushingberryMrs. Constance DungyRev. Luis GierboliniMr. Harry H. Graham*Rev. Dr. Evelyn F. Hale*Rev. Moya HarrisMr. Jack L. HiattDr. Robert L. Hill and Ms. Priscilla RecklingDr. John T. Hinant and Mrs. Eleyce G. HinantDr. and Mrs. James B. HolimanPastor and Mrs. Reginald C. HolmesDr. John M. Imbler and Mrs. Toni W. ImblerRev. and Mrs. William L. Johnson IIIRev. and Mrs. Jim R. Keown
Page 20
20Rev. and Mrs. Russell N. Kimmerly, Sr.The Reverend Karen L. KingDr. Al K. Kundenreich and Mrs. Sara KundenreichRev. Dr. and Mrs. Jerry D. McCoyRev. and Mrs. Milton L. MikesellPastor Carrie J. MillerRev. Patricia B. Mullen and Dr. Michael E. MullenDr. Thomas MurrayRev. Dorothea Norwood and Mr. Glenn NorwoodMr. and Mrs. Samuel L. OdleRev. Lester D. Palmer and Mrs. Janelle G. Palmer*Dr. and Mrs. Calvin L. PorterChaplain Myra K. Raab and Mr. Glenn M. RaabPastor and Mrs. Richard ReynoldsDr. D. Bruce Roberts and Dr. Karen Altergott RobertsMr. and Mrs. James H. RuddellRev. Nicole L. ShawMr. Scott Sims and Mrs. April SimsMr. and Mrs. Joseph L. Smith Jr.Mr. Arthur I. Thorpe*Mr. and Mrs. Winston N. TurnerFr. and Mrs. P. Joseph WardRev. Marvin D. Williams$100 - $249AnonymousMr. Barek AllenMs. Keira Amstutz and Mr. Shawn MulhollandNicole Anderson Cobb, Ph.D.Dr. and Mrs. Wayne R. AndersonRev. John L. AndraeDr. Jimmy AtkinsMs. Vera BanksDr. and Mrs. Jack L. BarnesMrs. Bill L. BarnesDr. Alise D. BarrymoreDr. Robert S. Bates*Rev. and Mrs. Dennis W. BeedyProf. Richard BellaverMs. Deborah J. BockRev. and Mrs. Clarence D. Bolden, Jr.Dr. and Mrs. Calvin C. BrandenburgDr. and Mrs. Stephen J. BrockMs. Danita BrownRev. Evelyn L. BrownMrs. Evelyn P. BrownMr. and Mrs. Sean BrownDr. Courtney Venita BuggsRev. Dr. Rebecca J. BuntonDr. Rufus Burrow, Jr.* and Rev. Rebecca J. Phillips BurrowRev. and Mrs. Jason A. ButterickMr. Patrick F. Cameron and Ms. Geneva HershbergerMs. Mary Lou CarverMr. Scott A. CavinsMr. Byoung-Chul ChoCdr. and Mrs. Harold L. Christmann, USNRev. Toni R. ColbertRev. Dr. David L. Coolidge and Dr. Shirley S. CoolidgeRev. and Mrs. Warren R. CopelandMs. Carol Q. CosbyMr. Carl CrabielMs. Lisa A. CripeDr. Joseph A. Culpepper and Rev. Ellen H. G. CulpepperDr. Carolyn A. CunninghamRev. Barbara J. Dahl and Mr. Jon E. DahlRev. Dr. Christina Jones DavisRev. and Mrs. Neil W. DeupreeMrs. Patricia A. DevlinRev. and Mrs. Mark L. DickenPastor Ke'tre L. DickensRev. and Mrs. James W. DysonMs. Tonia Margaret EdwardsRev. Fred H. EricksonRev. Carmen R. Fernandez and Mr. Enrique OcasioRev. Maurice A. Fetty and Rev. Sara A. FettyRev. Nancy L. Flood and Dr. Royce E. FloodRev. Mark W. Frey and Mrs. Marguerite B. FreyMr. and Mrs. Robert GardnerMrs. Anne Burnett GarnerDr. Louise Goggans and Mr. Otis GoggansMs. Judith A. GoodrowMrs. Martha GrahamRev. Donnamae Grannemann and Mr. Glennen R. GrannemannMr. Austin W. Greene and Mrs. Christine Greene*Rev. Kevin C. Greenwald and Mrs. Christine O. GreenwaldDr. and Mrs. Donald N. GriffithRev. Lari R. GrubbsMr. David A. Guidry-StockstillMrs. Annette M. HardenMs. S. Susan HarperMr. Richard B. HarrisRev. and Mrs. Warren O. HarryRev. Dr. and Mrs. Robert Hayes-BennettDr. and Mrs. Elton HeatonMr. and Mrs. Rex HenthornRev. Dr. Margaret J. HickmanRev. David A. Hogue and Mrs. Diane W. HogueRev. Marion L. Hopkins and Mrs. Carolyn A. HopkinsRev. and Mrs. David C. HummelDr. and Mrs. Joseph D. HuseRev. Susan C. JacquesDr. and Mrs. J. Gerald JanzenRev. and Mrs. Eddie JourneyMr. and Mrs. Gregg KeeslingDr. Felicity Kelcourse and Mr. Paul KelcourseMr. Wayne E. KesslerDr. and Mrs. William B. KincaidRev. Dr. Edward H. KolbeMs. Dalene A. Kuebler and Mr. Ron KueblerRev. Dr. and Mrs. Richard L. LauerRev. Linda K. Lawler and Mr. Thomas LawlerRev. Andrea L. LeiningerMs. Patricia A. LeyMr. and Mrs. S. C. Campbell LovettMrs. Sharon L. LundquistMrs. Jo Ellen Martin and Mr. David E. MartinRev. Miki L. MathioudakisRev. Dr. Perry C. Mattern and Mrs. Maureen E. MatternMs. Linda J. MatthewsRev. Mindy L. MayesRev. Carol McDonaldRev. Dr. Nicole McDonaldAndrea McGordonMs. Moriah McKiernan-AllenRev. Roxie J. McNelly and Mr. Jim McNellyRev. Peggy N. Meier and Mr. Henry G. MeierRev. and Mrs. Harry C. Meyer, Jr.Rev. and Mrs. Wayne R. MeyerMr. and Mrs. Gregory W. MichaelDr. James W. Miller and Rev. Dixie J. MillerMr. Raymond Mills and Mr. Philip ClevelandRev. Ellen L. Mitchell and Mr. Lennis MitchellRev. Robert A. Mitchell* and Mrs. Mollie MitchellMr. and Mrs. Bob MohlerRev. and Mrs. John T. MooreRev. Mary Alice MulliganRev. Dr. Willie J. Newton, Jr. and Mrs. Decaroshe NewtonRev. Nicholas T. Orange, MDiv, MA, LMHC, CSAYCThe Rev. Dr. and Mrs. Miley E. PalmerRev. James L. Powell and Mrs. Margaret PowellMr. Daniel L. Pritchard, Sr.Rev. Kathryn A. PuckettMr. and Mrs. Joe F. PumphreyRev. Dr. George A. PurnellMs. Lindsey N. Rabinowitch and Mr. Michael RabinowitchRev. and Mrs. Ronald D. RiggsDr. Nicole Z. RobertsonRev. Eric W. RobinsonMr. and Mrs. Howard G. Rohrer*Mr. Jeffrey P. RomackDr. Mary C. Rudy and Mr. A.B. Rudy*Mr. and Mrs. Larry R. SalerDr. and Mrs. Frederick E. SchaefferMs. Mary SchillingRev. Robert A. Schilling and Dr. Rita S. Schilling*deceased
Page 21
21Chap. Col. William S. SchuermannMrs. Brianne SchutterMr. John A. SeestRev. Barbara A. Short and Mr. Donald L. ShortDr. Edmund C. ShortRev. and Mrs. Nathan S. SmithFr. Whitney B. SmithMs. Janet M. SpauldingDella Stanley-Green and Kerry GreenRev. Dawn K. Stemple and Pastor John W. StempleDr. Marti J. Steussy and Dr. C. Nicklaus SteussyRev. and Mrs. Carl R. SweetMr. Donald W. Tanselle*Rev. Dr. John M. ThomasMs. Leslie ThompsonRev. and Mrs. Timothy N. TiffanyMrs. Frances ToddRev. Dr. J. Lawrence TurnerDr. and Mrs. Lawrence R. VeatchRev. Dr. Art G. Vermillion and Mrs. Pauline J. VermillionMr. Bryan T. Votaw and Mrs. Amanda L. VotawMr. and Mrs. Robert L. WaeltzRev. and Mrs. Burdett L. WantlandDr. and Mrs. William J. WassnerMs. Kathryn J. Watson and Mr. Christopher G. WatsonRev. and Mrs. Ralph S. WearstlerMrs. Bebe WeinsteinDr. and Mrs. Donald WeiserMr. and Mrs. Norman A. WellsRev. H. Ann WilliamsRev. Peggy Jones Williams and Rev. Dr. William K. WilliamsRev. and Mrs. Nathan D. WilsonMrs. E. A. Windley and Mr. David H. WindleyMr. and Ms. Neal WixsonRev. Laurie J. WolcottMs. Clara F. Watts WoodardDr. and Mrs. Michael C. YarbroughRev. Louis A. Youngs$1 to $99AnonymousRev. Tommy R. AkersMr. and Mrs. David S. AlbertMs. Carol J. AlexanderMr. David M. BarickmanRev. and Mrs. Bruce A. BarkhauerMr. and Mrs. John L. BarthRev. Linda Mac BellnerMr. and Mrs. Franklin BerkeyMr. and Mrs. Drew D. BoggsRev. Deborah D. Bolen and Rev. Harry BolenRev. Ruth M. BrandonMr. Thomas A. BrethauerMr. Nicholas BuckMr. James A. CarpenterRev. Elizabeth CarrasquilloMrs. Molly ChaversRev. and Mrs. G. Scott ComrieRev. Shannon Ruth Cook and Mr. Barton HannaRev. Linda W. Coppinger and Mr. Walt CoppingerRev. Leila A. Dailey and Rev. Robert DaileyMiss Christy DearingerRev. and Mrs. Michael E. DixonRev. Mary A. Dobson and Mr. Gene C. DobsonMr. and Mrs. Roland M. DorsonMrs. Temeka Easter RiceRev. Kenneth L. EndersbeDr. and Mrs. Ronald L. FaustRev. and Mrs. Morris Finch, Jr.Ms. Paula K. FranckRev. Michael L. Gant and Ms. Rita Gaither-GantRev. Ayanna GarrettRev. and Mrs. James H. GearhartMrs. Susan M. Geshay and Mr. Jay H. GeshayMrs. Kathryn J. Gleason and Mr. Sean E. GleasonRev. Dr. Lisa GoodsMrs. Martha A. Gran and Mr. Keith L. GranMr. and Mrs. Daniel G. GreenMr. and Mrs. Kent GrimesRev. Melissa Grishaw and Mr. William GrishawMs. Lisa GruberRev. Holly A. HardsawMr. and Mrs. William B. HartingDr. and Mrs. Marc S. HaysRev. and Mrs. Paul D. HendersonThe Rev. Dr. J. Lee Hill Jr, Jr.Dr. Nathaniel C. Holmes, Jr.Rev. and Mrs. Steven W. HorsmanMrs. Julia V. Huddleston and Mr. Charles F. Huddleston, Jr.Mrs. Michelle HummelRev. and Mrs. Roger N. JenksRev. April JohnsonChaplain Charles M. JulianMs. Sandra M. KeefeRev. Dr. Arleon L. Kelley and Rev. Dr. Donna J. MeinhardRev. Nathan Kibler and Mrs. Theresa N. KiblerMr. and Mrs. Jimmy L. KirbyChap. LTC Marion R. Kirk and Mrs. Judy KirkRev. and Mrs. John F. KixmillerMrs. Helen L. KnopfmeierMs. Joy L. Knopfmeier and Mrs. Helen L. KnopfmeierRev. Stephen B. Lantis and Rev. Jennifer A. Steele-LantisRev. Robert B. LeachMr. Zach R. LeCrone and Ms. Jessica LeCroneChaplain Andrea LewisDr. Angela R. LoganRev. Dr. Sarah C. Lund and Mr. Jonathan LundMr. Zachary E. MartinDonald and Ann H. McCordCol. and Mrs. Lelan D. McReynoldsRev. Dr. Loren D. Mellum and Dr. Karen M. W. MellumMr. Clayton C. MillerRev. Steven B. MooreMr. Norman L. Morford and Mrs. Pamela P. MorfordMr. and Mrs. Stephen H. MorrallDr. Richard C. NeeseMrs. Jamie NelsonMrs. Ann K. NewtonRev. Chesla T. NickelsonRev. Dr. Stanley NicolDr. J. William Novak* and Mrs. Myra W. NovakMrs. Kristin A. NygaardRev. Dr. Robert C. NygaardMr. William Outlaw, Jr.Ms. Deborah E. Owen and Mr. Kevin FringsRev. and Mrs. David Mark OwensDr. Edith N. ParrishMr. Stanley H. PetersonMr. and Mrs. Robert F. PierretMs. Michele S. Prible and Mr. Thomas PribleMr. Theodore RandallMrs. Sarah L. Rawlings and Mr. James E. RawlingsRev. and Mrs. Ronald RockeyRev. and Mrs. Gene E. RohrerMs. Jennifer M. Roth and Mr. Ken RothMrs. Mary Lou RotheDr. Robert C. Saler and Ms. Elise E. BarrettRev. Edward L. SardenMrs. Dolores Seay*Ms. Joanne L. ShaverMrs. Shannon SimsRev. Susan SmithMr. and Mrs. Glen SnowDr. Jessica Spencer-GallucciRev. Dr. Nancy C. StahlMs. Nancy StephanMr. James StruckDr. Judith H. SuttonRev. Deborah R. ThompsonRev. Andrea R. ToonderMiss Abigail ValenciaMs. Elizabeth ValenciaFather Allan R. WallaceMrs. Sue B. WallaceMr. Eric A. WilliamsMr. George S. WoodMr. Maurice C. Wright
Page 22
22** closed churchOrganizations $25,000 and aboveCentral Indiana Community FoundationChristian Church FoundationDisciples Mission FundHamilton County Community FoundationLilly Endowment Inc.Lumina Foundation for EducationMichael L. Smith and Susan L. Smith Family Fund, a fund of Hamilton County Community FoundationUniversity Christian Church Legacy Foundation$10,000 - $24,999Central Christian Church, Newark, OHChristian Church (Disciples of Christ) in the US and CanadaFriendship-West Baptist Church, Dallas, TXEli Lilly & Company Foundation$5,000 - $9,999Covenant United Church of Christ, South Holland, ILFirst Christian Church, South Bend, IN**First Christian Church, Minneapolis, MNLancaster Theological SeminaryMt. Olivet Baptist Church, Columbus, OHNicholas H. Noyes, Jr. Memorial Foundation, Inc.Petticrew FoundationSchwab Charitable$2,500 - $4,999Bethany Christian Church, Fort Washington, MDCripe Charitable FoundationLake Worth Christian Church, Lake Worth, FLSecond Presbyterian Church, Indianapolis, IN$1,000 - $2,499BNY Mellon Charitable Gift FundEli Lilly and Co.First Christian Church, Moline, IL**Indiana University HealthIndiana-Kentucky Synod, ELCALight of the World Christian Church, Indianapolis, INMississippi Boulevard Christian Church, Memphis, TNOgden Christian Church, Ogden, IL**Seventh & Eighth United Christian Church, Indianapolis, IN**St. Peter's United Church of Christ, Carmel, INMamie L. Young Trust$500 - $999Fidelity CharitableTrinity United Church of Christ, Chicago, ILUniversity Park Christian Church, Indianapolis, IN**$250 - $499Bank of America Charitable Gift FundArlington Heights Christian Church, Indianapolis, IN**Bank of America Charitable Gift FundChristian Church FarmFederated Church, West Lafayette, INFirst Christian Church, Hoopeston, ILFirst Congregational Church of Indianapolis, Indianapolis, INGarden City Christian Church, Garden City, MNNew Covenant Christian Church, Denver, CONew Revelation Christian Church, Indianapolis, INUnion Christian Church, Franklin, IN$100 - $249Central Christian Church, Wooster, OHErwin T. Koch Charitable TrustFirst Congregational United Church of Christ, Angola, INFirst Presbyterian Church, Fowler, INN. Wm & Bebe Weinstein Donor Advised Philanthropic FundMartindale Church of Christ, Indianapolis, INNew Light Christian Church, Indianapolis, INPension Fund of the Christian Church (Disciples of Christ)State Farm Co. FoundationWalk in the Light Christian Church, Indianapolis, IN$1 to $99Bethlehem Lutheran Church, Indianapolis, INThe Blackbaud Giving FundChurch Extension Financial & Missional Resources, Inc.IBM Corporation Matching Gift FoundationLeadership Vision, LLCPianimals Kids Club LLCGRATITUDEESSENTIAL
Page 23
23 Great God our ancestor, you know we have gone through one of the greatest pandemics of our time.We've lost families and friends, and whole communities have been devastated." On the other hand, it's because of your steadfast grace we're able to be in this moment to take time and pause and express our gratitude.We thank you for CTS's mission.We thank you for spiritual growth.We thank you for academic rigor.We thank thee for the joys of discovering new friends in this sacred space of liminality.We thank you for the opportunity to be healers and agents of change to provide hope, help, and healing to our community.We thank you for being able to humbly stand out and implement our call as instruments of peace, justice, and salvation.We appreciate you for opening the doors of resources, the doors of excellence, the doors of gentleness, and the doors of joy.We thank you for education, and we thank you for allowing us to be carriers of your glory with future endeavors.AmenRev. Dwight Holland, honorary degree recipient, CTS 2021 CommencementOF THANKSGIVINGPRAYER
Page 24