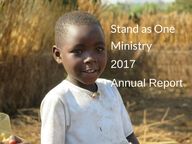 Return to flip book view
Annual Report 2017
Page 1
Stand as One Ministry
2017
Annual Report
Page 2
our vision
lives free from poverty
our mission
empower communities
Page 3
Our Work
LOOK WHAT WE ACCOMPLISHED TOGETHER
Page 4
Page 5
Soymilk Factory
In 2017, Stand as One served 176,000 cups of soy milk to vulnerable children, hospital patients, and nursing mothers! Thanks to your generous donations so many people have a source of much-needed protein.
Page 6
Our Infant Rescue Program continues to identify vulnerable families and continues to address their needs with education and supplies. Nicole is a passionate advocate for the health of babies and children. She has over 50 families receiving her attention with 275 children involved.
Family Feeding
Page 7
Crop Diversity
This crop of pearl millet will provide high levels of protein, vitamins, and minerals after a hands-on harvest. This education is so essential for the health of the people and the land.
Page 8
Harvest Centre
A shipping container gets a new home, and our Harvest Centre gets its first housing development! We are at the point where we need someone on site, so Royson, our lead educator, and advocate will soon be living here.
Page 9
Royson continues to work with farmers of the Kalulu Village area. 45 to 50 families have continually incorporated the Foundations for Farming techniques, and are ready to pursue more advanced business and diversity practices.
Agriculture Training
Page 10
Karin has started a new program that is improving crop growth and yield. These families are collecting urine which gets added to their compost pile. This combination is added to their crops. The result is the amount of nitrogen lost by the soil is decreased, and more carbon is available to the plant. All for free!
Page 11
Many aspects of this moment are exciting. The soy crop was grown at our Harvest Center. The workers involved from seed to harvest were involved in a Work For Food Program, where they received food during the hunger season in payment for their work on the fields. The resulting crop was donated to our Soy Milk Factory. Thanks to our donors it is totally a win-win situation!
Page 12
If you can't get excited about the name "Teenager Farming Football Team" then you may need to spend time in Kalulu Village! Royson gathers these boys weekly for football (soccer) and fun. We see the aspects of role modeling, teamwork, and cooperation as subtle and fabulous benefits.
Page 13
Mellisa Kasiya is now in Kindergarten A Class. She is a very quiet girl but smiles all the time. She participates actively in class and her attendance is good regardless of the weather.
Education
Ebenezer Christian School in Nkhoma, Malawi continues to excel. Our donors sponsor 25 children, providing funds for fees, uniform and supplies, and smiles like Melissa's.
Page 14
Page 15
Children's Ministry
William and Angela and their Children's Home are involved in Summer Evangelistic Camps, in Slum Children's Outreach and Kid's Camps. Acha runs a weekly program for Street Kids. These tireless servants provide the planning and presence, and thanks to funding from Alpha Foundation we can provide the food from Fedwell Foods.
Page 16
Feeding
Once again we thank Alpha Foundation for funding the food programs in Myanmar. We were able to make food donations to refugees who were affected by the political unrest, and to others affected by ongoing poverty.
Page 17
Exciting update!
A few years ago an Aquaponics, Integrated Chicken/Fish Farm, was started by Garden Home, with funding provided by Alpha Foundation through Stand as One. Dan and Irene were there for the fish harvest: the workers, Dan and Irene, and thousands of fish! This venture is working, providing fish to be sold at market and also to feed the Children's Homes.
Page 18
Children's Homes
This work is funded by Alpha Foundation. There are over 700 children whose lives are improved through our involvement in their Childrens Homes. We provide nutrition, plus funds for tutoring, health check-ups, school uniforms, and supplies. Irene got to organize a craft and game day. Looks like fun for all!
Page 19
Page 20
Building Hope
In the last 6 years, there have been 12 families blessed by the Building Hope Teams in Mexico. This year 24 people took part in building 2 homes, an addition to an existing home and one bunkhouse for another family. There is no project too big or small for these talented and resourceful groups.
Page 21
"Team B" proudly handed over the keys to this new home to this very grateful family!
Page 22
The sun is setting on Vicente Guerrero, the work of this team, and another successful year.
Page 23
Ride for Refuge
Smithers
Victoria
Page 24
It happened! We recruited, we encouraged donors and each other. We pedaled and walked the miles. We laughed and worked hard and enjoyed.
We raised $36,783!
Fort Langley
Join us September 29, 2018
Page 25
from all of us at Stand as One
Dan and Irene
Thank You!
We are so thankful that it isn't just the two of us Standing As One, but that we are so many! We want to Thank You for your support, and thank God for His faithfulness, guidance, and strength. Looking forward to another great year!