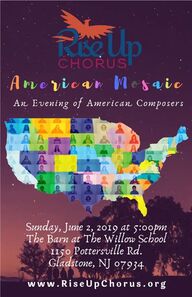 Return to flip book view
American Mosaic: An Evening of American Composers
Page 1
Page 2
From theArtistic DirectorIt's hard to believe that Rise Up Chorus is winding down its second season. It seemslike just yesterday we were in the planning stages, forming the Organization fromscratch, building our core values, and creating something special. As this seasoncomes to a close, I'm encouraged by how far we've come as well as for our plans forgrowth in the future.Part of our mission is to collaborate with other organizations, and this has truly beena year of collaboration for us. In December, we collaborated with Christ Church inNew Brunswick and Voce Nova, a new professional ensemble, in a performance ofmusic by composer Benjamin Britten. This was the first time Rise Up Chorus hasattempted music of this level of difficulty, and both the Youth Chorus and the AdultChorus rose to the occasion. It was a wonderful evening of artistry! In February, weperformed in a collaboration with Playhouse 22 in a unique experience, "Behind theCurtain," created just for us, in a full theatrical production. And, now, in our"American Mosaic" performance, we are collaborating with The Willow School and allof the wonderful things this beautiful space has to offer.What have we learned from our collaborative experiences? We've learned thatcollaborating with other musicians and organizations enhances the richness of theexperience we achieve. Musical artistry is piqued when organizations with differentmissions and different backgrounds come together for a common purpose, and this isat the core of Rise Up Chorus' mission: to bring the community together throughsinging.This collaboration is truly a celebration of everything we are, a mix of people who cansay in some part that they are part of the richness of the history we call the UnitedStates of America. Our country is a symbol of opportunity and freedom, and themusic that has come from this country is composed in that vein. Through thisperformance, you will have the opportunity to hear music by composers who livedand worked during the very formation of our country all the way through music bycomposers who are still living and composing. You will hear music by composers ofdifferent ethnicities, religions, genders, and sexual orientations. You will hear musicfrom various time periods and in many different styles. You'll hear music that makesyou get up and dance, and you'll hear music that will cause you to choke-up. Whatdoes it all have in common? It's truly American. If this is your first experience withus, we hope you feel that you are part of our community. Welcome to Rise Up Chorus!We are:Inspiring good. Changing lives. Making music.
Page 3
Much effort by many people has been required to get us to this day, and there areso many to thank for bringing this event to fruition. On the occasion of thisconcert, only oursixth since our formation, we extend our heartfelt gratitude…To The Willow School in Gladstone for working with us to provide such a wonderfulvenue for this concert.To Father Zelley and the staff of St. Luke's Episcopal Church in Metuchen forallowing us access to sorely needed and much appreciated rehearsal space. Theirbelief in our mission and trust in us has laid the groundwork for a brilliant andhopefully lasting collaboration between their faith community and the community atlarge.To our Chorus Members, both adults and youths, for their time in practicing andpresenting the music we share this weekend. Whether with Rise Up Chorus since thebeginning or newly joining this session, their efforts are acknowledged and verymuch appreciated. To our Donors for their generous financial support towards this second year for RiseUp Chorus. It is difficult to adequately express how much we appreciate theircreative approaches and personal sacrifices towards funding all that we do. Thesecontributions, and those that we hope will come following their example, areessential to the communities we serve.To my fellow Board Members and Committee Members for the support theyvolunteered for Rise Up Chorus from their time and talents for these many priormonths of planning, refining and fund-raising for the organization. Special thanks toAngela Dohl for her creativity and hard work in preparing this program booklet. Without all these talented indivduals, we would have been unable to bring thisorganization forward for the benefit of its members, the community, and those wewill serve over the coming years.To our Founders and Music Professionals for their vision, and selfless contributionsof artistic and technical talent. Matthew LaPine, Jessica LaPine, and ThomasDeLessio called this organization together from their vision, and they, together withYouth Chorus Director, Mary McGuire, help us to see all that is possible throughmusic. Rise Up Chorus would simply not exist without the contributions, dedication andtrust of all those mentioned. We are so very grateful that we are on this journeytogether with you!With sincere appreciation to all,Chris M. BishopPresident, Board of TrusteesRise Up Chorus Inc.
Page 4
Page 5
Page 6
Page 7
Page 8
Page 9
Page 10
Grant funding has been provided by the MiddlesexCounty Board of Chosen Freeholdes Through agrant award from the Middlesex County Culturaland Arts Trust FundRise Up Chorus is made possible by thegenerosity of the following donors:Amy AgnewAnonymousAT&TNoble AvellinoIsabel BadilloMaria BalboaNancy BelfordJane & Robert BerrySuzanne & Chris BishopLaura BogertCarol & Glenn BrinksAmy BuninYolande CallenderB.J. CamireStephen & Machiko CaputoO'Neil CassellsAlison ChaplinJack ClaypotchColgate-Palmolive (TRUST)Mary Jane ConnollyMichael & Nancy ConroyTine Corser (TRUST)Ann CullinanTina Kush CrepezziKathy & Chris DaltonJoann DanielsDottie DargisChristine & Thomas DeLessioKenneth Deng Joan MastMaryann McGuireBill & Lou Ann McGuireJohn & Donna McGuireMike and Mary T. McGuireTom & Jackie McGuireKaren Meyer MarkleyJean MeyersAlexis MonacoThe Morace Family FoundationClifford ParrishWeng PinedaBob PublikAlan RogersShelley & Steven RohanBarbara & Robert SandermanEric SchwarzAlison Seiner BrownKaren SiegelTrish & Bryon SmithShirley SmoyakKathleen & Michael SpadafinoJessica StanislawczykMargie & Thomas ThomasThrivent FinancialMelissa TiceRebecca WeisbergBeth WilsonAnne & John WrightWendy DiLeonardoAnita DaughertyNancy DuddyGJ FlanneryRick FortuneFord FosterShari GarretsonDonald GibsonSusan HamiltonDeborah Herman & Jeffrey SteinhornSusana HernandezCheryl HicksKristina HornSusan JankiewiczStanislav JaraczAndy Kennedy-SiebertSusan KingsleyDavid KirpanTed & Norma KleinTerry KohlJessica & Matthew LaPineLinda LaPineBeth LebelKaren LeonChristina LeslieDiana LuntAnn LynchAmy MalzoneDiane Mansmann Donations to Rise Up Chorus can be made directly at our websitewww.riseupchorus.org or by mail to: Rise Up ChorusPO Box 4335Metuchen, NJ 08840 Rise Up Chorus is a registered 501(c)(3) non-profit organization
Page 11
Isabel BadilloCarol BaldiNancy BernheimerTom BishChris BishopJeannine BurtonBruce BussellMachiko CaputoStephen CaputoSue CeaMary Jane ConnollySherri DamociChris DamociKenneth Deng Lynne DengAngela DohlShauna EvansElly FadenFord FosterShari GarretsonSarah HannahKaren KeithlerSusan KingsleyTerry KohlChristina LeslieDiane MansmannJoan Mast Mary McGuireMaryann McGuireJean MeyersDanielle MiyagishimaBeth MoroneyLuisa SchoepfEric SchwarzMickey SeppiKaren SiegelShirley SmoyakKathy SpadafinoKathy StaegerDoris YounkenAnton YudinNikul MalooRobert PagliaKanisha ShivDillen AlenBecca CordraySophia Dimayuga Youth Chorus MembersAdult Chorus MembersAnna LeonMildred OgariSarah OgariCOME AND SING WITH US!Rise Up Chorus' next session begins Friday,September 6, 2019All are welcome, no auditions necessary!For information and to sign up email or call: mlapine@riseupchorus.org  732-662-4469Rise Up Chorus Board MembersChris M. Bishop -Board PresidentThomas DeLessio - Board AdministratorAngela Dohl - Events ManagerSusan Kingsley - Communications ManagerTerry Kohl - Community Relations LiaisonJessica LaPine - Director of Social ProgramsMatthewJ. LaPine - Founder & Artistic DirectorDanielle Miyagishima - TreasurerKathleen Spadafino - Director of Education& Outreach
Page 12
MatthewJ. LaPine,Adult ChorusdirectorMary McGuire,Youth Chorus directorThomas DeLessio, AccompanistAn Evening of American ComposersDavid's LamentationThe Last Words of DavidSimple GiftsI Bought Me a CatAt the RiverChing-a-Ring ChawAll the Pretty Little HorsesEzekiel Saw the WheeII Got RhythmSomewhere (from West Side Story)How Can I Keep From Singing?Shoshone Love SongDidn't My Lord Deliver DanielThree Quotes by Mark TwainThe PastureSure On This Shining NightI Dream a WorldLittle Boy BlueI Will SingWilliam BillingsRandall ThompsonAaron Copland, arr. Irving FineAaron Copland, arr. Irving FineAaron Copland, arr. R. Wilding White Aaron Coplandarr. Andy Beckarr. Mary Lynn Lightfoot George & Ira Gershwin, arr. Mark HayesLeonard Bernstein & StephenSondheim, arr. Mac HuffRobert Lowry, arr. Alice Parker Roger Emersonarr. Roger EmersonAndrea Ramsey Randall StroopeMorten LauridsenAndré ThomasMatthew J. LaPine Rosephanye Powell
Page 13
Program NotesDavid's Lamentation is by William Billings (1746-1800), considered by some to be the firsttruly American composer and lyricist. This song, written circa 1778, is one of manylamentations by King David on the death of his oldest living son, Absalom. Absalom hadrebelled against his father. When the final battle between the two sides came, David gaveorders for Absalom to be spared, but Joab, David's general, had the prince killed. The textis taken from 2 Samuel 18:33 and 19:2 in the Bible's Old Testament.The Last Words of David (1949) is taken from 2 Samuel 23:3-4. In his last words, KingDavid spoke: "He that ruleth over men must be just, ruling in the fear of God." Thecomposer, Randall Thompson (1899-1984), uses frequent changes in dynamics andchanges in tempo to heighten the drama of the piece. According to the notes for aThompson tribute album, Thompson sought to create music which both musicians andaudiences would appreciate. "Writing for voices has a purifying and refining effect onany composer's work," Thompson said. "After choosing a text, then sing it a thousandways to yourself until you latch onto a tune. Let the tune and the words develop theform, (and when the composition is complete) sing every part yourself. If you can't sing ityourself, there is something wrong."Aaron Copland's Simple Gifts, music from the ballet Appalachian Spring (1944), adaptsthe text of Joseph Brackett (1797-1882), an elder in the Shakers, a Christian religious orderin Maine. In a book about the song, Roger Lee Hall writes: "It is incorrect to call it a'traditional Shaker hymn.' It was written for what the Shakers called a 'quick dance,' andsung and danced at a lively tempo in their worship service." I Bought Me a Cat (1950) is the fifth and last song in Copland's Old American Songs, Set 1.According to notes from the music publisher: "A children's nonsense song, 'I Bought Me aCat' repeats a refrain, adding one farm animal with each repeat. The harmony andaccompaniment simulate barnyard sounds." The rhythm and structure may remind thelistener of "Old MacDonald." The last "animal" mentioned in the song is the farmer'swife. Listen for her sound, too. Irving Fine (1914-1962) arranged "Simple Gifts" and "IBought Me a Cat." Fine's music, wrote Copland, "wins us over through its keenlyconceived sonorities and its fully realized expressive content."At the River is an arrangement of the beloved 1865 hymn tune by Baptist minister RobertLowry (1826-1899). The text borrows from the motifs of a crystal clear river with water oflife, issuing from the throne of heaven, as found in Revelation 22:1-2 in the Bible's NewTestament. "At the River" has been sung on many occasions, including the memorialconcerts for Copland and for fellow American composer Leonard Bernstein. "At the River"was arranged by Raymond Wilding-White (1922-2001), a composer of contemporaryclassical music and electronic music, and a photographer/digital artist.Ching-A-Ring-Chaw is adapted from a minstrel text from 1833, according to a history ofthe song written by Debi Simons, a choral singer and music writer. Minstrel"entertainment" represents a difficult history in America, Simons writes, with whiteperformers starting in the 1830s putting on "blackface makeup to present songs, skits,parodies and dances." Copland found lyrics to "Ching-A-Ring-Chaw" at Boston
Page 14
University's library and was taken with their melody and rhythm. He pointedlychanged the lyrics to avoid any chance of racism. "Copland has left intact as much ashe can even as he broadens the theme to that of a universal rather a specific PromisedLand," Simons writes. "He's taken something from an offensive source, recognized itsinherent musicality, and transformed it."All the Pretty Little Horses is a pre-Civil War American lullabye. In the best-knownversions of the song, the singer promises a child that when he or she awakes the child"shall have all the pretty little horses." In this 2013 jazzy arrangement, Andy Beck hasadded new words and music. Beck, the Director of Choral Publications at Alfred Music,has composed or arranged more than 450 popular choral works, vocal resources, andchildren's musicals currently in print. The folk song Ezekiel Saw the WheeI began its life as an African-American spiritual,according to the Folk Song Index website. "This song is based on a passage from OldTestament in which Ezekiel, a prophet living in exile in Babylon during the 500sBC/BCE, was sent a vision from God. According to the text, as God spoke to him, inaddition to seeing four winged 'creatures' in the middle of a thundercloud, Ezekiel alsosaw four wheels touching the ground, one beside each of them." Mary Lynn Lightfootarranged the 2016 version heard today. She is the Founding Editor of Sing!, a line ofchoral anthems for classroom, concert and festival settings.I Got Rhythm (1930) is a jazz standard, with words and music by the brothers Georgeand Ira Gershwin. The structure and chord progression of "I Got Rhythm" has been"adapted, mimicked or ripped-off, depending how you look at it" in many othersuccessful jazz tunes, according to an NPR essay on the song. George Gershwin (1898-1937) spanned both popular and classical genres. Some of his best-known worksinclude the orchestral composition Rhapsody in Blue and the opera Porgy and Bess. IraGershwin (1896-1983) wrote more than a dozen Broadway shows with his brother. "I GotRhythm" is arranged by Mark Hayes, a concert pianist, composer, arranger, andconductor. His catalog, totaling more than 1,000 published works, includes work forsolo voice, solo piano, multiple pianos, orchestra, jazz combo, small instrumentalensembles, and choruses of all kinds.While the lyrics of "I Got Rhythm" are exuberant, Somewhere (1957, from Broadway's"West Side Story") strikes a more hopeful chord: "There's a place for us. Somewhere aplace for us." The song is composed by Leonard Bernstein (1918-1990),with lyrics byStephen Sondheim. Arranger Mac Huff has to his credit more than 1,700 compositionswith the publisher Hal Leonard, including arrangements for multiple Broadway showproductions.The music to How Can I Keep From Singing? (1869) was written by Robert Lowry Thefirst known publication of the words was in 1868 in The New York Observer, by "PaulineT." Folk singer Pete Seeger reportedly erroneously attributed the song as a traditionalQuaker hymn. In the late 20th century, Quakers adopted it as an anthem. This 1980arrangement is by Alice Parker, an internationally renowned composer, conductor andteacher.
Page 15
Program Notes by Eric SchwarzRoger Emerson, a professional composer and arranger with more than 900 choral titlesin print and over 30 million copies in circulation, arranged the next two songs in theconcert: Shoshone Love Song (The Heart's Friend), based on a traditional NativeAmerican lyric, and Didn't My Lord Deliver Daniel, a traditional spiritual. Composer and conductor Andrea Ramsey set to music Three Quotes by Mark Twain(2009). She notes: "These pieces were conceived in Twain-esque musical styles with TheSilent Fool being quasi-ragtime, Telling the Truth having the feel of a waltz, and MyDear Mother showing a touch of the blues." Twain (1835-1910), known for his great witand profound satire, was the author of the classics "The Adventures of HuckleberryFinn" and "The Adventures of Tom Sawyer."The Pasture is one of three songs in the collected work "Where the Earth Meets theSky." Z. Randall Stroope wrote the songs to highlight the ethnicity which exemplifiesAmerica's rich cultural history. Stroope is a composer, conductor and universityprofessor. The text from "The Pasture" is by Robert Frost (1874-1963), four-time winner ofthe Pulitzer Prize. Two of his best-known poems are "The Road Not Taken" and"Stopping by Woods on a Snowy Evening."Composer Morten Lauridsen set to music the poem Sure on This Shining Night (2005)by James Agee. The musicologist and conductor Nick Strimple has called Lauridsen "theonly American composer in history who can be called a mystic, (whose) probing,serene work contains an elusive and indefinable ingredient which leaves theimpression that all the questions have been answered." Agee (1909-1955) was a novelist,journalist, poet, screenwriter and film critic. He was awarded a posthumous PulitzerPrize for his autobiographical novel, "A Death in the Family." André J. Thomas composed I Dream a World (2002) for the 50th anniversary of theNorth Carolina Summer Institute in Choral Art. The song, using text from LangstonHughes is "dedicated to the Mighty Souls who gave up their lives that we might cometogether in peace on September 11, 2001." Hughes (1901-1967), one of the leaders of theHarlem Renaissance, was a poet, social activist, novelist, playwright, and columnist.Rise Up Chorus' Founder and Artistic Director, Matthew J. LaPine, composed Little BoyBlue (2000) as the poem was a favorite of his grandmother. Its text, by Eugene Field,tells the story of toys faithful to their friend, whose chair has remained empty foryears. Field (1850-1895) was a popular humorist and newspaperman often called the"poet of childhood." Both choruses join together for today's final song, I Will Sing (2014) with words andmusic by Rosephanye Powell. Powell is one of America's premier women composers ofchoral music. Powell's research has focused on the art of the African-Americanspiritual, the art songs of William Grant Still, and voice care concerns for musiceducators, choral directors, and choral singers.
Page 16
Page 17
Page 18
Page 19
Page 20
Page 21
Page 22
Page 23
Page 24