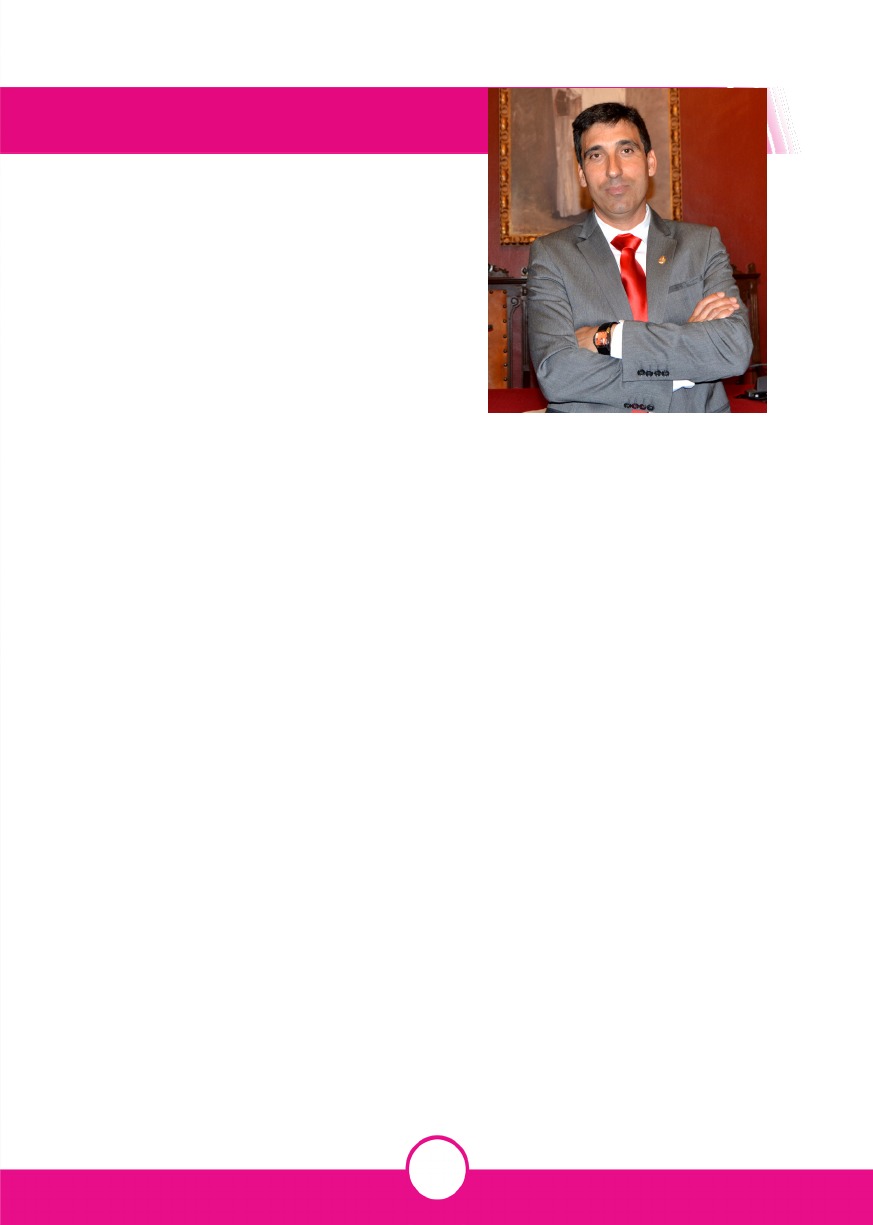 5
Almagro sigue consolidándose como "ciudad
de la cultura". Nuestra localidad es sede de
varios festivales, de actividades culturales, de
encuentro teatrales y desde agosto del pasado
año también de Cine. Estamos encantados de
que el Festival Internacional de Cine, Almagro
International Film Festival, este evento dedicado
al cortometraje, cumpla su segunda edición.
El Ayuntamiento no cejará en su empeño de
impulsar y apoyar iniciativas de esta índole que,
en este caso particular quiere convertirse en
punto de encuentro de creadores, productores
y espectadores, en herramienta para impulsar
nuevos proyectos que ayuden a desarrollar la
industria cinematográfica regional y conectarla
con el ámbito internacional.
La primera edición caminó en esa línea y nos alegramos de que este segundo
festival vuelva a estar marcado por la diversidad de la procedencia de las
propuestas presentadas ya que se proyectarán obras de más de veinte países y por
los distintos géneros de los que podremos disfrutar en el Teatro Adolfo Marsillach.
Hospital de San Juan y el Teatro Municipal del 8 al 11 de agosto. Nos alegramos
también de que, en esta segunda edición, se haya apostado por difundir el cine
entre los más jóvenes, ampliando la programación para el público infantil y juvenil,
además del taller de iniciación a lo audiovisual.
Solo me queda invitar a los almagreños y a los visitantes a que disfruten del II
Festival Internacional de Cine y agradecer a la Diputación Provincial y a la Junta
de Comunidades de Castilla-La Mancha su implicación en este nuevo proyecto
cultural de Almagro.
Almagro continues to consolidate itself as a "city of culture." Our town is home
to several festivals, cultural activities, theatrical meetings and since August last
year also Cinema. We are delighted that the International Film Festival, Almagro
International Film Festival, this short film event, is celebrating its second edition.
The City Council will not cease its efforts to promote and support initiatives of this
nature that, in this particular case, wants to become a meeting point for creators,
producers and spectators, a tool to promote new projects that help develop the
regional film industry and connect it With the international scope.
The first edition walked along that line and we are glad that this second festival is
once again marked by the diversity of the origin of the proposals presented since
works from more than twenty countries will be screened and by the different
genres that we can enjoy in the Adolfo Marsillach Theater. San Juan Hospital and
the Municipal Theater from August 8 to 11. We are also glad that, in this second
edition, we have opted to spread the cinema among the youngest, expanding
the programming for children and young people, in addition to the audiovisual
initiation workshop.
I only have to invite the people from Almagro and the visitors to enjoy the II
International Film Festival and thank the Provincial Council and the Regional
Government of Castilla-La Mancha for their involvement in this new cultural
project in Almagro.
Daniel Reina
Alcalde de Almagro