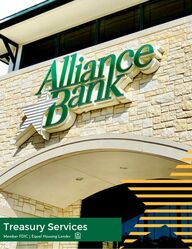 Return to flip book view
Treasury Flipbook
Page 1
Treasury ServicesMember FDIC | Equal Housing Lender
Page 2
About UsAlliance Bank is an established Texas bank with a strong banking presence in Northeast Texas since its opening in the late 1920s. At Alliance Bank, you are the priority. Our dedicated professionals are empowered to quickly address your needs and make your experiencean easy process. Simply put, Alliance Bank is about the relationship,not the transaction. Our Business Solutions strengthen an organization's capability toimprove financial performance. By implementing business solutions,,businesses are able to streamline the payment process and reducetime spent on payment authorization and initiation.Our primary goal of Business Solutions is to improve your business'efficiency, profitability, and productivity.www.alliancebank.com
Page 3
treasury@alliancebank.comPABLO GUZMANVICE PRESIDENT TREASURY SERVICES MANAGER(903) 439-6706treasury@alliancebank.comTAYLOR PHILIPSTREASURY SERVICESUPPORT ANALYST(903) 487-2641treasury@alliancebank.comPEYTON FULLERTREASURY SERVICESSUPPORT/REVIEW(903) 439-6770Meet the Treasury Team
Page 4
010305Merchant ServicesRemote Deposit CaptureACH & Wires0709Check Positive PayAutobooks11Business Online Banking12ACH Positive PayTABLE OF CONTENTS
Page 5
Merchant Services Credit Card ProcessingCustomers typically expect businesses to accept allforms of payment. Businesses that don't accept credit ordebit cards risk losing a large volume of sales. AllianceBank provides businesses with seamless and securecredit card processing services. We review your creditcard transaction and offer processing solutionsspecifically tailored to your business needs. Product Features:Cost-free analysisCompetitive pricingOnline reportingAvailable to Alliance Bank customers & non-customersBUSINESS SOLUTIONS | MERCHANT SERVICES PAGE 1
Page 6
BUSINESS SOLUTIONS | MERCHANT SERVICES PAGE 2Merchant Services Credit Card ProcessingOnline Sales MobileVirtual TerminalRental ProgramsSeasonal ProcessingReporting/Analysis POSCountertop TerminalsSell products and services online through ourE-Commerce solutionsAcceptance of payments with amobile card reader. Compatible withmost iPhone and Android phones.Businesses that only need to process in certain monthscan be deactivated atspecific times of the year to save money. Online reporting access with detailed account oftransaction activity, volume, and batch reportsand other report capabilitiesall in one place. 24/7/365.Tablet based POS withrobust payment capabilityalong with businessmanagement tools.Using internet access,process credit cardthrough our encryptedsecure web portal.Terminals accepting creditcards/contactless pay, EMV,and mobile payments withthe latest in securitytechnology.We can provideterminals for specialevents or for a short-term rental need
Page 7
BUSINESS SOLUTIONS | MERCHANT SERVICES PAGE 2Merchant Services Credit Card Processing
Page 8
Business Online BankingBUSINESS SOLUTIONS | BUSINESS ONLINE BANKING PAGE 3Free, secure, and easy-to-use service for Alliance Bank customersManage a number of banking activities anytime, anywhere* withInternet access:Access eStatementsView account balances and historyTransfer funds between accounts (one-time and recurringtransfers)View checks writtenMake loan paymentsCardSwap - update preferred payment method for your favoriteonline streaming & shopping services, all in one place.And more*For security purposes, online banking may not be available from geographic locations outside of the United States.
Page 9
Business Mobile BankingBUSINESS SOLUTIONS | BUSINESS ONLINE BANKING PAGE 4Fast, free, and secure service for customers enrolled in onlinebanking1Available to Alliance Bank customersEasily keep track of your finances — even on the go:View account balancesReview historyTransfer funds between accountsReceive alertsPay billsAvailable via any web-enabled cell phone or deviceUtilize this service three convenient ways:Web browsingApp download – iPad/iPhone® | AndroidGet it on Google Play™Text bankingSave valuable time and effort; avoid an extra trip to a branch
Page 10
BUSINESS SOLUTIONS | ACH & WIRES PAGE 5ACH & WiresThe ACH network functions as an efficient, electronicalternative to paper checks. By utilizing our ACH service,you can easily manage your account payables andaccount receivables.ACH is the most widely used electronic processingnetwork for bank transfers in the United States. ACHhelps businesses cut down on the manual time spenton processes such as writing paper checks.Pay an employee or reimburse checks with the directdeposit of an ACH credit into the recipient's checkingaccount.Easily manage your account receivables byelectronically debiting your client's account.Manage account payables by electronically creditingyour vendor's account. Product Features:
Page 11
BUSINESS SOLUTIONS | ACH & WIRES PAGE 6ACH & WiresMake and receive vendor payments 24/7, electronicallyIdeal for businesses with a high volume of recurringreceivables, including:Monthly duesPaymentsPremiumsBill customers directly for an expedited processMore efficient and accurate processingDirectly deposit employee payrollStreamline recordkeepingFewer errors in accounting, reducing human errorEliminates waste and expense of paper checksMore closely predict your overall cash flowWire funds, hassle-free:Easy, same-day, safe movement of fundsMove money locally, regionally, nationally, or eveninternationallySchedule one-time transfers or create recurringtemplates for future use
Page 12
BUSINESS SOLUTIONS | ACH & WIRES PAGE 6ACH & Wires
Page 13
AutobooksBUSINESS SOLUTIONS | AUTOBOOKS PAGE 7Autobooks upgrades online banking to include theproduct suite that is "just the right fit" for the smallbusiness.Product Features:Accept online payments from customers via card andACH. Incoming payments are deposited directly intotheir existing checking account.Easily track incoming customer payments andoutgoing bill payments in a single application.Automated bookkeeping tasks and access to financialreports.95%95%of Autobooks users areof Autobooks users arepaid within 5 business dayspaid within 5 business daysafter sending an invoice.after sending an invoice.
Page 14
AutobooksBUSINESS SOLUTIONS | AUTOBOOKS PAGE 8Send a professional invoice right to yourcustomer's inboxCreate and send a great-looking invoice inminutes. Delight your customers with easy onlinepayment options. You'll be able to see who paidtheir invoice, and who is past due.Payments go right into your BusinessChecking AccountIn just a few clicks, your customers pay you withtheir debit card, credit card, or an electronic banktransfer. Payments are deposited directly into yourbusiness checking account. Always know your payment activityQuickly see who opened your invoices, who madea payment and who still owes you money. You canalso access more detailed reports, such as BalanceSheets or General Ledgers.
Page 15
Scan check images for deposit into your business bank accountUpload multiple checks in a single depositView images of deposited checksSave administrative timeMake deposits into multiple accountsRemote Deposit CaptureOur Remote Deposit service is like having a teller in youroffice. Utilizing an easy-to-use check scanner provided byAlliance Bank, your check images are processed from thesafety of your office, and in most cases, funds areavailable in the next business day. Product Features:BUSINESS SOLUTIONS | REMOTE DEPOSIT CAPTURE PAGE 9Saving youSaving youtime &time &money.money.
Page 16
Remote Deposit CaptureBUSINESS SOLUTIONS | REMOTE DEPOSIT CAPTURE PAGE 10
Page 17
ACH Positive PayBUSINESS SOLUTIONS | BUSINESS ONLINE BANKING PAGE 11Alliance Bank's ACH Positive Pay reduces the risk offraudulent ACH activity by allowing business customersto create authorization rules on their enrolled accounts.The Positive Pay system will analyze ACH activity on theaccount and create exceptions for any transactions thatdo not meet the authorization rules set by thecustomer. Exceptions items are presented via PositivePay for a decision whether to return the ACH or pay it.Alliance Bank will process the ACH based on thedecision made within Positive Pay, preventing ACHfraud. Product Features:Reduce the risk of potential fraud Easily manage incoming customer payments andoutgoing bill payments Quick and efficient process
Page 18
ACH Positive PayBUSINESS SOLUTIONS | BUSINESS ONLINE BANKING PAGE 11
Page 19
Check Positive PayBUSINESS SOLUTIONS | POSITIVE PAY PAGE 12Positive Pay is an automated fraud detection tool offeredby Alliance Bank. It's a service that matches the accountnumber, check number, and dollar amount of eachcheck presented for payment against a list of checkspreviously authorized and issued by the company. Thepayee information can also be added for verification. With Positive Pay, fraud attempts can be caughtimmediately with instant notification.You can control the payment of checks that arepresented with altered information.Have the security of knowing your checks are beingreviewed for accuracy. Product Features:
Page 20
Check Positive PayBUSINESS SOLUTIONS | POSITIVE PAY PAGE 12