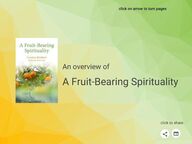 Return to flip book view
An Overview:A Fruit-Bearing Spirituality
Page 1
click on arrow to turn pages An overview of A Fruit Bearing Spirituality click to share click to share share web
Page 2
http://www.carolynreinhart.com
Page 3
http://www.carolynreinhart.com/#sthash.nUllc6rd.dpuf
What is Spirituality?

If you found your way here, you are probably interested in the subject of spirituality. Perhaps you are new to the search, or maybe you're a veteran on the topic. Whichever it is, welcome!

What kind of picture does the term 'spirituality' create for you? Do you imagine a sixties hippie with beads and a vegetarian lifestyle, or perhaps a Buddhist monk on a mountain top, or a more traditional scene of a church with a cross on the roof? Are you attracted to one more than the other, or does one particularly 'turn you off'?
The reality is that spirituality can be all of these and more. It doesn't have to be particularly religious, although you may find that it overlaps with religious practice. It doesn't have to dictate a particular lifestyle. You don't have to become a monk to be spiritual.


I like to think of it as a journey which takes place in the depths of our souls, psychological, social, cultural, political, economic, ecological and cosmological. Those are some big words I know, but they basically mean that authentic spirituality should help you to live better – with yourself, with your neighbour and with creation. - See more at:
Page 4
http://www.carolynreinhart.com/#sthash.nUllc6rd.dpuf
Personal and Social
Spirituality is both personal and social. It is about
"being" and "doing". And we don't always recognize
it or see it in others. Once we recognize it, we can
begin to ask ourselves questions about how we
can change and grow in that area to become more
liike the people we were born to be. Without a
focus on our spirituality, life becomes easily all
about the material- it quickly becomes
shallow, and lacks purpose. Spirituality puts the
"fizz" back in the 'bottle of life.' An authentic
spirituality helps us to become more of ourselves,
and helps us to live better socially.

However, the path of true spirituality is not
a 'quick fix', not a 'new age' discovery, nor a
'feel-good' experience like an evening at
movies or a short stroll in the woods.
It's more like a journey through mountains
and valleys. It has its ups and downs and
will take you a lifetime. But along the way
you can enjoy the change, as you begin
to notice how much more in touch you
are with the essence of who you are as a
person.
Page 5
DUALISMS
Separateness, us or them, you or I, nature or humanity, male or female, rich or poor, inner or outer lives, personal or social.
Science has taught us that we are one, part of the same fabric, inter-connected, inter-related.
The old patriarchical model or paradigm needs to shift to an inclusive one - where we live in a circle of mutality, compattion, and love within our various contexts.
Page 6
Transformation that embraces self and world requires a paradigm shift to a new world view where we all change - this is certainly needed today.
Both the dominant and oppressed need to change to live in mutuality.
Page 7
Spirituality includes both our personal and social lives as we live them out in our contexts.
Our inner and outer lives are connected - not disconnected, if we walk the talk.
Page 8
In our research we realized that there were cycles within cycles emerging as we attempted to understand how to embed a spiritualtiy praxis within the organization.
Basically there are eight as indicated in the diagram below and we can find ourselves in any aspect at any time - it is not a fixed linear progression.
Page 9
We began to be very aware that we weren't isolated within our 350 acre site on the edge of Poole Harbour - a centre for Disabled People. We are all connected and are one.
Page 10
The points to the right are a summary of what we became so aware of by experiencing these realities
Page 11
Page 12
Spirituality became a very fashionable and popular word in many fields which then began to interpret and apply their own particular understanding of what it meant for them. In some cases it was incongruent with the validity and authenticity of the academic field of spirituality itself.
Page 13
Spirituality involves all of life, body, mind and spirit. It is both personal and social and is a way of life and love.
Page 14
The awareness within the various fields and disciplines began to overlap and even cause confusion for some most vulnerable people
Page 15
Our earth home includes the broader context of the cosmos in which we live
Page 16
We can become more "aware" of and "conscious" of more than the physical realm but then ...
Page 17
Page 18
Page 19
Page 20
Page 21
http://www.carolynreinhart.com/#sthash.nUllc6rd.dpuf
Spirituality in the Workplace

Living out our spirituality can have a noticeable effect. When we do so, our inner and outer lives become integrated and everyone and everything benefits. Those around us and the environment begin to benefit from a new and growing sense of our becoming whole.
The following pages contain my photographs with relevant quotes which give a visual impression of what the "words" are saying.
Page 22
Page 23
The book is not about religion, theology, or church, but it takes you into a deeper understanding of spirituality today.
Page 24
Page 25
Page 26
Page 27
Page 28
Page 29
Page 30
Page 31
Page 32
Page 33
Page 34
http://www.carolynreinhart.com/#sthash.nUllc6rd.dpuf
Science and Spirituality Today

Did you know that Quantum physics supports spirituality as a discipline? There is a strong connection between them. Physicist Danah Zohar writes that, "We ask questions like: Who am I, why am I here, what is my place in the scheme of things, why is world like it is, what does it mean that one day I might die?"

Science also shows us that we cannot separate ourselves from our environment. It shows us too that it can illuminate our understanding of everyday life and help us to better understand ourselves, others and the world at large. This is part of authentic spirituality. - See more at:
Page 35
Page 36
http://www.carolynreinhart.com/#sthash.nUllc6rd.dpuf
Get The Book

Are you ready for an adventure? Whether you are a new seeker or well on your spiritual path, pick up my book as a guide for your spiritual development. A Fruit-Bearing Spirituality explores the emerging spirituality of our time. Both the theoretical and the practical are covered, and there are lots of diagrams to help you to understand the content.

I look forward to your feedback on your reading. Join the conversation on my blog and email me if you have any questions.
Click here for more on my book including ordering: A Fruit-Bearing Spirituality...See more
Page 37
Table of Contents Introduction

Contents PART THREE:BREAD CRUMBS FOR THE jOURNEY Forward by Mary Grey 7 Fruits and Consequences of Growth Preface 8. Spotting theSpoiled Fruit Introduction: Fruits from the Bottom Up 9 Nourishment for the Futurr PART ONE: Embarking on the Journey 10 Transformation and Love
1 Eight Steps to an Inner Spiritual Praxis Conclusion: How This Book Came About
2 Even the Oppressed Need to Change Biography
3 Cycles of Change and Growth
PART TWO: Science Supports Spirituality
4 Dipping into Quantum Mechanics
5 Seeking an Authentic Spirituality
6 Making the Change (to) Now
Page 38
http://www.carolynreinhart.com/author.html#.VlDPTXarTDc
Photo credit: Bonnie Harrison
Carolyn Reinhart MA, DProfDoctor of Professional Studies(developing a spirituality praxis within a multidisciplinary organization)
I graduated as an RN (1962) and worked in that field until I moved to the UK (1974). I completed an MA in Christian Spirituality from Heythrop College, University of London (1999) and then a Doctorate in Professional Studies with The National Centre for Work Based Learning, Middlesex University, UK. "Developing a Spirituality Praxis in a Multidisciplinary Organization"
Page 39
MASTER LINKS Features a selection of short-listed quality resources, good books, key videos, and favorite go-to sites. There are key videos, quotes and addresses/descriptions of other helpful websites.
See more at: www.carolynreinhart.com
http://www.carolynreinhart.com/master-links.html#.VlDQv3arTDc
Inner and outer praxis are connected through integrating sound theory and good practice.
The context, environment, and atmosphere created within an ethos of love and care is important so that there can be inner and outer integration, conducive to authentic praxis, which determines whether we can walk the talk or not. The model can be understood as an on-going cycle since life is on-going and we never stop learning.
from A Fruit-Bearing Spirituality
Page 40
"Reinhart has produced an inspiring synthesis on the evolution of spirituality in the 21st century. Drawing on theoretical foundations of study and research, this is primarily a manual for spiritual praxis, embracing connectedness and inclusivity as primary values. A valuable and timely resource for those exploring the emerging spiritualtiy of our time."
Diarmuid O'Murchu, priest and psychologist, Author of In the Beginning was the Spirit.
Page 41
Jan 30, 2016: Philip Endean SJ | The Way, January 2016 issue

Carolyn Reinhart's A Fruit-Bearing Spirituality resembles [Antonio] Spadaro's work in its conviction that new cultural developments necessitate drastic reform in Christianity's self-understanding. The book comes across as a passionate plea for a spiritual understanding rooted in human embodiment, in ecological thinking, in quantum physics and the overcoming of patterns of mutual oppression. The narrowness of denominational Christianity is to be overcome by a shard praxis, with inclusivity a watchword.

Readers of Reinhart's book trained in conventional theology and in churchy ways of doing things will probably find it exasperating in its frequent oversimplifications of the tradition, and its uncritical use of buzz words. But that is probably an unworthy response. The fact that there are intelligent and committed people who write in this way, and that they can find publishers who thinking the book will sell, says something important about how conventional Christianity is failing to communicate to at least some people of palpable good will. [The book] raises questions worth pondering.
Page 42