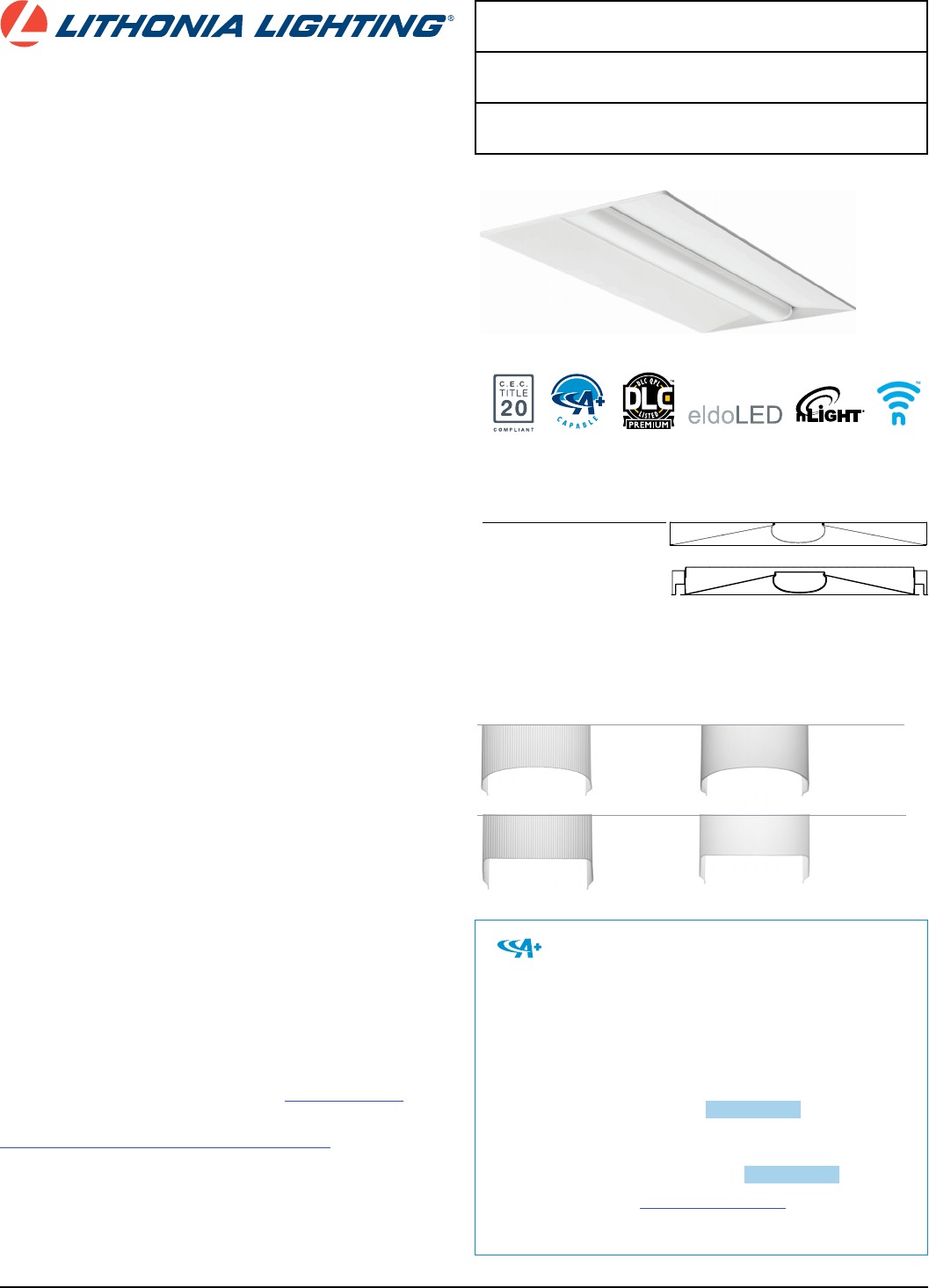 BLT Series LED
2BLT
2' x 4'
LED
Catalog
Number
Notes
Type
FEATURES & SPECIFICATIONS
INTENDED USE
—The BLT Best-in-Value Low Profile LED luminaire features a popular center basket design
that offers a clean, versatile style and volumetric distribution. High efficacy LED light engines deliver energy
savings and low maintenance compared to traditional sources. An extensive selection of configurations and
options make the BLT the perfect choice for many lighting applications including schools, offices and other
commercial spaces, retail, hospitals and healthcare facilities. The low profile BLT design (2-3/8") also makes
it an excellent choice for renovation projects.
CONSTRUCTION
— BLT enclosure components are die-formed for dimensional consistency and painted
after fabrication with a polyester powder paint for improved performance and protection.
The reflector is finished with a high reflective matte white powder paint for improved aesthetics and
increased light diffusion.
End plates contain easy-to-position integral T-bar clips for securely attaching the luminaire to the T-grid.
For additional T-grid security, optional screw on T-bar clips are available.
Diffusers are extruded from impact modified acrylic for increased durability.
LED boards and drivers are accessible from the plenum.
OPTICS
— Volumetric illumination is achieved by creating an optimal mix of light to walls, partitions
and vertical and horizontal work surfaces – rendering the interior space, objects and occupants in a more
balanced, complimentary luminous environment. High performance extruded acrylic diffusers conceal LEDs
and efficiently deliver light in a volumetric distribution. Four diffuser choices available - curved and square
designs with linear prisms or a smooth frosted finish.
ELECTRICAL
— Long-life LEDs, coupled with high-efficiency drivers, provide superior quantity and quality
of illumination for extended service life. 80% LED lumen maintenance at 60,000 hours (L80/60,000). Color
Variation within 3-step MacAdam ellipse (3SDCM).
Non-Configurable BLT:
Generic 0-10 volt dimming driver. Dims to 10%
Configurable BLT:
available in High Efficiency (HE) versions for applications where a lower wattage (over
the standard product) is required. The High Efficiency versions deliver >130 LPW and can be specified via
the Lumen Package designations in the Ordering Information below.
eldoLED driver options deliver choice of dimming range, and choices for control, while assuring flicker-free,
low-current inrush, 89% efficiency and low EMI.
Optional integrated nLight®controls make each luminaire addressable - allowing it to digitally communicate
with other nLight enabled controls such as dimmers, switches, occupancy sensors and photocontrols.
Connection to nLight is simple. It can be accomplished with integrated nLight AIR wireless or through
standard Cat-5 cabling. nLight offers unique plug-and-play convenience as devices and luminaires
automatically discover each other and self-commission, while nLight AIR is commissioned easily through
an intutitive mobile app.
Lumen Management: Unique lumen management system (option N80) provides on board intelligence that
actively manages the LED light source so that constant lumen output is maintained over the system life,
preventing the energy waste created by the traditional practice of over-lighting.
Step-level dimming option allows system to be switched to 50% power for compliance with common energy
codes while maintaining fixture appearance.
Driver disconnect provided where required to comply with US and Canadian codes.
SENSOR
— Integrated sensor (individual control):

Sensor Switch MSD7ADCX ((Passive infrared (PIR))
or MSDPDT7ADCX ((PIR/Microphonics Dual Tech (PDT)) integrated occupancy sensor/automatic dimming
photocell allows the luminaire to power off when the space is unoccupied or enough ambient light is entering
the space. See page 4 for more details on the integrated sensor.
Integrated Sensor (nLight Wired Networking):
This sensor is nLight-enabled, meaning it has the ability
to communicate over an nLight network. When wired, using CAT-5 cabling, with other nLight-enabled
sensors, power packs, or WallPods, an nLight control zone is created. Once linked to a Gateway, directly or
via a Bridge, the zone becomes capable of remote status monitoring and control via SensorView software.
See page 4 for the nLight sensor options.
Integrated Smart Sensor (nLight Air Wireless Platform):
The rES7 sensor is nLight AIR enabled, meaning
it has the ability to communicate over the wireless nLight control platform. It is both a digital PIR occupancy
sensor/automatic dimming photocell. It pairs to other luminairs and wall switches through our mobile
app, CL
AIR
ITY, which allows for simple sensor adjustment. See page 4 for more details on the Integrated
Smart Sensor.
INSTALLATION
— The BLT's low profile design of only 2-3/8" provides increased installation flexibility
especially in restrictive plenum applications. The BLT fits into standard 15/16" and narrow 9/16" T-grid
ceiling systems.
Suitable for damp location.
For recessed mounting in hard ceiling applications, Drywall Grid Adapters (DGA) are available as an accessory.
See Accessories section.
LISTINGS
— CSA Certified to meet U.S. and Canadian standards. IC rated.
DesignLights Consortium® (DLC) Premium qualified product. Not all versions of this product may be DLC
Premium qualified. Please check the DLC Qualified Products List at
www.designlights.org/QPL

to confirm
which versions are qualified.
WARRANTY
— 5-year limited warranty. Complete warranty terms located at:
www.acuitybrands.com/CustomerResources/Terms_and_conditions.aspx
NOTE:
Actual performance may differ as a result of end-user environment and application.
All values are design or typical values, measured under laboratory conditions at 25 °C.
Specifications subject to change without notice.
Specifications
Length: 47-3/4 (121.2)
Width: 23-3/4 (60.3)
Depth: 2-3/8 (6.0)
Depth with Air supply/return: 2-3/4 (6.9)
All dimensions are inches (centimeters) unless otherwise specified.
Multiple Diffuser Options
Square Ribbed
Square Smooth
Curved Ribbed
Curved Smooth
Capable Luminaire
This item is an A+ capable luminaire, which has been designed and tested to
provide consistent color appearance and out-of-the-box control compatibility with
simple commissioning.
•
All configurations of this luminaire meet the Acuity Brands' specification for
chromatic consistency
•
This luminaire is part of an A+ Certified solution for nLight® control networks
when ordered with drivers marked by a shaded background*
•
This luminaire is part of an A+ Certified solution for nLight control networks,
providing advanced control functionality at the luminaire level, when selection
includes driver and control options marked by a shaded background*
To learn more about A+, visit
www.acuitybrands.com/aplus

.
*See ordering tree for details