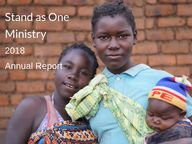 Return to flip book view
Annual Report 2018
Page 1
Stand as One Ministry
2018
Annual Report
Page 2
our vision
lives free from poverty
our mission
empower communities
Page 3
Our Work
LOOK WHAT WE ACCOMPLISHED TOGETHER
Page 4
Page 5
We continue to add protein to the diets of vulnerable children, hospital patients and nursing mothers. In 2018, Stand as One served 176,000 cups of soy milk. Thanks to your generous donations we are able to see the benefits of this important work.
Soymilk Factory
Page 6
Infant Rescue
Our Infant Rescue Program continues to identify vulnerable families and continues to address their needs with education and supplies. Nicole is a passionate advocate for the health of babies and children. She has over 50 families receiving her attention with 275 children involved.
Page 7
Harvest Center
We continue to work toward a centralized training center. Training groups are working our land and growing a diverse mix of crops that can then be sold. So training, harvest, and income!
Page 8
Dan Schat
President,
Stand as One Ministry
Foundations for Farming
We are excited about a new member of our team in Kalulu Village. Isaac has a diploma in Theology, a background in farming, and has graduated from Crown Ministries Training course. He and Royson run the Farming Program, and he works with Kalulu's children and teens. We are blessed to have them both.
Karin
Country Director
Isaac
Trainer
Royson
Trainer
Page 9
Agriculture Training
Isaac and Royson are a wealth of information and have had the chance to share with other groups. They held a clinic with Bright Vision, a sister charity in Chamadenga, near Kalulu, where the group learned much that they can put to use, and we had the benefit of seeing the chance for others to succeed.
Page 10
Family Sponsorship is a new program to address the needs and dreams of our families in Kalulu who are faithful to the Farming God's Way Program. Our focus is on individual families, and the community as a whole.
Page 11
A new project was introduced this year for our teen boys, and for the whole community. An international charity is supplying solar lights that through donations can be distributed to families in need. Simple lights, but much more than simple rewards.
Solar Lights
Page 12
Teamwork is something we promote and recognize in our culture. This is not the way it is in Malawi, but it is what our teenage boys have been learning from our team, and demonstrating here in an "Outhouse" building project. We are proud of you boys!
Team Training
Page 13
Meeting your sponsored child is an unforgettable experience. Ryan and Emily witnessed the difference their sponsorship makes to children in Malawi.
"I observed first hand the children that are being sponsored to go to the school and the benefits that have resulted. Children are getting good educations, to the point where they are now being accepted into private school and more. I support this program because at the root of the sponsorship a child is being given an education who wouldn't have otherwise received one, and education is one thing that will help that country more than anything. " Ryan Gray
Ebenezer Christian School in Nkhoma, Malawi continues to excel. Our donors sponsor 18 children, providing funds for fees, uniforms and supplies, and exceptional opportunities.
Education
Page 14
Page 15
William and Angela and their Children's Home are involved in Summer Evangelistic Camps, in Slum Children's Outreach and Kid's Camps. Acha runs a weekly program for Street Kids. These tireless servants provide the planning and presence, and thanks to funding from Alpha Foundation we can provide the food from Fedwell Foods.
Children's Ministry
Page 16
Feeding
Once again we thank Alpha Foundation for funding the food programs in Myanmar. In 2018 we provided over 4 million meals to Children's Homes, IDP camps and emergency situations. Over 20,000 meals were sent to Putao Township in northern Kachin State where heavy rains caused flooding in September.
Page 17
"When I was Hungry you Fed Me" continues to motivate and bring hope, here to the hundreds of people in an IDP camp due to military unrest in their villages.
Page 18
Medical Mission
Over 8 days in February Dan was involved in a very unique medical mission trip in Myanmar. The team was on bikes! They were in remote areas in the Karen and Mon states, where over 1000 people received dental care, primary health care, eye care and glasses, as well as nutrition training and Alpha Protein soup.
Page 19
Children's Homes
This work is funded by Alpha Foundation. There are over 700 children whose lives are improved through our involvement in their Childrens Homes. We provide nutrition, plus funds for tutoring, health check-ups, school uniforms, and supplies. Irene got to organize a craft and game day. Looks like fun for all!
Page 20
Page 21
Building Hope
Vicente Guerrero is a community in Baja, Mexico. This year 15 volunteers were there to build 2 new homes for 2 deserving families. The Lopez and Juarez families worked alongside our teams, so thrilled to be the recipients of this amazing gift.
Page 22
"Team A" taking a short break from their hard work
Page 23
"Team B's" work is done, and is proudly handing over the keys for this new home to this very grateful family!
Page 24
The sun is setting on Vicente Guerrero, the work of this team, and another successful year.
Page 25
Page 26
Saturday, Sept. 29 saw 64 participants cycling and walking in our major fundraiser of the year. We had teams in Victoria, Smithers and Fort Langley. There may have been wind, but there were also smiles and laughter and the thrill of a job well done.
Join us October 5, 2019 for the next Ride for Refuge.
We Raised $25,000!
Page 27