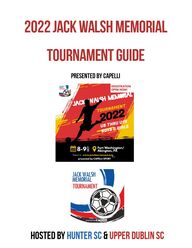 Return to flip book view
2022 JWMT
Page 1
2022 jack walsh memorialtournament guide
PRESENTED BY CAPELLI
hosted by hunter sc & upper dublin sc
Page 2
2022 jack walsh memorial
offical sponsors
Page 3
2022 jack walsh memorial
Welcome Players, Coaches, & Families
Hello everyone,
This year, Hunter SC is celebrating its 60th Anniversary and it is more than fitting that we have yet another record-breaking field of participating teams. With more than 500 teams our small local tournament has turned into one of the largest youth soccer events on the East Coast.
Like every year, we simply hope for good weather, great soccer and unforgettable moments!
See you around,
- Franziskus Bertl, Tournament Director
- Bryan Pollack, President of Upper Dublin Soccer Club
- Tommy Brauer, President of Hunter Soccer Club
Page 4
Page 5
2022 jack walsh memorial
IMPORTANT LINKS
Field Maps
Email Tournament Director Fifi Bertl
Page 6
tournament field maps
fIELD MAP LINKS
HALLOWELL
KOHLER
CHAC
field of dreams
COPPER BEECH
CARDINAL
EDW/MGES/
McINAW
CARPENTER
ardsley park
CRESTMONT
ENON
Abington HS
MOUNT SJ
SPARK
roslyn/MARSDEN
renninger
UD HS Varsity
T. Williams
mondauk
PENN MEMORIAL
MCKINLEY
Penbryn
pine run
LOCH ALSH
Page 7
tournament field maps
Abington TOURNAMENT CENTRAL
go back to fields list
Page 8
tournament field mapsARDSLEY PARK
go back to fields list
Page 9
tournament field maps
carpenter park
go back to fields list
Page 10
tournament field maps
CAMP HILL ATHLETIC COMPLEX (CHAC)
go back to fields list
Page 11
tournament field maps
CRESTMONT
go back to fields list
Page 12
tournament field maps
Edwards/mges/mcinaw
go back to fields list
Page 13
tournament field maps
ENON
go back to fields list
Page 14
tournament field maps
KOHLER PARK
go back to fields list
Page 15
tournament field maps
hallowell
go back to fields list
Page 16
tournament field maps
MCKINLEY
go back to fields list
Page 17
tournament field maps
MONDAUK
go back to fields list
Page 18
tournament field maps
Penbryn park
go back to fields list
Page 19
tournament field maps
PEnn STATE ABINGTON memorial
go back to fields list
Page 20
tournament field maps
PINE RUN
go back to fields list
Page 21
tournament field maps
renninger
go back to fields list
Page 22
tournament field maps
ROSLYN PARK / Marsden
go back to fields list
Page 23
tournament field maps
mount st. Joseph
go back to fields list
Page 24
tournament field maps
THOMAS WILLIAMS
go back to fields list
Page 25
tournament field maps
u. DUBLIN tournament central
go back to fields list
Page 26
Page 27
2022 Jack Walsh Memorial Tournament Rules 1 GENERAL RULES PLEASE MAKE SURE TO FOLLOW OUR COVID 19 POLICY AT ALL TIMES Our Policy can be found at https drive google com file d 1z7fPxI0MWp3mKGnHIiHTvIuszNbvL1RC view Spectators or participants not complying with the tournaments mask rules will be given a verbal warning by our tournament staff If the individual still does not comply the individual will be subject to removal from the tournament site and the team subject to forfeit at the sole discretion of the tournament committee 2 LAWS OF THE GAME All games shall be played in accordance with Eastern Pennsylvania Youth Soccer and US Youth Soccer laws except as specifically modified by these rules 3 ELIGIBILITY The Jack Walsh Memorial Tournament is open to Boys and Girls teams ages U8 U19 All participating teams must be currently registered with their state association All teams from outside of Eastern Pennsylvania Youth Soccer or other states must present a Permission to Travel authorized by their state association at registration All Teams must check in before tournament play We strongly advise using our convenient online Check in At Check in all teams must submit a fully completed Check In Form as well as an official stamped copy of the Team Roster which the tournament will keep If a team does not check in online then they must bring these documents in person to an on site Check In locationEither Abington Junior HS or Upper Dublin HS Teams that choose this check in option must bring the required documents before their first match During the tournament all teams must have the following credentials in their possession Player Passes with photographs for all rostered players A signed and dated medical release form for each rostered player These credentials are subject to inspection at the playing field by the Referee and or the Field Marshal TEAMS THAT FAIL TO ADHERE TO THESE ELIGIBILITY RULES ARE SUBJECT TO FORFEITURE OF THEIR SCHEDULED TOURNAMENT MATCHES 4 GUEST PLAYERS TEAM LIMITATIONS SECONDARY PLAYERS Each team is permitted up to five guest players Guest players must have a valid player pass or proof of age Guest player name DOB and current team must be written on bottom of team roster Players may only play for one team during the course of the Hunter Jack Walsh Memorial Tournament Rosters are limited to fourteen 14 players for all U8 U10 teams sixteen 16 players for U11 U12 teams and eighteen 18 players for all U13 U18 teams Teams with 22 player rosters may dress 18 players for any given match
Page 28
Secondary Players A player may play for more than on team as long as he she is properly rostered as secondary player or guest player on the other s team roster Within the same age group a player can be secondary on ONE other team Age rules apply 5 CONDUCT PLAYER COACH AND SPECTATOR BEHAVIOR Players coaches and spectators are expected to conduct themselves within the spirit of the game as well as letter of the law Coaches are not only responsible for their conduct but also the conduct of their players and spectators DISSENT FROM PLAYERS COACHES AND OR SPECTATORS WILL NOT BE TOLERATED CAUTIONS AND OR DISMISSALS WILL RESULT Any player coach or spectator that is cautioned yellow card twice during any given game shall receive a red card and will be ineligible to participate in the remainder of that match and may not participate in the next match If any player coach or spectator is sent off the field of play dismissed red card by a referee for any reason other than fighting that player coach and or spectator is ineligible to participate in the remainder of that match and may not participate in the next match The player coach or spectator must leave the field of play Referees are instructed to record the player s name number team and reason for the caution or send off and present the information to the Field Marshal Any player coach or spectator who is ejected by the referee for fighting shall be banned from further participation in the tournament and must leave the field area immediately THE TOURNAMENT COMMITTEE RESERVES THE RIGHT TO TERMINATE THE PARTICIPATION OF ANY TEAM PLAYER COACH OR FAN IF THE BEHAVIOR OF THE PLAYERS COACHES AND OR SPECTATORS CREATES AN ATMOSPHERE IN WHICH A MATCH OR MATCHES CANNOT BE COMPLETED WITHIN THE SPIRIT AND LETTER OF THE LAW 6 PLAYER UNIFORMS AND EQUIPMENT All teams must wear matching uniforms consisting of jersey shorts socks shin guards and footwear Team uniform jerseys must have a number on the back Each player shall have a different number and this number must be the same as listed on the official tournament roster In the event of a color conflict the home team will change color The home team is the team listed first on the schedule Goalkeepers shall wear colors which distinguish them from the other players on both teams and from the referee 7 TEAM FIELD POSITION Team benches shall be on the same side of the field and each team must stay within ten yards of the center line All spectators shall view matches from the opposite side of field from the player benches Coaches are required to bring roster player passes and medical release forms to every game and they should be available upon request for inspection Coaches and or other officials players and spectators may not enter the field of play at any time unless requested to do so by the referee Only players and coaches will be permitted in the bench area All sideline personnel must keep back from the touchline a minimum of two 2 yards at all times Each coach will provide a linesperson as requested by the referee if a linesperson is not provided by the tournament 8 PRE GAME ACTIVITY Referee shall call for Team captains prior to tip off A coin flip will determine direction of play and tap Winner of the coin toss chooses the goal to defend The opposing team gets the kickoff Any team not reporting will be considered as having lost the toss and will forfeit selection of goal AND kick off Teams may warm up in practice areas away from playing fields There will be no warm up on the field between games
Page 29
9 START OF PLAY Regardless of weather conditions players and coaches must be on the field at the scheduled playing time ready to play Forfeits will be awarded if play has not started within five 5 minutes of starting time as determined by the referee a minimum of 8 players for 11v11 games 6 players for 9v9 games or 5 players for 7v7 games must be prepared to play before a team will be allowed to start a match A forfeited match will be recorded as a 3 0 score The tournament director may modify a scheduled start time for any match or reduce scheduled match length prior to the start of the match all such matches will be considered to be official With all weather related decisions the tournament director with input from the Director of Participant Health and Safety will make the final determination all such matches that have been played for a minimum of 50 of the scheduled time will be considered official Matches not considered official will be replayed in their entirety when and if rescheduled 10 DURATION OF PLAY All 7v7 shall be 50 minutes in length consisting of two 2 twenty five 25 minutes halves and a five 5 minute halftime All 9v9 group play matches shall be 50 minutes in length consisting of two 2 twenty five 25 minutes halves and a five 5 minute halftime All 11v11 group play matches shall be 60 minutes in length consisting of two 2 thirty 30 minutes halves and a ten 10 minute halftime Official match time will be kept on the field by the referee Match time will be kept on a running clock and there will be no stoppage of time unless an injured player is assisted from the field by medical personnel Championship matches that end in a tie will be followed by a ten minute Golden Goal overtime period If the game is still tied at that point the winner will be determined by penalty kicks five shots each 5v5 then sudden death among those players that were on the field at the conclusion of overtime 11 SUBSTITUTIONS There shall be unlimited substitutions with the permission of the referee at the following times All substitution will be with the referee s permission and will no longer require possession or during specific stoppages in play In case of an injury the opposing team may also substitute one player if the injured player is substituted for If injured player s coach comes on to the field of play to attend to injured player said player must be substituted for unless that player is the Goalkeeper If a player receives a dismissal red card that player must leave the field of play and the team will play one player down for the remainder of the match The player receiving the Red Card will not be eligible to participate in the team s next match also The team may field a full team in its next scheduled match All substitutions must enter the playing field from the halfway line with the permission of the referee The referee may disallow a request for substitution if in the referee s judgment that request is intended to delay the play of the game 12 TOURNAMENT STANDINGS AND SCORING Teams will receive points in the following manner Note that any team forfeiting any game will be ineligible for the Championship round All forfeits are recorded as a 3 0 result a Six 6 points for each win b Three 3 points for each tie c Zero 0 points for a loss d One 1 point for each shutout e additional points per goal scored with an 3 goal points limit
Page 30
13 TIE BREAKERS In the event of a tie in points at the end of bracket play the winner for advancement to playoff or championship will be determined as follows 1 Head to Head Competition in the event of a tie among three 3 or more teams this criterion will not be considered 2 Goals Against max of 4 per match 3 Goal Differential max of 5 per match 5 4 Most Total Wins in group play 5 Most Shutouts in group play 6 Goals For max of 4 per match 7 If teams are still tied after tie breakers 1 6 a penalty kick shoot out according to FIFA regulations will take place 14 SCORE REPORTING AND FIELD MARSHALS Each field shall have a Field Marshal assigned The field marshal will fill out a game report for each game played The field marshal will record all game related information such as goals scored cautions and dismissals At the conclusion of each match the field marshal will ask the coaches and referee to sign the game report BOTH COACHES MUST SIGN GAME REPORTS AFTER EACH GAME The field marshal will ensure that all scores are posted on the standing board In the event of a dispute the Field Marshal will have access to the Tournament Chair for a final ruling 15 PROTESTS NO PROTESTS will be entertained concerning the interpretation of the Laws of the Game by a referee The Tournament Director s interpretation of the foregoing rules and regulations shall be final 16 REFUND AND CANCELLATION POLICY Multiple levels of play will be offered in each age group provided there are enough teams to facilitate such play All placements will be completed in an effort to provide fair and balanced play for all teams The Jack Walsh Memorial Tournament Committee reserves the right to place teams in divisions of play at their sole discretion Further the Committee reserve the right to combine levels of play or age groups in an effort to offer all teams the ability to participate Teams will be accepted on a first come first serve basis In the event your team is not accepted for any reason all registration fees will be returned If however a team withdrawals after acceptance for any reason all registration fees will be forfeited Notification of acceptance will be via email to the address included on the signed application form If the event is fully cancelled due to weather or other conditions properly registered teams will receive 90 refunds OR a 100 credit for the following year s tournament if one day is cancelled no refund shall be issued If the event is fully cancelled due to Covid 19 teams will receive a 100 refund The Tournament Committee shall issue refunds within 45 days of the event s scheduled date of completion The Tournament Committee reserves the right to shorten or alter games at its events in order to complete as many games as possible Any team that fails to participate in a scheduled game where referees and an opposing team are present at the scheduled field shall not be eligible for any refund 17 DISCLAIMER In the event a situation arises that is not covered in the above rules the Tournament Director reserves the right to rule on the issue All decisions by the Tournament Director shall be final and binding
Page 31
Page 32
2022 jack walsh memorial
PRESENTED by CAPELLI

THANK YOU FOR PARTICIPATING!!!