Automagically Turn Your
Into An Interactive Digital .
PDF
Powerpoint
Document
Canva Design
Brochure
Presentation
Flyer
Newsletter
Lookbook
Slideshow
Menu
Catalog
Portfolio
Pamphlet
Spec Sheet
Postcard
Magazine
Invitation
Resume
Brochure
That you can email, embed, post, pin, and share everywhere your customers hang out.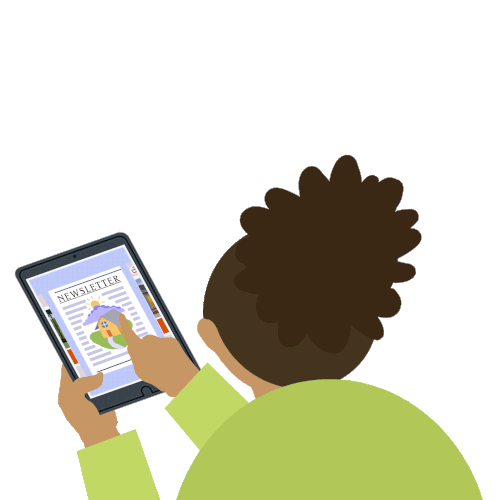 The #1 way to distribute your marketing and communications collateral in email, on websites, and across social networks.
Impress People
Shouldn't your marketing collateral be this good online.
You only get one shot at making a great first impression. Make it count. Simplebooklet is all about making sure your customers are impressed as they experience your content.
Reach Your Audience. Everywhere.
Post, pin, email, share, embed, and install all from your very own branded weblink.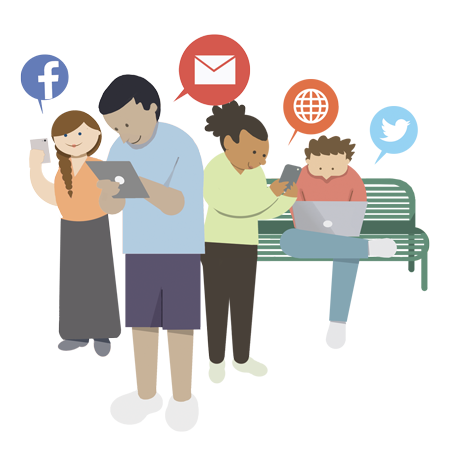 Stop boring people. Inspire with engaging, impressive content you can share with people in the digital channels where they hang out.

EmailNo one likes an email attachment. They are big, cumbersome, and prone to viruses. Use Simplebooklet to send professional looking emails that show off your content without requiring a download.
Social NetworksYou can't post a PDF on Facebook, Twitter, Pinterest, or Linkedin. Use Simplebooklet to make branded posts that entice your audience to click on your marcom content.
EmbedPDF download links on a website are the worst. With Simplebooklet your content is displayed with all its interactive capabilities right on your website and impacts your audience immediately.
InstallPDFs use a generic boring app to present your content. With Simplebooklet, you can install your content as a branded, native-like app on any device, increasing access and engagement while maintaining the professional experience you've created.
Engage With Your Audience
Make your content come alive.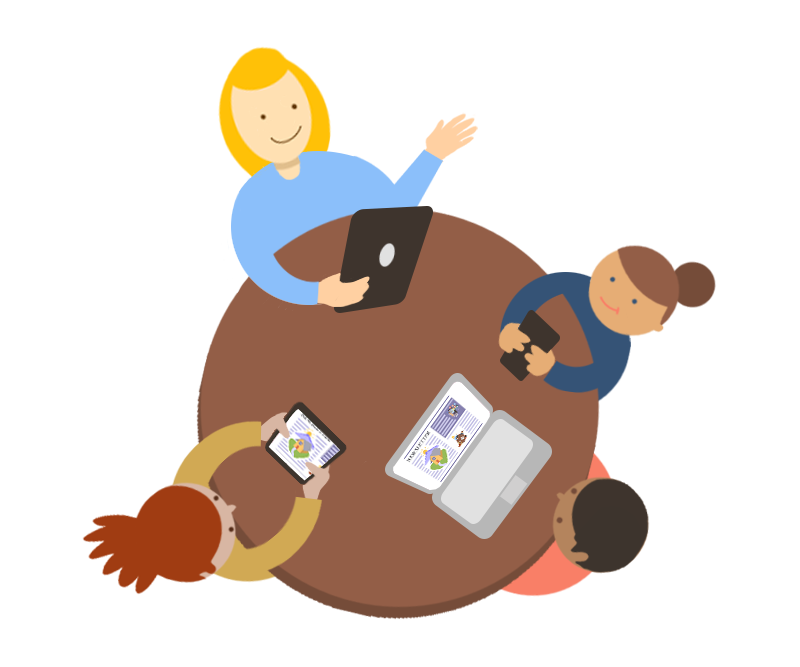 People are busy. You need to catch their attention and hold it long enough to get your message across and encourage them to engage with you. We've got the features that do just that with drag and drop, one tap ease.
Pro Plan Includes
Start with 3 concurrent simplebooklets you can update as often as you want.
Branding
Use your own logo, domain, and more so customer's know the content can be trusted.
Page Narration
Narrate each page of your simplebooklet to give your audience context around your content.
Lightbox Media
Enhance your page content with videos, images, and captions that you can't do in print.
Interactive Buttons
Add contact information and engagement buttons to drive inbound leads.
Custom Layouts
Configure and combine 1000s of presentation layouts for your microsite to make it your own.
Multiple Transitions
Choose from dozens of page flip transitions that match your content presentation.
Backgrounds
Use color, patterns, or royalty free photos to display your simplebooklet in all its glory.
Lead Gates
Capture valuable customer information before providing access to your unique content.
Native App
Allow readers to install your Simplebooklet as a native app on any device for offline access.
Custom Domain
Use your own domain to brand your Simplebooklet weblink and build trust with readers.
Business Plan Includes
Everything in the PRO plan, including 200 Simplebooklets, plus:
Notifications
Send push notifications to subscribers to your Simplebooklet, even if they don't have your booklet open.
Secure Links
Use a secret key to make your Simplebooklet only accessible behind your paywall or secured login pages or intranet.
Integrations
Use the services you already love to build even more features in your Simplebooklet microsite.
Analytics Reporting
Schedule email analytics reporting to any stakeholders, coworkers, and non-Simplebooklet account holders.
Team Accounts
Start with 5 additional accounts for your team to collaborate and publish Simplebooklets.
ECommerce
Embed products you sell on your favorite ecommerce platform right in your Simplebooklet page.
Form Builder
Add a custom form to your Simplebooklet page and send the results to multiple recipients.
Metrics That Makes Sense
Get the insight into your audience experience so you can take action.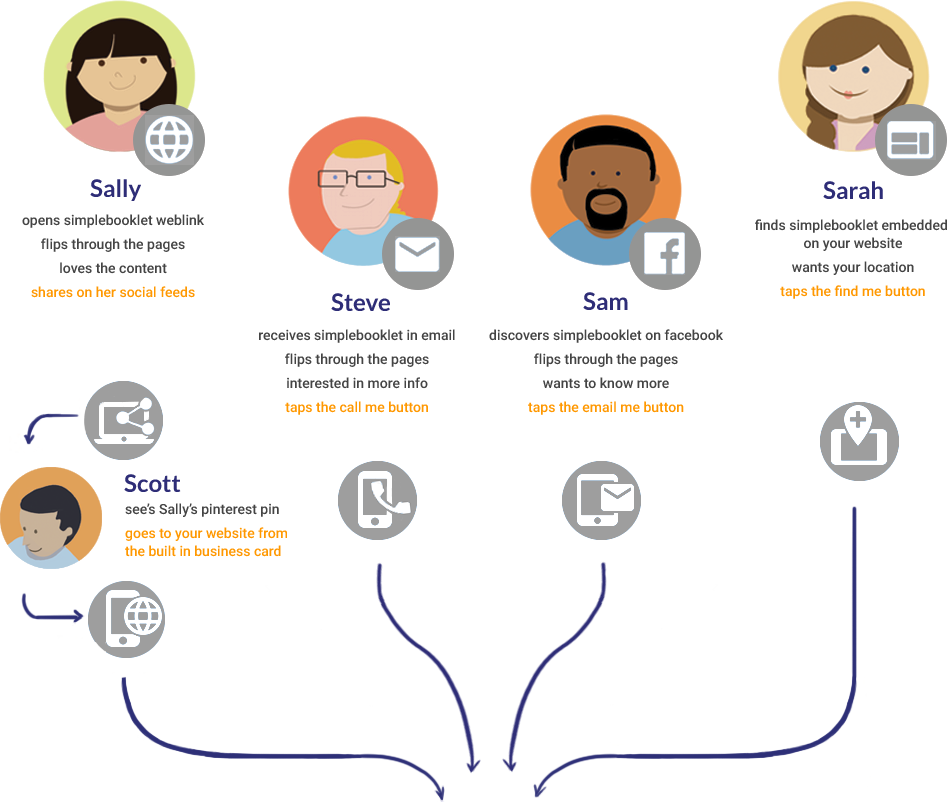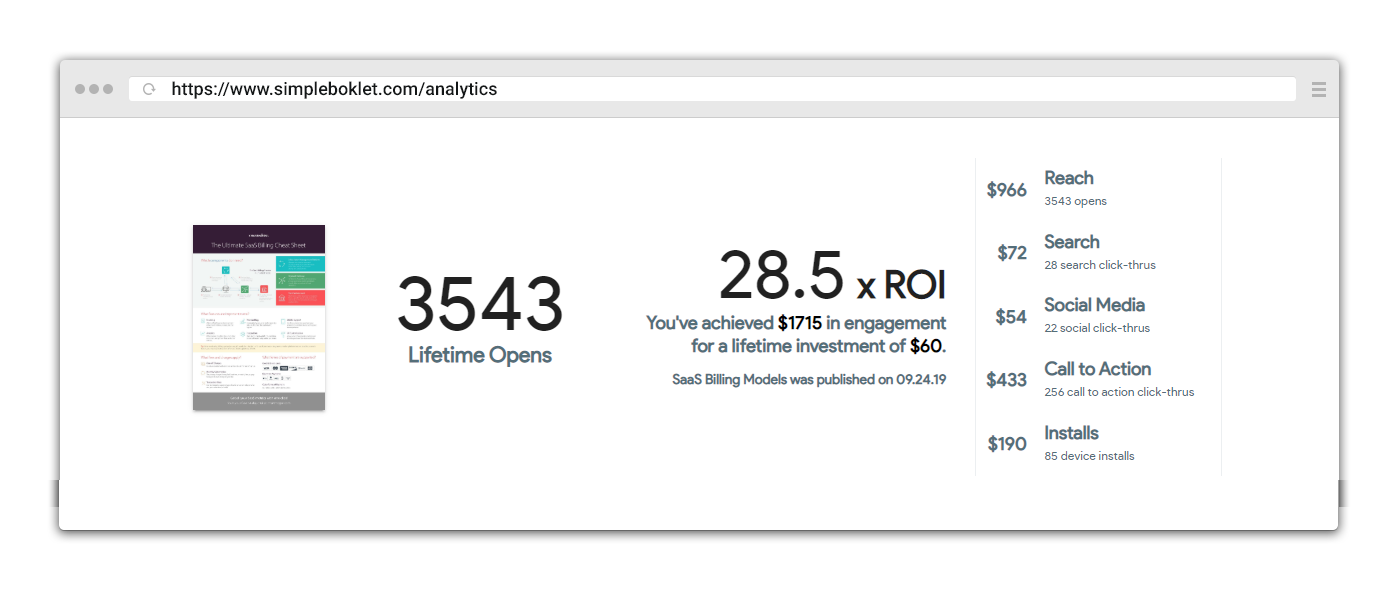 Understand your customer journey
With detailed metrics on your marketing content's journey, you'll see how introductions become customers. Reach more customers with better SEO, organic search and social results, and more interesting emails. Understand what got them to engage with your business. Get customer engagement so you can close business.
You'll be reaching customers on all their devices in minutes.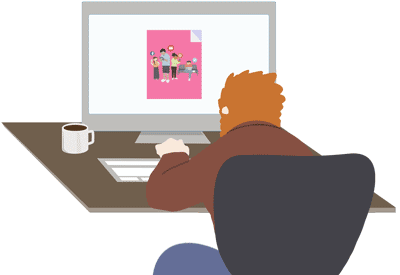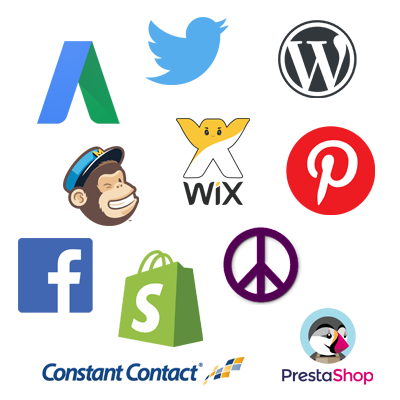 Work With The Apps You Already Use
Send your marketing collateral with Mailchimp, Constant Contact and Email list services.

Wix, Wordpress, and embed code to add your marketing collateral to webpages and blogs.

Support customers with Shopify, Etsy and ecommerce integrations.

Make your new marketing collateral the destination for Google Adwords and Facebook Ads.

One click posting to Facebook, Twitter, Pinterest, Linkedin and more.
Try It Yourself
Upload your own file and see how good your content can look, no sign up required.
Upload Your File
You've spent a lot of time and money investing in your print marketing and communications collateral. We built Simplebooklet to make it fast and easy to squeeze more value out of that investment. By turning your print content into interactive digital content, you can reach many more people across the digital channels they live their lives everyday.
Some of the 350,000+ organizations using Simplebooklet