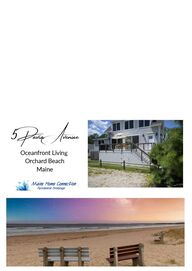 Return to flip book view
5 Pavia Avenue
Page 1
5 Pavia Avenue Oceanfront Living Orchard BeachMaine
Page 2
Oceanfront NeighborhoodThe beauty and mystery ofthe ocean fills our liveswith wonders, vast beyondour imagination. If the idea of waking up inthe morning to the soundof the surf and the scent ofthe sea appeals to yourinner most desires, then 5Pavia Avenue in OldOrchard Beach should beon your short list of Mainewaterfront properties toconsider for you nexthome.
Page 3
This home, completed renovated in 2017, was conceived to include the bestof everything in a beautiful and purposeful style. And … the location is perfect! You have access to 7 miles of the most pristinesandy beach in Maine, while still maintaining your privacy in a meaningfulway.
Page 4
Designed with a VisionFrom the moment you first enter,you realize that that this home wasdesigned with a vision. Crafted witha perfect blend of classic coastalarchitecture and contemporaryfeatures this exquisite masterpieceis proof of what a one-of-a-kindbeach retreat can be. Each element, fixture, cabinet,window and countertop has beenpurposely selected to create anambiance in harmony with theoutside world.
Page 5
The primary living area, adjacent tothe deck, features great views, aninspiring original fireplace andmultiple large windows that areperfect for a lifestyle of simplisticluxury paired with effortlesscomfort. Luxurious LivingThroughout the entire home you will also find high-end resilient flooring, thatwill look like new for many years to come.
Page 6
Home Features:
Completely renovated in 2017.4 bedrooms | 3 bathrooms.1,988 sqft of custom living space.Ocean views from nearly every room.Ultra high-end Euro-style triple pane windows and glass doors.Mini-Splits in upstairs bedrooms for cooling.High efficiency resilient flooring throughout.Designer counter-tops, appliances, fixtures and more.Original fireplaceOutdoor showerDeck overlooking oceanfront.Custom built-in bunk beds with stairs.Parking Interactive Matterport Rendering
Page 7
Page 8
Clever, Functional - and Fun!Retreat to the second floor and youwill find three well proportionedbedrooms, all with comforting viewsof the ocean. For those planning on entertainingfamily and friends, the lower level is aprivate oasis, featuring a large sittingarea, a full bath, laundry and aseparate bedroom with 2 sets ofcustom bunkbeds divided by built-instairs. Clearly, no expense was spared.
Page 9
5 Pavia Avenue is a uniqueproperty located just outsidethe Ocean Park neighborhood,providing privacy and a strongsense of community uncommonto many seaside homes in OldOrchard beach. For more information, visit ourwebsite:MaineHomeConnection.comOr better yet call or text me toset up a private tour.I can assure you that there arestill a few hidden secretsremaining to be revealed.
Page 10
Old Orchard BeachFirst, there's that beach, all seven miles of it. When the tide is out and thesun is shining, the sand goes on forever. People nestle in for a nap, playfootball, toss a frisbee, venture into the surf. There seems to be room foreveryone.More than anything, OOB is a local's town. People have been strollingthese same streets and enjoying the sights and sounds for generations.
Page 11
Laura SosnowskiMaine Home ConnectionOffice: 207.517.3100 | Mobile: 207.87.1902Web: MaineHomeConnecion.comEmail: Laura@MaineHomeConnection.com