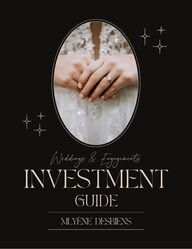 Return to flip book view
2023 - Investment Guide (EN)
Page 1
GUIDEINVESTMENTMLYÈNE DESBIENSWeddings & Engagements
Page 2
MARTINE &MATTEOI knew the minute I saw Mylène's work that I wanted her as our weddingphotographer. The moody aesthetic that she captures is exactly the dreampictures that we had in mind. Not only did we get exactly what we wanted,we got to meet an amazing person with the most beautiful personality. Irecommend anyone that is looking to not only gain some amazingpictures, but a great friend to hire Mylène.What they said
Page 3
Engagement sessionsThe process010203040506Hi! I'm MylèneWedding CollectionsÀ la carteCongratulations !TABLE OFContents67Contact me
Page 4
You're probably overwhelmed with all the weddinginformation out there, but don't worry - you're not alone.We are seasoned professionals who are here to help youdocument one of the biggest days of your life so youhave beautiful memories for years and years to come.The information in this investment & planning guide ismeant to help you through all of your photography-related questions so you can relax and get excited foryour big day. If you still have questions, don't hesitate to give us a ringor send over an email! We are here for you every step of the way.CONGRATULATIONS
Page 5
Let me tell your story through imagesBased out of Ottawa. Ontario, I've been doing photography for over five yearsnow. I aim to shoot in a lifestyle format, which is a branch of photographythat aims to take portraits of everyday life situations or events, in an artisticway.The goal is not just to take pretty pictures, but to capture this excitingstage of your life, as it is now. Hello! I'm Mylène!
Page 6
Page 7
01Que ce soit par téléphone,vidéoconférence, autour d'unebonne tasse de café ou de thé,la première étape est de faireconnaissance ! Si vous décidezde travailler avec moi, je vousferrai suivre le contrat.02Une fois le contrat signé etvotre dépôt payé, vous serrezofficiellement à mon calendrier! Ensuite, je vous enverrai monguide de planification demariage pour assurer que vousobteniez vos images de rêves.03Six semaines avant le grandjour, je vous ferai suivre unquestionnaire pour m'informerdes grandes lignes de lajournée. Finalement, une à deuxsemaines avant le mariage nousdiscuterons une dernière foispour nous assurer d'être sur lamême page en ce qui a trait àpour tous les détails !HOW THEPROCESS WORKSI am there with you every stepIt all starts with adiscovery callFun times & planningit all out hereImplementation forthe big day
Page 8
YOU HAVE QUESTIONS ?Q: What sets you apart from other photographers? A: With years of training under my belt, I know how to pose and guide clients tomake them feel relaxed while looking their very best. I use natural lighting asoften as possible and make sure my sessions are intimate & fun! Q: Will we get the print release to our photos after our wedding? A: Yes! Upon receiving your images, you will also get a full print release. Q: How many photographers will be there at our wedding? A: Depeding on the wedding collection you pick, there is either a one or twophotographer. You are more than welcome to add a second shooter for anadditional cost. Q: Will my photos be posted publicly on your site or social media? A: I respect your privacy and allow each client to decide whether or not theywant their photos displayed publicly. I'd love to show off you & your images, ifyou're game! If not, that's okay, too. Your day, your way! Q: Will our photos get featured in a magazine or blog? A: While some of our sessions do get featured, this isn't something that isguaranteed. Most publishers are interested in uniquely designed weddings. Q: Will you retouch my images to hide any unwanted spots, wrinkles, etc? A: Minor edits will be made to all of your images, but I believe our imperfectionsare what make us beautiful & unique. If there are specific edits you want, thesewill be charged according to the number and complexity of edits.
Page 9
I HAVEANSWERS.Q: Do you have a list of preferred vendors to use? A: Yes! From wedding planners to florists and caterers, I have worked with some ofthe best companies in the industry & would love to share their information with you! Q: Do I have to order prints through you? A: I highly recommend ordering prints through one of my professional vendors, but itisn't required. The difference in quality is huge when it comes to ordering through aprofessional lab, so I always love to help with prints! Q: What equipment do you use? A: I use all Canon equipment. I always carry two R6 Mark II, a 24-70mm f/2.8, a 70-200mm f/2.8, an 85mm f/1.2 and a minimum of two flashes among other items. Q: Do you photograph destination weddings? A: Unfortunately, with my career in education, it is impossible for me to take time offas I wish to accomodate destination weddings. If the wedding is during the peaktravel times (march break, summer break and winter break) I may be able toaccomodate those! Q: Are the people featured on your site models? A: No! I am lucky enough to work with gorgeous clients ,all the images shown on mysite and blog are of regular, paying clients. Q: How do we reserve our wedding date? A: A 50% deposit & signed contract is required in order to get your wedding on thecalendar. The remainder of your balance is due two weeks prior to your wedding.
Page 10
M Y L È N E D E S B I E N S P H O T O G R A P H I EENGAGEMENTSESSIONS"Forever" starts now.
Page 11
EngagementsessionsEngagementI N C L U D E Spackage n°1350$+ Quiz + Pinterest Board+ One hour session+ One location+ Two changes of clothes+ Online Gallery+ Minimum of 25 edited images+ Printing rightsS T A R T I N G A TEngagementI N C L U D E Spackage n°2500$+ Quiz + Pinterest Board+ One and a half to two hour session+ Two locations+ Three changes of clothes+ Online Gallery+ Minimum of 50 edited images+ Printing rightsS T A R T I N G A T
Page 12
Melissa &AndrewSNEAK PEEK
Page 13
Page 14
Page 15
WEDDINGcollectionsTogether is a beautiful placeto be.
Page 16
Mylène took the most beautiful engagement and weddingphotos for us. After a year of searching everywhere over theinternet for wedding inspo, I never could have imagined thatI'd be framing my very own pinterest-goals style photos! Ourwedding day was unimaginably hot…like sweat pouring downour faces (and in all the places) HOT! Somehow, she managedto capture the most breathtaking and all around vibey photos.Mylene was so fun to work with and she made the entireprocess a breeze for us. We had no doubt that our mostimportant photos were in good hands.K I M B E R L Y & D A V I DWhat they said
Page 17
C H A N T A L & W I L S O NWe had such a wonderful timeat our wedding and you werea big part of that.
Page 18
I N C L U D E S I N C L U D E SI N C L U D E S I N C L U D E SE A C H C O L L E C T I O N I N C L U D E SCOLLECTIONS+ 4 hours of coverage+ 1 photographerS T A R T I N G A T$2,500+ 6 hours of coverage+ 2 photographersS T A R T I N G A T$2,500+ 8 hours of coverage+ 2 photographersS T A R T I N G A T$3,500+ 10 hours of coverage+ 2 photographersS T A R T I N G A T$4,250+ Wedding Planning Guide+ Pre-wedding consultation+ Reproduction rights+ Online viewing gallery for friends and family+ Assistance and expertise to help you throughout the planning01020304
Page 19
À LA CARTEAdditional HourAdditional photographerDrone usageADD O N SPerfect for celebrating wedding anniversaries, those who want to take the time to reallyenjoy the beautiful sight of each other or simply throwing on your suit.s and/or dress.esonce more!Most brides aren't aware of the term; bridal session. So, if you're still wondering, "what is abridal session?" Here it is! A bridal portrait session usually takes place before the wedding day. It is referred to likethe photo session and focuses only on clicking the pictures of the bride. In the bridal session, the bride gets dressed and usually has her makeup and hair done.The bride should have a complete bridal look that she wants to have on her wedding day.It is an awesome time to do your hair & makeup trial and wear your dress more than once!WEDD I N G A T T I R E P O R T R A I T S$650BRIDA L S E S S I O N S$550$400 / hour $750$150
Page 20
SNEAK PEEKCéleste & Marc-Antoine
Page 21
Page 22
Page 23
YOURDAYYOURWAYbecause life is simply too short
Page 24
Page 25
emily MARIEMylène DesbiensWEBSITEEMAILPHONESOCIALWWW.MYLENEDESBIENS.CAINFO@MYLENEDESBIENS.CA705-498-3025@MYLENEDESBIENSC O N T A C T M E A N Y T I M E , B Y T E X T ,P H O N E O R E M A I L , F O R M O R EI N F O R M A T I O N A B O U T M Y S E R V I C E S .THEBEGINNINGOF A LONG &BEAUTIFULFRIENDSHIP