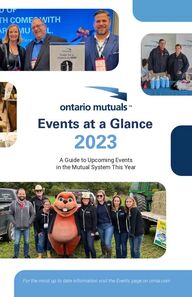 Return to flip book view
2023 Events at a Glance
Page 1
2023Events at a GlanceA Guide to Upcoming Events in the Mutual System This YearFor the most up to date information visit the Events page on omia.com
Page 2
March 7, 2023 Queen's Park Day Queen's Park, TorontoBy visiting Queens Park and talking to MPPs, we can voice our concerns on issues that impact our industry and explain the impact government decisions have on policyholders. We appreciate the support you provide in sending one or more delegates. Our mutual message depends on your commitment to this event.SPRINGEVENTSMarch 8-10, 2023London Farm Show - Western Fair District, LondonThe London Farm Show is the largest spring farm show in eastern Canada with 300,000 sq. ft. of space. And of course we'll be hosting a booth for member companies to promote the mutual difference. The trade show will be located in the BMO Centre. The Ontario Mutuals booth is #1013.March 14-16, 2023 Ottawa Valley Farm Show - EY Centre, OttawaThis is Ontario's longest running agricultural trade show. Since 1927, the Ottawa Valley Farm Show has been home to thousands of visitors looking for the latest and the best in farm management (including insurance). This year, Ontario Mutuals will be the Title Sponsor of Hall A, the largest hall at the show. This opportunity will allow our members to participate as greeters. More details to come!
Page 3
March 22-24, 2023 Annual ConventionSheraton Centre, TorontoWe look forward to seeing everyone for another dynamic three days at the Sheraton Centre. In addition to the very important AGM itself, members can attend educational sessions, listen to exceptional speakers and catch-up with their mutual colleagues. May 29-31, 2023 CEO ConferenceKingbridge Centre, King CityA member favourite, the CEO Conference is an excellent opportunity to collaborate with colleagues and talk about the challenges and successes the mutuals have encountered. June 15, 2023OMIA Annual Golf Tournament The Greens at Renton, Simcoe, OntarioThe Greens at Renton has been the proud host to many outstanding tournaments since its opening in 1977. The 27 hole golf course is intricately designed to enhance gameplay, paired with its unbelievable beauty, and Clubhouse and Event Tent, The Greens truly is a golfers paradise.This year is bound to sell out quickly. Member invites will be emailed in the rst week of April and to partners (providing there is room) after members have had a chance to register.
Page 4
September 12-14, 2023Canada's Outdoor Farm Show Canada's Outdoor Park, WoodstockCanada's Outdoor Farm Show marks the return to fall. This is the country's largest outdoor agricultural trade show, on 100 acres. A popular show among mutuals, we will be sure to host our large trade show booth for members to meet and greet the many visitors.September 19-23, 2023International Plowing Match & Rural Expo Dufferin CountyThis September, the farmers' elds surrounding Bowling Green and Laurel will be transformed into a tented city with plowing competition venues, parking areas and a RV park. Ontario Mutuals is a Proud Presenting Partner and will host a space to greet visitors and host musical acts. FALL EVENTS
Page 5
October 18-19, 2023IBAO Convention - Sheraton Hotel, Toronto The IBAO Convention offers a dynamic opportunity to interact with current and potential brokers and colleagues, while taking in compelling education sessions and panel discussions. OMIA will set up the trade show portion again and will coordinate another Hospitality Suite, to be hosted by any interested mutuals.October 22-24, 2023President's & Manager's Meeting RBC Centre & DoubleTree, London The Presidents & Managers Meeting will feature a line-up of top speakers, useful sessions, and opportunities to network with your fellow mutuals. We're looking forward to getting back to London, Ontario.Other Mutual EventsMAMIC Convention June 9 - 11, 2023 - location TBDNAMIC Convention September 17 - 20, 2023 - National Harbor, MarylandCAMIC Annual Convention October 1 - 3, 2023 - Halifax, Nova Scotia
Page 6
OMIA EDUCATIONOur goal is to be the priority source of training and education for mutuals by creating superior member focused skills and knowledge programs.OMIA continues to provide:• Current and relevant technical and interpersonal course content based on adult learning principles.• Different perspectives from subject matter experts from within OMIA and external third party sources.• A variety of learning modalities including live online, on demand (eLearning), hybrid or in person.To learn more about the Live- Online and In-Person sessions that OMIA has to offer, please visit the Education Calendar at omia.com. Sessions are added all the time so be sure to check back often!Reminder: If a course has reached capacity limits please register for the waitlist. If enough interest is indicated, we will repeat the session.
Page 7
ON DEMANDE-LEARNING• Accident Benets Adjusters Certicate• Agents Certicate• Directors Certicate• Mutual Service Certicate• Underwriters CerticateTo see our catalogue of online courses please visit omiaelearning.comThe Time & Place That Works for You!OMIA now offers 15 on demand E-Learning courses with many more under development! Many of the courses required to obtain the OMIA certicates can be taken in this format.Our education team does their best to ensure that each topic is covered thoroughly, offering the important information you need and cutting through the content that you don't.The courses cover a wide range of topics, which means there is something for everyone!Note: Claims, Leadership, and Loss Prevention Certicates are coming soon!The following programs are available:Mutual insurance is unique, which means the education you need to succeed is unique. The OMIA education team has compiled a variety of learning pathways to ensure that you have the information you need to excel in your career.CERTIFICATION PROGRAMS
Page 8
Tavia TobeyCoordinatorttobey@omia.comKara TobeyAssistantktobey@omia.comOMIAMARKETINGThe OMIA Marketing & Communications team is here to help your company succeed. We promote the Ontario Mutuals brand through as many relevant channels as possible. We can also provide assistance and insight on promotional material, branding, websites, social media, consumer research and more. Don't hesitate to reach out with any questions!Proudly Promoting Ontario MutualsLisa HunterManagerlhunter@omia.comContact the OMIA Marketing Department: marketing@omia.com
Page 9
Did you know?As a member company you get marketing perks such as:• Access to our stock photo library which contains hundreds of royalty free images• Access to our trade show display items• Pull-up Banners• A-Frame Sign Holders• Ballot Boxes• Prize Wheels• Plinko Games• Product Brochures• Company Brochures• Statement Stuffers• Fact/Sales Sheets• Custom Folders• Print AdsOther Marketing Resources Available to Members:• Radio Scripts• Press Releases• Unaddressed Direct Marketing• Direct Mail• Flyers• PowerPoint Templates• Design for Pull-up Banners• Design for Trade show Elements + MOREEverything we do can be as customized as you want - from colours and logos, to different copy, photos and messaging.
Page 10
ONTARIO MUTUALS vs OMIAWHAT'S THE DIFFERENCE?This logo can be used by Ontario Mutuals companies in any public-facing promotional material (e.g. on your website, brochures, print and web ads, signage at your oce etc.) You may want to use it in conjunction with your own logo and "A Proud Member of…"OMIA will also use this logo when promoting Ontario Mutuals in marketing material and at various events. This logo takes the lead in any public-facing content and encourages people to "Discover the Mutual Difference" and nd their local mutual. Ontario Mutuals is the overarching brand that represents you, the mutuals. This logo shows that your company is part of a larger network of mutual insurers. OMIA is the Ontario Mutual Insurance Association located in Cambridge, Ontario. OMIA exists to provide a variety of services to help Ontario Mutuals succeed. Ontario Mutuals companies are members of OMIA.Contact OMIA Marketing if you need a copy of either logo.
Page 11
This logo is not generally public-facing and is used when OMIA is communicating with member companies and with vendors or suppliers that are required for the operations and maintenance of tasks at the Cambridge oce. This logo is also used at events that have been organized by OMIA for Ontario Mutuals companies (i.e. the OMIA Annual Convention, the Presidents & Managers Meeting and the Annual Golf Tournament) and when OMIA is acting as a liaison with government organizations and regulators. Write to marketing@omia.comOMIA Vision: Grassroots insurance at the core of thriving communities.OMIA Mission: To serve and strengthen our mutual insurance community.
Page 12
Compliance - OMIA has dedicated compliance professionals who provide leadership, environmental monitoring, education, and expert guidance on solvency reporting, governance, market conduct and corporate risk management that meet regulatory requirements.Data Strategy and Statistics - OMIA provides member companies with an ecient method of reporting regulatory data, while anticipating data requirements for collective analysis and business intelligence initiatives.Education - OMIA has a dedicated education team that creates online and in-person training sessions. These courses are continuously changing and evolving to ensure that member companies have important and up-to-date information. We also have an OMIA Certication Program to facilitate continuing education and professional development.Employee Pension and Benets - OMIA staff and the Benets & Pension Committee are committed to providing guidance on issues related to employee and company benet programs that are available to the membership through OMIA. We are pleased to report that we continue to have a plan that meets or exceeds expectations in today's labour market. General Meetings - OMIA hosts a variety of meetings and roundtables that allow member companies to come together, gain important information, discuss current and future challenges, innovate, and learn from one another.Government Relations - OMIA and the Legislative Affairs Committee play an important role in maintaining the Ontario Mutuals' prole with MPPs and MPs. We act as ambassadors to the legislature and communicate the impact of proposed legislation while providing an informal sounding board for MPPs. This includes roundtable discussions and a visit to Queen's Park each year.OMIASERVICE AREAS
Page 13
Industry Liaison - OMIA maintains strong relationships with industry partners and keeps lines of communication open on behalf of the mutual community. OMIA will share unied messages with organizations like the Financial Services Regulatory Authority of Ontario (FSRA) and others. Insurance for Insurance Companies - Like any business, mutuals need insurance for their own unique risk management needs. OMIA has worked with trusted broker partners and underwriters to develop Directors and Ocers, Errors and Omissions, Fidelity Bond, and Cyber Risk insurance programs that protect mutuals against these constantly evolving business risks.Market Research - OMIA periodically facilitates the collection of market research to gather data and reveal market trends that help member companies make informed decisions around marketing. We also have a Market Issues Committee which gathers and analyzes industry information that affects the mutuals' ability to serve their policyholders.Product Development - As the world changes, so do insurance needs, and OMIA is continuously monitoring the heartbeat of all things insurance. With the help of the Product Strategy Committee and colleagues at Farm Mutual Re, OMIA updates and creates insurance products for member companies to implement. Promotion - OMIA promotes the Ontario Mutuals brand through sponsorships, advertising, and events. OMIA also has a dedicated marketing team that is available to support member companies with their individual marketing projects. Special Projects and Studies - When a mutual asks, "Is it a good idea or not?" or " Are we up to date with emerging trends?" or "Can we tackle a bigger challenge together?" It might be time for a project or study to help members evaluate next steps. Bi-annual salary and compensation surveys, feasibility studies on shared resources, cyber risk inventories, IFRS-17 conversion research and tools, and pilot groups for new roundtables are all examples of successful mutual initiatives that started with an OMIA special project or study.
Page 14
MANDATE: to raise the prole of mutual insuranceVISION: Standing as the foundation and support upon which each mutual can craft an individual voice, while amplifying the strength of grassroots mutuality.Kevin Inglis, ChairHowickTim WadeWestminsterDeb Van EykLambtonKristine DuenchDumfriesJulie McIntoshSouth EasthopeLisa HunterOMIACommunicating the Advantages of MutualityMARKETINGCOMMITTEEJohn TaylorOMIA
Page 15
Event Location DateQueen's Park Day Queen's Park, Toronto March 7London Farm Show Western Fair, London March 8 - 10Ottawa Valley Farm ShowEY Centre, Ottawa March 14 - 16OMIA Annual ConventionSheraton Centre, TorontoMarch 22 - 24CEO Conference Kingbridge Centre, King CityMay 29 - 31OMIA Golf TournamentThe Greens at Renton,SimcoeJune 15Canada's Outdoor Farm ShowCanada's Outdoor Park, WoodstockSept. 12 - 14International Plowing MatchDufferin County Sept. 19 - 23IBAO Convention Sheraton Centre, TorontoOctober 18 - 19President's and Manager's MeetingDouble Tree, London October 22 - 24ONTARIO MUTUALS EVENTS SNAPSHOT2023April issue: March 3August issue: July 7November issue: October 6Due Dates for OM News Submissions
Page 16
350 Pinebush Rd, Cambridge, ON N1T 1Z6 | (519) 622-9220 | omia.com