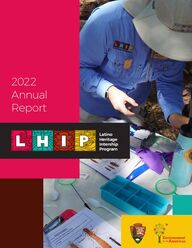 Return to flip book view
2022 LHIP Report
Page 1
2022 Annual ReportLatino Heritage Intership Program
Page 2
Page 3
Table of ContentsAcknowledgements ......................................................4Executive Summary ......................................................5LHIP Mission Statement ..............................................7Statement of Purpose ..................................................9Program Partner........................................................... 10Our Team .......................................................................... 112022 Intern Demographics ..................................... 12Program Support and Sustainability ................ 15Impacts of COVID ......................................................... 16Internship Host Sites .................................................. 17Former LHIP Intern in NPS Workforce ..............18Former Interns Who Joined the NPS Workforce .............................................................. 19Intern Testimonials .....................................................202022 Intern Achievements ......................................22Project Highlights ........................................................24Career and Leadership Workshop ......................29Intern Presentations ................................................... 31Intern Workshop Survey ..........................................32Media Highlights: Social Media ............................34Media Highlights: Print .............................................352022 Wordcloud ...........................................................35Social Media ....................................................................36Popular Social Media Posts ....................................37Words from Our Interns ...........................................38Words from Mentors/Supervisors ....................... 39Appreciation of Latinos' Contributions to American History Through Art .......................40Art Culture Project ...................................................... 41Appendix I: Intern Profiles ......................................44ABOVE: NPS Director Charles F. Sams III, NPS personnel, EFTA staff, and Latino Heritage Internship Program / Mosaics in Science interns on the steps of the Main Interior Building in Washington, D.C.National Park Service (NPS)George McDonald Chief, Youth Programs Division george_mcdonald@nps.gov | 202-513-7157Ernestine M. White National Youth Employment Programs Coordinator ernestine_white@nps.gov | 202-513-7157Environment for the Americas (EFTA)LHIP@environmentamericas.org Learn more at environmentamericas.org
Page 4
AcknowledgementsThis program could not have happened without the vision and dedication of our many partners.We gratefully acknowledge the work and support of the following:NPS UNITS HOSTING LHIP INTERNSHIPBering Land Bridge National PreserveBiscayne National ParkCongaree National ParkDinosaur National MonumentFire Island National SeashoreFlagstaff Area National Monuments (comprised of: Walnut Canyon, Sunset Crater Volcano, and Wupatki National Monuments)Fort McHenry National Monument and Historic ShrineFort Raleigh National Historic SiteGeorge Washington Memorial ParkwayGrand Canyon National Park/Science and Resource Management/VegetationHarpers Ferry Center/Cesar Chavez National MonumentHistoric American Buildings Survey (HABS), National Park ServiceHomestead National Historical ParkJuan Bautista de Anza National Historic Trail Klondike Gold Rush National Historical ParkMidwest Regional Office Planning and Compliance Division Minute Man National Historical ParkMonocacy National BattlefieldNational Parks of Boston (Boston National Historical Park, Boston Harbor Islands National and State Park, Boston African American National Historic Site)Natural Resource Stewardship and Science Directorate/WASO/Inventory Program in the Inventory and Monitoring DivisionNew Orleans Jazz National Historical ParkOlmsted Center for Landscape PreservationOffice of CommunicationsPacific West Region - Park Planning & Environmental CompliancePadre Island National SeashorePoint Reyes National SeashoreRivers, Trails, and Conservation Assistance ProgramSaguaro National Park Salem Maritime and Saugus Ironworks National Historic SitesSan Antonio Missions National Historical ParkShenandoah National ParkTonto National MonumentRECRUITING PARTNERSArizona State University*Auburn UniversityCalifornia Lutheran University*California State University, Bakersfield*California State University, Fullerton*Clark UniversityColorado State University, Fort CollinsFlorida International University, Miami; Miami Dade College*Georgia State University +Lehman College, City University of New York*Northern Arizona University*Pitzer CollegeQueens College, City University of New York*Southern Methodist UniversityTexas State University*Texas Tech University, Lubbock*Tulane UniversityUniversity of Arizona, Tucson*University of California, Santa Cruz*University of KansasUniversity of Maryland, College ParkUniversity of North Carolina, GreensboroUniversity of Puerto Rico, Humacao*University of Puerto Rico, Rio Piedras*University of Texas, AustinUniversity of Texas Rio Grande Valley*Vanderbilt UniversityYale University‡ Asian American and Native American Pacific Islander-Serving Institutions* Hispanic-Serving Institutions + Predominately Black-Serving Institutions 4
Page 5
Executive SummaryIn 2022, the Latino Heritage Internship Program (LHIP) celebrated its 8th year. Since the first program was hosted in 2015, LHIP has engaged 301 interns who have contributed more than 114,500 hours of service to the National Park Service (NPS). At least 30 of these interns have been hired by NPS.LHIP addresses the need to provide unique work experiences in national parks across the country. It was also established to engage Latino/a youth as conservation stewards within NPS. Over the years, the types of opportunities have broadened from a focus on Latino heritage to address other current needs, such as social media, pollinator research, and park planning. At the same time, working to interpret the history of Latinos through our national parks remains a highlight. Whether providing interpretation in Spanish to nearby communities, developing bilingual Junior Ranger booklets, or creating a digital model of one of the memorials to General José de San Martín, our interns get their minds and hands deep into intriguing projects.In 2022, Environment for the Americas (EFTA) successfully recruited and placed 33 interns at national parks, hosted training webinars, and developed and implemented a four-day workshop in Washington, D.C. This gathering was the first in-person event since 2019.This year also saw our interns placed in the most distant and remote sites than ever before. From the Bering Land Bridge in northern Alaska to Dinosaur National Monument in the desert Southwest, they experienced many moments without connection to the rest of the world, a variety of living conditions, and of course, incredible views.It is with great pride that EFTA presents this report of intern activities in 2022.Sincerely, The Environment for the Americas TeamLHIP Summary 2015 - 2022114, 500 hours of service301 interns 31Permanent HIRES by NPSLHIP intern Tatiana Mihaita behind a Congaree National Park journal5
Page 6
6Gender of LHIP Interns 2015-2022LHIP NPS Regions 2015-2022
Page 7
The Latino Heritage Internship Program (LHIP) reaches out and connects with Lati-no young professionals from diverse backgrounds to serve in challenging, educa-tional, job-training, career exploration, and developmental opportunities through internships with the National Park Service (NPS).LHIP Mission StatementExecutive Order on Diversity, Equity, Inclusion, and Accessibility in the Federal Workforce The Federal Government must strengthen its ability to recruit, hire, develop, promote, and retain our Nation's talent and remove barriers to equal opportunity. It must also provide resources and opportunities to strengthen and advance diversity, equity, inclusion, and accessibility across the Federal Government.The Federal Goernment should have a workforce that reflects the diversity of the American people. A growing body of evidence demonstrates that diverse, equitable, inclusive, and accessible workplaces yield higher-performing organizations.Program Objectives• Advance employment opportunities in the NPS with an emphasis on cultural and natural resource stewardship, interpretation, public outreach and science research.• Develop mission-critical internship projects that will support NPS goals and objectives.• Recruit undergraduate Latinos attending Hispanic-Serving Institutions and other colleges and universities.• Create strong and viable mentor and protégé relationships for the participants.• Establish a pipeline for converting talented Latino students into career-conditional positions in the NPS.7
Page 8
Through LHIP, our goal is to raise awareness of the varied careers with the NPS, to give program participants opportunities to work side-by-side with historians, biologists, and other career fields, and to help create pathways for talented, skilled Latinos to careers with NPS and oth-er public lands agencies..Priority: Centering equity and environmental justice. The impacts of the multiple crises in the United States are not evenly distributed in our society. Communities of color, low-income families, and rural and Indigenous communities have long suffered disproportionate and cumula-tive harm from air pollution, water pollution, and toxic sites. At every step of the way, the U.S. De-partment of Interior will engage diverse stakeholders across the country, as well as conduct formal consultation with Tribes in recognition of the U.S. government's trust responsibilities. Another LHIP goal is to connect diverse people to conservation. We accomplish this by connecting participants to public lands and by providing opportunities for them to engage in stewardship activities, which can range from developing bilingual educational programs to ar-chiving historical objects to studying the floral nectar resources that pollinators need to survive, and much more. Our interns contribute thousands of hours to national parks through stewardship of valuable natural and cultural resources while at the same time raising their own and their com-munities' awareness of the relevance and role the national parks play to preserve our rich resourc-es. Interns connect communities to national parks, and in the process they join with other youth and adults sharing stewardship beyond park boundaries. Intern projects have also included im-proving access to national parks by providing visitor services and designing written materials that offer information about park access and resources. The Latino Heritage Internship Program (LHIP) connects Latino early career professionals to national parks across the country and to diverse career development experiences via internships. These experiences range from archiving historical documents and supporting visitor services to conducting research projects, and creating communications messages about national parks and their activities. LHIP Priorities8
Page 9
Statement of PurposeResults from the 2020 Census show that Latinos represent 51% of the total U.S. population growth. They are the second largest segment with 62.1 million people and make up 26% of the population under 18 in the U.S. All of this recent data confirms why the Latino Heritage Internship Program (LHIP) targets one of the fastest growing segments of our nation's population who are not greatly reflected in the visitation of our national parks or the agency's workforce.LHIP was created in 2014 as a component of an overarching service-wide strategy for the National Park Service (NPS) to help address the lack of Latino employees in the workforce. LHIP, working in collaboration with conservation partners, allows the NPS to invest in cost efficient strategies geared towards recruiting and developing entry-level talent to potentially help build a more diverse and inclusive workforce.The goals and objectives of LHIP are to reach motivated undergraduate and graduate students and early career professionals ages 18-30 years and recent military veterans up to age 35 to work alongside NPS staff in cultural and natural resources and interpretation/outreach projects. The program helps to raise awareness of our national parks and historic sites, their accessibility, and the need for the Latino community's active involvement in their preservation. LHIP works to meet the vision and priority of the U.S. Department of the Interior (DOI) and helps the NPS by fostering relationships with conservation organizations advocating for balanced stewardship and the use of public lands. LHIP intern Diana Sarmiento answering visitor questions at Shenandoah National Park9
Page 10
Our partnership with the National Park Service's youth programs began in 2009 with our research examining the challenges to engaging Latino communities in activities at national parks. Four years of research and interns placed at parks from North Cascades NP to the New Jersey Coastal Heritage Trail Route led to an understanding that to effectively engage diverse audiences, the National Park Service itself must reflect underrepresented audiences. Our work with international interns led to the development of an avian research and environmental education internship program that served as a model for subsequent internship programs, including LHIP. Today, EFTA works with over 100 youth in internships with the National Park Service, U.S. Fish and Wildlife Service, Bureau of Land Management, U.S. Forest Service, and organizations such as Los Angeles Audubon. environmentamericas.orgEFTA also coordinates the largest hemispheric celebration of birds, World Migratory Bird Day. Our international work with partners from Canada to Argentina and the Caribbean has created the framework for all of our programs, including internships. We manage the wheels that run the internship programs — taking care of intern training, project needs, skill development, travel stipends, housing, and any issues or difficulties that might come up during their time at the park or during the Career and Leadership Workshop. Environment for the Americas (EFTA) is a non-profit organization that connects people to nature, birds, and conservation across the Western Hemisphere and works to diversify the field of natural resources, conservation, and preservation in federal agencies and non-governmental organizations. Program Partner NPS data; program evaluations LHIP website, program materials and reportsintern's travel, stipend, housing, and support resolving issues related to performance of duties, injuries, and site visits EFTA works to create rich experiences for LHIP interns that can lead to fulfilling careers with the National Park Service and other federal agencies. advertising, promoting, recruiting, and managing application systemprofessional development, webinars, and career workshops10
Page 11
Our TeamLucy HulburtDigital Communication SupportFloyd MyersChief of Business Development George McDonaldChief of Youth Programs and Experienced Services ProgramsNational Park Service (NPS)Ernestine WhiteNational Youth Employment Programs Coordinator Edward KimCommunications LeadVivian MeadeProgram AssistantDaniela GarciaDirector of Internship ProgramsEnvironment for the Americas (EFTA)Jorge Vargas-BarrigaData AnalystMaritza ArizagaInternship Programs AssociateChu-YuGraphic DesignerTogether, the National Park Service and Environment for the Americas create a program that motivates the next generation of stewards of our public lands and cultural and natural resources. The success of the Latino Heritage Internship Program depends on the commitment of the passionate people who develop and manage it and help to inspire the interns.11
Page 12
LHIP intern Yeishmary Soto adjusting a circle trap installed on a black walnut tree2022 Intern DemographicsLatino 52% 19 INTERNSMixed 42% 14 INTERNSGender IdentityLatino/a White 57% 8 INTERNS 1 INTERN Latino/a Native, Asian1 INTERN Latino/a, Native, White 1 INTERN Latino/a, Black 1 INTERN Latino/a, Other 1 INTERN Latino/a, Native 1 INTERN Latino/a, White, Other7%7%7%7%7%7%Age 19-25 88% 29 INTERNSYes 52% 17 INTERNSNo 48% 16 INTERNSFirst Generation College Student/ Graduate?Ethnicity Current EducationBachelor's 79% 26 INTERNSMaster's 21% 7 INTERNS26-30 12% 4 INTERNSMixed RaceGenderqueer/Gender Non-Conforming 6% 2 INTERNSFemale 58% 19 INTERNSMale 33% 11 INTERNSPrefer Not to Share 3% 1 INTERN 21% 7 INTERNS of the 33 LHIP projects were Science Focued Science Positions12
Page 13
LHIP intern Leslie Garcia presenting historical information at Salem Maritime National Historic Site2022 Intern FeedbackHow familiar are you with the work of NPS?Yes 27% 9 INTERNSNo 73% 24 INTERNSPrior to applying for this program, have you ever applied for a position with the NPS? NOT SOMEWHAT NEUTRAL FAMILIAR VERY 0% 9% 34% 24% 27% 3 INTERNS 13 INTERNS 8 INTERNS 9 INTERNSHave you visited the site where you will be working?Yes 27% 9 INTERNSNo 73% 24 INTERNSRate your level of interest in pursuing a career with state or federal public land agencies NOT UNSURE NEUTRAL VERY HIGHLY 0% 0% 6% 12% 82% 2 INTERNS 4 INTERNS 27 INTERNS13
Page 14
LHIP intern Juan Pablo Esparza Limón with a net that he uses to capture butterflies for tagging and monitoring. 2022 Intern FeedbackWhat barriers, if any, did you face prior to applying for this internship program?14"LHIP helped me grow and learn the skills to be a better communicator and a better conservationist. It helped me understand more the rich and complex history of this country and the importance of preserving our cultural and historical resources and our natural and recreational ones. It made me realize that I could continue with a career in a field I am passionate about — preserving our public lands and working to ensure everyone, regardless of race, ethnicity, or background, can enjoy the health benefits of being outdoors."Nicole SegniniFormer communications intern at the NPS Office of CommunicationsFor nearly 1.5 years, Nicole worked remotely for half of her internship — building a website for a park, writing press releases, and leading communication campaigns. Nicole left her internship with a positive impact on not only her future career goals, but her overall growth as a person. Currently, Nicole is a digital content producer at The Wilderness Society. Lack of Experience/ Education24%8 INTERNS Leaving Family27%9 INTERNS Financial Concerns48%16 INTERNS Having Access to a Vehicle30%10 INTERNS None 15%5 INTERNS Leaving Home 15%5 INTERNS Other 9%4 INTERNS
Page 15
Program Support and SustainabilityKristian Lloyd Enbysk, Homestead National ParkThe National Park Service Youth Programs Division support for the Latino Heritage Internship Program provided 11-12 week internships, travel and lodging, uniforms and field supplies, and training and mentoring throughout the internships under Agreement P21AC10081.Program partners leveraged additional LHIP positions and extensions, and parks contributed funding to support intern travel, some extensions, and lodging.LHIP FundingFunds Park AmountExtensions & Rivers, Trails, and Conservation $640 Additional Positions Assistance Program Tonto National Monument $3,600 Fort Raleigh National Park $600 Salem Maritime and Saugus Ironworks $3,640 National Historic Sites Fort McHenry National Monument $3,600 and Historic Shrine Shenandoah National Park $7,800 Pacific West Planning $20,000 New Orleans Jazz National Historical Park $6,000Lodging & Travel Tonto National Monument $350 Salem Maritime & Saugus Ironworks $2,810 National Historic Sites Shenandoah National Park $18 Pacific West Planning $4885 New Orleans Jazz National Historical Park $2,807.50 Other Travel $1,425Programmatic Support $53302022 Funding $503,782TOTAL FUNDING $567,287.50 15
Page 16
Impacts of COVIDThe impacts of the COVID-19 pandemic diminished considerably in 2022. All interns conducted their work on-site, and we had no incidences of COVID until the end of the internship program, when two interns tested positive. LHIP intern Julisa Rojas looking through binoculars and talking on a two-way radio 16Impacts to the Coordinating Organization• Sta veried vaccination status of each intern and facilitated guidance on the vaccination requirements of each park, which requires additional time and management.• Because COVID restrictions were being lied as the Career and Leadership Workshop was being developed, there was some diculty in scheduling events and activities. • Providing lunches was more dicult because the cafeteria was closed. Costs increased because caterers provided lunches, break food, and coee. • Some costs increased aer COVID, especially airline tickets, gas prices, and lodging. Impacts to the Interns• Intern housing osite experienced more challenges, such as changes in agreements and new pricing. • 1 intern had trouble securing their housing on time, because of the general lack of available and aordable housing.
Page 17
Internship Host SitesDHA-RA Grand Canyon National Park/Science and Resource Management/Vegetation Juan Bautista de Anza National Historic Trail Midwest Regional Office Planning and Compliance Division Minute Man National Historical Park National Parks of Boston (Boston National Historical Park, Boston Harbor Islands National and State Park, Boston African American National Historic Site) Olmsted Center for Landscape Preservation Pacific West Region — Park Planning & Environmental Compliance Padre Island National Seashore/ Division of Sea Turtle Science and Recovery Rivers, Trails, and Conservation Assistance Program Salem Maritime and Saugus Ironworks National Historic SitesConservation Fellow Direct Hire Authority (DHA-RA)PLC Bering Land Bridge National Preserve Biscayne National Park Congaree National Park Dinosaur National Monument Fire Island National Seashore Flagstaff Area National Monuments (comprised of Walnut Canyon, Sunset Crater Volcano, and Wupatki National Monuments) Fort McHenry National Monument and Historic Shrine Fort Raleigh National Historic Site George Washington Memorial Parkway Harpers Ferry Center/ Cesar Chavez National Monument Historic American Buildings Survey, National Park Service Homestead National Historical Park Klondike Gold Rush National Historical Park Monocacy National Battlefield Natural Resource Stewardship and Science Directorate/WASO/ Inventory Program in the Inventory and Monitoring Division New Orleans Jazz National Historical Park Office of Communications Point Reyes National Seashore Saguaro National Park San Antonio Missions National Historical Park Shenandoah National Park Tonto National Monument3217To learn more about positions at the parks, check out Appendix 1: intern profiles
Page 18
18Former LHIP intern Alejandro "Alex" Garcia-Maldonado accepted the position of Cultural Resources Program Man-ager for the National Park Service Upper Delaware Scenic and Recreational River this summer. In 2019, Alex interned at Chamizal National Memorial through LHIP where he worked with the site's cultural resources by conducting inventory and engaging with applied archival and histori-cal work. He earned his M.A. in History at the University of Texas at El Paso in 2019 and began his Ph.D. studies in Fall 2020."I want to understand people's perspectives which is what they have built their cultures and identity on, and makes this area unique. I'm fascinated by local history and would like to explore voices of diversity here." -AlexQuote source: https://upperdelawarecouncil.org/wp-content/uploads/summer-2022-newsletter-final.pdfFormer LHIP Intern in NPS workforceAlejandro Garcia Upper Delaware Scenic River NRA / Cultural Resources Program ManagerTTTThhhheeeeUUUUppppppppeeeerrrr DDDDeeeellllaaaawwwwaaaarrrreeeeA newsletter about the environment and people of the Upper Delaware River Valley in NY & PAIn This Issue...2nd Litter Sweep Cleans Up Pages 1 and 9Upper Delaware Profile:Alejandro Garcia-Maldonado,NPS Cultural ResourcesPage 2River Valley Awards Sept. 18;UDC Grant Program DatesPage 3New York Invests in Watershed,UDC Seeks PA and NYS FundingPage 4Lackawaxen River Trail Funded; Sojourn Salutes High AdmiralsPage 5UDC Activity HighlightsPages 6 and 7Preparing for a Safe SummerPage 7Round-up of Presentations;Festival of the Founding Fish PixPages 8 and 9Bridge Commission ProjectsPage 10Scenic Byway Officers ElectedPage 11News, Views, and 'To Do's'Page 12Volume 35 Number 2 Published by the Upper Delaware Council, Inc. since 1988 Summer 2022Most land along the Upper Delaware River is privately owned. Please be considerate and don't litter or trespass. Thanks!The Upper Delawareavailable on-line or by mail!Access this newsletter atwww.upperdelawarecoun-cil.org, or to request a freeprint subscription, returnthe coupon on Page 11, orcall us at (845) 252-3022.Thank you for your interest.Not In Our Backyard, Say 2022Upper Delaware Litter SweepersTACKLING TRASH: Six-year-old Johnny Montana from Milford, PA found a pair of muddiedsweatpants bigger than he is discarded along the Delaware River shore in Matamoras duringthe Westfall Township clean-up, while Jamie Myers from the National Park Service UpperDelaware Scenic and Recreational River staff climbed over the guiderail on River Road inDamascus Township to retrieve a tire while being pulled back up by a rope during the 2ndAnnual Upper Delaware Litter Sweep.(Contributed Photos by Bethany Montana, left, and Jeff Dexter, right) Please see LITTER on Page 9Nearly 350 volunteers joined the UpperDelaware Council (UDC) starting on EarthDay to avenge the careless dumping oftrash that impairs public lands and road-sides surrounding the Upper DelawareScenic and Recreational River.The 2nd Annual Upper Delaware LitterSweep officially lasted from April 22-30 butits inspiration carries on with UDC LitterClean-up Kits available to borrow year-round and the encouraged scheduling ofland-based cleanups with some 2022 col-lectible t-shirts waiting to reward efforts.Twenty clean-ups were organized in the15 New York towns and Pennsylvaniatownships paralleling the river.Volunteers were easy to spot in theirneon-colored t-shirts featuring the fierceeagle logo created by Happy Tattoo's DanNelson on the front and the names of 37sponsors on the back who contributed$6,250 to make the Litter Sweep possible. Also critical to the event's success wereLitter Leaders who stepped forward toassist with volunteer outreach, promotion,registration, distribution of supplies, safetybriefings, and arranging for disposal orrecycling of the gathered waste.Designated Litter Leaders for each rivervalley municipality were:Town of Hancock, NY - Richard H. LoweIII (Hancock Area Chamber of Commerce)Buckingham Township, PA - Ingrid Pe-terec (National Park Service UPDE)Town of Fremont, NY - Kate Sykes Bow-ers (Basket Creek area resident)Manchester Township, PA - Kate Waldrep(Camp IHC)Town of Delaware, NY - Tanyia Vannatta& Zach Scheitlin (Callicoon BusinessAssociation)Damascus Township, PA - Jessica Wein-man & Don Hamilton (NPS UPDE)
Page 19
Former Interns Who Joined the NPS WorkforceName Position Hire TermAmy Carrillo USFS RA Veg Mgmt, CA SeasonalAstrid Garcia SCA, Florissant CO SeasonalFrancisco Navarro Uribe Seasonal at Yellowstone SeasonalGenome Rodriguez Raya Sequoia and Kings National Parks, CA SeasonalJhulian Stanley Gutierrez Temporary position at Pearl Harbor NP SeasonalLuis Alverto Avalos Seasonal work with the National Park Service Seasonal Sequioa and Kings Canyon National Parks, CAMaria Alejandra Muñoz Otalvaro Biological Science Tech on monday Seasonal Grand Tetons Nat'l Park (GS 6 Seasonal)Michaelle Machuca Seasonal Archeologist with the Forest Service SeasonalNatias Mathias Southeast Archeological Center, FL SeasonalRocio Gomez Park Ranger, Sequoia and Kings National Parks, CA SeasonalRoxana Aracelis Saravia Seasonal Interpretive Park Ranger at Cape Hatteras National Seashore SeasonalRuby Gonzalez USFS Sequoia National Forest SeasonalSheila Lucero Garcia Bacilio Whiskeytown National Recreational Area, CA SeasonalAlvin Romero Rivera Park Guide at San Francisco Maritime NHP CA PermanentAshleyann Perez Rivera Digital Media Ranger Permanent US Fish & Wildlife Service HQ, Falls Chirch, VACristina Martinez Guzman Interpretive Ranger at Golden Gate NRA PermanentEdgar Hernandez Rios Benefits Authorizer at Social Security Administration, Permanent Chicago ILEduardo Jesus Chaidez Park Ranger at Alcatraz PermanentGibran N Lule-Hurtado Community Planner at River, Trails and Conservation, Permanent TexasJonathan Ignacio Tejeda Nebraska Game and Parks PermanentJuan Pablo Esparza Limón DINO Community Volunteer Ambassador Permanent at Dinosaur National Monuent, UTMelisa (Mely) Bohlman Udall Foundation's Parks, AZ PermanentRoxana Aracelis Saravia Interpretive Park Ranger with NPS at Jamaica Bay Permanent Unit of Gateway National Recreation AreaTangy Eleni Wiseman Wilderness and Wild and Scenic Rivers Specialist' Permanent at Forest Service Wilderness and Wild and Scenic Rivers Program at the Washington Office in D.C.Tomas Deza Rivers, trails, and conservation, TX Permanent19
Page 20
Intern TestimonialsMy first professional internship for the National Park Service and Environment for the Americas as part of the Latino Heritage Internship Program has been an amazing learning experience that has introduced me to the workforce and operations of the NPS. Being part of the staff of Fire Island National Seashore and helping with the preservation of an important barrier beach that is often taken for granted has been just the beginning of my journey. As an environmental science student, my goal has always been environmental stewardship. What a better way to start that mission than by working in a local, delicate environment.Kevin GarciaTogether as LHIP interns, we are actively making a difference. It might not seem like much, but in many cases, it is everything. Without us, there would be limited BIPOC representation. While that may feel isolating in many ways, it is also hopeful. I am able to be the representation needed to open up the way for future diverse park employees. Diana Sarmiento 20To LHIP and EFTA leadership—thanks for making a rewarding internship experience and for all of the hard work that goes into running the program!David Castro
Page 21
Intern FeedbackLHIP intern Paola Vazquez smiling beside her poster presentation in Washington D.C.Prior to this internship, how often did you visit a national park, national forest, national wildlife refuge or other public land? NEVER RARELY SOMETIMES FREQUENTLY SEVERAL TIMES 1 TIME YEAR MORE THAN OVER THE YEARS 1 TIME YEAR 3% 24% 33% 39% 1 INTERN 8 INTERNS 11 INTERNS 13 INTERNSHow much practical, hands-on experience have you had in your field of study? LITTLE NEUTRAL ALOT 12% 24% 64% 4 INTERNS 8 INTERNS 21 INTERNS21
Page 22
2022 Intern AchievementsKlondike Gold Rush National Historical Park Andrea, an interpretation and education intern, wrote a talk about Indigenous Tlingit culture and history which will be used for future interpretation programs at Klondike. In addition to the education programs, she translated and designed Spanish-language park brochures, maps, and information for visitor use.Andrea ChowInterns work on a variety of projects for national parks, including gathering wildlife survey data, providing visitor services, and developing education materials. photo: Bus et faccus eossect otatur us etSaguaro National Park As a community engagement and resource management intern, Anna created a curriculum for the Base Camp program, a camp started by the park to make educational programs more accessible to underrepresented and low-income youth. The curriculum included opportunities for field trips, and hands-on activities, all while aligning with Arizona State Science Standards.Anna Verdiguel- GilletFort McHenry National Monument and Historic Shrine Elizabeth, a Spanish outreach and program assistant intern, translated visitor park information and programs that are offered by the park rangers into Spanish for the accessibility of future visitors. Elizabeth also translated the information that is displayed on the park website into Spanish, and it is now available to the Spanish-speaking community.Elizabeth EstradaPoint Reyes National Seashore Francisco, a visitor services and interpretation intern, translated a pre-existing trail guide along with a guided program to make it more accessible for the visitors. The Woodpecker Trail guide was translated into Spanish, and Francisco created an hour-long, bilingual (English/Spanish) program that guides visitors through the trail to learn more about the cultural and natural history of the area.Francisco VazquezLHIP intern Nate Lima tying a boating knot at Biscayne National Park22
Page 23
2022 Intern AchievementsLHIP intern Kevin Garcia fencing around a bird nest at Fire Island National Seashore Bering Land Bridge National Preserve Kiara, a social media intern, worked on digital content for a week-long social media campaign called NPS Fashion Week. NPS Fashion Week encourages the public to view the national parks in a different light, by fostering creativity, imagination, and inclusivity throughdifferent fashion-themed events.Jhosselyn (Kiara) Prado- AlbizuresTonto National Monument As a museum and resource management technician intern, Julisa curated an exhibit featuring 14 different Indigenous communities. She used primary sources, which included poetry in the indigenous language with the English translation. The exhibit also features artwork, including woven baskets made by the communities featured in the exhibit.Julisa RojasNew Orleans Jazz National Historical Park Justin, an audio and visual information specialist intern, created a stockpile of images throughout his internship for the park to use. He photographed a variety of events from live musical performances to park ranger talks. Justin also produced and edited video content from the events.Justin MarcanoHomestead National Park Kristian, a museum intern, cataloged a variety of artifacts that were recently accessioned by the museum. He carefully surveyed everything and made statements describing each artifact. Over the course of the 12-week internship, Kristian cataloged more than 43 artifacts ranging from paintings to photographs to funeral objects.Kristian EnbyskCésar Chávez National Monument/Harpers Ferry Center AAs a curatorial research assistant intern, Ricardo examined many items stored in the National Chávez Center archive to review the contents for a future Harpers Ferry Center permanent exhibit. Ricardo was also tasked with digitizing more important items in the archive, as well as creating a general finding aid, which will help contractors to easily navigate through the archive.Ricardo Goné23
Page 24
Project HighlightsAndrés Pérez Cintrón - DHAMidwest Regional OfficeSituated in Lincoln, Nebraska, the Midwest Regional Of-fice supports regional sites by offering strategic develop-ment, park planning, and infrastructure implementation. During his internship, Andrés supported the Midwest Regional Office through his relationship-building abili-ties and astute knowledge of the 1978 National Parks and Recreation Act. These skills were particularly influential in the complex Pullman Joint General Management Plan between the National Park Service and the Illinois De-partment of Natural Resources. By and large, this unique institutional partnership is located in an inhabited neigh-borhood of Chicago and was established by Presidential Proclamation by President Barack Obama in 2015, which enhanced the management complexity of the historic site. The intention of the proclamation is to preserve in-dustrial history and its influence on urban design and planning. A Presidential Proclamation involves different processes than traditional avenues of park establishment For these reasons, Andrés' role was critical in supporting the first phase of the plan through internal scoping with community members and by developing a communica-tions plan to execute a cohesive management plan. Nota-bly, his accomplishments included the facilitation of com-munity workshops and meetings, project management, a communication strategy plan, and a reference manual. Throughout his internship, Andrés was praised by peers for his strong work ethic, passion, and insightful knowl-edge in park planning.Cassandra Cavezza - DHAGrand Canyon National Park/ Science and Resource Management/VegetationAs one of the most spectacular parks in the United States, Grand Canyon National Park receives approximately 6 million visitors annually. The popularity of this park reach-es beyond people and frequently receives other visitors, among them, the monarch butterfly. With the intention of protecting the monarch's migration route, Cassan-dra's project focused on the monitoring, restoration, and research of this species. Throughout her internship, Cas-sandra utilized well-established protocols to evaluate 10 monitoring plots through the Monarch Joint Venture Inte-grated Monarch Mapping Project. This grassroots project started in 2008 with the mission to protect monarchs and their migration by collaborating with partners to deliver habitat conservation, education and science across the U.S. In support of these efforts, Cassandra excelled in her role by tagging monarchs and restoring nectar-rich habi-tat. In the same way, she utilized strong collaboration skills by attending a retreat with Zion National Park interns and conducting a collaborative project with fellow LHIP in-tern Juan Pablo Esparza Limon. Another project on the horizon includes a collaboration with Interpretation and Resource Education (IRE) staff to develop a youth public education program on monarch conservation.Illustration describing the difference of a National Park Service General Management Plan. Andrés supported the first phase of the plan. Credit: Andrés Pérez Cintrón, NPS Scan code to review Andrés' presentationNPS graphic illustrating the route of the monarch butterflyScan code to review Cassandra's presentation24
Page 25
Project HighlightsProject HighlightsDiego Borgsdorf - DHAJuan Bautista de Anza National Historic TrailThe Juan Bautista de Anza National Historic Trail marks the historic route of the Anza Expedition between 1775-1776, led by Spanish Lt. Colonel Juan Bautista de Anza with 240 other passengers in tow. The Historic Trail is about 1800 miles long, extending from Sonora, Mexico, to San Fran-cisco, California. Unlike many national parks across the United States, National Historic Trails do not own the land; rather, these trails are built through community collab-oration and connection. As such, connection with com-munity, open communication, and strong partnerships make these sites successful. To that end, the Juan Bau-tista National Historic Trail goes further because it is more of a conceptual mobility network than a through-hike, which are traditionally more common. Diego's internship consisted of creating ESRI story maps about the San Ga-briel Valley region of Los Angeles and the Gila River area to enhance the mobility network. A story map is an online platform that goes beyond mapmaking. The application offers communication tools with interactive buttons and integration that can be connected to other sites, maps, and media. Both story maps required high-level GIS (Geo-graphic Information Systems) skills in order to adequately capture the historical and cultural story of the landscape. Moreover, Diego ensured that his work re-framed the his-torical narratives with Indigenous nations. Diego's work will continue to offer an interactive interpretation for visi-tors and community members who want to explore more about the Juan Bautista de Anza Historical Trail. Estrella Sainburg - DHAMinute Man National Historical ParkMinute Man National Historic Park is known for the first armed conflict that started the American Revolution on April 19, 1775. The historic park preserves a system of trails rich with interpretive activities of the first battle between the British army and Colonists that changed U.S. history. To illustrate the battle route, interactive maps and story-telling are an essential component of the park. While in-teractive maps known as story maps are commonly used as storytelling tools, Estrella's project went a step further and created a story map to address maintenance issues along 6 miles of trails. As the trail planning and GIS (Geo-graphic Information Systems) assistant, Estrella managed the creation and execution of an immersive map that was used for training and planning for trail maintenance. More specifically, Estrella excelled by leading the project to el-evate trail maintenance in park priorities and plans. She communicated with partners, conducted research, and collected data and media to address needs along the trail system. The advanced engineering of the story map – along with Estrella's strategic astuteness – improved trail monitoring, and as result, will increase visitation ex-perience, improve natural resource quality, and preserve historic features. Estrella's contributions resulted in in-creased accessibility of trail treatment methods, aided the park in managing and preserving its trails and natural resources, and improved culture and resource manage-ment expenditure.An illustrative example of Diego's story map in the San Juan Valley area. Scan code to review Diego's presentationFinished product of the trail story map created by EstrellaScan code to review Estrella's presentation25
Page 26
Project HighlightsProject HighlightsKristy Ornelas- DHAPadre Island National Seashore/ Division of Sea Turtle Science and RecoveryIn 1947, thanks to Andreas Herrera, Kemp's ridley sea turtle nesting grounds were discovered in Rancho Nuevo, Mex-ico. Other nesting grounds were soon identified in Texas, and by 1974, Padre Island National Seashore was estab-lished by the National Park Service to increase the turtle's nesting range. Efforts to protect the Kemp's ridley sea tur-tle contributed to a binational collaboration between Pa-dre Island National Seashore in Texas and Mexico's Rancho Nuevo. The Division of Sea Turtle Science and Recovery partnership has an expansive history encompassing over 2,000 historic hardcopy media files that remain stored in the Padre Island research office. Given the expansive partnership, the National Park Service recognized the importance of documenting and preserving the history of the long-lasting partnership spanning various genera-tions. To achieve this momentous task, Kristy's internship project as a history and science intern focused on docu-menting and developing interpretive materials about the history of sea turtle conservation on Padre Island National Seashore. Kristy's contribution included researching liter-ature and interviewing binational partners, culminating in the development of a 27-page research paper docu-menting biologists' experiences between countries. Her project required deep examination of documents while maintaining keen focus and a disciplined workflow to accurately digitize the 40-year-long program's history. Kristy's organizational skills and dedicated attitude were influential in capturing the historical importance of a part-nership whose mission has protected Kemp's ridley sea turtles for generations.Leslie Garcia - DHASalem Maritime National Historic Site/ Saugus Iron Works National Historic SiteKnown as the birthplace of the American iron industry, Saugus Iron Work National Historic Site is located in Salem, Massachusetts, along the Saugus River, an area known for its abundance of minerals and natural resources. Not far from Iron Works lies Salem Maritime National Historical Site, which is considered to be the first National Historic Site in the U.S. This particular site highlights early colonial infrastructure and the importance of international trade routes. Notwithstanding, each of the sites offers copious historical facts that showcase the birth of a new nation. As such, these sites offer fun opportunities for interpretative activities and events. As an interpretative and outreach in-tern, Leslie was responsible for organizing and facilitating several activities that enhanced visitors' knowledge of co-lonial times. For example, Leslie created interactive board displays that showcased imports and exports of goods through international trade. Moreover, many of her edu-cational programs featured information about pollinators in the region and about best gardening practices. In other instances, she led conversations and activities about the origin of herbs and vegetables that influenced colonial recipes. Many of Leslie's programs kept diversity in mind and often translated materials and offered inclusive inter-pretative programming for visitors. Beyond interpretative programs, Leslie was also involved in numerous local out-reach events that focused on diversity and inclusion. Les-lie's outreach abilities contributed to more inclusive and diverse interpretative programming and outreach at each of the historic sites.Collection of historical evidence and photography collected and digitized by Kristy during her internship at the park.Scan code to review Kristy's presentationScan code to review Leslies's presentationCollection of interpretive activities and events designed and implemented by Leslie Garcia. 26
Page 27
Project HighlightsProject HighlightsPaola Vazquez - DHARivers, Trails, and Conservation Assistance ProgramThe National Park Service Rivers, Trails, and Conservation Assistance Program (NPS-RTCA) is tasked with support-ing locally led conservation initiatives and projects across the nation. In other words, the program assists communi-ty and land managers in developing, restoring, and con-serving parks and rivers. Other support includes creating outdoor recreation programs that engage all generations in the outdoors. To support RCTA's mission, Paola served as a Latino outreach coordinator based in Austin, Texas. As part of her role, she led a multi-tiered project that involved researching past RTCA projects to identify new potential projects, researching local organizations and key stake-holders, establishing relationships with Latino communi-ties, increasing awareness of RTCA's assistance program, and developing a strategy plan for future RTCA outreach programs. Paola's primary method of research involved one-on-one interviews with other RTCA staff to better understand needs and gaps. The internal research re-vealed that trust is the key principle, hiring people of color is important, and that RTCA should go beyond research. After meeting with staff, Paola held one-on-one inter-views with Latino community members and conducted surveys. Those findings revealed that outreach with good intention is welcomed by the community, connecting culture and history is important to the local community, and understanding barriers to engagement is an import-ant component towards more inclusiveness. As a result of these findings and project, Paola developed a compre-hensive Latino/a Outreach Strategy Document that will serve RTCA in future programming and initiatives.Pia Cano - DHAOlmsted Center for Landscape PreservationIn close partnership with national parks, historical sites, and other NPS-related entities, the Olmsted Center for Landscape Preservation serves to strengthen the capaci-ty of parks and sites to manage cultural landscapes across the United States. As a member of the Olmsted Center team, Pia served as the preservation planning assistant, whose primary responsibility involved the production of Cultural Landscape Inventories. More precisely, Pia's internship focused on developing documentation and analysis towards the Cultural Landscape Inventory (CLI) project. Some of the key skills developed by Pia during the internship included diligent documentation, devel-opment of analysis skills through photography, exten-sive inventory on the field, and historic narrative writing. For example, one of Pia's key accomplishments on the project involved visiting Saratoga National Historical Park to update its Cultural Landscape Inventories in the area. Through the various stages of the project, Pia conducted several Cultural Landscape Inventories across the north-eastern U.S, updated existing CLIs, developed ethno-graphic writing, and conducted historical figure research. By the same token, Pia's project addressed key goals for future projects including increasing and investing in ethnographic research reports in the Northeast region, and building more historical narratives of park stewardship contributions.Scan code to review Paola's presentationScan code to review Pia's presentationIllustration of Paola's Communities Outreach Strategy Report, considered one of the final deliverables on the project. Cover of the Saratoga Battlefield Cultural Landscapes Inventory 27
Page 28
Project HighlightsProject HighlightsSophia Grande - DHANational Parks of Boston (Boston National Historical Park, Boston Harbor Islands National and State Park, and Boston African American National Historic Site)The National Parks of Boston are comprised of three NPS sites: Boston National Historical Park, Boston Harbor Is-lands National State Park, and Boston African American National Historic Site. Each of these sites has placed youth programming and connection to public lands as a key priority. To support those efforts, Sophia Grande joined the network of parks as a digital youth engagement de-sign intern whose responsibility included developing self-guided materials for events, like "Pick Your Park" and "Find Your Park Anywhere." Additionally, Sophia played an instrumental role in designing the youth engagement website and social media campaign around Latino Con-servation Week. Each project prioritized diversity and in-clusion, and catered to younger demographics with an interest in connecting to their public lands and in under-standing the cultural significance of the area. As an ur-ban area, the system of parks provides rich historical fea-tures with a scattered mosaic of natural ecosystems and parks. Perhaps most notably, Boston is the birthplace of the American Revolution and continues to be a driver for modern day revolutionary energy surrounding issues like civil rights and environmental justice. The parks weave between the city, offering a glimpse of the past, present, and future, and thus, youth engagement and connection to these sites continues to be an important priority. As a re-sult of Sophia's dedication, the parks will move forward with inclusive programming and well-designed projects that will be incorporated over the years with youth in mind. Xochitl Lopez - DHAPacific West Region - Park Planning & Environmental CompliancePark planning and environmental compliance serve to achieve the mandate and preservation of resources for the enjoyment of present and future generations. At its core, the National Park Service has transformed how pro-tected areas are managed throughout the world, through park planning and the use of guides, resources, tools, and methods that generate increased resource manage-ment, enhanced visitor experience, and proper monitor-ing of regulations in the park system. Four instrumental pillars include preliminary project planning, park planning portfolios, general management plans, and special stud-ies. Putting theory into practice, Xochitl's internship with the Pacific West Region involved applying park planning and compliance at the Cesar Chavez National Monument. An inspiring Latino leader, Cesar Chavez is an iconic rep-resentation of empowerment for farm workers and sup-porters of the establishment of the agricultural union. As a continued celebration of Chavez's leadership, Xochitl led three key projects: planning virtual and in-person activi-ties to commemorate the Monument's 10-year anniversa-ry, supporting park staff in applying for a grant from the National Park Foundation, and providing translation sup-port on various interpretative projects. Xochitl's leader-ship, her connection to Cesar's purpose and mission, and her strategic mindset will continue to create a transfor-mative impact in the National Monument as she extends her internship into 2023.Online screenshot of Sophia's project and "Find Your Park Anywhere" Summary presentation describing the different pillars of park planning and environmental compliance. A key part of Xochitl's internships revolved around park planning at the Cesar Chavez National Monument. Scan code to review Xochitl's presentationScan code to review Sophia's presentation28
Page 29
The Latino Heritage Internship Program gathered in Washington D.C. for an immersive three-day career and leadership workshop at the U.S. Department of the Interior. The interns presented their research, networked, and attended panel discussions with leaders in the National Park Service and other government agencies. Career and Leadership WorkshopLHIP interns taking a selfie with National Youth Employment Program Coordinator Ernestine White during the Career and Leadership Workshop in Washington D.C. 29
Page 30
James Edward MillsWriter and ProducerSpeakersCharles F. Sams III Director, National Park ServiceJoan MooneyPrincipal Deputy Assistant Secretary for Policy, Management and Budget, U.S. Department of the InteriorEduardo ChaidezPark Guide/Volunteer Coordinator at the John Muir National Historic Site, National Park ServiceGibran Lule-HurtadoCommunity Planner, NPS Rivers, Trails and Conservation Assistance Program, National Park ServiceMelissa HurtadoIntern, Department of the InteriorKathryn TrouthmanThe Resume Place PresidentDoug HaleHuman Resources Specialist (Direct Hire Authority Resources Assistant), National Park ServiceLisa CollinsPresident, Education Through Engagement, LLCCrystal GailesHuman Resources Specialist (Public Land Corps), National Park ServiceRoseann GonzalesDeputy Director, Administration and Policy, United States Geological SurveyMelissa SimsChief, HR Policy and Strategic Initiatives Workforce and Inclusion Directorate, National Park ServiceGeorge McDonaldChief of Youth Program and Experience Services Program, National Park ServiceJennifer AckermanDirector, Office of Human Capital Deputy Chief Human Capital OfficeDeb HaalandSecretary, U.S. Department of the Interior30
Page 31
During the Career and Leadership Workshop, each DHA-RA intern gave a 7- to 10-minute oral presentation followed by a 2- to 3-minute question-and-answer session about their project. PLC interns developed project posters. All presentations were live-streamed via Zoom and Facebook. Intern PresentationsIntern and Mentor/Supervisor AwardsThree interns were recognized for their exceptional efforts, as well as two mentors/supervisors that were recognized for their uplifting and supportive actions. All of their work went above and beyond the tasks defined in their position description. Amy GenkeHOMESTEAD NATIONAL HISTORICAL PARKTatiana MihaitaCONGAREE NATIONAL PARKAndrea ChowKLONDIKE GOLD RUSH NATIONAL HISTORICAL PARKKristy Michelle OrnelasPADRE ISLAND NATIONAL SEASHORECarlo ArregloPOINT REYES NATIONAL SEASHOREScan code to review Julisa's presentationLEFT: DHA-RA presentation by Xochitl Lopez Pacific West Region — Park Planning & Environmental ComplianceRIGHT: PLC Poster poster by Julisa Rojas Tonto National MonumentMOST MotivatedBEST Supportive MentorBEST Mentor BEST BloggerBEST Content Creator31
Page 32
Intern Workshop SurveysWorkshop Day 1: Overall Content RatingGood 81% 21 INTERNSNeutral 19% 5 INTERNSWorkshop Day 2: Overall Content RatingGood 82% 18 INTERNSNeutral 18% 4 INTERNSPoor 5% 1 INTERNWorkshop Day 3: Overall Content RatingGood 88% 23 INTERNSNeutral 12% 3 INTERNS 77% 20% 3% 23 6 1 INTERNS INTERNS INTERN VERY NEUTRAL NOTHow important were the topics covered to interests and goals? LHIP interns Juan Pablo Esparza Limón and Cassie Cavezza tagging and logging a monarch butterfly at Dinosaur National Monument Conbined Workshops: Overall Content RatingGood 84% 62 INTERNSPoor 1% 1 INTERN 100% 0% 0% 26 INTERNS VERY NEUTRAL NOTHow important was it to see other interns' work in presentations? 89% 11% 0% 25 3 INTERNS INTERNS VERY NEUTRAL NOTHow important was it to see other interns' work in DHA presentations?Neutral 16% 12 INTERNS32
Page 33
33Site VisitLHIP intern Julisa Rojas (left) and LHIP program assistant Vivian Meade (right) enjoying the lower cliff dwelling on a site visit at Tonto National Monument, AZ. The cliff dwelling was home to 14 different ancestral people and tribes of the Tonto Basin. At the lower cliff dwelling, Julisa interprets the history and culture of the ancestral people to visitors.
Page 34
Media Highlights: Social MediaBiscayne National Park: "Hi, I'm Nate Lima… To commemorate #LatinoConservationWeek, I've decided…" Salem Maritime National Historic Site: "This week we are saying goodbye to ou fantastic interns, Adelaide and Leslie..." Homestead National Historical Park: "Meet Kristian… Learn about the important work that Kristian Enbysk does to preserve our nation's cultural resources…"San Antonio Missions National Historical Park: "More than 50 students from the Mosaics in Science and Latino Heritage Internship Program…"Heritage Documentation Program: "Welcome Amie Sardinha… The Historic American Buildings Survey (HABS) has once again been selected to host a Latino Heritage Internship Program - LHIP student this summer…"Dinosaur National Monument: "Hello Dinosaur National Monument community! My name is Juan Pablo Esparza…"Monocacy National Battlefield: "This week is Latino Conservation Week… Yeishmary has been working hard here at Monocacy National Battlefield…"Boston National Historical Park: "Our last Latino Conservation Week Employee Spotlight is Sophia… We asked Sophia what conservation means to them…"Facebook InstagramScan all the codes to see recognition on Facebook34
Page 35
Nicole Segnini Communicator and Advocate for Diversity in the Outdoors (National Park Service) (nps.gov)Art in Culture Latino Interns Explore Their Culture and Connection to Parks Through Art (National Park Service) nps.gov)Latino Heritage Internship Program Intern, Isabel Gonzalez, tells the story of the Freedmen's Colony (Eastern National) (easternnational.org)Congaree's fireflies kept drawing bigger crowds. Now, the park is doing things differently (The Post and Courier) (postandcourier.com)"Days Gone By" celebrated at Somerset Place (Chowan Herald) (dailyadvance.com)SCSD Researchers Share Their Work at 9th National Symposium on Spanish as a Heritage Language (Florida State University) (news.cci.fsu.edu)Media Highlights: PrintArticlesThese words were most used by interns to describe their perspectives on stewardship.2022 Wordcloud35
Page 36
Social MediaIn 2022, LHIP's social media generated more professional, diverse media content aimed towards promoting program goals, previous and current interns, and program partners. As a result, LHIP social media platforms faced an increase in growth, reach, visits, and engagements when compared to the previous year.LHIP Social Media AccountsTwitter: @LatinoLhipInstagram: @lhip_internsFacebook: @latinoheritageinternshiprogramLHIP Social Media Growth• San Antonio • Washington D.C.• Los Angeles• Denver• New York• Philadelphia• Tucson• ChicagoFACEBOOKPage Reach in 2022: 156,794Page Visits Increase 4%Page Likes Increase 134% INSTAGRAMFollowers January 2022 851Followers August 2022 1,08227% Increase Women 65%Men 35%LHIP Social Media Audience LHIP Social Media Age Range18-2422%23-3441%35-4419%Top Engaged Cities 36
Page 37
Popular Social Media Posts2022 LHIP interns also participated in social media takeovers during their internships! Promoted and shared on both Facebook and Instagram, these scheduled takeovers allowed interns to directly showcase to LHIP followers their projects, accomplishments, and internship park sites. All previous takeover stories can be watched at the top of the LHIP Instagram.Cassie and Juan Pablo's takeover promotional video post on FacebookMarshall's takeover promotional video post on InstagramPromoting LHIP's impact of helping interns achieve career goalsPost shared by the official National Park Service Facebook account during Latino Conservation WeekPost that sparked multiple positive online engagementsTweet promoting intern's project and graphic designPost showcasing new LHIP namesOverview of LHIP Instagram posts from 2022Tweet summarizing workshop in D.C.Instagram post promoting intern's Latino Conservation Week graphic design/ social media projectPost that sparked multiple positive online engagements37
Page 38
Some of my fondest memories from this summer are those I created with the amazing team of NPS employees, volunteers, and interns here with the Flagstaff Area National Monuments. Every member of the Flagstaff Area team made the monuments amazing.Marshall MorganWords From Our Interns To LHIP and EFTA leadership — thanks for making a rewarding internship experience and for all of the hard work that goes into running the program!David Castro This internship has been a valuable and incredible experience. I am grateful for everyone that welcomed me, helped me, and taught me about the Parkway.Nayelie Morales Colón Along my path, I have met influential people that have been key to my project's development. The maintenance, interpretation, law enforcement, and natural resource management divisions were influential guides through my duties as an intern.Yeishmary Soto Muñiz LHIP intern Anna Verdiguel-Gillet standing behind a Saguaro National Park information table with park employees38
Page 39
Words From Mentors / SupervisorsThe NPS Rivers, Trails and Conservation Assistance Program has hosted two costive LHIP positions. Each of the interns was highly qualified and helped the office develop projects and intiatives key to our work. Working with EFTA to hire and administer these positions has been easy and we appreciate the additional training and professional development the interns receive thorough this partnership.Gibrán Lule-Hurtado Rivers,Trails, and Conservation Assistance ProgramWe've had LHIP interns for the past two years and have really enjoyed having them.Megan Parde Supervisory Park Ranger (Interpretation), Tonto National MonumentWe have loved having a LHIP intern here at Grand Canyon. Cassandra has been a great asset to our team and the NPS.Lonnie Pilkington Vegetation Program Manager, Grand Canyon National ParkNPS Chief of Youth Programs George McDonald (far left), NPS Youth Programs communications specialist Lucy Hurlbut (left), Secretary of the Interior Deb Haaland (middle), National Youth Employment Program Coordinator Ernestine White (right)39
Page 40
Appreciation of Latinos' Contributions to American History Through ArtArà Nibar is a traveling and performative award-winning artist.He is best known in Latin America and the Caribbean for his formal inspirational exhibits, live painting demonstrations using techniques acquired throughout his travels. Arà is also known for the elaboration of caricatures and live portraits, thus pleasing locals and tourists with fun memorable creations. Arà has also worked as an art teacher in Latin America, instructing kids and seniors on the secrets and techniques of painting in a simpler way. In collaboration with Puerto Rico based artist Arà Nibar, LHIP interns explored and shared historic contributions that Latinos have made to the makeup of the United States at the national park, or in the surrounding community where the park or office is located, through a painting or drawing based on a significant landscape, structure, or historical figure that inspired them. Interns with their art projects during the Career and Leadership Workshop in Washington D.C40
Page 41
Andrea Chow Klondike Gold Rush National Historical Park"The towns of Skagway and Dyea mark the beginning of the Chilkoot Trail which was used historically for trade by indigenous groups to the region as well as for the Klondike Gold Rush. This space holds a lot of important history of indigenous people and immigrants."Pia Cano Olmsted Center for Landscape Preservation"This project highlights Latinos in Boston and the sense of place they have created in Jackson Square. I wanted to incorporate an abstract representation of the footprint of their neighborhood, capturing what it is like to explore this space."Tatiana Mihaita Congaree National Park"Many birds are migratory species, going from one place to another, from continent to continent. And much like birds, people also migrate and move from place to place. So, in a way, we are connected to these beautiful creatures in more ways than you would expect."Jhosselyn (Kiara) Prado-Albizures Bering Land Bridge National Preserve"Ynes [Mexia] is the representation of the unique fabric that holds the 'American Dream' together, because diverse narratives are imperative in order to accurately reflect the Latinx presence and contributions to America."Leslie Garcia Salem Maritime and Saugus Iron Works National Historic Sites"When life throws you into a hectic schedule, we need to remind ourselves to 'stop and smell the flowers.' Take a moment to enjoy the little things in life and the beauty and the healing that nature brings to us."Art Culture ProjectParticipating interns presented their artwork during the Career and Leadership Workshop, sharing their art style and the meaning of their pieces.41
Page 42
Art Culture ProjectAmie Sardinha U.S. Department of the Interior"This is the view of the Washington Monument during my walks to the Department of the Inte-rior every day. During my work, I found many references comparing Washing-ton and General Jose de San Martin. So, it felt right to have a nod to the Latino Liberator in my art piece."Nayelie Morales George Washington Memorial Parkway"Minorities have always been fighting for their rights and equality. We still are. I wanted to showcase some of the many [Latino] activists that have made a powerful impact in history, like Sylvia Rivera. And I wanted to bring light to some of the economic, climate, and political issues Puerto Rico is still facing."Paola Vazquez Rivers, Trails and Conservation Assistance Program (RTCA)"Mexican architecture is not highlighted enough even if you see it through-out the state. The Briones House, in the east Austin barrio, is a great highlight of Hispanic architecture in its decorative and colorful cement work."Anna Verdiguel-Gillet Saguaro National ParkLHIP intern Andrea Chowstanding next to her artwork in Washington D.C.42
Page 43
Art Culture Project43LHIP intern Nayelie Morales Colón describing her art project to the audience at the Career & Leadership Workshop
Page 44
Appendix I : Interns ProfilesJuan Bautista de Anza National Historic Trail Cultural Geography and GIS InternI am a third-year at Pitzer College in Claremont, CA. I study anthropology and Spanish and plan to pursue a minor in environmental analysis. I'm thrilled to partake in LHIP this year at Juan Bautista de Anza NHT. I'm a Chilean-American from Mission Hills, Los Angeles, home to the San Fernando Mission, a site that, similar to the de Anza trail, houses complex Spanish colonial legacies. With this background in mind, my goal is to help manage cultural resources in a way that is highly engaged with the community and that reflects the complexity and diversity of our histories. I am an alumnus of the National Park Service Academy (2021), which was my first introduction to CRM and the Park Service. I hope to build a cultural resources career that centers on anthropological research, GIS and geography, and public participation and engagement. LHIP will allow me to take another step towards this career.Diego Paolo BorgsdorfPITZER COLLEGE Olmsted Center for Landscape Preservation Cultural Landscape Preservation Planning AssistantI am a self-designed major in race & ethnic studies with a focus on Latino communities at Clark University. I am also working to earn a minor in art history and global environmental studies. This opportunity to study how to organize, produce, and understand significant sites or spaces of national heritage is what drew me to LHIP. I am also interested in sharing how Latino communities are passionate about environmental conservation work. I hope to support traditional land stewardship practices as they relate to park operations across the nation.Pia CanoCLARK UNIVERSITY Office of Communications Rare Species Research AssistantI graduated with a BA in political science from Vanderbilt University and am well-versed in research, office administration, public speaking, social media, and event planning. I have experience working with the U.S. Fish and Wildlife Service in Minnesota, the U.S. Forest Service in Montana, the U.S. Department of Agriculture in DC, and the National Park Service Rivers, Trails and Conservation Assistance program in Alaska. I am interested in LHIP because I've always had the desire to serve with other Latino leaders in environmental affairs. The chance to network with others who share core values makes this program all the more thrilling and unique. My professional interests include climate change adaptation, access to outdoor recreation, and encouraging families to enjoy the great outdoors. In my free time, I enjoy watching The National Parks: America's Best Idea and hiking the forest preserve trails of the Chicago area.David Orlando CastroVANDERBILT UNIVERSITY 44
Page 45
Grand Canyon National Park/Science and Resource Management/Vegetation Rare Species Research AssistantI attend Northern Arizona University with a focus in environmental sustainability studies, and I have always had a love for the environment. I have conducted Monarch butterfly conservation at home and have released over 4,000 from our backyard. Besides nature and animals, my other passion is photography. I hope to pursue a career in the natural sciences whether it's about sustainability or more specifically related to wildlife conservation. I hope to learn more about conservation and how we can learn to live more sustainably.Cassandra CavezzaNORTHERN ARIZONA UNIVERSITY Klondike Gold Rush National Historical Park Interpretation & Education InternI am a sophomore at Yale University, where I am double majoring in ethnicity, race, and migration, and environmental studies. I am of Mexican and Nicaraguan descent and grew up in southern California. I am passionate about education equity, im/migration histories, and land justice. As an intern, I am excited to develop similar educational outreach programs and increase accessibility and engagement for marginalized communities. I am also especially interested in researching the intersections of environmental, economic, and migration histories during the Gold Rush era at Klondike. In the future, I hope to work in legal advocacy, as I believe that environmental and racial justice are inseparable and that centering marginalized voices is the only way towards a sustainable and democratic future. Regardless of my profession, I hope that the work that I do in the present and in the future reflects this deeply held belief. Andrea ChowYALE UNIVERSITY Appendix I : Interns ProfilesHomestead National Park Museum InternI am currently a first-generation student and senior at the University of North Texas studying history with a minor in political science and a certificate in Latina/o Mexican-American studies. I have always been interested in history, and I am very proud of my heritage and my multi-racial roots. This will be my secondsummer with LHIP. In 2021, I was the archives intern at Homestead National Historical Park. I'm very excited to return and continue the work I contributed to the park last summer. Being in the program before solidified my interest in pursuing a career in archives/museums. I find this line of work very significant in not only preserving history but educating each other to learn from the past. What I have learned and appreciate is that each artifact and historical document tells us a story. That story, good or bad, has the power to connect us as a community and as people. Kristian Lloyd EnbyskUNIVERSITY OF NORTH TEXAS 45
Page 46
Appendix I : Interns ProfilesDinosaur National Monument Science Communication and Resource Monitoring InternI am a first-generation college student pursuing a bachelor of science in Earth sciences with a specialization in geology at Southern Methodist University. My career aspirations consist of pursuing a master's degree in geology with a clear goal of inspiring Latino communities to build a personal connection with geological phenomena. I seek to educate underrepresented minority groups in Earth science topics and provide active mentoring for those navigating the educational pipeline. LHIP fuses two elements of my identity: being a geologist and a Latino. With this opportunity, I hope to learn how to extend the accessibility of the National Park Service to Latinos who have not explored the great outdoors. A potential career route I have considered pursuing is an interpretive park ranger. The Science Communication and Resource Monitoring internship at Dinosaur National Monument will expose me to this unique career pathway and successful park rangers. I am excited to contribute to the discussions and be part of the 2022 LHIP cohort.Juan Pablo Esparza LimónSOUTHERN METHODIST UNIVERSITY Fort McHenry National Monument and Historic Shrine Outreach and Program Assistant I am a recent graduate of South Texas Community College, where I earned an associate degree in biology. I am currently working towards a bachelor's degree in environmental studies and a minor in computer science at University of Texas Rio Grande Valley. I've also worked as project leader for a survey program in order to avoid the spread of an invasive species in the Rio Grande Valley. As a future environmental scientist, some of my goals include creating and participating in programs that will benefit the community, the environment, and can spare awareness about environmental and societal issues. Elizabeth EstradaUNIVERSITY OF TEXAS RIO GRANDE VALLEY Fire Island National Seashore Education and Community Outreach InternI obtained my associates degree in liberal arts and social and natural sciences at Nassau Community College. I now attend Queens College in New York and am in my third year studying to earn my bachelor's degree in environmental science. My main interest in LHIP is that it involves environmental issues and the Latino community. After completing my bachelor's degree, I hope to earn my master's degree and pursue a career related to environmental science. This program will give me a better idea of what career path I'd like to follow in the future.Kevin GarciaQUEENS COLLEGE 46
Page 47
Salem Maritime National Historic Site/ Saugus Iron Works National Historic Site Interpretation Intern (DHA)I am a first-generation American finishing my bachelor's degree in environmental science with a minor in the arts at CUNY Lehman College. My interest in LHIP is to encourage diversity in the science field. My professional goal is to become a park ranger or to work in an area that helps and protects the environment. Being bilingual allows me to communicate my interest in science in my community. My personal goal is to become an environmentalist and to be able to maintain and protect the environment. Leslie GarciaLEHMAN COLLEGE Harpers Ferry Center/Cesar Chavez National Monument Historic and/or Cultural Resources ManagementI have a bachelor's in history with a concentration in public history from California State University Bakersfield. I was interested in working with Harper's Ferry and the Cesar Chavez National Monument because the monument means a lot to me. I visited the Chavez Monument as a fifth grader, and as the son of Mexican im-migrants, it felt important for me to apply to an internship that I could connect to on a personal level. LHIP is giving me the chance to do just that. Getting to work in the archive of a memorial that is a part of the NPS will help me gain experience in curation and archiving. My goals for the future are to finish grad school and become a museum curator, an interest of mine since I was a kid. I am very glad that this program is giving me an opportunity to work in a professional archive as a curatorial assistant. This opportunity will be one that I will definitely cherish. Ricardo GonéCALIFORNIA STATE UNIVERSITY Appendix I : Interns ProfilesSan Antonio Missions National Historical Park History/Archives InternI am a history major finishing my bachelor's degree in the history of the Americas with a digital arts minor degree at the University of Puerto Rico, Rio Piedras campus. I am interested in LHIP, as it will give me invaluable real-world experience in the archival practices that preserve the scant records of the past that are equally invaluable research and networking contacts for future collaborative work. LHIP will allow me to enrich my future academic and cultural knowledge and comprehension in ways I never thought possible. My main goal is to become an investigative paleographer and help transcribe and protect ancient Spanish documentation that are preserved in Puerto Rico. I also hope to become an animator, as I strongly believe in the role of advanced audiovisual tools in the process of education. I wish to contribute culturally to Puerto Rico, my home, by bringing paintings to life that are able to impart the spirit of the long history that constructed our people, institutions, and selves on those who watch it. David José González Nevárez UNIVERSITY OF PUERTO RICO47
Page 48
Appendix I : Interns ProfilesFort Raleigh National Historic Site Interpretive Design InternI am a Texas State University graduate currently working towards my masters in public history. Born and raised in Arlington, Texas, I have always had an interest in learning about and exploring America's natural and historical landscapes. I have wanted to be a National Park Ranger since I was in the first grade. Family trips to various national parks have played a strong role in my education and career choices. After completing my undergraduate degree in history and earning my Texas teaching certification for 7th-12th grade history, I decided to begin my graduate studies. While in graduate school I continue to work in the classroom by substitute teaching in a local school district where I have continued to build my experience educating youth from various backgrounds. As a proud Hispanic woman, the opportunity to work for an organization aimed at assisting with the advancement of fellow Latinos and the protection of America's best idea was too good to pass up. My passion for the preservation and interpretation of our natural and human history, along with my experience working with the public will no doubt come in handy as I further develop my public history skills. Through this opportunity, I hope to make my family proud and am honored to be serving as an LHIP intern at Fort Raleigh National Historic Site this summer.Isabel GonzalezTEXAS STATE UNIVERSITYNational Parks of Boston (Boston National Historical Park, Boston Harbor Islands National and State Park, Boston African American National Historic Site) Digital Youth Engagement Design InternI am a first-generation college student studying communications and media at the University of Maryland. My interest in communications and media stems from my goal of communicating the importance of advocacy and representation within my community and using various media channels to spread awareness. I have served as director of public relations and vice president of the Undergraduate Communication Association at my university. I am interested in LHIP because it's a great opportunity to connect with people from different communities who share an appreciation for the outdoors and representation in the parks. Sophia GrandeUNIVERSITY OF MARYLAND Biscayne National Park Education and Visitor ServicesI am enrolled at Florida International University and am minoring in economics and majoring in environmental studies. I decided to participate in the Latino Heritage Internship Program because I love our national parks, and I am dedicated to preserving and saving our environment. I hope to one day be either a park ranger or a lawyer working for environmental groups. My favorite animal is the Spotted Eagle Ray. Nathaniel (Nate) LimaFLORIDA INTERNATIONAL UNIVERSITY48
Page 49
Pacific West Region Park Planning & Environmental Compliance Park Planning FellowI am a graduate student at UCLA Luskin School of Public Affairs pursuing a master's in public policy. My policy concentrations include immigration and education policy. After completing my MPP, I hope to pursue a Ph.D. to reach her long-term goal of being an educator in her community. I am eager to gain federal experience through the National Park Service, and hope to bring my perspective as a second-generation indigenous Chicana to make national parks more accessible to Black, Indigenous, and people of color in the United States.Xochitl LopezUNIVERSITY OF CALIFORNIA LOS ANGELES New Orleans Jazz National Historical Park Audio and Visual Information SpecialistI am a recent graduate of Tulane University where I obtained a bachelor's degree with a double major in anthropology and environmental studies and a double minor in English and philosophy. I am a writer, photographer, and videographer based in New Orleans. In this internship through LHIP and NPS, I am interested in documenting and highlighting culture, music, and the artists produced in New Orleans and around the Gulf South.Justin Curtis Marcano TULANE UNIVERSITY Appendix I : Interns ProfilesCongaree National Park Forest Wellness Program InternshipI am a graduate student at University of North Carolina- Greensboro studying parks and recreation management with a concentration in therapeutic recreation. Growing up in South Florida gave me access to three national parks, a national preserve, beaches, and a unique tropical environment. LHIP's goal of providing professional development opportunities for monitories in the federal government and the parks system drew me to apply. I will be a forest wellness program intern at Congaree National Park in South Carolina where I will be creating programs that will help visitors increase their mental, physical, and emotional well-being. My goal is to find a place in the federal government where I can combine my passions for arts, nature, recreation, and helping others. I also hope to create programs where she can introduce individuals with disabilities to the possibilities of adaptive outdoor activities through a therapeutic and leisure perspective.Tatiana MihaitaUNIVERSITY OF NORTH CAROLINA49
Page 50
Appendix I : Interns ProfilesGeorge Washington Memorial Parkway Cultural Landscape Preservation InternI am a senior at the University of Puerto Rico at Humacao. I am studying physics applied to electronics and conducting microplastics research. The microplastics research focuses on identifying plastiglomerates and seeing the effect it causes on the environment. After working as an undergraduate physics research assistant creating a cost-effective and eco-friendly sensor with optoelectronic materials. I decided to pursue a master's degree in physical oceanography at the University of Puerto Rico at Mayaguez, combining both my studies and my voluntary work! The opportunity presented in the cultural preservation landscape internship is unique. The internship provides the opportunity to develop and create data collection and data analysis skills. Collecting data from the tree canopy at the George Washington Memorial Parkway will help develop future restoration projects. By analyzing the planting data and tree inventory, we can identify which tree species could be used to preserve the landscape. The Latino Heritage Internship Program will help me develop my skills as a researcher and help me grow, both as a scientist and as a person.Nayelie Morales Colón UNIVERSITY OF PUERTO RICO Flagstaff Area National Monuments (Walnut Canyon, Sunset Crater Volcano, Wupatki National Monument) Interpretation and Outreach InternI am a recent graduate from Arizona State University with a double major in sustainability and history and a minor in parks and protected area management. My academic background was strongly influenced by my experience volunteering with a national historical park during high school. It was during my time as a volunteer with the NPS that I realized I wanted to pursue a career with the National Park Service as an interpretation ranger. LHIP is an amazing program that supports the NPS and communities that are not necessarily well represented within the NPS. I was fortunate enough to previously intern with LHIP in the summer of 2021 at the Flagstaff Area National Monuments. I am excited to be returning to continue with the work that I began last summer.Marshall MorganARIZONA STATE UNIVERSITY Padre Island National Seashore/Division of Sea Turtle Science and Recovery History Science InternI am an Augsburg University graduate with a bachelor's degree in political science and history. I am now pursuing a master's degree in public history at Colorado State University. As a soon-to-be public historian, I am grateful to be putting my skills to use at Padre Island this summer. It is exciting that as a Mexican American I will be working to tell stories about collaborative sea turtle conservation efforts between Mexico and the United States. I hope my contributions will have a lasting impact on the community and within the park. I also hope that this opportunity will propel me in a direction where I can help highlight marginalized voices by using my degree. I aspire to do so by continuing to work within public lands where dominant narratives leave little room for these marginalized voices.Kristy Michelle OrnelasCOLORADO STATE UNIVERSITY 50
Page 51
Midwest Regional Office Planning and Compliance Division Park Planning FellowI am in my second year of a master's degree in planning with an environmental and social emphasis at the University of Puerto Rico, Humacao Piedras Campus. I did my bachelor's in wildlife management with a minor in education at the University of Puerto Rico, Humacao Campus. LHIP is a unique and excellent opportunity. In the future, I aspire to work with the federal government or NGOs in natural resource management or on environmental and social resource planning boards. This internship is an opportunity that can give me the necessary tools and skills to learn about the professional opportunities aligned to the social and environmental dimensions of planning. Andrés Leinad Pérez-Cintrón UNIVERSITY OF PUERTO RICOBering Land Bridge National Preserve Social Media InternI recently graduated from UC Santa Cruz with a bachelor's degree in biology and am highly interested in animal conservation, field work, and climate change. As an LA native, I grew up in a city with a strong film culture, which fed my passion for photography and videography. I hope to create work that documents the beauty of our natural world, while addressing the urgency of climate action by amplifying the voices of BIPOC leaders and community members. I was drawn to LHIP because this program focuses on uplifting young Latinx professionals to pursue careers in conservation and science. As a woman of color, I hope to carry this forward and inspire younger generations to pursue their dreams by being a supportive ally. Past experience working with marine mammals has convinced me to pursue a career that allows me to interact with wildlife and aid in their conservation. I look forward to working in one of our amazing national parks and discovering what it means to be a NPS professional.Jhosselyn (Kiara) Prado-AlbizuresUNIVERSITY OF CALIFORNIA SANTA CRUZ Appendix I : Interns ProfilesSalem Maritime National Historic Site/ Saugus Iron Works National Historic Site Visitor ServicesI am pursuing a bachelor's degree in natural resources management with a concentration in conservation sciences at Texas Tech University. I am interested in LHIP, because I will be able to enhance my bilingual communication skills and provide strong customer service assistance. I strongly believe that my passion will always align with working in natural resources, and I will always strive to provide advocacy for conservation for our natural resources and to pursue harmony between human life and natural ecosystems. I hope to pursue an urban planning and sustainable development career, and I believe LHIP will help provide a new perspective on conservation and conserving historical landmarks. Adelaide RodriguezTEXAS TECH UNIVERSITY 51
Page 52
Appendix I : Interns ProfilesTonto National Monument Museum and Resource Management Technician I am a first-gen Chicana student pursuing a major in anthropology and a minor in Spanish at Georgia State University. After visiting a national park with friends, I knew I had to step into the National Park Service to help conserve the natural beauty and culture in the U.S. LHIP is a fantastic way to reach out to the Latino community and gain experience in national parks. I am excited to plan and curate a museum exhibit with my supervisors in Tonto National Monument in Roosevelt, Ar-izona. I also hope to reach out to Latinos and create a community around the park for future generations to enjoy. After the summer ends, I hope to continue my journey with the national parks and help with conservation for years to come.Julisa RojasGEORGIA STATE UNIVERSITYMinute Man National Historic Park Trails Planning and GIS AssistantMy name is Estrella Sainburg. I currently live in Austin, Texas, where I am a master's student in the University of Texas at Austin Community and Regional Planning program. I received my bachelor's at the University of California, Berkeley as a development studies major with a global poverty and practice minor. My professional interests are to help people have access to nature no matter what their background is or where they live. My LHIP internship will help me gain more hands-on experience with this topic, learn from park practitioners, and connect with similarly impassioned individuals from across the country. Estrella SainburgUNIVERSITY OF TEXAS AT AUSTIN Natural Resource Stewardship and Science Directorate/WASO/ Inventory and Monitoring Division LHIP Pollinator Hotshot Intern I graduated from the University of Texas at Austin in 2018 with a major in biology and a minor in art. I've built my experience in entomology through volunteer opportunities that often have evolved into paid positions and am currently helping conduct ant research at UT Insect Collection. This position aligns with my interests in pollinators and ecology. I am also passionate about spending time outdoors and am looking forward to conducting fieldwork in such incredible settings. I anticipate this internship will be an important step towards a career in ecology. I graduated from the University of Texas at Austin in 2018 with a major in biology and a minor in art. I've built my experience in entomology through volunteer opportunities that often have evolved into paid positions and am currently helping conduct ant research at UT Insect Collection. This position aligns with my interests in pollinators and ecology. I am also passionate about spending time outdoors and am looking forward to conducting fieldwork in such incredible settings. I anticipate this internship will be an important step towards a career in ecology.Tín RodriguezUNIVERSITY OF TEXAS AT AUSTIN 52
Page 53
Historic American Buildings Survey (HABS), National Park Service Summer Architectural Intern/Historic Preservation TechnicianI am a student at Auburn University pursuing a bachelor's degree in architecture. I am interested in heritage modeling and historic preservation and would like to pursue a master's degree in architectural conservation. My favorite memories of architecture are those when I am at a site using photogrammetry and different technology and methods to document the existing conditions. LHIP will continue my education of these materials and methods. It will also give me a non-academic view of preservation and its standards and practices, making me a more diverse preservationist. A career goal of mine is to help maintain historic public structures so the younger generation can experience and understand our shared history. This partnership between LHIP, HABS, and Environment for the Americas helps everyone to be involved in the preservation of our shared history and culture.Amie SardinhaAUBURN UNIVERSITY Shenandoah National Park Natural Resource Interpretation and Visitor Services AssistantI attend the University of Kansas and am an environmental studies major with a minor in anthropology and sociology. I started in the environmental field as a horticulture laborer where I fell in love with working outside and doing hands-on work. I later worked as a naturalist at a nature center where I was able to share my passion for animals and the environment with visitors. This internship will help me gain experience working with the public and teaching with an opportunity to network as well. I would love to eventually work for the National Park Service, and I am hopeful this internship will help make that possible.Diana SarmientoUNIVERSITY OF KANSAS Appendix I : Interns ProfilesMonocacy National Battlefield Ecology and Forestry InternshipI am a second-year environmental sciences student at the University of Puerto Rico, Rio Piedras campus. My short-term goals are to obtain research experience and get involved in outreach activities to educate my community about the importance of science. I hope to pursue graduate studies and become a scientist whose research is deeply involved in the creation of projects that not only move the field forward but also help disadvantaged communities. This internship will help me to network and engage with students and professionals that have the same passions as me and will help me advance my career goals through hands-on research, networking, and creating strong and valuable connections with the Latinx and Hispanic community. Yeishmary Soto MuñizUNIVERSITY OF PUERTO RICO 53
Page 54
Point Reyes National Seashore Visitor Services and Interpretation InternI am a recent graduate from California State University with a B.A. in Spanish, geography, and GIS. I hope to make information on public lands and the outdoors more accessible by breaking down language barriers. I am a returning intern to the LHIP program, and I hope to continue learning about the National Park Service and how they play a part in promoting stewardship and conservation in all communities. My interest in LHIP and Environment for the Americas stems from its focus on helping diversify the field of conservation through hands-on experience and education. Through my LHIP internship, I will continue gaining knowledge on the policies and legislation that aid in preserving our public lands. I hope to earn my master's degree in environmental science and land management and serve as a park ranger within the National Park Service while educating those who visit our public lands and beyond.Francisco VazquezCALIFORNIA STATE UNIVERSITYRivers, Trails, and Conservation Assistance Program RTCA Latinx Partnership Outreach CoordinatorI am a junior at the University of North Texas. I am a first-generation college student, and I am double majoring in anthropology and philosophy. I am from Nuevo Casas Grandes, Chihuahua, but I grew up in New Mexico. My interest in LHIP stemmed from my love for the outdoors and my childhood fascination with science. My professional interests are in Latinx and Hispanic studies and how BIPOC communities can challenge the power dynamic in western science. I am interested in the history of power structure in the U.S. and how having BIPOC scientists can foster more involvement for underserved and underrepresented communities. Working with LHIP will allow me to use that passion to serve those communities in a way that can make the outdoors and the National Park Service more accessible to them.Paola VazquezUNIVERSITY OF NORTH TEXAS Appendix I : Interns ProfilesSaguaro National Park Community Engagement and Resource Management InternI graduated with a degree from UC Davis, majoring in ecology, evolution, and biodiversity and minoring in education. I spent a year working in education research and working as an instructional specialist in a high school classroom. I am now pursuing my master's in education at the University of Arizona, with plans to teach biochemistry and biology at an Arizona high school in the fall. Growing up in a small suburb of California, I did not have many opportunities to interact with other Mexican students, and I feel passionate about seeking out these connections. I am also excited for the opportunity to continue practicing hands-on applications of my science background. I feel that creating a strong base of field experiences will best prepare me to continue to learn. Anna Verdiguel GilletUNIVERSITY OF ARIZONA 54
Page 55
Page 56
Environment for the Americas Enviroamericas Visit: environmentamericas.org Email: info@environmentamericas.org Call: 303-499-1950