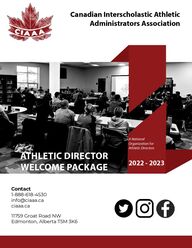 Return to flip book view
2022-2023 Athletic Director Welcome Package
Page 1
2022 - 2023ATHLETIC DIRECTOR WELCOME PACKAGECanadian Interscholastic Athletic Administrators AssociationContact1-888-618-4530info@ciaaa.caciaaa.ca11759 Groat Road NWEdmonton, Alberta T5M 3K6A National Organization for Athletic Directors
Page 2
The CIAAA champions Athletic Administrators as the professional leaders of school sport across Canada.The CIAAA promotes educational athletics through the professional development of athletic administrators with a focus on character and leadership. Our goal is to support schools in building positive athletic environments that enhance the learning experience for all students.
Page 3
TABLE OF CONTENTSAbout the CIAAAMember Benets • Discounts & Credits • Exclusive access to the Resource Bank • Exclusive access to the Discussion Forum • Free Workshops • Monthly Newsletters • Course DeliveriesMembership Portal • Registration • Resource Bank • Discussion ForumCIAAA Board of Directors & Staff Programming • Leadership Training Program • Workshops • Master's DegreeCerticationNational Athletic Directors ConferenceVolunteer Opportunities
Page 4
ABOUT THE CIAAACaleigh WojcickiExecutive DirectorWelcome to the Canadian Interscholastic Athletic Administrators Association. The CIAAA promotes educational athletics through the professional development of athletic administrators with a focus on character and leadership. Our goal is to support schools in building positive athletic environments that enhance the learning experience for all students. As a part of our association you are now surrounded by like-minded individuals across Canada who are experiencing the same struggles, opportunities, and successes you are. We encourage you to get involved and network with your peers through our courses, workshops, discussion forum and the resource bank. Further, take advantage of our professional development opportunities to learn and grow in your role as Athletic Director. Don't forget to mark your calendar and join us at our biggest event of the year - the CIAAA National Athletic Directors Conference! This package will introduce and guide you through everything you need to know about the CIAAA. You are not alone, we are here to support you and provide guidance as you take on the Athletic Director Role.A National Organization for Athletic Directorswww.ciaaa.caWebsitecaleigh@ciaaa.caEmail1-888-618-4530PhoneT: @CanadianIAAI: @CanadianIAASocial Media
Page 5
MEMBER BENEFITSYour Most Valuable Annual MembershipDiscounts & CreditsAs a CIAAA member you will receive discounted rates on courses, webinars, certication, and conference registrations. Make sure you take advantage of these great deals.Resource BankOur newly updated, one stop shop resource bank is available to our members free of charge 24/7. There is a variety of resources and presentations that are relevant to your role as Athletic Director. Discussion ForumOur newest membership benet is our Athletic Director Discussion Forum. This is a place for athletic directors to network, ask questions, and share information with their fellow Athletic Directors from across Canada.FREE WorkshopsOur 60 minute workshops are a great benet to our CIAAA membership. As a member, you receive our workshops free of charge! There are a variety of topics and subject areas to suit everyones needs. We will also host one in your area whenever you want, just let us know!Monthly NewslettersOur monthly newsletters offer an abundance of information, resources, partnerships, and more. Make sure you subscribe so you don't miss out on the action.Course DeliveriesOnline & In-person LTP courses are scheduled throughout the year, as well as offered with at the National Conference. Our Course Calendar will keep you up to date with scheduled courses.Subscribe
Page 6
MEMBERSHIP PORTALOnline Registration, Discussion Forum, and Resource BankMembership PortalThe CIAAA membership portal is where you will nd everything you need to en-gage in the CIAAA. Within the portal you will be able to: • Activate your membership - must be done each year (check out the how to video here!) • Register for Leadership Training Program Courses and Workshops & the National Conference • Track your completed course work • Browse and download resources from our extensive resource bank • Join the conversation with your fellow AD's using the Discussion ForumFor a further, detailed look on how to use our membership portal, check out our instructional video!Resource BankOur newly updated resource bank is available 24/7/365. Here you will nd all kinds of useful resources such as templates, articles, tournament draws, sport specic coaching resources, and more! Be sure to check it out and see what you can use to help further your Athletic Department. A few of our most used resources are: • Character Development Resources for Coaches • Athletic Handbook Template • Athletic Department Budget Template • Emergency Action Plan - SampleDiscussion ForumOur NEW Discussion Forum is a place is where Athletic Directors from across Canada can come together to ask questions, share ideas, and get to know one another. The forum is a great networking tool that will allow you to stay connected Membership Portal Video
Page 7
CIAAA BOARD & STAFFMeet the Team!Board of DirectorsOur Board of Directors consists active members of the association. At all times, there shall be at least two Directors from each of our Partner Provinces (Alberta, BC & Saskatchewan) of which, one shall be the Executive Director of each provincial association. Each term is for three years, with the exception of the Executive Directors.Ofce The CIAAA ofce is located in the Alberta Schools' Athletics Association Ofce in Edmonton, Alberta.Scott BezubiakPast PresidentJohn PatonASAA EDJordan AbneyBCSS EDKelle HansenPresidentMargie GibsonSaskatchewanShauna StamBCMark FennBCTroy SniderSaskatchewanChris KennedyBCDave SandomirskySHSAA ED
Page 8
PROGRAMMINGLeadership Training Program, Workshops, Master's ProgramThe CIAAA is focused on bringing professional development opportunities to Athletic Directors in as many ways as possible. The key message is: the CIAAA will never say no to scheduling a course or workshop in your area or online.Leadership Training Program (LTP)Our LTP has something for everyone. We support new Athletic Directors as well as experienced ones. The LTP is a content-heavy professional development program designed specically by and for Athletic Directors. By taking these courses you will gain knowledge that will enhance the daily and overall operations of your athletic department and improve your delivery of athletic programs.We currently have 20 LTP Courses and more are constantly being added. These courses can be taken in-person or online via webinar format. A few examples of our courses are: • 502C: Athletic Administration in Canadian Schools • 504C: Legal Issues I: The Basics of Negligence, Liability, and Risk Management • 703C: Educational Athletics - Performance Beyond the X's and O's • 722C: Building a Positive School Culture through SportOur full LTP course list and descriptions can be found here!WorkshopsOur workshops complement our LTP course curriculum by covering current and relevant topics in 60 minutes! Workshops are always offered free of charge to CIAAA members. A few examples of our workshops are: • Developing Tough-Minded, Condent, and Fearless Student-Ahtletes • Fresh Ideas for Recognition and Awards • Mentoring your Coaches for their Personal Growth • Motivating your Athletes • Games Approach to Learning in SportOur full list of our workshops can be found here!Master's Degree in Athletic AdministrationThe CIAAA has partnered with Grace College, who offers a fully online, project-based MSc in Athletic Administration incorporating courses from the CIAAA (and NIAAA) Leadership Training Program.The most exciting part of this degree is that all projects are of the students choosing and students can design their projects to be completely relevant to their own athletic administration at their school or within their athletic community. Masters Information
Page 9
CERTIFICATIONThe CIAAA certication program is a voluntary professional service to athletic directors with various levels of experience and preparation. The program recognizes and incorporates professional growth and self improvement through the Leadership Training Program. The athletic administrator who attains certication will enhance their ability to serve students, the school, the community, and the CIAAA. Canadian Registered Athletic Administrator(CRAA) Requirements• Bachelors Degree or higher• Sign CIAAA Code of EthicsLTP Requirements• 501C• 502C• 504CCanadian Certied Athletic Administrator(CCAA) Requirements• Bachelors Degree or higher• Sign CIAAA Code of Ethics• Employed (retired) AD• 3 + years experienceLTP Requirements• 501C• 502C• 504C•506C• 1 Elective CourseProfessional Development Credits• 50 Credits Requirements• Bachelors Degree or higher• Sign CIAAA Code of Ethics• Employed (retired) AD• 3 + years experience• CCAA Certication• Contribution to AD Professional Development in CanadaLTP Requirements• 501C• 502C• 504C•506C• 6 Elective CoursesProfessional Development Credits• 85 CreditsCanadian Master Athletic Administrator(CMAA)Detailed Certication Information
Page 10
NATIONAL ATHLETIC DIRECTORS CONFERENCEA Customizable Professional Development ExperienceThe Annual National Athletic Directors Conference is our premier event of the year . The conference provides an outstanding educational in-service program for Canadian Athletic Directors. The conference features professional speakers, LTP courses, an exhibit show, social events, and workshops from your fellow Athletic Directors who willingly share their experience and expertise on a variety of school sport topics. There will be a total of 9 Leadership Training Program Courses and 14 workshops being offered throughout the conference. Registration opens in the fall, so stay tuned to our newsletters and social media. These courses and workshops are outstanding, you will want to be sure you work at least one into your schedule. The conference fee also includes your meals and social events. Further conference details will be released soon.Save the Date! This is one event you won't want to miss.April 20 - 22, 20236TH ANNUAL NATIONAL ATHLETIC DIRECTORS CONFERENCEVANCOUVER, BCCOAST COAL HARBOUR HOTELAPRIL 21 - 23, 2022Keynote Speakers • Workshops • LTP Courses • Networking & More!ciaaa.ca1 KING & 2 DOUBLE ROOMS: $175.00/NIGHT
Page 11
TESTIMONIALSWorkshops . Social Events . Vendor Exhibition"Loved the variety of sessions, and the speakers were fantastic. I took away so many wonderful ideas and resources to use in my role as Athletic Director. Thank you!"- Manitoba "I've loved being a part of two CIAAA conferences. I wish I knew of this conference earlier in my days as an AD (18 years as an AD, but I'm still learning.)"- Ontario"What an outstanding conference! Can't wait for the next one! Looking forward to seeing everyone again!"-Alberta"Overall, a really great conference. A lot of really good workshops that provided tangible takeaways that were designed for my specic role as an Athletic Director"-British ColumbiaWhat your fellow Athletic Directors had to say...
Page 12
VOLUNTEER OPPORTUNITIESGet InvolvedThe CIAAA is always looking for volunteers to get involved. There are many tasks and projects that require our memberships help. If you are interested in becoming involved on one of our committees, as an instructor, or somewhere else, please contact Caleigh at caleigh@ciaaa.ca to discuss opportunities. CIAAA Committees: • Certication Committee • Resource Bank Committee • LTP Development Committee • Awards Committee • Conference Committee • Discussion Forum CommitteeOther Roles Include: • LTP Instructor • Workshop Presenter
Page 13
ciaaa.ca1-888-618-4530info@ciaaa.ca