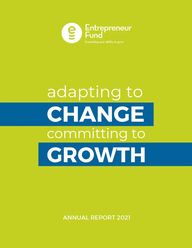 Return to flip book view
2021 Annual Report
Page 1
adapting toANNUAL REPORT 2021CHANGEcommitting toGROWTH
Page 2
Page 3
OUR MISSION 02 LETTER FROM CEO 04 2021 IMPACT SNAPSHOT 05 ACCESS TO CAPITAL 07 ECONOMIC JUSTICE 14 DIVERSE REGIONAL ECONOMY 18 FUELING RESEARCH INNOVATION 19 GROWING QUALITY JOBS 20 PORTFOLIO AT A GLANCE 24 THANK YOU ACKNOWLEDGMENTS 25
Page 4
OUR MISSION To actively partner with entrepreneurs to create growing businesses thriving communities and a diverse regional economy Click to meet Mark Lockett 02
Page 5
Click to meet Cindy Smyka Don Beans We believe entrepreneurs have the profound power to create thriving and inclusive communities across our region By harnessing that power we can diversify local economies tackle systemic injustices create good jobs with thriving wages increase community vibrancy provide opportunities for communities to write their own narrative of progress and growth Every day we partner with entrepreneurs to make this a reality 03
Page 6
04LETTER FROMOUR CEOAs we reflect on 2021 and the first half of 2022, the standout quality we have seen fromour small business owners is the ability to adapt to change and commit to growth.Small business owners are a unique spark of light in our communities committed tonot only growing themselves and their business, but having a positive impact on theiremployees and communities as a whole. The pandemic, forest fires, and floods havetried to dampen that spark, but so many have shown unprecedented resilience andgrit amongst the hardship. Their ingenuity and strength is continually inspiring.As a partner to small business owners, in 2021 as the pandemic charged on, we didn'tback off, we pressed on the gas. Our team ensured that businesses missed by the firstrounds of the Paycheck Protection Program (PPP) were able to access it. The diligenceof our team and partners resulted in 436 PPP loans totaling $11.8 million in direct reliefto our small businesses - and that was though June.The power of small business ownership transforms lives and is integral to building andsustaining community prosperity. This past year we doubled down on our efforts toadvance economic justice for Black, Indigenous and People of Color (BIPOC)community members, leaned in to strategies that will drive our regional economy anddeveloped innovative approaches to business growth. Partnering with small business owners to achieve their goals is what we do best. Thiswork is essential for individual, community, and regional prosperity. It is possiblebecause of your support. As we embark on a new year, we are dedicated to continuingto adapt and grow to see our region and home thrive. Sincerely,PRESIDENT AND CEOSHAWN WELLNITZ
Page 7
0515% 23% 68%59% 64%2017 2018 2019 2020 2021$25,000,000 $20,000,000 $15,000,000 $10,000,000 $5,000,000 $0 2021supported the creation and retention15,000+ JOBSLoans closed711$27.7MMillion in smallbusiness loansentrepreneurs directly supported22,000$110 MILLIONdisbursed in loans across the regionIMPACTSNAPSHOTSince 1989...2,022We partnered withsmall businesses impacted1,100BIPOC ClientsServed (Black, Indigenous,and People of Color)Startup BusinessServedRural CommunityBusinessesGrowth-OrientedBusinessesWomen-OwnedBusinessesAggregate Loan Totals Over the Past 5 Years$12.6M210 Loans263 Loans523 Loans711 Loans$13.7M$20.1M$27.8M133 Loans$7.1MSMALL BUSINESS LENDINGentrepreneurs
Page 8
062021Our service area covers 29,013 square miles, many of which are inrural areas that boast unique opportunities and challenges to theentrepreneurs who live there. We tailor our team and services tomeet these unique needs. We focus on serving entrepreneurs andbusinesses located in 17 counties across Minnesota and Wisconsin.Where We WorkedClick the image to theleft to engage withinteractive maps of thegeographic communitieswe served in 2021.
Page 9
PPP Small Business Lending SBA 7A SBA Microloan Local Relief Funds$12,500,000 $10,000,000 $7,500,000 $5,000,000 $2,500,000 $0 We provide small businesses access to capital that fits the needs of their businessat every stage. The power of small business ownership transforms lives, and smallbusiness loans are integral to building and sustaining community prosperity.Small business owners were forced to be more innovative and adaptive over thelast two years. While this evolution was forced due to the pandemic, an outcomehas been an uptick in business owners seeking guidance, resources and exudingan attitude that's open and excited for change. In 2021, small business owners sought support at a higher rate than in the past.There is a powerful desire for business owners to connect – especially amongBIPOC community and women-owned firms. Business owners are seeking how tobe better bosses, employers, and getting out in front of the current challenges tokeep a high-quality workforce. Start-up activity is growing, and many businesses,having come out of the pandemic in a strong financial position, are implementinggrowth and expansion plans. The Power of Access to Capital2021 Total Lending =From Surviving to Thriving$11,790,731$6,286,935436 Loans 60 Loans 48 Loans 135 Loans 32 Loans711 Loans$4,474,500 $4,359,343$786,25007$27,700,000
Page 10
It was ten years ago that Eric Faust first walked through the doors of theEntrepreneur Fund with a vision to turn his love of coffee into a business. ThroughEFund's SBA Microloan program, he accessed a $10,000 loan to finance thepurchase of a 3-kilogram coffee roaster. In those days, he roasted coffee beansin his garage and sold them out of the bed of his '91 Ford F-150. Since then, Eric has cultivated the company for growth and expansion. He's gonefrom a 3-kilogram roaster to a 70-kilogram roaster, opened a retail storefrontand built a packaging and distribution center. Throughout the years, he has developed a chosen small group of people withwhom he can speak openly and honestly with the understanding they will do thesame. He chuckles as he shares that his trusted EFund Advisor, Michael Lattery, isin that group and is not afraid to be honest with him. "The Entrepreneur Fund has been one of the biggest resources for all 10 years ofmy journey," said Eric. "I absolutely love that my advisors are open and willingto talk about ideas. I can talk openly and honestly about my brilliant, crazyideas and they can bring it into a financial focus." Duluth Coffee Company recently reached $1.5 million in gross revenue, and Faustsaid he doesn't plan to slow down with plans to hit the $3 million mark within thenext few years. "After a decade, the Entrepreneur Fund is at the top of myresource list," he said. "They've been here since the beginning and I'm not doneworking with them."Duluth Coffee Company | Duluth, MNA DECADE OF PARTNERSHIP08
Page 11
09In 2019, a hotel market study was conducted for the Grand Rapids areaand showed that there was strong market demand for more hotel roomsin the area. In 2020, the study was updated given the changing conditionsdue to the pandemic and continued to show a demand for more rooms. In 2021, Senior Loan Officer, Mike Korte, partnered with a group of about 40local investors to aid in facilitating discussions and connections thatwould support the project moving forward to meet the community's need. The Entrepreneur Fund wrote up a loan package and led a coalition of gapfinancing partners, including ARDC and Northland Foundation, to providecritical gap financing needed to get the project to the finish line forconstruction.Construction on this locally financed and led project to increase rural jobsand tourism revenue is well underway.Grand Rapids Best Western Hotel | Grand Rapids, MNMEETING ACOMMUNITYNEEDGRAND RAPIDSReal Estate Fund
Page 12
10Startups Makingan EntranceIn 2021, 23% of our services were to startups. Entrepreneursacross our region are launching businesses in a variety ofindustries, creating jobs, providing vital services, andadding vibrancy and depth to their communities. Here is a small snapshot of the startup activity of 2021.
Page 13
11Agate Bay Assisted LivingTwo Harbors, MNJobs Created: 8Industry: Health/Professional ServicesWoman ownedGeek2GoPequot Lakes, MNIndustry: Technology/Professional ServicesWoman ownedMomentum CenterSt. Cloud, MNJobs Created: 12Industry: Health/Professional ServicesWomen & BIPOC ownedSuperior WafflesSuperior, WIJobs Created: 3Industry: RestaurantWoman & BIPOC ownedLakewood LodgeDeerwood, MN15 jobs createdIndustry: HospitalityVeteran OwnedClose BunkTower, MNIndustry: RetailWomen ownedWinner of the Rink pitch competitionClick to meetLaura Moser
Page 14
Collaborating for Recovery As we reflect on our work over the last year and optimistically look to a future beyond the pandemic we are inspired by the determination and resiliency that small business owners have shown Through the hardest times they found creative ways to connect with their customers build up their communities and bring hope to their fellow entrepreneurs Thank you to those organizations that made our recovery work possible including responsive support from our funders the dedication of our strong partner network and the resiliency of small business owners to inspire and ignite the passion for our work every day 12
Page 15
1313Maximizing Recovery ResourcesEFund worked with small business owners to navigate and maximize recovery benefitsfrom local, regional, state and federal resources. One-on-one outreach, programspecific webinars and consistent email outreach from our team ensured businessesstayed informed and were ready to maximize resources. Bridging GapsNot only did EFund keep our virtual doors open throughout the third round of PPP, wetook extra efforts to identify and reach out to those who had been left behind inprevious rounds, including BIPOC business owners, sole proprietors and those inindustries hard hit by the pandemic with limited bank relationships, such as childcareproviders, hospitality and restaurants.Stepping Up for PPPAs the third round of the Paycheck Protection Program (PPP) opened in 2021, EFund was one of two CDFI loan funds in MN and WI to actively outreach and deploy funds. Later inthis round, all bank funding was deployed, and CDFIs became the only source for PPPlending. EFund continued to meet community need by serving a number of businessesoutside of our normal scope to ensure a strong recovery for our region. Our effort was made possible by our dedicated funding partners that ensured we hadcapital to support PPP lending. Thank you to National Bank of Commerce, Bank ofAmerica, Wells Fargo, CNote, the State of MN DEED and the late Senator DavidTomassoni for being an advocate on our behalf to convert vital funds into equity forlending. Without their support, we could not have done the work we did.Click to meetthe Baileys
Page 16
14By harnessing the collective power of entrepreneurs we can drive more inclusive, prosperous communities and a stronger regional economy.Increasing access to relief programs forBIPOC-owned small businessesthrough direct outreach and focusedefforts specifically for PPP.Developing a framework and raisinginitial funding for Stride, a newprogram of the Entrepreneur Fund toadvance economic justice throughentrepreneurship. Investing time and team resources intobuilding relationships centered oncreating long-term partnerships.In 2021, we doubled down on our efforts toadvance economic justice for BIPOCcommunity members by: Advancing Economic Justice2019 2020 2021 2022 YTD$2,500,000 $2,000,000 $1,500,000 $1,000,000 $500,000 $0 LENDING TO BIPOC-LED BUSINESSES$760k$941k$1,64M$2.2Mof businesses were64%of clients wereof clients were15%68%WOMENRURALBIPOCBlack, Indigenous, andPeople of Color
Page 17
15LOOKING AHEADThank you to our generoussupporters for making theStride Program possible. In June of 2022, we officially launched the StrideProgram and started disbursing 0% loans andgrants to BIPOC business owners. Fostering more opportunities to buildconnections and networks among BIPOCbusiness owners and other leaders or ownersacross the region. Engaging a new Stride Program AdvisoryCommittee as a group of partners in co-creatingStride services and serving as mentors to clients.As we look to 2022 and beyond, we are enthusiasticto see the outcomes of what's been started and thefuture work to come. We will continue to invest in thework and co-create meaningful programminggeared at supporting inclusive entrepreneurshipopportunities and inclusive workplaces for BIPOCemployees. Events of note include: Click to meetYasuko Holt
Page 18
16Mizfit Nation is a screen-printing shopborn out of the pandemic in the rural townof Babbitt. Without encouragement fromher EFund business developer, Leahdoesn't believe she would have made theleap into entrepreneurship.Leah is an entrepreneur because shewants to make something for herself, herchildren, and her community. She says theEntrepreneur Fund played a critical part inmaking it happen."Miranda gave me hope. It was atotally different experience. Shewas like, we can do this for you,don't give up, keep going." - Leah BodasNorthside BagsDuluth, MNNorthside Bags is one of the twoblack-owned hiking backpackbusinesses in the country. Byproviding a product that ensureshikers stay hydrated and charged,Nate hopes barriers are eliminatedfor BIPOC individuals to get outside.
"The Entrepreneur Fund isunmatched in terms ofthe resources and advicethey have providedto my business."- Nate Elsey WilliamsMizFit NationBabbitt, MN


Page 19
17Mark Will Do It is a full-service property maintenance business that has grown toserve over 200 clients across Minnesota's Iron Range, but it didn't start that way.Owner Mark Lockett describes himself as coming from humble beginnings, andhis journey into entrepreneurship has required resilience, hard work anddetermination. "Growing up we weren't always in the best predicament, so we did things that worsened my chances of getting a traditional loan," he said. While banks were not able to give Mark the financing he needed to grow, he wasable to connect with his local business advisor, Char, who worked with him andthe Entrepreneur Fund team to access a microloan that has fueled his hope andbusiness growth. "Honestly, I think Char was the only person who ever fought to get Mark's Lawn Care to a better spot other than me." - Mark LockettMark Will Do ItHibbing, MNClick to meetMark Lockett
Page 20
18EFund provides specific tools to the small businesses who seek to grow,scale, and create quality jobs in our region. In 2021, we amplified efforts byinvesting time into two important initiatives. Driving a Diverse Regional EconomyChanging the Narrative of Small Businesses and Quality JobsSmall businesses are creators and conduits for economic diversity across our region. Notonly do they serve fundamental needs such as childcare, retail, food service, healthcare,and more, many bring revenue into our region from outside customers, operate in sectorsoutside of the traditional regional industries, and create quality jobs across our region. Small businesses are leading employers in the region, driving economic diversity,quality job creation, and unique growth opportunities.Quality Jobs Initiative: Supporting clients in creating and sustaining inclusiveworkplaces with quality jobs with thriving wages in order to support recruiting andretaining a strong workforce and drive economic prosperity efforts.Growth Stage Businesses: Expanding our service offerings for the most promisingbusinesses capable of adding value to a community through increased jobs,retaining local businesses, and furthering investment into our diverse regionaleconomy.
Page 21
Fueling Research Innovation Developing Innovative Approaches for Small Business Growth Small businesses across our region hold the key to economic diversity and EFund is dedicated to developing innovative approaches to close opportunity gaps With the support of great partners including WBD and Federal Home Loan Bank of Chicago FHBLC we were able to kickoff research in three key areas Opportunity assessment for creating new financial products and services to support our most promising small businesses capable of creating jobs and economic diversity A northern Wisconsin needs assessment for small business communities and the rural economy An ecosystem assessment of the needs and opportunities between small businesses investors and C level talent Research opportunities to make direct investment opportunities for impact investors Thank you to our dedicated funding partners that made the innovation and research work possible WBD DEED FHBLC and Associated Bank are pivotal supporters for growth 19
Page 22
20To identify andrecognize smallbusiness owners asquality job creatorsin our region and asthe unsung heroesof our economy.To create meaningfulimpact by supporting thecreation of more qualityjobs by partnering withsmall business ownersand providing solid toolsand connections forgrowth.To prioritize how weinvest ourresources intoopportunities thathave the potentialto create and growmore quality jobs inour region.To scale impactthroughcollaboration andsharing insightsregionally andnationally.Developed a definitionof a quality job &measurement tools. Working with nationalpeers, we adapted adefinition andmeasurementframework for what aquality job entails.Conducted our first QualityJobs survey. To better understand the jobssmall businesses currentlyprovide and gain insights intotheir needs for addressingemployee issues. Launched Strategy & Funding. As we honed in on our strategy,we were fortunate to secureinitial funding from the MNDepartment of Employmentand Economic Development(DEED) Small BusinessPartnership Grant and a grantthrough the Otto Bremer Trust.In 2021, we kicked off work on our new strategic plan, "Shaping a Collective Future:Plans for 2021 through 2023," where we outlined a goal of developing a quality jobinitiative geared at partnering with small businesses to create and sustain qualityjobs across our region. Our key objectives for tackling this work are: 2021 Successes Growing Quality Jobs
Page 23
Lakewood Lodge Deerwood MN LOOKING AHEAD In 2022 we are working to hire a new position that will be charged with developing programming around supporting small businesses in addressing their workforce needs through improving the quality of the jobs they provide With the support of the Otto Bremer Trust we will be disbursing grants to small businesses to help bridge the gap for improving job quality This could look like funds to support initial increase in wages adding benefits or funds to provide additional training or credentialing for their staff Moving forward we will be developing a digital toolkit for small business owners and other regional partners to use in improving workforce standards and creating more inclusive workplaces We will also be forging more partnerships with funders and regional leadership to elevate this work and the work of small businesses This work wouldn t be possible without our dedicated funders including Otto Bremer Trust and the MN DEED 21
Page 24
22Small businesses are dedicated togrowing employees and providingcareer-building opportunities. Small businesses in keyindustries provide high-wage jobs, many of which surpassliving wage standards. A Snapshot of QualityJobs and Small BusinessIn 2021, EFund conducted its first annual Quality Jobs survey among clients with two or moreemployees. Insights below are summarized from the responses, which came from 263 smallbusinesses across our region. Small businesses create fairand engaging workplaces, nomatter the size.68%provide a fair and engaging workplace with key measures including job descriptions, clear expectations, and engagement in companygoals.reported standard training practices, paying for credentials or training,and promoting or hiringmanagers internally. of the jobs provided paidover $30/hour of all thebusinesses surveyed. Small businesses want toprovide more benefits likehealth insurance and retirement,but struggle to do so.are currently providinghealthcare options. 19%provide retirement options. Ofthose that provide the option,only 40% of employees take it.56%42% 20%
Page 25
23Creating quality jobs can require creative solutions, and that's where the Entrepreneur Fund thrives. "You have to invest in your people to grow your business." Syvantis Technologies, based in Baxter, MN, offers high-quality, professional jobs in rural Minnesota. OwnerJanelle Riley has found that investing heavily in trainingopportunities empowers employees to accomplish theircareer goals and grow within Syvantis. But when sheneeded funding to expand her team, her banking partnercouldn't present an offer because of two simple reasons.First, her growing real estate endeavors maxed out herloan opportunities. Second, Syvantis, a cloud-basedtechnology company, lacked sufficient collateral tosatisfy another loan."The Entrepreneur Fund saw things differently.They evaluated our business model, recognizedour reliable revenue streams and provided thefinancing we needed to grow," said Janelle.Janelle was able to focus on her team - attracting theregion's top talent and providing quality jobs to helpeach employee reach their full potential. The flexiblefinancing from the Entrepreneur Fund helped Syvantis toadd value to the company, invest in retaining for a highlyspecialized team and hire and train new team members.Syvantis TechnologiesBaxter, MN
Page 26
2017 2018 2019 2020 2021$30,000,000 $20,000,000 $10,000,000 $0 24As of 12/31/2021 1,052 loans$48.3 million portfolio (owned and under management)659 active borrowers$61.7 total assets2021 Portfolio at a GlanceLending Since 2017Aggregate Loan Totals: 2017 - 2021$12.6M210 Loans263 Loans523 Loans711 Loans$13.7M$20.1M$27.7M$7.6M133 Loans
Page 27
$3M+$1M-2.9M$100K-$999K<$99K
Page 28
26We share our deepest gratitude to our outgoing directors for thetime, expertise and support they have shared in support of our mission.We warmly welcome our incoming directors who bring uniqueperspectives and skill sets to lead our organization into the future.Tabatha Beier, Co-Owner of A+ Contractors and Garden Center | Saginaw, MNTabatha moved to the U.S. 13 years ago, and since has worked to develop and grow her company.She is passionate about introducing young women of color to entrepreneurship and proud toprovide quality jobs to her employees. Tabatha has developed trust and respect throughout theNorthland construction industry and with her customers.Arik Forsman, Senior Regional Development Rep. at Minnesota Power | Duluth, MNArik is a passionate advocate for growth, opportunity, and prosperity throughout northeasternMinnesota. A native of the Iron Range, he provides leadership for Minnesota Power's businessretention, expansion, and recruitment efforts across northeastern and central Minnesota. Arikremains active by serving on multiple boards and as an elected official to the Duluth City Council.Crystal Rohde, Business Development Specialist at Northwest Wisconsin Regional Economic Development Organization | Spooner, WICrystal provides professional services to local units of government, communities, and businesses inan effort to strengthen the 10-county regional economy. She also serves as the administrator to theVisions Northwest Regional Economic Development Organization. Crystal grew up in the northwestWisconsin and is proud to serve the communities she has called home for most of her life.Don NegleyRural Living EnvironmentsBabbitt, MNChris FultonCommunity Development AdvocateGrand Rapids, MNJohn FoucaultPoints NorthDuluth, MNChris DeadrickDairy QueenAitkin, MNWELCOMETHANK YOUBOARD OFDIRECTORSDavid ManionBoard ChairVC3 TechnologyDuluth, MNAndy DonahueVice-ChairSBDC, UW-SuperiorSuperior, WIRobin RosenbaumTreasurerJMR Financial GroupSuperior, WIDustin GoslinMille Lacs Corporate VenturesOnamia, MNElizabeth ChapmanArt Unlimited, Inc.Angora, MNMegan KellinLake Time MagazineGrand Rapids, MNMike HoldenScreen Graphics UniformSuperior, WIDiane WeberGrand Rapids, MN

Page 29
Page 30