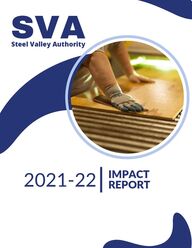 Return to flip book view
2021-22 SVA Impact Report
Page 1
IMPACTREPORT2021-22SVASteel Valley Authority
Page 2
Page 3
Executive Director StatementSVA Fiscal HighlightsSEWNHeartlandStaff & BoardsThank You!TABLE OFCONTENTS
Page 4
EXECUTIVEDIRECTORSTATEMENTThe Steel Valley Authority (SVA) wasfounded in 1985-86 during the collapseof Big Steel in the Pittsburgh area, theworst jobs loss in the nation. Ourfounders—steelworkers, mayors, churchleaders—stood-up a twelve-municipalityjobs authority that could intervene incorporate stress, rebuild the economy,marshal capital, and create sustainablecommunities. The SVA's HeartlandCapital Network was founded in 1995 torebuild America by sustainably investingworkers' capital in a way that values andsupports working families. In words –including legislative testimony, books,chapters, and reports – and deeds –including turnaround field staff andaffiliated professional investors who arethe most accomplished in their fields –we envisioned a more sustainable,prosperous future for working familiesand our children.With our allies, the SVA fought fornearly four decades to win sustainableindustrial policies. We were part of theIndustrial Renaissance Conference of 1989, commissioned the first of fourHeartland books in 2001, wrote the DOLLayoff Aversion Guide in 2002, co-chaired the "Call to Action Coalition" of2010, co-wrote the Century Foundationmanufacturing policy papers, and,finally, contributed to the Marshall Planfor Middle America (MP4MA). I kickedoff the Heartland Cities Tour, sponsoredby the Century Foundation, in the SteelCity in 2017, that eventually featured aformer vice president named Joe Biden.In the past two years, many of our long-fought measures came to fruition, andwe've won, as a nation, major legislativevictories and national economic policychanges. America has, finally, come torealize the importance of a sustainableindustrial policy – saving and re-toolingcritical factories and committing to aproductive, clean economy, andresponsibly stewarding our retirementand anchor institutional assets.
Page 5
We're most proud of our work with Congressman Andy Levin and 25 Congressionalcolleagues to push through the Biden DOL's restoration of the quarter-century oldsustainable investment policy, now called the 2022 DOL ESG Rule, which was won inNovember 2022.Thanks to the Bipartisan Infrastructure Bill (BIL) and the Inflation Reduction Act (IRA),the largest climate energy bill in history, as well as the CHIPs Act and other measures,there's trillions of dollars available from the federal government industries andcommunities long left-behind. Just in the past year, our communities in the PittsburghMon Valley region, the Commonwealth, and broader "Industrious Heartland" and UpperAppalachia have witnessed an onrush of manufacturing, energy, and infrastructuraleconomic opportunities, spurred by abrupt changes in the economy and climate – not tomention two years of the COVID-19 pandemic. Long overdue investments in infrastructure, in manufacturing innovation, and in climateinfrastructure -- including modernizing the grid—coupled with Buy America, BuildAmerica, prevailing wage, and qualified apprenticeship requirements—can bolster thePittsburgh region's manufacturing sector across the board, in which roughly half ofmanufacturing jobs remain in traditional strengths in metals, machinery, appliances, andelectronic products. This holds true for our greater footprint.Yet many businesses and communities are not prepared to seize these opportunities. TheSVA, our Heartland Network, and allies are building new bridges to the BidenAdministration to assist our manufacturing clients, communities, and constituents,including young people looking for a pipeline into productive, responsible careers. In this report, I will commemorate the work of our staff, board, and advisory boards, andpartnerships in moving a future agenda forward – in words and deeds. SAVING JOBSOperating out of five offices across the Commonwealth, the SVA's SEWN program (theStrategic Early Warning Network) averted or deferred the loss of 1087 manufacturing jobsin 2021-22, and continued to help lead the Commonwealth's response to the COVID 19crisis. The COVID Recovery Program in Northwest PA received a new name butcontinued efforts to bring together the NWIRC, three SBDCs, and SEWN to help manyindustry sectors still reeling from economic impacts.EXECUTIVE DIRECTOR STATEMENT
Page 6
Sponsored by Pennsylvania's Department of Labor and Industry (DLI), SEWN has nowsaved over 6575 jobs for the last five years, preserving for the Commonwealth $40.8million in state UI benefits. The Authority broadcasts this good news through a monthlynewsletter, the PA Turnaround Times, to over 10,000 stakeholders, which has featuredoriginal articles and videos for SMEs navigating the difficult waters of the past two years.INVESTING RESPONSIBLYThe SVA's Heartland Capital Network's real estate, private enterprise, and infrastructureinvestment partners—primarily capitalized by workers' pensions--have saved or created100s of thousands of high-road union jobs, investing in affordable and workforce housing,re-building critical manufacturing supply chains, and growing wind, solar, and transitprojects. Network partners have invested in or exploring dozens of companies, housingand commercial projects across Pittsburgh, the Mon Valley, Pennsylvania, and thebroader region.Though our Heartland-Georgetown Summer Fellowship, we have now graduated 64remarkable fellows, a new generation of capital stewards. In partnership with theKalmanovitz Initiative for Labor and the Working Poor (KI) at Georgetown University(GU), the Fellowship is shaping new career paths for diverse students from two dozenuniversities. Our Heartland Expresso brought original and important news to over 5,000readers.BUILDING SUSTAINABLE COMMUNITIESHeartland launched four convenings of the Sustainable Finance Hub in 2020-2021,drawing 800 stakeholders from Western PA, Ohio, West Virginia, and Kentucky. Themission of the Heartland Hub is to: (1) Mitigate climate overheating and extreme weatherdisasters; (2) Invest in a just transition recovery, good union jobs, and localapprenticeships and pathways for disadvantaged populations. The Hub's goal is to serveas a clearinghouse to accelerate investments in clean infrastructure, efficienthousing/real estate, and the essential manufacturers in the 4-state region, whosecommunities have been hit hard by deindustrialization, mine closures, and long-termjoblessness and poverty. Commissioned by the Heinz Endowments as part of Reimagine Appalachia (RA) and theMarshall Plan for Middle America (MP4MA), the Finance Hub brought together BidenAdministration leaders, mayors, state treasurers, Heartland investors, unions, andsustainability champions, and collaborated on broader initiatives to identify worthy jobs-rich projects in the region.EXECUTIVE DIRECTOR STATEMENT
Page 7
THOUGHT LEADERSHIP INITIATIVESThe SVA and our partners have also helped design sustainable jobs and investmentpolicies that we are sharing with the new federal Administration, Congress, governors,and mayors. Our communities need capital for a clean economy, an advancedmanufacturing base, and a revitalized infrastructure. Here are a few building blocks fromthat conversation:NATIONAL INVESTMENT POLICYIn 2021-22, the SVA's Heartland Network began collaborating with the Biden WhiteHouse, the Congress, and the Administration to help communities in our region leverfederal funds from the various clean energy/infrastructure programs.In 2020-21, Heartland helped draft America's first national sustainable investment policyact, proposed by Congressman Andy Levin. We also helped draft a Congressionalresponse supporting DOL Secretary Marty Walsh's positive revisions restoring theeconomically targeted investment and ESG rule, which were adopted in November 2022.After our 2021 chapter on An American Co-Determination, focused on adding workers tocompany boards, in The Many Futures of Work, a Temple University Press book, I co-wrote a chapter on the Marshall Plan for Middle America (MP4MA), to appear in a newbook in 2023 on how cities are addressing climate change. STATE MANUFACTURING POLICYIn 2022, the SVA assisted the State of Louisiana in establishing its own jobs-savingprogram, having assisted innumerable states and cities over the years. With our longtimepartner, the Pennsylvania DLI, the SVA co-invented the national layoff aversion approachto saving jobs, acclaimed by the U.S. Department of Labor (DOL) and federal economicdevelopment agencies. In fact, the SVA wrote the book, the 2003 DOL Layoff AversionGuidebook, which SVA updated in 2019.Whether helping a manufacturer diversify into markets that provide, post-pandemic,secure blue-collar jobs, providing new finance career opportunities for young and minoritystudents, or charting a new path for mill-towns to take advantage of new clean energyopportunities, the SVA is on the case. In closing, I would like to thank the staff, boards,sponsors and "Friends of the SVA" who supported us and made our work possible. Welook forward to our exciting year ahead, and we are all hopeful for a prosperous 2023.EXECUTIVE DIRECTOR STATEMENT
Page 8
COST TO PENNSYLVANIAFOR EACH OF THE 1087JOBS SAVED BY SEWN IN2021-2022$41M5-YEAR COST SAVINGS TO PA IN UNEMPLOYMENT COMPENSATION BY SEWN JOBS SAVED$1364SPONSOR FUNDS RECEIVEDFOR HEARTLAND PROGRAMS DURING 2022$170KFISCAL HIGHLIGHTSS V A
Page 9
Strategic EarlyWarning Network
Page 10
0 2 4 6 8311 Food 313 Materials 314 Textiles 321 Wood Products 323 Printing 326 Plastics 327 Concrete/Miners 332 Machine Shop 333 Machine Mfg 332 Computer 337 Furniture 0 5 10 15Financial Marketing Operations Owner Transition High-Perf Other Key HighlightsStrategic Early Warning NetworkSEWN Client TypesPY'2021SEWN Client Services ProvidedPY'2021SEWN provides core and non-core services to all types of clients. Company engagementsmay cover more than one service during their time in the program. Of the closed cases for2021-2022, 15 clients used only one service; 9 clients used two services; and 4 clients used3 services.
Page 11
Client ProfileStrategic Early Warning NetworkSustainable sales growth in a competitiveglobal market environmentPS Furniture in Conneautville, PA wasestablished in 1919 as the Snyder Chair Co., amanufacturer of Appalachian hardwood foldingchairs. In the intervening years, the company'soffering expanded to flexible tables, seating,lecterns, carts, and portable flooring for a varietyof applications. PS Furniture is very proud of its heritage,products and people having done itsmanufacturing in the same small town for over80 years. During COVID, PS Furniture was shut down forabout three weeks due to mandatory directivesfor non-essential businesses. However, evenafter they received a waiver to reopen, theirsales were off by 50-75%. This was primarilyattributed to tariffs and an increasing competitiveglobal market.As part of the Northwest PA COVID RecoveryProgram (CRP), SEWN along with their partners,were able to provide the PS Furniture with aninitial business assessment and financialanalysis. This was followed up with anorganizational plan identifying recommendationsto assist with business recovery.SEWN worked with the client to create a newbusiness model leveraging direct selling andnetworking, thus enabling a consultation salesapproach (value proposition) but keepingoverhead and marketing costs to a minimum.Utilizing this model, PS Furniture has begun toimplement SEWN's recommendations byfinding and onboarding part time independentsales representatives which evolved into anoptimal multi-level marketing model (MLM). By following this approach, PS Furniture willenjoy sustainable growth by transitioningindependent sales representatives to MLMmanagers with shared commissions andbonus opportunities as sales growth allows.
Page 12
NorthwestSouthwestCentralNortheastSoutheastStatewide HighlightsStrategic Early Warning NetworkMACHINERY MANUFACTURERSEWN helped to repositioned thecompany in a new marketplace togrow flat sales and retain 52 jobs.COMPUTER COMPONENTSAfter several COVID relatedsetbacks, SEWN helped thecompany reinvent themselves to save 35 jobs.MACHINE SHOPThe company was experiencing financingissues and no clear bookkeeping strategy.SEWN is providing multi-faceted servicesto stabilize the situation for 30 employees.COATING/ENGRAVINGFamily-owned business with noCRM or lead-tracking system.Worked with company to createdigital marketing plans toultimately retain 59 jobs.APPAREL COMPANYCompany was struggling to maintainprofitability. SEWN providedcompany with financial projectionmodeling to save 22 jobs.
Page 13
Page 14
Heartland's Sustainable Finance Hub (Hub) project is a pilot planning project to mobilizesustainable capital, facilitate the exchange of best practices, and foster city, state, andpublic-private procurement partnerships in distressed regions and to assist working familieswho have been left behind. Our initial target region is a five-state region of Northern-CentralAppalachia. The Hub was fashioned after the German Hub for Sustainable Finance, which recognizedthat former coal and deindustrialized communities have fallen behind in terms of availablegreen capital. With the help of several Heartland partners, we are seeking matching supportfrom the Appalachian Regional Commission (ARC). to scope, develop, and finance thetransformational projects laid out in the MP4MA Roadmap to implement a resilient people-driven new economy.The Appalachian Hub, our first, is a collaboration between the Marshall Plan for MiddleAmerica (MP4), Reimagine Appalachia, NECA-IBEW Project Development Platform (PDP),Penn State's Sustainability Institute, several unions, and pro-worker development partners.It was initially funded by the Heinz Endowments.A corollary objective is to help cities and anchors adopt responsible project laboragreements and cities and endowments to adopt responsible pension policies.Sustainable Finance Hub
Page 15
On September 22, 2022, the Heartland Network showcased a long-term plan to revitalizethe "Appalachian Heartland" at the Clean Energy Action Forum (GCEAF), commissioned bythe U.S. Department of Energy (DOE). As part of the Marshall Plan for Middle America(MP4MA) Coalition, Heartland welcomed the GCEAF to the "Paris of Appalachia."The GCEAF aimed to accelerate clean energy innovation and catalyze deployment for theglobal energy transition. The three-day event drew 7,000 participants from 31countries andfeatured hundreds of breakthrough energy and science events.Joining David was Amanda Woodrum,Senior Researcher, Policy Matters Ohio,(pictured right) and Co-chair of ReimagineAppalachia (RA); Oliver Kroner, InterimDirector of the Office of Environment &Sustainability at City of Cincinnati; and EdHill, Jr., International Representative,IBEW. Sustainable Finance HubHeartland hosted an important side event focused on "Appalachia's SustainableFinance Hub." Our panel, one of 100 chosen out of 600 candidates, focused onreimagining Appalachia as a driver of renewable energy, electric transportation,and as a global leader in the pivot to a clean manufacturing.David Wilhelm, CEO of Hecate Energy Global, and a Heartland Governing Boardmember (pictured below, right), delivered a terrific, heartfelt presentation that keyedin on his long-term campaign to build a solar manufacturing platform in Appalachia.
Page 16
Heartland-Georgetown FellowshipThe Heartland-Georgetown LCS Fellowship offers undergrad, grad, and law studentsan immersive introduction to the dynamic juncture of finance and labor. The LCSFellowship has graduated 64 Fellows to date! After 3 semesters in 2021,mostly remote,the Fellowship held 2 hybrid classes in 2022, graduating 3 fellows in the Spring withanother 11 this past summer.Launched in 2017 by Heartland and GU's Kalmanovitz Initiative for Labor and theWorking Poor (KI-GU), the program's mission has not changed: to educate a diversenew generation of capital stewards. Coming from two dozen universities, the Fellowshave been placed with large-impact investors, unions, and progressive policy shops.This year, we welcomed the Steelworkers as a new host!We're now providing ongoing career support to the fellows and looking forward toconvening an alumni association; after all, so many alumni have credited theFellowship as having a significant influence on them. And, they are rising in theircareers; one was permanently hired by Hamilton Lane, another landed a post at theWhite House! Several have been published!See our 2022 Overviewvideo online
Page 17
Tom Croft, MPAExecutive DirectorBob Value, CTPDeputy DirectorNancy SweeneyStaff AccountantCarrie MihalkoChief of StaffDeb Lutz, MBA, CTANorthwest RegionalDirectorAnita PrizioOutreach SpecialistKristen EstellHeartland OutreachSpecialistPatrick MeeseCentral RegionalDirectorGreg Olson, MBASoutheast RegionalDirectorMichael Perfetti, CTASouthwest RegionalDirectorGary WickhamNortheast RegionalDirectorS V A S T A F FCONSULTANTSJack Bardol, MBA, CPADonita Rudy, CTPJoel Steiker, MBAWill Allen, Univ of PittsburghHeartland FellowDU Law Clinic StudentsSydney CroftSamuel EvansLaura KellerBradley KrileyMaegan StumpKate SullivanEdward Walsh
Page 18
S V A / S E W N B O A R D SThe staff wishes to thank all of our Board members for your generous support to ourcommon cause; we express our deepest gratitude to you and the institutions that havesponsored our earnest endeavors. You have all made a difference in this great fight...weare forever indebted!SVA Board of Directors / Western PA SEWN Advisory BoardLori Schmidt, ChairTom Michlovic, Vice ChairAmy Starrett, SecretaryJay Hornack, SolicitorCharles BennettRep. Austin DavisEric EwellTyler GellaschTom MagliccoRep. Nick PisciottanoDavid PerlaRobert WitherellColleen WootenSoutheast PA SEWN Advisory BoardKevin BuszaPatrick ClancyRobert Cormack Rob CrossettDan Fogarty Rep. Leanne KruegerTom Krol Joe Messner, Jr.Vinitha MoskalPeter RappJim RowlandJohn ShegdaSuzanne SmethersGary SmithJoel SteikerBud TylerJaimyn WestenhoeferEric WilhelmNortheast PA SEWN Advisory BoardSen. Lisa Boscola Jeffrey BoxNancy DischinatEric EsodaScott FrenchRichard HobbsJohn KingsleyGina KormanikRep. Ryan MackenzieDarlene RobbinsJanet SmithTina SmithJoel SteikerFrank ThompsonTeresa TravisLucyAnn VierlingRon VogelDoug WarfelThankThankThankyou!you!you!Central PA SEWN Advisory BoardJill CollierSheri Collins Marty Culp Scott DeitrichDerrick DonnellShaun Donovan Robert DuckLisa ElliottNeil FowlerKenetha Hansen Steve Herzenberg Russ LawrenceBetsy LockwoodTom MatthewsJesse McCreeCathy RychalskyJohn SygielskiSusan Whisler
Page 19
T HAN K Y O U SWe sincerely thank and wish to acknowledge a number of important people and organizationsthat contribute to our success:Special appreciation to Governor Tom Wolf and the PA Department of Labor & Industry for theirsponsorship of the SEWN program, especially Secretary Jennifer Berrier; Executive DeputySecretary Willian Trusky; Acting Deputy Secretary Dan Kuba; BWDA Director BrendaDuppstadt; BWPO Division Chief Steve Wolf; and Rapid Response Supervisors Ruben Pachayand Nelson Diaz.Special thanks to our many PA partners including: DCED and the Governor's Action Team; DLIRapid Response group; Chester County EDC; the WIBs; IRCS; and numerous other economicdevelopment partners. Pittsburgh Mayor Ed Gainey and the Pittsburgh City Council along with Rebecca Kiernan,Interim Sustainability Director; Allegheny County Executive Rich Fitzgerald and the AlleghenyCounty Council; and the Mayors and Council Members of our eleven municipal towns.David Mayernik from Eckert Seamans for his outstanding public relations work. Professor JoeMistick and the remarkable students from the Duquesne University Urban Law Clinic.Thanks also to Bob Vernick, Senior Vice President at Farmers National Bank for his continuedservice and support. Special acknowledgement to our auditing team at Holsinger.Thanks to Heartland Strategic Researcher Annie Malhotra, CFA & co-author of the ResponsibleInvestor Handbook and our friends at Routledge Publishing, and Tom's co-author for a new bookchapter published by Temple University Press, Sincere thanks to our Heartland Capital Strategies Governing Board Officers: Deborah Nisson,CRE, Consultant, Representing Ullico Investment Advisors; Steve Sleigh, Owner, SleighStrategy; David Keto, President, SRI Group; and Thalia Lankin, Chief Strategy Officer, AFL-CIOITC. Special thanks to David Blitzstein, Blitzstein Consulting LLC, and the HCS Governing andFellowship Advisory Board members.Thank you to our colleagues at the Georgetown University-Kalmanovitz Initiative for Labor andthe Working Poor including Dr. Joseph McCartin, Dawn Carpenter, Jessica Chilin, and JuanBelman. Thanks to Steve Herzenberg, Keystone Research Center, and Amanda Woodruff, Ohio PolicyMatters for their leadership in Reimagine Appalachia, and thanks to the great crew at ResilientCities Catalyst (RCC), and our partners in the Sustainable Finance Hub/Marshall Plan for MiddleAmerica (MP4MA).
Page 20
C O N T A C T U S4 1 2 - 3 4 2 - 0 5 3 4W W W . S T E E L V A L L E Y . O R GS T E E L V A L L E Y A U T H O R I T Y