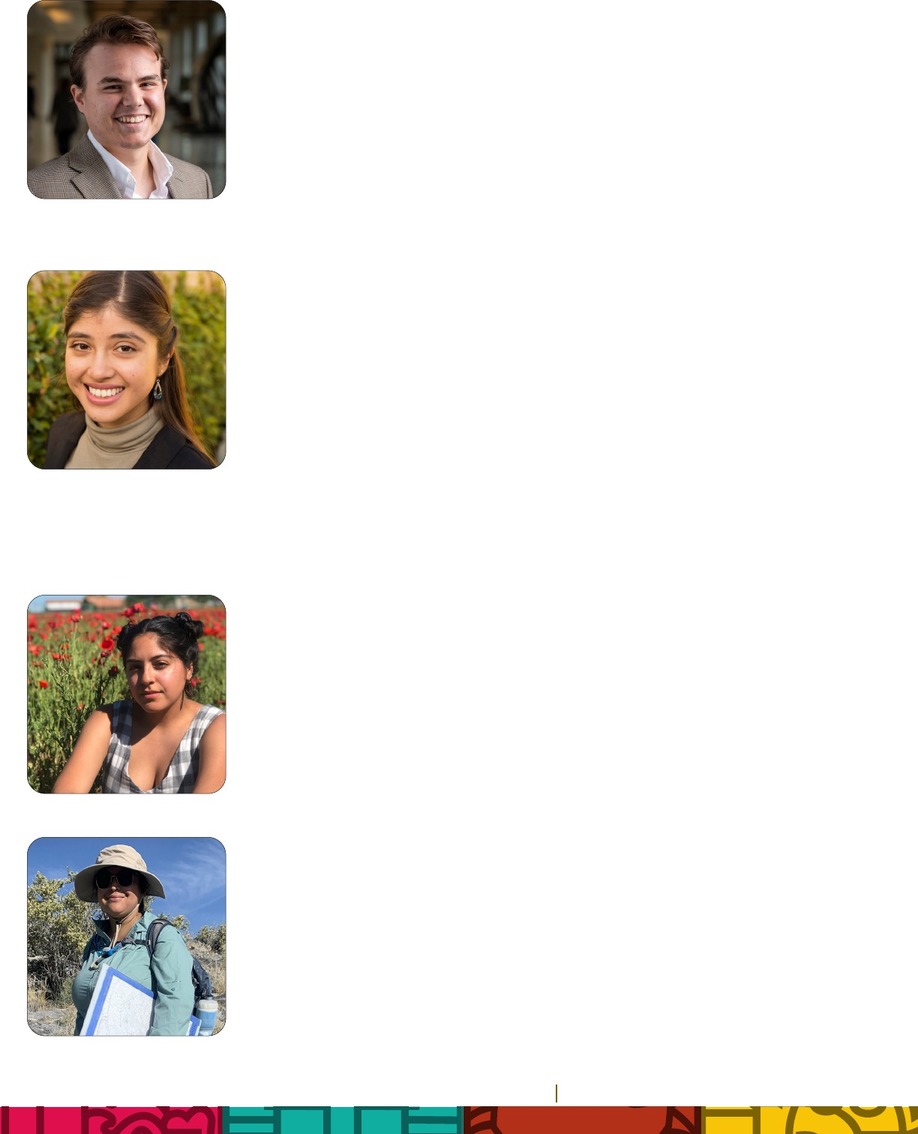 Latino Heritage Internship Program
35
Araceli Figueroa • California State University, Fullerton
Indiana Dunes National Park, IN
Araceli graduated in May of 2017 with a BFA in Creative Photography and coursework in Art Education.
She constantly seeks educational opportunities outside of formal educational institutions. In 2018,
she took a six-week-long course on launching a food business from the local county's small business
development center. In addition, she continues to take advantage of the courses and certification
programs her city job offers. She applied for the LHIP Outreach Assistant Internship because it
aligns with her personal interests to expand community development, communication/marketing,
environmental education, and resource equity. This program also allowed her to better understand
her specific interests and career goals. She was thrilled to contribute her Spanish speaking skills,
making valuable cultural connections, and using her graphic design and technical editing skills to
create new educational materials. As an outreach assistant, she had the humbling opportunity to
work on increasing park visitor diversity and inspiring individuals, especially Latinx folks, to recognize
the important role they have in advocating for our parks' conservancy. Her professional interest is to
creatively promote conservancy and environmental education, regardless of what field her chosen
profession is in.
Luis Garcia Falcon
•
Florida International University
Dinosaur National Monument, UT
Luis is a passionate advocate for the natural world and science communicator who worked at Dinosaur
National Monument. He was born in Cuba and moved to the United States of America at the age of
five. Now, he lives in Miami, Florida where he spends the majority of his time in the Everglades, Florida
Springs or Pine Rocklands photographing its unmatched beauty. He is a senior at Florida International
University graduating with a Bachelor's in Sustainability and the Environment. His interests include the
full range of the environmental field, from research and policy to communications. Specifically, he is
interested in how scientific data can be used to promote ethical and equitable conservation of natural
resources and environmental justice of underprivileged communities. At Dinosaur NM, he studied
the Monarch butterfly population of the Great Basin region, as well as worked with local communities
and visitors to share the project and connect them with the natural resources around them. After
the project, he wants to continue his education and complete a Ph.D. in the Environmental and
Conservation field.
Rebecca Flores • University of California, Berkeley
Juan Bautista de Anza National Historic Trail, CA
Rebecca grew up along the U.S. – Mexico border in a small town called Laredo. In this Texas oasis,
she nurtured her passion for community work. She was raised in a Mexican-American household
where she learned the value of hard work and devotion. She received her Bachelor of Arts at Smith
College where she double-majored in Architecture and Italian Studies. This experience expanded her
understanding of the built environment, made her trilingual, and allowed her to expand a vibrant
Latinx organization on campus with the help of close friends. She is currently pursuing her Masters
in Architecture at the College of Environmental Design at the University of California, Berkeley. Her
work in architecture revolves around social and environmental issues. Through the Latino Heritage
Internship program, she helped to build cultural bridges from the national parks to under-served
Latinx communities.
Astrid Garcia
•
University of California, Riverside
Florissant Fossil Beds National Monument, CO
Astrid's hometown is Hesperia, California, where her parents immigrated from Colima, Mexico.
Growing up in the Mojave Desert, she saw how the desert landscape is easily impacted by people
who fail to appreciate and understand the importance of these areas. Prior to college, she wasn't
aware of her local geology until taking introductory courses. Through her education, she realized the
importance of the geologic sciences in relation to my surroundings. Astrid's interests range from the
application of remote sensing technology, to tectonics geomorphology, to land conservation, and to
educational advocacy of the earth sciences. She spends her time participating and volunteering with
local organizations to accomplish clean-ups, habitat restoration projects, and community outreach.
She is thankful to LHIP for allowing her to combine her passion and knowledge to inspire families to
treasure the rich geologic history at Florissant Fossil Beds NM.