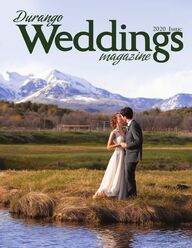 Return to flip book view
Durango Weddings Magazine - 2020 Isssue
Page 1
Durango Weddings Magazine 1
Page 2
2 durangoweddingsmagazine.comFrom the bride… The VenueWe loved the idea of having an outdoor wedding. John was born and raised in Durango, so naturally we thought of having the wedding in southwest Colorado. e mountain backdrop at Ridgewood Event Center was beautiful and absolutely what we envisioned. We loved the exibility to do an indoor wedding if the weather became an issue. It was also lovely to have our family members stay at Blue Lake Ranch nearby.THE COVER COUPLE LOCAL WEDDINGStephanie & John 05.04.19VenueRidgewood Event CenterHair & MakeupHair FusionPhotographer Kara Cavalca Photo + Video
Page 3
Durango Weddings Magazine 3The CeremonyWe wrote our own ceremony and a family friend ociated, making it feel even more special to us. We really wanted our parents to have a role in the ceremony and asked them to come up to plant wildowers and bulbs with us as a symbol of our family's growth. For our vows, we chose to each tell a story about each other rather than recite traditional vows. It was touching and fun to hear what the other had decided to share.Advice While in the planning process, we each realized a few specic aspects of the wedding that were most important to us. Identifying those helped us to focus on the things we cared most about and to split up some of the planning and organizing.e bridesmaids wore dresses in plum and wine.
Page 4
4 durangoweddingsmagazine.comFrom the bride… Why DurangoWe are from Miami, Florida, and did a two month road trip around the United States. Colorado was our favorite state. We decided we wanted to host our wedding surrounded by mountains, close friends, and family. Our rst time visiting Durango was two days before our wedding, and were not disappointed! It is a beautiful town with the most breathtaking mountains I have ever seen.The Venue We chose Purgatory Resort because of the stunning mountain surroundings with the most magical views. e wedding team at Purgatory was absolutely amazing, they truly made us feel like royalty.The Style We wanted a rustic, small, and intimate day highlighted with greenery and pops of burgundy.DESTINATION WEDDINGKeey & Adrian09.21.19Venue, Caterer & LodgingPurgatory ResortFloral DesignerApril's GardenHair & MakeupHair FusionPhotographer Ginger Moose Photography
Page 5
Durango Weddings Magazine 5The Flowers Oh wow! I have never seen such amazing, beautiful owers. April's Garden exceeded my expectations. ey made me so happy!
Page 6
6 durangoweddingsmagazine.comThe Morning-of We had breakfast together and listened to music while driving to Purgatory Resort. It was a great morning of getting ready for the wedding.PreparationMary Beth from Hair Fusion started the day with us at 11am. She helped ease my nerves the whole morning and she made sure our hair and makeup were awless.
Page 7
Durango Weddings Magazine 7Gift to the Grm On our rst Valentine's Day together I gave Adrian a bracelet with Disney World's coordinates. at's when he asked me to be his girlfriend. Before the ceremony, I gave him a bracelet with Purgatory's coordinates.The CeremonyMy favorite moments were walking down the aisle towards Adrian and holding his hands during the ceremony. I loved hearing his vows. I felt so blessed that he chose to love me.Ociant: Southwest Ceremony Keey & Adrian
Page 8
8 durangoweddingsmagazine.comAdvice Enjoy every second of the planning phase and the day-of your wedding. e days go by very quickly.Cake: Skillfully DecadentKeey & Adrian
Page 9
Durango Weddings Magazine 9
Page 10
10 durangoweddingsmagazine.com DESTINATION WEDDINGAvery & Mahew 07.27.19From the bride… Why DurangoTen years ago we met in Durango and fell in love. We lived in Durango, on and o, for about 8 years. We love the outdoor recreation opportunities, the supportive community, the food, and all the friends we have made along the way. We love Durango.The VisionOur vision was a mixture between mountain and city, along with some boho vibes.The VenueFor the ceremony, we chose the Lion's Den for the beautiful views of our favorite town. We held the reception at the Strater Hotel for its downtown, close to everything, historic charm. We loved working with Emily Spencer at the Strater Hotel and knew everything would be taken care of.Photographer: Colt & Hannah
Page 11
Durango Weddings Magazine 11
Page 12
12 durangoweddingsmagazine.comThe CeremonyWe kept things simple and allowed the views to speak for themselves. e most memorable moment was saying our vows. We took turns speaking and walking in a circle to signify our promise to the vows we made, each alternating when to lead and when to follow.
Page 13
Durango Weddings Magazine 13The Receptione reception was held in the ballroom of the Strater Hotel. We served craed, signature drinks named aer our puppy and the Animas River. I really enjoyed having a table for just us during dinner. Following dinner, we got to walk around and mingle with everyone. It was really fun and it felt like we had more time with our guests. Lking BackWe would have included a goodbye or closing activity the next day with family and friends, especially for those who lived far away. THE WEDDING TEAM Venue, Caterer & Lodging: e Strater Hotel Photographer: Colt & Hannah Hair & Makeup: e ChairMy favorite memories were all the speeches from friends and family, as well as everyone dancing. Avery & Mahew
Page 14
14 durangoweddingsmagazine.comDESTINATION WEDDINGBri & Ben07.26.19 From the bride… The VisionWe embraced a little bit of every-thing with a combination of vintage, elegant, and rustic farmhouse. We wanted to incorporate the things we love with meaningful family traditions and heritage. The VenueWe chose River Bend Ranch for the gorgeous setting and close proximity to town.The Flowers My bouquet had a white and green palette. I was so excited to have a King Protea in my bouquet! April's Garden was so helpful and nice. ey had great ideas on the design and style. e owers were beautiful! ey really helped bring my vision to the wedding!
Page 15
Durango Weddings Magazine 15I loved my Stella York dress and short cowgirl boots adorned with owers.
Page 16
16 durangoweddingsmagazine.comThe Bridesmaidse bouquets held vintage roses, eucalyptus, and white owers with a touch of pink. e pop of color added fun to their dusty sage dress and brown boots. e bridesmaids wore pearl neck-laces and a small strand of pearl in the hair pieces, along with a white or pink ower. My favorite memory was walking down the aisle, looking at all of our guests in the crowd and feeling truly loved. It was so special to have everyone in Durango.
Page 17
Durango Weddings Magazine 17The Ceremony e ceremony overlooked the pond with red sandstone clis in the background. A friend played the violin during the procession. Another friend played a Bob Dylan song. We used a vintage wine glass for the communion, which was really memorable and special to us. Family HeirlmsWe brought out personal elements that honored family. My grandma's night stand was used as the program table, it held Ben's grandfather's typewriter with newspaper programs coming out.e ring bearer, age 3, almost ran away. He was brave and handed the ring box to the best man but sprinted down the aisle to his dad as fast as he could. e guests loved it!Bri & Ben
Page 18
18 durangoweddingsmagazine.comThe CakeBen's mom made the most beautiful cake and cake pops. e cake even had lace frosting, giving it a vintage feel. His dad made the dessert table using wood from Ben's grandparents' barn. It added to the decor and was so special to have.The FavorsWe gave favors from Honeyville. Everyone enjoyed taking a taste of Durango home.Sneaking away for photos on the dock was one of our favorite memories.
Page 19
Durango Weddings Magazine 19 Memorable MomentsI stopped for a moment during dinner to take it all in, sitting at the head table I could look out at everyone. It was so pretty and I loved seeing all of our friends and family!Lking BackWe forgot to set up the photo booth. I do wish we would have delegated those DIY projects to other people the day of (or before). We also wish we would have eaten more cake and cake pops. Advice Have a welcome party. It was so much fun to connect with our guests before the wedding. e wedding day is so busy and goes so fast. We appreciated the time spent with everyone the day before. The Weing Team Venue: River Bend Ranch Floral Designer: April's Gardens Favors: Honeyville Rentals & Linens: Durango Party Rental Photographer: Ginger Moose Photography Filmmaker: Kara Cavalca Photo + Video Caterer: Zia Taqueria Guest Lodging: e Strater Hotel Hair & Makeup: e ChairWe loved having the reception at the same venue as the ceremony.Bri & Ben
Page 20
20 durangoweddingsmagazine.comFrom the bride… Why DurangoWe love Colorado! We wanted to make sure everyone had a fun weekend of exploring and playing, there's no better place than Colorado to adventure. We had a Sunday brunch wedding, it had a rustic and natural feel with modern are. It was important for us to have a small wedding so we had time to talk with and hug each guest.The CeremonyI've wanted to get married my whole life, this moment was long awaited and absolutely perfect. One special moment was the foot washing ceremony. Somehow the towels to dry our feet were not at the site. I improvised and gave Jason my sister's handkerchief to dry my feet. When it was my turn to wash his, I knelt on the handkerchief and couldn't get to it from under my dress. So, I pulled back the three layers of tulle on the dress and used the satin layer to dry his feet.DESTINATION WEDDINGAmy & Jason 09.18.19VenueRidgewood Event CenterPhotographer illuminartsFloral DesignerAdela FloralRentalsDurango Party Rental
Page 21
Durango Weddings Magazine 21I had a very talented Dallas artist hand paint "Mrs. Smith" with owers in the same design as my dress across the back of a leather jacket. It was so absolutely fun to wear! I placed my grandmother's handkerchief around my bouquet. My mom stitched J&A and our wedding date on the hand-kerchief.I wore rose gold heels, strappy with buttery wings on the back. ey're the fanciest shoes I own, delicate yet bold, and worth every penny! Under my dress and Jason's tie, I had our initials and wedding date embroidered.Special Touches
Page 22
22 durangoweddingsmagazine.com
Page 23
Durango Weddings Magazine 23The Reception We wanted a tent so that we could be close to our friends and family. Simple greenery allowed guests to see and talk to one another, accents of geometric gold candle and ower holders elevated the rustic, natural feel. My favorite detail was the butteries hanging from the tent. Looking back, I wish it would have lasted longer. Being with our friends, all who traveled from out of town, was overwhelmingly special.Cake: Skillfully Decadent DessertsAmy & Jason
Page 24
24 durangoweddingsmagazine.comFrom the bride… The VenueWhen we toured the Silverpick Lodge and met the owner Chris Wing, we immediately knew this was our venue. He was so relaxed and the Lodge provided the right amount of comfortable mountain charm with a little luxury. e views from the lodge are absolutely stunning and we wanted our guests to enjoy their experience in the mountains. Chris made all of our choices so easy and never pressured us. If we wanted to do everything ourselves and bring in our own vendors, great! If we wanted to have the lodge do everything, that was great too! We loved the autonomy we had to create the weekend we wanted; doing some things ourselves with outside caterers and lots of family help to having the lodge take care of cocktail hour and dinner on the wedding day. Knowing they could do whatever we needed really freed us up to enjoy the day of our wedding. I could go on and on, the venue and working with Chris really made the wedding for us. Oh, and it was dog friendly! Having our dog with us over the weekend was really important and I'm so happy we could bring him to the lodge.DESTINATION WEDDINGKayla & Tomas 09.21.19Venue, Caterer & Lodging Silverpick Lodge Wedding DressOccasions BridalPhotographer Eppich PhotographyFloral DesignerLinnaea Design
Page 25
Durango Weddings Magazine 25The Vision & VibeOur focus was less on the day and more on a whole weekend experience with an emphasis on the natural surroundings. I wanted our stunning location to be the highlight and the wedding day to feel easy and chill, even if the weeks leading up were frazzled and unorganized. It was important to us to make our guest experience eortless - just show up and enjoy yourselves for the next few days. Staying at the Silverpick Lodge for three nights made it super easy to deliver those things.The CeremonyWe held the ceremony in the meadow behind Silverpick Lodge. It was really important for us to be outside and in nature. We used rustic seating on log benches provided by the lodge and our arbor was decorated with owers and greenery. Seeing all of our friends and family, walking down the aisle with my parents, was all so special.
Page 26
26 durangoweddingsmagazine.comThe Receptione dinner for the reception was help upstairs in the lodge at the Sow's Ear. e food was amazing and Chris helped us put together a great menu that accommodated guests' dietary restrictions. e room was decorated with yellow Aspen leaves and candles. e real highlight was the beautiful mountain views. Kayla & Tomas
Page 27
Durango Weddings Magazine 27The First LookDurango newlyweds share their rst look memories.We shared our rst look by the river, wearing socks with each others' faces on them while eating Italian wedding soup - Anthony's favorite food. -Liz & Anthony married at Ridgewood in JuneOur rst look was denitely one of my favorite moments. We decided to do a rst look because we wanted to see each other in private so we wouldn't have to hide our emotions. Jacob thought he was going to cry. It turned out I was already tearing up while walking towards him. When he turned around he teared up as well and we immediately hugged. I was so happy we chose to do the rst look because it was such a special moment to see each other and to relax a little before the actual ceremony. -Kelli & Jacob married in Durango in June Our rst look was the most memorable part of our day. We loved having time for just the two of us and we couldn't stop crying. We both needed it to ease some nerves and quietly enjoy our time together. -Cassie & Kyle married at Silverpick Lodge in AprilPhoto: Karla Wedding PhotographyPhoto: Jenne AnnePhoto: Allison Ragsdale PhotographyPhoto: Amy Crooks PhotographyBy far the most memorable moment was the rst look. Lou was standing down by the creek, under golden leaves from the trees above. I could tell he was nervous but had no idea just how emotional he would be seeing me in my wedding dress. Aer he turned around, we embraced each other for what felt like forever. Having that moment together was so special, I will forever cherish our rst look. -Hannah & Lou married in Durango in September
Page 28
28 durangoweddingsmagazine.comFrom the bride… The Venue We chose Purgatory Resort because of the opportunity for an outdoor ceremony and Purgy's mountain cabin resort look. We love Purgy's big open space, the wall of windows, and the wall of wood rounds. e space feels intimate and warm, and also open and bright. We wanted our guests to stay close to the reception venue for safety and comfort. As we went through the process of working with Purgatory we knew we made the right choice, the sta was helpful and the food was amazing!The Planning We looked through several issues of Durango Weddings Magazine for inspiration. It was very helpful and fun to see how others created their ideas and themes. It gave us the encouragement to do what we truly wanted.DESTINATION WEDDINGJamie & David 10.05.19Venue, Caterer, LodgingPurgatory Resort Hair & MakeupHair FusionPhotographer Ginger Moose Photography
Page 29
Durango Weddings Magazine 29We wanted a more traditional, fall wedding with an English oral theme in the mountains. Aspen trees, leaves, and wood were a big design element.
Page 30
30 durangoweddingsmagazine.comThe Ceremony I've known, since I was a kid, I wanted to be married in an Aspen grove. Durango was just the place! We picked the ceremony site with Aspens and mountains in the background. It was so perfect to be set in our own little hideaway. I just know fairies live there and it's pretty magical. David's step-dad built the arch and we added big, beautiful oral swags to the top. As the crier in the relationship (I cry at everything) I was overjoyed to see David crying.Florals: Albuquerque Florist
Page 31
Durango Weddings Magazine 31The Reception Our reception was at Purgy's Restaurant. We loved the big, open space and wall of windows. It felt cozy and bright at the same time. Lking BackWe would have made a point to soak up more of the day together. With all the partying it was too easy to get pulled away from each other to talk or dance with friends and family. I wish we had more time during the reception to dance together and greet our guests together.We made our table numbers from our favorite TV show posters: e Crown, e Big Bang eory, Stranger ings, etc.A family tradition, we asked guests to bring their favorite cookies along with the recipe to share. Advice: Take time and eort to include the pieces of your lives that are im-portant to you. Do something because you want to do it, decide and agree on why it is important. Have the type of fun that is important to the two of you. My favorite décor element was the bunting that my grandparents made. It was so extra special they were able to nish the bunting before the wedding as they both passed away a month before the wedding. I felt like they were with us.Jamie & David
Page 32
32 durangoweddingsmagazine.comFrom the bride… We met at work in 2016 but hit it o at lunch with a group of co-workers. During lunch we started talking about our favorite beers and Ska Brewery came up. During this conversation we discovered we had both attended Fort Lewis College and became "best friends". e rest is history.Why Durango We both attended Fort Lewis College although we didn't know each other while attending, so technically this was a destination wedding. We live in Denver and have a special place in our hearts for Durango. Aer searching high and low for a wedding venue in the Denver Metro area, nothing stood out to us. We wanted an easy going, stress free, and a heck of a good time wedding. We decided Durango had what we were looking for, with its laid back, mountain town feel.The Venue We denitely wanted an outdoor wedding with an indoor option for the unpredictable Colorado weather. River Bend Ranch had the best of everything: beautiful mountain views, luscious willow trees, and water features. River Bend Ranch also had a beautiful indoor wedding space where we held our reception. River Bend Ranch went above and beyond for us through the wedding planning and the wedding day.DESTINATION WEDDINGMarea & Bre09.27.19 VenueRiver Bend RanchFloral DesignerAdela FloralHair & Makeup Hair FusionRentalsDurango Party RentalPhotographer Allison Ragsdale Photography
Page 33
Durango Weddings Magazine 33The FlowersOur owers were out of this world! We couldn't be happier with Natalie at Adela Floral. She was a joy to work with and outdid herself with our arrangements. Natalie included dramatic dahlias, big ranunculus bulbs, and garden roses for the bouquets and the centerpieces. Everyone was in awe of her work. She is a oral genius and made our wedding absolutely stunning.The Planning Durango Weddings Magazine helped us locate vendors and make our nal decisions. It was a great tool for us to get opin-ions and ideas of other weddings in the area. We also attended the Durango Wedding Expo and found it extremely helpful.
Page 34
34 durangoweddingsmagazine.comWe got engaged in Cuba aer drinking a mojito on the beach. During our ceremony we made a mojito together and drank it in honor of our engagement. It was unique and nontraditional.
Page 35
Durango Weddings Magazine 35Reception DecorGeometric gold terrariums were lled with owers and gold tea lights for our centerpieces. Everything was simple and elegant. We named the tables aer our favorite spots in Durango: Bakers Bridge, Purgatory, Cascade, Smelter Mountain, etc. We made them with stained wood pieces and adhesive vinyl for the lettering.Looking back, we loved spending our wedding in Durango: reminiscing over our college years, eating at our favorite restaurants, and bumping into friends & family around town.AdviceDon't stress the small stu! So many people told us this great advice but it's hard to listen when you're in the thick of it. Seriously, none of it matters the day of. You are getting married to the love of your life and that's the most important part.Enjoy your engagement and have fun with wedding planning. It goes by in the blink of an eye. Also, splurge on the photographer. You won't regret it when you see the stunning pictures from your big day!Marea & Bre
Page 36
36 durangoweddingsmagazine.comFrom the bride… The VisionOur wedding vibe was inspired by the majestic mountains that surround Durango. We wanted to feature rocks, gems, and minerals. We went with a color theme for each table, from the rocks to the owers, vases, and glassware all followed one assigned color. Walking in the venue was like walking into an art gallery. We planned a wedding that was very personalized to us, as individuals and as a couple. e whole day was just how we wanted it.The Planning e Durango Weddings Magazine & Expo were very helpful for information and inspiration, they helped us get ideas and meet vendors. Joan Alford at Ridgewood Event Center helped to make our vision come to life with all of her passion and resources.LOCAL WEDDINGSarah & Aaron 09.28.19Venue & Floral DesignerRidgewood Event Center Photographer Candace Cross
Page 37
Durango Weddings Magazine 37e owers were chosen from a palette of eight colors and arranged together by the same tone. We added neutral accents to make the colors pop.
Page 38
38 durangoweddingsmagazine.comThe Ceremonye ceremony was outside, looking at the majestic La Plata Mountains. Our dog Ruger was the ring bearer, he is a ham for the camera and we knew he would be great for this special job. We wrote our own vows, they were very special and touching. We had a few guests stand up and oer the most heart-felt words about us, it really felt as if everyone was part of the ceremony.
Page 39
Durango Weddings Magazine 39Our wedding cake was a large beautiful geode.We held the reception out-side in a white tent under the Cottonwoods. e day was beautiful and the evening light set the party scene.Lking Back I would take more photos before the ceremony with my wedding party and family, giving us more time aer the ceremony with guests, chatting and enjoying drinks and appetizers.AdviceEnjoy your day and be present, do not get caught up in the details at that point. Enjoy your guests and take time to eat with them and have fun.Sarah & Aaron
Page 40
40 durangoweddingsmagazine.comFrom the bride… The Vision Our vision was rustic fall with a country chic theme and laid back vibe. The VenueTriple J Ranch is seriously the most beautiful venue. e owner, Susan, is amazing. She was so kind and caring and helped make our day perfect. It has so much to oer for a wedding venue, it has everything you need.LOCAL WEDDINGEmily & Kurti09.20.19VenueTriple J RanchPhotographerAspen Jade PhotographyRentals & Decor Something BorrowedFloral DesignerLeslie Morris
Page 41
Durango Weddings Magazine 41e orals were organized chaos and it was perfect! We harvested most of the owers for my bouquet from my mother-in-law's garden. I wrapped Kurtiss' dog tags from his last combat tour around my bouquet.
Page 42
42 durangoweddingsmagazine.comThe CeremonyI'm sure everyone says their ceremony is the best, and ours was the best! We held the ceremony by the pond at Triple J Ranch. It was so simple and absolutely stunning at the same time. We had a mixture of laughter, tears of joy, and prayer. It was simply perfect.Our favorite memory was seeing each other for the rst time. When I walked down the aisle we saw our love and our future in that moment.AdviceHire out for everything. Don't try to do it all yourself. It was so nice not to be stressed the day of. Live in the moment and cherish every second!Emily & Kurti
Page 43
Durango Weddings Magazine 43From the bride… Why DurangoWe knew we wanted to get married in the Durango area from the start. Aer fall-ing in love in those mountains we knew getting married there was no question. We wanted everyone to make great memories and for the wedding weekend to feel genuine to us, as a couple. e wedding we envisioned was lled with fun and happiness, surrounded by love.The Venue We wanted to get married where it was possible to keep our guests close by for a weekend of fun. We rented out the Silverpick Lodge and the Sow's Ear for our wedding. It is beautiful up there and we spent so much time with family and friends that we hadn't seen in a long time. It was the perfect venue for us. DESTINATION WEDDINGCourtney & Ryan 08.31.19Venue, Caterer, LodgingSilverpick LodgeFloral DesignerAdela FloralPhotographer Jenne Anne PhotographyEvent Planer Heirlooms
Page 44
44 durangoweddingsmagazine.comThe FlowersNatalie, the owner of Adela Floral, took the time to work with our budget and created beautiful oral designs for us. She kept our natural vibe throughout the entire reception area with loose foliage on the tables mixed with geometric terrariums. All of the bouquets and boutonnieres were gorgeous as well. My bouquet was one of my favorite pieces of the wedding, it was incredible.The CeremonyOur ceremony was our way of making the day personal for us. My step-father was our ociant. Our immediate family came up and prayed over us at the beginning of the ceremony, it was such a touching moment to share with our parents and siblings. We wrote our own vows and sharing them ended up being our favorite moment of the entire day. e whole ceremony was truly so beautiful and t to us.
Page 45
Durango Weddings Magazine 45One of our favorite moments was sneaking o with our photographers at sunset. Having the time to be alone for a moment and soak in being married was so nice.The ReceptionWe chose to have our reception on site at the Sow's Ear Restaurant. It was just before sunset and everyone had dinner with the mountains in view. Oh my gosh, everything was just stunning.Our favorite memory from the reception was dancing the night away with everyone. We had so much fun together! Seriously, those moments when you see everyone having a good time makes it all worth it!AdviceSoak it all in, it goes by so fast. Take the time with your signicant other and enjoy the special moments with one another.
Page 46
46 durangoweddingsmagazine.comFrom the bride... The Venue I chose Echo Basin Resort because it was an amazing place to have everyone stay together and for our out-of-town guests to enjoy how beautiful southwest Colorado is. Memorable MomentMy husband and I snuck away to give each other letters we wrote to one another. We read them for the wedding video. We hadn't done a "rst look" so it was a special time together to sit alone and read what the other wrote. I call it our"beautiful chaos" moment; we hadn't seen each other all day and when we did, we were pulled in every direction to say hi, or talk to someone, or dance. We never had time to ourselves except for that moment.LOCAL WEDDINGMegan & Ryan 08.03.19VenueEcho Basin ResortFloral DesignerApril's GardenHair & MakeupHair FusionPhotographer Mirabal Photography
Page 47
Durango Weddings Magazine 47My only living grand-parent gave me his wedding band to tie onto my bouquet for the day since he was unable to make the trip from Texas.The FlowersOur owers were astonishing! ey were a mix of dierent owers all found in southwestern Colorado. April's Garden did an amazing job, I honestly can't say enough amazing things about them.
Page 48
48 durangoweddingsmagazine.comEmotionsI cried a lot that day. I cried when I saw my dad, when I saw my husband, and when we had our rst dance. We laughed more than we cried, though. Our friends and family got along so well; we shared laughs, hugs, shots, and toasts. We had an amazing time.My favorite ceremony memory was the rain. Yes, it rained during our wedding; for us it made sense. On all of the important moments for us, it has rained: the day we got engaged, the day we announced our baby's gender, the day he was born, and now the day we got married.
Page 49
Durango Weddings Magazine 49The Ceremonye ceremony was outside and perfect. April's Garden made sure everything was set up the way I wanted it.The ReceptionIt was a giant party! Our decor was beautiful. e photo booth gave everyone an outlet to be their goofy selves. Everyone danced and had fun.AdviceNo matter what, make time for you and your spouse that day to sneak away to have alone time to either hug and kiss, hold hands and walk, or sit down and talk. It kept us in the moment and we didn't feel overwhelmed with the amount of attention from everyone. Megan & Ryan
Page 50
50 durangoweddingsmagazine.comFrom the bride… The Vibe We wanted a romantic, country wedding in the mountains during peak fall color. Our friends and family did all of the oral arrangements and decorating. My mother-in-law made our wedding cake, a friend made the altar, and I created my own custom jean jacket.The Venue Double R Ranch is absolutely breathtaking and the views speak for themselves. Add in a beautiful main house, cookhouse, and tent that can easily accommodate a large reception, it was a no-brainer Double R Ranch would provide the best mountain setting for our special day. ere were multiple options for guest accommodations on the property and several choices for the ceremony site. e fall colors made our decor pop and provided a gorgeous backdrop. LOCAL WEDDINGAmber & Jake09.29.19VenueDouble R Ranch RentalsDurango Party RentalHair StylistGina Sturdevant, Mountain Hair Photographer Wild Dawn Photo + Film
Page 51
Durango Weddings Magazine 51The CeremonyWe held the ceremony in a pasture overlooking the Mancos Valley, with the fall colors perfectly framing the scene. Flower petals and lanterns lined the aisle to our handmade altar draped in orals and blush fabric. Seeing Jake tear up as I turned the corner to walk down the aisle was my favorite memory.The Receptione reception was held under a large white tent aglow with twinkle lights. It was great to see our loved ones enjoying the food and music in this beautiful setting.AdviceEnjoy every moment. Remember that it is your special day and no one else's opinion is as important as yours. Don't let the stress of the wedding distract from why you wanted to get married in the rst place.
Page 52
52 durangoweddingsmagazine.comFrom the bride… we met at a coee shop in Portland, OR. Aer talking for a bit, Sean said "You know, I'm writing a book and I really think you could help me." It was a phone book and he got my number. e rest is history!Why Durangois was a destination wedding for us. Growing up, my family went on many road trips to southwest Colorado. I was so excited to take Sean for the rst time and he loved it as much as I did. We knew it would be a great place to get mar-ried, even before we were engaged. Since we're not local, Durango Weddings Magazine was a fantastic way to discover venues and vendors. We loved seeing the many dierent styles of wedding options in southwest Colorado.The Vision We wanted an intimate and thoughtful wedding. e rest of the vision fell into place as we focused on those two components. e overall vibe was fun, relaxed, and unique to our relationship. DESTINATION WEDDINGChelsea & Sean09.14.19Venue, Caterer, LodgingSilverpick LodgeFloral DesignerApril's GardenRentalsDurango Party RentalPhotographer Elizabeth Wells Photography
Page 53
Durango Weddings Magazine 53The FlowersI gave April's Garden some very loose ideas of what we wanted and they did an awesome job! I wanted something dierent but didn't quite know how to articulate it. ey created two beautiful arrangements for the ceremony that we also repurposed at the reception. My bouquet was lled with so many dierent textures and colors, I actually cried upon seeing it. e bridesmaids had amazing, lush foliage bouquets and the groomsmen's boutonnieres matched. I could go on and on but I'll sum it up by saying, the owers were perfect!
Page 54
54 durangoweddingsmagazine.comThe VenueWe knew we wanted to get married at Silverpick Lodge about 5 minutes into the tour. e owner, Chris has created such a special place. It was important to us that we had space for all the people that would be traveling to Durango. We booked the lodge for three nights; using the second reception space for a welcome dinner, the meadow for our ceremony, the second ceremony spot for cocktail hour, and the Sow's Ear for our reception. is venue has it all. The Ceremonye meadow at Silverpick has the perfect backdrop: mountains, wildowers, and aspens. We had a runner for the aisle, aspen benches for guests, aspen stumps for oral arrangements, and we stood on a circular rug. It was simple because the setting was beautiful enough.We both agreed our favorite ceremony memory was reading our vows to each other, they were so similar without having planned it. We were laughing and crying at the same time.Chelsea & Sean
Page 55
Durango Weddings Magazine 55The ReceptionWe added some candles and small vases with orals to the tables and individualized menus with tile place cards at each seat. e chandeliers held Aspen branches, and a neon sign hung above our sweetheart table. It looked beautiful.While eating dinner, we stopped for a couple of minutes to watch and take it all in. As we looked around everyone was laughing, smiling, and enjoying the food and wine. It was a magical moment to see.AdviceYou do you! Remind yourself what is important to you. Keep those things as the focus and everything else will fall into place.I loved our rst dance! Sean really got down and it took me and everyone else by surprise. I remember laughing so hard and dancing my heart out, while feeling so happy.
Page 56
56 durangoweddingsmagazine.comFrom the bride… We met online and two years later got engaged on Christmas Day. We wanted a simple wedding that was fun and comfortable. The Venue Triple J Ranch had it all. Each event at our wedding was in a separate location and within walking distance to the next. e ceremony was outside in a large grassy eld with white fences and 100 year old cottonwood trees. e reception was held in another building with roll up doors and had a rustic vibe with dark wood tables and chairs. Seating was inside and outside, lots of candles and ow-ers accented the tables, and the food was served buet style. Dancing was held in an 1800s barn, it was very rustic and romantic with twinkling lights, chandeliers, and big antique chairs to sit in while taking a break. We had lawn games for the kids and a big re pit to cook s'mores. e 1800s saloon was open for drinks or to play pool for the adults.LOCAL WEDDINGMiy & Josh 09.12.19 VenueTriple J RanchPhotographer Aimee Whitmer Photography
Page 57
Durango Weddings Magazine 57Advice Enjoy every moment and live in that moment. I was so busy making sure everyone was having a good time, I missed most of my wedding. I look back at the pictures and think "where was I when that happened?"The Ceremony When we arrived at the ceremony I saw my son waiting for me in his Marine dress blues. I broke into happy tears and my heart wanted to explode out of my chest. Walk-ing down the aisle with him was a special moment I will treasure for the rest of my life. When I locked eyes with Josh, he had a huge smile and started tearing up. It was another moment I will forever cherish.One thing I loved most was lling our ower girl's basket with petals from the roses Josh had given to me throughout our relationship. I had saved every one and took the petals o the stems for the basket.
Page 58
58 durangoweddingsmagazine.comFrom the bride… We met in 6th grade and had crushes on each other since then, we never dated until later in college. Why Durangois was somewhat of a destination wedding as we're from the Front Range of Colorado. I went to school at Fort Lewis College, falling in love with Durango and the surround-ing area. I always wanted to bring all my friends and family and found the perfect way by having our wedding there. We highly recommend a wedding in southwest Colorado! e vendors were all amazing to work with and have worked together so oen it seems like they're family.The Planning We attended the Durango Wedding Expo and it was extremely helpful to meet our vendors in person and talk to them. e Durango Weddings Magazine was highly use-ful to show my orist exactly which oral arrangements I liked, turns out she had done all of them. I liked seeing what the brides and grooms wished they had done and the lists of vendors they used. We mainly used the Durango Weddings Magazine because it showcased all the local vendors and gave me great inspiration for what I wanted in my wedding. e local Durango vendors were so helpful in giving advice and assisting me considering I was planning from far away.DESTINATION WEDDINGHannah & Zach 06.22.19Venue, Caterer, LodgingPurgatory ResortFloral DesignerApril's GardenPhotographer Shutterfreek
Page 59
Durango Weddings Magazine 59The Venue Our venue choice was easy because we love skiing and wanted to get mar-ried at a ski resort and in Durango, so Purgatory Resort was the perfect place. We also loved that our guests could stay right at the resort and we didn't have to worry about transporta-tion aer our great night of fun. ere were many activities and amenities for people of all ages to do while staying at the resort. We chose Purgies for the reception and Engineer Site for our ceremony because they both had the perfect mountain vibes and views to t our wedding. Our style was slightly rustic and laid-back with an emphasis on Durango's amazing natural qualities. We wanted to keep it simple yet t the Durango vibe as best as possible. We love the city, the people, and the mountains and wanted our wedding to be an example of that. We wanted guests to experience the laid-back feel of the Durango area and the simple beauty of the mountains and nature surrounding it.The CeremonyWe held the ceremony in a secluded and wooded site that provided an amazing view of Engineer Mountain in the background. It truly felt like we were in the forest with only our guests and each other, it was exactly what we wanted! e whole day was very rainy and gloomy, we thought the wedding would have to move inside. However, we were absolutely determined to keep the wedding outside and luckily aer postponing for an hour, the sun broke out and the rain paused just long enough for the ceremony. We both cried seeing each other at the ceremony for the rst time and while reading our vows. ey were such touching moments, nothing can prepare you for them.e whole ceremony was magical and entirely perfect.
Page 60
60 durangoweddingsmagazine.comThe Flowers Our owers were truly incredible. We wanted them to have an essence of wildowers because we love being outdoors and enjoy the mountains when wildowers are in full bloom. e owers were also 100% local, this was very important to us to support the local economy and have things that were truly from the area. ey were absolutely perfect and added the exact amount of color and brightness to the reception and ceremony. April's Garden deserves 5 stars and beyond, they were amazing and even xed the owers outside in the rain.
Page 61
Durango Weddings Magazine 61The Reception Highlights were denitely dancing the night away with all of our friends, seeing how much fun everyone was having, and sharing laughs all night at our reception. We loved that everyone was having a great time!AdviceTry and focus more on the big picture; you're getting married and that's what matters. e small stu is only big to you, no one else notices. Our rst look was amazing, it helped settle the nerves before walking down the aisle and let us enjoy the ceremony all the more.We named the signature cocktails aer our dog, Benny.Our table numbers were small mountains that Zach's dad made.Our cake topper represented our life together: a skier girl, a snow-boarder guy, and a corgi.Hannah & Zach
Page 62
62 durangoweddingsmagazine.comFrom the bride… Why DurangoWe live in New Hampshire, but my parents live in Durango. We wanted to get mar-ried in Durango because of its beauty and we met in Colorado, so it holds a special place in our hearts. Durango was a great choice for our friends and relatives who traveled to the wedding. Many stayed for a week and combined the wedding with vacation - there was something for everyone from shopping and dining downtown to hiking, raing, and hot springs. Durango is the best place ever, each season has its own beauty, and everyone is so friendly and helpful.The Venue e ceremony and reception were in my parent's backyard because it had every-thing we wanted and was quintessential Colorado with old trees, water, and the Hermosa Mountains in the background.The Planning We attended the Durango Wedding Expo and it was very helpful, gave us lots of ideas, and we worked with a lot of the vendors we met there.LOCAL WEDDINGLucy & Tyler 09.14.19Floral DesignerApril's GardenPhotographer Candace Cross PhotographyRentalsDurango Party Rental Violet Mae, Dirty Dishes
Page 63
Durango Weddings Magazine 63The Vision & Vibe We wanted an English garden party combined with boho chic Colorado; lots of owers, lace, dreamcatchers, vintage accents, and cowboy boots. We wanted the day to be family oriented, fun, and intimate. We enjoyed a relaxed vibe with time to enjoy each other as many of the guests came from all over the world.
Page 64
64 durangoweddingsmagazine.comThe CeremonyOur ceremony took place in the garden with guests seated on vintage armchairs and benches. A pair of ten foot high cactus skeletons adorned with owers provided the entrance for my father and I to walk through. We had a personal and unique ceremony; it included making a family vow, my godmother from Eng-land reading a Rumi poem, and a rose planting ceremony with our seven month old son. e family Bernese Mountain Dog walked down the aisle to present the rings. e decor was vintage with loads of owers and the weather was perfect. e ceremony was moving, intimate, and beautiful. ere were a lot of tears, Tyler cried all the way through it.
Page 65
Durango Weddings Magazine 65 The ReceptionA family style cookout for the meal featured favorites from both Tyler and I. Brisket and bacon for Tyler and Olathe corn, James Ranch cheese, and chicken wings for me. We enjoyed games on the lawn, a re pit, and s'mores and sparklers at the end of day. AdviceEnjoy the day to the fullest and remember to stay in the present. Go into your day happy and positive because everyone is there to love and support you. Don't let other people's stress take away from your day.Lucy & Tyler
Page 66
66 durangoweddingsmagazine.comFrom the bride... Why DurangoWe both love spending time in the mountains and have memories of Durango from our childhoods. We knew from our rst vacation there together that we wanted to get married in Durango. It was on our second trip that we wandered into Sorrel Sky Gal-lery and found my dream engagement ring and there was no turning back from there. We were determined to get married in front of the beautiful, scenic mountains among the aspen trees. Du-rango has such a friendly atmosphere, all the vendors we worked with were amazing.The Venue We wanted our wedding to be laid back and inclusive; to feel more like a family reunion or a gathering of friends than a formal wedding. Silverpick was the perfect venue to make it a reality. e owner, Chris Wing, understood our vision and the feel we wanted for our wedding. He went over the moon to make our wedding day a dream come true. We rented the lodge for two days, our guests were able to hang out with us all weekend. ey raved about the lodge and all of its amenities.The PlanningI attended the 2018 Durango Wedding Expo (before Kyle even proposed) and found several of our vendors. I used the Durango Weddings Magazine while planning, I loved reading all the dierent wedding stories. It helped me choose my vendor team and was a great resource for planning our desti-nation wedding.DESTINATION WEDDINGCaie & Kyle 04.27.19 Venue, Caterer, LodgingSilverpick LodgePhotographer Jenne Anne
Page 67
Durango Weddings Magazine 67The CeremonyWe were determined to have our ceremony outdoors and told people for months "rain or shine". We also hoped that there would be snow on the ground, yet we didn't expect the six inches on the ground when visiting two weeks before the wedding. We were prepared to arrive with shovels in hand and Chris surprised us with a clear ceremony site the day before our wedding. en came the rain, a steady downpour throughout the whole ceremony. Chris brought umbrellas to our guests and we had our wedding outside like we'd dreamed.Memorable MomentsMy favorite ceremony memory is when we read our vows and said, "I do", Kyle forgot to put the ring on my nger. As a little girl, it was a moment I thought would be absolutely magical on my wedding day, instead it was a moment of comedy. I had to ask him for my wedding ring! Kyle: My favorite ceremony memory is when we rst joined hands at the altar and I asked Cassie if she was cold, because it was pouring rain. She said no and we smiled, I got tunnel vision and it felt like we were the only two people on the planet (hence forgetting the ring).The ReceptionWe had our reception dinner in the Sow's Ear restaurant at Silverpick Lodge. Chris worked with us to cre-ate a custom menu. e restaurant is gorgeous as is, we didn't add many decorations to it besides our celestial table numbers and place cards.AdviceStay true to your vision. It is hard to plan a wedding because everyone has their own idea of what a wedding should be. is is a day for you and your partner, make it what you want it to be and have fun doing so!
Page 68
68 durangoweddingsmagazine.comFrom the bride… The Venue Double R Ranch allowed us to have a Colorado outdoor wedding with tent cov-erage for the reception. ey also provided space to prepare food and have some family stay on site the night before and the night of the wedding.The VisionWe wanted a rustic wedding with a Colorado feel and hand craed touches. A lot of family came in from out-of-state so we wanted them to see why we love southwest Colorado.LOCAL WEDDINGHoy & Chase08.01.18 VenueDouble R RanchPhotographer Aspen Jade Photography
Page 69
Durango Weddings Magazine 69The CeremonyWe held the ceremony in a eld surrounded by Aspen trees. We craed an entryway with doors and a sign above that read "Let the adventure begin" and as we walked out through the doors aer the ceremony it read "And they lived happily ever aer". It rained, snowed, and hailed that day, but during the ceremony, the sky cleared and it was beautiful. We wrote and recited our own vows. My oldest brother married us making it special and unique by adding personal touches and humor. The ReceptionWe held the reception under a large tent in close proximity to the ceremony site making it convenient for our guests. We had a "sweetheart" table because I knew we were both going to be very social and didn't want to be tied behind a long table. I also wanted the groomsmen and bridesmaids to be able to sit with their dates. My mother and I made our own centerpieces. We had a milk & cookies bar for dessert. Everyone partook at some point or another in the dancing, even our grandmothers! Looking back, I wished we would have hired a day-of event coordinator. is would have allowed our families to step back and enjoy themselves.
Page 70
70 durangoweddingsmagazine.comFrom the bride… The VenueSince we met while skiing at Purgatory, we knew we wanted to have our wedding in the San Juan Mountains. Cascade Village was very easy to work with and open to us getting creative with the venue space. We also loved the idea of our guests renting condos and staying close together for the weekend. Neither of us have much family living in Durango, so having all our family and friends travel in to spend the weekend with us was so very special.The CeremonyWe were married in the Cascade meadow overlooking the Needles Mountains. We kept the decor simple with small boxes of owers and a large garland of greenery for the arch. We kept the wedding party small to keep the ceremony as intimate and personal as possible. LOCAL WEDDING Emilie & Chad 09.28.19 VenueCascade VillagePhotographer Ginger Moose Photography
Page 71
Durango Weddings Magazine 71
Page 72
72 durangoweddingsmagazine.comSince we chose Cascade Village for the beautiful mountain backdrop, we focused on using a lot of green foliage and Aspens for the decor.Advice: Delegate tasks for the day of the wedding so you can relax and not feel rushed. Most friends and family are looking to help anyway.Flowers: Lori Poppins
Page 73
Durango Weddings Magazine 73 I wish I would not have stressed so much about my wedding dress. Once we were there, I wasn't even thinking about what I was wearing. -Margo & John married at Reising Stage LOOKING BACKLooking back, the only thing I would do dierently is make the night last longer! -Katie & DJ married in DurangoDurango newlyweds share what they would do dierent on their wedding day. Looking back, I wish we had eaten more cake! -Tori & David married in Durango If we could do anything dierently, it would be to better manage our time that day. We felt time slipping by so quickly and didn't get enough moments with everyone. Everyone warns you that the time ies by - they were right!-Liz & Anthony married at RidgewoodPhoto: Kara Cavalca Photo + VideoPhoto: Amy Crooks Photography
Page 74
74 durangoweddingsmagazine.comFrom the bride...The ProposalJonathan proposed on the Ice Lakes Trail at the rst waterfall. Originally, he wanted to propose up at Clear Lake but a tree on the road prevented us from getting up there. He totally kept his cool and improvised plan B. I never would have known it was the backup plan if he hadn't told me.The VisionWe wanted an earthy and simple vibe for our wedding day. We chose a navy blue, gray, and yellow color scheme with pops of white and green. LOCAL WEDDINGBriany & Jonathan 06.29.19Venue, Planning, FlowersRidgewood Event CenterPhotographer illuminartsWedding GownOccasions Bridal
Page 75
Durango Weddings Magazine 75
Page 76
76 durangoweddingsmagazine.com
Page 77
Durango Weddings Magazine 77The Venue We chose the gorgeous Ridgewood Event Center. Joan de-signed all our owers including a beautiful spray on the ceremony arbor.The Ceremony Jon built the arbor we were married under. My grandmother was our ociant. A memorable moment was when Jon said, "I do" before he was supposed to. He was so anxious to get married and it was so sweet.Favorite Moment My favorite moment was our rst dance and Jon swinging me around the dance oor.Advice Get a wedding coordinator, they save you so much stress.Briany & Jonathan
Page 78
78 durangoweddingsmagazine.com