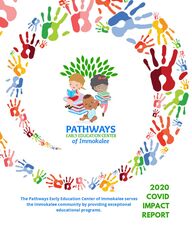 Return to flip book view
2020 COVID Report
Page 1
The Pathways Early Education Center of Immokalee servesthe Immokalee community by providing exceptionaleducational programs.2020COVIDIMPACTREPORT
Page 2
Page 3
But with the support of our Board of Directors and several strategic partners, we were able tocreate our own vision for a new normal. Thanks to federal and community support, we keptour teachers and staff employed throughout the shutdown so they could continue to helpour students and families.Pathways has served the Immokalee community for over 56 years, providing exceptional earlyeducation programs to some of the most underserved families in the county. In the 2019-2020 school year, we reached a milestone by increasing our enrollment to 125 students, withplans to further increase enrollment to serve even more students on our waiting list of nearly500 children. Getting at-risk children aged 4 weeks to 5 years old into the classroom helpsthem build a foundation of cognitive and social-emotional development that prepares themfor kindergarten and a lifetime of learning.And we are just getting started. Despite our record-setting achievements, 2020 was a difficult year for all of us. I want tothank you and the entire community for continually supporting our mission. The entirePathways family – parents, teachers, staff, and community supporters – has beeninstrumental in the last year, while always putting our children first. Although we are not outof the weeds yet, I am so proud of what we've accomplished.The thought of temporarily closing the Center in March 2020 was unimaginable. So manyfamilies rely on Pathways for so much more than childcare. Immokalee became one of thenation's largest COVID hotspots over the summer of 2020, with Doctors Without Borderssending an unprecedented mission to help with testing and treatment. The future wasunpredictable, and for many families, very scary.Our team set up safe drive-thru food and diaper distributions. Whenfamilies were sick or quarantining, we went grocery shopping forthem. When families were unable to work or lost their jobs, weprovided rent and utility assistance. Our dedicated and creativeteachers designed virtual learning programs for children and families,while we also focused on the mental health effects of the virus,providing toxic stress training and mental health referrals for familiesas needed.
Page 4
When we were finally able to reopen in September on the same timeline as Collier CountyPublic Schools and with newly-established operating policies and procedures that followCDC guidelines, our children and families were overjoyed. "Return to School Day" wasnothing like what I would have predicted. Separation anxiety is a normal stage ofdevelopment, and with the new safety guidelines, families could not enter the buildingduring drop-off, and our team was prepared for many tears to be shed.Amazingly, there was not a single tear. Even with masks on, we could tell how big theirsmiles were. It was a powerful reminder of the program's importance and the critical needsit meets.In this COVID impact report we will share our incredible success at making up for the lossin learning time through our Pathways Plans to ensure that every child continues to meetand exceed their developmental milestones. We are proud and humbled to see how wellour community has responded and how we have worked to combat the inequities that thepandemic has laid even more bare.Thank you for committing your investment, which enables us to fulfill our mission andmeet the ever-changing needs of the community we serve. We know that, together, we canChange the Path.Meals Distributed to Families duringclosureVirtual Lessons viewedby familiesMeals Served to children at the CenterVirtual Pre-K daysfor children notattending in-person
Page 5
Mid Year Assessment Results92%Meet or ExceedExpectationsSocial-emotional skills90%Meet or ExceedExpectationsPhysical skills82%Meet or ExceedExpectationsCommunication skills88%Meet or ExceedExpectationsEarly Literacy skills80% 76%Cognitive skills Early Math skillsMeet or ExceedExpectationsMeet or ExceedExpectationsChildren in all age groups assessed (4 weeks - 5 years)"Pathways' teachers and staff have embraced our work and intervention with children requiring specialeducation, occupational, physical and speech therapy services. The teamwork between their educatorsand our early intervention staff and therapist is helping the children reach important developmentalmilestones. They have been gracious especially through the COVID-19 pandemic in using telehealthplatforms to continue these services as well" - Donna Brink/Early Steps
Page 6
Jan. Feb. Mar. Apr. May Jun. Jul. Aug. Sept. Oct. Nov. Dec.25 20 15 10 5 0 Support from 38 states 382019 2020Saying "YES" toevery child atfull enrollmentRaised 57% more in 2020 than 2019Donor retentionrate 58%National average is 45%Gained moredonors in 2020than 2018 & 2019 combined Reactivated64 donorsin 2020
Page 7
Sustainability for 125 children New Immokalee BuildingEnsuring the critical need of under served children in Collier County and beyondhave access to Early Education and Kindergarten Readiness opportunitiesSaying "YES" to the 500 children waiting to be enrolled"It's an honor to help support the growth of our future leaders with a Leadership Team that makes it happen. My vision has been steadfast to help ussustain and grow allowing many of those on our waiting list to have an opportunity to also be a future leader." - Pete Garlock, Board PresidentOurpathtoabrighterfuture#changingthepathEnsuring our current enrollment provides the highest quality early learning foundation and experience that is affordable to the families we serve. Outreach Expansion
Page 8
Pathway's Spiderman Success StoryIsaac, aka Spiderman, a five-year-old who wears his superhero suit proudly, is thriving.Before being enrolled at Pathways, Isaac, dressed as Spiderman, would watch the other children playing from his yard on the other side of the center's fence and dream about the day he could join them. With more than 500 children on a waiting list, it took years for Isaac's dreams of going to school at Pathways Early Education Center of Immokalee to come true.Now through a customized Pathways Plan, Isaac is developing the academic and social-emotionalskills needed to succeed.While Pathways celebrates the accomplishments of one child, there are hundreds more that maynever have the same opportunity. In 2019, the state released startling statistics. 42 percent ofchildren in Florida's Voluntary Pre-Kindergarten (VPK) program were not prepared to advance.Those numbers are much higher in communities like Immokalee where it's estimated there areclose to 1100 underserved youngsters.So what does the future hold for Isaac? No doubt he will continue to face challenges but beingprepared with vital language, literary and social skills, he is certain to stand a better chance atrealizing his dreams. And he can still wear the Spiderman suit on weekends.Every child deserves to have thesuper powers of education like IsaacStory credited to: Vikki Locke, originally published in Naples Lifestyle and national coverage in City Lifestyle Atlanta
Page 9
Daily instruction with Virtual TeacherSpecialized lessons for onlinelearningActivities with in-person class todevelop social skillsEvery participant provided with a free iPad and WiFi hot-spotVirtual students assessed to focuslessons on their needsVirtual Pre-K PilotNational Coverageof Pathways' New ProgrammingModelThe Virtual Pre-K Program was developed to meet the needs of children unable or unwilling to attend in-person learning.
Page 10
Ways to get involvedSign Up for a virtual tourBecome a mentor"She was absolutely amazing.Intelligent, personable, joyful,engaging, entertaining, beautiful,polite — I could go on and on.Can't wait til next week. I think shedid more for me than the otherway around."Barbara Todd, New PathwaysMentorDonate NowListen to and share our story
Page 11
Page 12
Pete Garlock - Board PresidentMary Payne - SecretaryEric Esper - TreasurerBeverley ViningKent AndersonSusan IgnelziSue SherwinJohn Brooks Pathways Honor Society Members Special Thanks to Outgoing Board Members2019-2020PATHWAYS ADMINISTRATIVE OFFICE4060 Tamiami Trail N., Unit 1Naples, Florida 34103239.261.1774www.PathwaysEarlyEducation.orgBeth Hatch, Executive DirectorBeth@PathwaysEarlyEducation.orgBrandon Dowdy, Director of DevelopmentBrandon@PathwaysEarlyEducation.orgGary WilsonPrudence BoysonJerry Carbone Pathways Board of Directors 2021Susan Nunner, SecretaryChristina DavidowVincent Keeys In MemoriamRobert StiftIris DetterRolly RastetterLaverne (Lal) Gaynor