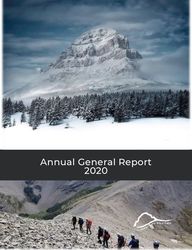 Return to flip book view
2020 Annual Report
Page 1
Annual General Report 2020
Page 2
Annual General Report 2020MISSION STATEMENTCrowsnest Lake Bible Camp Association is an autonomous, evangelical, faith ministry dedicated to bringing glory to God by responding to the needs of the whole person according to the Biblical principles of evangelism and discipleship through offering programs in a camp setting.Crowsnest Lake Bible Camp'sMission & ValuesSTATEMENT OF FAITHWe believe the Biblical scriptures to be verbally inspired in the original manuscripts, without error, the complete revelation of God and of His will for the salvation of man, and the divine and final authority for all Christian faith, doctrine and life.This belief presupposes that there is indeed one eternal God who inspired the Scriptures to reveal His existence, character, actions, and purpose.We believe that God sent His Son, Jesus, to die for our sins and that He was buried and was raised to life on the third day. All those who believe in Him receive forgiveness and eternal life.We believe that all should accept, strongly hold, and practice everything taught in the Bible, but do not insist that all respond uniformly to any specific teaching; believing that to so insist is at best redundant and has strong potential to be divisive.
Page 3
Annual General Report 2020Hindsight on 2020The Graham Family visited Riding Mountain National Park in the summer of 1986. I was 7, and my little brother Andrew was 5. We had fun, I'm sure, but I don't remember the fun. What I remember - the only thing I remember - was The Family Bike Ride. Dad led the way, and I followed athletically behind. My younger brother Andrew came next, but at the bottom of a steep slope, he got a little bogged down in the mud, and fell off his bike. An unremarkable crash... but then Mom couldn't stop. Or, at least, she didn't stop. She rode right over Andrew's belly, both tires. I was impressed: despite the impediment, she didn't fall off her bike.Andrew wasn't hurt (some combination of providence, along with soft ground and that famous Graham core-strength), but when he stood up, there were two perfectly preserved muddy tire tracks right across his stomach. We all laughed, though not right away.We've talked about that trip many times over the years. All of the details have faded except for one: The Family Bike Ride where Mom rode over Andrew.Other camp summers are going to blur, and mix together - "Was that one the summer of '17? Or '18?" But the summer of 2020 is singular: the summer of Covid. "Corvid 20," we called it. In 50 years, we'll remember this one.In this report, you'll see a graph that shows the drop-off in camper attendance from last year to this year. For as long as we present that chart, nobody is going to struggle to remember what happened. No one is ever going to try to explain the change without referencing Covid… "Yeah, we must really have struggled to recruit cabin leaders that summer?" or "Interest must have been really low that year. Not a lot of demand for s'mores and wide games and sleeping out under the stars, I guess?" Nah. Fifty years from now, they'll look at that graph and immediately know - 2020 was the summer of Covid. What I am hoping you will see from this report is that 2020 wasn't just the summer of Covid. So much happened, so much that was memorable, instructive, fun. worthy, true, beautiful… you know, camp-type stuff... In spite of everything, Camp Happened at Crow in the summer of 2020, as it has happened in every other summer for the past 60+ years. You already know that there was a powerful disruption at work in the world in 2020; this is not a report of disruption, disorder, disease. This is a report about what happened in spite of all of that."The light shines in the darkness, and the darkness has not overcome it." John 1:5We still don't know what the summer of 2021 will be like. We've got some hopes, and even some early plans - the kind of plans that precede a first draft (a zero-th draft?) - but we don't know precisely what form camp is going to take in 2021. Planning around Covid is a little like planning around a live dragon, and as JRR Tolkien sagely said, "It does not do to leave a live dragon out of your calculations."But we do know this: Camp Happened in 2020. And I am confident, despite everything, that camp will happen again in 2021. And you can be a part of it. I hope you will.David Graham,Director of CampingMessage from the Director
Page 4
Annual General Report 2020"I saw God show people that he is real and faithful. I saw him change people so that they will never be the same again. I saw him take the tiny little bit that we offered him, and break it into bits, and hand it back to us to give out to others, and bring joy and life and encouragement and hope to the people we were trying to serve, and still have really good leftovers for us after. I saw him lead and heal and guide and protect and strengthen and comfort and sustain and create."- Yin Liu (COLTS Co-Leader)"The summer of 2020 was unlike anything I have experienced before. For better or for worse, camp is a place where traditions thrive and CLBC is no exception to that. But many things were different this past summer. Instead of the natural divide of campers and staff, we had 3(-ish) cohorts; the COLTs, the PITs, and the Support cohorts. There were areas of camp that I couldn't enter, I had to use certain doors, and a mask was always on my person. I learned to work with some of my closest friends from 6 ft apart. And yet, in the most important ways, it felt the same as all my previous summers at Crow. How? Because God was there- and working- and creating a community of believers that support and encourage one another as they serve. This summer I was taught how important a community of believers is, for me personally and in the lives of others- but especially to our youth. I had the privilege of co-leading the PIT crew and had a front-row seat as over the course of 5 weeks He grew 12 kids into young leaders, excited to share His love with others as they seek to know Him better. This summer was strange, unexpected, but as I spent each day in awe of how beautiful His work is, how in the midst of the world going crazy, He showed up at our little camp in the biggest ways and in the smallest details, it became clear that this summer was, in so many ways, intentional."- Skye Sperling (PIT Co-Leader)"The pandemic presented us with a unique set of challenges and created some exciting new opportunities. There was a huge need that ministry through outdoor programs reached out to for youth and families this year specifically. We went for quality over quantity and it was so effective – the impact was deep and meaningful – and all sustained by God's grace. Ministry definitely happened – it was honestly shocking how effective it was this year – small was actually much more effective than we anticipated and it was amazing to be a part of! The COLTS this year were amazing, with a strong spiritual focus and intentionality in how they allowed God to work through them in their programming; it was truly an honor to lead and work beside each one of them. But the great work didn't stop there; to top it all off, we had a fantastic PIT crew and leaders who ran a rock solid program, and then an absolutely stellar kitchen and support staff team who spearheaded some major improvements and were instrumental in this summer's success. Though this year was an unmatched challenge and we needed to constantly adapt and give our plans over to God, this summer will probably go down as my favorite summer and I wouldn't change it for anything."- Stephanie Goodbrand (Brouwer)(COLTS Co-Leader)"He provided no less for our needs (and wants) than every other year, it just looked a bit different than usual. Having a more restful style summer allowed for a large backlog of things to finally be addressed, and for the focus to shift more to the care of what we've been given vs. constant outreach. It seemed like something we had needed for a long time, that was no longer made optional. We were given teams that we're amazing, people to run programming for and everything we needed to do so. Praise the LORD that we were still able to do work in His service, even in a year where so many things were brought to a halt."- Ashleigh Szarka-Rempel (Support Staff Leader)COHORT LEADERSOverview of the summer
Page 5
Annual General Report 2020Crowsnest Outdoor Leadership Training School is an accelerated leadership development program that aims to create Christ-centred leaders in the outdoor industry. This is accomplished through purposed instruction and in-depth training, then culminating with 2 months of experiential practicums leading outtrips during our summer camps.This summer, God taught me to trust Him more completely and to turn to Him in prayer more consistently. When outtrips started for the summer, very quickly on I realized that I did not have enough in myself to have a meaningful impact on the camper's lives. I (usually) had enough to lead a group of kids from one place to another safely but, in order to have the impact that would last more than the length of the outtrip, I knew that I needed more than myself and my own strength. I began to consistently turn to God in prayer for wisdom, strength, enthusiasm, joy, and peace and then trusting that He would provide everything that was needed. And he so faithfully and consistently did!- Noah TainshC.O.L.T.S. PROGRAMFlapjack Recipe!!6.5 cups Brown Sugar6.5 cups Margarine24 cups Rolled Oats2 cups Raisins or Choc. chips 1 Tbsp. Salt • Cream the brown sugar and margarine together, then mix in the remaining ingredients. • Press into a 18x24 inch pan, then bake at 350 degrees for 45 minutes. • One serving is 3 by 4 inches.
Page 6
Annual General Report 2020For me, this summer was an absolutely amazing experience. It was strange and incredibly different, but it was still amazing. Since we were practically isolated to our cohorts, us PITs got really close in the five weeks we were there. I really saw God through my fellow PITs because, despite our tendency for distraction, we had good conversation and connections, and really worked to build each other up and to help each other further our faith. I saw him through the other staff at camp, in their dedication and love for him and the examples they set because of that, as well as through their hard work and cheerful spirits. I saw God through the people who drove all the way to camp and followed protocols to lead our sessions, in their selfless attitude and in what they taught us. I saw God through my PIT leaders, Eric and Skye, who put up with our crazy shenanigans and worked hard to help us grow in, learn about, and connect with God despite the restrictions we faced. And honestly, just being at camp feels like a special place where you can put aside all the distractions of life and just be in his beautiful creation, and feel his presence all around you. It's incredible. So yeah, it's really hard to sum up the summer, but I would say that's my best shot. It's been amazing to see God at work through the people around me, even with an eerily empty camp that had no camps. Despite everything that was and is so different, God is still the same. - Raquel AdrianP.I.T. PROGRAMThe PIT Crew program is unique to Crow, but is similar in emphasis to other camps' teen training programs. It emphasizes and exposes all aspects of camp ministry as being of equal importance, giving training for and experience in all areas of camp.
Page 7
Annual General Report 2020I have spent several full summers at camp – including for COLTS in 2019 – and this was the first time I have done one role and worked with one team for the whole summer! It was a unique opportunity to go deeper than usual in our roles and community. For me, this meant two months of running the dish pit, doing a lot of COVID-inspired cleaning and sanitizing, preparing disinfectant spray bottles for everyone, and working alongside and supporting the cooks. It was a huge blessing to be in my role long enough to learn it, master it and learn about myself in it – and God really gave me a lot to learn through this cleaning and support role this summer. In many ways, the slower pace and longer time in one position gave each of us a chance to learn and prepare more deeply for the ministry opportunities in every corner of camp. I am so thankful God provided the opportunity for me to be at camp and in the Support Cohort, where I learned so much from working alongside and serving the COLTS, PIT and Maintenance groups. I have learned about myself and the interests God has given me, I have grown in my faith and relationship with Him, and I have strengthened and gained several great friendships.- Danica JensenSUPPORT STAFFThis summer a crucial role was filled by our support staff, which consisted of three different teams. We had an incredible team cleaning and in the kitchen feeding everyone, a two person team dedicated to the Office and supporting the COLTS, as well as the maintenance team and without them things would fall apart both literally and figuratively.A three strand cord is not easily brokenEcclesiastes 4:12 b
Page 8
Annual General Report 2020 2020 Registration Report & Stats* Pre-COVID numbers are the numbers of campers who signed up before camps were cancelled April 23, 2020.
Page 9
Annual General Report 2020Due to COVID-19, all 21 of our regular summer camps were cancelled. By the time camps were cancelled on April 23, 2020, we had over 900 campers apply for a camp, with 844 of those applications for our youth camps.Despite having to cancel all regular summer camps due to COVID. We are thankful for the opportunity we had to run modified summer programs for youth and families this year.We ran 17 different outtrips for youth, families, couples, and for the PIT Program. This year was the first time we ran outtrips for families and couples which were both huge successes and something we would consider doing again in the future.Another new thing we were able to do this summer was run 4 Family Day Programs days, were we did Archery, Canoeing, and Day Hikes for families. 12 families attend our day programs, with 11 more families on the waitlist.We were also able to run 8 Youth Nights for local youth throughout the summer, with an average of 20 youth attending each night. The COLTS would lead the youth in different camp activities like canoeing, archery, or wide games, with a campfire time afterwards.The PITs did a Youth Day Camp for local youth, were 15 youth attended. They lead the youth in COVID-safe day at camp that included outdoor games, activities, food, chapel, campfire time, and so much more.Although this year looked a lot different here at camp, we were still able to run our COLTS and PIT programs. 13 people applied for COLTS this year and we were able to accept 5 of them. For the PIT program we had 24 youth apply and we accepted 12 of them.We hosted 5 Back Country Clean-up events this summer, cleaning up approximately 3000 pounds of garbage out of the back country.Family & Youth OuttripsYouth Outtrip #1 (July 10-13)Family Outtrip #1 (July 11-12)Youth Outtrip #2 (July 16-20)Family Outtrip #2 (July 17-19)All Boys Outtrip (July 24 - August 1)Family Outtrip #3 (July 25-26)Youth Outtrip #4 (August 6-10)Family (Couples) Outtrip #4 (August 7-9)Youth Outtrip #4 (August 14-17)Family Outtrip #5 (August 15-16)Family Day ProgramsArchery & Canoeing (July 28)Archery, Canoeing & Day Hikes (August 2)Day Hikes (August 21)Archery & Canoeing (August 22)Local Youth MinistryYouth Day Camp (PIT Camp) (August 5)Local Youth Nights (July 8, July 15, July 22,July 29, August 5, August 12, August 19, and August 26)Training Programs & EventsC.O.L.T.S. (April 27 - August 30)P.I.T. (July 5 - August 9)Skills Week (June 16 - 20)Back Country Clean-up #1 (July 8)Back Country Clean-up #2 (July 22)Back Country Clean-up #3 (August 3)Back Country Clean-up #4 (August 12)Back Country Clean-up #5 (August 19)Modified Summer Programs"Camp will share dates for 2021 Camp sessions - just as soon as we have them!"
Page 10
Annual General Report 2020With a year filled with twists and turns and the thought of getting a lot done in and on the buildings at Camp this past year it turned out to be a bit of a surprise to have to totally focus on exterior projects. We got a lot done. Seeding, watering and cutting of the new playing field after the fence was put up in frozen ground; the Mega clean-up of the back parking lot; the demolition of the old playground; the staining of the Lodge, and the Sonnenberg Trailer; bridge repairs at Mountain site; boat house repairs, with the addition of a lean-to; brush and tree cutting almost everywhere on both sites; a renovation of the archery range shelter; the relocation of the fire pit; major clean and organization in the kitchen; clearing more space in the shop for extra water tanks; updating and servicing of our boilers, air exchangers, and hot water tanks; lights, plugs, and switches replaced; girl's cabins repainted, thoroughly cleaned and decluttered; vehicle repairs as required - some disposed of and others acquired - as well as a plan to service and repair a few more before spring. The sauna was gutted in preparation for a renovation with a new stove, chimney and interior walls. And this isn't even an exhaustive list! In the process of working through this list, there were always adjustments and repairs to do along the way. There are a few projects that remain on the Big To Do list as winter sets in. The big items on that list are: moving and re-siding Crow Manor; sound dampening in the dining hall; new doors for the new spaces in the boy's cabins (and possibly finishing of the bathrooms in those cabins as well, if funds and manpower are available). We plan to move ahead with a new Director's Cabin at Mountain Site, as well as patching up the damage from the vandalism we were the victims of this fall. And there will also be some more bridge repairs. We're hoping to complete the installation of new donated playground equipment, as well as the relocation, of the fire circle before summer. It's a lot, but we've got a plan. As I look back on the year, with one leg still recovering after surgery, and not quite up to par yet, I am amazed and blessed at the number of things that were achieved. I am especially thankful for the help of those who took the time to come to Crow and bless us with their labour, and moral support. As the old adage goes, you are only as good as the folks you have around you, and I had an armful of help that made it doable to accomplish so much this summer: Jonathan C, Nate, Pete, Mike, Nathan, Rea, Jeremy, Zach, Josh, Don, Eric, Andrew B,Charles, John, Lois, David, Nathan, Nigel, Noah, Jason, Andrew L, not to mention the Colts and the PIT crew... Without your effort, I'm not sure where we'd be. I am thankful to have been a part of the process, and I trust that strength and stamina will come my way once again as we look ahead to next year and all the projects that are before us. We're trusting that God will supply the resources as we "ask seek and knock" for his favor.CLBC FACILITIES / MAINTENANCE REPORTRandy Demman (Facilities Manager)
Page 11
Annual General Report 2020Even more so than most years, 2020 has been a Dickensian year around the Bible Camp: "It was the best of times, it was the worst of times," Dickens wrote, referring, if I am not mistaken, to the 2019-2020 Fiscal Year at Crow. Dickens had unusual foresight, because the months of October 2019 to February 2020 were terrific, really, the best of times - financially speaking. Thereafter came the worst of times.Camp's finances have always reminded me of Tiny Tim from Dickens's A Christmas Carol. Like Tiny Tim, Crow's finances are… not robust; perhaps even fragile. Like Tiny Tim, Crow's finances limp gamely on, with a cherubic smile, even in difficult circumstances. Like Tiny Tim, Crow's finances are a symbol and witness to the importance of choices, and how those choices really do matter. Like Tiny Tim, Crow's finances are known for the signature catch-phrase: "God bless us, every one!"The Best of Times: we could not have chosen a better summer for a massive disruption. Daniel was off on a planned sabbatical. Vitae Environmental Construction installed a new playing field, which would have surely been endangered by hundreds of eager feet in a standard camp season. Randy had a knee replacement in September. Due to a government regulatory decision, Crow has been without a source of drinking water since October 2019, which was difficult even with a reduced occupancy, but would have been very, very disruptive otherwise. These small stories felt providential to us, in the midst of a summer that was painful for so many, and for so many reasons.The Worst of Times: Since March, compared with 2019, monthly revenue has been markedly, even dramatically, lower. (You can see the Draft Finance Statement at https://www.crowcamp.ca/blog/statement-revenues-and-expenditures-2020 or email david@crowcamp.ca if you'd like a more detailed look at the numbers) We're seeing a decline of more than 60% year-over-year, including the substantial contraction of our rental business, compounded by a reduction in charitable giving. It may be that some folks do not have it to give this year. And, of course, fewer donations is precisely what you would expect, after a camp season where we saw so many fewer children: many parents give us a cheque when they drop their kids off, and this year, there were simply not as many drop-offs. We also didn't sell nearly as many camp mugs, or hoodies, or t-shirts, and this is a place where every dollar counts. Like Tiny Tim and the rest of the Cratchits, we do not have much set aside to help us weather a lean season (though we always have a bite of beef on hand, even in the darkest days).Even in this decline, we see God's provision. Thus far, we've been buoyed up by the Federal Government's Canadian Emergency Wage Subsidy (CEWS) program. A large portion of Crow's salary costs (up to 75%) are covered for businesses that can demonstrate a reduction in revenue - and boy howdy, if a revenue reduction is what you're after, you've come to the right place! CEWS payments are scheduled to taper off over the coming months; for now, we are still stoutly crutching along, a determined Tiny Tim.Crow is used to this kind of pressure; we're used to being 'up against it' from time to time. I've even heard it said - by a Chartered Professional Accountant, no less - that perhaps Crowsnest Lake Bible Camp will always face a shortfall, regardless of how much revenue we generate, and regardless of how carefully we set the budget. It seems irresponsible, but perhaps there is something to it: after all, you are called - as I am - to "Trust in the Lord with all your heart, and do not lean on your own understanding." Proverbs 3:5 This is Crow's occupation, too. And as we trust, we do see God's continuing provision, even in this distressing and difficult time.David Graham, on behalf of the Finance CommitteeThus says the Lord:"Cursed is the man who trusts in man and makes flesh his strength,whose heart turns away from the Lord. He is like a shrub in the desert,and shall not see any good come.He shall dwell in the parched places of the wilderness,in an uninhabited salt land. "Blessed is the man who trusts in the Lord,whose trust is the Lord.He is like a tree planted by water,that sends out its roots by the stream,and does not fear when heat comes,for its leaves remain green,and is not anxious in the year of drought,for it does not cease to bear fruit."~ Jeremiah 17:5-8Finance Committee Report 2020
Page 12
403-563-5120587-838-9724info@crowcamp.ca Director of Camping:David Graham - david@crowcamp.ca General Contact: Crowsnest Lake Bible CampBox 250 Coleman, AB T0K 0M0 Mailing address:Located in the Rocky Mountains, Crowsnest Lake Bible camp is ideally situated to host your rental group. We have the capacity to host your church's leadership retreat, a ladies weekend, and so much more! From day programs to recurring events, Crow has a lot to offer! If your school is looking for a site to run Outdoor Education Classes; if your business needs a great place to host a team building retreat; if you are looking for a mountain getaway for your wedding – look no further! Email our Rental Coordinator at rental@crowcamp.ca, or check out our website (crowcamp.ca/about/rental) for more information. Cover Photo Credit: Sentinel Photography:www.sentinel.photography instagram.com/sentinelphotography Rental Information for 2021