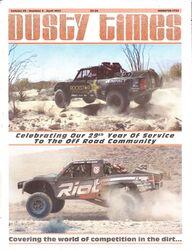 Return to flip book view
2012 Volume 29 Number 4 Dusty Times Magazine
Page 1
Volume 29 • Number 4 • April 2012 $2.50 ISSN8750·1732 Celeb,a"t'ing ou, 2!J~h Yea, OF se,viee To The OFF Road communi~~ ~--~-------------~-~-------------~---~---covering the world of competition in the dirt .••
Page 2
Friday, June 8 10:00 am - 3:00 pm 4:00 pm - 8:00 pm 4:30 pm - 8:30 pm Controlled Pre Fun Run With a Stop for Lunch Sign Up Tech Saturday, June 9 5:30 am 7:00 am 8:00 am 7:00 pm 8:00 pm Late Sign Up · · Driver's Meeting Race Starts - Aprox. 60 Mile Loops (All Vehicles have 8 hours to finish) Awards BBQ by Caliente Volunteer Fire Department • Camping allowed in Pit Area • All Cars/Trucks and Pro SXS Class (See rul~s for Pro .SXS) • No Bikes/ ATV or Sportsman SXS • Bonneville Off-Road & SNORE Series Points Race . ' 2012 Bonnev111e·on-Road Series Schedule March 31 Lehi, UT 3rd Annual spring desert clean-up adopt-a-highway. Everyone invited all welcome. Potluck/BBQ overnight Camp poker run. 5 mile OHV Area May5 Jericho, UT Race SxS ATV MC AMANational Hare & Hound series race, combined with $ageriders. M/C CLUB. No cars and trucks. THIS IS A M/C, ATV/SxS points race June 8-9 Caliente, NV SxS, CARS, TRUCKS points race (no MC/ATV) July 20-22 Wendover NIGHT RACE all classes points race. All car and truck classes will run in the dark. Race will have a late (after 6pm) start to get out of the heat. HAVE YOUR LIGHTS READY. Bikes race in the morning of the 21st September 14-16 ~ Wendover, NV all classes points race. Day Race Year end awards Sept 16 Location TBD in Wendover October 27 Lehi, UT 2nd annual Fall adopt-a-highway clean up (poker run) 5 mile pass. OHV Area Potluck/BBQ campput. Everyone welcome. All vehicles included. BONNEVILLE www.bon-acing.org OFF-ROAD RACING K"ide Hatd. r'lr:u1 Hatd IBWEMJllllD 7
Page 3
17X8 TRUCK BEADLOCK DRILLED TO CUSTOMER SPECS WHEEL SIZES 16X4 VW NON BEAOLOCK * 17X8 TRUCK BEAOLOCK GEN. 2 ** 15X8 TRUCK BEADLOCK ** I 7X8 VW BEADLOCK 17X8 TRUCK SIMULATED LOCK I 5XI 2 VW BEADLOCK 15X7 VW 8EAOLOCK 15X7 VW NON BEAOLOCK 15X4 VW BEAOLOCK 15X4 VW NON BEAOLOCK WIEELS CAN ALSO BE a.ff AND WB.1)8) TO ctSTOH DIHENSIONS . . . DEERING INDUSTRIES The largest selecti~n of aircraft hardware on the West Coast! . including 12 PT A1RCRAFT B01.Ts MS•NAS•AN 150,000 items in stock - 100% American Made 12 pt Nuts • Jet Nuts • Nut Plates • Washers 562-595-1668 3300 Cherry Ave• Long Beach, CA• fax 562-595-1678 • e-mail: deering.industries@verizon.net •
Page 4
.. Volume 29 - Number 4 April 2012 DllliYlil■II Publisher Emeritus Jean Calvin Editor John Calvin Associate Editor Judy Smith Editorial Assistant Bekki Wikel Controller John Calvin Marketing Pat Caplan Circulation Vance Scott Contributors Homer Eubanks J. Preston Bradshaw Jim Culp Martin Holmes Rod Koch Byrle Moore Steve Ruddick Maurice Selden Tony Tellier Trackside Photo Art Director Larry Worsham B .O.R.E. Subscription Rates: $25.00 per year, 12 issues, USA, Foreign Subscription rates on request. Contributions: DUSTY TIMES welcomes contributions, but is not responsible for such material. Unsolicited material will be returned only by request and with a self addressed stamped envelope. Classified Ads: will be published as received, prepaid. DUSTY TIMES assumes no liability for omissions or errors. All ads may be subject to editing. DUSTY TIMES: (ISSN 87 50-17 3 2) is published monthly by Hillside Racing Corp, 20761 Plummer St., Chatsworth, CA 91311, (818) 882-0004 with additional Dusty Times, LLC offices at 415 N. Higgins Avenue, Suite lA, Missoula, MT 59802. Copyright by Hillside Racing Corp. No part of this publication may be reproduced without written permission from the publisher. Periodical Postage paid at Chatsworth, CA 91311 and at additional mailing offices. POSTMASTER: Send address change to DUSTY TIMES, 20761 Plummer St., Chatsworth, CA 91311. CHANGE OF ADDRESS: Four weeks notice is required for change of address. Please furnish both old and new address, and send to DUSTY TIMES, 20761 Plummer St., Chatsworth, CA 91311-SNAPSHOT OF THE MONTH ••• •' ·.·_...; ~ 111 !,' Ill If I Ill 1985, Tech Inspection and Contingency at th~ Pomona Fairgrounds, literally hundreds of Quads, Motorcycles, Cars and Trucks all looking for a class win. DUSTY TIMES will feature pictures of similar "funnies" or woes on this page each month. Send us your snapshot of something comic or some disaster for consideration. DUSTY TIMES will pay $10 for the picture used. If you wish the photo returned, enclose a stamped, self-addressed envelope. Only prints up to 8xl0 or electronic media submitted via email will be considered. • In This Issue ... FEATURES SCORE San Felipe 250 by Judy Smith .................................................... 8 Rally of Sweden by Martin Holmes ....... : ................................................ 16 SNORE Battle At Primm by] Preston Bradshaw ..................................... 20 MORE Balls Out 250 by Ste11e Ruddick ................................................. 26 12th Rally of Mexico by Martin Holmes .................................................. 30 SCORE Parker 400 circa 1986 by lean Cal11in ....................................... 33 DEPARTMENTS Happenings ............................................................................................. 5 Trail Notes ............................................................................................... 6 Good Stuff Directory ........................................................................... 4 3 Classified Ads ........................................................................................ 4 7 Index To Advertisers .............................................................................. 47 ON THE COVER Rob MacCachren loves the SCORE San Felipe race, he took the gold medal in his Ford F-150 in March, he's seen here on his way to the checkers. Track.side Photo Marc Ewing drove his big Ford to the overall win at the SNORE Battle At Primm, Marc had 27 minutes on his c~nnpetition at the finish. Track.side Photo Visit Our Website at Dustytimes.com S«-d-ac-,itd-e 7oaae, &,, -DUSTY TIMES . . THE. FASTEST GROWING OFF ROAD MONTHLY IN THE COUNTRY!! □ 1 year -$25.00 □ 2 years -$40.00 □ 3 years -$55.00 (to subscribe online go to www.dustytimes.com) □ NEW □ RENEWAL Name ______________________ _ Address _____________________ _ City ____________________ _ State ________________ Zip _______ _ Primary Interest Cars O Trucks O MotorcyclesO Send check or money order to: DUSTY TIMES 20761 Plummer St., Chatsworth, CA 91311 Canadian - 1 year $30.00 US -Overseas subscription rates upon request Page4 April 2012 Dusty Times
Page 5
I"' 2012 Happenings ... IOK FoUR WHEELERS P.O. Box36 CLEVES, OHIO 45002 <4x4 forever.org> (AU events staged at the club grounds in Cleves. Ohio) 4x4 FoREVER, Lm. 1665 DEIAWARE ST. 0sHKOSH, WI 54901 AMERICAN RALLY SPORT GROUP, INc. 3650 Sovrn POINTE CIRCLE, Sum 205 LAUGHUN,NV89208 (702) 298-8171/FAX: (702) 521-0597 <webl.userinstinct.com/27141325-ameri• can,rally~port-group.htm. E Mail: roger@rallyusa.com AMERICAN 'fRIALs ASSOCIATION AMA Obsend Trials Southern California Championship Series BILL MARI<uM, 2010 PREsmENT (909) 860..1857 24 HR HoruNE, 2010 (714) 562,7742 E MAIL: BMARJ<909@AOLCOM <www.atatmils.com> AsOCIACION EsTATAL DE AUTOMOVILISMO SAM l..AsELL, TECH INSPECTOR AP1o42 SAN JosE DEL CABO BAJA CALIFORNIA DEL SUR. MEXICO AUSTRALIAN OFF ROAD CHAMPIONSHIP DARRYL SMITH 19 SoMERS ST. CAsHMERE, QUEENSLAND, 4500, AUSTRALIA DUSTY TIMES @bigpond.com AUTOCROSS QUEBEC OFF ROAD C1Ass 10 CARS ONLY RENAi.D V AJLLANCOURT 3069 DAGENAJS WEST LAvAL QuEaEc, CANADA H7P 1n (450) 6224440 <www.autocrossquebec.com/pages/ indexpag.html> BAJA CUP CHAllENGE BAJA PROTRUCK OFF ROAD RACE SERIES 14402 BOND CoURT EL CAJON, CA 92021 619·390-6252 The Prorruck schedule for 2012 wiU consist of both the SCORE and Best In The Desert races. BARONA SAND DRAG ASSN. P.O. Box 1521 LAl<EsmE, CA 92040 All Races Are Night Races All Races At Barona Racewa,, Lakeside, CA BBM MARKETING PROMOTIONS Off Road Short Course Racing & Special Event Marketing NORCO, CA 92860 e-mail bbmracing@aol.com (909) 815,5811 BEST IN THE DEsERT 3475 BoULDER HIGHWAY LAs VEGAS, NV 89121 702457,5775/FAX:70Ui41,2431 <www.bitd.com> May 4 -6, 2012 Canidae Tap It Silver State 300 August 16 - 18, 2012 General Tire Vegas To Reno Nevada October 12 - 14, 2012 Bluewater Desert Challenge Parker,AZ November 30 - December 2, 2012 Transwest Ford Henderson 250 Henderson, NV BORER.ACING Allen Gerber 801,380.9011 - after 5pm please www.BORracing.org BP MOTORSPORTS P.O. Box411 WOODLAND H!Lls, CA 91365 760.578-6258/760-578-6259· FAX: 818-348-4648 E-Mail: bpmotorsports@earthlink.net AU Ewnts At California City, CA BRIGHTON SPEEDWAY R.R.3 Dusty Times BRIGHTON, ONTARIO, CANADA KOl(.lH0 (613) 475,1102/FAX (613) 475,3250 CAJOR CuJB AUTOMOVILISTA JuARENsE DE CHAMPIONSHIP OFF-ROAD RACING 7210 GATEWAY EAsT EL PASO, TX 79915 (915) 593-4848 RALPH GARCIA 011,52--16-17-45-42 CESAR FUEITTES CALIFORNIA RALLY SERIES <www.Califomiarallyseries.com> CANNING ATTRACTIONS P.O. Box400 MAYWOOD, CA 90270 (323) 560..SHOW CENTRAL SOUTH DAKOTA RACING AsSOCIATION P.O. Box645 PIERRE, SD 57501 DAVE ADAMS (PILOTS AND BAJAS) (605) 224-9481 DoN ENGLEMAN (B1m) (605) 224-4967 CHAMPLAIN VALLEY RACING Assoc1ATION C.J. RICHARDS P.O. Box332 FAJR HAVEN, VT 05743 (802) 265-8618 CI.AIRTON HJ-JACKERS I.C.O. TOM DELAUDER SR 1091 TWP. LINE ROAD WELLSVILLE, OHIO 43968 (330) 532-4589 Short Course off Road Racing At Har• rison County Fair Grounds. Cadiz. OH CLUB AUTOMOVILISTICA SAN QUINTIN CALLE 6TA FRAcc Co. DE SAN QulNTIN SAN QUINTIN, BC, MEXICO HERACLIO PATINO Aprll 2012 (011 52 616-S.22,..07) CLUB AUTOMOVILISTICO SAN VICENTE San Vicente Off Road ENSENADA, BC, MEXICO USA JAN WRIGHT (011 52 61746834) RAMON CAsnto & RUBEN ACEVEDO (61637/7 0034) CMC CONTINENTAL MoTOSPORT CLUB P.O. Box 3187 MISSION VIEJO, CA 92690..3178 Fax: (714) 367-1608 CODE TECATE 2012 CHAMPIONSHIP MADERO 621,A ZoNACENTRO MEXICALI, BAJA CALIFORNIA 21100 011,52-686-553-4087 USA 686-553-4087 MEXICO <www.codeoffroad.com. mx> E Mail: mail@codeoffroad.com.mx May 18-20, 2012 VW Autopartes Excomex Mexicali, -BC, MX July 27-29, 2012 ORW Gran Prix Tecate, BC, MX October 5-7, 2012 Mexicana Logistics 300 Mexicali, BC, MX November 30-December 1-2, 2012 OXXO Race Ready 27 5 Mexical San Felipe, BC, MX CoLORADOHlu CLIMB ASSOCIATION BARB V AHSHOLTZ, PREs!DENT (719) 531,3642 W/(719)687,9827 H P.O Box8286 CoLORADO SPRINGS, CO 80933 (719) 653-8449 COLORADO OFF ROAD EXTREME www.coloradooffroadextreme.com 303-956-3600 June 8, 2012 Rally Cross National Challenge Continued an page 6 Pages
Page 6
Trail Notes ... GENERAL TIRE TAKES IT OLD SCHOOL -Will Title Sponsor NORRA's Mexican 1000 Rally - General Tire announced on March 23rd, in conjunction with the National Off Road Racing Association (NORRA), that they will title sponsor the 2012 Mexican 1000. The General Tire NORRA Mexican 1000 will run April 28-May 2, 2012 and cover more than 1,100 miles down the exotic Baja peninsula from Mexicali to San Jose Del Cabo. This year's rally, the third since the Mexican 1000 revival in 2010, is comprised of gritty, old school racing and a variety of unique social activities and is sure to be one for the history books. Known as "The Happiest Race on Earth", the Mexican 1000 is gaining a reputation for bringing fun and a shared sense of adventure back to Baja off-road racing. The one-of-a-kind, once-a-year rally spotlights vintage off-road vehicles, motorcycles and ATVs, as well as rally cars, a limited number of modern desert racecars, and classes for prerunner-type trucks and buggies. The four-day, on and off-road rally offers teams high-speed off-road driving with unparalleled views of Mexico's scenic Baja peninsula, as well as offering new levels of the hospitality and social camaraderie that is the heart of the General Tire Mexican 1000 experience. "The Mexican 1000 is where off-road racing started and for General Tire to be involved with such a historical event is extremely cool," said Travis Roffler, director of marketing for General Tire. "This was a great opportunity for General to be involved with an event that is truly about the racing, the camaraderie, and the challenge of conquering the Baja peninsula. It's 'old school' and that sets the Mexican 1000 apart from all the other races. We're looking forward to our partnership with NORRA to make this year's event the best one yet." "While our Mexican 1000 has quickly earned a reputation for being a unique, world-class motor sports experience, the addition of General Tire as our title sponsor allows us to take the entire event to new levels of hospitality, publicity and stature," explained NORRA president Mike Pearlman. "Today's announcement is a true milestone in the event's history, and our goal now is to make the General Tire NORRA Mexican 1000 a legacy event for GT much like this weekend's Mint 400. On behalf ofNORRA and all our racers, we welcome General Tire to our growing family of corporate partners." The world's first professional off-road race was organized by Ed Pearlman in 1967, when 68 motorsports enthusiasts gathered in Tijuana, Baja, Mexico with an eclectic mix of trucks, buggies, sedans, and motorcycles with the hopes of conquering the unknown Baja peninsula. The following year 260 entrants arrived and quickly thereafter, the sport reached mainstream status eventually evolving into the Baja 1000 which we know it as today. NORRA is keeping the "old school" tradition of the Mexican 1000 and is expecting more than 100 entries for this year's event. And in the true spirit of the race, legendary driver Walker Evans was the first to register for this year's event. Evans will be joined by a long list of racing icons like Bob Gordon, Frank Arciero, Malcolm Smith, Mark McMillin, Larry Ragland, Michael Gaughan, Mark Post and many others. General Tire will be represented by the two-car effort of Jim Riley and Rick Johnson, both competing at this weekend's General Tire Mint 400. For more information on the General Tire NORRA Mexican 1000, visit www. MEXICANlO00.com. General Tire's Travis Roffler (left) and NORRA's Mike Pearlman announce the 2012 GENERAL TIRE NORRA MEXICAN 1000 at the MINT 400. LUCAS OIL OFF ROAD RACING SERIES 2012 TELEVISION COVERAGE - Lucas Oil Products, Inc. and Lucas Oil Production Studios are pleased to announce the most comprehensive television package in the history of short course off road racing. The 2012 Lucas Oil Off Road Racing Series television coverage will include 62 hours of original programming along with 168 hours of guaranteed re-airings for a total of 230 hours of exposure spread across five major networks; CBS, CBS Sports, NBC Sports, SPEED and MAVTV. According to Joyce Julius and Associates®, in 2011 the Lucas Oil Off Road Racing Series created over $63.4 million in value for series sponsors and an additional $48.4 million in value for team sponsors, for a total annual exposure value of $111.8 million to the series and team sponsors. "With eight times the programming on CBS-affiliated networks in 2012 and two re-airs for all MAY TV shows, the Lucas Oil Off Road Racing Series will receive 106 additional hours of total air time over 2011-an incredible 85% increase over last year," said Alex Striler, Director of Sales and Marketing for the Lucas Oil Off Road Racing Series. "We expect the total exposure value for our 2012 series sponsors and team sponsors to increase proportionally." For more information please visit www.LucasOil.com and see the ad on the back cover of this issue of Dusty Times. RALLY AMERICA ANNOUNCES THE 2012 U.S. RALLYCROSS SERIES -Round 1 of the U.S. Rallycross Series Set for May 19th at New Jersey Motorsports Park. Rally America and New Jersey Motorsports Park (NJMP) present the 2012 Rally America U.S. Rallycross Series, with the first event being held on May 19, 2012. The U.S. Rallycross Series will consist of at least four events at the New Jersey Motorsports Park, with other venues to be added later in the year. The U.S. Rallycross Series marks a return to the Rally America schedule after a taking a year off from the sport. Rally America introduced Rallycross to the U.S. for the first time in 2010 with a 4-event series at New Jersey Motorsports Park and also worked closely with ESPN to introduce Rallycross competition to the very popular X Games. The Rallycross competition at NJMP will feature competition cars in a variety of classes (two classes for two-wheel-drive and two classes for all-wheel-drive cars) jumping and sliding on a 5/8 mile road course made up of 70% pavement and 30% gravel. Five drivers at a time will line up at the starting line piloting their cars through race traffic over a challenging Page& June 9-10, 2012 Colorado 200 Desert Race June 14, 2011 Rocky Mountain Auto Press Event June 16-17, 2012 Colorado Hill Climb Event June 24, 2012 Mile High Desert Racing Series July 7, 2012 Colorado Rally Cross Event July 15, 2012 Mile High Desert Racing Series July 28-29, 2012 Tumbleweed 150 Desert Race August 11, 2012 Colorado Rally Cross Event August 26, 2012 Mile High Desert Racing Series September 1-2, 2012 CORE Classic 125 desert Race September 9, 2012 Mile High Desert Racing Series September 15, 2012 Colorado Rally Cross November 3, 2012 Colorado Rally Cross CORP P.O. Box392 CALEXICO, CA 92232 HECTOR CERECER 0ll-5Ui5-o6-4458 CORR SERIES 270 NEWPORT CENTER DR., Sum 100 NEWPORT BEACH, CA 92660 866-501-CORR CORVA 1500 WEST EL CAMINO, Sum 352 SACRAMENTO, CA 95833 1-800-42 CORVA EXT 42 Fax (818) 957-4435 CRS CALIFORNIA RALLY SERIES <www,CaliforniaRallySeries.com June 9 -10 2012 Idaho Rally Boise, Idaho J.uly 13 - 14, 2012 North Nevada Rally Lovelock, Nevada August 4, 2012 Mendocino Rally Ukiah, California August 28, 2012 Gorman Rally Frazier Park, CA October 5 - 6, 2012 Prescott Rally Prescott, Arizona D&T PROMOTIONS DAVE VAN DEREN 2405 BAKER AVE. EVERETT, WA 98201 (206) 339-9079 (All euents at Hannigan race t;ack, Bellingham, WA or Thurston Couni:, ORV Park, Ol,mpia, WA) DAKAR RALLY DARREN SKILlON BAJA AUTOMOTIVE ADVENTURES 455 E. OcEAN BLVD., Sum 208 l.oNG BEACH, CA 90802 (562) 755-2278/FAX: (562) 590-7925 <www.dakar.com> Bajaautomotiue@Yalwo.com DECATUR FoUR WHEEL DRIVE Cum DECATUR, TX 76234 ToMALLEN (800) 662-3649/(214) 641-2090 DESERT STEEL MOTORSPORTS 1863 COMMANDER DRIVE LAKE HAVASU CITY, AZ 86403 (928) 855-2208 EAsn:RN OFF-ROAD RACING AssN. TOM DELAUDER, SR. 1091 TOWNSHIP LINE ROAD WELLSVILLE, OHIO 43968 (330) 532-4589 f.NSENADA BAJA OFF ROAD RACING Av. REFORMA 1136 ENSADA, BC, MX Oll-5Ui46-1818989 Eus10 0ll-52-646-1715230 AARoN Races for buggys & Motorcycles . EsTERo BEACH INTERNATIONAL Short Course Racing VICTORIA GALINDO ENSENADA, BAJA CALIFORNIA, MEXICO 0ll-5Ui46-176-6230 EDR EXTREME DESERT RACING P.O. Box 91615 AusnN,TX 78709 (512) 848-4344 /E FAX (1512) 687-5310 Aprll 2012 www.EDRTexas.com Car Truck Series Bike Quad Series FORDA FLORIDA OFF ROAD DRIVER'S ASSOCIATION JASON LEIBIN (727) 376-4176 Mar, Apr, May, Noo at Davidson Raceway GENERAL TIRE ThOPHYLITE SERIES DRIVE RACING ORGANIZATION 760-352-6020 Las Vegas, NV GLEN HELEN BAJA CUP CHALLENGE SERIES PO Box6950 SAN BERNARDINO, CA 92412 PHONE: (909) 384-9343 www.glenhelen.com Lucas Oil Regional OH Road Series June 9, 2012 July 21, 2012 December 8, 2012 Baja Cup Challenge GORRA GEORGIA OFF ROAD RACING ASSOCIATION 420 HOSEA ROAD LAWRENCEVILLE, GA 30245 (404) 963-0252 GPORRA GREAT PLANES OFF ROAD RACING ASSOCIATION TIM HODGE (402) 991-6048 SconMoRRow (816) 792-2126 (All races are short cou,se, stadium si:,k Classes, 2010 Sportsman, 1/2-1600, 5-1600, Sport Truck, Quads, Tough Truck Nebraska Raceway Park, Exit 420 on l-80 between Omaha and Lincoln.) For latest info check < www.gporra.net> HDRA HIGH DESERT RACING ASSOCIATION P.O. Box 750208 LAS VEGAS, NV 89136 <www.hdrarace.com> July 4-8, 2012 Fireworks 500 Tahoe-Reno Motorplex Reno,NV October 5-7, 2012 Southern Nevada 400 Pahrump, NV November 9-12, 2012 Riot on the River Laughlin, NV HIGH PLAINS OFF ROAD RACING 2000 W. QUINCY AVENUE #B ENGLEWOOD, CO 80110 303-806-8062/303-781-0974 fax INTERNATIONAL lcE RACING ASSOCIATION P.O. Box 8105 ST. PAUL, MN 55108 STEVE BEDDOR (612) 937-3816/Fax 474-2769 INTER-SHOWS MOTORSPORTS PROMOTIONS, INc. P.O. Box 2910 MISSION VIEJO, CA 92690 (949) 582-2Ji.1 ]EEPSPEED 1826 N. WINDES ORANGE, CA 92869 714-538-7434/ fax 714-633-1724 Same schedule as Best ln The Desert KAMLooPS OFF RoAD RACING Whispering Pines Sports & Recreation Center KAMLOOPS, BC, CANADA www.korrbc.ca. Mike Strange (250) 573-4003 LAS VEGAS SANDSPORTS & OFFRoAD EXPO (626) 961-3782 <www.prerunners.com> <www.megashow.com> Curt LeDucs Off Road Swap Meet L.I.T.R.E. JEFF ELROD (408) 926-0522 JIMARUTA (408) 247-4402 LOORRS LUCAS OIL OFF ROAD RACING SERIES <www.LucasOilOffRoad.com> May 19 - 20, 2012 Speedworld Off Road Park June 23 - 24, 2012 Miller Motorsports Park August 4 - 5, 2012 Glen Helen Raceway September 1 - 2, 2012 Reno September 22 - 23, 2012 Las Vegas Motor Speedway October 27 - 28, 2012 Firebird Raceway MAMAluuTA OFF RoAD RAcING Luis CARLOS ALVAREZO PANAMERICANA AVE #5105 Co. JUAREZ, CHIH., MX 011-52-1637-1799 MICHIGAN BUGGY BUILDERS Dune Buggy Trade Show (517) 543-7214 <www.buggybuilders.com> MICHIGAN OFF RoAD CHAMPIONSHIPS M.T.B. Enterprises Inc. 15529 JONES ROAD GRANO LEDGE, ML 48837 (517) 627-6200 Motorcycles, Quads, ATVs and Pilots only MAORA Mm-AMERICA OFF RoAD AssocIATION P.O. Box664 GREENUP, lL 62428 (217) 962-1318 E-MAIL: rooster@maourracing.us <www.maoraracing.us> M.O.R.E. MOJAVE OFF ROAD RACING ENTHUSIASTS P.O. Box 1231 BARSTOW, CA 92312 760-253-4453 <www.moreracing.net moreracing@earthlink.net May 19, 2012 M.O.R.E, 500 Lucerne, CA July 21, 2012 Freedom 250 Barstow, CA September 8, 2012 Chili Cook Off Lucerne, CA October 6, 2012 7th Annual Powder Puff Barstow, CA December 1, 2012 Holiday 200 Barstow, CA MICHIGAN SPORT BUGGY As-socIATION DAVE BARRET 6363 NIGHTINGALE DR. FLINT, ML 48506 (810) 730-9221 MOTOWEST WINTER 1'RIALs SERIES BILL MARKHAM (909) 860-1857 <www.lTStrials.com> All euents at Perris Raceway (At Reed Valley with a sclwol) NATIONAL Muo RACING AssN. RT. #l, 2010 Box 380 DAVE OR MARLENE RYAN PALATKA, FL 32177 (904) 325-5422 NATIONAL TUFF TRUCK ASSN. Butch Chapin Motorsports Promo-tions 1404 EAST 3RD STREET HAsnNGS, MN 55033-1415 (612) 437-2459 NOORA NORTHERN Omo OFF RoAD RACING ASSN. GARY WULFF (724) 283-2678 E-MAIL Kaylaaron@aol.com <www.Nooraoffroadracing.com> Buggies, Pilot/Odysseys, Trucks, Quads (Spring Valley Raceway, on route 518, 20 minutes SW of Lisbon, OH) (Thunder Valley located 15 minutes from Spring Valley) NORRA NATIONAL OFF ROAD RACING ASSOCIATION www.norra.com Dusty Times
Page 7
(661) 262-7171 info@norra.com <www.mexicanlOOO.com> April 28-May 2, 2012 Baja, Mexico OFFRoADExPo SPIN COMMUNICATIONS (415) 380-3890 Meghan@spinpr.com OFF ROAD RACING ASSOCIATION Volunteered Series PREsIOENT, 2010 GEOFF LEE 1243 TRICE ROAD LEBANON, TN 37087 (615) 453-5830 C!ASS REP., 2010 1/2-1600 BRUCE MEYERS (865) 453-1005 C!ASS REP., 2010 9 & UNLTD. MICHAEL MOORE (334) 271-7035 OUTIAW REP. DON PONDER (314) 631-8190 (All Races at Wheeling in the Count) 900 Acres) Omo OFF RoADERS INc. 1427 GOSHEN HILLS ROAD S.E. NEW PHILADELPHIA,i, OHIO 44663 }IM ICEN0EL (216) 339-4674 All races held at Harrison County Fairgrounds. Cadiz, Ohio ONTARIO OFF ROAD RACERS ASSOCIATION RICK T!CHBOURNE, Puauc REIATIONS (519).681-4192(H)/(519) 457-2913(W) OUTLA w SEVEN PICKUP 9269 UMMELMAN ST. Louis, MO 63123 (314) 631-8140/Fax: ((314) 631-1921 PACE MOTOR SPORTS U.S. Off Road Championship 495 N. COMMONS DRIVE AURORA, IL 60504 (630) 566-6100 <www.usoff-road.com> PENNSYLVANIA SHORT COURSE RACING SMITHTON HOLE RACEWAY 313 SKYLINE DRIVE SMITHTON, PA. 15479 MIKE GEISER 330-683-6263 www.smithtonhole.com Short Course Offroad Racing All Races At Smithton Hole Racewa:, PlKEs PEAK P.O. Box 6962 COLORADO SPRINGS, CO 80934 (719) 6~5-4400 PINE BARRENS ROUGH RIDERS OFF ROAD RACING CHATSWORTH, NJ (856) 875-7591 PRoTRUCK PROTRUCK MANAGEMENT INC. 11409 PINEHURST DR. LAKEslOE, CA 92040 (619) 885-4458 Protruck Schedule consists of all SCORE and Best In The Desert Races PRo 1600 SHOOTOUT CoREYGOIN 559-647-6132 GOINRACIN@HOTMAIL.COM Plnu: ENERGY PRm.fOTIONS P.O. Box50 RICKETTS, IA 51460 (712) 679-2221 RALLY AMERICA <www.rallly-america.com> May 4 - 6, 2012 Oregon Trail Rally Portland & The Dalles, OR June 1 - 2, 2012 Susquehannock Trail Rally Wellsboro, PA July 13 - 14, 2012 New England Forest Rally Newry, ME September 22 - 23, 2012 Olympus Rally Seattle, WA 22ND RAilYE AlcHA DES GAZELLES The Only All-Women's Off-Road Rally Raid In The world U.S. Liaison:Kelly Van Hoesen 203-249-1340 Skype: kellanvanhoesen kellan@soulsidenet.com Dusty Times <www.rallyeaichadesgazelles.com> RG CANNING PRODUCTIONS, INc. OFF ROAD SWAP MEET P.O. Box400 MAYWOOD, CA 90270-0400 New/Used Off Road Related Parts & Accessories MIKE CAMPBELL 323-560-7469 Ext 507 mc@rgcshows.com ROCK CRAWLERS AsSOCIATION OF .AMERICA P.O. Box 1406 RIVERTON, UT 84065 (801) 446-5337/Fax: (801) 253-3176 SAN DIEGO SHORT COURSE WINTERNATIONALS A New Series fry Snowbird Off Road Racing Pro Tmcks, Desert Tmcks, Buggies, Pilots, Tough Tmck <www.snowbirdracing.com> (858) 571-5088 SAN DIEGO OFF RoAD ExPosmoN (888) 836 7918 SCCA RoADRAilY P.O. Box 19400 TOPEKA, KS 66619 800-770-2055 <www.scca.org> SFX MoTORSPORTS GROUP 495 N. COMMONS DRIVE, Sum 200 AURORA, IL 60504 (630) 566-6100/ (630) 556-6180 Fax SCORE SCORE INTERNATIONAL 23961 CRAFTSMAN RD., Sum A CA!ABASAS, CA 91302 (818) 225-8402/FAX: (818) 225-8102 <www.score-intemational.com> June 1-3, 2012 SCORE Baja 500 Ensenada, Baja CA Mexico November 14-17, 2012 SCORE Baja 1000 Ensenada To La Paz Baja CA Mexico December 8, 2012 SCORE Awards Night To Be Determined SCCA RALLYCROSS NATIONAL CHALLENGE May 19-20, 2012 CalClub National Challenge Glen Helen Raceway May 26-27, 2012 Dixie National Challenge European Rally School June 9-10, 2012 Rocky Mountain National Challenge US Truck Driving School June 30 -July 1, 2012 Midwest National Challenge I-80 Speedway August 25-26, 2012 Great Lakes National Challenge National Trail Raceway October 5-7, 2012 SCCA RallyCross National Championship Tulsa Raceway Park SNORE SOUTHERN NEV ADA OFF ROAD ENTHUSIASTS P.O. Box 270516 LAs VEGAS, NV 89127 702-277-2295 www.Snoreracing.net June 8 - 10, 2012 Dusty Times 250 Caliente, NV September 7 - 9, 2012 KC Hilites Midnight Special SNORE/MORE Lucerne, CA October 26 - 28, 2012 SNORE250 Jean, NV December 7 - 9, 2012 Rage At The River Laughlin, NV SONS OF l'HuNDER 4 WHEELERS RACE DMSION KEITH STEWART (714) 522-1899 SOUTHEASTERN OFF ROAD CHALLENGE STEVE RULE (800) 313-5621 OR((770) 963-0252 Mike Moore, 2010 (224) 272-5400 SPEED SPORTS ExPo MEGA PRODUCTIONS 3129 S. HACIENDA BLVD. #322 HACIENDA HEIGHTS, CA 91745 (626) 961-6522 SCTA SOUTHERN CALIFORNIA TIMING ASSOCIATION & BONNEVILLE NATIONALS, INc. P.O. Box 10 OROS!, CA 93647 (559) 528-6279 (559) 528-9749 FAX <www.SCTA-BNI.org> SOUTHERN SHORT COURSE OFF RoAD RAcING AssN. 4305 WOOTIARK DRIVE TAMPA FL33624 (813) 962-2857 (All Races at Eastba:, Raceway, Tampa, FL) TRAXXAs TORC SERIES April 28-29, 2012 Round 1-2 Cycle Ranch (PRO only) Floresville, TX May 26-27, 2012 Round 3-4 Red Bud Buchanan, Ml June 16-17, 2012 Round 5-6 Crandon International Raceway Crandon, WI July 13-14, 2012 Round 7-8 Charlotte Motor Speedway (PRO only) Charlotte, NC July 19-20, 2012 Round 9-10 Happenings Continued on page 47 Attention Race & Rally Organizers List your coming events in DUSTY TIMES free. It is the only way some fans know about your event, if they don't happen to be on your club mailing list. Don't call, but mail your,2012 schedules as soon as possible for listing in this column; it could bring you some ex, tra entries! Mail your race or rally schedule to: 0..1sty Times 20761 Plummer St., Chatsworth, CA 91311,5003 Aprll 2012 Trail Notes ... short course that will feature small jumps, unbanked turns, hills and transitions between pavement and gravel. Each car must also take a "joker lap" at some point during their heat race. A "joker lap" is a small detour normally over a jump that adds a level of unpredictability to the heat's outcome by changing a driver's strategy in an instant. A series of exciting Supermoto races will be added to the races highlighting 250cc, 450cc and Open Class motorcycles. It is a unique twist to the racing schedule providing even more value to the overall fan experience. Adding to the fan excitement each of the four Rallycross events will include motorcycle stunt performances by TC Freestyle Entertainment Motorcycle Stunts (www.tonystunts.com) featuring Tony Carbajal who has performed at the 2011 GRAND-AA and AMA weekends at New Jersey Motorsports Park. The •amity-oriented day of Rallycross and Supermoto racing will also include monster truck rides, a mechanical bull, a Kids Zone and more located within the Lightning Course Paddock. Tickets are on ·sale now at the NJMP store (http://store.njmp. com/ store/ category/9 / 157 /RALLYCROSS-SERIES/). Individual adult tickets are $15 online / $20 at the gate and children under 12 are $10 on-line / $15 at the gate. Families can also buy a Family Four-Pack (2 adults - 2 children) online only for $40 / $60 at the gate! Participant registration, class descriptions and rules and safety requirements can be found at http://rally-america.com/events/20l2/NJMPRC1/. Fans who cannot attend in person can catch video coverage and results at Rally-America.com. BANTAM JEEP HERITAGE FESTIVAL To ATTRACT THousANDs OF JEEP ENTHUSIASTS To BIRTHPLACE OF THE JEEP -More than one thousand Jeep owners are expected to return to Butler, Pennsylvania on August 10-12 for the second annual Bantam Jeep Heritage Festival. The inaugural event last year attracted more than 1,300 Jeeps from 25 states and nearly 50,000 visitors to the birthplace of the Jeep. "We were amazed by the enthusiasm of all of the Jeep owners who traveled to Butler last year for our first Festival," said Patti Jo Lambert, event director. "Our intent was to create a memorable event that celebrated our Jeep heritage and gave Jeep enthusiasts an opportunity to get together and share their passion for all of the Jeeps created since the very first Bantam was produced in 1940. The result was that we created a homecoming event for Jeeps unlike any other." The Festival will kick-off in Downtown Butler (population 14,000 and located just north of Pittsburgh) on Friday, August 10 with the Jeep Invasion. The evening street party will feature up to 1,500 Jeeps parked along Butler's Main Street and side streets. The event moves to the Big Butler Fairgrounds on Saturday and Sunday, August 11 and 12. Even though the Festival is only in its second year, several new events are planned for 2012. The Jeep Team Challenge is a great opportunity to watch 50 Jeep owners try their hand at some entertaining driving challenges. Spectators can watch drivers navigate while blindfolded and cheer on their reverse driving skills. The Mystery Road Rally will involve 200 Jeeps as they go on a scavenger hunt throughout Butler County and compete for some great prizes, and the Ruff 'n Tuff competition will offer Jeepers the chance to enter in some non-traditional show categories, like Most Mud, Most Tattoos and the Most Extreme. The Festival is playing up the Jeep's historical elements by giving history buffs the chance to admire and purchase some rare military antique and collectible items as part of a Militaria Show & Sale. This activity complements the World War II encampment featuring 20 original Jeeps and an exhibit about the history of the Bantam jeep. Those who love to go off-road in their Jeeps won't want to miss the Jeep Playground. "Our Playground was a big hit last year," said Lambert. "Jeep owners really enjoyed challenging themselves on the rock crawl, mud pit and other obstacles. We will be making some enhancements to the course this year that we think Jeepers will really enjoy." On-site trails give attendees the chance to go off.road. Modified and stock drivers can travel on some short trails that will give them a taste of what it's like to drive through the woods and navigate around rocks and trees. A more scenic stock ride at nearby Moraine State Park is also a popular activity for participants. Jeep owners must pre-register online in order to participate with their Jeep. Registration will be available until July 22 or until activities sell out. Learn more about other Festival activities and register a Jeep at www.bantamjeepfestival.com. OFFICIAL ScoRE BAJA RACING TELECASTS Now AVAILABLE FOR DIGITAL DOWNLOAD - Baja Unlimited has teamed up with Motonetwork.com to release digital versions of the popular shows. SCORE International and Aura360 have announced the release of digital versions of the popular SCORE Baja television broadcasts. Previously the titles have only been available on DVD and today marks the first time the full programs have been distributed digitally. All titles can be downloaded or streamed as rentals. The shows, which include the BajaUnlimited Series, the 2010 SCORE Baja 1000, the Extremey Award winning SCORE Baja 500 and more are available at www. motonetwork.com DVDs and Official SCORE Baja inspired apparel are available for sale at www.thebajaunlimited.com RALLY AMERICA NATIONAL CHAMPIONSHIP HEAI>s To OREGON TRAIL RALLY -Round Three to See if Higgins Can Hold Off Rival L'Estage. Much like the Oregon Trail pioneers, the 2012 Rally America National Championship will travel west to the Oregon Trail Rally for the third installment of the six-event National Championship on May 4-6th, 2012 in Portland, OR. The Oregon Trail Rally powered by Dick Hannah Subaru begins at Portland International Continued on page 42 Page 7
Page 8
fi". MASTERCRAFTITECATE SAN FELIPE 250 Maccachren overall By Judy Smith Photos: Trackside Photo It was a great race for Rob MacCachren, he drove his Ford Trophy Truck to the overall win at San Felipe, he's seen here hustling across the desert. San Felipe, BCN: Rob MacCa-chren piloted his Ford Trophy Truck to the overall victory, beating even the motorcycles, at SCORE's early March San Felipe 250. This was his third victory in a row in San Felipe: he won the 2011 San Felipe 250 as well as the San Felipe Challenge of Champions in September of last year, the "replacement" event for the cancelled Primm race. MacCachren's time was 4:25:03. This year's course was 248.64 miles long, and included much of the old, familiar mileage. But there were two "new" washes that had not previ-ously been raced. One started just north of Three Poles and went west-ward to join the road that leads up to Highway 3 at Matias. This section, called Cuevitas Wash, was serpentine and had a lot of Virtual Checkpoints in it, meaning that racers had to stay firmly on the course, not straighten-ing out the turns, or the wrath of the local landowners would descend upon SCORE. The other new sec-tion was down south, from about race mile 230 to 238, called Amarillas Wash. It was said to be lovely, with huge boulders and dramatic scenery. Other than those two areas, the rest of the trip was the well known, well used jaunt up and around the San Felipe area. Familiar place names like Diablo Dry Lake, Morelia Road, Zoo Road, Matomi, Azufre, Huata-mote and Chanate Washes and The Arches, were all part of the trip. The time limit was 11 hours. The weather was mild, with per-haps less wind than the racers would have liked. There had not been any huge winter storms to smooth out the washes as sometimes happens, nor did the booby-trap builders have a change of heart As usual, there were some "gotchas" out there, and a few racers got caught One of them was MacCachren, who hit a "buried something" at about Mile 4. It flattened a tire, and so right then he lost his first-on-the-road position, as his navigator, Cisco Bio, changed the flat. It took him until late in the race to regain the lead position, though he managed to re-pass both Robby Gordon and Jesse Jones when they were pulled over for something. Then, late in the race Luke McMillin and Justin Smith drove their Jimco Chevy to the Class 1 win at San Felipe, they finished fourth overall in the race. he was "within three minutes of the 4 34:38. lead" and he hit a big bump, which The fourth place finisher was the he thought broke the steering, but it team of Tim Herbst and Larry Roesel-turned out to be o.k. Then he passed er, in a Ford. Herbst had started, and Andy McMillin in Azufre Wash, drove to Check 2, working his way up when he pulled over, and from that to fifth at that point. Roeseler said point MacCachren "ran strong to the there was some "kick back" in the finish." He said that "everything on steering, and at the finish he said his our truck is awesome - and the new "thumbs feel broken." He went on to parts of the track are great" He said say that the "course was really rough, that for the first time his truck was so the steering takes a beating." Then prepped "in house at Mastercraft." he added, "San Felipe is always a MacCachren finished in 4:25:03, tough race." Their time was 4:36:09. with an average speed of 56.28 miles Ken Losch, Chevy, was fifth. He per hour. reported having a flat at Mile 30, Finishing four minutes behind which he said cost him eight or nine him, B. J. Baldwin, Chevy, said that minutes, because the jack didn't the dust had been bad for him. work. Until then he'd felt that "we When he started off he'd had "only were on a winning pace." Losch said a tail wind." He went on to say that he "liked the layout" of the course. "today was not one of my better days His time was 4:37:34. - didn't perform as good as I usually The sixth place truck was the do. Didn't get to prerun as much as I Chevy of Juan Carlos Lopez, who usually do." He had no flats, but said drove all the way. He said he'd had he didn't know the course as well four flats. "One just exploded, as he would "if the prerunner had boom!" He also had bad brakes late worked right." He went on to say, in the race. His time was 4:48:46. "I don't like this course at all - too Steve Strobel was seventh in his brutal - [but II love San Felipe." His Ford. He said he'd had a flat about time was 4:29:08. 20 miles before the finish, and his In third it was Mike Julson in a transmission "was a little lazy." He Jimco Ford. He said there'd been said the course was a "work out", but .. a "miscue" in his pits involving lug he thought the new sections were nuts, and a Wilson car had gone by, great Strobel's time was 4:49: 14. and then he was "held up" in his Cameron Steele was eighth in his dust Later he had a flat - about five GMC Sierra. Steele drove all the way miles before the finish. His time was with Mike Emerson navigating. He ..----------....,,.._....,._.. ...... --....-----------, said he'd had two flats, and "made Mike change all the tires." This was his new truck. He said the oil light came on twice, so they stopped to check, but they were "false alarms." Still, stopping and taking off the hood twice cost a bunch of time. Steele really liked the changes in the course, describing them as "amaz-ing." His time was 5:54:51. The ninth place finisher in this class was the team of Dan McMillin and Chuck Hovey, in a Ford. Hovey started, McMillin finished. During McMillin's stint he had a flat and his air jack didn't work. Their time was 4:58:30. In tenth it was Robbie Pierce, in a Ford. He said he "didn't turn it over." Cody Robinson and Roberto Romo drove their Class 1/2-1600 Romo to the win, Don and Ken Moss drove their ever reliable Ford Bronco to the Class 3 win, they But he flattened two rears at the same :th=e=y='"=e=s=ee=n=h=e=r,=e=ju=s=t=a=t=lif=to=f=f=in=t=h=e::'.'.g=o=o=d=lo=o=k=in::'.'.g=c=a=r·========-.-;=======-..:a::":::e:::s:::ee::n=h=e=r,=e=ju=s=t=g=ett=1="n=g=a=irb=o=r.=n=e=o=n=th=e=ir=w.=ay~to=th:;-e-;fl=a=g.========-...:nm:·::::e,:_:an:::d:.::h:e.:also=-".::fo::,:u=:g:.:h:_t_:b:::rakes=:."_:all::; Clyde Stacy, Thomas and Ramon Fernandez took second place BJ Baldwin drove his Chevy Silverado to the silver medal in the Trophy Bryan Wilson and Kyle Quinn drove their Kreger to a second place honors in the Class 5/1600 race, they were 19 minutes in arrears Truck competition, he was four minutes in arrears at the checkers. finish in the ½-1600 action, seen here moving very fast. at the checkers. Pages Aprll 2012 Dusty Times
Page 9
Workentine in a Chevrolet with overheating issues. Workentine said the truck had "boiled completely over twice." They had to keep· stopping to add water, and finished in 7:57:45. Kevin Carr and Noe Valdez won the Class 5 contest with ease, they had over an hour on their competition when they took the checkered flag. Eric Reisen and Ross Burden came down from Canada to take the gold medal in the 5/1600 Class, they had about 20 minutes in hand at the checkers. Fifteenth, and last in the class to finish, was the team of Scott Whipple and Scott Gailey in a Chevy. Whipple started, and at Mile 20 he hit a tree stump and barrel-rolled the truck. That cost about two hours. Then Gai-ley got in at Mile 125, and at Mile 202 he lost the left rear wheel when the studs broke. That cost another hour and a half. Then, in the last canyon, Amarillas, there was a bottleneck of stuck and/ or jammed up cars and trucks. So Gailey helped to pull the stuck folks out of their predicament before going on. When he was at about Mile 225 his crew warned him he was dangerously close to timing out, so he got on it a bit, and finished with fourteen minutes to spare. He day long. He had only rears for a long and put in a gallon every eight miles, time. He said that "kinda puckers you wanting to ensure a finish. Their time Chevy. He said that at Mile 59 he lost a wheel and hub, which cost him an hour and 20 minutes, because he had to wait for his crew to come in up - and my right foot doesn't know was 5:24:17. my left foot doesn't have brakes." His Lucky 13 was Jesse James in his time was 4:59:03. .---------------------------. Andy McMillin, Ford, was 11th• He said he'd been first on the road at one point (he started second), "got by Rob Mac some how - I didn't see him." He had a lot of "feedback" in his steering early, and then when he went into Azufre Wash the steering rack got bowed out and pulled a bolt out It took an hour to effect repairs. His chase guys had to come in with a bolt His time was 5:20:33. In 12th it was two second gen-eration racers: Ryan Arciero and Troy Herbst in the Herbst Ford. Herbst started and went to Mile 124 and Arciero finished. He said there had been smoke from the firewall, and "it was puking tranny fluid, but everything else was o.k." They car-ried transmission fluid with them, Dusty Times Eduardo Laguna drove his Chevrolet Colorado to the Class 6 win at San Felipe, Eduardo had an hour and a half on his competition at the checkers. 2,160 Rooms And Suites 60 Table Games 2,600 Slot Machines 22-Table Poker Room Race & Sports Book 640-Seat Bingo Room 16 Movie Theaters Aprll 2012 and make repairs. He said he "didn't really push after that" His time was 6:43:46. The 14th finisher was Mark Continued on page 10 Arturo Alvarez and Donato Jiminez drove their Ford Ranger to the gold medal in Class 7, they had four hours on. second place when they finished. 9 Restaurants 75,000 Sq. Ft. Of Meeting Space 4,600 Seat Equestrian & Event Center 80,000 Sq. Ft. Exhibit Hall Spa & Fitness Center Showroom 64-Lane Bowling Center Page9
Page 10
had a lot of new best friends coming to the finish behind him. Their time was 10:49:50. In Class 1, there was a first-time winner, but it was by no means a new name on the win list McMillins have been winning in San Felipe since 1983, when Corley and his son, Scott, took Class 2. They did it again in '84. Through the years they won in other combinations, and other classes. Mark took Class 1 in 2004, and Scott paired with his son Andy to win in 2006. Daniel, Mark's eldest, won the 1600 class in 2007, and this year, Luke, Mark's 19 year old, was the Class 1 winner. He had Justin Smith as first driver in the Jimco Chevy, and the team had a flawless run. This was just the fifth time that McMillin had raced the Class 1 car. He was nearly speechless at the finish, saying only, "Oh, migod!" Their time was 4:35:56, and they were fourth overall. Elias Hannah was the big winner in the Class 7SX battle, he was out there for 8 and ¾ hours for the victory, seen here at speed. The Class 8 win went to Rudolfo tribe and Steven Arlia in their Chevy Silverado, seen here at speed headin' for the home stretch. In second place it was Ronny Wil-son, another Jimco Chevy, who came through the finish gasping for air. He actually finished right in front of the McMillin car, worn out and panting, and saying "That's all I've got - I think Luke might've got it"· He was out of the car once, when he hit a rock and got out to check. But he had no flats. Wilson said he thought the new washes weie "phenomenal." Wilson, who drove the entire race, said "that last twenty miles I pushed like I never have ... I just turned 50." His time was 4:38:03. In third it was Wilson's brother, Randy in another Jimco-Chevy. John Herder drove the first half in this car, to mile 162. He had one flat and he'd had a rock stuck in the shift linkage, so it wouldn't shift at all. In his sec-tion Randy had one flat. He said, "We may be old, but we can do it" This was his first race since his doctor cleared him after colon surgery. Ran-dy said that he thinks drivers over 50 years of age (he's 53) should be spot-ted five minutes, and every year after that should add two minutes. Figured that way he'd still have placed third in Class 1 - his time was 4:50:43. Fourth in Class 1 was Darnen Jef-feries in a Jefferies Chevy. He started the morning in Trophy Truck # 52, but got out of it at Mile 25, a little before Three Poles. Then he went to Mile 111 (off Morelia Road) to wait for the Class 1 car. Rob Bruce brought it to him, and he went on to finish with no problems. Their time was 4:54:51. In fifth place it was Tony Miglini and Armin Kremer in a Jimco Chevy. Kremer drove from the start to Mile 125 with Sam Osman navigating, and they had no problems. Travis duTemple navigated for Miglini, and they reported a couple of brushes here and there but "nothing signifi-cant." They said they'd had "a lot of fast fun." Their time was 5: 11:07. In sixth place it was Zak Langley in a Racer Chevy, with Dan Martin. Langley started and had a couple of flats, then Martin got in. He lost a limit strap, and just ran the final 50 miles without it He ran out of gas, but someone from a Herbst pit gave them ten gallons to get home on, and that cost them only four or five min-utes. Their time was 5: 11:50. In seventh place it was Josh Rigsby and Tony Murray in a Penhall Chevy. We missed them at the finish line, and know only that it took them 5: 16:43 to get to the checkered flag. Eighth place was earned by Clyde Stacy, who drove all the way in his Geiser Chevy. ('This is the car that Robby Gordon piloted to the overall win at the recent BITD Parker 425.) Mike Lawrence teamed up with Harley letner and drove the Chenowth-Honda to the gold medal in the Class 10 contest, seen here at speed. Brandon and Donovan Walsh drove their Toyota Tacoma to a second Stacy had "some kind of electrical with a whole new rack, and he came In fourth it was Jorge Salmon, problem", that he couldn't identify, in to the finish in the time of7:37:26. who didn't stop to talk about his day. and also a problem with the steering He was the final finisher in the class. His time was 6:27: 18. in real tight spots. But he didn't have In Class 10 the winning team was Fifth in Class 10 was earned by any flat tires. His time was 5:46:25. Mike Lawrence and Harley Letner Perry McNeil who did all the driving In ninth place it was Monica and in their Honda powered Chenowth. in his VW powered Lothringer. The David Greenhill in a Jimco Chevy. Lawrence drove very little, because he car is a SCORE Lite, with a SCORE They motored on down the road, not was sick and throwing up, so Letner Lite motor, so it's underpowered for stopping to relate their story. Their took over while the car was still on competing in Class 10. McNeil is still time was 5:58:53. the pavement, roughly a half-mile hoping to get his new Class 10 car Tenth went to Conan Barker, into the race. The car is his old one, completed soon. He had two broken who started and Scott Zeppenfeldt, and he said this was the first time axles this time, on the same side of in a Porter Ford. At Mile 38 they'd he'd gotten a win at a San Felipe the car. Changed the first one, went been stuck behind a log jam of cars, race. He rolled it at Mile 44 when he a mile and broke the newly installed and they'd had an engine miss that touched tires with another car, and axle. He said it cost about 40 minutes started at about Mile 200, but they lost about fifteen minutes. But other each time. His time was 7:12:41. had no flats. Barker got out at Mile than that the day went well. His time In sixth it was Mark Lawrence, 125, and Zeppenfeldt got in to go to was 5:31:42. Mikey's dad, in his VW powered car. the finish. Unfortunately, just before In second place it was Peter and Lawrence started in the morning, the finish line there was a huge crowd · Steven Hajas in a Kreger Chevy. Peter and Steve Lawler got in at Mile 128 of spectators and a booby trap, which started and Steve finished, and he and went to the finish. At Mile 192 caught Zepp and he rolled the car. "loved" the new parts of the course. he ran out of gas, and lost over an Before they could gather their wits, They said they'd had a couple of flats hour getting going again. He got two the hordes were upon them, and they and other than that all was o.k., and gallons first, then putted to mile 215, got away with anything that wasn't the weather was "beautiful." Their and got some more, then went on to tied down. They were understand- time was 5:35: 12. the finish. Their time was 7:27: 14. ably upset and angry as they tried to Third in Class 10 was the team John and Morgan Langley were decide what their next move should of Matt Cullen and Chuck Sacks. seventh, in their Racer Chevy. Mor-be. Their time was 6: 14:45. Cullen drove to Mile 116 in their gan started and went to Mile 124. In eleventh ·it was Cody Park- AlumiCraft Honda, and then Sacks John had three flats and got hung up house, who did all the driving in his drove to the finish. Sacks said things in Matomi in the narrow pass trying Jimco Chevy. He hit a tree at Mile "started going wrong" on his stint. to go past a stuck car. He also had ., 193 and broke his steering rack. He He had a flat, and the "shocks went some electrical issues, which meant had crew in a prerunner nearby and to nothing", and there were trans mis-the intercom didn't work. Their time they went to get parts to patch him sion problems, so that the last eighty was 7:37:40. up, as he motored on gingerly. At miles he "cruised." Their time was Eighth place went to Allan Lind-Mile 215 they put him back together 6:04:33. say and Mark Slater. Lindsay started .-----....;...;.._ ____ ....;... ______________ -, and went to Mile 150, and then Slat-The big win in SCORE lites went to Arnoldo Ramirez and Ricardo Malo, they had 45 minutes on their competition when they took the checkered flag. er got in. He had a flat and the jack was broken so he was stuck at Mile 182. His crew brought in another jack, but it took two hours. He had a hole in the oil pan and the oil poured out Then he was so far back he got stuck in the big jam-up in Amarillas Wash. Scott Gailey pulled him out so he could go on to the finish. Their time was 10:17:13 and they were the last in the class to finish. In Class 6 the winner was Edu-ardo Laguna, in a Chevy. He drove all the way, and reported that he'd had a flat at Mile 170. Also, in Huatamote the battery wiring exploded, and the truck stopped. So Laguna and his navigator cut some wires from elsewhere in the truck and rewired things. It took them about ten min-place finish in the Class 7 contest, seen here at high speed on the Justin Fisher and John Holmes drove their Ford Ranger to a second Peter and Steven Hajas drove their Kreger-Chevy to a second place course. place finish in the Class 7X fracas, seen here just at liftoff. finish in the Class 10 action, seen here at high speed on the course. Page 10 April 2012 Dusty Times
Page 11
car back up on its wheels and change the resultant flat tire. Munyon drove on in to the finish, blissfully unaware that the air cleaner had been knocked off. Their time was 9:05:56. A little over an hour later the final finisher came in. George Peters, who· started, and Kevin Walsh, in at the finish, got off to a slow start. Just a mile into the race they broke a front torsion bar, and lost two hours with repairs to their Penhall. After that they never had another problem, not even a flat tire. They finished in 10:19:45. Wes Bevley Ill, Bryan Groesbeck and Chad Bunch came out from Texas to take the Stock Full win in their Ford F-150, seen here at speed. The Class 7-2 win went to Reid Rutherford in his Mason-Chevy, Reid had more than an hour in hand at the checkers, he's seen here at speed. In Class 400, which is for open-wheel cars with Eco Tech motors, the winner was Mike Shaffer, who started, and Daniel Alberli, in a Chevy powered Torchmate with a left rear flat. They said that was their third flat, and that they'd had to drive three miles on one of the other flats, but they'd had no other problems. Their time was 7:00:29. utes to get it done. Their time was nez started, and had the car running 5:34:47. up near the front of the class for a Javier Manzo was second, in a while. Lugo got in and he hit a big Ford. He drove all the way, and had rock which sent the car into a big no rear brakes from about Mile 170. dead tree. It took about 15 minutes His time was 7:06:15. to get loose again. He also had a Peter Lang was third in a Ford couple of flat tires later. Their time with "a junkyard motor." Lang start-was 7:01:44-only 22 seconds behind ed, and for the first time, he rolled the third car. over. He landed on his lid, and some The fifth place car was a RaceCo "guys appeared out of nowhere with driven by Mike, Adolfo and Jr. Agui-a truck and a strap!" Still, it cost them lar. Mike started, Jr. did the middle an hour. They had no other prob-and Adolfo finished. They had a !ems, and his co-driver, Brian Jellison loose heim on a suspension arm, brought the truck in to the finish. which first they "mickey moused", This was their first race in this class; and then repaired. It cost then an they've been competing in Class 1400 hour and a half. Their time was for years. Their time was 8:30:44 and 9:51:30. they were the last in the class to finish. Sixth place went to Ricardo Torres In Class 8 the winning truck was and Moises Aurelio in a Smith Chas-the Chevy of Rudy lribe. He did all sis. Richie Torres navigated for them. the driving, and for the last 50 miles They said they'd had no flats but the had no power steering. He said it "guy with gasoline wasn't at the pit." was "horrible without it." But he .Their time was 10:17:35 and they had no flats, and didn't have to get were the final finishers in their class. out of the truck all day. He liked the In Class 7 the winner was Arturo two new sections, but says he'd like Alvarez, who drove all the way in his to run the whole thing "backwards" three-seat Ford. He said he had "no - or counterclockwise. His time was problems", not even any flat tires. His 5:50:54. None of the others in the time was 6:02:07 . . class finished. In second place it was Brandon In the SCORE Lite class the Walsh in a Toyota. At Mile 8 he had a winner was the team of Arnoldo radiator line break, and he also broke Ramirez and Ricardo Malo in a an axle, which cost him an hour and Jimco. Ramirez started and Malo a half. Then he said he "kept truckin' finished . .Ramirez had a clean run, along", got stuck a bunch of times, but Malo had two flats, and had to shattered a rim, and finished in 10:17:46. Class 3 was won by the Moss Brothers, Don and Ken in their venerable Ford Bronco. Don drove to Mile 110 and then Ken went to the finish. They said they had "no problems, no flats." (This is a shame, because they usually have really good stories to tell about their races.) They were the only team in the class to fin-ish, in 8:02: 18. In the 1600 class, the winning team of Cody Robinson and Calochi Robles had brake troubles in their Romo. Robles started the day and he had a good race all the way to Mile 108 where he got out. At the driver change the crew stiffened the torsion bars a bit, but that was about all that needed correcting. Robinson got in, and about 70 miles down the road he lost most of his brakes. He had only "some rears", and they couldn't fig-ure out why. Then he had to use the transmission to slow down, and he said the "hard 90 degree turns were tough." Still, they stayed in front for the win, finishing in 6:06:34. Second went to Brian Wilson and Kyle Quinn in a Kreger. Dean Woods and Darren Walsh did the navigat-ing. Wilson and Woods had a flat "right off the start", and then worked their way up to third or fourth place and "had another flat" At Mile 108 they switched teams, who said they "beat ourselves up for 150 miles." stop for a new spare tire. Their time -----------------------------, was 5:59:34. Second in SCORE Lite was Car-los Gonzalez in a Porter. He drove all the way, and said he'd had no problems beyond one flat tire. But his right front wheel was wobbling as he pulled into the finish area. His time was 6:35:09. In third place it was brothers Jai-me and Otoniel Huerta in a Curry. Jaime started and he managed to endo the car, going end over end four times, very early in the race. He flat-tened the front of the chassis, and it took an hour to get going again. Oto-niel got in at Mile 170 and brought it to the finish, with a time of7:01:22. Right behind them, in fourth place, was Luis Martinez and Victor Lugo in a Foddrill two seater. Marti-Class 4 had a 100% finishing rate; Mike Shaffer and Shawn Twitchell drove their Custom Chevy to the win, seen here at speed. They had one flat at Mile 206, and finished in 6:42:53. Rob Archibald was third in his Mirage. Archibald drove all the way. He said the car was "kicking really bad - with a lot of side hop." Eventu-ally, the back end went up in the air, the car did a corkscrew and landed on its lid. And the lid came off. He got going again, and then a Class 10 car nerfed him, and completely tore off his rear cage, doing a lot of dam-age. He did the last 100 miles in that condition. His time was 7:14:24. In fourth place J. J. Schnarr and Mark Levrett teamed in a Levco chas-sis. Schnarr drove to Mile 123 and Levrett finished, reporting that they had "no problems." Their time was 7:20:10. Then it was a long wait for the fifth place finisher, the team of Brad Wilson and Justin Munyon in a Kreger. Wilson started and he had a flat at Mile 55. He got that fixed and went on, losing the alternator at Chanate Wash. They continued to have alternator problems, and replaced it at Mile 215, where they also put the light bar on the car. By now, Munyon was at the wheel. He hit a booby trap about a mile before the finish line while in fourth gear, and "wide open." The car rolled and landed on its side. Randy Wilson was doing chase duty not far behind him, and got there quickly to help get the In second place it was Derek Fletcher and Apdali Lopez, (son of Juan Carlos Lopez who placed sixth in the Trophy Truck class.) Lopez, who's 17, started in this car, and went to Mile 90, where Fletcher got in. He said he had a fu ~ and leaky transmis-sion fluid - so he had to add some. They also had a stop to tighten some-thing in the transmission. Their time was 7: 12:23 and they were the last in the class to finish. Class 7-2 was won by Reid Ruth-erford, who drove all the way, in his Mason-Chevy with no problems at all. He said he didn't even have flats, and finished on the tires he started with. He is another who really liked the new parts of the course. His time was 7: 13: 11. In second place it was Billy Wil-son, and Dewey Clark, from Texas, in their Baja-Lite Chevy. Wilson drove all the way. He said he'd had three flats, and a fuel leak that caused them to run out of gas. Then he said "the list goes on and on all day . ... " His time was 8:42: 15. Bruce Finchum was third in his Chevy. He'd come upon the traffic jam late in the race, but was able to go around it, because his navigator Continued on p1g1 12 Brenda Pfeffer-Divine and Dustin Wilkinson took the honors in the Sportsman Buggy Class, seen here in their Predator X18. Carlos Gonzalez and Fenerico Reg/a drove their Porter to a silver Billy Wilson and Dewey Clark drove their Bajalite Chevy to a silver Derek Fletcher and Steven Arlia were the second place finishers in the medal finish in the Score Lites contest, here hustling to the finish. medal finish in the Class 7-2 contest, seen here churning dirt. Class 4 action, they were 12 minutes in arrears in their PSD-Chevy. Dusty Times Aprll 2012 Page 11
Page 12
Luis Duarte and Ernesto Maeda took second place honors in the ______________________ _. Mike Julson drove his Ford F-150 Trophy Truck to a bronze medal Sportsman Buggy Class, seen here in their Bugan-VW, they were 8 Brent Downing took the silver medal in the Sportsman Truck race, finish at San Felipe, he's seen here at high speed on his way to the minutes in arrears at the flag. Brent is seen here in his Chevy Blazer on his way to the checkers. finish line. got out and walked around until he found a usable trail. And thus, they kept moving. (Sorry, we didn't get the hero navigator's name.) Fin-chum had three flats during the day, "all driver error" he said. He'd lost his rear brakes, and he and his wife, Fawn, who was in another car, had passed one another three times. His time was 9:21:07. In fourth it was the aforemen-tioned Fawn, in another Chevy. She'd had a tough day. Early on she'd hit two trees - two separate hits. She also ran out of gas, and "everything that could have gone wrong, went wrong." Mark Cowan navigated. Their time was 10:49:50, getting perilously close to the cut-off time. She was the last finisher in the class. In Class 5 the winning team was Kevin Carr and Kent Lothringer. , Lothringer started and drove to Mile 98, and ·then Carr went to the finish. J They said they'd had no problems, J not eveJl any flats. They ran "a little bigger tire on the rear for the sand." And then they said, "It was super fun." Their time was 6:07: 17. In second place it was Pete Morquecho, who started, and Jose Luis Lopez, who finished. They also reported "no flats, no problems." Their time was 7:26:05, and they were the final finisher in the class. In Class 5/1600 the winner was Eric Reisen, who drove all the way. He said he and his navigator didn't have a working intercom, and they didn't have good suspension .. This was their first race in San Felipe. When he got to the traffic jam in the last wash he "drove around" them. 5-1600 cars are like mountain goats. Their time was 9:09:59. In second place it was the team of Clyde Stacy and Tomas and Ramon Fernandez. The Fernandez brothers did "most of' the driving according to Stacy. They broke a spindle, lost a fan belt and had to add oil. It over-heated because of the lost fan belt. Their time was 9:28:39. -----------------------Trevor Anderson was third, and he drove all the way. He said he'd had a "long day, lot of problems." He had throttle cable problems in the morning, and also had some "engine stuff." But mostly, it was "throttle cable stuff." His time was 10:10:56. Just nine minutes behind him it was the team of Carlos Rivas and Pedro Nunes. At mile 42 they rolled over, and that cost them 25 minutes. Then, at Mile 196 they ran out of gas, and "some guy helped us" by taking their co-driver to the Baja Pit where he was able to buy six gallons, which was enough to get them to their own gas pit. Their time was 10: 19: 11, and they were the final finishers in the class. In the Stock Full class it was Wes Bevly Ill and Chad Bunch in a four-wheel-drive Ford. Bevly started and went to Mile 125. Then Bevly drove to the finish. They said it didn't run right, and they might have had bad fuel. They lost one brake caliper, but had no flats, and used their 4WD when they were briefly caught in the traffic jam in the Amarillas Wash. Their time was 9:29:50. No one else in the class finished. In the Modified Stock Mini-truck class (7SX) the winner was Elias Hanna, who drives a Ford. He was in front all the way, and took the win in 8:44:45. We missed him at the finish line somehow. In second it was Justin Fisher and John Holmes in a Ford Ranger. They said they "Used more water than gas today." And they pretty much guaranteed that by starting with a blown head gasket. They pfe-ran in the race truck, "Which was a mistake." So, in the race they couldn't go over 3000 RPMs or it would overheat. It was difficult going uphill, they'd barely make it. They bought some "block sealer", at a parts store, but it didn't work. Their plan had been to start just to get starting points, and they were surprised that .they finished. Fisher started and Holmes got in at Mile 94 and went to the finish. Their time was 9:28:01 and they were the last in the class to finish. The Sportsman Truck class was won by Randy Swink and Arturo Montano in a Ford Ranger. Mon-tano started and Swink finished. They said they'd had just one flat tire. Their time was 7:35:38. In second place it was Brent Downing in a 1970 Chevy Blazer. He drove all the way and said he'd had no problems. Then he said he lost his steering at the bottom of Azufre, but was able to bolt the box back on. He saw the traffic jam, but just then Fin-chum was making his way around it, so he followed him around. Downing said this was his third try at this race in a truclc, and.his first finish, though he's raced bikes down here for years. His time was 9: 18:00. Third in this class.was the team of Jorge Rivas and Fernando Duron in a Ford. They shared the driving, and had alternator failure, a burnt spark BILSTEIN 9100 Series Shocks with optional Anti-Cavitation Valve (ACV) provide the highest ¢ level of damping performance for Ultra4 type race v~filcles. With the low.spring rates required for these crossover , • .: race,rs, the ACV allows minimal gas chargs (spring rate) while still r :_efrminating the possibility of shock fade due to cavitation. ' · BILS'TEIN 9100 Serles equipped Ulti'a4 type vehicles have won numerous races and two.Best In The Desert Class 4400 season championships. · 9100 Series standard features: Body: 60mm or 46mm seamless tube available In Smooth Body, Coilover, or Bypass Piston Rod: 22mm centerless ground, case hardened. chromed and super polished Piston: sornm: 7075 aluminum with 0-rlng tension wear band 46mm: U37 linear or digressive with check valve Reservoir: Standard'. 60mm x 15' Rod Ends: 1/2' Teflon• Uniball with steel machined eye ring • Bypass Adjuster: Chromoly metering check valve with stainless adjuster Bypass Tubes: Available In 5/8' or optional 7 /8' dla. Coilover Hardware: 3· I.D., includes lock ring, spring seat, crossovers lockring and Oelron slider Bi/stein offers a superior range of premium monotube gas pressure shocks for stock replacement, tiffed trucks,and professional off-road racing. Bilstein Gas Pressure Shock Absorbers ThyssenKrupp Bilstein of America Sales & Tech Info: 1-800-537-1085 • bilsteinUS.com Page 12 Visit our web$/te to see the full selection, or call for the dealer nearest you. April 2012 Dusty Times
Page 13
Randy Wilson and John Herder flew low to their third place finish in Robert Archibald drove his neat looking Mirage to a bronze medal The Matt Cullen/Mike Lombardi/Chuck Sacks trio were the third place Class 1, seen here in their Jimco-Chevy at high speed. finish in the 1600 competition, seen here saving a bit of tire wear. finishers in the Class 10 action, seen here in their AlumiCraft Honda. plug an air filter that "exploded", and flats. Their time was 9:30: 10 and they were the last in the class to finish. In the Sportsman Buggy class the winner was Brenda Pfeffer;Divine who did all the driving in her Preda-tor X18. She said she'd broken four belts, and lost the steering wheel twice. Dustin Wilkinson was the navigator, and he also changed the belts. Maybe he also reattached the steering wheel. Pfeffer-Divine said she had "run over a VW by acci-dent". It was a rolled-over red VW. They had no flat tires and finished in 8:17:10. Second in the class was Luis Duarte in a VW powered car which he said was a Cocoy Chassis. It was clearly sick, and the engine was mak-ing a lot of noise. He indicated that he'd had suspension problems, but no flat tires. His time was 8:25:31. In third it was George Jackson and Brian Siler. Siler started and Jackson finished in their Toyota powered Jimco, which sports a new yellow paint job this season. They broke a rear limiter strap and lost a little time in the big traffic jam. Their .time was 9:18:58. In fourth place it was Viry Felix, in a two seat VARO chassis, pow.ered by an 1835cc VW. She drove all the way, with her brother Tavo, navigat-ing. Ms Felix got lost and got stuck in the very last canyon, but had no mechanical problems. Their time was 9:19:04. Fifth went to the team of Dawnette Carpenter, who drove the last 30 miles, Jeff Kirkham, Mickey VanOyke, and Kay Awaad, all also Randy Swink, Steve Finnegan and Arturo Montano took top honors in the Sportsman Truck Class, seen here just at liftoff. drove their two seat Curry powered by a 1600cc VW. They had two flats and a cactus came into the cockpit and "stuck everywhere." Their time was 9:34:26. Travis Pastrana was sixth. Some-how the idea of Travis Pastrana, X Games superstar, part time NAS-CAR driver and top notch rally racer in a Sportsman vehicle, seems ludi-crous. But it turns out that his wife, Lyn-Z, would also be driving, and this was only the second time she'd driven a car with a clutch. She drove the first and last quarter of the race. Pastrana did the rest The car is actually a Class 3000 open-wheel two-seat buggy with an Eco-Tech motor. They clearly had enjoyed the trip. Their time was 9:37:04. In sixth it was Jim Bunn who dl:ove all the way in an Alpha. Char-ley Holbrook navigated. They said, "We had a great time." But the mo-tor was overheating all day, because the cooling system couldn't handle it Their time was 9:54:06 and they were the last finisher in the Sports-man class. In the UfV class, which is also a Sportsman class, the winning team was Tom Graves and Rich Morel, who both drove in.., their Yamaha. They sard they'd had some electrical problems, but no flats. Their time was 9:31:28. In second place it was Bill Morris, who did all the driving in his Polaris. Dave Prothero navigated. They broke their A-frame, so it was taped and strapped together. They hit two trees, two separate times. Their time was 10:25:37. There's a kind of dichotomy sur-Ronny Wilson took second place honors in the Class 1 fracas, Ronny was less than three minutes in arrears in his Jimco-Chevy. rounding the San Felipe race - the racers like the area, the length of the race, the weather, the fish tacos, the general cheerfulness about the event, but many of them hate the brutal course. They'd like to see it turned around (that's been done - whoops are horrible in either direction) or bladed, or re-routed (never mind that it's surrounded by private property) or they'd like SCORE to find new trails and roads through the area. Would that it could be done. This year the addition of two sections that hadn't been raced before met with approval from everyone. That may be the best that the racers can hope for - just small bits and pieces added as SCORE finds them and then gets permission to use them. The season rolls on, with the Baja 500 next on SCORE's calendar, and then the always exciting and challeng-ing Baja 1000, which this year goes to La Paz in celebration of the 45th year of racing in Baja. As for Randy Wilson's statement that some of the racers are old, but still "can do it", we took a few mo-ments to look through the entries for this event and found 33 senior citizens, over 50 years of age, in the car/truck classes. Clyde Stacy is 67 and he entered in four or five classes. Surprisingly, there were four elder statesmen in the Sportsman UTV classes (one would think they'd have better sense), one aged 66 on a Sportsman ATV, and we all know there were entries in both the Over 50 and Over 60 bike classes. So plen-ty of racers understand that it can be done. And they come out time and again to show us how. IIIJl1 Tim 'Herbst and Larry Roese/er raced their Ford F-150 to a fourth i...:.~•.;.;4itl::;•_· ___ ..,_;:;;..._;;..;i.=:..:.-L--....._...:&.. __ ~a._.;;;.........1 George Jackson/Brian Siler/Kurt Penley took third place honors in the place finish in the Trophy Truck fracas, they were 11 minutes in Damen Jefferies and Rob Bruce finished first off the podium in the Sportsman Buggy contest, seen here in their Jimco-Toyota. arrears to the winner. Class 1 race, seen here just at liftoff in their Jefferies Chevy. Jorge Salmon and Sergio Frias finished in fourth place in the Class Ken Losch raced his Chevy Silverado to a fifth place finish in the Tony Miglini and Armin Kremer were the fifth place finishers in the 10 action, seen here in their Custom-Chevy at high speed. Trophy Truck bash, seen here ready for touchdown. Class 1 battle, seen here in their Jimco-Chevy headin' home. Dusty Times April 2012 Page 13
Page 14
t.n.Jc:!C RALLY OF SWEDEN Latvala/Ford Take The Gold By Martin Holmes Jari-Matti Latvala's unre-warded speed in Monte Carlo bad been no illusion. He even-tually pulled away from the opposition in Sweden, which was headed by his former teammate but now Citroen driver Mikko Hirvonen, to win the second round of the 2012 World Rally Champi-onship. For a long time Lat-vala' s efforts were balanced by those of his fellow Finn, with each tactically adjust-ing their driving to maximise the performance from their studded tyres, before Latvala pulled ahead. It was a disap-pointing rally for the reign-ing champion Sebastien Loeb but strong results went to third placed Mads Ostberg, despite handling difficulties with his Fiesta WRC, and to Evgeniy Novikov who finished fifth for the second successive event, and the highest placed non Scandinavian driver. Pet-ter Solberg had held third place for most of the rally but a puncture on the final day dropped him back to finish fourth. Ford's win was very satisfying. The younger of the two former teammates showed his true abilities which his frustrating season last year had prevented. It was Fords sixth successive win on this event. Notwithstanding the lack of position changing during the event this did not reduce the excitement in the closing stages when a late puncture for Latvala nearly deprived him of victory. The second round of the 2012 World Rally C~ampion-ship -now officially called the "FIA World Rally Cham-pionship Powered by Nokia", did you know that? - was the Swedish Rally, the traditional world level Scandinavian win-ter event. After a tentative ex-periment last year with stages Page 14 that crossed the country's border with Norway, the event based at Karlstad featured a group of stages fully inside neighbouring Norway on Day 1. Monte Carlo obviously does it all the time but the Swedish experiment was in-teresting because it involved two major countries with dif-ferent monetary currencies, languages and cultures. The service park at Hagfors air-port remained the effective epicentre of the event. Apart from the same cross-border stage (which passed close to the area of the Solberg fam-ily •estate) the three Norway stage venues were north of the town of Kongsvinger, where the Remote Service stop was held. These were all stages used in the old Rally Nor-way. Once again three official works teams (Citroen, Ford and Mini) were all present and there were 21 World Rally Cars on the entry list with a total of 54 entries in all. Among the list of World Rally Car drivers there was a different number two driver for the Mini WRC Team. This was Patrik Sandell who was supported by the newly formed Sweden World Rally Team, a national endeavour dedicated to eventually bring-ing the World Drivers Cham-pions hip title back to their country. His car did not have the traditional Mini red co-lour but with blue design for his Sweden World Rally Team support. The only winter rally experience the Prodrive Mini team had had was running Va-clav Pech on the recent ERC Janner Rally. The Go-Fast Fi-esta team of Matthew Wilson and Henning Solberg had still not registered for the Manu-facturers' series but if all went well it was planned for the team to be registered for the Photos:Maurice Selden rest of the season. In fact, all did not go well. Wilson never made it, ending up instead in hospital instead of in Sweden. He broke and dislocated his ankle following an awkward fall in a mountain jogging exercise near his Cumbria home. Non championship World Rally Car drivers seen for the first time this year included Michal Solowow, Mads Ostberg, Jari Ketomaa, Peter van Merksteijn Junior (it was his father who drove at Monte Carlo), Touring Car driver Richard Goransson (Mini) and at the last moment Eyvind Brynildsen (Ford). Most of the Fiestas were ex-Monte Carlo cars, Solowow's was ex-Delecour (the origi-nal prototype RRC car which the Pole rallied at Rzeszow last year, converted back to WRC spec) which he promptly rolled in testing but happily without much damage in the snow. Ketomaa's was Wilson's 2011 car. Ostberg had the old Block-Andersson-Athanassou-las car and Brynildsen drove Ostberg's 2011 car. The entry for the SWRC category was a little healthier than at Monte Carlo with the addition of Polish driver Ma-ciej Oleksowicz (2-litre Fiesta) and the Saudi Yazeed Al Ra-jhi, driving a new Fiesta now with a 30mm 1.6 litre turbo. The first time a car of this specification has appeared in a support championship event. The range of Swed-ish Rally experience among the SWRC competitors was very wide. Proton driver Per-Gunnar Andersson finished seventh in 2011 in a Fiesta World Rally Car and won the SWRC category in 2010, while McRae has not rallied in Swe-den since 2004. The Proton S2000 cars have never been used on a winter rally before. April 2012 . \ ' Sebastien Ogier and Julien Ingrassia drove their Skoda Fabia to the S2000 class win, they're seen here at speed in the snow. Fiesta driver Craig Breen fin-ished the rally last year third in his class. The reigning Production Car World Cham-pion Hayden Paddon came to Sweden facing a whole bundle of challenges. First rally in an S2000 car, a new team, first time in Sweden and indeed on a winter rally, and driving with a team (ASM Motors-port, a Spanish company) that was new to the WRC. "What a different type of car the S2000! With Group N you have to plan what you want the car to· do, with a S2000 the car has already done it for you. The Skoda is a real rac-ing car!" Paddon's car was an old car used last year by Ber-nard Ten Brinke and Eyvind Brynildsen, used by the latter to come 2nd SWRC in Rallye de France. For this event there were also two Guest entries, the Swede Pontus Tidemand and the Norwegian Marius Aasen. In non championship S2000 entries the VW Skoda team had Sebastien Ogier and this time Andreas Mikkelsen. In the (vain) hope that Subaru would support a car in the SWRC, an entry had been made for Chris Atkinson in a Subaru R4 but this entry did not eventually happen. The entry for Patrik Flodin (Fiesta S2000) was also withdrawn in order to prepare for their forthcoming IRC programme. Once again special tyres were produced just for this WRC event. Unlike the 18 inch winter tyres used in Mon-te Carlo, 15 inch rims were used in Sweden. DMack tyres were used this time on four Fiestas, the two WRCs of Ketomaa and Brynildsen and the S2000s of Oleksowicz and Aasen. Their winte'r tyres for 2012 had a stiffer construc-tion to improve higher speed stability, and the stud protru-sion had been increased from 6.5 to 7.0 mm. Michelin's new tyres were similar to last year, but also with marginally extended protrusion from 6.8 to 7.0mm. The WRC's new Qualify-ing Stage and running order selection system for Day 1, together with reverse order for Days 2 and 3 (for winter and gravel rallies) was held for the first time and prom-ised to present a controversial change. The running order on Day 1 would clearly depend on the anticipated weather conditions and personal opin-ions -and tactics -of the fast-est drivers, but Days 2 and 3 would see the fastest drivers running well down the field, in rougher conditions than for cars ahead of them and further into the failing light of dusk. Teams firmly expect-ed that the grey world of rally tactics was just about to get very much darker in colour, thanks to a new generation of tactical opportunities opened up by Qualifying Stages and running order selection! Due to come to a clii;nax at the time of the rally was the hope that finally a new cham-pionship Promoter would be in place. President Todt said it should be settled before the Swedish but unfortunately it was not and in fact everyone was back to square one. On this appointment hinged not only radio, electronic and television rights for the rest of the 2012 season, but also the whole confidence of the various championship "stake-holders". The news of failure created a huge panic as the Swedish organisers were left ~• to arrange and fund television coverage as well as distribu-tion of the images of the event worldwide. The organisers were financially stressed and set up a Friends of Rally Swe-den campaign, selling prod-ucts to help pay for the TV work. Then six days before the start, the BMW Group declared their policies about the future of the Mini WRC project, and the ramifica-tions took several subsequent days to unravel regarding the championship itself. In th& end the Prodrive Mini team arrived in Sweden and no Minis would be allowed to score more Makes' champion-ship points this year. Despite the political up-heavals, there was plenty of sporting optimism in the top teams. Both drivers in both Citroen and Ford camps were previous Swedish Rally win-ners, Mikko Hirvonen for the last two years, and Ford had not been beaten on this event since 2005. Sebastien Loeb was the first non-Scan-dinavian to win the Swedish in a Xsara back in 2004. The Norwegian factor brought another event into focus. The long running Finnskog Rally, held the weekend before the Swedish, and which used stage venues close to the area where the Swedish Rally stages in Norway were run. Several regular WRC crews competed on the Finnskog Rally for ac-climatisation, including An-Dusty Times
Page 15
Mikko Hirvonen and Jarmo Lehtinen finished second overall in the rally in Sweden, they were 16 seconds in arrears at the checkers. dersson (Proton), Brynildsen and O stberg (Fiestas WRCs), Hirvonen (Citroen -and won) and Breen (Fiesta S2000). Of the 54 accepted entries, 50 cars turned up. Absentees were Wilso n , Flodin, Atkin-son and the young Russian Sergey Karyakin. As for weather conditions there was n o snow around Karlstad, a little snow at Hag-fors while the stages (includ-ing the Qualifying Stage) in that region were more icy than snowy. But there were nice snowy conditions on the forthcoming Norway stages. Snow banks were never very high. With the dramas of the renegotiations of the past few days behind them, the Mini cars looked splendid in the service park, all the four team cars lined up side-by-side, smartly in different colours. First of the many different running order instructions came in a list issued on the Wednesday evening -the order in which the P 1 and P2 driv-ers were to tackle the Quali-fying Stage, which started at 1030 Thursday after the Free Practice (previously known as Shakedown) had been car-ried out. This list included all the 20 World Rally Cars (reduced from 21 when Wil-son withdrew) plus Ogier's non-championship VW team Skoda, but not his teammate Andreas Mikkelsen. Quick-est in Free Practice was Lat-vala at lm54.9s, 0. 7s quicker than Loeb and Hirvonen, who were equal, while Ostberg, the top non-registered driver was fourth at lm56.9s. Interest-ingly Tanak, Sordo and van Merksteijn all punctured. The next start list was the order through the opening Superspecial at the Farjes-tad trotting track location in north Karlstad, where cars were selectively grouped in pairs to provide good spectat-ing. Then the order for Day 1 was to be selected by the drivers, followed. by the Day 2 and Day 3 in reverse clas-sification running orders. The scene was set. Average-cold conditions (around minus 16 at Shakedown, with plenty of loose snow creating snow dust which promised to threaten visibility for drivers running further back. Drivers were still unsure what their starting order preference policy would be. They had all afternoon to study the overnight weather forecast before casting their Dusty Times votes. Latvala said : "It de-pends on tomorrow's weather, if it will be cold better to be an early runner, if it is milder, then better further back. And it also depends o n whether there will be fresh snow over-night." Fastest on the Qualify-ing Stage was again Latvala with lm53.516s, 0.568s faster than Hirvonen. Amazingly third quickest was Tanak -de-spite another puncture in the front right wheel! There was one major ques-tion about to be answered. What would be the preferred starting place to be chosen by the Qualifying stage winner Jari-Matti Latvala? 20 other drivers were lined up waiting for the Finns' decision, which turned out to be number 17, which would be over a half hour later than the first ca~ on the road. All his closest ri-vals selected positions in and around number 17, Hirvonen at 18, Tanak at 14, Novikov at 16, and so on. After the top eight had made their choices, the others counted themselves down towards the front end-ing up, as widely predicted, that the 21st choice would come from Paulo Nobre whose only remaining choice was -number one. "I came here to be first -and that is where I am going to be!" The conditions at the Far-jestad trotting track were a little bleak. Mads Ostberg , "It was just like a summer rally without the snow banks" -except for the intense cold which attacked everyone in the stadium. The top drivers may have preferred later slots for the next day but the early runners had best times on the Superspecial. Fastest was Dani Sordo in the third pair of drivers, 0.3 second in front of Ostberg in the opening pair, with Tanak third. Breen· had a puncture on the rear of his Fiesta. After all their recent troubles it was wonderful to see the Minis, and a non Scan-dinavian driver at that, at the head of the classification. The big early news, howev-er, was a one minute lateness incurred by Sebastien Loeb (10 second penalty) leaving the early morning service halt at Hagfors. Loeb, "We decid-ed at the last moment to carry two not one spare wheel, and sorting that out at the back of the car just made us late at the control." The immediate curi-osity concerned how the start order selection system would work out. Certainly the condi-Mads Ostberg and Jonas Andersson finished in third place overall in Sweden, they are seen here just at liftoff in their Ford Fiesta RS. tions favoured the decision of the snow banks where later the top drivers to choose later running cars had been off running positions. At the the road." Gravel started to midday halt after stage five appear through the ice, and the top five drivers were those sudden icy patches caused who had chosen start posi-many drivers to spin unex-tions between 15th and 20th pectedly, including Martin in the running order. Was this Prokop and Dani Sordo while accurate judgement, o r were Armino Araujo spun twice. these the best drivers who On stage seven, the rerun of would have succeeded what-Kirkener, Loeb spun losing ever their running position? nearly two minutes in a snow Paulo Nobre headed off at bank. Unfortunately he then the head of the field but his pulled b ack o n to the track moment of glory did not last right in front of Ostberg. long. He went off the road On stage eight Hirvonen felt as did Tanak who lost more the balance of his DS3 was than ten minutes while there disturbed and eased his pace, were fuel pressure troubles for proving just enough to let Mini driver Richard Gorans-Latvala back into the lead. son. Mads Ostberg momen-More drivers started to disap-tarily took the lead at the end pear. Jari Ketomaa went into of stage two. On stage three, a snow bank where there were the first all-Norwegian stage, no spectators around to help the conditions were different. rescue his car. Then also on The loose snow was not clean-stage eight, fifth placed Sordo ing to the same extent as ex-hit a snow bank. The impact pected but Sebastien Loeb was dislodged the alternator belt happier. Loeb scored his first on his Mini which stopped scratch time but it was Jari-the water pump working. All Matti Latvala who was able to this was to the advantage of take the lead from Ostberg. By Evgeniy Novikov and Patrik the end of stage four, Kirken-Sandell, who had a lot of un-er, the fastest driver was Mik-dersteering which upset his ko Hirvonen, the fifth differ-confidence. As th.e afternoon ent driver to make a fastest progressed so the stages start-time so far, after Ostberg and ed to get more icy. Ostberg fellow Fiesta driver Latvala was still third (0.9 seconds were equal quickest on stage in front of Petter Solberg) two. Petter Solberg had risen but now he had trouble with to second after stage three the brakes. Michal Solowow but then spun on stage four continued learning WRC life, and dropped to fifth. Stage "Compared with the S2000 five saw the roads cleaning the main difference is that predictably, giving another you are constantly looking stage win for Hirvonen. Third for grip with a WRC." He placed Ostberg found the car also had gearbox problems. handling unpredictably and Peter Van Merkseijn (Junior) could not understand why touched a snow bank inside he could not go faster. The a bend and spun. Among the traditional stages had been top drivers the gravel was fast with average speeds, on beginning to affect the tyres. stages two and three, well over Sandell had decided to carry ll0kph, with only the shorter only one spare and finished publicity Kirkener stage that the last forest stage with virtu-was slower. ally no studs. Bad decision! After service at Kongsvinger, This was also a problem for competitors made another lap Tanak and for Hirvonen. Pet-of the three Norwegian stages, ter Solberg was pacing his before heading back to Swe-afternoon, after an early spin, den, to a stage close to Torsby with the aim of preserving his and to finish the day with a studs in mind, and delaying rerun of the Karlstad super-the moment when he fitted special stage. Temperatures replacement tyres. Petter had had warmed up, it was minus got up to third place, ahead eight at the opening stage of of Ostberg having scored his the loop. Latvala edged closer first scratch time in the pro-to Hirvonen but had trouble cess and ending the day 1.8 losing grip at the rear of the seconds behind Hirvonen. car. Ostberg was still unhappy Eyvind Brynildsen was in with the handling of his car. despair when the pre-load of Conditions were quite differ-th~ rear differential was fail-ent, Latvala "You can tell by ing and the car was hard to the way that the stages have handle. Five Fords were lying been used before, in many in the top six. places there were holes in In SWRC, Per-Gunnar An-April 2012 dersson went in to the lead at the opening superspecial but then dropped behind Pontus Tidemand o n stage two but the n m oved back into the lead again. Andersson really d id not care for the artificial and bumpy Kirkener stage, is-suing appalling words to the journalists that he could only have learned fro m working with an English team! Craig Breen had punctured on the superspecial but during the first full day he climbed back until he was lying third in the category, ahead of Yazeed Al Rajhi, who said his lack of handbrake made driving the Kirkener stage tricky. On stage three Hayden Paddon went off the road for seven minutes and Marius Aase n for a half hour -and lost 23 minutes at the ensuing co n-trol and Alister McRae went off and stopped for the day. After the second loop of the N orwegian stages Tidemand was lying 19.2 seconds behind Andersson but then went into a sn ow bank on stage eight and had to stop to clear snow out of the air filter. This lost him about three minutes yet he only dropped one place in the SWRC, so that Breen was now second (nearly a minute and a half behind Andersson, despite a high speed spin) and Yazeed stayed fourth. Olekso-wicz had a gearbox problem and Paddon broke a wheel while Assen was still moving but now over 50 minutes be-hind Andersson. In the overall Class 2 Se-bastien Ogier, in the VW team Skoda, found the gear ratios on his Fabia were too low for the conditions. He was gradually speeding up and on stage five got ahead of Andersson into the class lead. On stage four his teammate Andreas Mikkelsen (delayed by a spin on stage two and baulked by Aasen !n stage three) got ahead of Ti demand, so VW's Skoaa cars were lying 1-2 in the class. VW's non Priority driver Mikkelsen was running over a half-hour on the road behind teammate Ogier, with 20 intervening cars between them. Mikkelsen had quite different conditions to Ogier and was now chal-lenging his teammate for the lead in Class 2. He got ahead after stage 6 but at the cost of being too aggressive with his tyres, and Ogier took the lead back again. In the non championship class 3, Anders Grondal had been leading all the time in his Subaru. Lessons learned? Latvala had chosen the correct run-ning order selection call, but Petter Solberg had been top in the art of preserving studs to best effect, making best times on the last two stages of the day. The official results showed that three Norwegians were in the top six places, and there were only three Swedes in the top 20 places. The best placed was Sandell, proudly displaying the Sweden World Champions' Team colours. Day 2 - 8 Stages -Gravel - 117.76kms Overnight Prodrive engi-neers checked out Dani Sor-Continued on page 16 Page 15
Page 16
do's car and decided that there was no point in restart-ing. Other retirements were Ketomaa's crashed Fiesta and the privateer Thelaus' Group N Mitsubishi. 47 crews re-started from Karlstad. The running order for Day 2 was defined by overall classifica-tion prior to the end of day superspecial, with the Priority 1 and 2 drivers ahead of the rest of the field. Reverse run-ning order rules meant that Paulo Nobre was again first car on the road while Latvala restarted in 19th place, 38 minutes behind him. Latvala was again happy, making best time on stage 11, the opening stage. The stage started exactly at dawn, so later running drivers had better visibility. This was the stage with the famous Colin's Crest and Mads Ostberg punc-tured. Goransson stopped his Mini for the day after an undetected stone that had en-tered the engine compartment on the previous day's off-road excursio n then smashed a crankshaft sensor. There was more stress on stage 12 (Sa-gen, the famous public road stage) the fastest stage of the event. Nobre spun and was stuck in a narrow stretch of road. Eventually he got on his way again, l9sing more than 50 minutes on the stage and being 16 minutes late at the following control. Ott Tanak again went off, this time for tnore than 20 minutes. Mini driver Armindo Araujo was not completely happy but the car was going reliably until he had more trouble with loss of power on this stage. Araujo, "I then tried to drive too hard and had a spin." Sandell's understeering problem had now eased bu t then he came across Araujo. "Armindo had just got going again and then saw another Mini, me (!) com-ing along, (running only one minute behind) and drove back off the road-again!" Ost-berg was struggling after his earlier puncture, as he had to mount a tyre of the wrong symmetry on the car. Petter Solberg stalled at the start of the Sagen stage, which upset his rhythm. Despite the beautifully clear winter's day, J.,oeb was getting despondent. He spun on the Sagen stage, 111 put a wheel inside a bend and that unbalanced the car. I can't win every time! You don't have the same motiva-iion when you are driving like this." The event was now set-tling into a battle between last year's Ford drivers, Lat-vala and his former teammate Hirvonen, who was now driv-ing for Citroen. "Yes, things are a lot more serious between us now!" commented Latvala. Evgeniy Novikov, was holding fifth place, the highest placed non Scandinavian driver. He found his windscreen heater was disconnected which re-duced his visibility and he also made a tactical error and had taken only one spare wheel and consequently suf-fered a lot with disappearing studs. Tanak was unfazed by his various misfortunes and made fastest time on stage 14, the short Hagfors sprint stage, his first scratch time at WRC level. Tanak, "That was good, but now I must do it on a for-est stage." He was the seventh different driver to make best time on the event. The big debate at the mid-day halt concerned the in-creased risk of tyre damage, in conditions where there was less snow around and with bigger ruts while the gravel was looking now to be more damaging than the day before. Latvala: "Tyres will be quite worn out this afternoon. We have to brake less and need to hit the throttle more gen-tly." The other question was whether the reverse running order would mean that the leading drivers, unlike the first runners, would tackle stage 17 in darkness. Araujo was seven minutes late out of midday service having an exhaust manifold changed in-curring 1 m 10s penalty. Henning Solberg was still happy but aware that Loeb was trying to catch him and take away his sixth place. Af-ter stage 15, the first stage of the afternoon loop, Loeb was just 0.6 second behind Hen-ning, and after stage 16 Loeb had got ah~ad of him. Tyre preservation tactics were criti-cal for the 18km Fredriksberg stage, the last of the tradi-tional forest stages of the day. Not such a long stage but ev-ery year there is a losing-stud scenario here and the light was fast failing. Ostberg and Hirvonen deliberately eased their pace on stage 16, Latvala gave every impression of not being so concerned, pulling out another five seconds lead over Hirvonen. Van Merkstei-jn was sill not confident with his Citroen. Solowow went off and needed to be pushed back on the road. Neuville was learning as much as he could for another year. Armindo's power loss was getting desper-ate. Ostberg's hopes of glory were dashed when his Fiesta had an electrical problem which caused it to misfire. Loeb had a front right tyre fail and dropped nearly a quar-ter minute against the stage winner Hirvonen, and meant he and Henning were equal sixth going into the last stage. Sandell stopped to remove the plastic protection in the front of the Mini as the engine tem-perature was getting too high. Hirvonen arrived at the end of stage 17 with the car sliding everywhere -and the day was still not over. The final stage was a re run of the short Hag-fors Sprint stage and reports said that it was sheet ice. Any remaining studs were still go-ing to be needed! Loeb got ahead of Henning in to sixth place and they stayed that way to the finish. Andersson was comfortably more than two minutes in the lead of SWRC his main battle being the lack of grip. Ma-ciej Oleksowicz stopped after stage 11 when the exhaust got blocked but the other seven cars in the category were still going strong. Hayden Paddon was busy finding out as much as possible about S2000 rally-ing. Breen had a front brake disc break and had to cover the last two stages of the day with the car almost uncon-trollable. Alister McRae was stuck in another snow bank in stage 16 for a quarter hour and then Marius Aasen went off the road. In the non-registered S2000 Sebastien Ogier was pulling away from Mikkelsen in the second VW team Skoda, but then Ogier punctured three kilometres from the end of stage 13. Mikkelsen who had been los-ing time to his teammate had his dampers changed at the midday halt and felt much happier afterwards. Mikko Pajunen was steadily the top R4 car with Kaj Lindstrom as his new codriver with Anders Grondal keeping ahead in Group N. Lessons from reverse seed-ing: The problems were pre-dictable, the positions re-mained the same and the gaps between the top cars got bigger and bigger. Latvala was leading by 23 seconds from Hirvonen, 51.4 from Petter Solberg and lm02.5 from Ostberg. Day 3 - 6 Stages -Gravel -84.84kms Classified in last position was the colourful Paulo No-bre but he again restarted the final day first car on the road. Jari-Matti Latvala was enjoying his lead over Mikko Hirvonen and four Fords were in the top five. Six stages to go, two laps of three ven-ues, which included the short spectacular downhill Hagfors Power Stage. Another cool morning with only a smatter-ing of overnight snow. Tem-peratures of minus 12 were reported and there was a lot of loose snow on the surface of the opening stage which did clear away. Hirvonen had some changes to the car hop-ing to ease the tyre wear but was not happy and eased his pace, having given up the fight for the lead. By the end of the first stage, with five to go, Latvala was suddenly a half minute ahead. Gorans-son restarted but the car was misfiring. Michal Solowow was still adjusting to the extra performance of his World Rally Car. After a miserable Day 2, Armindo Araujo's car was now working properly again. Prokop was trying to keep up with Sandell's Mini but meanwhile was also wor-ried about the fast charging Eyvind Brynildsen behind him. The 21 year old Russian Evgeniy Novikov was pacing himself, able to control the gap to Loeb behind him. But the battle was for the final place on the podium. Ostberg started the final day 11.1 sec-onds behind Petter. After the first loop of stages the gap was down to 4.9. Conditions for the second loop were clearing and more and more rocks were begin-ning to appear. With the re-verse running order the condi-tions were affecting the top drivers more than anyone else. Declared tactics: Novikov said that he was going to ease off on the first two stages with the aim on going flat out on the Power Stage. Ostberg: if you don't keep in the tracks of ear-lier runners you will get punc-tures. Loeb: the rocks were getting worse and you could easily break something on ·the car. "If you tried to push in these conditions, there was a 90% chance of getting a punc-ture." Hirvonen: this is one of the worst Power Stages, in-credibly rough. Last year there was much more snow on this stage. Punctures in fact came early. On the first stage of the loop, both Petter Solberg and Latvala punctured on their right front wheels. Latvala "I have never seen a rock any-thing like that on this event before." His lead was suddenly slashed down to 8.4~ seconds and for Petter the time lost cost him his podium slot and let Ostberg jump to third, behind Mikko. Ott Tanak reported engine trouble and retired. Nobre finally went off the road and not even a huge army of spectators could get the car back on again. Brynildsen was so happy with his experience, "I am going to.ask the mechanics if I can drive the car back to the work-shop after the event. I have been enjoying this so much!" Sandell was improving all the time, starting to make repre-sentative times in the second half of the event. Hirvonen was still losing his studs more than he would have wished and Latvala gained another four seconds. Finally there was no change in running order for the Power Stage, cars kept Day 3 order all the way to the finish. Loeb won the Power Stage, M-Sport scored their 50th WRC victory, Latvala leading four Fords in the top five places, Citroen ended the event still leading the Makes series and with their drivers 1-2 the Drivers series. So then it all ended well and with the promise of orthodox events which they normally win to come, maybe Mr Loeb will start to smile again soon. In the SWRC the Proton team thought their only prob-lem had been to adjust the shock absorbers in the very· cold conditions. Their num-ber one driver Per-Gunnar Andersson had. provision-ally won the category by over three minutes from Craig Breen, who was content with his run, now once again on four brakes. Pontus Tidemand was the only one of the two Guest drivers to survive to finish third and took some points from regular competi, tor tiayden Paddon, who fin-ished more than five minutes behind Tidemand in fourth place. Having won the Day 11 battles with Anderss,on and his teammate Andreas Mik-; kelsen, Sebastien Ogiefd1won the overall Class 2 category in his non championship S2000 Skoda Fabia. On the penul-timate stage Mikkelsen hit the same rock as Latvala. He stopped to change the wheel and lost more than two min-utes which dropped Mikkelsen behind Andersson. After the event had finished both the Protons were reprimanded for underweight suspension arms and penalised two minutes each. Although Andersson still kept his lead in the SWRC he dropped back behind Mik-kelsen in the Class 2 stand-ings. The VW team finished 1-2 in the Class. McRae's over-all position was unchanged as were the SWRC points and standings. l.n.J'c:!C: Per-Gunnar Andersson and Emil Axelsson drove their Protron Satria Neo to a 14th place overall finish in the Swedish Rally. Two Russians, Evginiy Novikov and Denis Giraudet, also in a Ford Sebastien Loeb and Daniel Elena were the sixth place overall finishers, Fiesta RS were the fifth overall finishers in the Swedish Rally. they're seen here in their Citroen DS3 just at liftoff. Page 16 Aprll 2012 Dusty Times
Page 17
• ' I 60th Swedish Rally (S) Karlstad 9/12.02.2012 WCR round 2, SWRC round 2 WCR points WCR 1 (3) Jari-Matti LA TV ALA/Miikka Anttila FIN Ford Fiesta RS (Ml WRC PX61AWR (GB) 3h.18m.28.3s. 2 (2) Mikko HIRVONEN/Jarmo Lehtinen FIN Citroen DS3 (Ml WRC BK359DW (Fl 3h.18m.44.9s. 3 (15) Mads Ostberg/Jonas Andersson N/S Ford Fiesta RS (Ml WRC PX60AUV (GB) 3h.19m.07. ls. 4 (4) Petter SOLBERG/Chris Patterson N/GB Ford Fiesta RS (Ml WRC PX61AWU (GB) 3h.19m.42.6s. 5 (6) Evgeniy NOVIKOV/Denis Giraudet RUS/F Ford Fiesta RS (Ml WRC RU55ALM (GB) 3h.21 m.09.7s. 6 (11 Sebastien LOEB/Daniel Elena F/MC Citroen DS3 (Ml WRC BK317DW (Fl 3h.21 m.23.4s. 7 (10) Henning Solberg/Ilka Minor NIA Ford Fiesta RS (Ml WRC PX11AMU (GB) 3h.22m.17 .Ss. 8 (52) Patrik Sandell/Staffan Parmander s Mini John Cooper Works (Ml WRC 2WRC (GB) 3h.23m.37 .2s. 9 (21) Martin Prokop/Zdenek Hruza CZ Ford Fiesta RS (Ml WRC 06R0030 (CZ) 3h.23m.58.3s. 10 (64) Eyvind Brynildsen/Cato Menkerud N Ford Fiesta RS (DI WRC PX60AVF (GB) 3h.24m.55.5s. 11 (601 Sebastien Ogier/Julien Ingrassia F Skoda Fabia S2000 (Ml 2 H-VM135 (D) 3h.26m.03.3s. 12 (18) Thierry Neuville/Nicolas Gilsoul B Citroen DS3 (Ml WRC BF735XB (Fl 3h.28m.32.0s. 13 (62) Andreas Mikkelsen/Ola Floene N Skoda Fabia S2000 (Ml 2 H-VM136 (GB) 3h.28m.46.8s. 14 (33) Per-Gunnar Andersson/Emil Axelsson s Proton Satria Neo S2000 (Ml SWRC YN61 HCP (GB) 3h.30m.16.8s. 15 (12) Arminda Araujo/Miguel Ramalho p Mini John Cooper Works (Ml WRC OU61DLJ (GB) 3h.31 m.29.2s. 16 (32) Craig Breen/Gareth Roberts IRL/GB Ford Fiesta S2000 (Ml SWRC PX59AVF (GB) 3h.31m.52.6s. 17 (68) Mikko Pajunen/Kaj Lindstrom FIN Subaru lmpreza R4 (Ml 2 FN1098 (FIN) 3h.32m.54.3s. 18 (49) Pontus Tidemand/Goran Bergsten s Skoda Fabia S2000 (Ml SWRC HJ84639 (N) 3h.33m.06.4s. 19 (17) Peter van Merksteijn jr/Eddy Chevallier NL/B Citroen DS3 (Ml WRC BH482BM (F) 3h.33m.47.5s. 20 (8) Michal Solowow/Maciek Baran PL Ford Fiesta RS (Ml WRC PX60AWP (GB) 3h.35m.08.5s. 21 (7) Nasser AL A TTIYAH/Giovanni Bernacchini QA/I Citroen DS3 (Ml WRC BH528BM (F) 3h.35m.38.4s: 22 (65) Anders Grondal/Trond Svendsen N Subaru lmpreza (Ml 3 KF81161 (N) 3h.38m.28.7s. 23 (31) Hayden Paddon/John·Kennard NZ Skoda Fabia S2000 (Ml SWRC P-2447BCJ (El 3h.39m.26.9s. 24 (36) Yazeed Al Rajhi/Michael Orr SA/GB Ford Fiesta 1.6 S2000 (Ml SWRC PX61 AUR (GB) 3h.44m.34.4s. 34 (35) Maciej Oleksowicz/Andrzej Obrebowski PL Ford Fiesta S2000 (D) SWRC WD49991 (PL) 4h.18m.50.4s.(7) 37 (34) Alister McRae/William Hayes GB/AUS Proton Satria Neo S2000 (Ml SWRC YNlOGOH (GB) 4h.31 m.02.1 s.(8) 38 (19) Richard Goransson/Anders Fredriksson s Mini John Cooper Works (Ml WRC OUl 1 HJZ (GB) 4h.35m.13.5s.(13) 50 (8 SWRC ) starters. 42 (7 SWRC) finishers. MANUFACTURERS' POINTS DRIVER. Tyres: (D) -DMack, (Ml -Michelin. (Missed stages or road sections), Winner's average speed over stages 105.55kph. + -Power stage points. 20 World Rally Cars. LEADING RETIREMENTS (5) Ott TANAK/Kuldar Sikk EE Ford Fiesta RS (Ml WRC (14) Paulo Nobre/Edu Paula BR Mini John Cooper Works (Ml WRC (16) Jari Ketomaa/Mika Stenberg FIN Ford Fiesta RS (DI WRC (37) Dani Sardo/Carlos Del Barrio E Mini John Cooper Works (M) WRC (63) Marius Aasen/Veronica Engan N Ford Fiesta S2000 (DI SWRC RALLY LEADERS Sardo stage 1, Ostberg 2, Latvala 3+4, Hirvonen 5-7, Latvala 8-24. SWRC LEADERS Andersson stage 1, Tidemand 2, Andersson 3-24. CLASS 2 LEADERS Andersson stage 1, Tidemand 2, Andersson 3+4, Ogier 5, Mikkelsen 6, Ogier 7, Mikkelsen 8, Ogier 9-24. CLASS 3 (GROUP NJ LEADER Grondal stages 1-24. The Route Special Stages Total Distance Day 1 Karlstad (Thursday 2000) • 10 gravel-146.56km 695.70km (1-10) Karlstad • Kongsvinger • Hagfors • Karlstad (Friday 2000) Day 2 Karlstad (Saturday 0600) • 8 gravel-117. 76km 700.32km (11-18) Hagfors -Karlstad (Saturday 2026) Day 3 Karlstad (Sunday 0610) -6 gravel-84.84km 446.58km (19-241 Hagfors · Karlstad (Sunday 1616) 24 stages-349.16km 1842.60km Weather: dry, cold, mostly snow but some frozen gravel and ice. 2 stages fully in darkness. Leading Special Stages positions 1 2 3 4 5 6 Latvala 9 6 3 1 2 1 Hirvonen 5 3 5 6 1 Loeb 4 4 5 4 1 3 Ostberg3 5 4 3 1 4 P.Solberg 2 4 4 3 6 1 Tanak 2 1 1 2 1 Sardo 1 1 1 2 Novikov 4 3 4 Neuville & Al Attiyah equal, scoring one 3rd and 4th times each. SWRC Andersson won 14 stages, Tidemand 7, Breen 3. CLASS 2 Ogier won 13 stages, Mikkelsen 7, Andersson 3, Tidemand 1. CLASS 3 (Group N) Grondal won 18 stages, Weng (Mitsubishi) 4, Haugom (Subaru) 2. Crews Restarting 47 44 LAST STAGE COMPLETED PX11AMV (GB) engine EK068KX (I) accident (9) PX60AVG (GB) accident 4WRC (GB) engine JU71953 (NI accident (2) Positions in World Championship for Rallies (WCR): Citroen Total WRT 65 points, Ford WRT 55, M-Sport Ford WRT 28, Mini WRC WRT 26, Qatar WRT 8. Leading positions in World Championship for Drivers (WCD): Loeb 39 points, Hirvonen 32, P.Solberg 29, Latvala 26, Novikov 21, Sordo 18, Ostberg 15, Delecour 8, Campana & H. Solberg 6, etc. Leading positions in Super 2000 WRC (SWRC) Round 2/7 (six events to count): Breen 43 points, Andersson 25, Tidemand 15, Paddon 12, Al Rajhi 10, etc. From: Martin Holmes, Prospect Cottage, Pyrford Green, Woking, Surrey, GU22 SUZ. UK Tel: +44 (0) 1932 352894 & 347757. Fax: +44 (0) 1932 343102. Email: martinholmesrallying@compuserve.com Karlstad 12th February 2012 Patrik Sandell and Staffan Parmander were the first of the John Nasser AL ATTIYAH and Giovanni Bernacchini drove their Citroen WCD SC 25 25+1 (t 18 18 15 15 12+2 11,1_ 12 10 10 8+3 6 4 -· 2 1 25 1111Plblc 18 In tlldl 15 8 flDM 12 PIIIIG 10 8 6 21 21 7 7 14 Coopers Works Minis to take the checkers, they finished in the DS3 to 21st place overall in Sweden, seen here flying across the Finishing fourth overall in the Ford Fiesta RS were Petter Solberg and eighth overall position. white stuff. Chris Patterson, seen here in their Ford Fiesta RS. Dusty Times April 2012 Page 17
Page 18
BATTLE AT PRIMM Ewing Takes overall By]. Preston Bradshaw Photos: Trackside Photo A great win for Marc Ewing, he took Unlimited Truck with ease and finished first overall for the weekend, seen here in his powerful Ford. What a weekend! What a great bunch of races! What a great bunch of racers! The Dusty Times SNORE Battle At Primm came off like gang-busters, thousands of people, hun-dreds of cars and trucks and it re-ally seemed like everyone there had a great time! It couldn't have been much better! There were 18 classes of competition, Class 1450 had 27 entries and the 1600 class had 35 entries! The weather was perfect and, all in all it couldn't have been better if we ordered it. The Unlimited Trucks, there were seven of them entered but only two of )hem made the required five laps each day. On Saturday it was Marc Ew-ing first to the checkered flag, Chris Kemp was second truck to complete the required laps, Steve Olliges was third to take the checkered flag, John Lennon was fourth truck to finish and that's all there were! George Pondella only got one lap in and Jeff Seifert also only completed one lap. In the Sunday race, Marc Ewing was fastest overall, Todd Wyllie fin-ished in the second spot and that's the end of the finishers. Chris Kemp only got four laps completed, George Pondella only finished one lap, Steve Olliges, John Lennon and Jeff Seifert either did not start or did not com-plete their first lap. The overall Unlimited Truck win went to Marc Ewing and Todd Wyllie took home the silver medal. There were 15 entries in the Class 1 contest and on Saturday it was 11 Flores fastest on the course, Richard Boyle was second in, Tony Murray was in the third spot, Todd Jergensen finished in fourth place and Sean Me-cham finished in fifth spot and Kevin Thompson rounded out the top six places. Jennifer Clemison was the sixth car in and Kevin Thompson was the seventh and final five lap finisher. Johnny Greaves only finished four laps and Joe Derosiers had three laps to his credit. Mike Dondel only com-pleted two laps, Pat dean only got two laps completed as did Joseph David and Clayton Scudder. CJ Hutchins got one lap under his belt and Josh Daniel did not complete his first lap. The Sunday Class 1 five lap race was won by Johnny Greaves, who, unfortunately was a dnf on Satur-day, Mike Dondel came in second, third place went to Josh Daniel, CJ Hutchins was fourth to finish, Sean Mechum was the fifth car in and Joe Desrosiers was the sixth and final five lap finisher. T J Flores only finished four laps this Sunday, Tony Murray only completed two laps, as did Jen-nifer Clemison and Todd Jergensen was only able to complete one lap this Sunday. The remaining five drivers did not complete one lap, namely: I • Throwing lots of dirt, Sean Mecham was the overall winner in the Class 1 contest, Sean is seen here at speed headin' home. Richard Boyle, Kevin Thompson, was the seventh and final five lap Pat Dean, Joseph David and Clayton finisher. Brett Maurer only got three Scudder. laps under his belt on Sunday, Chip Class 1 overall - there was only Prescott was suffering with a dq fin-one, Sean Mecham, he took the gold ish, Jay Watson and Clint Armstrong medal, well deserved. each got two laps in and James Dean Next up were the class 10 contes- did not start. tants, there were 12 of them entered The Class 10 overall winner was and fully six of them finished the five Roger Starkey, Bekki Wik was less required laps each day. First to take than two minutes in arrears in the the checkered flag this day was Roger second spot, Michael LaPaglia was Starkey, Bekki Wik was less than two another four seconds back in third minutes in arrears when she got the place, Josh Meister was fourth place checkered flag, Jay Watson came in overall, Cody Jeffers finished in fifth seven seconds later for a third place place, including a few penalties finish, Cody Jeffers finished first and Hunter Buettner was the sixth off the podium and Josh Meister and final overall Class 10 finished. rounded out the first five. Brett Mau-There were 10 machines entered rer was the sixth Class 10 car to finish, in Class 12, five of them got in their Michael Lapaglia was seventh car in, required five laps each day. When the Hunter Buettner was the eighth car dust cleared on Saturday it was Randy to finish and that was the end of the Jones taking a really nice win, Vic Saturday finishers. Clint Armstrong Bruckmann finished in the second only finished three laps, Christian spot, he was a minute and 20 seconds Hall got two laps in and James Dean in arrears, Brady Wisdom was third failed to complete his first lap. Chip car in, he was another minute and Prescott was the fastest car to cover the change in arrears, Joel Whitted was five laps on Saturday but he was dq' d the fourth car to finish and Bob Dziu-for a rules infraction. rawiec was fifth to take the checkered The Sunday Class 10 event was flag. Sixth place honors went to Ken another barn burner, this time it was Tapert, Greg Crew was another five Michael LaPaglia taking the Class seconds back in the seventh spot, 10 win, Bekki Wik took second Beau Rash finished in eighth place1 place honors, she was less than two Michael Benedict took home ninth minutes in arrears, Roger Starkey place and Steve Waters was only able finished in the third spot, Cody Jef-to complete four of the five required fers was the fourth car to finish and laps. Josh Meister rounded put the top In the Sunday Class 12 fracas it five cars. Sixth place honors went to was Joel Whitted talking the class win, Hunter Buettner and Christian Hall nine seconds later Brady Wisdom Bill Morris took the honors in the UTV-Pro class races, Bill is seen Todd Wyllie raced his Chevrolet pickup to a second place overall in Bekki Wik, always a charger and a flyer gets a bit of air as she drives here on his way to the checkered flag at Stateline. the Unlimited Truck division, seen here at high speed. to a second place finish in the Class 10 battle. Jessica Freeman had a decent weekend, she took second place It was a second place finish for Joel Whitted in the Class 12 fracas, Mark Brister gave it all he had but had to settle for a silver medal honors in the Class 15 event, she's seen here just before one of Joel was only 44 seconds out of a first place finish. finish in Class 13, he's seen here at yet another landing. many, many landings. Page 18 Aprll 2012 Dusty Times I ' I
Page 19
' I , Roger Starkey gets nicely airborne as he heads to a first place finish in the Class 10 battle, Roger had 2 minutes on his competition at the end. took the checkered flag, Beau Rash took third place honors, fourth place went to Ken Tappert, Steve Waters was the fifth place finisher and Greg Crew was _the sixth and final five lap finisher. Michael Benedict was only able to get four laps .in on Sunday, Bob Dziurawiec only got three laps in and Vic Brockmann did not start the Sunday race. Randy Jones was dq'd for a rule infraction. All the times were added up and the overall Class 12 win went to Brady Wisdom, Joel Whitted was a minute and chang in arrears in second place, Beau Rash took home the bronze medal, Ken Tapert fiished first off the podium and Greg Crew was the fourth and final overall finisher in the class. The Class 13 troops were next up, there were 22 of them entered for the weekend and fully eight of them were able to finish their four required laps each day. When the dust settled on Saturday it was Jordan Poole first to the checkered flag, Billy Shapley was the second car to finish, Mark Brister finished in the third spot, Randy Jones was the fourth car to finish and Cassidy Zeigler was the fifth place fin-isher. In sixth place it was Bree Cloud, Julie Meehan finished seventh, Derek Bradley was the eighth to finish, Jack Bassett was the ninth place finisher and Chris Adamik finished the race in lQ'h place with an over seven hour first lap. Way to go Chris. Jay Shain got three laps completed, Tony Fer-rato the same, Dan Belfontaine too, Also with three laps in were Day Gang, Luke Mc-Millin, Blaine Conrad and Ruben Rodriguez. Two lap finishers included Richard Diaz and Andrew Neal. Bre-anna Bradley, Jason Coleman and Bryan Mathews failed to complete their first lap. The Sunday Class 13 race saw Mark Brister taking the checkered flag for a nice win, Jordan Poole came in for the silver medal, Bill Shapley took home the bronze medal, Randy Jones finished first off the podium and Derek Bradley was the fifth place finisher. Julie Meehan was the sixth car to finish the race, Jack Bassett was the lucky seventh finisher, Chris Adamik was the eighth car in and Bre Bradley was the ninth and final four lap finisher. Jay Shain only had three laps completed, Tony Ferrato also had three laps in and Jason Coleman also got in three laps. Dan Bellefontaine had two laps completed as did Bryan Mathews. Cassidy Zeigler only had one lap completed, Bree Cloud also finished one lap, as did Day Gang, Luke McMillin, Richard Diaz and Andrew Neal. When the times for both races were tallied it was Jordan Poole taking the overall Class 13 win, Mark Brister was two minutes back in the second spot, the Shapley crew finished third overall for the weekend, Randy Jones took fourth place honors, Julie Mee-han finished in the fifth spot, Derek Bradley was sixth overall, Jack Bassett finished in seventh place and Chris It was a good weekend for Brady Wisdom in the class 12 battle, he took the overall class win by less than a minute but it got him the gold. Adamik was the eighth and final Olliges, once again was the fastest overall finisher. truck on the course, George Resen-The Class 1450 troops were next baum was once again the brides-to race, they had four laps to complete maid, Kenny Walker took third place each day for an overall finish. There honors, fourth spot went to Nick were 27 of them entered and 10 of Towelli and Vincent Munoz was them were able to complete all the re- the fifth truck to finish the required quired laps. First to the checkered flag four lap race. Jeremy Smeltzer was on Saturday was Steve Olliges, with the sixth truck to finish, Lee Orr an average speed of 53 miles per hour, finished in the seventh spot, Kevin George Resenbaum came in less than Knight was eighth to finish the race, three minutes later in the second Duane Evans was ninth to take the spot, Tyler McNeil was the third truck checkers and Paul Hayslett was 10th to finish, Kenny Walker finished in to finish. Curtis Goodpaster was 11th the fourth spot and James Gill round-to take the flag and Brian T rachenski ed out the first five finishers. A sixth finished in 12th place and Joey Chott place finish went to Jeremy Smeltzer, was the 13th place finisher and the last Lee Orr was another two minutes of the four lap people. Darren Parsons back in seventh place, Nick Towelli got three laps finished, as did Tyler took eighth place honors, Bruan Bon- Buquet and Joe Ruffo. Gary Oliver ham was the ninth truck to finish made two laps and James Gill and and Duane Evans was lQ'h to take the Josh Taylor each made one lap. flag. Finishing in 11th place was Curtis Taking the Class 1450 overall win Goodpaster, Brian T rachenski made was Steve Olliges, George Resenbaum it an even dozen, Darren Parsons was was the silver medal winner, Kenny 13th to finish, Tyler Buquet was 14th in Walker was third truck overall, Nick and Kevin Knight finished in the 15th Towelli was fourth overall and Jeremy spot and was the last of the four lap Smeltzer finished in the fifth overall finishers. Finishing three of the position. Lee Orr was sixth overall, four required laps were Vincent Duane Evans was seventh, Curtis Munoz and Joey Chott. Joe Ruffo, Goodpaster was eighth, Brian Tra-Noah Quantrell, Spencer Smith and chanski was ninth and Kevin Knight Kenneth Thompson each completed was the lQ'h overall finisher. two laps and Gary Oliver, Jim Borden Class 15 was next to race, there and Kevin McKeown completed only were 17 cars entered and seven of their first lap. Those not completing them made their eight required laps their first lap were Paul Hayslett, Josh for the weekend. In the Saturday race Taylor and Chris Michael. it was Eric Trondie taking the win, Sunday, Class 1450, four more with an average speed of 54.9mph, laps to complete the race and Steve Wayne Gould took the silver medal in the race, Jessica Freeman was third car in, Darin Anderson finished in the fourth spot, Christine Dziurawiec was the fifth car to take the checkers and Anthony Armstrong was the sixth car to take the checkers. Chip Prescott finished in the seventh spot, with a time of7:57:35, with an average speed of 6.4mph!, Bekki Wik finished in the eighth spot, with a time of?:58:05 with an average speed of six mph!, Aaron Hawley was the ninth car to finish, his time was 7:59:03, average speed was 6.4mph and Pamela Hall was the 10th and final car to finish the4 required laps, her time was 8:06:02! Talk about determination. Ken Tapert only got three laps in, Brandon Blust also had three laps complete, Beau Rash finished three also, in just under eight hours and Roger Starkey rounded out the three lappers. Dean Defreze only got two laps finished, as did Joel Tarquin. Jay Watson and Jerry Stewart did not fin-ish their first lap. The Sunday race saw Dean De-freze take the Class 15 win, Bekki Wik finished in the second spot, she was 44 seconds behind the leader, Eric T rondie was the third car to fin. ish, Aaron Hawley took fourth place honors and Pamela Hall finished in the fifth spot. Ken Tapert was the sixth place finisher, Jessica Freeman took seventh place honors, Wayne Gould was the eighth place finisher and Christine Dziurawiec was the last of the four lap finishers. Beau Rash completed two laps, Heat Wrong and Joel Tarquin only got one lap in on Sunday and that's all she wrote! Taking the Class 15 overall win was Eric Trondie, Jessica Freeman was second overall, Wayne Gould took the bronze medal, Christine Dziu-rawiec finished in fourth place, Bekki Wik finished in the fifth spot, Aaron Hawley was sixth in and Pamela Hall was the seventh and final overall finisher. The Class 1600 troops were next up, there were 35 of them all waiting to get their 5 laps in each day. Un-fortunately, only 22 of them would finish all their required laps. First to finish in the Saturday event was Luke McMillin, with an average speed of 54.1mph, Andrew Neal took second Continued on page 20 Curt Geer drove as hard as he could but this time had to settle for ~---------------------... i....;.;.:.:.>..;;>-_---=:;....._..._ __________ _ a second place finish in the Class 1600 battle, he was a minute in George Resenbaum spent quite a bit of time in the air, he was the Anthony Perrucci was the silver medal winner in the Class 18 conflict, arrears at the checkers. second place finisher in the hotly contested Class 1450. he was assessed a 15 minute penalty which didn't help at all. John Gauld, seen here in flight, was the second place finisher in the Kyle Murray had big troubles on Sundays first lap but he still managed Gary Herrod had some problems first lap on Sunday, he still managed Class 3000 races, John was a couple of minutes in arrears at the flag. a second place finish overall in the Class 9 battle. a second place finish in the StockBug class overall. Dusty Times Aprll 2012 Page 19
Page 20
It was a nice win in class 13 for Jordan Poole, he had two minutes in hand at the checkers, he's seen here at high speed on the course. Eric Trondie had a really great weekend, he took the gold medal in class 15 and he had 10 minutes in hand when he took the checkers. place honors, he averaged 53.3mph, Curt Geer was third to take the check-ers, Jason Coleman was fourth to finish and Justin Smith rounded out the first five finishers. Aaron Hawley Mac Marmon was ninth to take the 12th place, Joe Laff was 13th to finish, was sixth to take the flag, Robert Ar-checkers and Scott Smith was l()th to John Grossini was the 14th car in and chibald was lucky seventh in, Blaine finish. Finishing in the 11th spot was Clint Braun was 15th to finish. Bud Conrad finished in the e · hth spot, And Grider, Day Gan finished in Ward was the 16th Class 1600 car to __ ...._ ____ ___. _________ __,.._ ________ _ take the flag, Johnny Bums was the 17th car to finish, Andrew Myers took 18th spot, Bryan Myers finished 19th and Greg Shapiro was the 2Qth 1600 to take the checkers. Tony Ferrato finished in the 21st spot, Ken Tapert was the 22nd car to finish, Jeff Bruner came in 23"1, Stefane Stuart was 24th to finish and Chris Adamik nailed down the 25th spot. Daniel McMillen finished way back in the 26th Spot and Evan Dixon was the 27th and final five lap finisher. Mike Mont.es got in four laps, Daniel Belle-fontaine was only able to get three laps in and Cory Boyer also finished three laps. Roberto Romo was only able to finish two laps, as did Lorenzo Rodriguez and Corey Torres finished only one lap. Mike Meehan did not complete his first lap. Sunday's race fur Class 1600 saw Luke McMillin once again fastest on the course, Curt Geer was 10 seconds behind in second lace, ustin Smith A fifth place finish in the StockBug Class went to Chris Green, a 49 Derek Bradley was the sixth place finisher in the Class 13 battle at Lee Orr gave it all he had in the Class 1450 altercation, but he had minute first lap on Sunday really did him in. Primm, Derek is seen here flyin' high on his way to the checkers. to settle for a sixth place finish in his Ford pickup. In spite of some heavy time penalties, Cody Jeffers finished in fifth Julie Meehan was a bit off the winning pace in the Class 13 battle, Jeremy Smeltzer drove his Ford pickup to a fifth place finish in the 'place in the class 10 battle, Cody is seen here flyin' to the finish line. she finished fifth in class, seen here flying nicely. Class 1450 battle, he's seen here just moments before landing. It was a third place finish in Class 1450 for Kenny Walker, he's seen Wayne Gould likes to fly, he's seen here on his way to a third place It was a third place finish in the Class 1600 fracas for Justin smith, here at high speed on the course, headin' for home. finish in Class 15, a long 3rd lap on Sunday didn't help matters. Justin is seen here just at one of many, many takeoffs. Beau Rash finished third in the Class 12 contest at Primm, a long Michael Lapaglia took a third place finish in the Class 10 battle at fourth lap on Saturday didn't help much, seen here just before Billy Shapley and his dad, Bill were a wee bit off the winning pace Primm, he missed second place by all of four seconds. touchdown. at Primm, they finished third in Class 13, seen here saving tire wear. Page 20 Aprll 2012 Dusty Times
Page 21
\ \ ' was third car to finish, Jason Coleman was the fourth car in and Robert Ar-chibald was the fifth car to finish the Sunday race. Aaron Hawley was the sixth car to finish, he was 8 seconds out of fifth place, Scott Smith was the seventh car in, Bud Ward took eighth place, Day Gang took ninth place honors and Mac Marmon was the 10"' car to finish. An 11th place finish went to Lorenzo Rodriguez, Daniel McMillin made it an even dozen, Joe Laff finished in 13th place, Bryan Meyers was 14th to finish and Johnny Burns was the 15'h car to finish. Daniel Bellefontaine came in 16th, Tony Ferrato was 17th to finish, Mike Montes took the 18th spot, Jeff Bruner came in 19th and Stefane Stuart was 20"' to finish. Mike Meehan was the 21st car in, Evan Dixon finished in the 22nd spot, Greg Shapiro finished 23n1 and Chris Adamik was the 24th and final five lap finisher. Blaine Conrad got in four laps, Andrew Myers com-pleted three laps, Cory Boyer only got two laps in and Clint Braun only finished his first lap. Adding up all the times it was Luke McMillin taking the overall Class 1600 win, Curt Geer was a fairly close second place finisher, Justin Smith finished in third place, Jason Coleman was fourth in and Aaron Hawley was fifth to finish overall. Robert Archibald was sixth, Andrew Neal was lucky seventh, Scott Smith finished in eighth place, Mac Marmon was ninth and Day Gang was the 10th place finisher overall. Bud Ward took 11th place, Joe Laff finished 12th, John Grossini was 13th overall, Bryan Meyers was 14th and Johnny Burns made it an even 15th place overall. 16th place went to Tony Ferrato, Daniel McMillin took 17th, Jeff Bruner was 18th overall, Stefane Stuart was 19th and Greg Shapiro was 20"'. 21st place overall went to Chris Adamik and Evan Dixon was the 22nd and final finisher. Bryan Matthews was dq' d for a rules infraction. There were five cars entered in the Class 18 contest, they had four laps to go each day and two of them made all the required laps. First car to finish the required laps was Cody Freeman, . , Luke McMillin took the Class 1600 win at Stateline, he had 64 seconds in hand when both races were totaled, he's seen here just at touchdown. Tom Bird was the big winner in the Class 5/1600 competition, he was the only one to complete all the required laps for the class. John Pellissier was the second car in, Ralph Chadwick was third to finish and Anthony Perrucci finished first off the podium. Daniel Maurer only got one lap completed. • In the Class 18 race on Sunday it was John Pellissier taking the check-ered flag first, Anthony Perrucci fin-ished second, in spite of a 15 minute for a rule infraction and that was all there was! Cody Freeman only got in one lap and Ralph Chadwick did not complete his first lap. So, overall in the class 18 contest it was John Pellissier taking the gold medal and Anthony Perrucci finish-ing in the second spot. The Class 3000 race was up next, there were four entries and fully two of them finished the five required laps each day. At the end of the race on Saturday it was Ryan Frisby taking the checkered flag first, John Gauld fol-lowed in the second spot and Kevin Soder was the third vehicle to finish. Shawn Schauwecken was unable to fmish his first lap. Sunday, the 3000 Class saw Ryan Frisby once again taking the class win, John Gauld finished in the second spot, he was a minute and change in arrears. Shawn Schauwecken only got Class 1450 had 35 entrants and Steve Olliges beat 'em all! Steve had two minutes on his competition when he took the checkered flag. Kevin Soder took the Class 7 win at Stateline, here he demonstrates how not to land on two wheels, none of his competition finished the race. four laps in. Combining the lap times we had Ryan Frisby taking the Class 3000 overall win and John Gauld taking the silver medal for a second overall finish. The Class 5 contest only had one entry. He had to complete five laps each day for a finish and he did so on Sunday but on Saturday he was only able to complete four laps and was listed as a dnf. There were four entrants in the Class 5/ 1600 contest. They too had four laps to complete each day. At race end on Saturday it was Mark Lundberg taking the checkered flag, Tom Bird took second place honors. Bill Dobbs was only able to complete three laps and David Hendrickson did not start the race. On Sunday, it was Tom Bird com-pleting his four laps for the win and that was all there was! Bill Dobbs did not finish his first lap and Mark Lun-dberg and David Hendrickson did not start the Sunday event. So, taking the overall win for the 5/ 1600 Class was Tom Bird. The Class 7 conflict also had four entrants. They had five laps each day to complete and two of them did just that When they came in for the checkers on Saturday it was Steven Al-brecht taking a really nice win, Kevin Soder finished in the second spot, he was 37 seconds in arrears. Broe Hers-am only had two laps completed and Dana Dague only completed one lap. The Class 7 race on Sunday saw only Kevin Soder complete all four laps for the class win. Steven Albre-cht only had one lap complete and Hersham and Dague did not start the event. Overall, it was Kevin Soder taking the Class 7 overall win. There was only one entry in the Class 8 contest, Richard Waite and he only got in three laps each day an'd was declared a dnf. It was a big Class 18 win for John Pellissier, he beat his competition by almost half an hour, John is seen here flyin' high. Ryan Frisby had a good two day run in the Class 3000 contest, he took first place honors with a bit over two minutes in hand at the flag. Continued an page 22 Brian Caudill was going great 'ti/ the first Sunday lap, Brian finished Talk about flying, Josh Meister really got airborne in the Class 10 Randy Jones was a bit off the winning pace in the Class 13 battle, third overall in the Class 9 contest, here flyin' beautifully. battle, Josh finished first off the podium for the weekend. he's seen here nicely airborne on his way to the checkers. Dusty Times April 2012 Page 21
Page 22
Nick Towe/Ii gave it all he had but had to settle for a first off the Christine Dziurawiec literally flew to a fourth place finish in the Class podium finish, he's seen here on his way to the checkers. 15 contest, she's seen here in beautiful, level flight. Ryan McCrory finished first off the podium in the Stock Bug contest, he's seen here flying straight and level, headin' home. There were 19 cars entered in Steve Johnson, Conner Sprawis was drew Davidson was seventh car in, the Class 9 contest. They had to second car in, Kyle Murray finished Tyler Petersen was eighth to finish, complete four laps each day for an in the third spot, Ron Rash finished Brian Caudill finished in ninth place overall finish and seven cars did in fourth place and Dean Rohan was and Paul Robinson rounded out the manage that feat. The first car in for the fifth place finisher. A sixth place top 10. Randy Ward was the 11th the checkered flag on Saturday was finish was taken by Eric Muller, An- place finisher, Giti Gowland made it an even dozen· and Jacob Davidson Englestead and Dan Lutz did not was unlucky 13th, the final four lap complete one lap. finisher. Steve Vega only completed In the Sunday Class 9 four lap three laps, Kurt Davidson Jr. only event, it was Eric Muller taking a got three in, Eric Burfield finished really nice win, Brian Caudill was two laps and Kyle Vizzo, Joshua second car to finish, Kurt Davidson ---1-tJC MOTORSPORTS Page 22 G-FOllCE RACING GEAR Dry Break Tower • 100 Gallon Capacity • Single or Double DryBreak • EZSetUp • Affordable lndyCa.r Fl Technology .lece11orlt1 •Dump Cans •Hose • Reducers • Filler Necks & Caps a.buu • Snell SA 2006 Forced Air Helmets • Wired for CommunicaUon & Ear Bud Ready • Racing Optics Tear Offs • Universal and Custom Molded Ear Buds • Helmet Skirts • Shields IHIAlr111 llewer lyale111 • Highest Flowing Systems! • 105, 135, 160, 236 and 250 CFM RaUngs-• filgh Flow Filters & Custom Hoses • Trophy Kart Kits for Driver & Clutch Cooler co-utt&UnSpteu • Vertex 5 to 110 Watt R&d.io Systems • ID-Fi Intercom Systems • Chase & Race Packages • Base Station Packages • Cmr Chief & Ka.rt Packages la CarCuaualyalea • EZ 1 Button Operation • Exclusive Racer X _Motorsports Package • 5.7 hours offilgh Resolution recording time • Up to 12 hours of operation on 4AA Lithium Ion Batteries • Can be Interfaced to-Intercom for full audio experience :ic,11111 • 411/2 Gallon Cap&eity • SCORE I BITD / FIA Approved • Tapered Design Provides Increased Ground Clearance & Maximizes Usable Fuel • Fuel Level Sending Units Available • Caps, Necks, Hose, Filters and Pumps Available YOUB SOURCE FOB PROFESSIONAL BACB PRODUCTS 10815 Wheatlands Avenue, Suite K • Santee, CA 92071 619-258-RACE (7223) • Fax 619-258-0883 • www.RacerXms.com April 2012 Jr. finished in the third spot, Kyle Murray was fourth to finish and Andrew Davidson was the fifth place finisher. Eric Burfield took sixth place honors, Paul Robinson was lucky seventh, Randy Ward finished in eighth place, Kyle Vizzo was ninth in and Dean Rohan was the 10th finisher and Steve Vega was the 11th and final four lap finisher. Ron Rash and Con-ner Sprawis each got in three laps, Steve Johnson, Giti gowland fin-ished two laps and Joshua Englestead was only able to complete one lap. Combining the Saturday and Sunday times we had Eric Muller taking the overall Class 9 win, Kyle Murray was second overall, he was a mere 15 seconds out of the win, Brian Caudill was third overall, An-drew Davidson was the fourth place finisher, Paul Robinson laid claim to fifth place, Dean Rohan finished sixth overall and Randy Ward was the seventh and final overall finisher. The Heavy Metal Class only had three entries and only one of them made all of the five required laps each ' ' day. Jonathan Libby toured the course on Saturday with an average speed of 58.2mph, Brian Benham recorded his first lap at an average speed of 46.8mph. Jason Montes did not start the race either day. In the Sunday Heavy Metal race once again it was Jonathan Libby cruising the course in 1:06:28, slightly faster that his Saturday time and Brian Banham did not start the Sun-day event. Overall it was Jonathan Libby tak-ing the Heavy Metal Class win, he was shown as third fastest overall for the entire weekend. Good show! The StockBug Class was next to race, there were 14 of them entered and they had to run three laps each day for a finish. In the Saturday event it was David Cote taking the class win, Gary Herrod was the second place finisher, he was less than two minutes in arrears, Robert Johnson finished in the third spot, he was another 12 sec-onds back, Michael Brenner came in fourth, he was 1 second out of third place and Ryan McCrory was the fifth place finisher. Sixth place went to Chris Green, Ed Mahoney was lucky seventh, Jr Nichols was eighth to fin-ish,-Bob Depew finished in the ninth spot, Steven Bertrand was 10th to take the flag and David Hendrickson was the 11th and final three lap finisher. Alan Perrault and Chris Anderson only finished one lap and Scott Wis-don failed to complete his first lap. In the Sunday three lap event it was David Hendrickson taking a really o.ice win, David Cote finished in the second spot, Alan Perrault took third place honors, Gary Her-rod finished in fourth place, he was Dusty Times ,
Page 23
r J . ' ' In Class 15, Aaron Hawley had a veeery long first lap on Saturday at Primm, Aaron finished sixth overall, he's seen here just before Robert Archibald was the sixth place finisher in the hotly contested Dean Rohan finished the Class 9 race in the sixth position, a long touchdown. Class 1600 fracas, Robert is seen here just before landing. first lap on Sunday was very expensive, position wise. Things were looking good for Randy Ward on Saturday, a terribly Duane Evans was well off the winning pace in the Class 145Q action, Andrew Neal gave it all he had but this time it was only good enough long 1st lap in the Sunday feature dropped him to seventh place Duane finished in a respectable seventh place overall. for a seventh place overall finish, seen here nicely airborne. _o_ve_r._a_ll_f1_·n_is_h_. __________________ _ three seconds out of third and Chris Steven Bertrand was the eighth and Class only had one entrant, Bill Mor-problems. Bill was awarded the UTV-Green was the fifth car to finish. final overall finisher. ris. Bill had to complete four laps each Pro Class overall win. the SNORE troops. Ridgecrest is next, April 13-15. It should be a -one too! Ryan McCrory finished in the fifth Last, but not least, the UTV-Pro day for a finish and he did so with no It was a most successful race for ,---------------------------..;;;...:::.:.., spot, Robert Johnson was sixth to finish, Michael Brenner was seventh to finish and Steven Bertrand was the eighth and final three lap fin-isher. Ed Mahoney only finished one lap on Sunday, as did Jr Nichols, Bob Depew and Chris Anderson. Totaling the times from Saturday and Sunday the StockBug Class win-ner was David Cote, Gary Herrod was less than two minutes in arrears in the second spot, Robert Johnson was another four minutes back in third place, Ryan McCrory was fourth, he was another 12 seconds back, Chris Green finished in fifth place, he was another 15 seconds in arrears, Michael Brenner finished sixth overall, David Hendrickson was the seventh overall finisher and There were 19 Class 9 cars racing, when the dust had cleared it was Eric Muller taking the overall win with a margin of 15 seconds. Jonathon Libby drove his Toyota truck to the Heavy Metal Class win, Jonathan managed a third overall finish for the entire race. Aaron Hawley finished in fifth place in the Class 1600 fight, he was Scott Smith was all ready for action in Class 1600, he finished in Day Gang has had more fun on a race weekend, this time she was slightly off the winning pace and was 3 minutes behind the class the eighth overall position, here at speed on the course. relegated to a 10th place finish in the Class 1600 battle. t_e_a_de_r._. ____________________ _ -The StockBug Class had 14 entrants and David Cote was fastest of them all, he had a bit less than two minutes in hand when he took the checkers. Dusty Times I lli IMD\ISll\11 BlSl llfl Sltl\~!_ Engine Oil Gear Oil Motorcycle Oil Greases Cooling & Marine products ww n hetic April 2012 Page 23
Page 24
-t -· 3 ID Ill ··;,-: .. .. ·.-:/:'..·\·'·:•:•:.-./(:_.':' . .. 0 ~ ::a --r---~ r-~ I •• n; --:z ::a 0-" .~ .. '•: ·.,·.· . . . . . . . :' ~ ' ·•• ,·· ... · ·.··)?:>i•lll~11I~~11 .... , ··.·• ... . ·.
Page 25
In Memorium When Jean Calvin left this world on March 31, 1997, I was at a complete loss. The first problem that had to be handled was the pringing of Dusty Times. I had little knowledge of the journalism field, much less the putting together of the paper and the printing thereof. With help from some very wonderful friends and more help from business associ-ates, Dusty Times never missed an issue. We received many tributes to Jean, from people all over the world and some of them were printed in various issues over the years. This fifteenth anniversary of her death we print a few of the trib-utes that honored Jean after her sudden demise. We hope you will all keep a good thought for Jean and remember her as a person who did so much for out sport fro so many years and she is still sorely missed. flak~ A Little Dissertation About Jean Calvin, Off Road Icon, Idol and Hero Jean Calvin's la~t checkered flag came on March 31, 1997. A slip and fall ended the career of an outstand-ing lady whose pre~ence had an influuencc on everyone associated with off road racing. Jean was the distinguished editor/pubblisher/ gofcr/\\-Titer/11Ll seller of the bible of off road racing, Dusty Times. While she focused on the buggies, cars and trucb, she had the unno~t reespect for the ATV and bike racers. When l first starred to amend the SCORE races, it was to party and to find out to what mvful inac-ce~sihle spot Morgan Maiocco was sending me to pit for him. At that time Jean was the editor of SCORE News. Morgan made sure l knew who she was. Of course, I was Sl> knowledgeable that I didn't even know what SCORE News WilS, however, if Morgan said l should know whtl Jean was, I paid attention. O,·er th~• years our friendship grew and grew and while we would only see each other at the races, I always looked forwarcl to seeing her and her husband John. Whil~ Jean had the latest in racing news, John had some of the weirdest, funniest jokes l had ever heard. When l called Jean one Jay back in 1989 and told her I was having a 24 hour rat.-c, she promptly infixmed me that she and Judy Smith had won the first one Walt Lott of HORA had org:mizecl. Another scoop down the tubes. Jean had seen it all but wished me well. Later, when we ~tarted running a 24 hour for the cars, she made sure she was in at-rendan.::e, and John complained the whole time. Agrear time was had by all! They came ba.::k year after year, Jean haYing fun and John asking why are we here? And we lauohed and laughed and laughed. ,., A ft·w yeafo a,go, Jean was really ex.::ited, ~he wa~ going to go ra.::ing ag,1in. She had accepted a C(hlrivt"r Dusty Times ride at the SCORE Baja 500 and was Jclighted beyond belief. from the wp of the ladder to the bot-com in one bad hump. She hit her head (she was wearing an approved helmet), and it was downhill from there. Brain rnrgery was necessary to save her, she lost a leg clue to poor cirrnlation. The off road community was shocked, funds were rabed to get her a state nf the art prosthesis and you know what? She never missed a race! Never! I remember Laughlin last year, Jean was not in the best of health, bur damn the torpedoes, there was a race and she had to be there! Suddenly she has joined Walt Lott, Claude Maynard, Hoyd Hud-son, Danny Hamel and many others for the great off road races in the ~ky. lt was only then that l realized that [ had never really gotten to know her. How did she become so devoted to a sport? When did it happen? How did she convince her husband John rn go along with her obsession with off road racing? Ir turns out that Jean was an ac-complished athlete from the git go. Sit down, because this will blow your mind. Jean was a professional ice skater, skating with Sonja Henie and I Holiday on lee. She went from ice. cold to triple digit heat, from thou-sands in the arenas to a few hearty pit crews in the middle of nowhere. From world wide travel to events at El Centro and Stateline and she loved every minute of it. Jean was skating in Europe when a dashing young Air Force man swept her off her feet. Rerurnin" from Europe she and John wer~ married lll1 September 22, 1956 and made their home in the San Fernando Yalley. lam led co believe they ~pent their honeymoon racing but that b un~ubstantiated. Soon Jean was kicking butt in SCCA race, and loving every minute of it. Everything she touched turned to gold (except John). Peterson Publishing hired her as an associate editor on Sports Car Graphic, she freeelanced for Hot YW's and some 15 years ago the off road industry was blessed with an :isset we may never see again, Jean Calvin, and after some thrilling races with Les Choak and family, Jean was hllOked and the rest is history. Not only did Je:-in drive and win, she wrote herself in.to our lives. If you weren't in Dusty Times, you must have not have competed . .AJl the current, about to be and wanta be legends beat a patch to her door-step. The goal was the same for all; Jean, will you mention me? And, you know what, anyone who talked to her got their name in Dusty Times. Jean, many will follow in your footsteps, however, none \vill ever fill them! Thank you forever, Fad Mental Images Whenever we hear words or phrases, our mind sorts through its' infinite dat..i base and displays the image that repre~ents what we heard. As ifby magic we have instant recall of the events chat have made impres-sions on our mind. One of rhe bits of information th:-it has made an indelible impression on my mind. is that of Jean Calvin. For those of you that did not have the opportunity to know her as I did, this is the image that my mind brings up for me to re"'member. It was the running of the 25th SNORE 2.50 in Jean, Nevada. A.J. and l decided to enter that race for its' historical significance. When rhe race was over, ..ill of rhe finishers were gathered around the finish line for post race tech and inspe.::tion. Along with the racers there were the nice officials, the media, and hundreds nf spectators. It was quite impressive. Then, from out nf the parking area, I sa\~ Je;in v.alking April 2012 towards rhe multitude of people that had converged upon the finish line. The parking area \1,11s on the opposite of the race course, so Jean had to negotiate the burms and ruts that had l;een carved out by the race cars. That, in itself, was no easy task for her, hecause she had lost half of her suspension system and needed a cane to maintain balance. As she approached the first burm, she took it at an angle, pausing at the top. Pwceeding at an angle, she reep-eated the process. Down the face of the burm, pause, up the face of the micldle of the burm, pause, down the burm, pause, up the last burm and she was across. You might say to yourself, whydidn'tyou help her? Well I'll tell you why. she would have hit me with her cane! Jean was very independent. A~ she approached the throngs of people, her face lit up and paled the afternoon sun. She looked as if she had just achieved a life long dream. l said to myself, what's she smiling at? Then it dawned on me. she didn't look at the crowd as a bunch of dirty tired racers. She perceived them a$ conquering warrriors returning from some dis-tant campaign. To her they were all heroes. She wasn't there because she had to interview them, she was there because she got to interview them, Off-Ro,id racing has lost one of its' champions, and I hope that your mental image of Jean parallels mine. Herman De N1mzio I've lost a friend. Much more than that; Je;in' was a mentor, a sponsor, a critic, a .::o• worker, and an employer. She was all those things to me, but a friend most of all. I met Jean in 1971 at a BRA race when l introduced myself :md told her I'd admired an article she'd writ-ten. She was easy to talk to, and that v,ras the first of a lot of conversations. For one thing, we were hoth racers at a time when there weren't maiw women driving off mad, so we h,ll1 a common hasis for <)llf talk. We could trade horror stories about harhrooms and one-piece driving sui~ and getting lost. For a time, in the late seventies, she had her office in the same build-ing in whi.::h l worked. We often took lunch together. By then I wa~ writing also, and often for Jean. She taught me a lot about the craft and the industry. And I also co-drove with her in her race car. We ran in Class 9, and then moved up to the 1600 cl.ass. The racing was great, the friendship was terrific. When she started the Dusty Times she moved from our offi.::e huilding, but l was writing for her regularly, and we talked to each other often. Then in '94 she moved back to an office adjacent to mine. she \Vas by then dealing with the loss of the lower part of her left leg, as wdl a.~ the near constant pain from the plates and screws that held hoth legs together. Still, her indomitable will rook her to work seven days a week, and to as manv races as she cnuld fit in. · She broke her hip a couple of years ago and missed only a week at work, and when she hacl a slight stroke about a year ago she had to be persuaded to leave the office to see her doctor. Her grit and determina-tion were astonishing. The paper had to be got out. She set an example for all who saw her pace slow and her body grow ever more frail as she continued tn work, conntin.ued to get it all done. Jean w::1s a tough old bird, smb-born, critical, loyal ;ind honest. She never failed her friends or the sport she loved. I miss her, but at least I know she's not in p,1in any longer. Judy Smith Page 25
Page 26
. . I I l 1 < ~ .i , \ .,. • \. t, ' • • M.O.R.E. BALLS OuT 250 Kelly Mather Takes The Gold By Steve Ruddick Photos: Trackside Photo Robert Moruzzi was the big winner in the Ultra Truck action, he's seen here in his really good lookin' truck heading for the checkers. 26 racers made it to the Finish line. Rick Romans was 7-1/2 minutes or That translates into a 70 percent so behind Belk. Belk encountered DNF rate. As one seasoned racer gremlins on Lap 4 in car #1580 and put it ....... "In over 30 years of rac-Romans got the pass in car #22. ing in and around the Barstow Mather wouldn't be outpaced by area that was without a doubt the Paceweczh and # 102 set the Fast roughest, most brutal, race course Lap pace at 49.5 mph on Lap 5, I have ever been on!" The extreme · and proceeded to zoom out front weather didnt help .. it was crazy with a 5-minute lead ahead of #135 with the fierce winds, blowing sand going into the last lap. and hard rain. Go get'em giti. Mather maintained his momen-Kelly Mather didn't have too much trouble taking the Class 1 win at the Balls Out 250, she averaged 48 mph for her six laps of racing. Rough, brutal, fierce and foul tum and got to the Finish Line in weather - what more can a diehard 4:32:55 at 47.9 mph to win First Race Fan wish for? It was just plain Place in Class and First Overall in downright nasty. Classes 1, 10, 12, car #102, and by a 9m:28s margin 3000, 1600, Su raced for six laps; of victory. That's pretty impressive 216 miles. Classes 1400, 9, 5/16, considering the weather and course and 13 did five laps; 180 miles. conditions. Last year's Overall Balls Classes 1450 and 11 duked it out Out winner averaged 48.8 mph. for four laps; 144 miles. 17 Racers Mike Paceweczh fell off the pace Did-Not-Finish the first lap; 20 on the last lap but won Second percent. This was one of those races Place in 4:42:21 in car #135, and where just Finishing was a victory by 15m:37s in front of Rick Ro-for the Record Book. It just goes mans. Romans won Third Place to show how much weather can in 4:57:58 in car #22. Drew Belk be a factor, and how unforgiving got all the required laps done in Mother Nature can sometimes be. 5:50:47 to finish in Fourth Place Hello Race Fans. Come sun or rain or wind, or snow and sleet and hail -DT is here to bring you the race story. And so it did in large amounts at the M.O.R.E. Balls Out 250 in beautiful Barstow on March 17 2012. Mass quantities.* The Na-tional Weather Service in Las Vegas has issued a High Wind Warning for northwest San Bernardino County ... which is in effect from 11 am Saturday to midnight PDT Saturday night. * Winds: southwest sustained at 30 to 40 mph with gusts of 50 to 60 mph. Locally higher gusts are possible in terrain favored areas. Where I live - it's snowing and blowing with gusto! Winds up to 46 mph are rated as a Force 8 Gale. A Strong Gale is Force 9 with wind speeds of 47-54 mph. A Category One hurricane has wind speeds of 74-95 mph. A Gale Force 8 will trigger High Wind Alerts on the local freeways. Are you nuts? Seriously - it was just plain miserable and foul weather; Not fit for anybody to be out in. But the race went on - nonetheless. Hardy souls and seasoned desert rats they be. Kudos to those who did. We're talking about wearing long johns under your race suit to stay warm. We're talking about wearing trash bags over your race suit to stay dry. If you're in an open cockpit car - we're talking hypothermia; When they pry your cold dead fingers from the steering wheel. Sunny southern California is in the midst of the worst weather we've had this winter. The entire winter rolled up into one storm. I've got the woodstove going. The Cajon Pass on 1-15 is a mess; 6% grades and the snow level will cover the high desert down to 3000 feet. Impacts: the winds will make driv-ing difficult to hazardous at times ... * Not fit for man nor beast. What CLASS 1: Six laps; 216 miles. Twelve starters; 4 Finishers. Drew Belk got the pole start posi-tion at the green flag in car # 1580. Kelly Mather was at the front of the line at the end of the first lap a mess. in car #102, with a 33-second lead What can I say except I'm in front of Sean Obannon in car snowed in. The California Highway #130. Obannon was 25-seconds Patrol has imposed chain require-ahead of Mike Pacewiczh in car ments in numerous areas of the #135, and Belk was running 27-sec-San Bernardino Mountains. I'm onds behind Pacewiczh. Alex Cody looking at 18-20 inches of snow was in car #122 behind Belk, and on my deck, and it's still snowing. DNF'd after Lap 1. Winter wonderland. Nonetheless More carnage ensued thereafter. - the story must be told. What all Shawn Barbetta in car #121 and this wind and wet translated to on George Pondella in car #58 both the race course was a slippery mess; DNF'd after Lap 2. Sean Obannon desert mud. Where it used to grab fell off the race pace on Lap 2 and it now slips and slides. Keep them was passed by Belk in car #1580. brakes dry. A test of driver skill. Obannon continued to loose speed The Course for the Balls Out and time, and called it quits after 250 was 36-miles long; clockwise. a 3-hour long Lap 5. Very wet and Remote Pits and Spectator Areas very windy. were located at Start/Finish, and Pacewiczh gq_t the pass on Mile Markers 14, 24, and 29. Spec- Mather on Lap 3 and was out in tator Only Areas were set up at front by 23-seconds at the half-way MM-2.5, 9.5 and 17.5. There were point in the race. Belk was running Scott Moldenhauser took the gold medal for his efforts in the Class 5 action, he's 7 Road Crossings (RX). There were in third spot about ten minutes seen here at high speed on the course headin' home. 87 racers entered in twelve Classes. behind the leaders after Lap 3, and ~========================================~-... ------------------------------, It was a second place finish in the Class 1 contest for Mike in car # 1580 at an average speed of 37.3 mph. CLASS 10: Six laps; 216 miles. Five starters; one Finisher. Kathy Kirkmeyer was the first -off the line at the green flag in car # 1021, followed by Adam Tjelme-land in car # 1088. Cody Jeffers started toward the rear of the pack in car #1092, and was out in front leading the pack by 47-seconds at the end of Lap 1. Kirkmeyer was running in second spot by 2m:24s ahead of Tjelmeland. # 1088 gave it more gas on Lap 2 and passed Kirk-meyer in car # 1021 to take over sec-ond spot. # 1088 did-not-function after that and it was trailer time for Tjeleland. Todd Winslow followed and DNF's after Lap 3 in car #1081. Cody Jeffers gave it more gas and won the Fast Lap honors on Lap 2 at 47.3 mph in car #1092. Jeffers was in the lead by llm:17s ahead of Kirkmeyer after Lap 3, and Kirkmeyer was 18:42s in front of Holli Bechard in car #1019 at that point in the race. Bechard proceeded to DNF after Lap 4, and so did Kirkmeyer after Lap 5 in car #1021. That left Jeffers as the sole The Class 88 race saw Val Young taking a nice class win, Val is Pacewiczh, Mike was 10 minutes in arrears when he took the Sal Gomez took home the silver medal for his actions in the Ultra seen here in his really good looking truck heading for the checkers. checkered flag. Truck contest, Sal was seven minutes in arrears when he finished. Page 26 April 2012 Dusty Times
Page 27
The Class 5/1600 win went once again to Guy Savedra, Guy took the win with 12 minutes in hand, he's seen here heading for the checkered flag. racer left in the Boonesfab Racing car #1092. Jeffers got all the laps done needed to win First Place in 5:38:42 at 38.6 mph, but not before flipping the car, and getting the steering wheel bolted back on, out by inner Hodge Road. CLASS 12: Six laps; 216 miles. Five starters; 4 Finishers. Ryan Gledhill lead the pack out of the starting line in car #1205, but was running back in last spot after the end of Lap 1. Madan McKinney stated at the rear of the pack in car #1211, and moved up to third spot in line after Lap 1 was done. Mark Barnes started in the middle of the pack at the Go Line in car #1250, and was out in front of everybody by 2m:35s at the end of Lap 1. Chad Normile got in one lap of fun before he DNF' d in car #1228. Barnes picked up the pace on Lap 2 and won the Fast Lap honors at 46.0 mph in car #1250. That feat of speed also widened the gap between Barnes and Ralph Potts in car #1117. After three laps of rac-ing • Barnes was in the lead in car #1250 by 15m:52s in front of Potts in car #1117. Potts was llm:18s ahead of McKinney in car # 1211, and Gledhill in car # 1205 was ten minutes behind McKinney. Both of the lead cars changed drivers at the end of Lap 3. Car #1250 drove the last three laps at a very consistent 38-mph. Car # 1117 drove the last three laps at an average speed of 42.8 mph. That made for a very close finish down to the checkered flag. Close indeed. Car #1117 was behind by almost 16-minutes at the half-way point in the race. That's a lot of distance to close in the wet and muddy desert and in the mucky rutts of those who have gone before. Car #1117 closed the gap and when the checkered flag flew at the Finish Line, car #1250 emerged in First Place by a mere 16-second margin of victory. That's pretty impressive under the course conditions that were; slick and slippery and sloppery. Mark Barnes was the First Place winner of record in an elapsed time of 5: 18:08 at 41.1 mph. Ralph Potts won a close Second Place in 5: 18:24 at 41.0 mph. It took Marland McKinney 6:04:34 to win Third Place in car #1211. Ryan Gledhill slogged to a Fourth Place Finish in car #1205 in 6:21:44 at 34.2 mph. CLASS 5: Six laps; 216 miles. Three starters; 2 Finishers. Rick Nordeen was first in line to see the green flag fly in car #531, followed by Wendy Belk in car #5011, and by Scott Moldenhauser in car #501. Belk proceeded to blast to the front of the line on Lap 1 and won the Fast Lap honors at 42.8 mph. That put Belk in the lead by 8m: 15s in front of Mold-enhauser, and Moldenhauser was 6m:23s ahead of Nordeen. Belk maintained momentum and was out in front of #501 by 17m:5ls af-ter Lap 3 was done. Belk broke and #5011 DNF'd after Lap 3 was done. That DNF propelled Molden-hauser into the front spot in car #501 with a 47m:48s lead ahead of Nordeen in car #531 • with half a race still to go to finish. Mold-enha user maintained an average speed of 37.5 mph and made it to the finish line in 5:48:45 to win First Place by a 2:23: 11 margin of win in car #501. Rick Nordeen mo-tored car #531 to the econd Place win in 7:12:36 at 30.2 mph. CLASS 1/2-1600: S i x laps; 216 miles. Four starters; 2 Finishers. Joe Castrey was first off the line at the green flag in car # 1649. Castrey was last in line after Lap 1 was done. John Achey drove the fastest on Lap 1 in car # 1690 and was out in front by 31-seconds ahead of Eric Anderson ~n car #1652 after the first lap was done. Anderson DNF'd after Lap 1. Achey was ahead of Mike Depue in car #1697 by 11-seconds after Lap 2 was over. Achey ran into problems and # 1690 DNF' d after Lap 3. Depue gave it the gas and won the Fast Lap honors at 37.9 mph on Lap 2. Mike Depue motored car #1697. to the First Place win in 6:06:23 at 35.7 mph and by a 1:11:19 margin Taking home the gold medal for his efforts, Jimmy Taranto won the Class 9 contest with 10 minutes in hand, seen here at speed. of victory. Joe Castrey had prob-lems on Laps 1 and 3 in car #1649 but still managed a Second Place win in 7:17:23 at 29.9 mph. CLASS 5/16: Five laps; 180 miles. Five starters; 3 Finishers. Ruben Garcia got the front start at the green flag in car #556. Garcia was running last in line after Lap 1 was done, and DNF'd afer that. Guy Savedra started in the middle of the race pack in car #569 and was out in front ofby 7-minutes af-ter setting the Fast Lap pace at 36.9 mph on Lap 1. Savedra repeated that performance on Lap 2 with the "exact" same speed and time. Meanwhile, Rulo Solano DNF' d after Lap 2 in car #550. Savedra increased his lead to 19-minutes in front of Larry Atuna in car #570 at the end of Lap 3, and Donald Harper took over the wheel duties in car #569 to finish the race. Atuna gave chase but it was too far and too much to overcome under the course conditions. #569 put it on cruise-control and mo-tored to First Place in 5: 17 :08 by a 12-minute margin of win. Maybe there should be an award for driv-ing two consecutive laps with the same exact speed and time because that's what Savedra did on Laps 1 and 2. Go figure the odds of that. Larry Atuna picked up the pace on Laps 4 and 5 in car #570 and nar-rowed the gap on the race leader by ?-minutes. That was good enough for a Second Place win in 5:29:06 at 33.1 mph. Steven Fuentes drove sure and steady in car #559 to win Third Place in 5:42_:42 at 31.8 mph. on Lap 3, and that's all that #903 had left in the tank; DNF. Jane Rubidoux DNF' d in car #977 after Lap 3 too. That put Taranto out front in car #996 after Lap 3, by 45-seconds ahead of Jorge Ventura in car #984. Taranto found some more gas pedal on Lap 4 in car #996 while Ventura fell off the pace in car #984. That surge and ebb of speed put Jimmy Taranto into the win-ner's circe in First Place in 5:37:38 at 32.3 mph in car #996, and by a ten-minute margin of victory. Jorge Ventura won Second Place in car #984 in an elapsed time of 5:47:41 at 31.3 mph. Mike Brown got car #924 to the checkered flag in 5:54:00 at 30.8 mph to win Third Place. Giti Gowland finished all the required laps in 6:22:34 at 28.5 mph to win Fourth Place • after doing a roll-cage test in car #992. The propverbial end-O. Ouch! "We managed to limp around for three laps after the end-over-end snap roll, to get a 4th. The whole last three laps were a BLUR ... liter-ally. I am still seeing spots and feel like I was in a blender for 4 hours. Thanks to Dave Bolles for starting for me so I could give my broken elbow a little rest. Funny my elbow didn't hurt all race or even now. The rest of this old body is another story." Well done, Giti. CLASS 1400: Five laps; 180 miles. Fourteen starters; 4 Finish-ers. Class 1400 is getting pretty popular and had the most starters of any class for this race. Class 1400 is mostly unlimited -as long as it re-sembles a truck. Allen Byma staged up at the front of the line at the green flag in truck #1433, followed by Jay Kolb in truck #1414 and Sal Gomez in truck #1413. Byma set the race pace and won the Fast Lap honors on Lap 1 at 45.5 mph and was out in front by 59-seconds ahead of Bryson Hopfe in truck #1401. Gomez was 90-seconds be-hind Hopfe. Kolb DNF'd in truck # 1414 after Lap 1. Byma had problems on Lap 2 and fell off the race pace. Seeing the race leader on the sidelines let a lot of racers go by. Gomez slowed down too on Lap 2 and the race order changed again. Bryson Hopfe jumped to the front of the line in truck #1401 at the end of Lap 2 with a 22-1/2 minute lead ahead of Robert Morruzi in truck #1437. Hopfe widened the gap by another minute on Lap 3, and then truck #1401 DNF'd. And so did Byma in truck #1433. All those DNFs put Robert Mor-ruzi into the lead in truck #1437 by 4m: 16s after Lap 3, ahead of Sal Gomez in truck #1413. Thomas Chamlee was running in third spot in truck #1449, about 20m:34s behind Gomez. Chamlee DNF'd after Lap 4. After all the required laps were done -Robert Morruzi emerged in First Place in truck #1437 in 5:04:34 at 35.8 mph and by a 6m:35s margin of victory. Sal Gomez won Second Place in truck #1413 in 5:11:09 at 35 mph. Rich Decamp was the Third Place win-ner in truck #1404 in 6:00:17 at 30.2 mph. It took Josh Williams 7:20:25 to complete all the required laps at 24. 7 mph to finish in Fourth Place in truck #1407. CLASS 13: Five laps; 180 miles. Three starters; one Finisher. Randy Roberts got the pole posi-tion start in car # 1348, followed by Vicent Dudash in car #1367 and Continued on page 28 CLASS 900: Five laps; 180 miles. Seven starters; 4 Finishers. Kyle Vizzo got the hole shot at the green flag in car #928. Vizzo was done after Lap 1; DNF. Jimmy Taranto started at the back of the pack and was out in front in car #996 by 45-seconds ahead of Jared Sluder in car #903 after Lap 1 was done. Sluder gave it more gas and took the lead on Lap 2 by lm:5ls in front of Taranto. Jorge Ventura was running in third spot in car #984 about 2-minutes behind Taranto. Sluder increased his lead to 2m:4ls It was a nice Class 10 win for Cody Jeffers, he is seen here on his way to the gold medal at the MORE Balls Out 250 battle. Larry Antuna gave it the old college try but he ended up in second Not too bad a day for Jorge Ventura, he took second place honors in Ralph Potts finished in the second spot in the Class 78 contest, he place in 5/1600, 8 minutes in arrears, seen here just getting airborne. the Class 9 contest, he was 10 minutes in arrears at the checkers. was a mere 16 seconds out of the class win, seen here at liftoff. Dusty Times April 2012 Page 27
Page 28
Richard Dormack in car #1336. Dormack set the Fast Lap pace at 31.9 mph on Lap 1 and jumped out front with a 13-minute lead in front of Dudash at the end of Lap 1. #1367 DNF'd after Lap 1. Dormack maintained a faster pace and was about an hour in front of Randy Roberts in car # 1348 after Lap 3 was done. #1348 didn't answer the bell for Lap 4; DNF. That left it up to Dormack to beat the Barstow. Dormack got to the checkered flag in 6:33:52 at 27.6 mph to win solo gold and First Place in car # 1336. CLASS 1450: Four laps; 144 miles. Four starters; 1 Finisher. Val Young got the front start in truck #1489, followed by Hass~m Mendez in truck #1478. Mendez didn't even complete Lap 1 and DNF' d. Taylor Yaeger got in one lap of fun in truck #861 before he DNF'd after Lap 1 was done. That put Young out front with a 27-1/2 minute lead ahead of Rhonda Parkhouse in truck #1496 after Lap 1 was done. Young gave it more gas and won the Fast Lap honors at 31.8 mph on Lap 2. Parkhouse picked up the pace on Laps 2 and 3 before #1496 DNF'd for the day. That string of carnage left Val Young all alone to beat Barstow. Young got it done and to the checkered flag in 4:47:07 at 30.3 mph to win First Place in truck #1489. ATTENTION M.O.R.E. RAC-ERs!! - Dusty Times readers want to hear about it from the driver's seat - "your" race story goes *here* But If you don't stop at S/ F and give me an interview -or send me an e-mail of your race story - I don't have anything to write about except your name, number, and time. That translates into -No ink! There is only one of me and many of you. If you don't - No ink. It's that simple. Send me your M.O.R.E. story: baja-racr@verizon.net Reporter's Notes: So the newest BLM Rule is "recognizable T-shirts required for official Pit Crew members". It's an auto DQ if you don't. Make mine XX so I can wear it over my wind and rain gear. I wonder how many teams wore matching trash bags in the BO250 race because the Barstow breeze was ripping and the rain was pour-ing. MatchiIJ.g ponchos maybe. I mean - this is just another example of a 'feel good' BLM rule that does nothing to provide tangible safety benefits - except it makes it easier for the BLM monitors to spot violaters. What nonsense; in my own opinion, of course. Espe-cially under adverse desert weather conditions. The simple solution that does provide tangible safety benefits is - re-useable reflective vests. You know - like the ones volunteer course workers wear for High vis-ibility. Yellow, orange, pink or lime green. I wear one. I sure don't want to get run over doing interviews in the Tech area. To the contrary• The new cockamame BLM Rule doesn't do anything to enhance safety in the pits. Color-coordinated· shirts just makes the BLM's job easier to monitor and observe. Misplaced priorities. It's called common sense. What does just about every other dirt racing venue require for safety? A: reflective safety vests; for every-body. Every pit is required to have overflow tubs for their gas cans, and mats ·or tarps for other fluid spills. Every pit is required to have a gasoline-rated fire extinguisher in the pits. If I was a gas-passer in the pits I'd wear a fire-resistant (race) suit or something similar for my own safety; regardless of what BLM doesn't require. I don't want to give BLM any bright ideas but• let's get real, Race Fans. Recognizable Pit shirts don't enhance safety. Reflec-tive vests do. So do us all a favor and be safe out there. I noticed out at the 2012 King of the Hammers Race there were ven-dors selling Race Safety Kits • gas can tubs and fluid spill mats, trian-gle reflectors, tow straps, absorbant towels, all the goodies that BLM requires, and more. I'd add some color-coordinated reflective vests for Pit Crew members. And if you didn't know - the requirement that gasoline cans and other precious petroleum products be contained within a spill tub is federal law that applies to everybody while you are within a OHV; while you are at a race or not. It's the environment, stupid. Puking oil onto the desert sands and covering it up is not being environmentally friendy. And yes, that means the gas can for your portable generator, too. I kid you not. It's the law. Did you know, for example, that one quart of oil is enough to pollute 325,000 gallons of water? That's about as much water as three families use in a year. If your tap water tastes and smells funky, you know why: You end up drinking your own pollution. I can't begin to tell you how many race cars I've seen pull into post-Tech after the race just oozing out lubricants from every seal and gasket and hose fitting on it. Call Haz-Mat. The Exxon Valdez or BP Gulf spill it ain't, but everything counts in small amounts; it adds up quickly. I recycle my motor oil and reuse it to lubricate my chainsaw blade. So do the right thing for your environment and contain and clean up those spills. Don't pollute. Clean up after your own mess. And volunteer for the annual desert clean-up campaign. I get to observe many off-road competition events • which re-quire BLM Special Use Permits. And while those BLM SU Permits are pretty uniform in their condi-tions and requirements, they are enforced and monitored differ-ently between different venues. For example • out at the 2012 King of the Hammers event the crowd estimates ranged from 17,000 to 30,000 people in attendance over four days. Thats a lot of crowd control. Hammertown was laid out with designated dirt streets and areas for vendors and racers and spectators. It was huge; organized chaos. I talked with the BLM and Sheriffs and CHP that were on-duty and patrol and their focus was on enforcing crowd control and safety. They did not have monitors and observers at KoH looking for recognizable color-coordinated T-shirts worn by Pit Crews. They do at M.O.R.E. Go figure. BLM did have observers on scene to monitor the course for any 'short-cutting' or other race-related incidents. CHP had a helo on-scene to monitor for safety. There were 200 media photographers (all wear-.. ',... ''" , C \ 1 l ' ', ~ Mark Barnes was the big winner in the Class 78 contest, but, it was close, he only had 16 seconds in hand when he took the checkers. ing reflective safety vests) in places sounds like a blast. Think outside like Chocolate Thunder to record the box and add a day of open des-the action. The hills were alive with ert racing. The Jeep Speed racers spectators and Race Fans to see the seem like a natural fit for KoH to action live and up close. No body include in their venue. was fatally or seriously injured. Get I'm pondering how open desert a copy of KoH's SUP application racing promoters could incorporate and the Safety Plan they submitted live streaming digital TV coverage because that seems to be the new into their venues like Koh does 'model' for organizing and running theirs. There are still photogra-a successful event. phers and video cams at the open I was pondering how KoH could desert events. It just seems like the incorporate a 'Tough Truck' com- next step is TV coverage. I'd pay to petition into their event. That view. If there's a niche market for sounds like fun to me. KoH has a it anywhere - there are 16 million competition for dirt bikes, UTVs, people in southern CA, and a lot of Stock and Stock Modified Jeeps, them off-road. Then again• maybe and the Ultra4 Hammer King class. there isn't the demand. All I know Addin Tou h Trucks to the mix is they do at KoH. M-9{, i~ ... Mike Depue had a really good race, he took the Class ½-1600 win with ease, his competition was over an hour behind him. Rhonda Parkhouse was only able to get in three of the four required Joe Castrey had problems on the first lap but he carried on for a Rick Romans had a rather long second lap, he ended up in the third laps but she was carrying on alright for the three she finished. second place finish in the 1600 race, here at speed on the course. spot in the Class 1 action, he's seen here heading for the checkers. Mike Brown ran his five laps with ease, he finished inthird place in Drew Belk had a really long fourth lap and it cost him, he finished It was a fourth place finish for Giti Gow/and in the class 9 contest, the Class 9 contest, he finished seven minutes out of second place. fourth in the Class 1 contest, he's seen here just at liftoff. Giti is seen here at speed heading for the checkered flag. Page 28 April 2012 Dusty Times
Page 29
Dusty Times Aprll 2012 Page 29
Page 30
lJ\JeC: 12TH RALLY GUANAJUATO MEXICO Loeb/Citroen Take The Gold By Martin Holmes Photos: Maurice Selden Sebastien Loeb and Daniel Elena drove their Citroen DS3 to the gold medal at the Mexican Rally, seen here cornering hard in the dirt. Sebastien Loeb gained his second successive hat trick of wins in Rally Mexico in front of his Citroen teammate Mikko Hirvonen after a strong hi-risk challenge from the Ford team failed leaving Petter Solberg hang-ing on in third place. Five Fords finished in the Drivers' points. Armindo Araujo gained a per-sonal best result when his Mini finished seventh. The Mexican Mitsubishi driver Benito Guerra won the PCWRC Category and also for the second year running his class. Ricardo Trivino became the first Mexican to score world championship points. Ford's policies were to no avail. Qualify-ing Stage winner Solberg risked impending storms by surprisingly selecting a very late starting or-der but his plans were dashed by punctures. Then Latvala's con-tinued forelorn late-event charge, after earlier suspension failure, ended in a crash at the same place where fellow Ford driver Evgeniy Novikov had crashed earlier. For round three and the first all-gravel rally of the FIA's 2012 World Rally Championship, the regular WRC competitors crossed the Atlantic Ocean to arrive in Mexico. The rally took a familiar form to the seven previous occa-sions the event has been included in the series, based in Leon, in the central state of Guanajuato. There were two new stage venues, run on the first full day to the east of Guanajuato City. These were introduced to increase the total stage length of the event, as requested by the FIA, to over 400km, as well as providing gravel stage action within close access to the city. The traditionally very high altitude gravel stages, the highest in the championship, were once again run in the mountains behind the old heritage city of Guanajuato and the event once again started with the spectacular underground stage in the city itself. The Qualifying Stage was Page 30 held over the same Shakedown section as before while the loca-tion of the short Power Stage was unchanged, although this year it was not televised live. A special characteristic of the route this year was the 54km stage run on the final morning, over familiar roads but in a different combina-tion to before. Incidentally Rally Argentina this year is scheduled to run a 66km stage but not at such high altitude. The daily Superspe-cial stage, run on all three days, was held under floodlights on the Friday evening. After the dramas earlier in this year, the structure of the series was starting to assume stability and the significance of the changes were becoming evident. There are still three two-car manufac-turer entries, for Citroen, Ford and the new Portugal Mini team, but currently the championship is still difficult to follow. The FIA has not so far disclosed on which events the various part-time ("WRC") registered teams are able to score points during the season. It is however known that the Mini restructuring plans mean that no Mini driver will be able to score Makes points at all during the year. The two-car M-Sport Team of Ott Tanak and Evgeniy Novikov score points once again. The Qa-tar team (Nasser Al Attiyah) again scores points on this event, as in Sweden. The one-car teams of Citroen Junior (Thierry Neuville) and Adapta (Mads Ostberg) were finally allowed to score points for the first time, though both drivers had appeared previously this year. Several other important World Rally Car entries appeared in Mexico. These were the new Monster WRT team of Ken Block the first of three world champion-ship appearances in his 2012 rally programme and in which Chris Atkinson was to appear at least once. Atkinson is concentrat-ing once again on Asia-Pacific championship rallies this year in a Skoda. The Monster team cars and their crews were decked out in similar but subtly different colour changes, including differ-ent coloured wheels. Chris was upbeat, remembering that on his last Mexico appearance in 2006 he finished second overall, his best WCR result. Another new World Rally Car drive came for the Telmex-sponsored Francisco Name, who had rented a Prodrive Mini JCW for his home event, but when Sordo's proposed entry was cancelled, Name's was as well. Last year's Studebaker driving Carrera Panamericana winner, and former PCWRC competi-tor Ricardo Trivino had a Fiesta WRC and was using DMack tyres. Go Fast driver Henning Solberg's entry with a Fiesta WRC was with-drawn so there were no Go Fast team cars. With "I live Mexico" on the side of his Fiesta, Novikov continued the promotional theme he started in Monte Carlo, pro-claiming his love for the local country where the rally was taking place! So finally 14 World Rally Cars took the start, eight Fiestas, four Citroens and two Minis. Sebastien Loeb, having recently enjoyed his 38th birthday, came to the rally hoping for his second hattrick of Mexican victories. Af-ter Markko Martin won in 2004 and Petter Solberg in 2005, Loeb gained a series of wins 2006-2008. The event was not held in WRC format in 2009, on account of the FlA's event rotation system, then the Frenchman won again in 2010 and 2011. The Ford Focus cars had a bad time in Mexico in the latter years (widely speculated to be relat-ed to running five-speed gearboxes) but struck back last year with their six-speed Fiestas finishing second and third. VW reignites its special association with the country. Their Motorsport team were present with their regular driver Sebastien Ogier and this time Kevin Abbring driving the number two Skoda car, and for this event the company also Aprll 2012 1 I • I I ~ \ • J J { < i If, Benito Guerra and Borja Rosata drove their Mitsubishi Lancer Evo X to the PCWRC win, they're seen here at high speed on the course. served as the official car sponsor. Mexico was the final country in the world to stop producing the old iconic Beetle production model, in 2003. The technical challenge of the rally came mostly from the alti-tude (up to 2700 metres, averaging around 2000), coupled with the testing ban by world champion-ship competitors in the country before the event. There are few accessible places elsewhere in the world where real life test work can be carried out. Apart from the problems in engine set-up there are many other consequences of the altitude, including the fact that power outputs are reduced by up to around 20%, which con-siderably changes the handling of the car and also reduces tyre wear. Tea.ms sometimes use climatic chambers, normally used for road car development work, to help tune the cars for high altitude conditions. World championship teams faced further restrictions this year. As the Qualifying stage was the same as the Shakedown stage, the only chance for the championship drivers to tune their cars were the two runs before they tackled the Qualifying stage. The Shakedown test route has traditionally featured a potentially damaging water crossing. This year the angle of the road entering and leaving the water had been eased. Over the years there has been a lot of unexpected damage to cars on this event from rocks in the road. Often drivers have misjudged how heavily the cars would impact on rocks imbedded in the surfaces of the stages, often attributed to lack of local testing experience. Often drivers have damaged wheels and suspensions through cutting corners. Mexico was the second round of the PCWRC, a series still open for registrations this year. The list of declared events~ nominated by each driver that has registered, however, has still not been re-leased by the FIA. There were five entries from eligible drivers in this support championship. The two Ralliart Italy-run entries for championship leader Michal Kosciuszko and Mexican Benito Guerra were favourites in their Evo Xs. Main novelty was strength-ened steering arms for these cars. Italian gentleman driver Gianluca Linari had his old model Subaru (not the newly homologated four-door version) while Mexican Evo IX driver Rodrigo Salgado was nominated as a points scoring Guest (Wild Card) PCWRC driv-er. Delight for this event was the debut appearance in the series of the Swedish female crew of Ramona Karlsson and Miriam Walfridsson in another Evo X. Hungarian driver Tibor Erdi en-tered an Evo X and was gratu-itously given Priority 3 status, but was not eligible for championship points. Erdi had taken advantage of a new, but little known, FIA rule this year should the national authority for the driver concerned request. Normally this would have given him a higher running order status, but with the lower number of equivalent drivers this time, the difference was marginal. There was a support event for the nation-al championship which included non homologated cars, normally doing each stage once, in which a further ten cars were entered. Reece brought home to driv-ers just how hard the first day would be. Latvala: "Friday will be the hardest, so much of this was new or in the other direction to previous years, even though Day 2 has more stage distance. And the new stages are tricky. If you think the road will go one way - it always tends to go the other way! And the road formats are always changing and you don't know how to set up the car. You ha\ie tight twisty parts where you need a stiffer differential setting and immediately a flowing stretch of road, where you want tighter cliffs. And the two new stages are going to be risky for punctures." And of course, there was the problem that the two runs in free practice were the only chances to drive rally cars in representative condi-tions before the Qualifying stage. If the dry conditions stood, a later starting place would be preferable, but all around Leon were rumours that maybe some thunderstorms could be on their way ... Loeb was immediately quickest in Free Prac-tice at 2m50.8s, 0.8 faster than Latvala and 1.0s faster than Pet-ter Solberg. In early trouble was Armindo Araujo apparently with turbo and throttle problems. He only made one instead of the regu-latory two runs and cars were in pare ferme conditions beyond the Ceremonial Start and city stage at Guanajuato later that evening, until the 15 minute service on the Friday morning. Then came Qual-ifying where Petter Solberg was quickest 2m48.673s, nearly a sec-ond in front of Mikko Hirvonen, with Sebastien Loeb another sec-ond slower, after a delay on the start line. Unlike the procedure in Sweden, when the running order selection was made in the evening, here the process was car-ried out in the middle of the day. Key decision was by Solberg, first to call, who opted for 14th place, th last available, obviously hop-ing that storms would stay well away. From that moment onwards Dusty Times
Page 31
Mikko Hirvonen and Jarmo Lehtinen get lots of air in their Citroen DS3 in Mexico, they finished second overall in the rally. the order was predictable. Second fastest Hirvonen chose 13th, third fastest Loeb number 12 and so on, except for the two final choices. 13th fastest Araujo chose first, and his teammate Paulo Nobre, star of the front runners in Swe-den, was second. After the Qualifying Stage was finished, the other drivers had the chance to make their regular Shakedown. Kevin Abbring was 2. 7 seconds behind Sebastien Ogi-er (who as a Priority 2 driver was running in various respects under different rules and in vastly better stage conditions). Nicolas Fuchs was the fastest PCWRC driver at 3m 10.2s (quicker than Ricardo Trivino's WRC) ahead of Benito Guerra with Michal Kosciuszko third. Thursday - 1 Stage - Gravel - 1.05km Finally a total of 27 drivers took the start with the top cars already running in their new selected order. Minis first and second on the road. Huge crowds were in Guanajuato City ready for the rally cars to arrive. The rally may already have officially started when the cars left the Poliforum in Leon, 55km away, but whether this was an official ceremonial start or not, it was the biggest rally show of the season for the biggest and most excited of crowds. The 1km stage was on' asphalt or cobbles, partially underground and dry. Petter Sol-berg was again quickest, Jari-Matti Latvala thought he went well but was disappointed to be only fifth, one second behind Solberg. Ken Block (whose company DC Shoes was sponsoring the stage), landed on a rock on the Qualifying Stage, slid wide and touched the front of his car. Friday - 10 Stages -Gravel - 123.52kms The first eight of the Friday stages were all located in the region of Guanajuato including the two new stage venues. The weather forecast still suggested there could be storms but it was a beautiful, colourful as the cars left Leon but imme-diately there was drama. Araujo was running well better, but Ken Block was two minutes late leav-ing service, but then the rally leader Petter Solberg punctured the left rear tyre after about 4km of the 22km stage. He pressed on as well as he could but then spun, so by the end of the stage he had dropped 55 seconds and had fallen to 13th. Firstly Thierry Neuville then Mikko Hirvonen were meanwhile setting the pace. Hirvonen (carrying just one spare wheel) then eased his pace, wor-rying about wearing out his tyres, but was still just quicker on the stage than Latvala. Stage three and another leader, this time Latvala, 1.2 seconds ahead of his fellow Finn. Solberg was down to 14th place, and then on stage three he punctured again, losing another 29 seconds, Petter was very sad. "I was trying really hard, first time I touched a rock and this dislodged the tyre off the rim, the second time it was my fault." Latvala increased his lead to 2.2 seconds on stage four, but then on stage five it all went wrong for him. He impacted a rock which broke the front lower suspension arm, and by the time he reached the end of the stage he had lost 1 m36s and dropped to eighth. Citroens now were 1-2 with Sebas-tien Loeb 0.6 second in front of teammate Hirvonen. Nearly 40 seconds behind came Mads Ost-berg, struggling badly from a lack of pre-event testing, but happy to be 5 seconds ahead of Neuville, Neuville admitted not managing his tyres well, and being upset when a rock was thrown on to his windscreen. Nasser Al Attiyah reported he was being cautious, admitting they had changed the colour scheme he had in Sweden because photographers didn't like it. Ott Tanak said his brakes were too aggressive while his M-Sport Ford teammate Evgeniy Novikov had trouble driving well after his gear shift indicating light failed: Block lost over four minutes on Sebastien Ogier and Julien Ingrassia drove their Skoda Fabia to an eighth place finish overall in Mexico, here completing a right hander. stage five, "I slid into a ditch, punctured and broke a driveshaft, then because Chris (Atkinson) was due to be the next car I waited for him to arrive. What I didn't know was that he had also punc-tured, and we sat there for noth-ing!" Motorsport Italy mechanics were seeking to give Araujo better engine management behaviour but of his teammate Paulo No-bre there was no sign. The team admitted he was driving too fast, and was unable to keep the car on the road ... Motorsport Italy confirmed · the problem of Araujo's turbo and throttle were illusory, and in fact were all to do with the electronic set-up of the engine. They were able to work on this in the morn-ing service and the car was now going well. Latvala explained his broken suspension came from impacting a rock in the road in the middle of a top gear flat out blind bend (memories of Argentina last year). Novikov had his gear shift tell-tale indicator mended and was now more confident. The second loop started off in the way that seemed a little depressing, Citroens lying 1-2, 40 seconds ahead of the opposi-tion - which was led by Ostberg's customer Ford. Conditions on the stages were cleaner and the weather remained dry. Rain was now not expected until the next day... After the midday service the organisers had decided not to re-run the long stage 5/9, follow-ing the stone throwing incident which had affected Neuville on the first run through the stage. Neuville's exciting day came to an end when he clipped a curb in the middle of the village on stage six and lost a wheel, minutes after Citroen chief Yves Matti praised his fellow Belgian saying "When you take a young driver like him, you hope he will go as well as Thierry." Oh dear! The two Ford WRT drivers were of course on a charge, lying seventh and eighth overall. On the three stages left in the Guanajuato region, Lat-vala passed Solberg, Novikov and Tanak and by his return to Leon he was up to fourth, having made fastest times on all three, Solberg was now sixth after stage 8. Atkin-son was feeling frustrated, feeling that his big chance to re-prove himself was not being convincing so far, Ostberg was complaining that his car was getting old (one of the original Fiesta WRCs, chas-sis 5) and had a hole in the floor which admitted a lot of dust into the cockpit. The cancellation of stage nine left a long wait for the three promotional stages, firstly the downstage stage in the roads around the Poliforum complex, then the two side by side stages at the superspecial course. In the PCWRC Guerra took the lead from fellow Evo X driver Fuchs and in the after noon Guer-ra made best times on all three stages in the second loop. All six drivers in the category made it through the first loop of stages but then on the second loop Ramona Karlsson, who had risen to fourth, stopped at the end of stage seven when a brake line broke, shortly before the stage road narrowed and there was a hefty drop. There was a great battle for fourth place with the top three runners separat-ed by less than a quarter minute! In the exclusive Class 2 one team S2000 battle, between the VW Skoda S2000 drivers Ogier told journalists at the midday service halt that he was feeling unmotivat-ed, rather than admit that he was being beaten by his teammate Ab-bring. But Abbring's moment of glory, leading the class and ahead of his teammate (by 1.0 sec!), came to an end when he stopped on the road section back to the midday service with fuel pressure trouble and stopped for the day, The non championship driver Erdi rolled on stage four and was 11 minutes late arriving at the next control. After the downtown stage came the double run of the Superspecial course, each stage carrying the half-penalty (2m30s) SupeRally "Rally2" penalty for missing the stages and then came a surprise, Torrential storms arrived and with it the reality of reverse order run-ning. Cars which did the stage be-fore the rain gained a lot of time, Sixth running Nasser Al Attiyah was fastest on the first run (his first ever scratch time on a WRC event) and fifth running Chris At-kinson won the second run (three years since a WRC scratch time by him). In two short stages the gaps had suddenly burst open. Loeb extended his lead by a further sev-en seconds over Hirvonen in four kilometres. Tanak meanwhile had checked in one minute late at the start of the town stage, stage ten, to elevate Petter into fifth place and to tactically give him a mar-ginally better running position on Day 2. A bit of a risk, bearing in mind the storms which they never knew would come! Remember the FIA said reverse seeding would prevent tactics ... ?! Saturday - 7 Stages - Gravel - 183.80kms Overnight the organisers hon-oured their promise to the VW team to check out the timing gap behind Nobre. With Nobre now due to start Day 2 first car, they gave second runner Thierry Neu-ville a four minute gap. Whereas all the other cars had three min-utes. And the question remained, how dusty and cleaning would be the stages today? And was there credibility in rumours that anoth-er storm would come this event? 25 cars restarted in the morn-ing, including championship driv-ers Nobre, Neuville and Karlsson. Abbring was aloud back again, this time running over 33 minutes on the road behind his teammate Ogier, not the one hour the day before. The storms the evening before had not made much differ-ence to the conditions, creating slightly more humidity, but even so Neuville took two minutes off Nobre on the first (30km) stage, so t!'ie four minute gap decision was important with the 41km stage to come, Main stages today com-prised just a double loop of the two long stages, with another loop of a 17km stage and the Superspecial in the afternoon, with two midday service halts. Latvala was still on a charge in the low early morning sun, taking advantage of Ostberg's dust in the car, and moved into third place. Two stages of quite dif-ferent character. Latvala "the first stage was nicer, the second more twisty. We setup our cars before the event to suit the faster stages bet-ter." He took 7.8 seconds off Loeb on stage 13, lost 5.5 on stage 14. Nobre went off the road on stage 14 and lost a wheel, "If you do not have good notes on this event you don't survive, the price of learning is very expensive ... " Nobre's de-parture left Neuville running first Flying past giant cacti, Petter Solberg and Chris Patterson drove their Arminda Araujo and Miguel Rama/ho drove their John Cooper Mini to Jari-Matti latvala and Miikka Anttila were sidelined with an accident, Ford Fiesta RS to a third place finish in Mexico. a seventh place overall finish in Mexico, here beneath a beautiful sky. they had completed 21 stages when the incident occurred. Dusty Times Aprll 2012 Page 31
Page 32
car on the road, "I am losing two seconds on every corner because of all the loose gravel", he joked. Neuville lost 77 seconds over 42km against Loeb. Novikov was frus-trated, " We are going well, but the times are not. Please tell me where I am going wrong!" Petter Solberg had trouble with his brakes, Ost-berg was back on pace "now that the sun is not so low in the sky!" Tyres were getting close to the end of their lives. Araujo, Atkinson and Tanak all spun near the end of the long stage, Hirvonen stalled his engine as well as still trying to learn the car. "I am trying to get it in to my head that the car will always turn into a corner, and there is no need always to be trying to throw the car into the bends. You don't have to be as aggressive with the DS3." Loeb was the master of the morning. Was he trying hard? "Yes, I think it was 100%!" Ogier was a little happier "It has been more twisty today, yesterday the stages always seemed to be going uphill." The situation at the first midday service of the day: Loeb was 18.2s ahead of Hirvonen, Latvala was third at lm25.6s with Ostberg nine seconds ahead for Solberg. Second time through the route and the tracks were a· lot faster. Hope for a close event completely went when Latvala hit a rock em-bedded on the track 5km after the start of stage 15, dropping him behind Solberg. Latvala, "The wheel broke, air started to escape and eventually the tyre broke up. We had hit the same stone the first time round, but this time we must have been going faster. I tried hard but now we have lost a chance to win." Loeb was intrigued. "He drove with a puncture for 25km and only lost 50 second? Interest-ing. Strong tyres. Maybe I need not worry about changing a wheel on a stage if I get a puncture." Petter was now third, more than two minutes behind. Hirvonen had a slow puncture in the stage, 5km from the end of the stage. Ostberg was bemused, "I'm happy going steadily. They catch me up, get a puncture and fall back all the time." Then came the repeat of the 42km stage and Latvala was still charging. He took more than five seconds off Loeb and more than 12 off Hirvonen, chasing his now remote chance of a problem for the Citroens. Trouble came for Atkinson at the end of stage 16, going off the road after the flying finish and getting stuck beside the track. He had no chance to get back to service with the left front wheel hanging off, the brakes had gone except for the handbrake. and the car was stuck on the side of the road between the flying finish and the stop control. With Atkinson running under SupeRally Araujo moved up to ninth and Ogier in to tenth, and was now into the Driv-ers' points. On the final stage of the day there were complaints that rocks were found in the middle of the track near the end, but then the rocks disappeared for some of the later drivers. Mads Ostberg saw three or four people, stand-ing alone by the rock, which he was able to avoid. Ogier said he swerved and hit a bank, Araujo was furious and said that someone could get killed. Novikov mean-while damaged his car right at the start of the stage but continued down the track only eventually to lose a wheel. Tanak said he nearly hit the Russian's upright which was lying in the road. Latvala was disappointed, "This was the most competitive car I have ever had in Mexico, just a pity about the rock in the road." In PCWRC Guerra continued to dominate while championship leader Kosciuszko was struggling after having gone off during the morning loop. Salgado went off on stage 13 ... and later stopped for the day. Ramona had overheated her brakes. During the second loop Kosciuszko lost a lot of time carrying out repairs on a road section after going off the road. He clocked in 23 minutes late, continued chastened and then the car stopped on stage 17, when he hit a rock and dislodged a wheel. This caused the organisers to de-lay the re-run of the stage while the car was recovered. Karlsson stopped with gear linkage trouble, not helped by her codriver being ill. Fuchs had a gear selection problem, partially cured by the use of tie-wraps. Non championship driver Abbring lost s0e minutes in stage 14, with a puncture when go-ing slowly with an oil leak and this lead to him stopping permanently with engine failure. The Stewards studied Nobre's performance and decided to make an exception to the new reverse order running rule. Nobre was relegated to run 14th car on the road, the last of the Pl/2 drivers, on the final day's competition. Sunday - 4 Stages -Gravel -74.76kms 24 cars started the final day, there having been just three retire-men ts so far -Abbring's Skoda and the local Mitsubishi Evo IXs for Iquierdo and de lzaurieta. Both Novikov and Atkinson re-joined, having four wheels on their cars once again. The top drivers who had nothing to gain were now planning their tyre strategies for the day, essentially to what extent they would reduce performance on the long stage in order to have he best tyres avail-able for the supplemental points-scoring Power Stage at the end of the event. Who said that reverse orders would eliminate tactics? First activity of the day was the fi-12th Rally Guanajuato Mexico (MEX) Leon 8/11.03.2012 WCR round 3, PCWRC round 2. WCR WCD PC 1 (1l Sebastien LOEB/Daniel Elena FIMC Citroen DS3 (M) WRC BN404MV (F) 2 2 Mikko HIRVONEN/Jarmo Lehtinen FIN Citroen DS3 (M) WRC BN800XB (F) WCR points 4h.15m.32.7s. 4h.16m.15.1s. 4h.17m.44.1s. 4h.20m.24.2s. 4h.20m.35.3s. 4h.22m.14.1s. 4h.28m.19.6s. 4h.30m.30.5s. 4h.37m.59.5s. 4h.39m.03.4s. 4h.39m.26. ts. 4h.43m.36.0s. 4h.45m.41.0s.(6) 5h.00m.13.5s.(3) 5h.14m.08.1s. 5h.45m.54.9s.(5) 25 25+2 18 18 3 4) Petter SOLBERG/Chris Patterson N/GB Ford Fiesta RS (M) WRC PX61AYK (GB) 15 15+3 4 10) Mads OSTBERG/Jonas Andersson N Ford Fiesta RS (M) WRC PX60AUV (GB) 12 12•1 5 5) Ott TANAK/Kuldar Sikk EE Ford Fiesta RS (M) WRC PX11AMV (GB) 10 10 6 7) Nasser ALATTIYAH/Giovanni Bemacchini QA/I Citroen 0$3 (M) WRC BH528BM (F) 8 8 7 12l ArmindoAraujo/Miguel Ramalho P Mini John Cooper Works (M) WRC OU61DLJ (GB) 8 15 Sebastien Ogier/Julien Ingrassia F Skoda Fabia S2000 (M) 2 H-VM135 (b) 9 43) Ken Block/Alex Gelsomino USA Ford Fiesta RS (M) WRC PX60AWP (GB) 6 4 2 1 10 52) Ricardo Trivino/Alex Haro MEX/E Ford Fiesta RS (D) WRC PX11AMU (GB) 11 38) Benito Guerr,J&tja Rozada MEX/E Mitsubishi Lancer Evo X (M) PCWRC DZ213ZS (I) 12 32) Nicolas Fuchs/Fernando Musseno PER/RA Mitsubishi Lancer Evo X (D) PCWRC A5S 561 (PER) 25 18 13 8) Thieriy NEUVILLE/Nicolas Gilsoul B Citroen 0S3 (M) WRC BF735XB (F) 14 31) Michal Kosciuszko/Maciej Szczepaniak PL Mitsubishi Lancer Evo X (M) PCWRC DS705PC (I) 15 12 10 8 15 !40! Gianluca Linan/Nicolas Arena I Subaru lmpreza N14 (M) PCWRC DW355PX (I) 17 49 Rodrigo • Diodoro Salgado MEX Mitsubishi Lancer Evo IX (D) PCWRC GNJ9822 (MEX) 18 44 Ramona Karlsson/Miriam Walfridsson S Mitsubishi Lancer Evo X (0) PCWRC CRF869 ($) -5h.59m.29.2s.(8) 27 (6 PCWRC) starters. 19 (6 PCWRC) finishers. MANUFACTURERS' POINTS SCORING DRIVER. (M) = Michelin tyres. (0) = DMaclr. tyres. (Missed stages or road sections), Winner's average speed over stages 89.96kph. • = Power stage points. LEADING RETIREMENTS LAST STAGE COMPLETED (3) Jari-Matti LATVALA/Miil<ka Anttila FIN Ford Fiesta RS (M) WRC WRC WRC WRC 2 PX61AYL (GB) accident damage RU55ALM (GB) accident (1) 21 21 22 16 15 (6) Evganiy NOVIKOV/Oenls Giraudet RUS/F Ford Fiesta RS (M) (14) Paulo Nobre/Edu Paula BR Mini John Cooper Works (M) EK068KX (GB) accidenl(13) PX11AWN (GB) accident (3) (21) Chris Atkinson/Stephane Prevot (54) Kevin Abbring/Frederic: Miclotte AUS/B Ford Fiesta RS (M) NUB Skoda Fabia S2000 (M) H-VM136 (D) engine (6) RALLY LEADERS P.Solberg stage 1, Hirvonen 2, Latvala 3+4, Hirvonen 5, Loeb 6-24. PCWRC/CLASS 3 LEADERS Fuchs stage 1, Guerra 2-24. CLASS 2 LEADERS Ogier stages 1-3, Abbring 4+5, Ogier 6-24. The Roule Special Stages TotalDistanco Thursday Poliforum Leon 11815) -1 gravel-1.05km 115.09km ~1) Poliforum Leon 2129) riday Poliforum Leon 0700) -10 grave~123.52km 464.69km (2-8, 10 -12) Poliforum Leon -Saturday Poliforum Leon (2048) Poliforum Leon (0600) - 7 gravel-183.SOkm 427.53km (13-18, 20) Poliforum Leon -Poliforum Leon (1923) Sundar Poliforum Leon l0830) -4 gravel-74.76km 165.34km (21-24 Poliforum Leon 1500) 22 stages-383.13km 1172.65km Crews Reslarting 27 25 24 Stage 9 cancolled-securily, stage 19 cancelled before start but competitive distance added to stage 18. Weather: warm and dry with storms on Friday nighL 3 stages in darkness. Leading Special Stages positions 1 3 4 5 6 Latvala 8 2 1 1 Loeb 7 4 1 1 P.Solborg 3 4 3 2 Hirvonen 2 8 4 2 Atkinson 1 AIAl!iyah 1 Neuville t ~~~ 3 Araujo 1 1 PCWRC/CLASS 3 Guerra won t5 stages, Kosciuszko 5, Fuchs 2. CLASS 2 Ogier won 19 stages, Abbring 3. • Leading positions in World Championship for Rallies (WCR): Citroen Total 108 points, Ford 70, M-Sport Ford 38, Mini WRC 26, Qatar 16, Adapta 12, Citroen Junior 6. Leading positions in World Championship for Drivers (WCD): Loeb 66 points, Hirvonen 50, P.Solbo~ 47, Ostbe~ 28, Latvala 26, Novikov 21, Sardo 18, Tanak t4, Oelecoor & AIAl!iyah 8, etc. Leading positions in Production Ca, WRC (PCWRC) Round 218 (six events to count): Kosciuszko 40 points, Guerra 25, Cook & Fuchs 18, Linari 12, etc. nal Superspecial, run as a double-section, like last night, where the first driver on the road, Neuville, scored the fastest time. Now came 54.30km of Guanajuato expected to be the second longest stage of the season. Neuville was the first car into the stage and continued non stop to the finish and set a reasonable time for the top runners, but then nobody else arrived. Stories arrived about the dramas behind him. Second car Atkinson had stopped on the stage when fluid escaped from a damper and the suspension was in danger of collapse. Third car on the stage was Novikov, who went off the road and stopped. Fourth car was Ken Block but he lost seven minutes with a punc-ture and had to change the wheel. Fifth car was Ogier which was in fact the second car to reach the end of the stage, more than 13 minutes after Neuville! Araujo had brake problems, the Dakar expert Al Attiyah survived but then next car through, Ostberg, lost two minutes with a flat tyre. Then came news that Latvala had stopped, "I could see Novikov's car which I thought was on the road, but it wasn't and this con-fused me. I went off the road and rolled, and it took a long time to get back on the road again. Then I had to change a flat tyre." More than seven minutes were lost and Latvala dropped from third down to seventh place. Petter Solberg inherited the remaining podium slot. Checking the times on stage 22, Latvala had truly been on a mission. After 35km he had been 15.8 seconds ahead of Hirvonen and 18.3 ahead of the leader Loeb. Latvala's car was in a mess, and the distraught driver waited at the start of the penultimate control for officials to· make the decision on whether he could be allowed to carry on. It was difficult to know if it was logical for Latvala to make such a charge. He was 1 m 16s behind Hirvonen after the end of stage 21, who then scored only his second scratch time of the event, but anyway Latvala's day was over. FIA officials banned him for continuing. The last two stages held no shocks although Nobre went off the road again, this time 2.9km into stage 23, and took a wheel off the car and retired. Araujo finally had a smile after a tiring and troublesome rally, fin-ishing seventh - his best ever WRC result. Solberg was wistful "four punctures and brake troubles a lot to suffer on one rally" but he got three extra points in the Power-Stage ahead of Loeb, with Ostberg taking the remaining supplementa point beating Tanak who lost the point by a margin of 0.067 second. Guerra made the finish safely ahead of Fuchs and Kosciuszko while Linari eased right off to secure his fourth place. In the national category event Carlos Tejada (Evo IX) was the winner, in front of an old style VW Beetle. The spirit of Mexico never dies! After the first of three long-haul events in the 2012 calendar, and with Citroen Total the Ofl\Y one of the two-car teams to get both their entries to the finish they strengthened their early hold on the WCR mantle. The team extended their lead over Ford from ten to 38 points. Sebastien Loeb's sixth consecutive win on Mexico's WCR qualifying event now held a 16 point lead in the Drivers' championship over his teammate Mikko Hirvonen, though Petter Solberg still held third place by the same margin of three points. Biggest position gainer was Mads Ostberg who was now lying fourth ahead of Jari-Matti Latvala. In the PCWRC there was no repeat of the decimation this support championship experienced in Monte Carlo and although all six competitors finished half of them used Rally2 ("SupeRally"). Michal Kosciuszko retained the lead in the category but for the first time in a long while a championship had two female points scorers in-cluded in their ranks. IJ\.leC: Thierry Neuville and Nicholas Gilsoul drove their Citroen 0S3 to a Mads Ostberg and Jonas Andersson drove their Ford Fiesta RS to a Paulo Nobre and Edu Paula had an accident which put them out of 13th overall finish, they're seen here at high speed. 4th place overall finish in Mexico, here at high speed. the rally, they are seen here in their John Cooper Works Mini early on. Page 32 April 2012 Dusty Times
Page 33
'' 11■~111986 PARKER 400 Tom Koch Wins It All By Jean Ca!11in Photos: Trackside Photo First on the road for over 100 miles, the Funco of Bud Feldkamp and Ron Gardner was close, second in Class 1 and second overall in cars. Tom Koch started the new season right by 'winning Class 1 and overall car honors in his new Raceco. Going alone, Tom led at the end of all three loops, and he won by over five minutes. All the signs were there for a massive entry at the opening salvo in the 1986 desert wars, the Score Parker 400. Parker has always been a popular race with the desert drivers, and this season, with no winter race at Barstow, the troops turned out in force the first of February, bury\ng tl\e tiny Color,ado River town in traffic jams and jammed, restaurants, only a few of_ which are still open. The drawing two ~~k:\ earlier had been heavy, and· the B.L.M. imposed en-t!ty limit of 425 vehicles was reached ·long before registra-tion opened iri' Parker. on the Thursday of race week.·· Score took stand-by entries, and, as. it turned out, of the 432 who signed up, a full 416 took the with their tractor-trailers and AwildlookingnewairboxhelpedLarryNoeldownthetrailinhisChaparral,and green flag, so all the stand-bys tire services dwarfing some of the Arizona ace finished third in Class 1 and overall. got in the race. Of that number the regular displays along con-down time to cover the 25 or multi colored ribbons required 320 started in the car classes. It tingency row. Well after dark so miles to the Arizona restart. at Parker. New to the desert was the second largest starting cars were still going through Two laps of the 101 mile Ari-decor were numerous signs in entry since Score began running the inspection process, and this zona loop were required for an the familiar B.L.M. brown and at Parker in 1974, topped only year the weather was both warm official finish for all car classes. cream proclaiming "No Vehicles by the 421 who started the 1980 and sunny, and happily dry all The time allowance of twelve Beyond This Point", surround-Parker 400. weekend except for showers late hours seemed ample. Although ing spectator areas. Race activity ~egan early with Friday night. California was reported to be Whole fotests of such signs over 100 eager 'drivers sign-It did lc;,ok ominous early rougher than usual, a good deal sprouted in spme areas, backed ing ln on Thursday evening. race morning, and the bike of freshly graded roads picked up by various official types writ-The troops were lined up for starting time was put back half up the pace in Arizona. ing $40 tickets to trespassers on blocks all day Friday waiting to an hour because the clouds The course was essentially the public land. sally through contingency row were so heavy it was still dark the same as in recent years, and Class 1 was first away, and on the downtown streets, and at official sunrise. However, the extra mileage listed came with Bud Feldkamp starting journey to the impound and the first car was flagged away in from the measurements of the second off the line, he was soon the tech inspection. There was sunshine at 8:45 in the morn-HDRA crew who helped mark first on the road. However, an impressive turnout of con-ing, facing 115 miles on the the route prior to the race and many of the 28 class starters tingency donors as well, the tire California loop. From there they conducted an actual mile- were just as quick through the companies dominating the area each car entrant had two hours age check as they put up the Continuedonpage34 .-----------------------------------------------------Steve Tetrick and Fred Ronn drove hard in the 0.R.E and they finished Defending champ at Parker and on points, Steve Kelley stayed close Late breaking woes in the rocks did not keep Dave Shoppe from a close second in the huge Class 10 gang, only 5 1/2 minutes in all the way in his Chevrolet, but he had to settle for second in Class herding the Ford home in good time to place third in the fierce Class arrears. 8 this year. 8 contest. /.~ ~.~.. -'~;; Dave Mansker and Joel Stankavich had no real troubles with the brand new 0. R. E., and they arrived a fine second in the big Class 1-2-1600. Dusty Times Driving another brand new O.R.E., Steve Barlow and Jim Moulton took a tight third in Class 1-2-1600, merely 30 seconds behind at Larry Job drove solo in the Valley Performance single seater, and he the flag. carneinjust 2 1/2 minutes out fora close fourth in the 1-2-1600 fray. Aprll 2012 Page 33
Page 34
At Parker luck finally smiled on Hartmut and Wolfram Klawitter, and their sleek Jimco Bug was a clean second in the competitive Stan Parnell and Dave Parsons were in the middle of the three way John Dyck and Al Baker dig out of a ditch en route to a fine second in Class 4. Their Jeep Honcho ran in second place the entire distance. Class 5 race. Class 5 battle, and the team ended up third in the ORC Baja Bug. - : ,... .... . ,..,.. --~ . ' - ',::,, ' Parker is Letner country, and Danny Letner and Harry Bergdahl whipped the Porsche powered Raceco around the course in great time, taking the win in Class 2 by nearly five minutes. ditches and to the first time check at the top of Thunder Alley, about 63 miles into the race. Nick Nicholson, driving his Outlaw solo, was quickest to this point at 1:01.30, but Tom Koch, also going solo in the Raceco, was merely 24 seconds behind. The Ray Bates/Bobby Neth Chenowth was next at 1:03.10, but was destined to fin-ish only the California leg. Bob Renz/Dick Clark were there in just one more second in their Raceco, and Feldkamp's Funco was another 23 seconds back, followed in a minute by Gregg Symonds, whose new O .R.E. was soon to catch fire and retire. he was a mere minute ahead of Nicholson. Ivan Stewart was fourth, about six minutes back, and Larry Noel moved his Chaparral into contention, a half minute behind Ivan, but only a minute ahead of Mark McMillin, Chenowth. There wasn't much shifting around on the last loop. Tom Koch stayed out front ~11 the way to not only win Class 1, but take the overall car hon-ors. Only one bike covered the course faster than Tom's swift new Raceco. Koch's major prob-lem was at the Arizona restart, when he reached for the gear le-ver and it came out in his hand. Bob Gordon had to work hard to get ahead of his son Rob, in a similar Chenowth, but dad had a great last loop to take second in Class 2. He flew back to the Checkers' minutes out, followed in just pit, and Dave Kreisler clamped over a minute by Ivan Stewart, the lever back in place, as he who had a comfortable eight had at the Snore 250, and Tom minutes on Ron Brant/Clark was off and running quickly to Gillies. In all 14 Class ls fin-victory. ished the course. Ron Gardner finished the A hefty 36 Class 2s lined Funco less than six minutes up at the start, and this was a later for a second in class and potent field. However, eleven, overall for himself and Bud including Corky McMillin's Feldkamp. Larry Noel, with a Chenowth, were missing at quick final loop, zoomed into the first check. Danny Letner third in Class 1 and overall, was fastest to Check 1 in his another five minutes back. Just Raceco at 1:03.30, but in the three seconds down, Nick Nich- 1:04 range were Jerry Penhall/ olson was fourth in both class Kent P£eiffer, Chenowth, Matt and overall. It was tight down and Don McBride, Raceco, the ranks as Mark McMillin was and Steve Martin/Tom Baker, fifth in class, just over two more Raceco. Close enough in with 1:05 and change were Jim and Mark Temple, Raceco, Bob Gor-don, Chenowth, Frank Arciero, Toyota, and Dave Kreisler/Jim Nobles, Raceco. A half dozen were in the next two minutes on time as the herd headed for the finish line. With the first loop done, Danny Letner held the lead with a time of 2:01.36. Penhall/ Pfeiffer were next at 2:02.21, followed by Matt McBride, 2:03.37, who had both Bob Gor-don, 2:04.02, and the Temples, 2:04.13, right on his exhaust. In the 2:05s were Kreisler/ Nobles and Frank Arciero, and a bunch more were under a following three minute blanket. In Arizona Danny Letner still led to the first check and at the end of the 100 mile loop, with Henry Bergdahl co-driving. But, 17 year old Rob Gordon, with Tim Crabtree co-driving, was only two minutes back in his Chenowth, with Kreisler/ Nobles another half minute back. Rob's dad Bob Gordon was fourth here, another 1 1/2 minutes down, and Malcolm Smith had moved his O.R.E Renault into fifth, but was se~h no more. The Temples rolled out of contention, and Penhall dropped to sixth. Leading all the way, Danny Letner sailed on to the Class 2 victory, in a total time of At the California finish Tom Koch had taken the lead at 1 :58 flat, but Feldkamp was just 1.22 minutes in arrears. Nicholson was third at 2:00.14, followed by Renz/Clark at 2:02.35, Frank Snook, Raceco, 2:03.06, and Ivan Stewart, Toyota,. 2:05.40. Several others were within a minute or so in a very tight class battle. ..--------------------------------------------------------The first Arizona loop saw 19 Class ls make it to the middle-mile check on the leg. At the end of the first round, Tom Koch was still leading, having stopped for a refreshing shower on the two hour down time. Just 3 1/2 minutes behind Koch was Ron Gardner, who took over the Funco from Feldkamp, and Dave Kreisler and Jim Nobles had a few flats but still got the super long Raceco pickup home in good time, third in the big Class 2 field. Walker Evans and his Dodge pickup both like the Parker course, and Evans had no real problems this year, winning handily in the 18 truck Class 8 contest. Driving the Arras Baja Bug, David Anckner and Rick Siglock sail through the Arizona darkness en route to a close second in Class 5-1600. Page 34 Dave and Bryant Wood led the California loop in their Class 9 Funco, With Class 6 combined again this year, Arne and Patrik Gunnarsson but some mishaps in Arizona dropped them down on time and they did very well in the Saab 96, finishing second in the five sedan field. were second. Aprll 2012 Dusty Times
Page 35
' I , Fastest on the road of the 7S trucks at Parker was the Nissan of Spencer Low and Paul Delang, but it turned out to be a non-class this year. Scott Douglas drove his Ford Ranger to the second fastest time in the Chuck Johnson and Mike Poppie came all the way from Illinois to non-Class lS field, finishing about half an hour behind Spence Low. cover the Parker course third fastest in their tidy lS Ford Ranger. 5:23.43, good for fifth Qverall. Bob Gordon, with Ward Bassett co-driving, pushed his Che-nowth into second in class and eighth overall in 5:28.24. Dave Kreisler and Jim Nobles kept up the pace for a tight third in Class 2, just three minutes behind Gordon. Jim and Billy Wright got their Raceco into fourth on the last leg, as Rob Gordon found a big rock in the final miles that took off a front wheel and hub and he dropped to tenth. - -Bill Hrynko and Gary Bland finishing fifth on time in a Che-nowth, but were disqualified for running afoul of the course rules. This moved Kurt and Wil-lis Hamilton and their "Jungle Gym" looking two seater into fifth, followed by the McBrides, the Temples, Bob Richey/Tom Baker, Raceco, and Penhall/ Pfeiffer. Officially, there were 16 Class 2 finishers. Class 10 was next on the start, a whopping 47 1650 cc stormers, and this was a close fight all the way. Rick and John Hagle, in the handsome Raceco, led the herd on time to Check 1, with a 1:06.10. Jim Stiles was only nine seconds back here, followed by Ed and Levi Beard in the Toyota powered Chapar-ral at 1:06.50. Bob Austin/ the final loop. Two more min-Binder and Hugh Morrison. loop. Defending champ Steve Glenn Evans had their Dirtrix utes back came the Hagle broth-Beyond that the times are still a Kelley was about six minutes in tight at 1:07.56, a tie on ers, followed in 30 seconds by bit confused by our count, but back 5 in third here, with Dave E.T. with Richard Binder/Hugh Binder/Morrison, and nobody in all 18 finishers were listed in Shoppe only secons behind Morrison, ORBS, in what was else was really close. Class 10. him, and the race was on. beginning to look like a battle Other"than the lack of power The high horsepower Class 8 At the California finish Ev-between Arizona teams. Jack steering, Jack Irvine and Kit Tr-truckers love the Parker course, ans led Kelley, who was having Irvine/ Kit Trenholm were only enholm had scant troubles with and of the 20 entries, 18 took shock problems, by ten minutes. a few more seconds back, and it the Raceco, and whipped off _a the green flag. Steve McEachern Shoppe was another four min-was some dash to the California fast final leg to become one of had his Chevy turned down in utes down, 12 minutes ahead of finish. three back to back repeat class pre-race tech, and Larry John-Gary Dircks/John Imbriale in a At the finish Jim Stiles led winners from 1985. They took son's Ford failed to start. The Chevy, as the field spread out in with a total time of 2:06.33, the Class 10 title in 5:34.53, race was pretty much a Walker the first 115 miles. John Gable, but Irvine/Trenholm were less scoring 11th overall as well. Evans show up front. Walker, who was sixth at Check 1, was than a minute back in second, Holding on tight to second in with his brother Paulden rid-out of the racing, having lost his followed in ten seconds by the class, Steve Tetrick and Fred ing along, led every leg in the fuel cell function a couple miles Beards who had just six seconds Ronn finished about 5 ½ min-Dodge, and cured an overheat-past a highway crossing, but the on the Hagles. It was a real traf-utes in arrea·rs in their O.R.E. ing trans problem on the down powers that be would not allow fie jam, with Binder another Ten more minutes down, Rick time. At the first check Evans the chase truck in to tow him to minute back, followed by Aus-and John Hagle were third, hav-had a mere 19 second lead on the pit, so that was that. tin/Evans, who soon vanished. ing repaired the exhaust system Frank Vessels, but the Vessels After one Arizona round Twenty-nine Class lOs finished twice, followed in by Richard Chevy did not complete the in California. On faster trails in Arizona, the survivors stayed in close and fought hard. Despite losing the power steering, Irvine and Tr-enholm climbed into the lead. Stiles held second through the check, but failed to finish the first leg. There the team of Steve Tetrick and Fred Ronn took over second, about 4 1/2 min-utes down. The Beards, father and son, held a strong third, three more minutes out, but they vanished into the desert on PINCH BOBBEB II UNIBAU t:UPB NEW.I l#l.l#E fREII# AIR IIYIITEII .. ~ KENWaaa :!:I!:: c,ntinud an ,,,, 36 Jack and Jerry Ramsay raced for seconds instead of minutes all day in the huge, 49 car Class 1-2-1600, but at the checkered flag they won in the Bunderson by nearly five minutes. It was a happy day for Max Razo; with John Johnson co-driving the pair took a resounding victory in the Class 5 bash, winning by 19 minutes in the 18 Bug field. Dusty Times April 2012 Page 35
Page 36
-' ' I ' I I • 1 'f I I' Don Adams brought the Jeep CJ 7 out of retirement for the Parker Swapping the lead all day, Roger Mears was slowed by a flat, and he 400, and with Larry Olsen co-driving, the venerable rig finished ended up second by less than two minutes in the tough Class 7 battle. second in Class 3. Ken Ryan and Ken Ballenger drove this long nosed Bronco into the night to take second place honors in Class 14 for modified 4x4s. Rod Hall and Jim Fricker started another winning season in the Class 4 Dodge, leading the slim field all the way this year at the Parker 400. Evans increased his lead over Kelley's Chevy to about 14 min-utes. Shoppe's Ford held third, back another five minutes, and Ron Clyborne/Brian Lowe had their Ford up to fourth, but dropped way back on the final loop. At the flag Walker Evans won for Dodge by over 12 1/2 minutes, and Steve Kelley/Jon Nelson stayed in second in the new Chevy, by just three min~ utes over Dave Shoppe. Shoppe had a spectacular finish, arriving with a flat left front tire, and no tire and almost no wheel on the left rear, having lost to the unforgiving rocks in the famous garden just a few miles from the finish line. Parker boys Dan Beaver and Randy Hoeft trucked their older Ford home fourth, nearly a half hour fur-ther back, as Dircks/Imbraile slowed on the final leg to finish fifth. Nine, maybe ten trucks finished in Class 8, another class with some missing times -lost between the finish line and the scoring tables. The very biggest class at the race was 1-2-1600 with 51 en-tries and 49 starters. There nev-er was a clear leader in this pack until the checkered flag flew, and then it took some quick math to figure who was the win-ner. A good third of the field ran in a massive pack all around the now dusty California loop. At Check 1 the Mirage of Russ Butow and Danny York led on time with a 1:16.44. The brand new, never turned a wheel Be-fore, 0.R.E. of Dave Mansker and Joe Stankavich was a close second at 1: 16.52, followed by Michael and Douglas McFad-den, Raceco, at 1: 16.59. Only seconds separated the next doz-en or so on time. It was just as tight after 115 miles. Mansker had the lead by just over a minute from Butow/ York, who did not make the first check in Arizona. The McFad-dens were third here, two min-utes down, and just 48 seconds ahead of Jack and Jerry Ramsay, Bunderson. The Ramsays were a mere 46 seconds ahead of fellow Las Vegan Larry Job, in the Val-ley Performance Intercept, and it was equally tight well down the ranks of the 42 cars that finished the first section. The Mansker/Stankavich team held the lead to the check and to the end of the first Arizona loop. Now the Ramsays were just 2 1/2 minutes back in second, and Job was only 30 more seconds down. Four more minutes back Steve Barlow/Jim Moulton moved into £ourth in another brand new O.R.E., and the Bunderson of Perry Coan/ Gary Abbott was now fifth, another two minutes back on time. 1985 points champion Mike Leste and young Cameron Steele teamed up this year, and the pair won the hard fought Class 5-1600 war by a keen seven minutes. Midway on the final loop Mansker/Stankavich dropped to third, Ramsay still led, and Job had just two seconds to the good in second. On the final dash through the rocks in the dark, Jack and Jerry Ramsay had no visible troubles and maintained their lead to win the giant class in the two seat Bunderson, and they were a fine 30th overall on the horsepower demanding course. While the O.R.E of Dave Mansker and Joel Stankavich was the first to finish in the class, their early starting number led to placing second, almost five minutes behind the winners, a remark-able performance for a brand new race car. Adding frosting to the O.R.E. cake, the new single seater of Steve Barlow and Jim Moulton whipped home third in class, just 30 seconds behind. Larry Job did the solo act, fin-ishing fourth, about 1 1/2 min-utes down, and he was 13 1/2 minutes ahead of Michael and Douglas McFadden, fifth, but they had been down to seventh. Just another minute back Perry Coan and Gary Abbot placed sixth, less than a minute ahead of Darren Wilson, whose new Mirage w{s disqualified in post race tech, reportedly with a bit too long trailing arm. There were 32 official finishers in Class 1-2-1600, all within three hours, 21 minutes of each other, and that is close racing! A fine field of 18 took off in Class 5, and all but two made it through Thunder Alley. There the leader was the slick convert driven in California by Max Razo, a _time of 1:11.20. But, also in with a 1: 11. 20 was the later starting Dirtrix Bug of Pete Sohren. The pair were nearly seven minutes ahead of third running Hartmutt and Wolfram Klawitter, who had only ten seconds on Stan Parnell/Dave Parsons, in another horse race. At the California finish Pete Sohren/Sean Moss were ahead on time, 3 1/2 minutes up on Razo, who now had eight min-utes on the Klawitters. Just 23 seconds later, Parnell/Parsons were running fourth, followed by Gene Norman/Mark John-son in another 3 1/2 minutes. Johnny Johnson took over from Max Razo in Arizona, and John lost no time regaining the lead at the first check, and he held it all the way to the check-ered flag. After one loop in Ari-zona the Klawitters held second by five minutes over Parnell/ Parsons who were tied on time with Norman/Johnson. Sohren had big trouble, and dropped well back, and only finished the first Arizona loop. When the flag came down over John Johnson, Max Razo was the Happiest Fella in Parker and anyplace else. The team won Class 5 in spades, by almost 19 minutes over Hartmutt and Wolfram Klawitter, who were happy to finish second after a trouble plagued season in 1985. Just over seven more minutes in arrears, Stan Parnell welcomed Dave Parsons at the finish line, and now the remaining field had strung out. Larry McCal-lum and Bilroy Phipps moved into fourth when Norman/ Johnson went out in the last few miles. Seven of the 18 starters made the finish line within the time allowance. Usually a heavy entry at Park-er, Class 4 fielded just eight trucks, and, as expected, Rod Hall, Jim Fricker and Dodge led from flag to flag. Their major woes were few, mainly losing the front drive line on the first Ari-zona loop, and they drove some distance without front wheel driv~. Behind Hall at Check 1, John Dyck/ Al Baker had their Jeep about five minutes back in second. Another five mihutes back in a virtual tie came Rod Inch/Jim Roebuck, Jeep, and Don McCormack/Dick Green-lee, Dodge. ~• At the California finish Hall had increased his lead over Dyck to 17 minutes, but to. the rear the picture had changed. Inch held third, about four more minutes off pace, but Mc-Cormack dropped half an hour. This put Ed and Jody Martens-en, Jeep, in fourth another six minutes out, followed by Don Yosten and Bill Donahoe in the ex Vern Roberts Jeep. On the first Arizona round Dyck stayed in second spot, Inch dropped back, and the Martensens moved into third with Yosten fourth. However, neither Yosten/Donahoe or the Martensens reported through the midway check on the final loop. Meanwhile Rod Hall and Jim Fricker became another repeat winner from the 1985 Parker 400. John Dyck and Al Baker finished about 21 min-utes later, secure in second, a Mike Randall's· Jeep Cherokee scored fastest time of all the dozen The two seat Chenowth of Rich Minga and friends stayed very close Another Chevy S-/0 was the official second place rig in Class 7 4x4, Class 7 4x4s, but the fastest fiberglass doors in the west caused all the way at Parker, and ended up second in Challenge Class by and it was Michael Horner and Lance Martin who inherited the slot. his disqualification. just over a minute. Page 36 Aprll 2012 Dusty Times
Page 37
efending 1 Another two seat Chenowth went home with third place honors in the Challenge Class, this one driven by Javier Tiznado and his crew. co-driving, led Class 11 at the California finish, but dropped to Flying high off the start, Nick Nicholson drove alone in his Outlaw, and at the finish he missed third place in Class 1 by just three seconds. hour ahead of McCormack and Greenlee. Rodney Inch was just six minutes further down in fourth, and Bill Driggs and Steve Sprague moved their Ford into fifth at the finish line. There was a good sized pack of 25 starters in Class 5-1600, and most were very competitive Bugs. David Anckner and Rick Siglock led the charge up Thun-der Alley, passing Check 1 in 1:31.02. Port and Newt Camp-bell were three minutes back in second here, and Steve Lakin had the Razo Bug in third, just another 58 seconds down. In another minute it was Nels Lun-dgren and John Wilson, who did not finish this leg. Running first at the Cali-fornia finish was the Anckner/ Siglock team ln 2:40.36. Steve Lakin took over second, almost 15 minutes behind, and· Mike Lesle and Cameron Steele were only a minute. back in third. .Da.ve: Hendrickson and Perry ,.Butler were fourth here, but had trouble in Arizona and did not finish. Randy and Rick Wilson were very clos.e _in fifth. ~ ; The· 160-0 , Bugs'' gett a lot bf nigh~ running in Arizona, but it didn't seem to hamper the " fiiont runners. The .. young team of ,Lesle· a-nd Steele ·took over 4lhte dass lead after one loop, ·follow'ed ,,i,n, 2 1/2 minutes by Anckner/Siglock;, so. there was no let up in the pressure. The rest of the field was stringing out. Lakin held third, the Wil-·sons were up to fourth, and Bob Knight and LeRoy Hansen were in fi£th heading into the final second at the fla . Wes and Greg Moser whee/stand for the starting line crowd, and they led every leg in the Ford Ranchero en route to the Class 6 victory. 100 mile dash. Mike Lesle and Cameron Steele held their lead nicely, and they won the class by nearly seven minutes. David Anckner and Rick Siglock were secure in second, finishing over 28 minutes _ahead of Steve Lakin, who was only. two minutes and -~hange ahead of the Wilsons. R,i,c!-1ard, K~nt. and. Doug In-gle& moved into fifth, arriving -,a-bout four minvtes quicker than· Knigh_t and Hansen. There wer:e ten official finishers. in.the class, a much bet.ter percentage than the average for the entire car entry. A new class was created at .the January Manufacturers' meeting, called 6S, apparently to accommodate the Olds Cal-ais tube frame car owned by Larry' Minor and driven by Al Arciero. Properly called Silhou-ette Production Two Wheel Drive Sedan, it is a shame the 2 WD is stipulated or it could include the wild rally cars with 4 WD from Europe, and some of those teams are hankering to run the Baja 1000 to La Paz. At any rate, Arci~ro was the only entry in 6S, and he retired half-way arounA on the first Arizona loop. , r: As usual at Patker several showed up in Class 6, now all sizes running in the -same class. This year there were two Saabs and a Nissan, plus a Chevy Nova and a Ford Ranchero. While Larry Schwacofer and his '55 Chevy have retired from the fray, the new force in the class is apparently the Ford Ranchero pickup of Wes and Greg Moser. The team led every leg to score the victory, about an hour and a half ahead of second placing Class 9 was eight strong at Parker, and Gary Cogbill took the class lead early in Arizona and he kept it all the way home to pay dirt. Arne and Patrik Gunnarrson based Chevy of Mick Newton in the Saab 96 at the checkered and William Kohout. They were flag. The competition for the only six minutes back at the winners came from the Parker Continued 1n P•I• 38 Class 7 was a home time happening for Manny Esquerra, who won the see saw battle from Roger Mears in the very tight contest for the victory. Performance Proven for Desert & Off-Road Use 150 Heavy Duty Sizes to Choose from Detail & Pressure Wash Tanks Marine Holding & Water Tanks f I I I I I Bulk Storage & Wa~te Tanks R.V. Tanks Quality Products & Friendly Service RONCO PLASTICS, INC. • 714-259-1385 • FAX 714-259-0759 • www.ronco-plastics.net 15022 Parkway Loop, Suite B • Tustin, CA 92780 • CALL, WRITE or FAX us to Receive a Free Catalog VISA ~-------------------------------------------------------~ Dusty Times April 2012 Page 37
Page 38
I ( I' I I • , I I Buck Griffin is the driver of record this year in the Don Coffland Driving hard the entire distance Don McCormack and Dick Greenlee Richard Binder and Hugh Morrison did very well in the newest ORBS Class 3 Jeep, and the third place at Parker puts Griffin in line for came back from troubles in California to take third in the Class 4 two seater and they came in fourth in the massive entry in Class 10. rookie honors. Dodge. Kirby Hightower and Gary Currier flew over the desert in their Jeep CJ 7, and they took the Class 3 lead in Arizona and won the class by over 12 minutes. (Jerry McDonald drove Joe MacPherson's new Chevy S-10 4 x 4 to fourth fastest time in the disputed class and became the official class winner. first check and at the California finish. After one Arizona lap they trailed by just ten minutes, but disaster struck on the last leg, and they pushed just under the time allowance to finish third. Scoring absolute last over-all in the race, but finishing in 11:58.50 was the Nissan of Dale and Randy Jordan. There were eight starters in Class 9, and three of them found the finish line. Dave and Bryant Wood led the first leg and at the California finish, their Funco holding ten min-utes over Gary Cogbill's special as they headed across the river. Then Mike McCrory was run-ning third, but he went out of the race before the first Arizona loop finish. Cogbill took over the lead at the first Arizona check as the Woods had some down time. Cogbill carried on out front all the way to victory in Class 9, arriving with a half hour to spare over the Woods. James Gross came in third in a Funco, only 21 minutes behind Dave and Bryant Wood. Class 7S was next off the line, 16 strong, and nine of them finished ahead of 12 hour time allowance. The provisional winner was Spencer Low, his Nissan coming in about a half hour ahead of the Ford Ranger One of the more elderly race cars at Patker was the rear engine Jeep based special of Carl and Carol Cook, and they were tops in Class 14. of Scott Douglas. The Ranger tween Manny Esquerra in his of Chuck Johnson/Mike Pop-Ford and Roger Mears in his pie was third, another six min-Nissan. Mears led at the first utes back, followed in just 13 check by six minutes, but at the seconds by Willie Valdez in California finish Esquerra had another Ford. Finishing fifth narrowed the gap to less than was Tudy Joe Esquerra in his two minutes. At the first AZ brand new Ranger, followed by check, Esquerra led by a min-Jim Travis, Ford, John Cabe, ute and a half, and at the first Toyota, Paul Simon, Ford, and loop finish Mears had regained Malcolm Vinje, Toyota. the lead, but by a skinny 30 However, in the post race seconds. This was a real race, a inspection the Fords were found visual affair since the two top to all have a notch in the frame drivers started just 30 seconds under the front bumper, sud-apart. Midway in the final leg denly, after two years, declared Mears was leading Esquerra by illegal by the chief tech inspec-just four seconds, and it was flat tor. Protests and counter pro-out to the finish line. tests raged into the wee hours. It was the Ford Ranger of The upshot of the whole mess Manny Esquerra, with brother is that Class 7S became a non Ralph riding shotgun, that was class at the 1986 Parker 400. All the first to the finish line and the finishers were disqualified, first in Class 7. Roger Mears in much the same manner as and Brent Foes were close, just was done to Class 9 at Parker in a minute 39 seconds in arrears 1979. Wonder if the starters will in one of the best dices in the be able to count Parker as one entire race. Two entries failed of their three Score events for in California. Mark Steele, go-the points chase? ing solo in the ex John Johnson However the repercussions Chevy S-10, was doing well are still audible two weeks later, through the first Arizona leg, primarily because the every now but mechanical failures put him and then Parker post race tech down and out on the dark final vendetta has finally struck a round. class in which the vehicle and With the witq_drawal of the tire manufacturers have inter-Jeep and some tire company ests. stand by for any late news contingency monies, Class 3 on this matter. was down to five starters at Five trucks started out in Parker, four Jeeps and Gale Class 7, but the race was be-Pike's Dodge Ramcharger. The Driving his brand new Ford Ranger Tudy Joe Esquerra was fourth Buck Griffin/Don COfflad CJ 8 led to the first check by a couple minutes, but at the Cali-fornia finish the Don Adams/ Larry Olsen CJ 7, out of retire-ment for this race, led the class. Kirby Hightower moved his CJ 7 into second here, only 18 seconds back. Griffin/Coffland were close too, another four minutes down. Hightower took over the lead at the first Arizona time check and he completed the loop with 12 minutes in hand over Don Adams. Griffin/Coffland dropped time with mechanical woes, but stayed in third. Kirby Hightower and Gary Currier had no apparent trouble, and they held the lead in Class 3 all the way to pay dirt. Hightower became one of the three repeat Parker winners. Don Adams got back on pace and finished sec-ond, about 23 minutes behind. Buck Griffin and Don Coffland kept on Jeeping to a clean third an hour later. David Bryan and Darren York drove their CJ 6 to the fourth place finish. While Class 12 is no more, Class 14 is apparently still an entity. Three modified rigs showed up at Parker, but non. finished. The early leader was the Bronco of Steve Mizel and Tom Mathan, but it dropped to third at the CaJiforrtia finish and was seen ·n-~ more. There the rear engine, Ford powered Jeep creation of Carl and Carol Cook took the lead by 33 min-utes over the Bronco of J.K. Ryan and Ken Ballenger. Both rigs covered one loop in Arizona and called it quits. The Cooks were declared the winners, hold-ing well over an hour time mar-gin on Ryan and Ballenger at that point. Class 7 4x4 fielded its larg-est entry yet, an even dozen. But, this class also fell victim to the post race tech proce-dures, although only three, the top three, were disquali-fied. The fallout from these class problems may well end up in courts of law. Driving the ex Don Adams Class 12 Jeep James Gross hops along in his Funco SS 2, and he kept it moving on time in Class 7S, but fell afoul of the mass disqualification in Mark Steele drove all three loops in his newly acquired Class 7 Chevy well all three loops to take third place in Class 9. tqe class. S-10, but he went out in third place just a few miles shy of a finish. Page 38 Aprll 2012 Dusty Times
Page 39
With a brand new green paint scheme on the Raceco from a new sponsor, Hussong's Beer, Steve Sourapas and Dave Richardson were fifth in Class 10. Randy and Rick Willson did very well in Class 5-1600, and they Despite restrictions, plenty of spectators watched the racers fly missed third place at the finish line by a skinny margin, less than by. Michael and Douglas McFadden got a fine fifth in the 1-2-1600 3 minutes. Raceco. Cherokee, hastily painted and fitted with a new engine, Mike Randall led the pack to the first check, then had trouble and dropped to third at the end of the leg. There the Ford Ranger of Dick and Matt Landfield led the Toyota of Stan Houghton/ Tim Lewis by a minute. Jim Sumners, who had been run-ning strong in the Mitsubishi, dropped well back with tranny and other mechanical woes. After one round in Arizona, Houghton/Lewis led Randall by five minutes, and the Nissan of Sergio and Armando Duron was up to third, but wasn't seen again. Mike Randall, with vie Curl riding along, took over the lead early on the final loop, and he crossed the finish line the provisional winner. The Hough-ton Chevy had woes in the dark, but finished second, 42 min-utes later. G.T. Gowland nailed third, another 28 minutes down in his Toyota, and he was only five minutes ahead of Jerry Mc-Donald in the Joe MacPherson Chevy S-10. However, the first three were disqualified in post race tech, Randall for the fiberglass doors that were legal for Don Adams last year in Class 12, Houghton and Gowland for unknown reasons. Despite a lack of the required inner fender panels, McDonald's Chevy was declared the winner Sunday morning. Michael Horner and Lance Mar-tin then inherited second place in their S-10, 44 minutes be-hind the official winner. Fred Wright and John Richmond were now third, another four minutes behind, followed by the Landfields, merely another four minutes down. Jim Conner and Pat Blackmore earned fifth in the Nissan, and Jim Sumners got the Mitsubishi around for an official sixth in 10:51.46. The Challenge Class really came on strong at Parker with 31 starters on the line and 14 of them finished the course. At the first check there was close combat up front. Kent Lothringer/Carl Cabaniss had The Challenge class had a huge, 31 buggy field, and the victory belonged to the team from Barstow, Rick Johnson and Gary Watson in a good running Hi Jumper. their Bug out front, but then apparently fell on evil times, eventually finishing ninth. Rus-sell Winkler was only three minutes back here, but he had his troubles soon, and retired on the very last leg. At the California finish Rick Johnson and Gary Watson led in their Hi Jumper, and they held that lead through all the time checks to take the vic-tory home to Barstow. In similar fashion, Rich Minga was second here, stayed close all the way in his Chenowth, and he finished second, only 70 seconds behind the winners. And Javier Tiznado finished third in California, and he stayed in third also, fin-ishing another ten minutes out. There was serious infighting all day, and only 2 1/2 minutes behind them were Bob Johnson and Kay McLean. Times were close through the ranks in this class, and it bids fair to be a suc-cess like other restricted classes have been, if they leave the rules alone. Last off the start, but defi-nitely not last at the finish line, there were five starters in Class 11 and they all made it to the first check in tight formation. Here Mike Abbott led Andy Diaz by just two minutes. Kevin and Tony Peltz were third here, but did not make the Califor-nia finish. At· that point Andy Diaz/Charlie Wood had a slim, 45 second lead over Mike Ab-bott/Fausto parisotto. Back some distance Ramon Castro/ A group of five VW Beetles took off in Class 11, and at the finish line Mike Abbott and Fausto Parisotto won the surprisingly close contest by ten minutes. Salvador Avila were third, and Kevin and Howard Henderson were fourth. Mike Abbott took over the lead at the first Arizona check, and at the end of the loop he had just five minutes in hand over Diaz/Wood. Ab-bott and company continued to lead the tight battle to the flag, winning by just ten minutes over Andy Diaz and Charlie Wood. The Hendersons retired on the last lap, and Ramon Castro/Salvador Avila finished third, about 37 minutes behind second. After the Parker race last year all the talk was about the snow. This year the chatter is about rules enforcement proce-dures, which apparently took a holiday last year in the nasty of the season in 1986. In prior years it has been the restricted VW classes that have been the Parker targets in post race tech. We applaud the same applica-tion to classes in which there is heavy, big time sponsor interest. We do think warnings to fix should be issued, rather than engaging it. wholesale disquali-fications, however. Perhaps now either the rules will be clarified so that all race car builders can understand the grey areas, or at the worst, liberalized so that the existing competitors in a class can go on racing with the exist-ing modifications. back in the ranks, however. Charlie and Diane Philpot were fourth in Cali-fornia, but failed to finish. Albert Bright was fifth in Cali-fornia in a Vulcan, fell as low as tenth, but climbed back to fourth at the check-ered flag, 36 minutes behind third place. Only five minutes behind Bright at the finish, Chuck Guy and Rhonda Walsh were in the top seven Former Class 5 ace, Albert Bright tried a Challenge Class Vulcan at Parker and drove alone to fourth place in the 31 car field. weather, but came back strong this year. The incongruity of the situation is that restricted class rules always have some grey areas. Specifics are discussed with tech people over the phone, but seldom are written down. This is how trucks that were legal all last season, not only class winners, but a pair of class champions on points, became il-legal at the first race Overa 1 Parker was a howl-ing success, with good weath-er blessing the massive en-try, and other than the post race tech and some scoring glitches, all functions ran smoothly. Of course the sun-dry law enforcement agencies were busy writing tickets, and most visible were the CHP on the pavement and the B.L.M. on the dirt. But, this costly to taxpayers and relatively unnecessary proliferation of such officials is a fact of life at Parker, except when it snows. Next on the calendar for the desert series is the Great Mo-jave 250, and to date the Cali-fornia "Green Stickie" rules have yet to be clarified for that event. mg Perry Coan and Gary Abbott had a fine ride in the two seat Bunderson, Flying high off the start, Jim and Billy Wright were front runners all Kurt and Willis Hamilton drive a strange looking, flat top two seater, and at the checkered flag they took sixth in Class 1-2-1600. day in Class 2, and the Raceco finished fourth in class. but it is effective, and the pair took fifth in Class 2. Dusty Times Aprll 2012 Page 39
Page 40
BFGaadricli ------------r,res MOAB, Utah (April 4, 2012) -BFGoodrich® Tires, in col-laboration with Tread Lightly! and United Four Wheel Drive Associations (UFWDA), today an-nounced the trails selected for its 2012 Outstanding Trails program. Nominated for uniqueness, ter-rain type and enthusiast following, the trails selected for this year's program are Blanca Peak Trail in Blanca, Colo.; Mirror Lake Trail in Sierra National Forest, Calif.; and Bents and Dents Trail in Mount Olive, Ala. Launched in 2006, the Out-standing Trails Program is dedicat-ed to the responsible use and pres-ervation of off-road trails while promoting the trails' conservation efforts. To help with costs associ-ated with the trail's conservation efforts, BFGoodrich Tires wiil also present a grant to the associated off-road clubs at events throughout the year. "We're proud to see the amount of support and attention that the Outstanding Trails program has received over the last seven years," said Renato Silva, light-truck brand category manager for BFGoodrich Tires. "We've met 29 tremendous clubs and their volunteers a!ong the way, and all of them are equally passionate about spreading the message of respon-sible four-wheeling. It's been great to work side by side with them to help maintain sqme of North America's most beautiful trails." During the cours~ of 'the year, BFGoodrich Tires will be at club events associated with these trails to highlight the uniqueness of each location and educate off, road enthusiasts on the respon-sible use of the trails. The clubs will also receive a $4,000 grant for preserving the scenic off-high-way trail system and continue conservation efforts for three of America's most beautiful areas for off-roading. Blanca Peak Trail, nominated in 2011, is a rocky six-mile trail with many granite outcroppings. It offers many challenging ob-stacles, including Jaws 1-4, as well as views of the valley, Como Lake and spectacular mountain scenery. The trail is maintained by Creeper Jeepers Gang, a fam, ily oriented 4-Wheel Drive club, which promotes safe and envi-ronmentally sensitive off-road recreation and family. Mirror Lake Trail, also nomi-nated in 2011, is located in the Sierra National Forest about 13 miles east of Shaver Lake on Highway 168. The trail features beautiful lake scenery with steep boulders and large hills for the more experienced off-roader. The trail is maintained by Lock and Low 4-Wheel Drive Club, which promotes family four-wheeling and fosters safety and education of responsible four-wheeling. Lock and Low is an active mem-ber of the California Association of Four Wheel Drive Clubs Bents and Dents Trail is one of the premier trails in a vast trail system of extreme obstacles at Gray Rock ORV Park in Mount Olive, Ala. The trail is one of the most extreme and versatile trails at the park, with lines to accommodate vehicles with a vari'ety of modifications. The Bents and Dents trail starts in a valley and winds its ~ay uphill to a large rock garden area with various ledges and rock sizes. For the most extreme drivers and rigs there is an alternate line at the top end of the trail on the right side called the lunch line it is ridiculously steep and off camber. This trail, as well as many oth-ers in the area, is maintained by Central Alabama Offroad Society (C.A.O.S.), which promotes safe family oriented four-wheeling from mild to wild. "For the past seven years, UF-WDA has been honored to be a partner in this program along, side BFGoodrich Tires and Tread Lightly!," said Todd Ockert, for-mer UFWDA Director of Environ-mental Affairs. "The three trails and clubs nominated in 2012 are top notch, and it was personally a pleasure to nominate Mirror Lake Trail and the Visalia Lock and Low Club for this award. They are dedicated to maintaining Mirror Lake Trail and working well with the Forest Service to enable public access to Mirror Lake." About the Outstanding Trails Program The BFGoodrich® Tires Out-standing Trails program was estab-lished in 2006 to raise awareness for responsible use and preserva-tion of off-road trails while provid-ing support in the trails' conserva-tion efforts. Through 2011, the Outstanding Trails program has recognized 27 off-road trails and 27 clubs across 16 states and two trails in Canada. The program has ·provided more than $100,000 in grants in support of the various trails conservation efforts. Both Tread Lightly!® and UF-WDA are non-profit organiza, tions dedicated to responsible and ethical outdoor recreation. BFGoodrich Tires collaborated with these two groups to select the finest off-road trails and contin-ues to work with these organiza, tions on restoration and education initiatives. United Four Wheel Drive As-sociations is the world's leading we would Like to congratulate M.0.11.E. New Yea,s 200 1st Place Randy Jones/Johnny Burns l/~·1600 I.et us t:et You on The Podiun,t Call Jeff or Johnny 818-998-2739 9763VARIELAVENUE, CHATSWORTH, CA 91311 Page 40 Aprll 2012 representative of all-brand, four wheel-drive enthusiasts. UFWDA benefits, developed and tested over the past 30 years, include four-wheel-drive safety and awareness education; such user ethics pro, grams as adopt-a-road, conserva: tion volunteer and volunteer trail patrol; assistance with new club formation; education seminars to aid four wheelers through com-plex state and federal programs affecting trail access; internet forums designed to instantly con-nect members globally; and unlim-ited member access to its full-time legislative advocate and nationally recognized attorney who works ex-clusively for four-wheel-drive en-thusiasts to protect access and pre-vent road and trail closures. For more information on the UFWDA log on to www.ufwda.org or call 1-800-44-UFWDA (800-448-3932). Tread Lightly! is a national non-profit organization with a mission to promote responsible recreation through ethics education and stew-ardship. Tread Lightly!'s strategic educational message, along with its training and restoration initia-tives, are designed to instill an ethic of responsibility in outdoor enthusiasts and the industries that serve them. The program is long-term in scope with a goal to balance the needs of those who enjoy outdoor recreation with the needs of the environment. The federal government recognizes this by acknowledging Tread Lightly!® as a sole-source service provider of education and training on how to be environmentally and socially responsible while using motorized and mechanized vehicles· in off, highway settings. Using motorsports as a proving ground for more than 40 years, BFGoodrich® Tires is invoh!e in every type of racing, includ-ing oval, sports car, drag, desert, dirt, rally and extreme rock crawl-ing. BFGoodrich Tires combines technological expertise with vast motorsports experience, delivering a high-performance tire for every type of vehicle. Visit BFGoodrich Tires at www.BFGoodrichTires. com, on Facebook at www.Face-book.com/BFGoodrich Tires or on Twitter at www.Twitter.com/ BFGoodrich Tires. ### BLUERIBBON COALITION, INC. BRC Moutns The Loss Of A Founder & Recreation Champion BOISE, ID (April 6, 2012) -The OHV community joins to-gether today in mourning the loss of one of its greatest activists. On Thursday, April 5th, 2012, Adena Cook-one of the original founders of the BlueRibbon Coalition--passed away. Adena Cook Adena will be sorely missed, both by those that knew her, and by the recreation community to whom she gave so much. She will forever be in our hearts and thoughts, and her legacy of dedica-tion, perseverance and determina-tion will live on. Ms. Cook was amongst those that aided founder, Clark Collins, in turning the Idaho Public Land User's Association into a national organization, re-titled the BlueRib-bon Coalition (BRC). She served as the newly created group's volun-teer secretary until 1989, at which point she became the group's first Public Lands Director, and the second paid staff member. Adena worked tirelessly in her role as Public Lands Director for the coalition and was a strong ad-vocate for protecting recreational access to public lands. She was among the first to establish the ties to land-managers and agen-cies that still help BlueRibbon in its vital role to this day. She also had a pivotal role in the efforts of Clark Collins to create a network of grassroots groups and inqividu-als. A network that has become the heart and soul of the organization as it is today. Always pushing to modernize the Coalition and advance our methods of communication, Ad-ena was instrumental in the Coali-tion's keeping up with the pace of technology. In her own words, " we were growing, achievin_g, and improving grassroots recreation activism, communication tech-nology was changing the world. It primed all those pumps in all those springs that flowed into the creeks and rivers. We were among the first to use every bit of it ... our timing was right on. Though she enjoyed a wide variety in her rec-reation, Adena was away$ an avid snowmobiler." As part of her relentless drive to improve the Coalition and make it into a_ powerful tool for recre-ational advocacy, ~Adena l:qitiated : som'e of the earliest con acts with the legal firm of Moore-Smith-Buxton & Turcke, the firm th:tt would eventually be integral K)" the BlueRibbon Legal Program. In the Coalition's firs Supreme Court \iictory-defeating a lawsuit filed against the Bureau of Land Management (BLM)-Adena would later say, "I could never have imag-ined that, a few years after those meager beginn.ings, we would participate in a case that won before the Supreme Court. Our legal team is now one of the most important parts of BRC." In 2002, Adena Cook retired as Public Lands Director, but stayed on in a volunteer capacity as the Coalition's Senior Policy Advisor. She will be deeply missed by those that worked closely with her: "Adena was absolutely crucial to the BlueRibbon Coalition's evolu-tion as a nationally recognized rec-reation advocacy group. Her hard work and dedication was an inspi-ration to me personally and to grass roots recreation access activists across the nation. No one has had more of a positive impact on back--country recreation than Adena." -Clark Collins, BRC founder "Adena was a true innovator in the field of recreation advo-cacy. I feel a deep personal loss at the news of her passing. Adena was my friend, mentor, and col-league and I will miss her. The recreation community Jost an iconic champion. I mourn with many others today at this news." -Don Amador, BRC Western Representative . 11The public lands community will miss a pioneer and champion in Adena Cook. Her keen insight Dusty Times
Page 41
helped create BlueRibbon's legal program and give recreationists a voice they lacked before agen-cies and courts. She was quick, efficient and genuine in her thoughts and was respected even by those with differing views. Not only recreationists but the public lands community should take a quiet moment to reflect on the gifts Adena brought and the legacy she hoped to build." -Paul Turcke, lead counsel for the BRC Legal Team "It is a sad day. We are all the better for having known Adena. Few ever achieve the level of excel-lence she demonstrated in her life and in her work. I am proud to say that generations to come will share the benefit of her efforts. I am blessed to have been able to call her my friend and colleague." -Greg Mumm, BRC Executive Director "I believe there is a bit of Ade-na's legacy in all of us who remain behind working in advocacy roles to keep the public lands open for people to use. I will carry with me the knowledge and skills she Dusty Times helped me develop over the years. Others will benefit through the years from her research and from the environment created by her presence. Despite her dogged tenacity, she was every inch a lady .... all the time, on her beloved snowmobile or in the courtroom and the boardroom. She con-tinues to be a role model into the future and I will miss her." -Joni Mogstad, BRC President Reflecting on her short biog-raphy on the BlueRibbon Coali-tion website, we cannot help but find it woefully inadequate to describe the wonderful, vibrant woman who had such a large hand in the Coalition's creation and growth. Therein she states her goal as being, "To shape pub-lic policy in support of diverse recreation on public lands." In truth, her goal was the same as that of the Coalition itself. It is an ongoing goal. She achieved it with grit and determination, and we will continue to achieve it in her memory. Rest in peace, Adena. You re-main with us forever. Cycle Gear Donates To Keep Trails Open In 2012 BENICIA, CA (March 2, 2012) - Cycle Gear, the country's largest retailer of motorcycle apparel and accessories, pledges $10,000 to the BlueRibbon Coalition in support of the organization's efforts to ensure continued access to public lands. The donation highlights Cycle Gear's total fiscal commitment to the BRC Trail Access Fund for 2012. This is the 10th year in a row in which Cycle Gear matches club and rider donations -dol-lar for dollar- to the Fund (up to $10,000 per year). Dave Bertram, 5-time ISDE gold medalist, two-time national off-road champion and CEO of Cycle Gear, states, "Trail riders continue to face unwarranted land closures and restrictions at state and federal OHV areas. Cycle Gear is proud of this grant pro-gram that supports BRC's efforts to successfully champion respon-sible motorized recreation on des-ignated roads, trails, and areas." "Today, the OHV community is confronted with an endless parade of frivolous eco-lawsuits, cancelled motorcycle events, and closures of historic single-track trails. The off-road business community must continue to support access groups that fight to protect our rights to enjoy public lands." Bertram said. Don Amador, Western Rep-resentative for the BlueRibbon Coalition, said, "BRC would not be able to continue its work if it were not for generous donations such as this commitment from Cycle Gear whose support is greatly appreciated as it will help fund 1 our access efforts in 2012." A b o u t Cycle Gear: Cycle Gear(r) Inc. is the country's largest retailer of motorcycle and power sports ap-parel, parts and accessories. Since 1974 Cycle Gear's product selection and superior ser-vice have delighted enthusiasts. With stores nationwide, e-commerce and mobile websites, Cycle Gear pro-vides access and unbeatable prices to riders wherever they are. As an employee-owned company of motor-cycle enthusiasts, the Cycle Gear Team takes enor-mous personal pride in providing its "100% Satisfac-tion - Guarantee," which includes: 7-Day No Hassle Helmet Exchange, 30-Day Best Price Guarantee, Easy Returns: In-Store April 2012 or On-Line, and No Restocking Fees -ever. Visit one of many store locations or online at www.cyclege-ar.com today. About Blue Ribbon Coalition: The BlueRibbon Coalition is a national non-profit organization dedicated to protecting respon-sible recreational access to public lands and waters. We want to keep your land open for use, whether you recreate on a mountain bike, snowmobile, motorcycle, personal watercraft, ATV, four-wheel drive, horse, or your hiking boots. Find out more at: http://www.share-trails.org. ' the potential to greatly impact all aspects of motorized recre-ation, from traditional camp-ing, hunting and fishing access to access for photography, bird watching, mountain bicycling, and especially permitted OHV events. Don Amador, Western Rep-resentative for the BlueRibbon Coalition, stated, "I believe it is critically important for motor-ized recreationists to be actively engaged in grouse-related plan-ning efforts. Access interests are still feeling the impact of a similar landscape level planning effort 20 years ago in the Pacific Northwest related to protection Recreation Group of the Northern Spotted Owl." "BRC believes the agency Urges Common should avoid using a 'broad sweep of the brush' management Sense Approach prescription. Instead, it should use a more 'common sense' ap-T O Grouse proach in order to minimize the impacts on both the Grouse and Management the recreating public. Local land managers should also be heavily POCATELLO, ID (March involved with the motorized pub-26)--The BlueRibbon Coalition lie to establish achievable goals (BRC), a national trail-based for protection of the Grouse to recreation group, submitted mitigate potential affects upon formal scoping comments on recreation through closure of ex-the proposed BLM's 2010 Sage isting, inventoried and managed Grouse Planning Strategy. BRC routes." Amador concludes. believes this planning effort has The BlueRibbon Coalition the potential to significantly is a national recreation group impact motorized recreation in that champions responsible rec-the 11 states where the Grouse reation, and encourages individ-currently occurs. The formal ual environmental stewardship. public comment period ended With members in all 50 states, on March 23, 2012. BRC is focused on building In addition the BLM has enthusiast involvement with published two Instruction Mem-organizational efforts through orandums that will provide in-membership, outreach, educa-terim conservation policies and tion, and collaboration among procedures for agency field level recreationists. 1-800-BlueRib -operations. These will also have www.sharetrails.orr __,....,.,,,.,.....,.,.,,.,..,...,.,..,.,..--,-..,... ..... .....,,_ ROAD ------~y 250 . -·· \\1, Mt' ja, UTV & 4X4 Obstacle uly 28-29, 2012 Baja & UTV Race May 26-28, 2012 WlfdW~ ~_,ofuml;us,Mt' Baja & UTV Race September 22-23, 2012 't-e C::,-.mp~ .A. .... •:tll-.bll.e information visit www.yorracin Charlie (406) 698-9536 A1 (406) 321-4644 Don (406) 670-4647 U1V info - Michael 794-6924 Page 41
Page 42
Trail Notes ... from page 7 Raceway on Friday, May 4th before moving for the rest of the weekend to the fast gravel stages under the formidable Mt. Hood along the Columbia River Gorge. The Oregon Trail Rally features top national and international teams mixed with the best from the Pacific Northwest. Last year's Oregon Trail Rally winners, Subaru Rally Team USA's David Higgins and co-driver Craig Drew, seek to extend their National Championship points lead at Oregon after winning the Sno*Drift and taking second overall at the Rally in the 100 Acre Wood. If Higgins wins the Oregon Trail Rally he will open a sizeable lead over his closest Open Class rival, the Rockstar Energy Drink Team of Antoine L'Estage and Nathalie Richard, who unfortunately missed points when they failed to finish the Rally in the 100 Acre Wood. L'Estage needs a win at Oregon to keep pressure on Higgins. 2011 Super Production Class winners, Travis and Terry Hanson, hold the second overall spot, but are tied for 1st in class with Lauchlin O'Sullivan and Scott Putnam. Both teams have experienced difficulties the last few events, but the Oregon Trail Rally is closer to O'Sullivan's home in San Francisco, CA, where driver Travis Hanson is not expected to make the trip across the country from his home in Woodsville, NH. O'Sullivan is a favorite to win Oregon and the Hansons expect to resume their title defense at the STPR Rally in Wellsboro, PA on June 1-2. Chris Duplessis has controlled the 2WD Class in his Ford Fiesta R2 this year and currently holds a 10-point advantage over Scion xD driver Andrew Comrie-Picard. However, Duplessis faces a new international challenger when the Australian-based Summit Rally team arrives with a pair of 400hp Nissan Silvias piloted by Will Orders and Ross Allan in an attempt to topple Duplessis' dominance. Duplessis is up to the task as the American has been perfecting his skills facing the world's top 2WD drivers at the WRC Academy. The Oregon Trail Rally will once again take over Pioneer Courthouse Square in downtown Portland, OR with a car display Thursday, May 3rd beginning at 11:00am PT where fans can view the rally cars and meet the drivers in this fun and free event. On Friday, May 4th, the competition's first four exciting stages take place at Portland International Raceway located just outside Portland's city limits at 5:00pm PT. $10 tickets are available at the PIR box office. Children under 12 with an adult get in free. On Saturday and Sunday the competition moves to The Dalles and Dufur, OR, where teams face challenging gravel roads surrounding Mt. Hood. The roads are fast and pitted with sharp rocks that can keep a service crew busy with repairs. Fans who cannot attend in person can catch some live event streaming and video recaps, as well as regularly updated stage times and results, at Rally-America.com. For a complete schedule of the event, please visit Rally-America.com. A spectator guide with driving instructions to viewing areas will be available on the website soon. The 2012 Rally America National Championship is proudly supported by VP Racing Fuels -the Official Fuel of Rally America, Subaru of America, Ford Racing, Exedy Racing Clutches, Hawk Performance Brakes, ParkNBlend and RECARO seats. AFTER THREE SCORE RACES - Caselli leading Motorcycles; MacCachren races atop SCORE Overall, SCORE Trophy Truck points; C. Parkhouse tops Class 1 after 3 rounds of 2012 SCORE Desert Series; RPM OffRoad leading 6 classes, other leaders include Frederick, Robinson, 0. Huerta, Cullen. Start draw April 21 for 44th Tecate SCORE Baja 500 to be held in Ensenada, Mexico June 1-3. Following his third victory in the last five races and second in three races this season, Las Vegas' All-America racer Rob MacCachren has launched himself into the SCORE Overall and SCORE Trophy Truck point lead after three of five races in the 2012 SCORE Desert Series. With back to back overall wins in 2012 (Laughlin-Round 2 and San Felipe) after opening the season with a ninth-place finish in the first round in Laughlin, Nev., MacCachren, 46, has earned 177 championship points in the No. 20 Rockstar Energy/ MasterCraft Racing Ford F-150. He is not only the SCORE Overall point leader, he is also at the top of the leaderboard in the marquee SCORE Trophy Truck division for high-tech, 850-horsepower unlimited production trucks. 'Rockstar Rob', who has eight SCORE season class point titles, earned his 48th career SCORE class win, his 11th career SCORE Trophy Truck race win in San Felipe. MacCachren is now tied with Las Vegas brothers Ed and Tim Herbst with the most race win in the 18-plus year history of SCORE's Premier class. The recent San Felipe victory was also MacCachren's fourth in the last six SCORE races. In San Felipe, MacCachren also earned the 75 all-time SCORE Baja overall race win for noted tired manufacturer BFGoodrich. BFG Tires have now been the tire of choice for the overall 4-wheel vehicle winners in 22 MasterCraft Safety Tecate SCORE San Felipe 250 races, 28 in the Tecate SCORE Baja 500 and 25 in the legendary Tecate SCORE Baja 1000. "Our Rockstar/MasterCraft race team and our Jimco race truck are totally in synch and it's a beautiful thing to be part of it all," reflected MacCachren, who is nearing his 200th career win in either desert or short-course/stadium racing. "We've only had one major problem so far in the SCORE series this year and that was midway through the season-opener in Laughlin where I put the wheel into a berm which broke off the stem and caused a tire to go flat. Our BFG Tires are the best in the universe and it has been my honor and my confidence-builder to know that any race vehicle I am driving has the best desert racing tires in the world guiding us around the course, whether it is in the open desert or in short-course, stadium-style racing. I know it's not over 'til it's over and the upcoming SCORE Baja 500 will be another huge challenge. Defending series champion Bryce Menzies will be back with us in Ensenada and with all of the other great desert racers who will be in the field we will have another SCORE race for the ages." Mexico's Juan C. Lopez, who finished second in both Laughlin races and sixth in San Felipe in the No. 18 RPM OffRoad Chevy Silverado is second in SCORE Overall and SCORE Trophy Truck points. RPM leads the point standings in six classes after the first three races of the five-race 2012 SCORE Desert Series. Lopez, of Tecate, Mexico, has 168 heading into the upcoming 44th Annual Tecate SCORE Baja 500, to be held in Ensenada, Mexico, June 1-3. The drawing of starting positions, by class, will be held Saturday, April 21 at the SCORE headquarters in Los Angeles. SCORE points are based on starting, finishing, placement and number of official starters within each class. With consistent Laughlin finishes of fourth and third along with a seventh in San Felipe, Steve Strobel, Clarks, Neb., has moved up to third in SCORE Overall points and remains third in SCORE Trophy Truck with 156 points in the No. 94 Strobel Motorsports Ford F-150. Continuing to move out from the shadow of his father and his uncle's experienced tracks, Southern California desert racer Cody Parkhouse is fourth in SCORE overall points and continues to lead the unlimited Class 1. With the season's last three races all to be run in Biija, Mexico, Cody Parkhouse, 24 of Long Beach, Calif., opened the season in Laughlin in mid-January by finishing second in the first round and winning the second round followed by an 11th in his class in San Felipe in a Chevy-powered Jimco open-wheeled desert race car."A second-generation desert racer and the youngest l • ' I (II/ I I I • f I I It of the three Parkhouse racers, Cody Parkhouse has 155 season points to midway through the 39th season of Sal Fish's SCORE Desert Series, the world's foremost desert racing series. Cody Parkhouse's father and uncle are in the top five in their respective class point standings with Cody's father Brian racing in Class 1 (fifth in class) as well as his son and his uncle Brent racing in SCORE Lites (third). With two straight race wins after a second in the season-opening round in Class 1/2-1600, Cody Robinson, El Centro, Calif., is fifth in SCORE overall and is leading his class with 151 points in a Romo-VW. The most extensive and impressive team performance in Laughlin was recorded by RPM Off-Road of Bristol, Tenn. While Justin Matney, one of the team's primary drivers continues to rehab a bad back with plans to return for the next race, team regular driver Clyde Stacy along with several other drivers, recorded 11 class wins among the nine vehicles RPM had entered in two Laughlin races. In San Felipe, RPM OffRoad recorded two more class wins and seven of their eight entries were official finishers in the rugged race. While Lopez is second in SCORE Trophy Truck, the RPM OffRoad point leaders in an unprecedented six SCORE classes are Stacy, Bristol, Va., who leads both Class 5-1600 (1600cc VW Baja Bug) and Class 2 (PSD-Chevy), Eduardo Laguna, Mexicali, Mexico (Class 6, Chevy Colorado), Rodolfo Iribe, Tijuana, Mexico (Class 8, Chevy Silverado), Derek Fletcher, Abingdon, Va. (Class 4, PSD-Chevy) and Jim Bunn, Bristol, Va. (Sportsman Buggy, Geiser-Chevy). Laguna and lribe each have won their respective classes in all three SCORE races this season. Besides RPM's Laguna and Iribe the other racers who won their respective classes in all three races so far in 2012 to lead their respective class point standings are Donald Moss, Sacramento Calif. (Class 3, Ford Bronco) and Kevin Carr, San Diego (Class 5, unlimited VW Baja Bug). Besides MacCachren, Cody Parkhouse, Robinson, Stacy (Class 2), Fletcher and Bunn, Andy Bell, Long Beach California (Stock Mini, Toyota Tacoma), Elias Hanna; Ensenada, Mexico (Class 7SX, Ford Ranger), West Bevly Ill, Corpus Christy, Texas (Stock Full, Ford F-150) and Billy Wilson, Corpus Christi, Texas (Class 7-2, BajaLite-Chevy) have all won their respective classes in two of three races this year to lead the points in their divisions. Besides Cody Parkhouse (Class 1) and Stacy (Class 5-1600), the other racers who lead the points in their respective class after winning one of the first three races are Matt Cullen, Long Beach, Calif. (Class 10, AlumiCraft-Honda) and Otoneil Huerta, San Luis, Ariz. (SCORE Lites, Curry-VW). Besides Bunn, the other top Sportsman class point leader, who also won both Laughlin races, is Nick Tonelli, Huntington Beach, Calif. (SPT Truck, Ford Ranger). With motorcycles and ATVs racing in the three SCORE Baja races, the overall motorcycle and Class 22 (open class) point leader following his first SCORE race win is the team led by Kurt Caselli, Murrieta, Calif. who rode a factory KTM 450SX-F to victory in San Felipe while splitting the riding time with Mexico's Ivan Ramirez. Leading Class 30 (riders of 30 years old) is the team led by Mike Johnson, El Paso, Texas on a Honda CRF450X. Johnson has won three straight Class 30 SCORE season point titles. Returning to SCORE after a several year absence, 2005 SCOVE Overall ATV and Class 25 champion Josh Frederick, Moapa, Nev., led a team to victory in San Felipe on a Can-Am DS-450 to assume the early lead in the same two categories. Among the other pro motorcycle class point leaders following the first of three SCORE Baja races are the teams led by Francisco Septien, Ensenada, Mexico (Class 21, Honda CRF450X) and Jeff Kaplan, Thousand Oaks, Calif. (Class 40, Honda CRF450X). The top Sportsman 2-wheel point leader is the team led by Adam McCamish, Upland, Calif. (SPT M/C>450cc, Honda CRF450X). In addition to season class point championships, the racers are also competing for part of the nearly $400,000 in cash purse and contingency postings each race. Drivers in the Pro car and truck classes are also attempting to earn prestigious SCORE Toyota Milestone Awards given to all car and truck class drivers who complete every required mile of the five-race season. Being presented by Toyota Motorsports for the 27th consecutive year, a total of~, 30 drivers are still in the hunt for the awards for the 2012 SCORE Desert Series after the first two rounds in the five-race series. Racers are also competing for the annual SCORE Off-Roadsman of the Year awards, including the MasterCraft Safety SCORE Rookie of the Year award. All categories, except Engine Builder and Original Buggy Chassis Manufacturer, will be determined by public on-line voting while Engine and Buggy awards are determined by season points. Tecate Beer is the title sponsor of the three SCORE Baja races. MasterCraft Safety is co-title sponsor of the 26th MasterCraft Safety Tecate SCORE San Felipe 250. Official Sponsors of the SCORE Desert Series are: BFGoodrich Tires, Official Tire-Volkswagen of America, Official Vehicle-Sunoco Race Fuels, Official Race Fuel-Slime, Official Tire Sealant-Symons Ambulance Company, Official Ambulance-Bilstein, Official Shock Absorber-Instant Mexico Auto Insurance, Official Mexican Auto Insurance. Official Sponsors of the SCORE Baja 1000 are: Coca-Cola, Official Soft Drink-Volaris Airlines, Official Airline-Lightforce Performance Lighting, Official Driving Light. Additional SCORE Spon_sors are: Proturismo Ensenada, Baja California Secretary of Tourism, COTUCO MexicalVSan Felipe, Las Vegas Events, Blue C Advertising, SignPros, PCI Race Radios, McKenzie's Performance Products and Advanced Color Graphics. For more information, contact SCORE at its Los Angeles headquarters 818.225.8402 or visit the official website of the 2012 SCORE Desert Series at www.score-international.com. 2012 SCORE Desert Series Point Leaders - (After 26th MasterCraft Safety Tecate SCORE San Felipe 250-March 9-11-San Felipe, Mexico; Remaining races: 44th Tecate SCORE Baja 500-June 1-3, Ensenada, Mexico; 45th Tecate SCORE Baja 1000-Nov. 14-17, Ensenada to La Paz, Mexico) Top 25 Overall Cars and Trucks: 1. Rob MacCachren, Las Vegas, Ford F-150 (SCORE Trophy Truck), 177 - 2. Juan C. Lopez, Tecate, Mexico, Chevy Silverado (SCORE Trophy Truck), 168 - 3. Steve Strobel, Clarks, Neb, Ford F-150 (SCORE Trophy Truck), 156 - 4. Cody Parkhouse, Long Beach, Calif., Jimco-Chevy (Class 1), 155 - 5. Cody Robinson, El Centro, Calif., Romo-VW (Class 1/2-1600), 151- 6. Eduardo Laguna, Mexicali, Mexico, Chevy Colorado (Class 6), 149 -7. Donald Moss, Sacramento, Calif., Ford Bronco (Class 3), 145 • 8. Kevin Carr, San Diego, VW Baja Bug (Class 5), 145 • 8. Rodolfo Iribe, San Ysidro, Calif., Chevy Silverado (Class 8), 145 - 8. B.J. Baldwin, Las Vegas, Chevy Silverado (SCORE Trophy Truck), 145 -11. Darnen Jefferies, Apple Valley, Calif., Jefferies-Chevy (Class 1), 142 - 12. Derek Fletcher, Abingdon, Va., PSD-Chevy (Class 4), 139 - 12. Billy Wilson, Corpus Christi, Texas, BajaLite-Chevy (Class 7-2), 139 -12. Wes Bevly Ill, Corpus Christi, Texas, Ford F-150 (Stock Full), 139 - 15. Robert Archibald, El Cajon, Calif., Mirage-VW (Class 1-2-1600), 137 -16. Tim Herbst, Las Vegas, Ford F-150 (SCORE Trophy Truck), 136-17. Otoneil Huerta, San Luis, Ariz., Curry-VW (SCORE Lites), 135 -18. Scott Whipple, Norco, Calif., Chevy Silverado (SCORE Trophy Truck), 134 -19. Clyde Stacy, Bristol, Va., VW Baja Bug (Class 5-1600), 133 - 19. Mike Shaffer, Oakland, Calif., Custom-Chevy (Class 4), 133 -21. Matt Cullen, Long Beach, Calif., AlumiCraft-Honda (Class 10), 132 - 22. Reid Rutherford, Montrose, Colo., Mason-Chevy (Class 7-2), 129 - 23. Peter Hajas, Wayzatar Minn., Kreger-Chevy (Class 10), 127 - 23. Ryan Arciero, Foothill Ranch, Calif., Ford F-150 (SCORE Trophy Truck), 127 • 25. Ronny Wilson, Long Beach, Calif., Jimco-Chevy (Class 1), 126 - reger, 47; 4. Mirage, 37; 5. Curry, 35. Page 42 Aprll 2012 Dusty Times
Page 43
Good stuff Directory M BE"f'tEar by OE"s.lQn Volkswagen Speed Shop, Specializing In Off-Road Buggies and Custom Fabrication. PATRICK DRAPER il!941 !Ii. FOX !IT. ENGLEWOOO,CO 80110 i!3DELUXE.CD~ Air Cleaners for Off-Road Racing. From Baja to Dakar. For a list of dealers visit our website at: www.advancedaircleanersystems.com JOHNCOOtEY 6/9.596.9B4I FAX 6/9.596.2742 COOLEY@ALUMICRAFTJNFO WWWAWMICRAFT.INFO IOBl5 WHEATIANDS AVE STE I - SANTEE. CA 9iKJ7I Professional Large & Small Race Support Services ARIS HELICOPTERS 800-933-2141 OH-Road Fiberglass • Ott-Road Truck Fabrication Urethane Bushings & Hood Pins • Suspension & Roll Cages Ford Truck Specialist • www.autofab.com 10996 N. Woodside Ave. Santee, CA 92071 (619) 562-1740 FAX (619) 562-6151 For The Price Of A Phone Call And A Few Bucks A Month Your Ad could Be Here 818·882·0004 Phone: (714) 279-094 ~ thebajashop@earthlink.net www.BAJASHOPMOTORSPORTS.com CACTUS RACING Raceair Helmets & Accessories Bell, Shoei, Simpson Blower systems & cool boxes 619-482-6700 708 Rocking Horse Dr., Chula Vista, CA 91414 Authorized Mendeo/a Dealer Mendeola -VW -Albins Magnafluxlnspection Doug Ingles (951) 699.a898 Doug@califomiaperformance.com California Perfonnance 45950 Vista Del Mar Temecula, Ca 92590 www.califomlaperformance.com CALIFORNIA PRE-FUN 39067 ORCHARD ST. CHERRY VALLEY CA. 92223 PH#/ (951} 845-8820 products in stock Boatec Fiberglass Dimple Dies Tubing Benders Bypass Valves + tubes Sway-bar Arms Race Proven Fabrication Pre-runners Desert Trucks Short Course trucks Paris-Dakar trucks l:aUALITV a■ADLOCK WH■■La alNC■ 18811 1511--1611--1711 ALL ALUMINUM BEADLOCK WHEELS AND CONVERSIONS CHAMPION \NHEEL CO. INC. '181537 COLLIER(915"1) 47"1-2"183 LAKE ELSINORE, CA 92153'1 \NVVVY.CHAMPION'WHl!l!!L.COM www .coastpowdercoatlng.com 227 caue Pintoresco San Oemente, CA 92672 FLOATER REAR ENDS • FRONT HUBS • AXLES BALL JOINTS •TORSION BARS • KNOCK OFF HUBS (805) 239-2663 Sandy Cone 2055 Hanging Tree Lane• Templeton, CA, 93465
Page 44
a,..:...&.,..,.....,,._=-...-..::.,,a..:L.11-...=..■ Speolollsi■•I&... 1543 W. 16th Street Long Beach, California 90813 www.amberracingservices.com bbusby@amberracingservices.com Iba PiliivMIIRB 1558 No. Case• Orange, CA 92867 (714) 637·2889 • Fax (714) 637-7352 ........ ............ .__._. .... BRIAN BUSBY CELL (949) 870-5773 (562) 432-3946 FAX (562) 432-7969 We Use And Recommend . R \ (,'I;\(; E \ Cl:\ES \~I) (ht·:RO \I) P.\RTS Sl'ml or Gill for 11111' Ill'\\ rntalo~ $5.flll , ~O~P.:HM~-ro)'l:Jrspor,s "':,ff 9299 W. Olive Ste. 610 Offroad • Race Sand Car Parts Peoria AZ 85345 Phone (623) 433-8643 Fax (623) 243-6368 e-mail: info @foddrillmotorsports.com web: www.foddrillmotorsports.com ~ -· .· ;. ' ., 10943 WHEATLAN OS AVE SUITE B SANTEE. CA 92071 USA 800 FOX SHOX 619.768 1800 • 619 S96 3740 ' FOXRACINGSHOX.COM HONDA M~B:tJ· (81'8) 166-6134 (800) 800-6134 FAX (818}'786-9397 $ .SUZUKI .. .,.. ~ Al'\/'S BILL ROBERTSON & SONS; INC. 5626 TUJUNGA AVE. NORTH HOLLYWOPO, CA. 91601 EO. D/Jx 2496 AJ!plc Vu//.,·. C,a. 92307 Jefferies Racing D:unen Jetfo·ne, (7(',0l240-86i 5 Phone (909)63 3-5300 Cell lio0J240-8938 fax. .JEFFEAI I'' f1tf'lr<'r'<••f'• •,t, 1i111!1.'l1 ,, llJl U• ,, I(•' ~ll,1t1 Mike Julson MZ6 Wheatlanda Court Santae, CA 92011 819-598-3380 www.Jlmcorace.com 61M96-3384fax JG TRANSWfRKS 'Go with a Proven Winner" I I I I I I I I I I I I I I I I I I I I I I I I I Quality Racing Ttanaxlu Mendeola Dealer · Olf Road -Sand Specialist (714)632·12«> JOI! GIFFIN Fix <714)632-1223 )061 E. 1.:1 Jolla St. •I Ecnlil: jpans4'pacbell.net Anaheim. California 92806 -wJO'Dlnswerts.com JON KINNE 520 Railroad St., Corona, CA 92882 Tel. 951-278-2233• Fax: 95 l-278-8335•www.jonnylightning.net C 8 C ::::; N A C iii :\: • Custom Alternators • Complete Wiring • Custom Fab • Exhaust & Muffler • Prep & Finish Work HONDlt. Power . . . OIIT90.ulD ENGINE • GEMRATOfl Sl'ECIAUS'I Kawaguchi Honda Corp. www..KawaguebihondJt..com ART KAWAGUCHI 3532 EAST 3110 ST. fax 3~3-284-2138 LOSANGl!L!I, C4toOU :an 11141 WI KINS:_ OFF -ROf'i D . Rf'iCING Sf-lOCKS
Page 45
POWER E STEERING THOMAS E. LEE LEE MFG. CO. 11661 PENOLETON&TREET SUN 'N.UEY, CA 11311i2 (818) 7e&-037't A full line of POW9f Slelring~ pumpa and ~ !of •ll>' type of racing. Magr111ftu.x and Zyglo f-.illtift available. •CIIStQm Chanis *RlctPrep 'A.klmlnum Wortc "Welding Engineering 'ltagnaflux FABRICATION/RACE PREPARATION 1320 ARROW HWY LA VERNE, CA 91750 (909) 596-4076 (909) 596,5497 FAX KENT LOTHRINGER www.McKenzies.com OFFROAD IS OUR BUSINESS TRANSAXLES r,1tJTOR</ #E/flf)EtJL,1 R,4tJE RElMIIL[}S' tJERTIF/Ef} ,4tJ/[JtJ ,#,14'/fl,1rLt:IX@ tJERTlrlE[} S'lltJT PEE/fll/f/4' 1695 CACTUS RD. T. (619) 710-8800 SAN DIEGO, CA 92154 F. (619) 710-1640 619-562-5533 Ml Phone (330)928-9092 ..... (800)222-9092 www.mickeythompsontires.com Get The word out About Your Business, ' Put Your Busi ess card· Ad In The Good stuff Directory Function/Strength/Safety/Pride • Sand Cars Mode ,,,, Holtd ill tlte USA • Tn.icks •~Cus • Prerunners • Rally Cars • Custo,n JOHN MOSELEY Ownu/Fobf'tCCltOf' - .mosd>ilt.c:om 236 Joson Court Corona. CA 92879 951-272-3026 Fax 951-272-0776 Mr.3 ,,, Jr.,,. •4,.a:,, 1••1,•1, • YOUR COMPLETE tONITION SOURCE AUTCITAONIC CONTROLS CORPORATtON 14<"1(.J l➔FNnv U~ENNAN DH. r1 nAHU. TX 7f193C {915l 8f,1-S.'>nll • r~r.>OU,O: !!ll~l 85~ /123 • VISITOUl>WEIISl!f www msd'!l" "'""'"' JOE HENGEVELD 11-«K~ki~H.ONDA.MKnCUf • POLARIS. 1400 E. BL,ll[R A\ L FLAGSTAFF, '\I. 86001 PH: (928) 526-7959 rA\: (928) 526-8613 $SUZUKI lllM OYAWIA&Bll-am www.northlandmotorsports.com We aui Belldlock.,,. _ _ . ~-... ---, YOUR RI-MSII '-...._~ \ Sizes lo fit IIM>Sl A ~~-~v• l AUTOMOTIVE applicationt ~Sl.360.5906 951.360.0436 fax aoo.100.mo POLISHED & COLORED FINISHES SCALLOPED OR CONVENTIONAL Reinforcing Rings Also Available Phone - (951) 354-8272 WWW .OMfPERf QRMANCE. com fOJ'HJ' /1111/IU IJ'J' JUJ'L,_. 38}4 Wacker Orivf Mira loma. {A 91151 www.parktrpumper.(om Castom Axles = Torsion Bars = Sway Bars E, firms = Splining = GVGr catting = Castom Machining= rformanc Phone: (909) 923-3011 Fax: (909) 923-3111 Z 115 S. ttellman five. #D Ontario. Ca. 9176-1 1660 Babcock, Building B Costa Mesa. CA 92627 TEL (949) 65(}3035 FAX(949)650-4721 www.penhallfab.com penhallfab@aol.com Jerry Penha!:
Page 46
Snell SA2010 Pro Airflow Helmets • Light l\·eighr construction • Top and Side Forctd Air mod•ls • Carbon/Kevlar Tri•Weau or IOOo/. Carbon • Interior is removiblt ror cltaning or replacing SFI Appro,•ed • DrMng Suits I & l Layer • Sho<> • Cloves • Kk Braces • s .. 11>eus fiii/ SANDERS SERVICE, INC. L~ METAL PROCESSING 5921 WUminpon Ave., Lo Allll('lcs, CA 90001 (323) 583-2404 FAX l32l) 583-.1965 • ANOBLA::\'r-<il .AS BEAD·MAGNr.JIC: PARTICl F. f1.0tJRf 'FNT · PEC'I 10 MARKSMITH ~, SUSPENSION INNOVATION MOTORSPORTS INC. Tel:562.903.1625 LARRY 11Tff Tom McKenzie Call or em · · er at (800) 669-2355 or supponfa)pvrotcct.com Fax: 562.777.2593 www.pyrotcctcom Hi•Pedormance Equipm8flt Susp8nSion •Safety• Dri1181ine • Accessories (619) 691-9171 (619) 691·9174 (619} 691..()803 (FAX) 103 Press Lane, Suite #4 Chula Vista, CA 91910 e-mail. rprod10aol.com Craig St.wart Phone:: 619-449'-97221 Fmu 61'1-"4Q. 71,711 Celk 619-726-8891 Fabrication & Race Preparation 94111 Abraham WQAJ Sant..., CA 920n ~•.•.t.,•N.!t-e'.'-~J..--a,,;~.\.":".t°tM.~~~ tl"<lig{ilrt-tbraceworits.com Sales & service PH: 114.680.6731 • fX: l 4.680.3110 Toll Free: 800.304.8726 101 S E. Elm Avenue, Fullerton, CA 9 2 8 3 1 will get vou in gear MHUe•rts#i LU i.11s. 111tn• 1111l s11u11nz11111: -sw111a1t -111112 .. 1-IH ........ ...... ,. •A*iH 1, .. u.1111111 171!1 ttMHI TIM CECIL 849 Lambert • Brea, CA 92821 (114) 447-3581 Fax (114) 672-9246 Lonely Advertising space Looking For Long Term Relationship Call (818> 882·DDD4 2180 College Drive • Lake Havasu City • AL 86403 Call Toll Free: 877-627-8852 or E-Mail: infoOtcsperformance.com • Hi Performance Converters Custom Length Axle.s • • Automatic T1'11nS Axles TCS Designed Hllbs • (for Race• Recreation) Input Shafts • American Made Excellence!! ¥°NO:. Off-Road and Bolt-On to Street Fiberglass for: ·'Ford, Chevy and Toyota" Trucks Carbon Fiber Parts and Custom Molds 1261 N. Buena \lishl St . . He et Ca. 92543 Ph: 951-654-7334 tax: 951-654-2375 See a list of our pn,duds.Jit our w Hite: http:/ /lnnW.off-roadfibergJa.~.oom JEFFl=lELO (818) 998-2739 9763 Varlel Ave. Chatsworth, CA 91311 NS Wl!ST PERFORMANCE TRANSAXLES Kevin Pirtle 22545 South Normandie Ave. Torrance, California 90501 (619) 598·8033 1000 W . Bra dley. Un, Q El Cajon, C A 92020 310.782.2413 fax 310.782.3772 Carlos Oro~co Adam Wik SCORE ENGINE BUILDER OF THE YE.AR 994, 1998.1999,2000 From Parts To C<>mpltte Englnn 3265 W. Birtcher Drive, Las Vegas, NV 89118 702-837-2522 SPECIALIZED WIRING, COMMUNICATIDNS1 AND R£PAIRS FDR: Race Cars - T1rophy Trucks-Pre-runners Chase Vehicles -Dual Span cars (76□) B□3·69SS MARC: WADDELL, PRESIDENT W I REFAB@aecGLOSAL, NET , . MENDEDlA DISTRIBUTOR Performance Trans Off Road Street Trans Lorenzo Rodriguez Parts -Service -Transmissions - V. W. -Porsche Desert. Sand & Drag 850 S. Alta Vista Avenue • Monrovia, CA 91016 (626) 305-RACE (7223) • www.wrtrans.com
Page 47
more Happenings From page 7 Route 66 Raceway (PRO only) Joliet, IL August 11-12, 2012 Round 11-12 Bark River International Raceway Bark River, MI September 1-2, 2012 Round 13-14 Crandon International Raceway Crandon, Wl CUP RACE Schedule September 2, 2012 AMSOILCup Crandon International Raceway Crandon, Wl September 2, 2012 Traxxas PRO-Light CUP Crandon International Raceway Crandon, Wl ToYs FoR ToTS (619) 252-1197 /(619) 252-3093 U NADILLA VALLEY SPORTS CENTER P.O. Box 5119 EDMESTON, NY 13335 (606) 965-8784/ FAX: (606) 905-8784 <www.unadillamx.com> VORRA VALLEY OFF RoAD RAcING ASSOCIATION 1970 EAST 2ND STREET RENO, NV 89502 775-287-0615 <www.vorra.net> May 26-28, 2012 USA 500 Desert Race Reno/Sparks, NV July 14-15, 2012 250 Mile Night Race Fallon, NV September 1-3, 2012 Yerington 300 Desert Race Yerington, NV October 6-7, 2012 Short Course Prairie City OHV Park, Folsom, CA October 27-28, 2012 Short Course Prairie City OHV Park, Folsom, CA VICENTE GUERRERO OFFRoADCLtJB PROFO. CENOVIO GAMBOA 011-52-616-6-21-91 (2-6 p.m.) WESTERN OFF ROAD RACING ASSOCIATION LARRY HENDERSON (604) 538-0692 WORRA P.O.Box 3241 SUMAS WA 98295 WESTERN P ENNSYLVANIA WHEEL T o WHEEL OFF RoAD RAcING PATRICK McGUIRE P.O. Box 376 ADAMSBURG, PA (412) 527-6556 WHIPLASH MOTORSPORTS 2939 E; Grovers Ave. PHOENIX, AZ 85032 (602) 971-3730 <www.whiplashracing.com> WILD WEST OFF ROAD RACE SERIES 406-321-4644/406-670-4647/ 406-698-9536 May 26-28,2012 Big Sky 250 Broadview, MT July 28-29, 2012 High Desert 100 Powell, WY September 22-23, 2012 Wil West 100 Columbus, MT WISCONSIN MoTORSPORTS SHOW (414) 747-1711 WISCONSIN OFF ROAD FESTIVAL TERRY OR BEV FRIDAY 5913 so. U.S. HWY 45 OSHKOSH, WL 54901 (414) 688-5509 WORLD S ERIES OF OFF ROAD RACING FIA WORLD RALLY CHAMPIONSHIP P.O. Box 99 CRANDON, WISCONSIN 54520 303-880-7221 <WWW.WRC.COM> XTREME INTERNATIONAL 1863 COMMANDER DRIVE LAKE HAVASU CITY, AZ 86403 (520) 855-RACE/ (520) 855-2208 BAJA OFFICE: 011-526-6225 ZR PROMOTIONS LUIS RENE MONTANO C. CALZADA lNDEPENDENCIA 200 -5 Col. lNSURGENTES EsTE 21280 MEXICALI, BC, MX (686) 564 6653 info@zrpromo.com Classified ... I NOTICb.. Some of the items adver-tised in these pages may not be legal for sale or use in all 50 states. Readers are ad-vised to consult appropriate local or state author ities for information before pu r-chase of any specific item. FOR SALE: C lass 8-Open, Ready for the Baja 1000, has raced Baja 1000 four times, best fi nish 2nd place 2007, Motor 351-W strocked 420 inches, dry sump 600 hp, Mike's trans. Turbo 400 ball bearing in tail shaft, King Coil over-by pass 3 inch dia. Bump Stop, MSD, Lowrance, PCI, Duel fuel tanks, duel fuel pump and filters, Lee's Steering, Auto Meter, Summer Bros 40 spline, Bead locks, to much to list, $40,000.00. Call (559) 372-4599 or emiliaburns@ yahoo.com.mx. FOR SALE: Miller Heliarc 250AMP AC/DC for TIO and Stick welding. $700.00. Green-lee electric hydraulic tube bender $500.00. Coats 310 tire changer $150.00. Call Jim 562-690-7309. Tired o, ,e 1111, vacation rentals available in the exclusive Indian Wells country Club In the sunny Palm springs area of Southern California. Two or three bedrooms. furnished for your complete relaxation, and, if you are a glutton for punishment, play go1f on either of two beautiful courses. FYI, wireless Internet and long distance phones calls (USA) Included. starting at S4,500 in season (January thru April) or $2,300 per month out of season. Call (760) 345-6124 12.b-AL b6T ATb_ U.A6b.lR..b.NTAL6 Vacation Rental Vacation Rental in the Ex-clusive Indian Wells Coun-try Club in the Sunny Palm Springs area of Southern Cal-ifornia! 2 or 3 bedroom fur-nished for your complete re-laxation and if you are a glut-ton for punishment, play golf on 1 or both of the beautiful courses. FYI, wireless internet and long distance phone calls (USA) included. Starting at $ 4,500.00 in season (Jan, Feb, Mar, Apr) or $2,300.00 per month not in season. Call (760) 345-6124. INDb..X TO ~Vb..R.. T L=>b.. R..6 Bilstein 9100 Series ................. 12 Bonneville Off Road Racing Caliente 250 ............................ 2 BTR Racing Wheels ..................... 3 Butch's Speed Shop .................. 41 CORVA ........................................ 47 Deering lndustries ....................... 3 Kar Tek Off Road ......................... 5 Lucas Oil MAV TV .................. Back Cover McKenzie's Performance Products .......... 35 NEO Synthetics ......................... 23 Racer X Motorsports ................. 22 Ronco Plastics ........................... 37 SNORE 250 Bonus ..................... 24 Spanish Style Home .................. 29 South Point Casino ..................... 9 Transaxle Engineering .............. 40 Vacation Rental ......................... 47 YORR Wild West Off Road Series ..................... 41 ••••••••••••••••••••••••••••••••••••••••••••••••••••••••••••••••••••••••••••••••••••••••••• : Sell or swap your extra parts and pieces in DUSTY TIMES. Classified Advertising rate is only $25 for 45 words each month, not including name, address and phone number. Add $5.00 for use of black and white photo, or a very sharp color print. Maximum size 5"x7".All Classified Ads must be PAID IN ADVANCE. REMEMBER - CLASSIFIED AD SPACE IS LIMITED -YOUR AD MAY BE PUT OFF ONE ISSUE IF NOT RECEIVED IN A TIMELY MANNER. Enclosed is $ _______________ (Send check or money order, no Cash) Name Address --------·----------------------------City---------- - - - ---------------------------------------------------State _______ Zip ______________ Pho ne __________________________________ _ Please run ad times Mail to: DUSTY T IMES 20761 Plummer Street Chatsworth, CA 913 l 1 BB 2012 ISSUE DEADLINE May2012-May 4, 2012 Jun 2012 Jun 8 2012 Jul 2012 Jul 6, 2012 Aug 2012 Aug 10, 2012 Sep 2012 Sep 7, 2012 Oct 2012 Oct 5, 2012 Nov 2012 Nov 9, 2012 Dec 2012 Dec 7, 2012 Jan 2013 Jan 11, 2013 •••••••••••••••••••••••••••••••••••••••••••••••••••••••••••••••••••••••••••••••••••••••••• Dusty Times April 2012 Page 47
Page 48