10 Ways to Reduce Daily Stress and be Happy
#2 Maintain Proper Nutrition
Many people aren't aware of the extent to which this is true, but a poor diet can actually make you more vulnerable to stress! Ironically, stress (and the things in your life that cause it) can make it more difficult for you to maintain a healthy diet, which can contribute to more stress! If you're too busy, you may find it more difficult to find time to cook healthy meals, and you may be more tempted to eat unhealthy 'convenience' foods, which can exacerbate stress. Being too busy can also create stress, and feeling stressed can make you crave unhealthy foods as well, contributing to a vicious cycle. While hectic schedules can make it harder to get proper nutrition, a poor diet is not inevitable! Here are some important tips for maintaining a healthy nutrition plan. Follow them, and you may be surprised by how much stress you can handle!

AT THE END OF THIS BOOK...
Dont' forget to check out the great medication and supplements MedShape Weight Loss Clinic offers to help you lose the Stress Weight. We also offer a great "Is Stress Making me Fat" quiz you can take. Lets find out just how stress is affecting your body.
#4 Create Good Social Support
Social Support can keep you healthier and happier, creating a buffer against stress. Friends can pick you up when you're sad, provide insights when you're confused, and help you have fun when you need to blow off steam. Learn how to cultivate supportive friendships and expand your social circle so you'll have someone to lean on when stressed. (Don't forget, it's important to provide a supportive ear when your friends need it, too!
Much of what you experience in life can feel more stressful or less so depending of your point of view. Looking at things from an optimistic frame of mind can not only decrease your stress level, but bring you more success in life. You can become more of an optimist by following these tips. You can even change ingrained negative thought patterns to more positive ones by using positive affirmations. Not sure if you're an optimist or pessimist?
Think of your inner thoughts. Do you dwell on tasks, find it easier to be negative, think things are impossible? Feel that you have to handle to much? If so, that is a pessimist way of thinking. Now, try to think this way... You CAN handle the taks at hand todday. You WILL fight to be positive no mater the situation, NOTHING is impossible, just a challenge.
You really will feel more recharged and focused. Natural positive reactions happen when we THINK positive.
#8 Have the Right Attitude
Powerful Tools MedShape Offers to Help Reduce Stress
On the following pages you can see what MedShape offers in the way to help you reduce your stress levels and become more healthy. Take a look!
Take our Stress Test and see if Stress is causing you NOT to Lose Weight
Then...
Do something about it. MedShape Weight Loss Clinic will help you lose your extra weight AND teach you how to have a more productive lifestyle with less stress.
MedShape's Stress me eduction Weight Loss Program was designed based on the needs to reduce stress hormones that make us grain weight. Thousands of Americans are over stressed and have no idea the effect this has upon the body and weight issues. Did you know that some hormones that are released from stress can actually build a barrier in your body and literally prevent your body from burning fat but force it to store fat instead?
Specifically designed to break down the stress hormones that cause weight gain which makes it impossible to lose weight naturally with diet and exercise. In combination with or without SLIM Now Therapy medication, this method is a true success. The MELT weight loss program helps diminish the effects of stress, allows you to sleep better, assists in shedding body fat and causes a positive lifestyle change.
MedShape Weight Loss Clinic, LLC has utilized the most aggressive approach to weight loss available. The M.E.L.T. Weight Loss Program is Medshape's signature blend of hormones, amino acids and proprietary formulation that is exclusive to the clinic. Metabolic Enhanced Lipolitic Therapy is designed to reactivate the metabolism and truly burn stored body fat, causing a safe, healthy, rapid weight loss. Above all, mass inch loss.
M.E.L.T. is "Thermogenic" which means it directly increases the rate at which the body can use fat as a source of fuel. M.E.L.T. (It helps the body burn more fat, & burn it faster). M.E.L.T. increases the the activity of enzymes which allow the body to produce energy. By increasing the activity of these enzymes, the accelerated rate of fat metabolism can be achieved without nervousness, jitter feelings, elevated blood pressure or increased heart rate.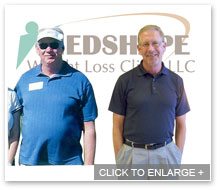 MedShape's M.E.L.T. nutritional plan is designed to create the optimal hormonal environment for maximum fat loss. This is not a "fad" or "crash" diet, nor does it involve the use of extreme caloric restriction or expensive prepackaged food. MedShape's M.E.L.T. nutritional plan is designed for both short and long term success, encouraging simple, effective nutritional habits, all while encouraging meals consisting of real foods, which can be purchased from any supermarket. MedShape's M.E.L.T. program also encourages lifestyle modifications, which address the underlying issues, which contribute to weight gain.
Read More on our Exclusive MELT Program