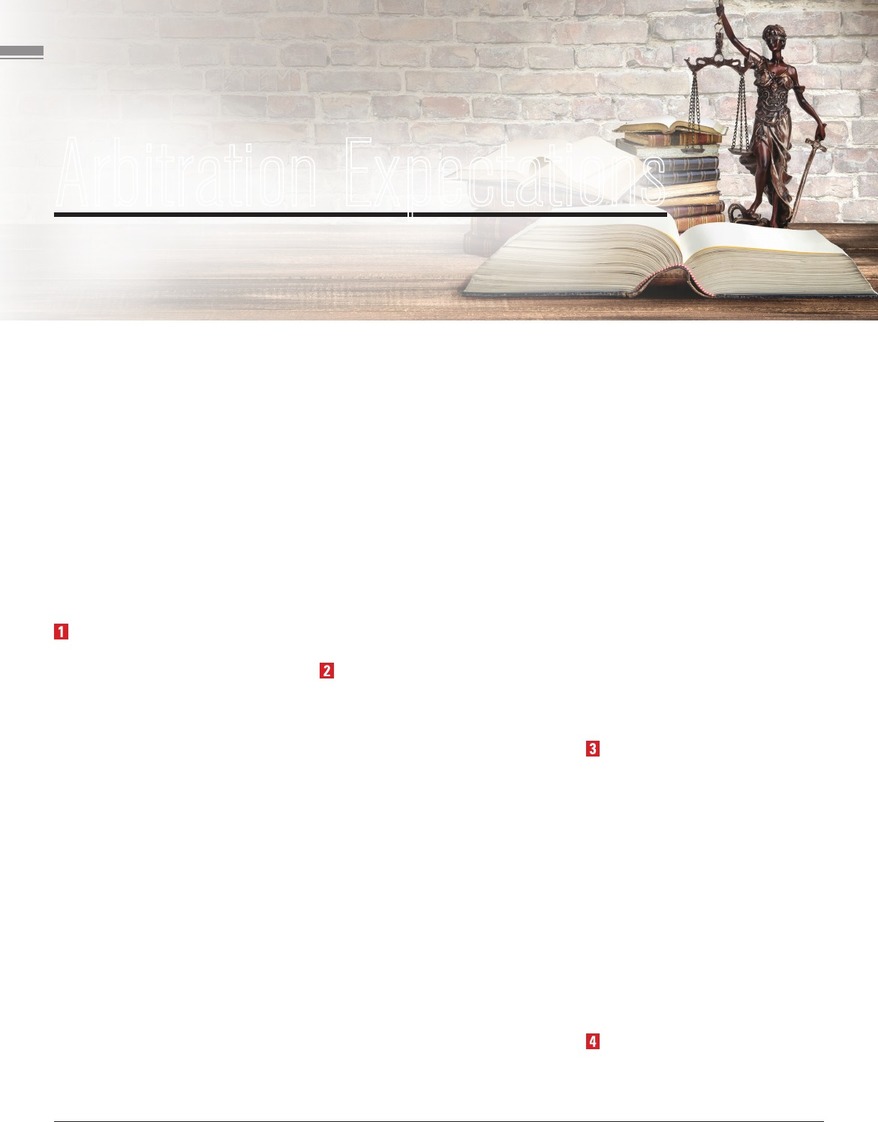 JUNE 2020
www.mcsmag.com

36
A
rbitration is one of the preferred
mechanisms of dispute resolution
in the construction industry.
Understanding how an arbitration will
unfold is useful in managing a dispute.
Most domestic construction disputes
are referred to arbitration through, and
according to the rules, of the American
Arbitration Association (AAA), but other
organizations that follow different
rules and processes do exist. For AAA
arbitrations, the following steps provide a
rough outline of a typical proceeding.
ARBITRATION DEMAND
If commercial discussions between two
parties are unable to resolve a dispute,
the next step is for one party to file an
arbitration demand. The AAA demand
form can be found online and should
usually include a brief statement of the
party's claim, a description of preference
for the arbitrator's experience (e.g.,
construction litigator with at least 10 years
of experience), and a filing fee, which will
vary based on the size of a claim.
Once a demand is served, the
responding party can answer and
submit counterclaims. Instead of filing
an answer, some respondents may
challenge whether the dispute should
be arbitrated by submitting an objection
directly to the AAA and/or filing a
parallel lawsuit. Challenges may be
based on state venue requirements or
disagreement on whether the dispute is
covered under the parties' contractual
arbitration provision.
After an answer is received and any
challenges are addressed, the AAA
administrator will typically provide the
parties a list and resumes of potential
arbitrators. The parties review this list,
rank their preferred arbitrators, and strike
any objectionable arbitrators. The AAA
administrator will appoint an arbitrator
based on the party's preferences
(Note: In disputes requiring a panel of
arbitrators, the AAA may appoint all
three, the parties may each appoint one
arbitrator with the two "wing" arbitrators
then selecting the chair, or the parties
may follow some other process).
THE SCHEDULING ORDER
After appointment, the arbitrator will
convene a scheduling conference with the
parties to discuss setting a hearing date
and key dates for discovery. The arbitrator
may utilize a form scheduling order or ask
the parties to coordinate and draft the
order. Key dates on the scheduling order
may include deadlines for submitting
more detailed statements of claims, filing
requests for production, completing
depositions, disclosing experts, and filing
dispositive motions. Arbitrators may also
use the scheduling order to outline the
scope of and limits on discovery and
requirements for pre-trial submissions
(e.g., witness statements, witness lists,
exhibit lists, exhibit exchanges, etc.).
Traditionally, construction arbitrations
have provided for more limited discovery
than might be available in a litigation
proceeding. However, increasingly,
arbitrators are permitting broader
discovery, including more expansive use
of depositions, which can be expensive.
For some smaller disputes, to limit
expenses, the AAA offers fast track rules
which substantially restrict discovery and
the scope of submissions to the arbitrator.
The deadlines in a scheduling order
may serve as useful sign posts for
settlement negotiations between parties.
For example, parties know once discovery
begins, they can expect substantial legal
fees and costs, so they may try again
to resolve a dispute at that time, and,
similarly, expert reports or completion of
expert depositions provide an opportunity
for parties to evaluate the strengths and
merits of their case and may allow for a
return to the negotiating table.
DISCOVERY
After the scheduling order is issues, parties
will complete discovery, which may include
the exchange of documents, depositions,
and expert reports. Other written discovery,
like requests for admission or requests for
interrogatories are used more sparingly
in arbitration, but they may be available
in some circumstances. Like most
judges, arbitrators expect parties to try to
resolve discovery controversies between
themselves, but arbitrators will utilize the
AAA Rules and applicable law to resolve
any discovery spats.
THE HEARING
Once discovery is complete, the parties
will prepare for the hearing. They will
Arbitration Expectations
understanding the process of resolving a dispute
BEST PRACTICES
By Aman Kahlon
legal solution