Institute of Animal Technology Bulletin G G G Named Persons' Workshop Congress 2017 Suppliers Register G G G Branch News Situations Vacant Diary Dates Vol 52 No 10 October 2016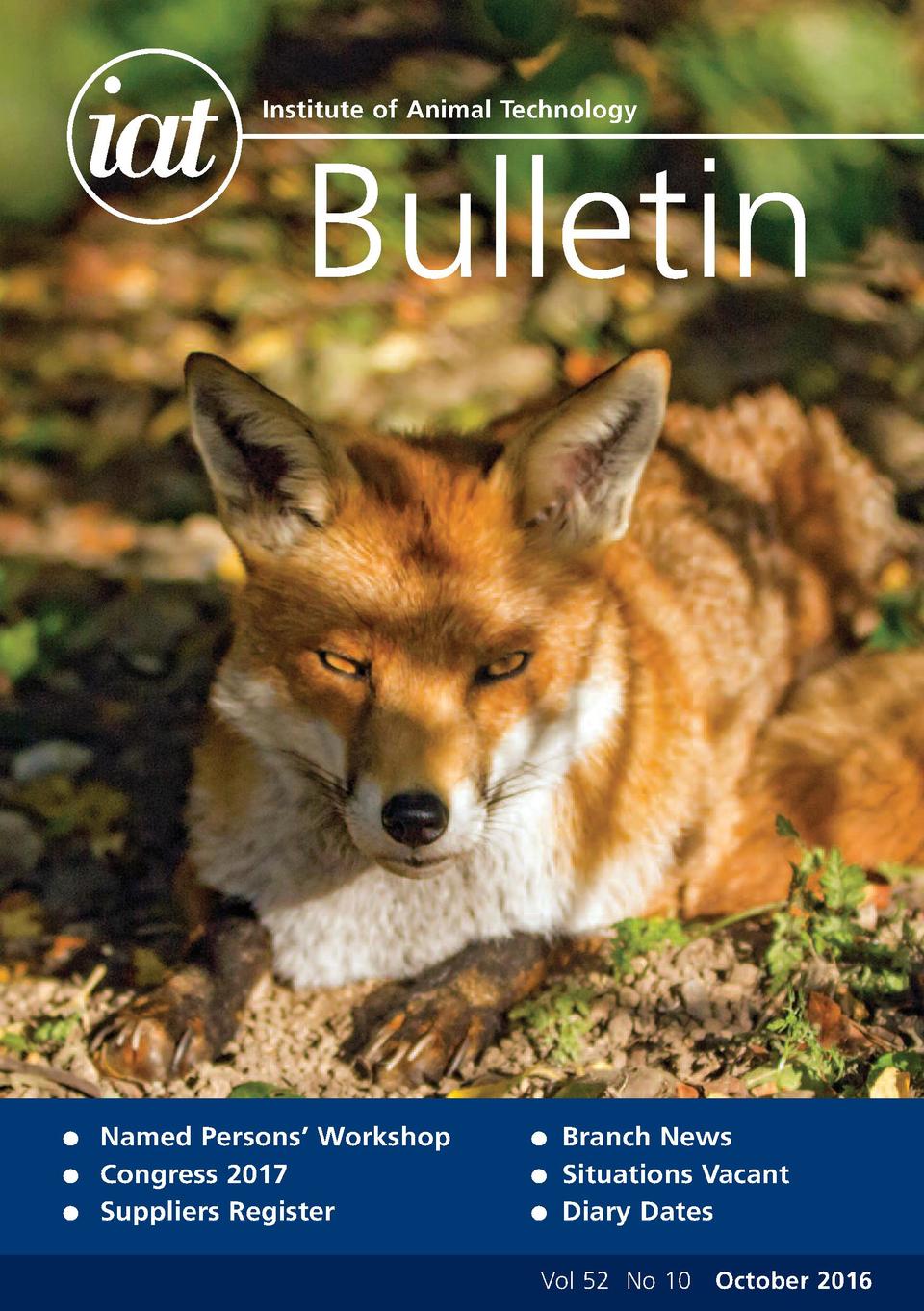 Bulletin Vol 52 No 10 October 2016 EDITOR* Sarah Lane bulletineditor@iat.org.uk ASSISTANT EDITOR* Carole Wilson bulletinassistant@iat.org.uk ADVERTISEMENT MANAGERS PRC Associates Ltd mail@prcassoc.co.uk Published monthly by the Institute of Animal Technology *Registered Office: 5 South Parade Summertown Oxford OX2 7JL ISSN 0263-2861 For enquiries other than Bulletin related contact: IAT ADMINISTRATOR* admin@iat.org.uk or 0800 085 4380 Final copy date for December Bulletin 1st November The opinions expressed in the Bulletin do not necessarily reflect those of the Editor or the Institute. CONTENTS Branch News Congress 2017 5-7 7,9,12,19 Named Persons' Workshop 10,11 RSPCA Rodent Welfare Meeting 12 UAR Membership 13 Suppliers Register i-xliv AS-ET 14-15 Branch News 17-19 Technician Training Day 20 Situations Vacant 22 Diary Dates 23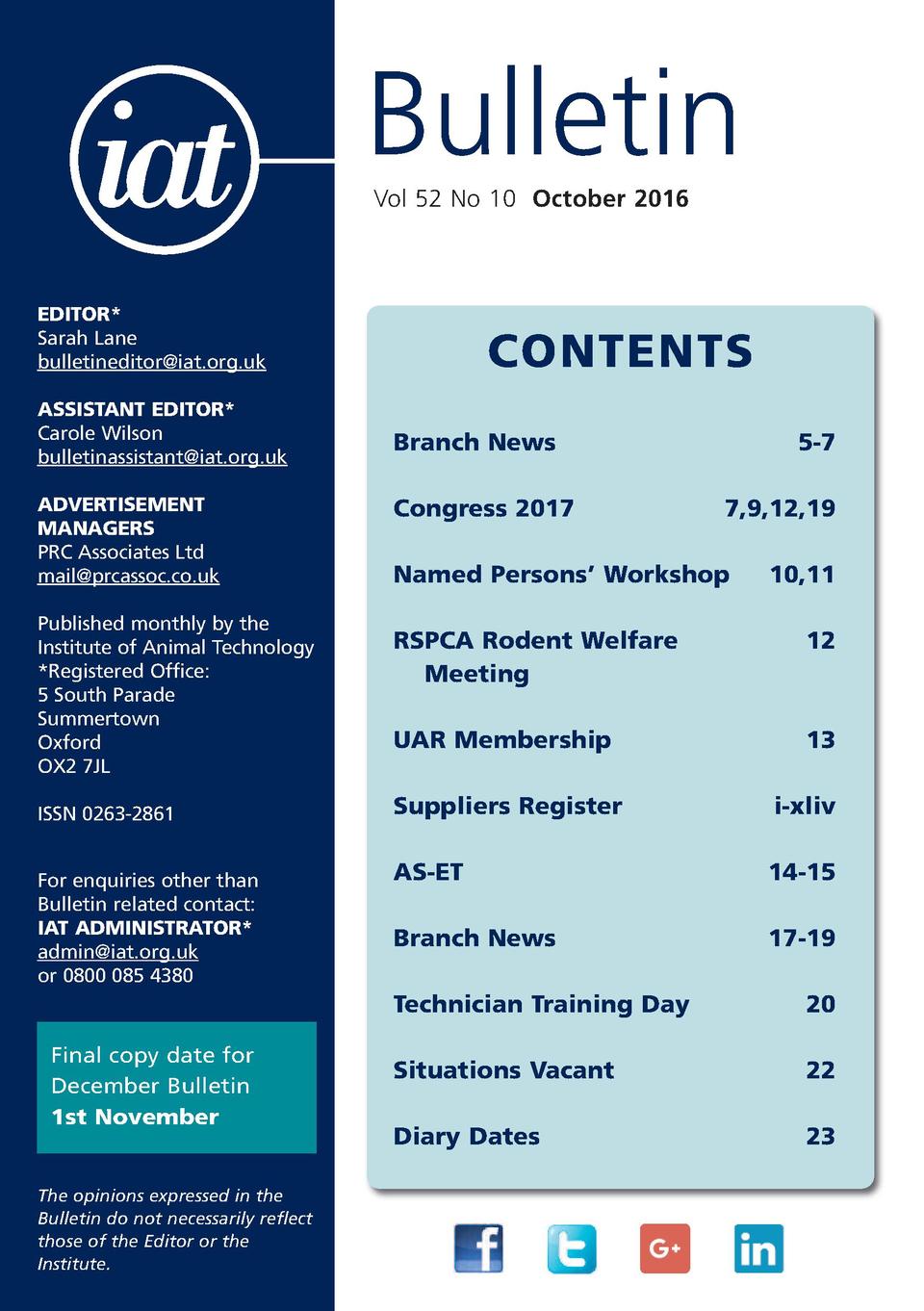 Bulletin October 2016 • 5 Cambridge Branch visit to ENVIGO Huntingdon O n a warm and sunny evening of Monday 15th August 2016, 14 members of the Cambridge Branch were welcomed to the ENVIGO Huntingdon site for a visit. Having cleared security and parked up, the group gathered in the restaurant eager to see something different to the norm. The majority of attendees work with rodents (mostly mice) only. Personal effects, including phones (no Pokémon catching!) were left secure and the group was split into three smaller groups for each to visit the available areas on rotation. Each area was covered in approximately 30 minutes which was just right for an informal and relaxed visit accompanied by expert ENVIGO staff to provide insights into what we were able to observe. Each group got to see the following areas and species: – Large Animal – This included a goat and its 'companion' sheep, some pigs ready for a diabetes study and a group of milk cows. It was interesting to see the very different housing environments these species are maintained in along with information on their care and uses in studies. A very different workplace to a rodent room. – Dogs and Mini-pigs – Background information was provided on housing, enrichment and the challenging (due to ages/sexes/social groups) exercise rota. It was great to see some young dogs excited to greet us, although a little noisy! The mini-pigs were a little calmer and relaxed but still interactive.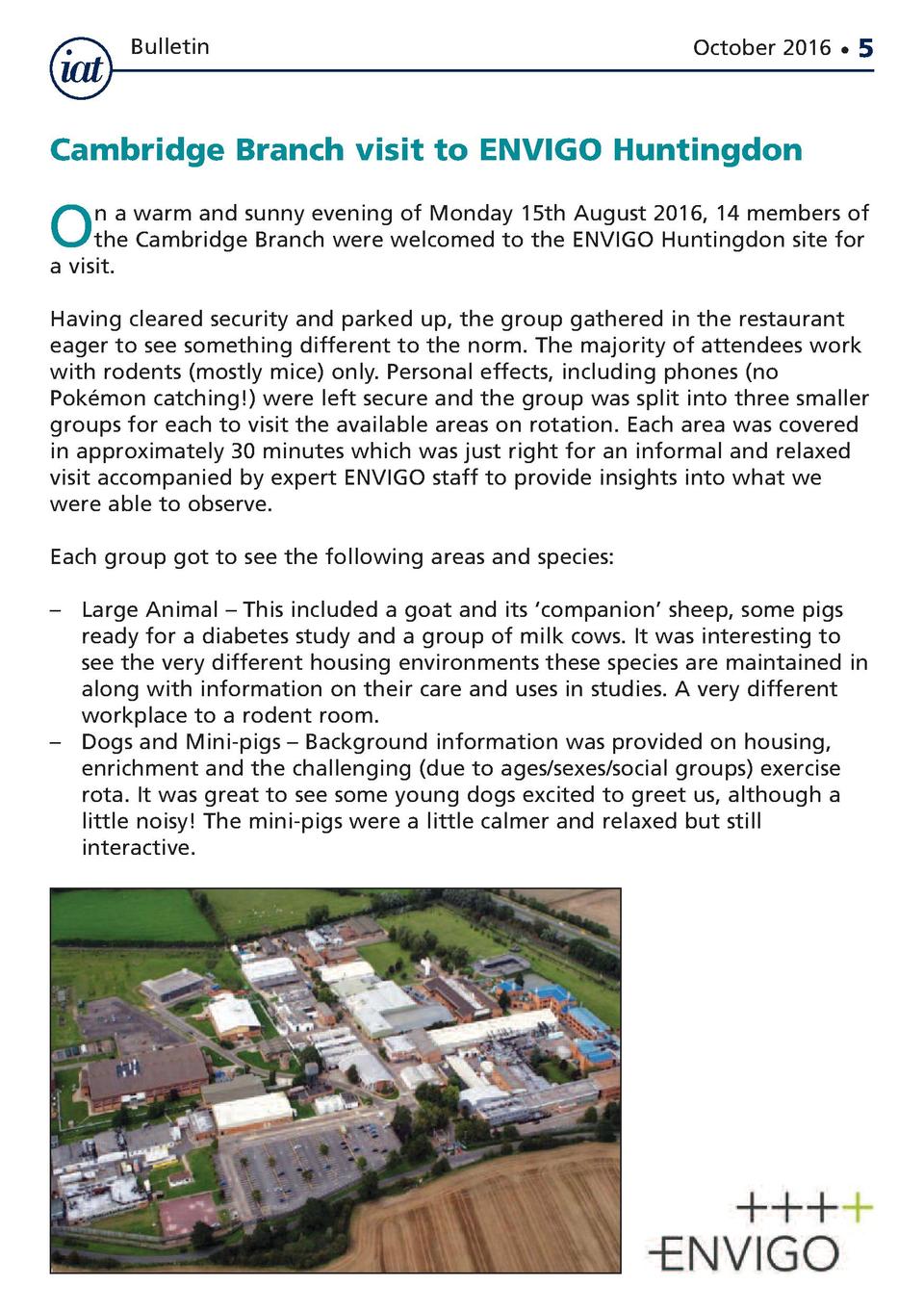 Bulletin October 2016 • 7 – Primates (Asian and Mauritian Macaques) – Information on the housing design, the care and sourcing of animals and the basic training provided to young animals was given in detail. It was noted by everyone how calm and 'natural' the primates appeared, even in the presence of strangers. They were of course interested to see us but otherwise maintained normal behaviours and activities in their cages. With the tours complete, everyone collected their belongings (feeling a sense of relief for having a phone back! How did we live without them?) and regrouped in the restaurant for a tasty buffet. Many thanks to ENVIGO and the team that looked after us. We all felt very welcome, were provided some very interesting information and had an enjoyable evening. We look forward to seeing you again soon! Samuel Jameson Branch Reporter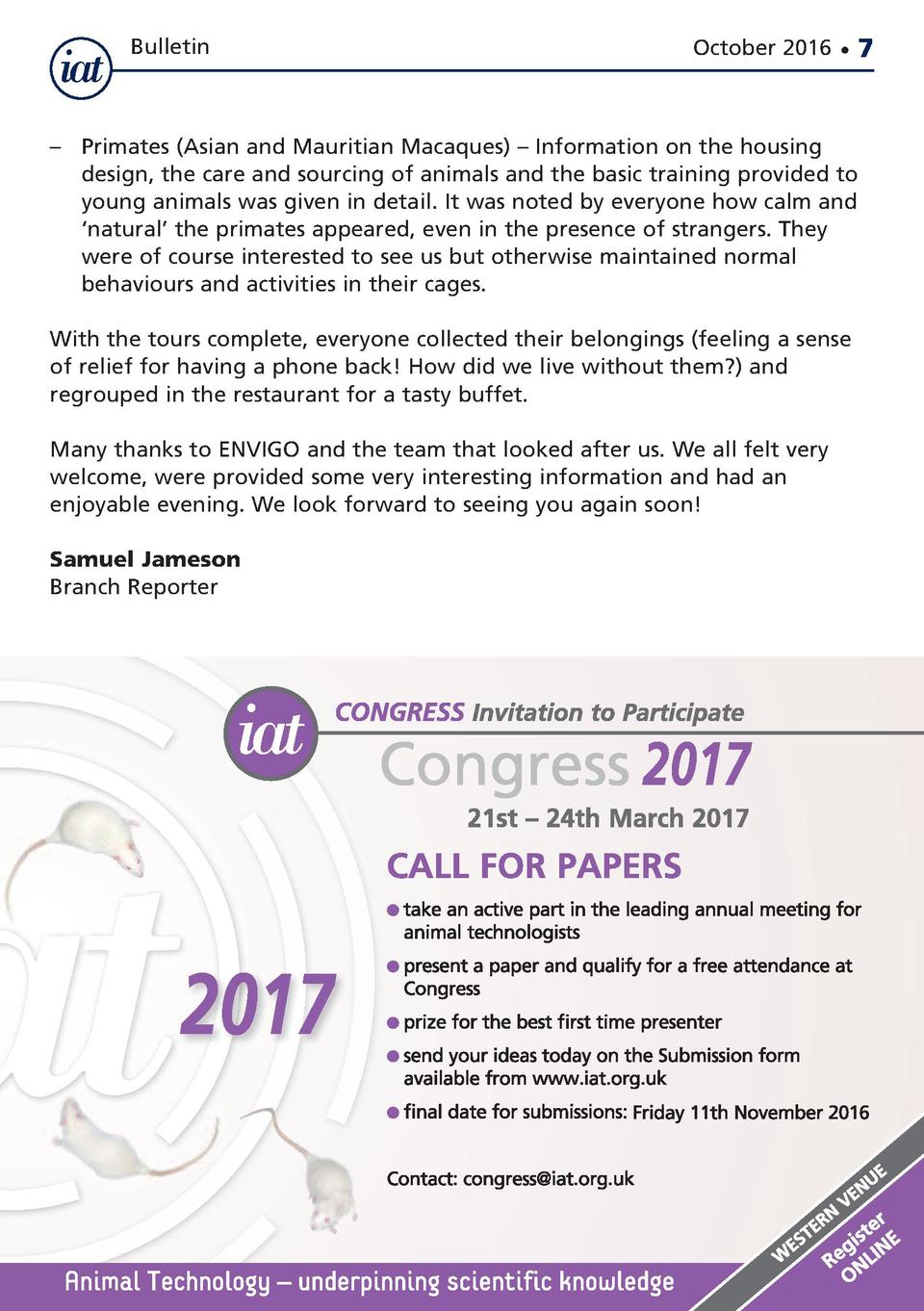 SUBMISSION DEADLINES FOR PAPER AND WORKSHOP PROPOSALS ARE RAPIDLY APPROACHING Cut-off date is 11th November By contributing to the Scientific Programme you will be sharing your expertise and enthusiasm with a very receptive audience Download the Submission Forms now Paper: http://www.iatform.org.uk/view.php?id=1972 Workshop: http://www.iatform.org.uk/view.php?id=10664 Paper and main Workshop Presenters receive a FREE Congress (Subject to confirmation by the Congress Committee) If you do not have a hard copy of the 'Invitation Booklet' download it at http://www.iat.org.uk/#!congressc16th Don't miss this opportunity to inspire others! Delegate registrations are open and if you are an IAT Member under 25 APPLY NOW to receive an additional £100 off the advanced booking discount saving you £200 on the full delegate package Early bird discounts final registrations – Sunday 18th December To discuss any aspect of Congress with the Congress Committee or if you have any questions, email – congress@iat.org.uk Check for updates www.iat.org.uk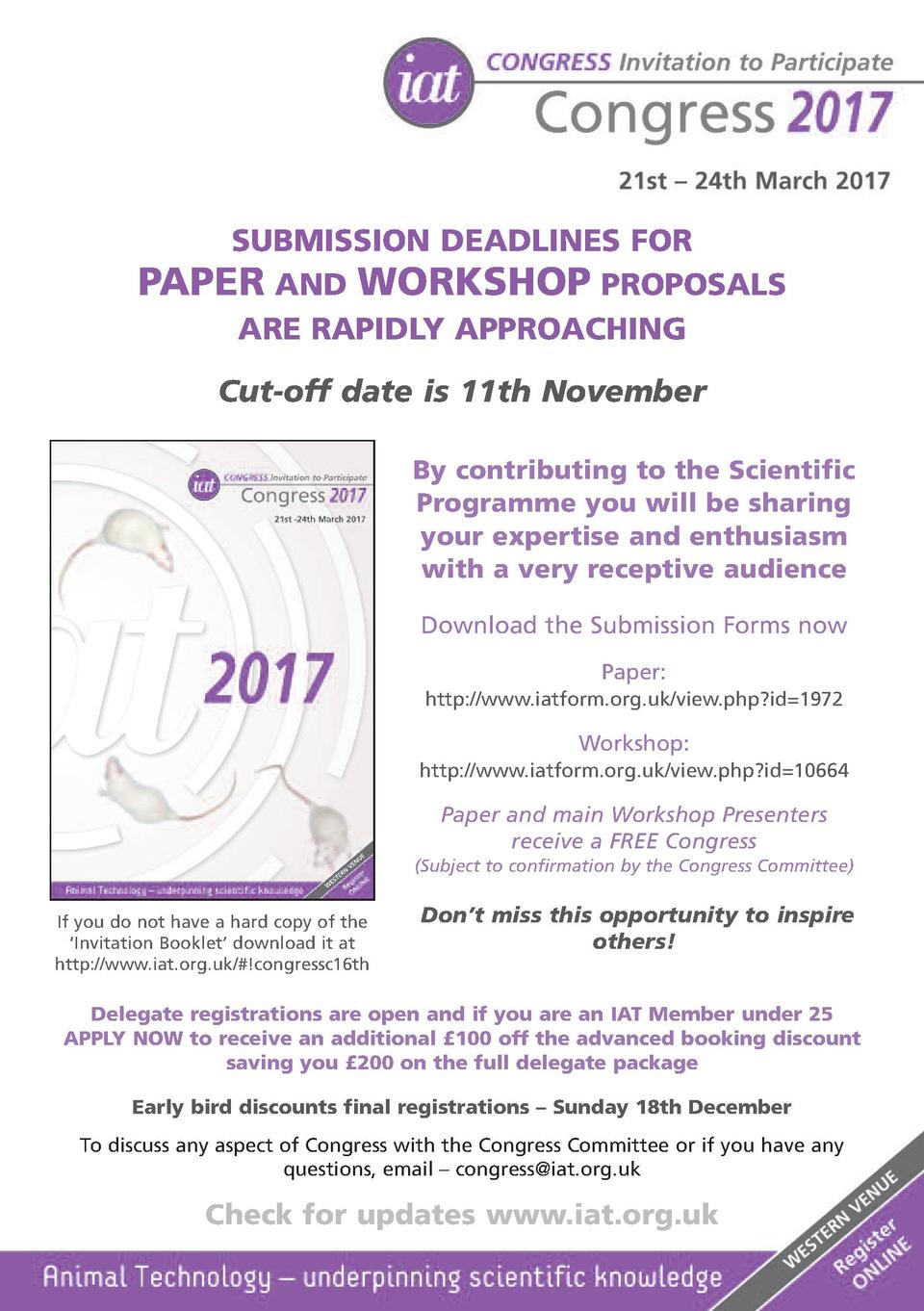 Established 1926 RSPCA/UFAW 23rd Rodent and Rabbit Welfare Group Meeting 2016 The RSPCA/UFAW Rodent and Rabbit Welfare Group bring together people from a range of backgrounds with a common interest in the behaviour and welfare of laboratory rodents and rabbits. The Group's 23rd annual meeting will be held on Tuesday 1 November 2016 in Edinburgh. There will be presentations and posters on refining husbandry and procedures and the biology of rodents and rabbits. The registration cost for the meeting is £80, which covers lunch and refreshments. We have been awarded 4 IAT CPD points and 5 LASA CPD points for the meeting. If you would like to register, please contact the RSPCA at the address below or use the following link: https://goo.gl/forms/fYUrE8Wi4Ds4po0v2 Penny Hawkins research.animals@rspca.org.uk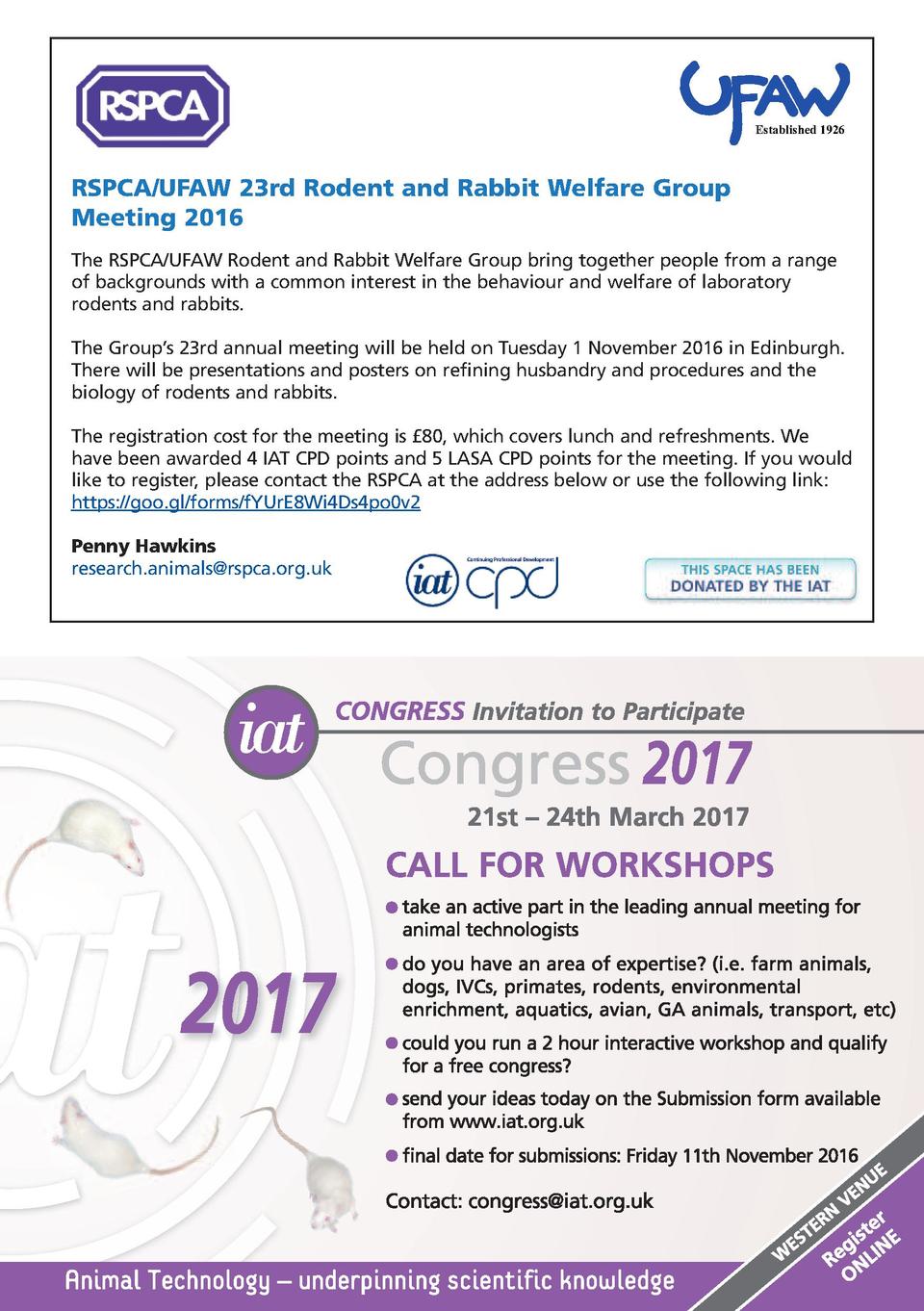 Bulletin October 2016 • 13 Support Understanding Animal Research Understanding Animal Research is now supported by individuals as well as organisations. If you want to take an active role in showing why animals are necessary in research, then being a supporter is for you. Support Understanding Animal Research because: Supporting Understanding Animal Research brings: ‡ You care about the use of animals in research ‡ Regular updates on our activities ‡ You want others to understand the necessity of animal research ‡ You know that together we can make a difference ‡ An invitation to our annual reception, including the Stephen Paget Memorial Lecture ‡ Membership of a supportive and active community Annual supporter subscriptions cost just £25. Your help will be invaluable in establishing networks and setting up this new aspect of our work. Sign up now at www.understandinganimalresearch.org.uk/aboutus/membership-and-funding/support-us/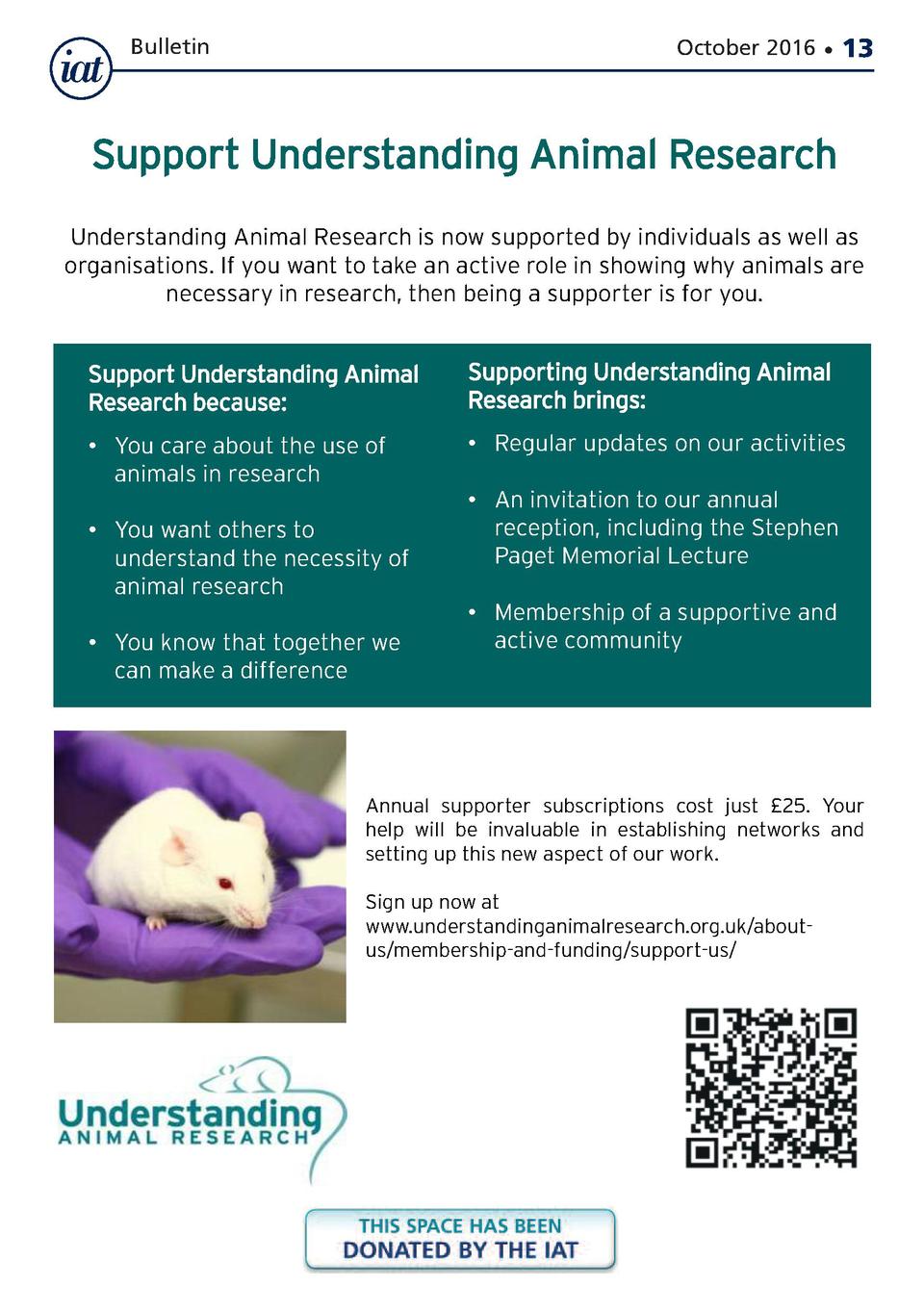 14 • October 2016 Bulletin AS-ET Annual Lecture The second AS-ET Annual Lecture: Editing the genomes of animals and humans: where to draw the line? To be presented by Professor Robin Lovell-Badge FRS King's College, Guy's Campus, London at 6pm on 19th October 2016 and then at The Dalton Room, University of Manchester Innovation Centre, Manchester at 6pm on 30th November 2016 Both lectures will be followed by a wine reception. The AS-ET talks are aimed at a general audience so if you want to be informed on an important topical subject and have an enjoyable evening join us at one of these presentations. Tickets for the lecture and the reception are £25 and can be ordered from contact@as-et.org.uk London Lecture sponsor Manchester Lecture co-sponsors West Middlesex Branch AS-ET Bursaries If you want to enrol on a course related to the care and welfare of animals used in science but you cannot gain funding you can apply for an AS-ET bursary. Full details can be found on our website www.as-et.org.uk.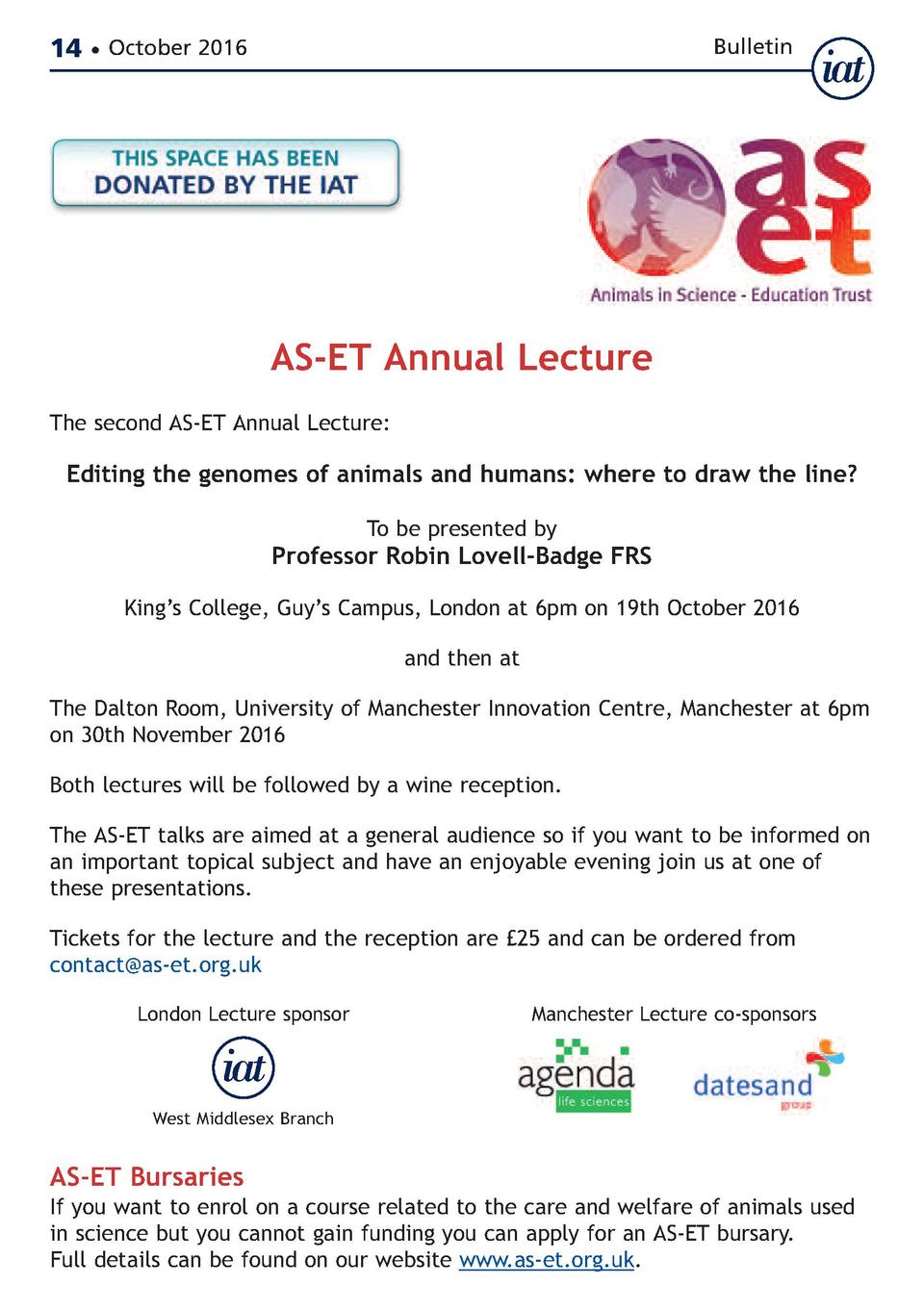 Bulletin October 2016 • 15 AS-ET is a charity to advance education and promote excellence in the care and welfare of animals used in science. Sponsors of AS-ET are listed below and to find out more please visit the website www.as-et.org.uk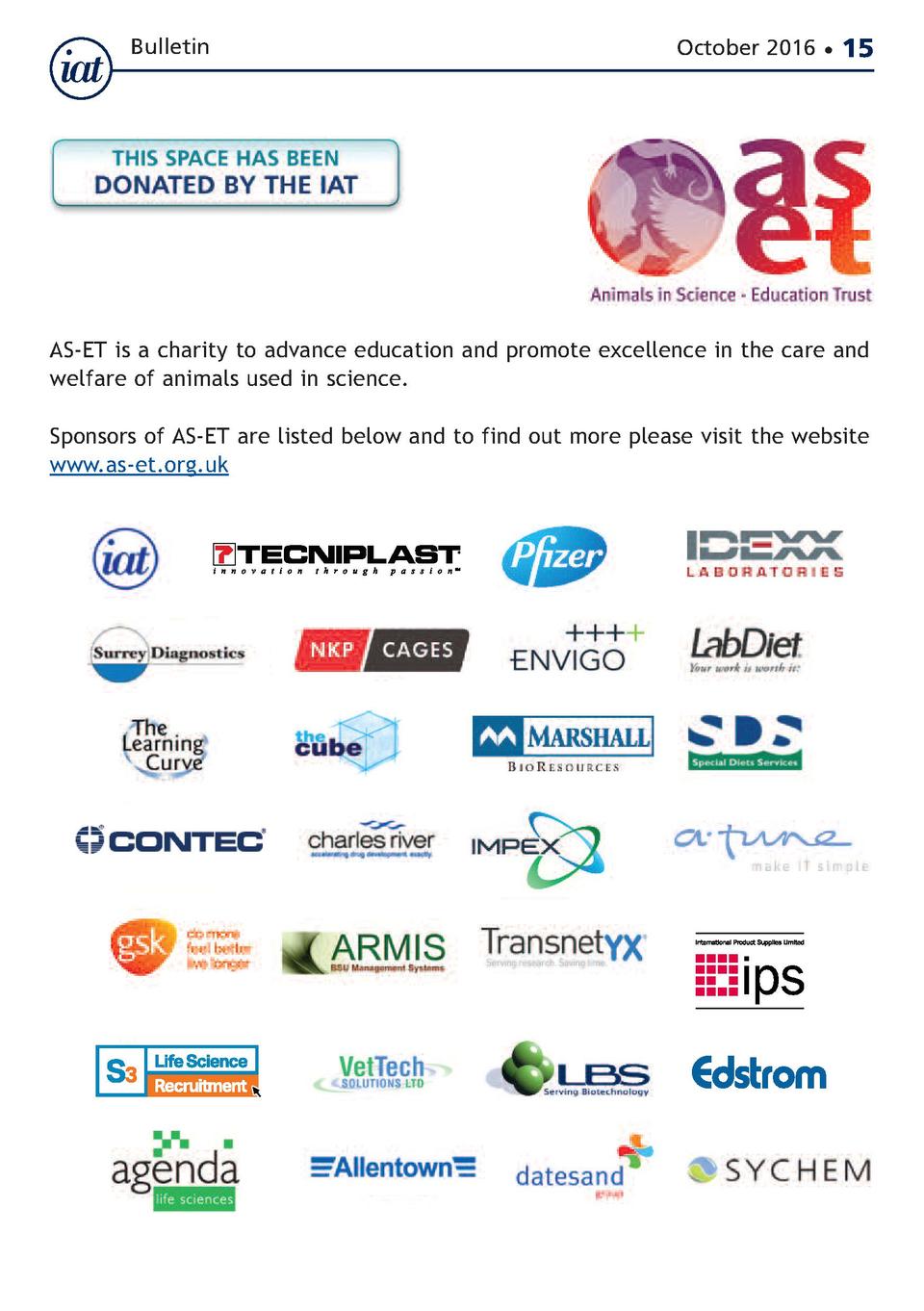 Bulletin October 2016 • 17 Oxford Branch – Day at the Races O n Saturday July 25th the Oxford branch organised a social event at Ascot racecourse. The meeting was the King George VI and Queen Elizabeth Stakes race day and the highlight of a very competitive day's racing was the above contest – Britain's most prestigious open-age flat race. Around 27 people took up the offer of reduced price tickets kindly supported by sponsorship from Agenda and LBS. With a general attendance of over 25000 people it resulted in a military operation for all of us to meet our treasurer Ross who had the entry tickets. It did help that he was wearing a distinctive coloured emerald green jacket! Once we had received our tickets it was off into the racecourse to enjoy a day's racing. After the result of the first race, getting up early that day to study the form proved to be unreliable. The horse I bet on was so slow the jockey kept a diary of his trip! Fortunately my studying appeared to pay off and I managed to have a couple of winners including Postponed in the main race. In fact most of the group had some success during the day, which made it even more enjoyable. We were also blessed with good weather especially with the torrential rain from the previous day. The day went very fast and it was not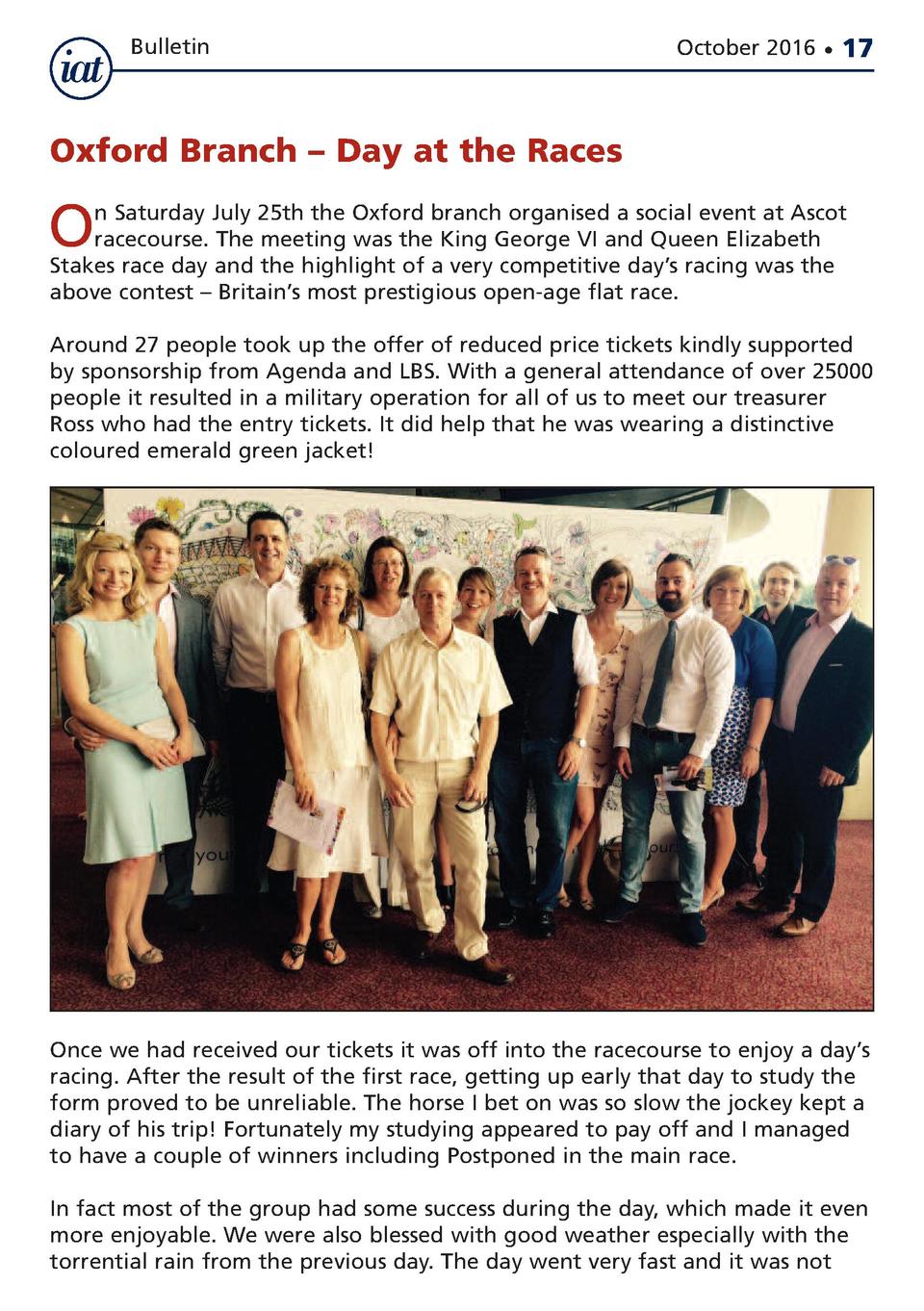 Bulletin October 2016 • 19 long before we were all saying our goodbyes and heading off home in various directions. I would like to thank our sponsors again, Agenda and LBS who without their generous donations these events would struggle to happen. A special mention must also go to Paul Sanders who unfortunately could not attend, so he kindly gave his son Toby some money for us all to have a bet. We were all given a random selection from one race. My horse ran well but unfortunately the jockey was left in the stalls. In conclusion the general consensus was that it was a great day out and it looks a distinct possibility that it will be repeated next year. John Bowler Branch Reporter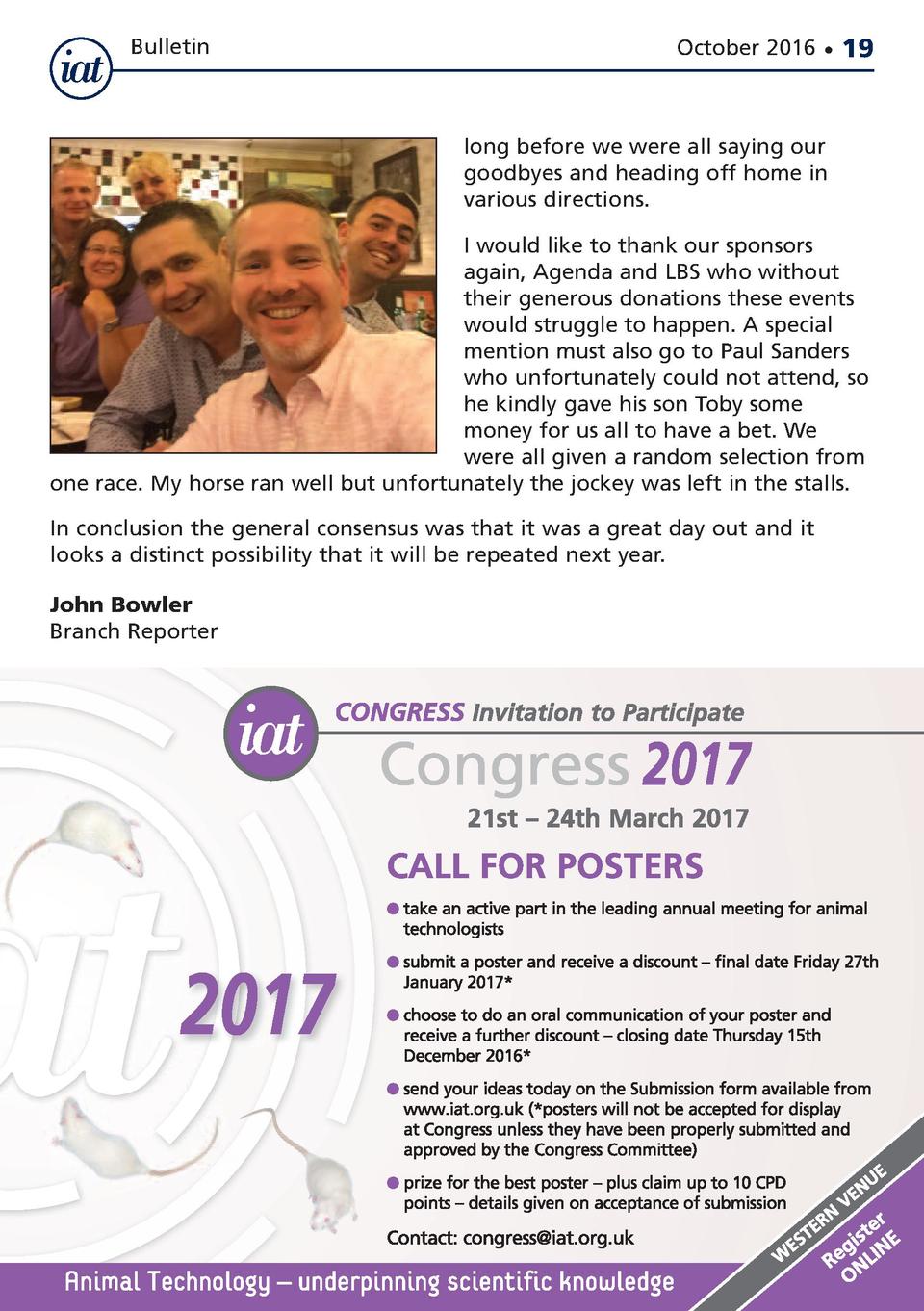 20 • October 2016 Bulletin Free one day event to be held on Tuesday 15th November 2016 – Dundee Topics include the NTCO role, the importance of training, Personal Licencee handling assessment and Animal Enrichment Confirmed presenters: Drs Kathy Ryder & Norman Flynn ASRU Home Office Inspectors Tim Betts Scottish Accreditation Board Gerry Creighton Operations Manager Dublin Zoo Gordon Gray University of Glasgow Tina O'Mahoney Imperial College London Maxine Sheridan-Knowles University of Leicester Details from d.wallace@abdn.ac.uk Kindly sponsored by Edinburgh and West of Scotland IAT Branches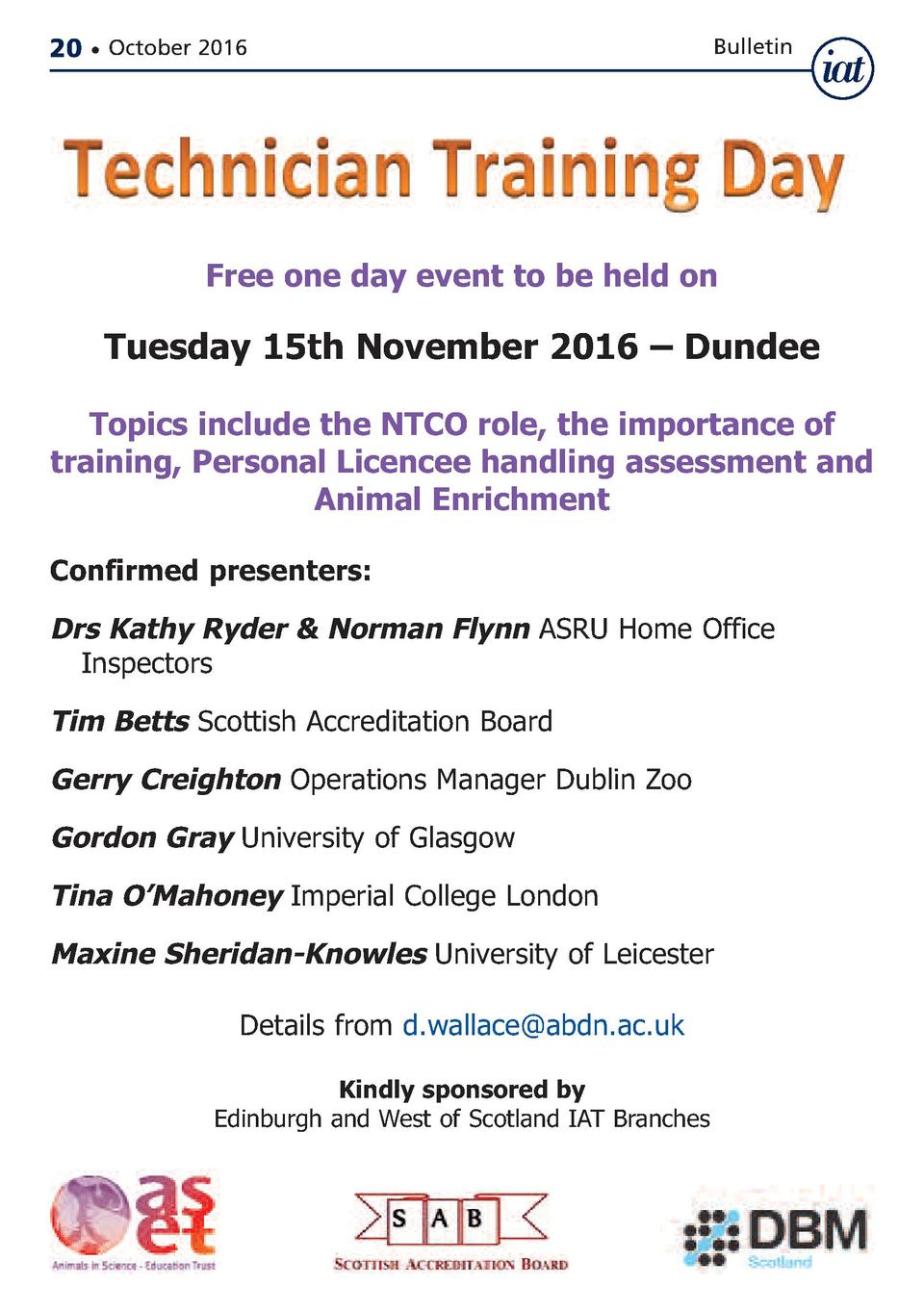 Bulletin October 2016 • 21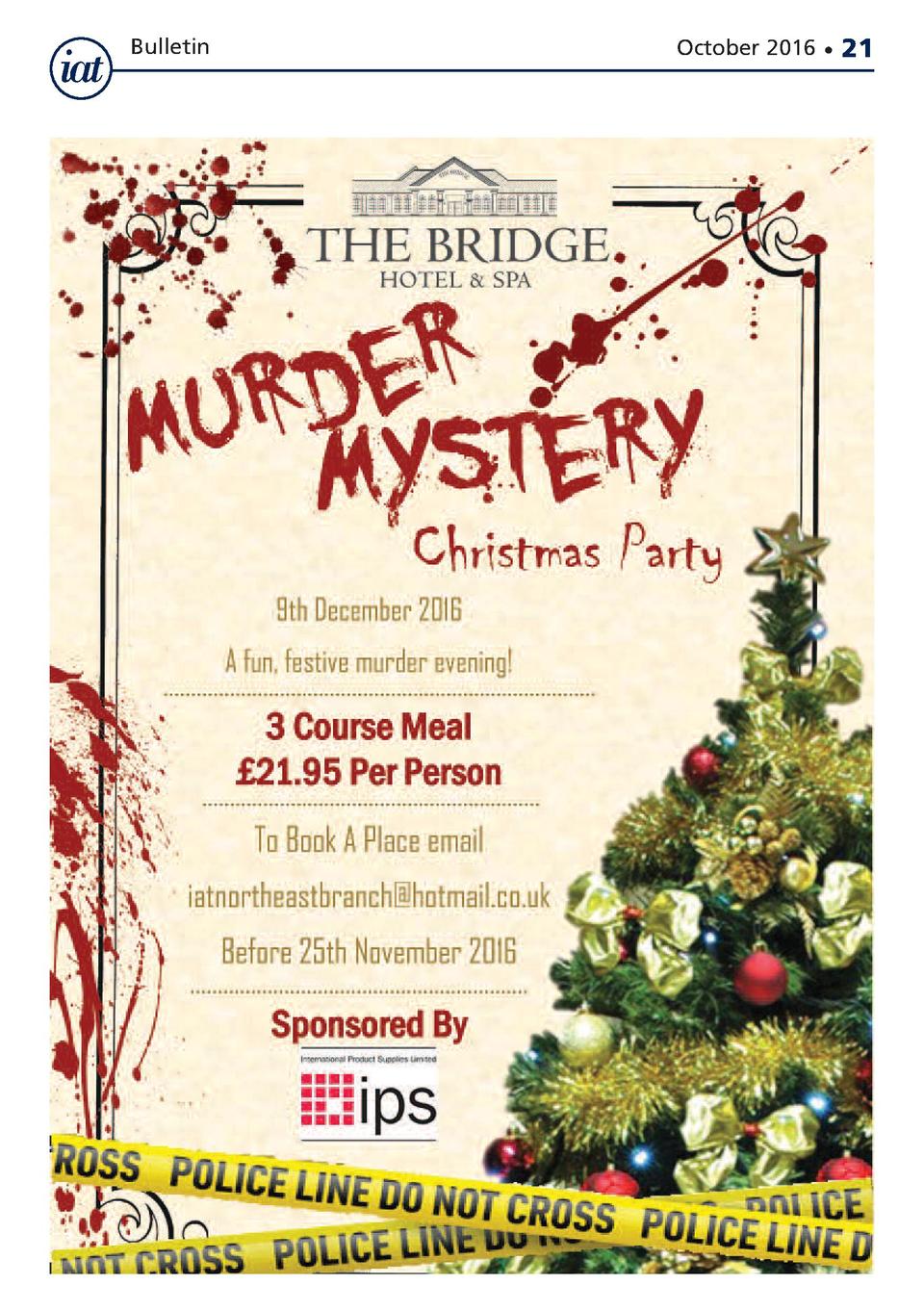 Bulletin October 2016 • DIARY Dates 14 October ABTA closing date Details from admin@iat.org.uk 15 October NEE Branch Animal Inside Out Exhibition Newcastle Details from iatnortheastbranch@hotmail.co.uk 19 October AS-ET Special Lecture London Details from contact@as-et.org.uk See page14 27 October Herts & Essex Quiz Night Hertfordshire Details from hertsandessexsecretary@hotmail.co.uk 30 October – 3 November AALAS Charlotte, North Carolina Details from www.aalas.org 1 November RSPCA/UFAW 23rd Rodent and Rabbit Welfare Group Meeting Edinburgh See page 12 Cover photo: Fox – Ken Lovelock 11 November Congress 2017 Closing date for Papers and Workshops Details from congress@iat.org.uk See pages 7, 9 & 12 15 November Technician Training Day Dundee Details from: d.wallace@abdn.ac.uk See page 20 16 November Cambridge and HNS 10th Year Anniversary Joint Autumn Symposium All Creatures Great and Small Details from cambridgebranch@iat.org.uk 22-24 November LASA Annual Conference Details from info@lasa.co.uk 30 November AS-ET Special Lecture Manchester Details from contact@as-et.org.uk See page 14 23