Five Poems / Cinco Poemas A bi-lingual chapbook Poems by Hyam Plutzik Spanish Translations by Carlos Pintado Jose A. Villar-Portela Pablo Cartaya Carlos A. Del Valle Cruz Pedro Medina Introduction by Edward Moran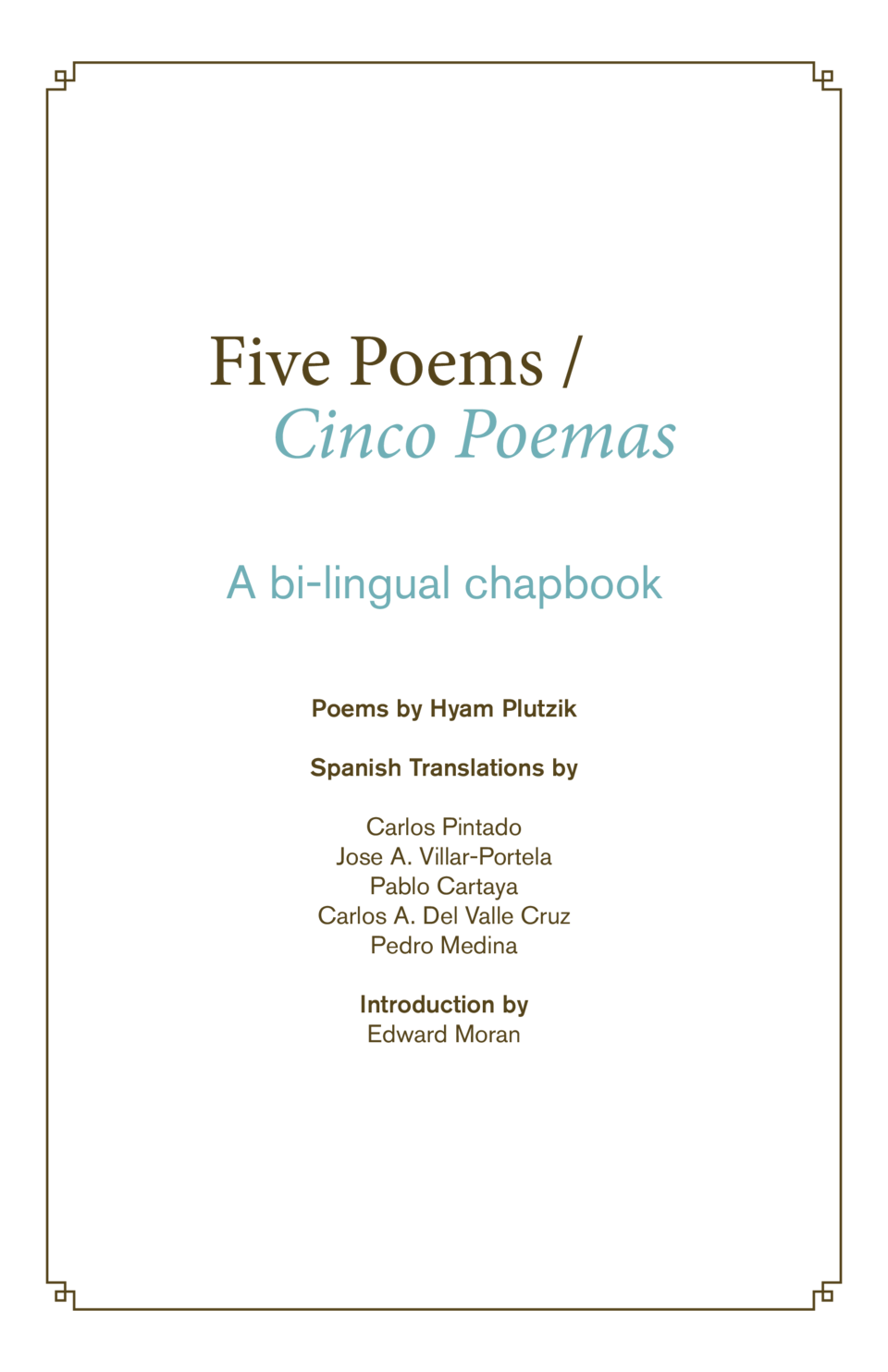 "Once I looked on poetry as little more than beautiful language. Later it was a way of communicating the nuances of the world. More recently I have begun to look at poetry as the synthesizer, the humanizer of knowledge." (Hyam Plutzik, Poet (1911-1962) "Alguna vez vi a la poesía como algo más que un hermoso lenguaje. Más adelante fue una forma de expresar los distintos matices del mundo. Últimamente la veo como una síntesis del conocimiento humano." (Hyam Plutzik, Poet (1911 - 1962) Translated by Pedro Medina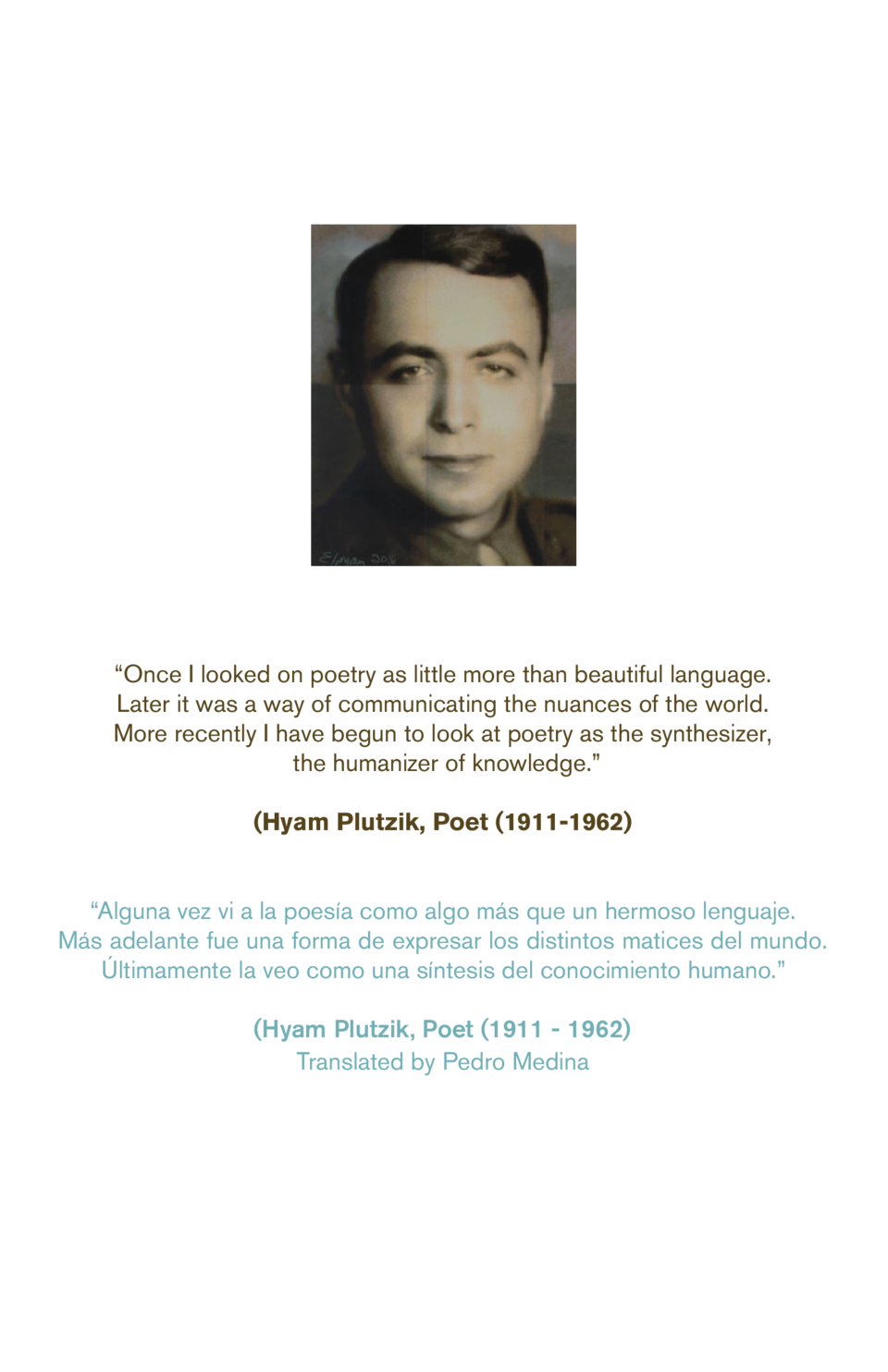 ADMIRABLE TREASON Five Poems by Hyam Plutzik in Spanish Translation By Edward Moran Traduttore, tradittore ("The translator is a traitor") Umberto Eco famously used this Italian play on words to suggest that, by its very nature, translation is an imprecise, even deceptive art in that it can never replicate the nuances of cultural context that frames a text. At best, he conceded, translators might be dubbed practitioners of "admirable treason" when they captured elusive meanings with particular elegance. These translations of poems by Hyam Plutzik have been admirably rendered, thanks to the elegant ministrations of several translators from different walks of life--a scholar/translator, a writer for young readers, an award-winning poet, a lawyer.. These are people who breathe a bilingual oxygen--deft scribes with forked tongues who instinctively know how to delve into the deeper roots of language, roots that encapsulate "the greater, the remembered beauty" lest "successive layers of leaf dwindle the sunlight." Hyam Plutzik did not write in Spanish, but he was immensely moved by reading the translations of one of his contemporaries, Federico García Lorca. In the preface to the centennial edition of Apples from Shinar, Plutzik pays tribute to this Spanish martyr while warning against those who would kill poets, either by violence or by indifference. The "labors and agonies" of the poet, he writes, can produce "the final distillate, the eternal stuff pure and radiant as a drop of uranium." In this chapbook, the "pure and radiant" works of a Jewish American poet with roots in Eastern Europe take on a new, scintillating glow when exposed to the rich radioactivity of a language that was not his own. More than half a century after Plutzik's death, these translations attest that his words are not being greeted with indifference. But they are not just being "studied in a distant place"-- they are being retrofitted with new linguistic wings that will enable them to reach and delight a whole new universe of readers far from his ancestral realms.. Such is the power of a little book, sent aloft through time and space by the art of translation.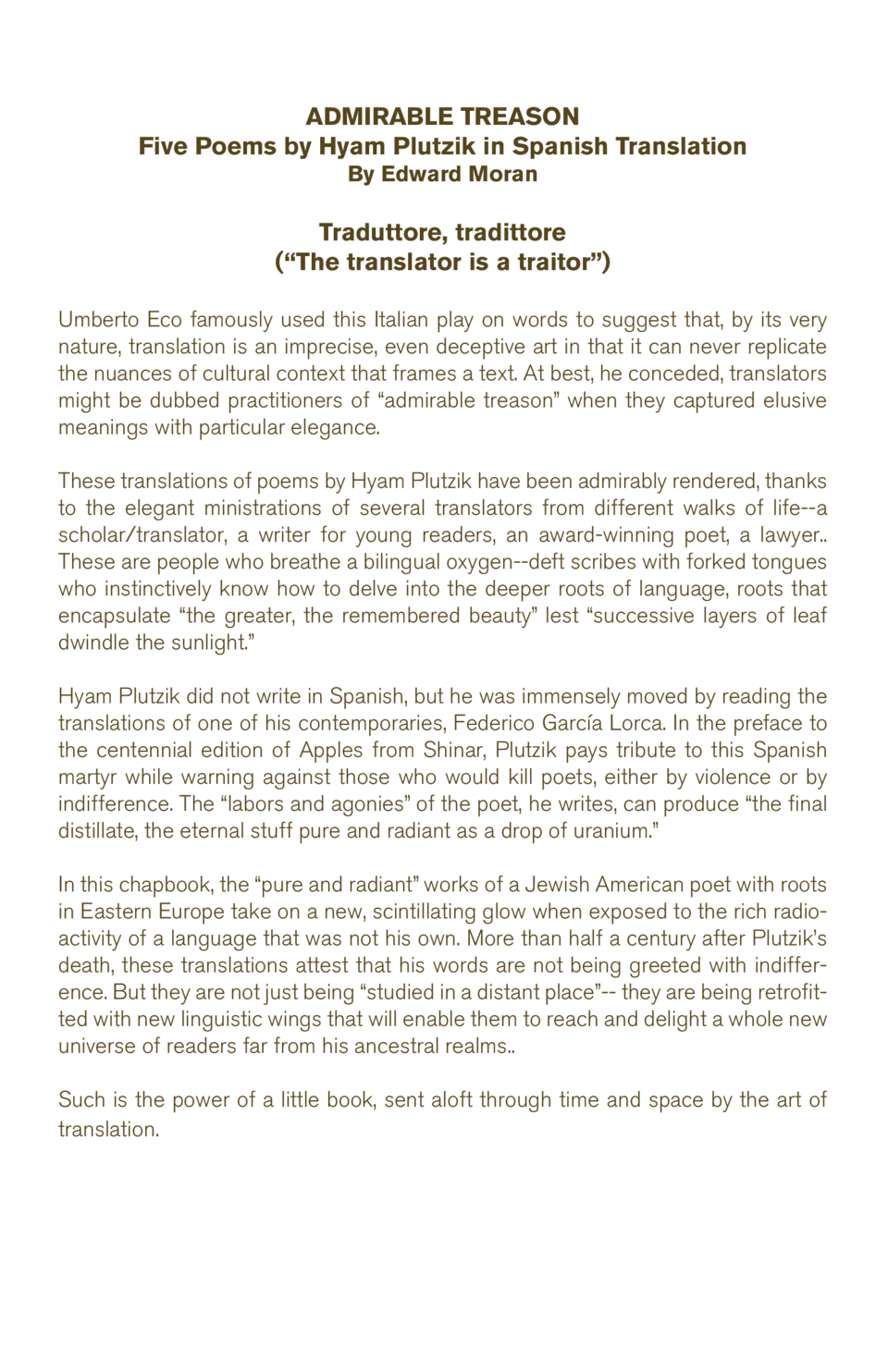 THE LAST FISHERMAN He will set his camp beside a cold lake And when the great fish leap to his lure, shout high To three crows battling a northern wind.   Now when the barren twilight closes its circle Will fear the yearning ghosts come for his catch And watch intently trees move in the dark.   Fear as the last fire cringes and sputters, Heap the branches, strike the reluctant ashes, Lie down restless, rise when the dawn grays.   Time runs out as the hook lashes the water Day after day, and as the days wane Wait still for the wonder. EL ÚLTIMO PESCADOR Translated by Carlos Pintado Acampará a la orilla un lago de aguas frías Y cuando el gran pez atrape la carnada, gritará A los tres cuervos que luchan contra el viento del norte.   Solo cuando el ocaso estéril agonice, Tendrá miedo de los fantasmas que se acercan. Observará cómo se mueven los árboles en lo oscuro.   Cuando el fuego chisporrotee por última vez, Vendrá el miedo a amontonar las ramas, a esparcir las cenizas, Se acostará inquieto, se levantará con el alba.   Día tras día el tiempo acaba Mientras su anzuelo fustiga el agua y él espera el milagro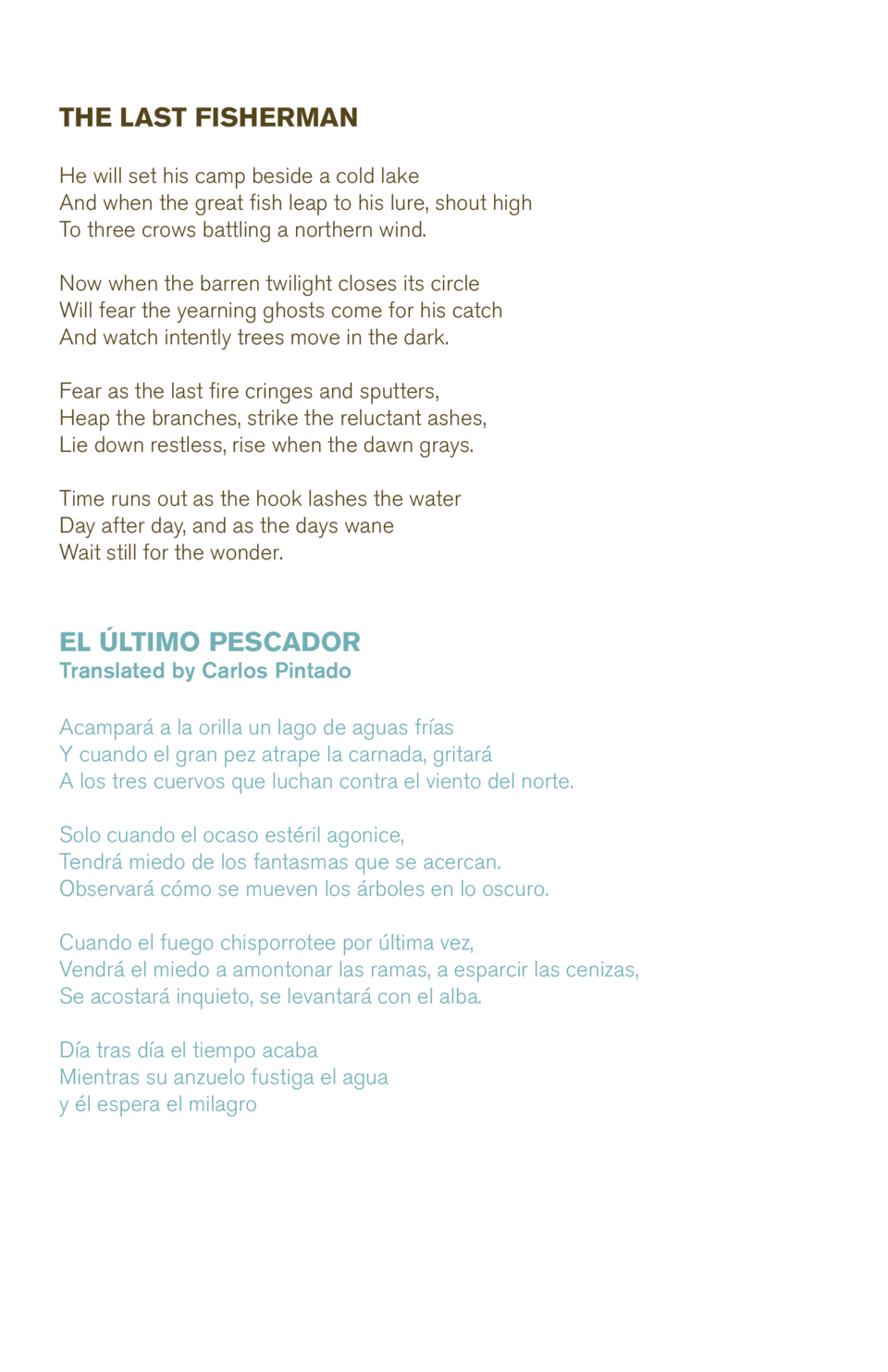 ON HEARING THAT MY POEMS WERE BEING STUDIED IN A DISTANT PLACE What are they mumbling about me there? "Here," they say, "he suffered; here was glad." Are words clothes or the putting off of clothes?" The scene is as follows: my book is open On thirty desks; the teacher expounds my life. Outside the window the Pacific roars like a lion. Beside which my small words rise and fall. "In this alliteration a tower crashed." Are words clothes or the putting off of clothes? "Here, in the fisherman casting on the water, He saw the end of the dreamer. And in that image, death, naked." Out of my life I fashioned a fistful of words. When I opened my hand, they flew away." AL ESCUCHAR QUE MIS POEMAS FUERON ESTUDIADOS EN UN LUGAR LEJANO Translated by Pablo Cartaya   ¿Qué son ellos murmurando acerca de mí alla? "Aquí," dicen, "él sufrió; Aquí estaba alegre." Y así como la ropa palabras se ponen y se desnudan.   La escena es la siguiente: mi libro está abierto En presencia de treinta pupitres; el maestro expone mi vida. Fuera de la ventana el Pacífico ruge como un león,   A lo largo de ese Pacífico mis pequeñas palabras suben y bajan. "En esta aliteración se estrelló una torre." Y así como la ropa palabras se ponen y se desnudan.   "Aquí, el pescador arroja sobre el agua, Viendo el fin del soñador. Y en esa imagen, muerte desnuda."   En mi vida he creado puñados de palabras  Y cuando las abrí, volaron.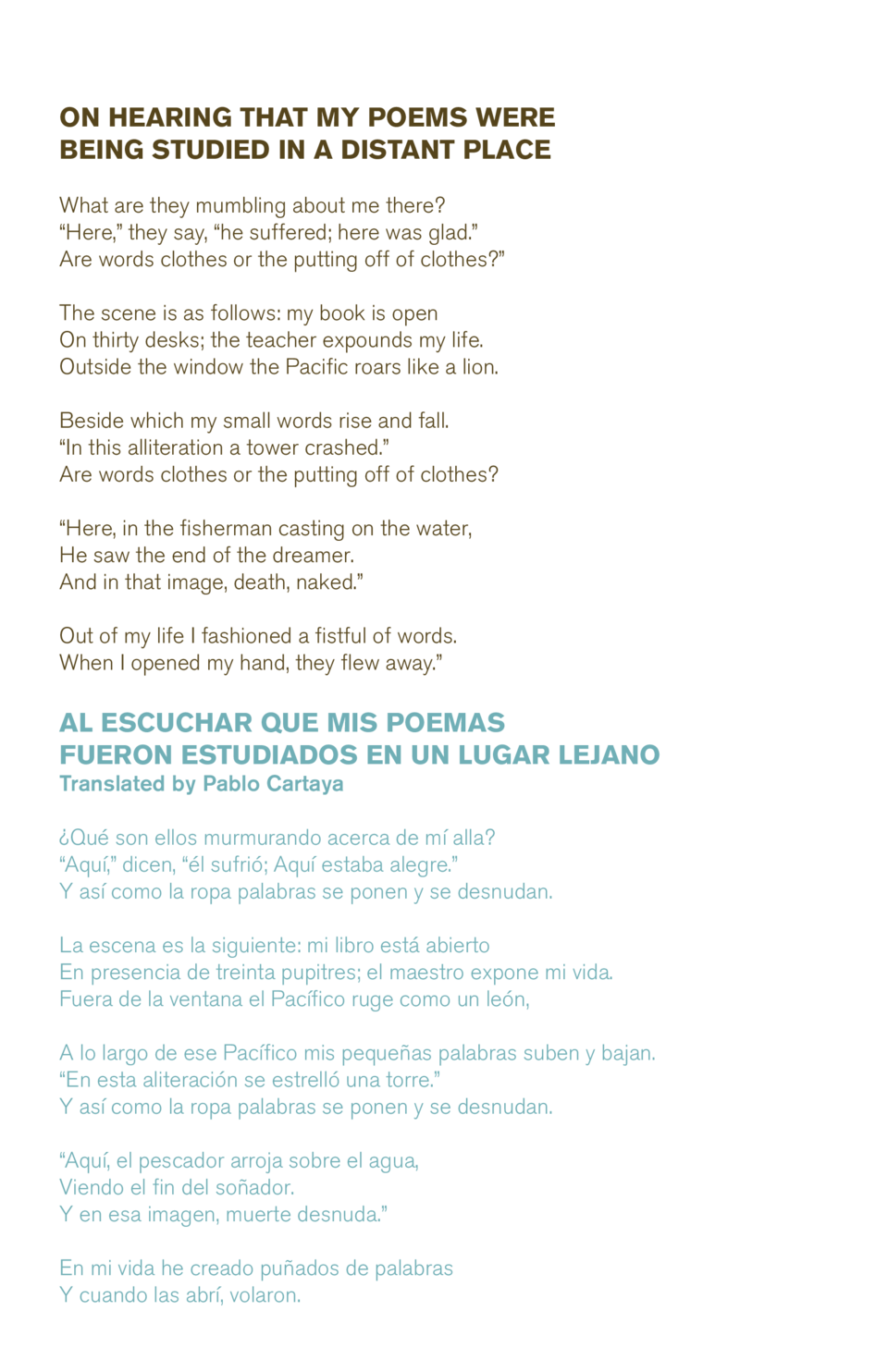 I IMAGINED A PAINTER PAINTING SUCH A WORLD Like successive layers of leaf that dwindle the sunlight Are the overlapping cumulative shadows Projected by things, which huddle in them darkly Within the greater shadow: suffering. Breaching the shores of matter a swell of shadows Destroys all sanctions of formal separateness; And objects, transposed of vesture, take doubtful values Like hulks vaguely discerned under the tides. What inner or outer flames may shine are random In the one, shadowed sea where all things melt, While through all, the superior dark, the subjective night Encloses and bathes the universe. IMAGINÉ UN PINTOR PINTANDO UN MUNDO TAL Translated by Jose A. Villar-Portela Como capas sucesivas de hojarasca que menguan la luz del sol Se ven las traslapadas sombras acumulativas Proyectadas por las cosas, que en ellas se agazapan tenebrosas Dentro de la sombra mayor: el sufrimiento. Rebosando las orillas materiales una oleada de sombras Destruye toda sanción de separación formal; Y los objetos, transpuestos de vestidura, toman dudosos carices Como moles entrevistos en la marea. Aleatoria es toda llama que brille interna o externa En el único, ensombrecido mar donde todo se liquida, Mientras tanto, la lobreguez superior, la noche subjetiva Encierra y baña el universo.
THE GEESE A miscellaneous screaming that comes from nowhere Raises the eyes at last to the moonward-flying Squadron of wild-geese arcing the spatial cold.   Beyond the hunter's gun or the will's range They press southward, toward the secret marshes Where the appointed gunmen mark the crossing   Of flight and moment. There is no force stronger (In the sweep of the monomaniac passion, time) Than the will toward destiny, which is death.   Value the intermediate splendor of birds. LOS GANSOS Translated by Pedro Medina Un alarido que viene de ninguna lugar Eleva la mirada al vuelo hacia la luna En el espacio gélido, un escuadrón de gansos salvajes.   Más allá del cañón del cazador o de su voluntad Ellos presionan hacia el sur, hacia las marismas secretas Donde marcan el paso los hombres armados.   En el momento del vuelo No hay fuerza más fuerte (arrasa la pasión maniática, el tiempo) Que la voluntad hacia el destino, que es la muerte.   Valora el esplendor de las aves.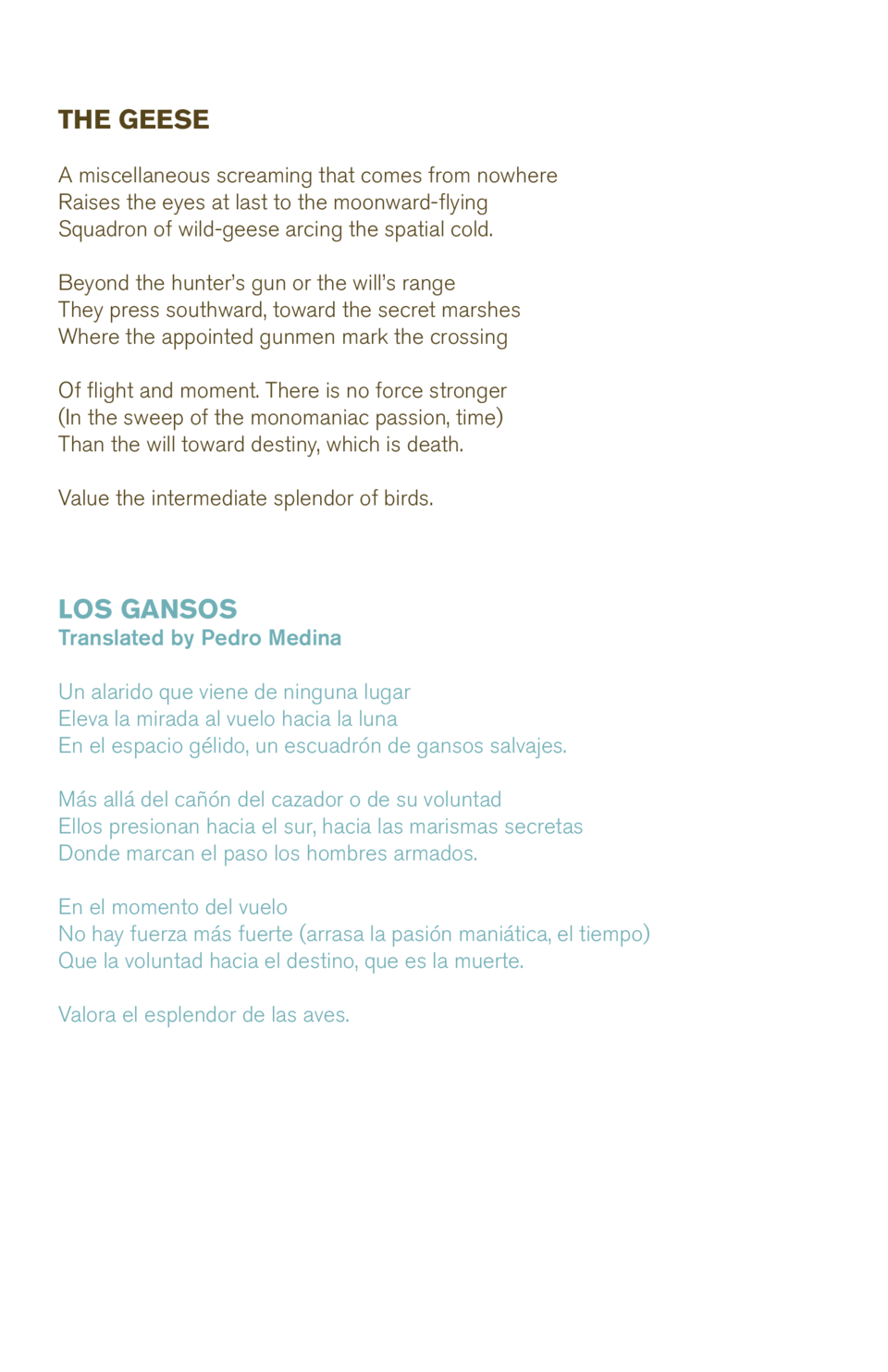 SPRIG OF LILAC Their heads grown weary under the weight of Time— These few hours on the hither side of silence— The lilac sprigs bend on the bough to perish. Though each for its own sake is beautiful, In each is the greater, the remembered beauty. Each is exemplar of its ancestors. Within the flower of the present, uneasy in the wind, Are the forms of those of the years behind the door. Their faint aroma touches the edge of the mind. And the living and the past give to one another. There is no door between them.  They pass freely Out of themselves; becoming one another. I see the lilac sprigs bending and withering. Each year like Adonis they pass through the dumb-show of death, Waxing and waning on the tree in the brain of a man. ESPIGA DE LILA  Translated by Carlos A. Del Valle Cruz Sus cabezas cansadas por el peso del Tiempo Con pocas horas a este lado del silencio Las espigas lilas dobladas en sus varas, prontas a perecer.   Aunque cada es hermosa de por sí, En cada es mayor la belleza recordada. Cada un ejemplar de sus antepasados.   Dentro la flor de hoy, trémula en el viento, Todas las formas de aquellas que por años yacen más allá de la puerta. Sus leves aromas todavía acarician la periferia del pensamiento.   Y la vida y el pasado se entregan mutuamente. No hay puerta entre ellos. Se ausentan libres de sí; convirtiéndose las unas en los otros.    Veo el doblar y marchitarse de las espigas de lilas. Cada año como Adonis pasan por la pantomima de la muerte, Creciendo y menguando en el árbol del cerebro del hombre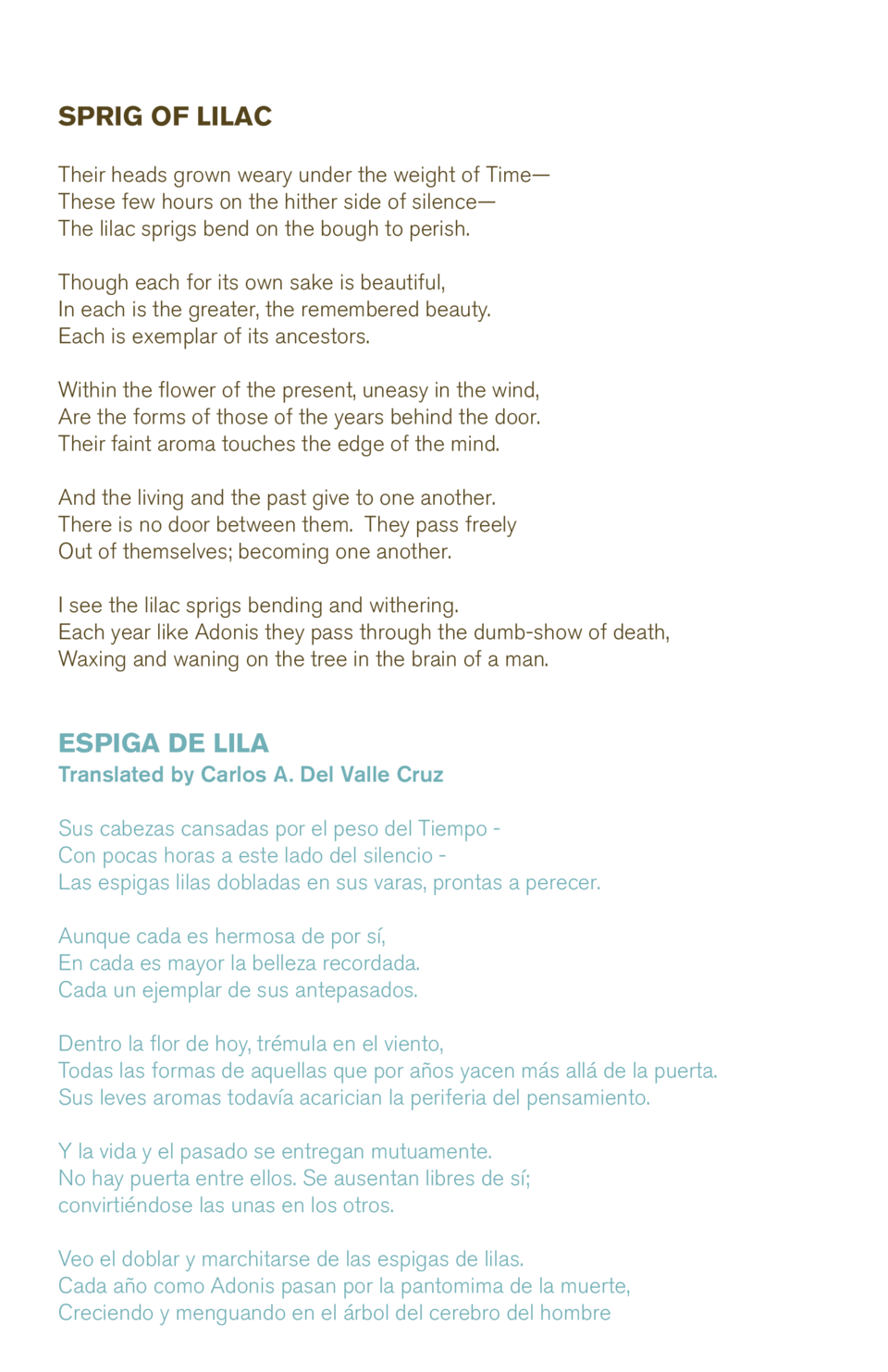 ABOUT THE POET Hyam Plutzik was born in Brooklyn on July 13, 1911, the son of recent immigrants from what is now Belarus. He spoke only Yiddish, Hebrew and Russian until the age of seven, when he enrolled in grammar school near Southbury, Connecticut, where his parents owned a farm. Plutzik graduated from Trinity College in 1932, where he studied under Professor Odell Shepard. He continued graduate studies at Yale University, becoming one of the first Jewish students there. His poem "The Three" won the Cooke Prize at Yale in 1933. After working briefly in Brooklyn, where he wrote features for the Brooklyn Daily Eagle, Plutzik spent a Thoreauvian year in the Connecticut countryside, writing his long poem, Death at The Purple Rim, which earned him another Cooke Prize in 1941, the only student to have won the award twice. During World War II he served in the U.S. Army Air Force throughout the Amerian South and in Norwich, England; experiences that inspired many of his poems. After the war, Plutzik became the first Jewish faculty member at the University of Rochester, serving in the English Department as the John H. Deane Professor of English until his death on January 8, 1962. Plutzik's poems were published in leading poetry publications and literary journals. He also published three collections during his lifetime:  Aspects of Proteus (Harper and Row,1949); Apples from Shinar (Wesleyan University Press, 1959); and Horatio (Atheneum, 1961), which made him a finalist for the Pulitzer Prize in Poetry that year. To mark the centennial of his birth, Wesleyan University Press published a new edition of Apples from Shinar in 2011. In 2016, Letter From a Young Poet (The Watkinson Library at Trinity College/Books & Books Press) was released, disclosing a young Jewish American man's spiritual and literary odyssey through rural Connecticut and urban Brooklyn during the turbulent 1930s. In a finely wrought first-person narrative, young Plutzik tells his mentor, Odell Shepard what it means for a poet to live an authentic life in the modern world. The 72-page work was discovered in the Watkinson Library's archives among the papers of Pulitzer Prize-winning scholar Professor Odell Shepard, Plutzik's collegiate mentor in the 1930's. It was featured in a 2011 exhibition at Trinity commemorating the Plutzik centenary. hyamplutzikpoetry.com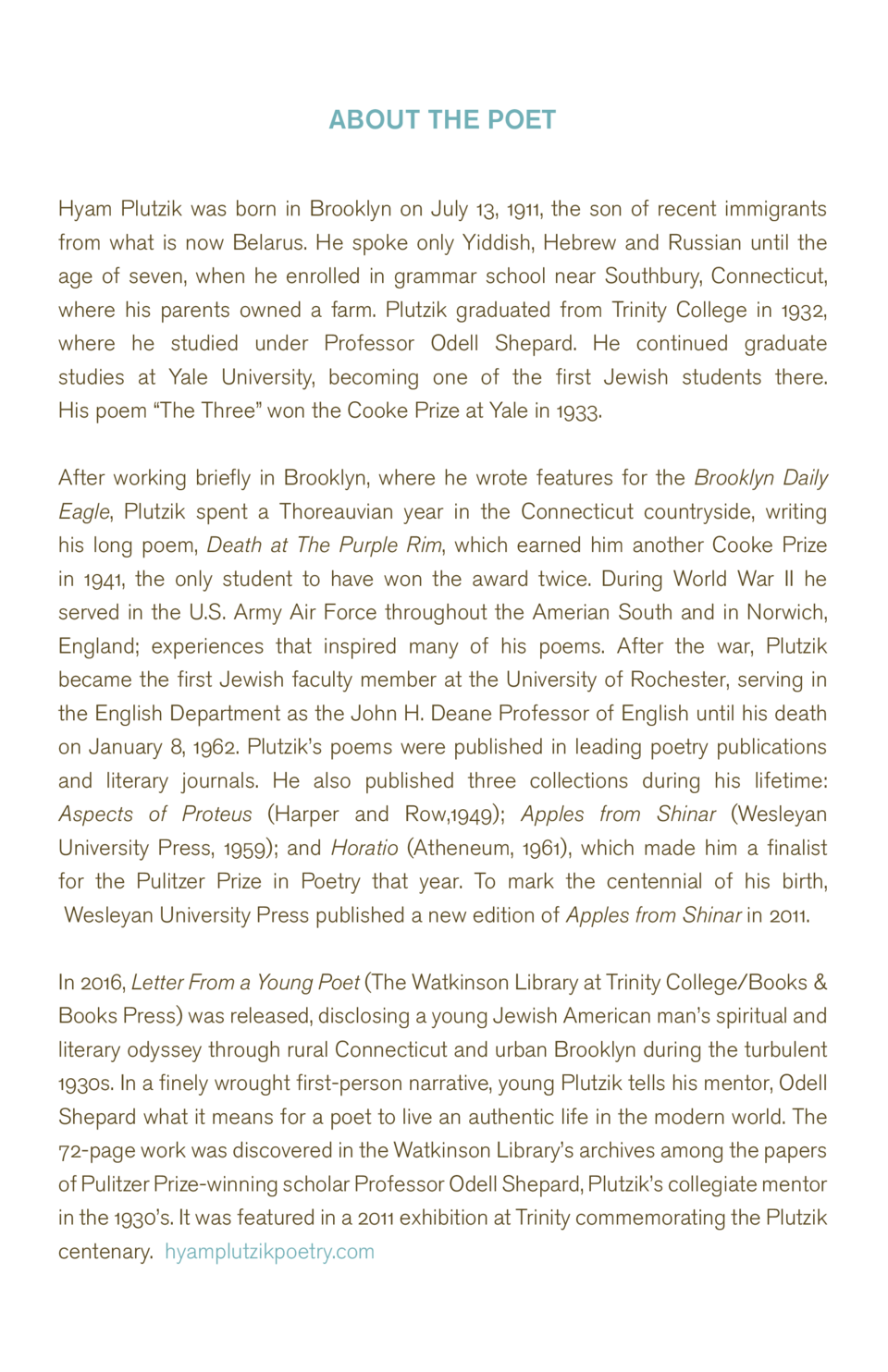 ABOUT THE ESSAYIST Edward Moran is literary consultant to the Hyam Plutzik Centennial Project. He was literary advisor to the 2007 documentary film Hyam Plutzik: American Poet, directed by Oscar nominee Christine Choy and Ku-Ling Siegel. In this capacity, he worked with the directors in filming interviews with poets Hayden Carruth, Donald Hall, Galway Kinnell, Stanley Kunitz, and Grace Schulman. Prior to his involvement with the Plutzik project, Moran was associate editor of the World Authors biography reference series published by H. W. Wilson, a project that had originally been published in 1941 under the direction of Stanley Kunitz.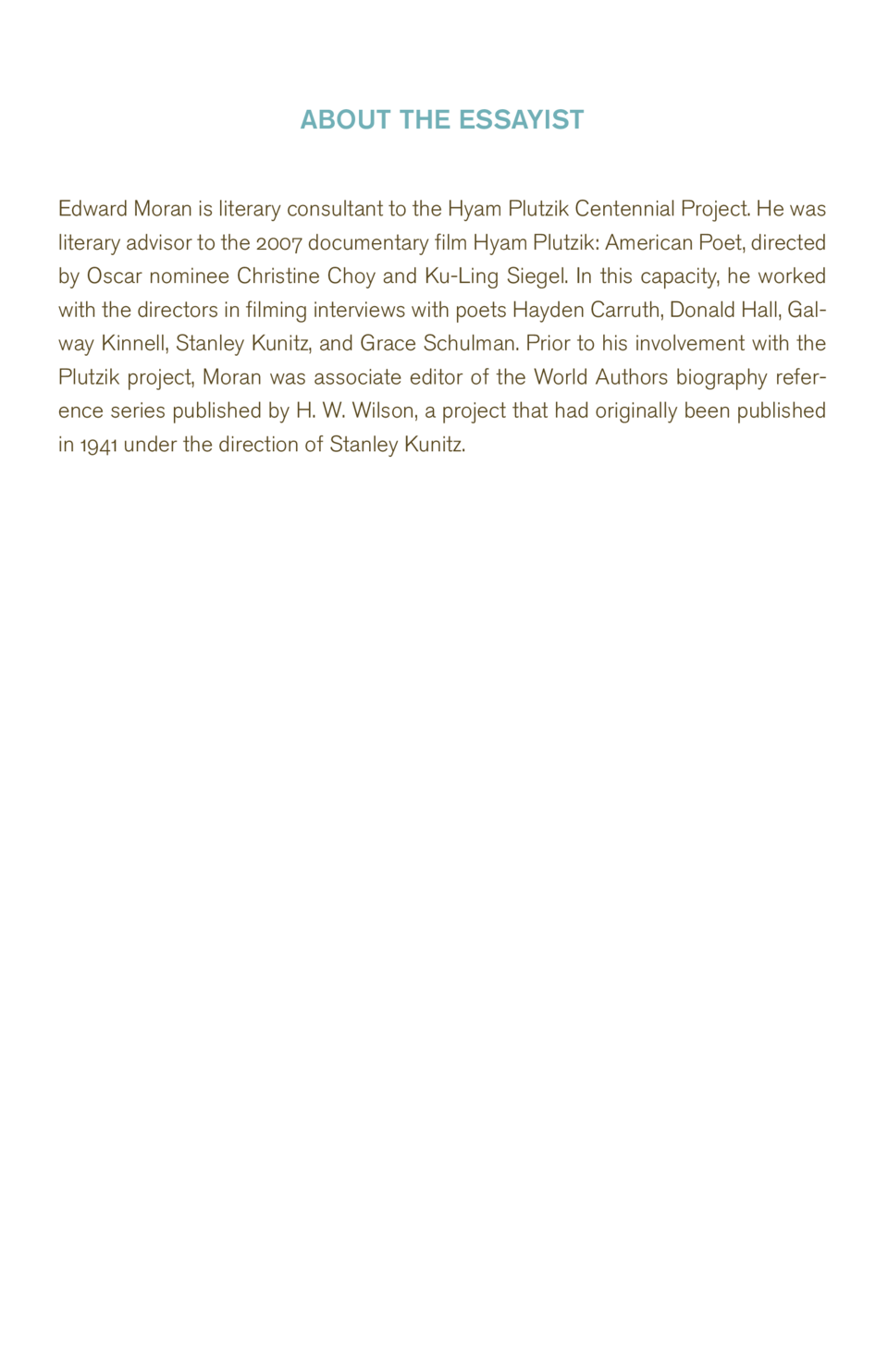 ABOUT THE TRANSLATORS CARLOS PINTADO CARLOS PINTADO is a Cuban American writer, playwright, and award-winning poet who immigrated to the United States in the early 1990s. His book Autorretrato en Azul received the prestigious Sant Jordi International Prize for Poetry, and his book El Azar y los Tesoros was a finalist for Spain's Adonais Prize in 2008. His work has been translated into English, Italian, German, French, Turkish, Portuguese, and Italian. Nine Coins/Nueve Monedas is his latest collection of poetry. JOSE A. VILLAR-PORTELA José A. Villar-Portela lives on the hyphen between Cuban and American. Some also call it Miami. When he's not slaying dragons, he's working on his PhD in Hispanic Literature, reading too many books at once and writing hermetic poems. He's also a literary translator and professional pet psychic. For more information, find him at the library. And bring coffee. PABLO CARTAYA Pablo Cartaya is the author of the forthcoming middle-grade books,  The Epic Fail of Arturo Zamora and Marcus Vega Doesn't Speak Spanish  (Viking Children's Books/Penguin Random House), the co-author of the picture book, Tina Cocolina: Queen of the Cupcakes (Random House Children's Books), and contributing author to a forthcoming anthology of Ibero-American authors living in Miami. He currently teaches creative writing in the low residency MFA at Sierra Nevada College in Lake Tahoe and serves as consultant for The Betsy – South Beach Literary Programs. CARLOS A. DEL VALLE CRUZ Carlos A. Del Valle Cruz is passionate about poetry, and is (also) a Civil Rights & Public Interest Advocacy Attorney in Puerto Rico. PEDRO MEDINA Pedro Medina is author of the books "Streets of Miami", "Mañana no te veré en Miami" and "Lado B" and is editor of "Viaje One Way" - a Miami anthology of narrators, named Book of the Year by Artes Miami in 2014. Medina is also editor and director of Suburbano publishing, a leading US cultural magazine and publishing house. He is also a columnist contributor to El Nuevo Herald and has taught courses in narrative technique in the Koubek Center in Miami Dade College (2013 and 2015).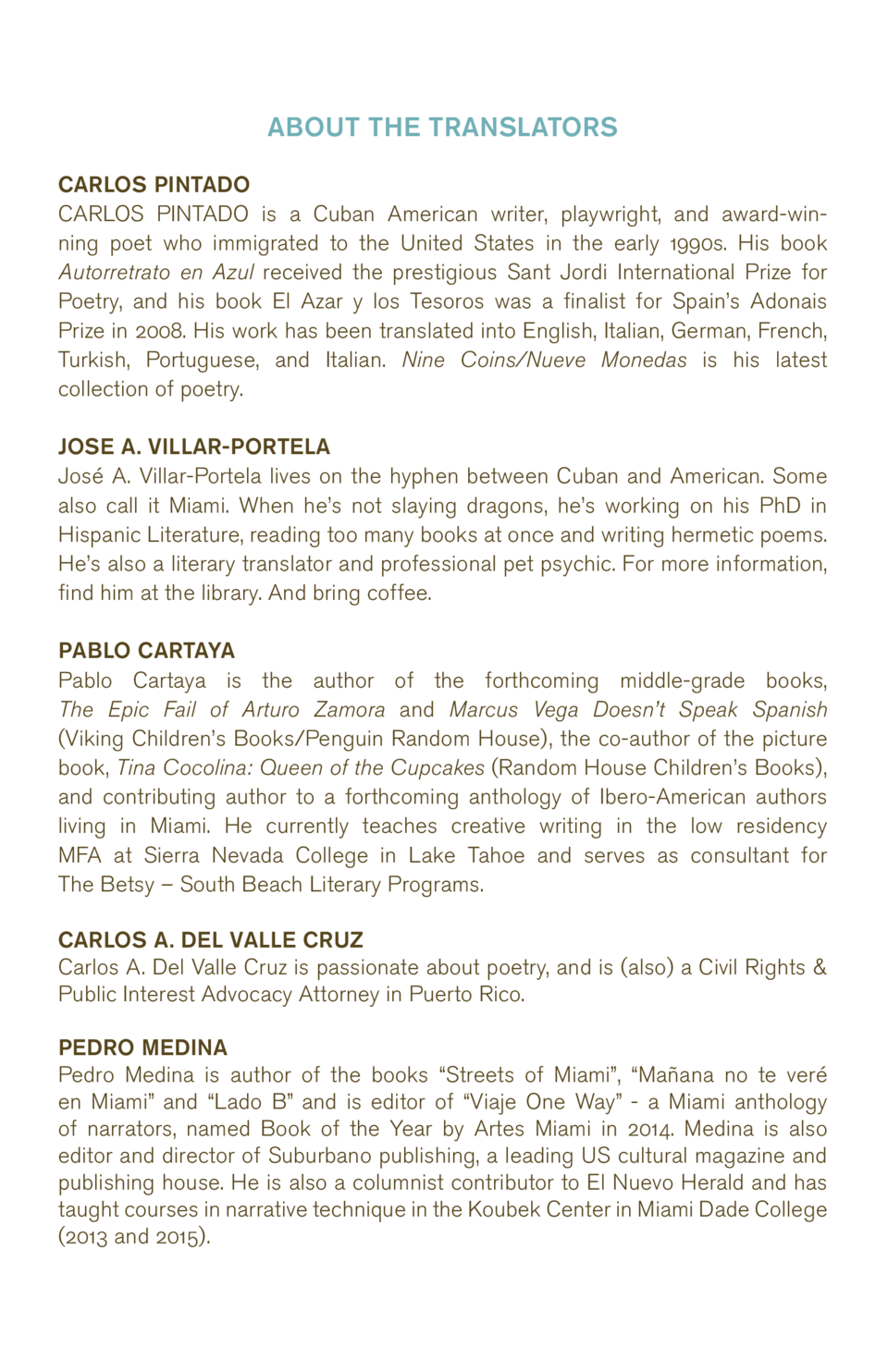 ABOUT ESCRIBE AQUÍ The Betsy - South Beach and The Writer's Room at The Betsy have created a new Ibero-American Literary Festival this fall (September 14 to October 16, 2016) to run in tandem with National Hispanic Heritage Month. Escribe Aquí honors the diversity of writers writing in various languages by hosting public events, with various authors reading across cultures and languages. These authors also are residents in The Betsy Writer's Room throughout the year. They convene to salute their own diversity; thereby transcending the notions of a dominant society that mistakenly perceives them as having 'one' voice. The project has been recognized with funding for its second year by the Knight Foundation Arts Challenge Program.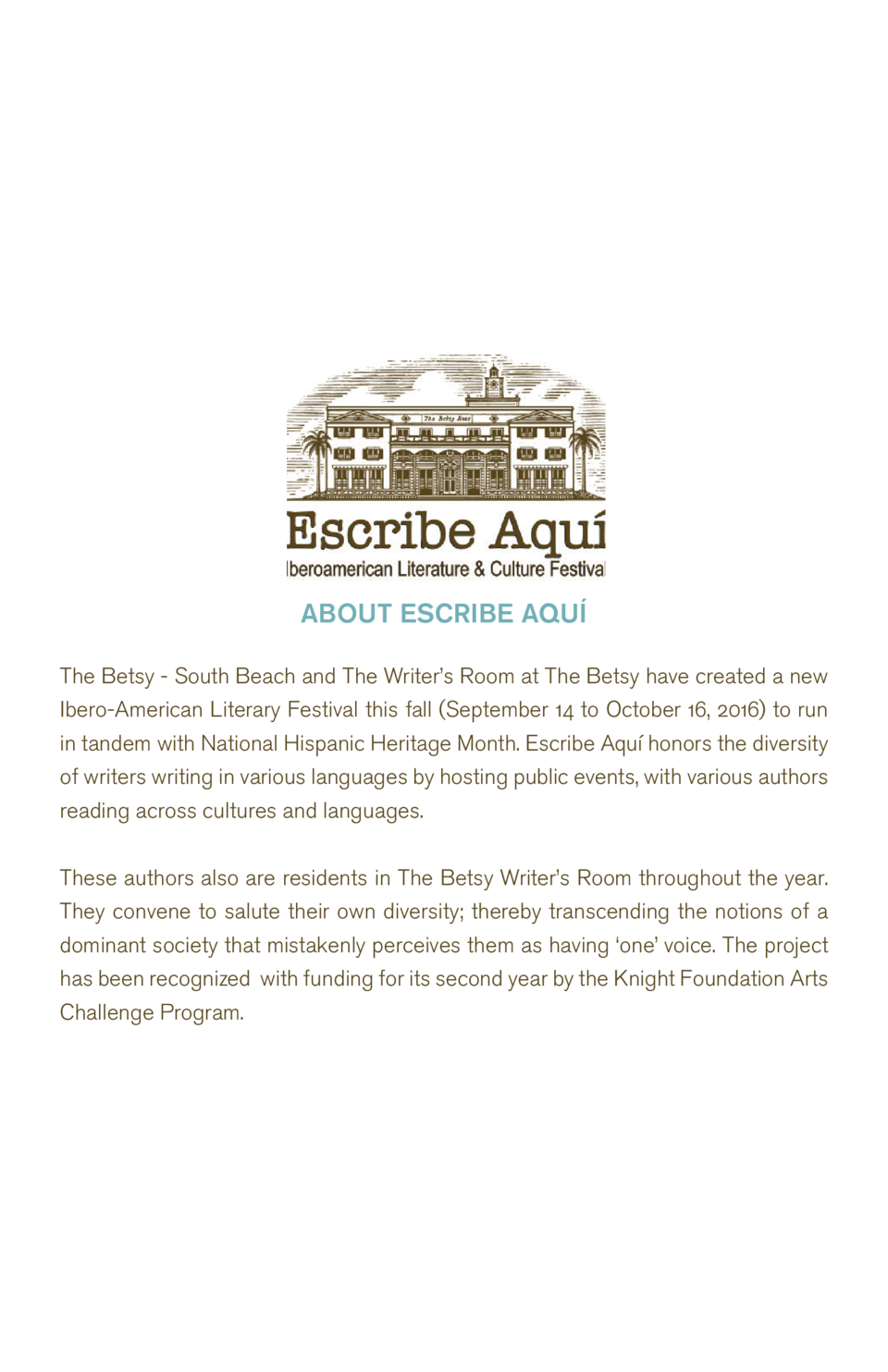 Printed in a limited edition of 250 copies by The Writer's Room at The Betsy-South Beach for The Betsy's Escribe Aquí Iberoamerican Cultural Festival 2016. thebetsywritersroom.com thebetsyhotel.com THE BETSY - SOUTH BEACH 1440 OCEAN DRIVE MIAMI BEACH, FL 33139 305-531-6100 | 866-79-BETSY