A Study Guide for A Beyond Consequences Approach to Helping Challenging Children in the Classroom Heather T. Forbes, LCSW and Jim Sporleder Beyond Consequences Institute, LLC BOULDER, COLORADO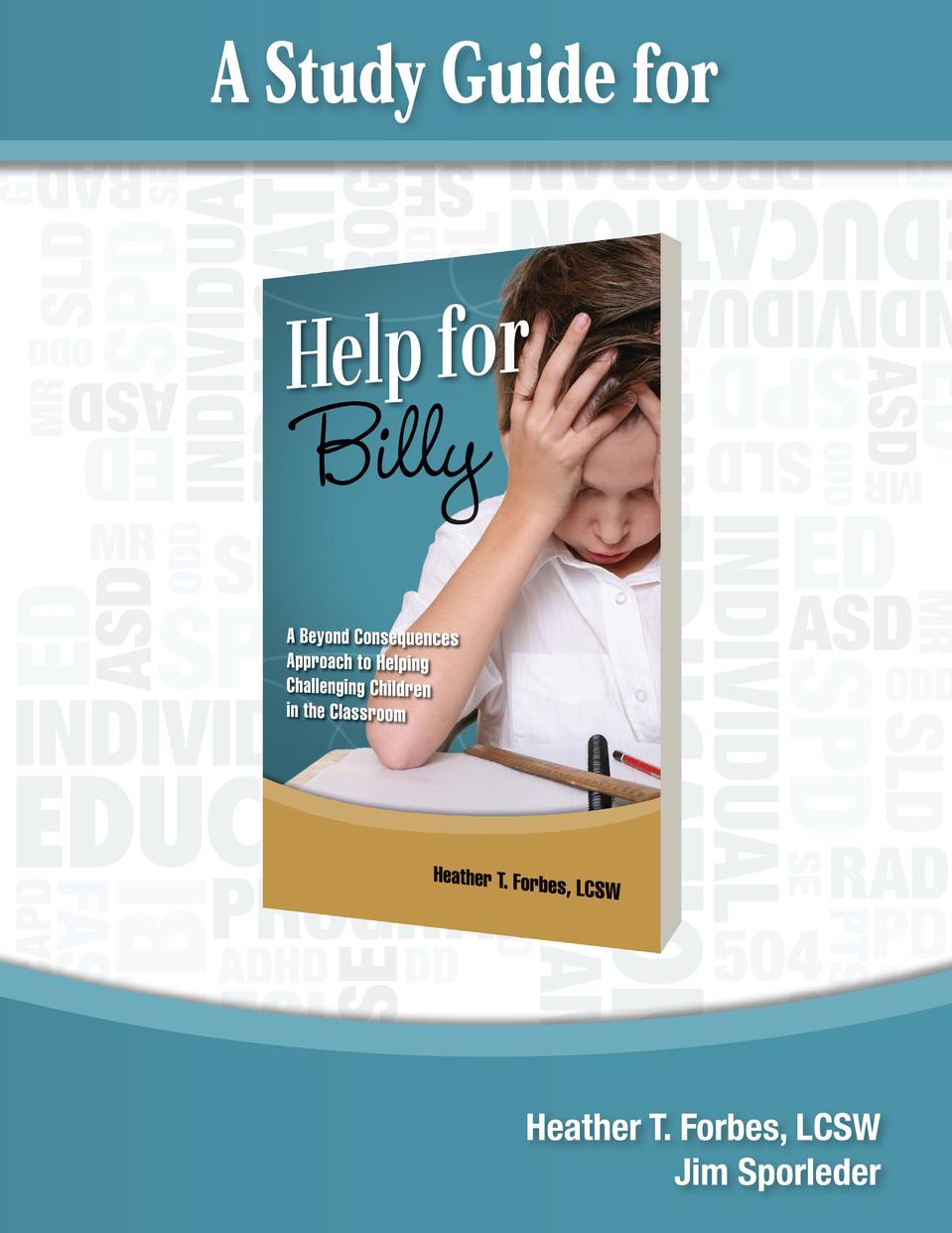 A Study Guide for A Beyond Consequences Approach to Helping Challenging Children in the Classroom Heather T. Forbes, LCSW and Jim Sporleder Beyond Consequences Institute, LLC BOULDER, COLORADO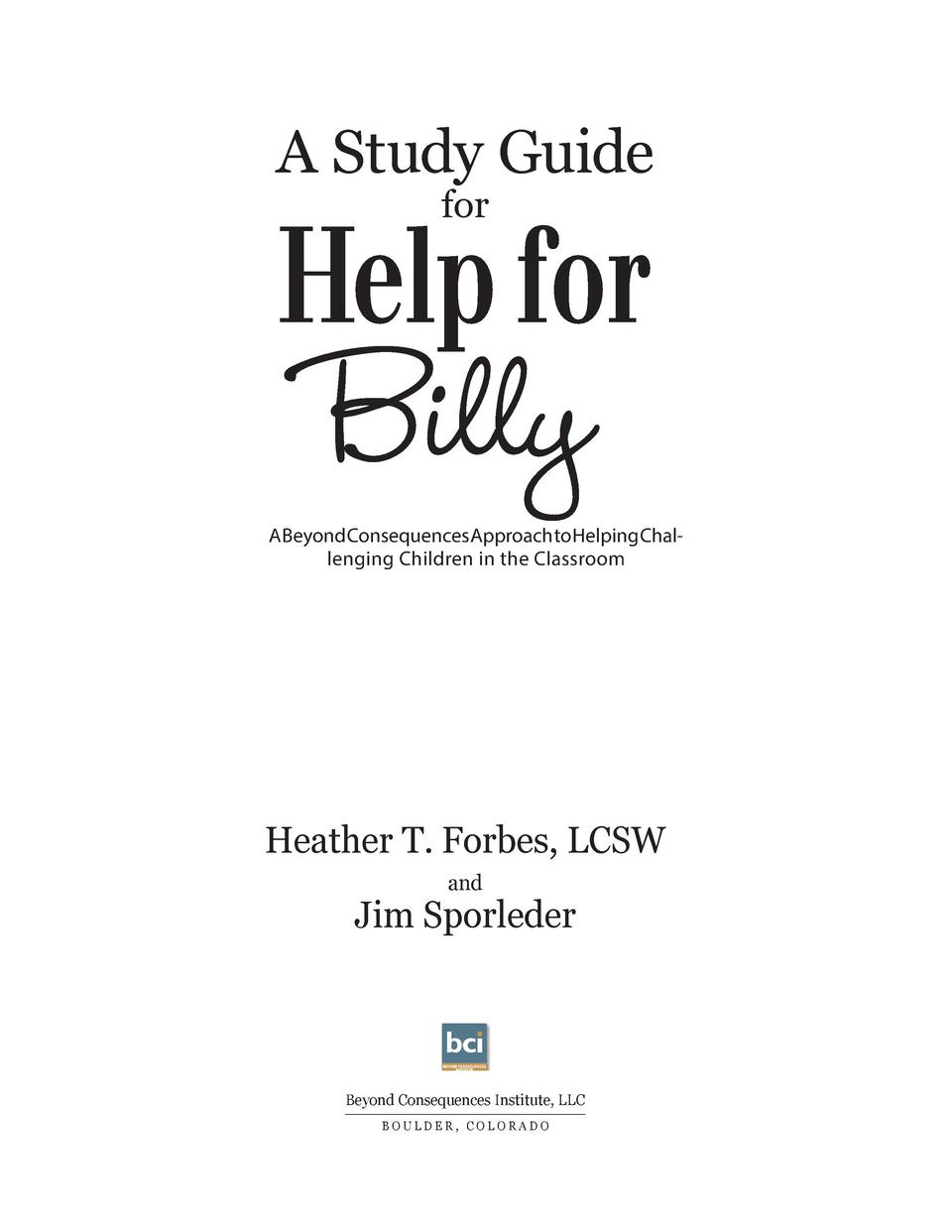 Contents Chapter 1 - Ask the Experts . . . . . . . . . . . . . . . . . . . . . . . . . . . . . . . . . . . . . . . . . 1 Chapter 2 - Regulation and Dysregulation . . . . . . . . . . . . . . . . . . . . . . . . . . . . . 9 Chapter 3 - Anatomy of Learning . . . . . . . . . . . . . . . . . . . . . . . . . . . . . . . . . . . . 19 Chapter 4 - Developmental Deficits . . . . . . . . . . . . . . . . . . . . . . . . . . . . . . . . . . . 29 Chapter 5 - Belief Systems . . . . . . . . . . . . . . . . . . . . . . . . . . . . . . . . . . . . . . . . . 45 Chapter 6 - Asking the Right Questions . . . . . . . . . . . . . . . . . . . . . . . . . . . . . . . 59 Chapter 7 - Motivation . . . . . . . . . . . . . . . . . . . . . . . . . . . . . . . . . . . . . . 67 Chapter 8 - Transitioning . . . . . . . . . . . . . . . . . . . . . . . . . . . . . . . . . . . . . . . . . . 79 Chapter 9 - Teachers . . . . . . . . . . . . . . . . . . . . . . . . . . . . . . . . . . . . . . . . . . . . . . 91 Chapter 10 - Homework . . . . . . . . . . . . . . . . . . . . . . . . . . . . . . . . . . . . . . . . . . . 105 Chapter 11 - Social and Emotional Issues . . . . . . . . . . . . . . . . . . . . . . . . . . . . . . . 113 Chapter 12 - A Program for Billy . . . . . . . . . . . . . . . . . . . . . . . . . . . . . . . . . . . . . . 121 About the Authors . . . . . . . . . . . . . . . . . . . . . . . . . . . . . . . . . . . . . . . . . . . . . . . . . . 127 Order Form . . . . . . . . . . . . . . . . . . . . . . . . . . . . . . . . . . . . . . . . . . . . . . . . . . . . . . . 129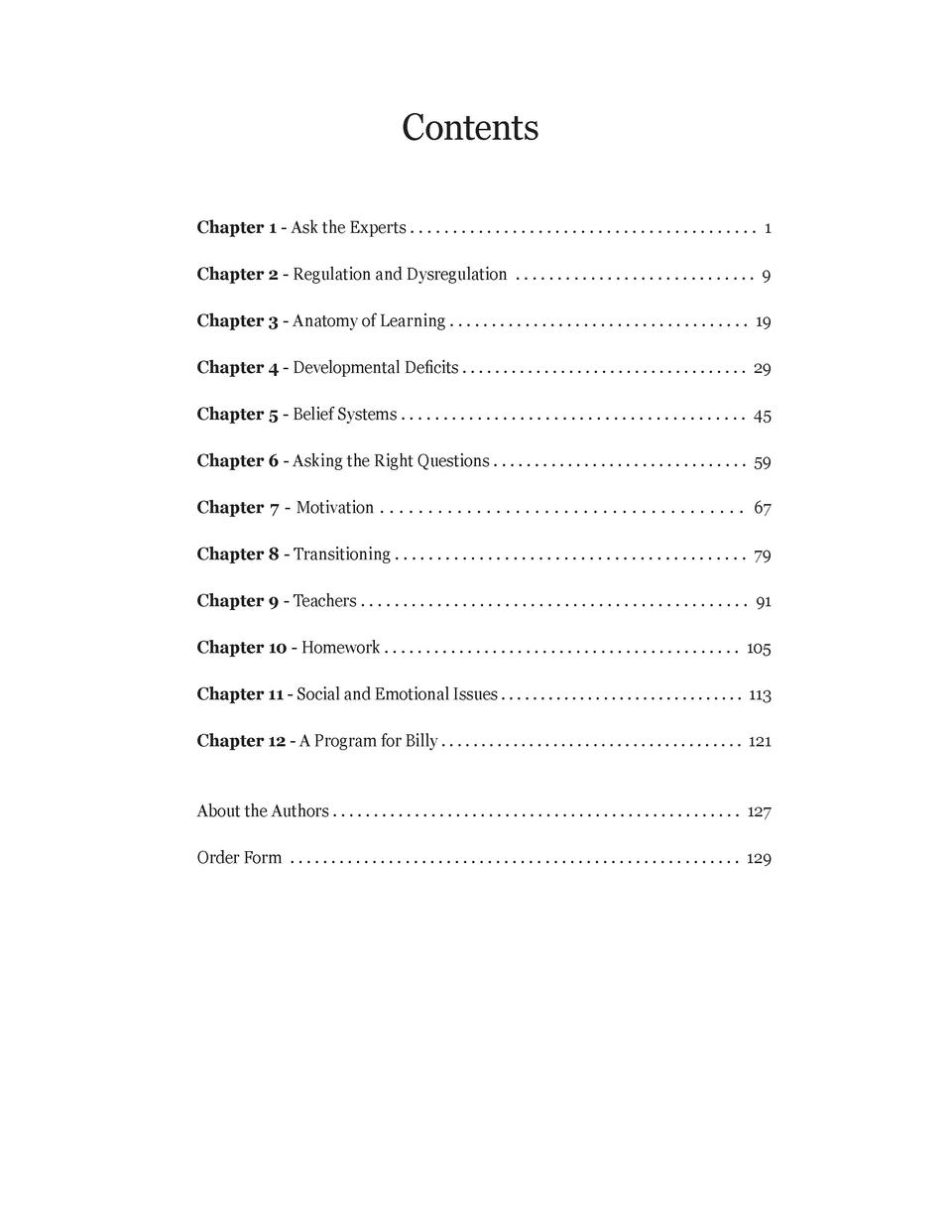 CHAPTER CHAPTER ONE Ask the Experts S chool environments are traditionally designed for children whose brains and systems are hardwired for school; children who have a natural love for learning intact; and children who can enter school with the ability to sit quietly and stay focused. However, as many teachers learn throughout the years, the traditional school model does not work for every child. The research on traumaSchool environments are impacted students requires traditionally designed for: a new lens. Looking through the eyes of a trauma-impacted student requires the willingness to see life from the student's perspective. We must get outside of ourselves and our own familiar reality. Children whose brain systems are hardwired for We can't slip back into our thinking logically and are ready for school. traditional way of teaching. If we fall back on what is easier and more familiar, we tend to judge and punish Children who have a natural love for learning that is still intact. students for behavior that is out of their control. Our children DO know what they need. They have a Children who have a well-developed regulatory natural love for learning we system and are able to sit quietly and focus. should honor and respect. 1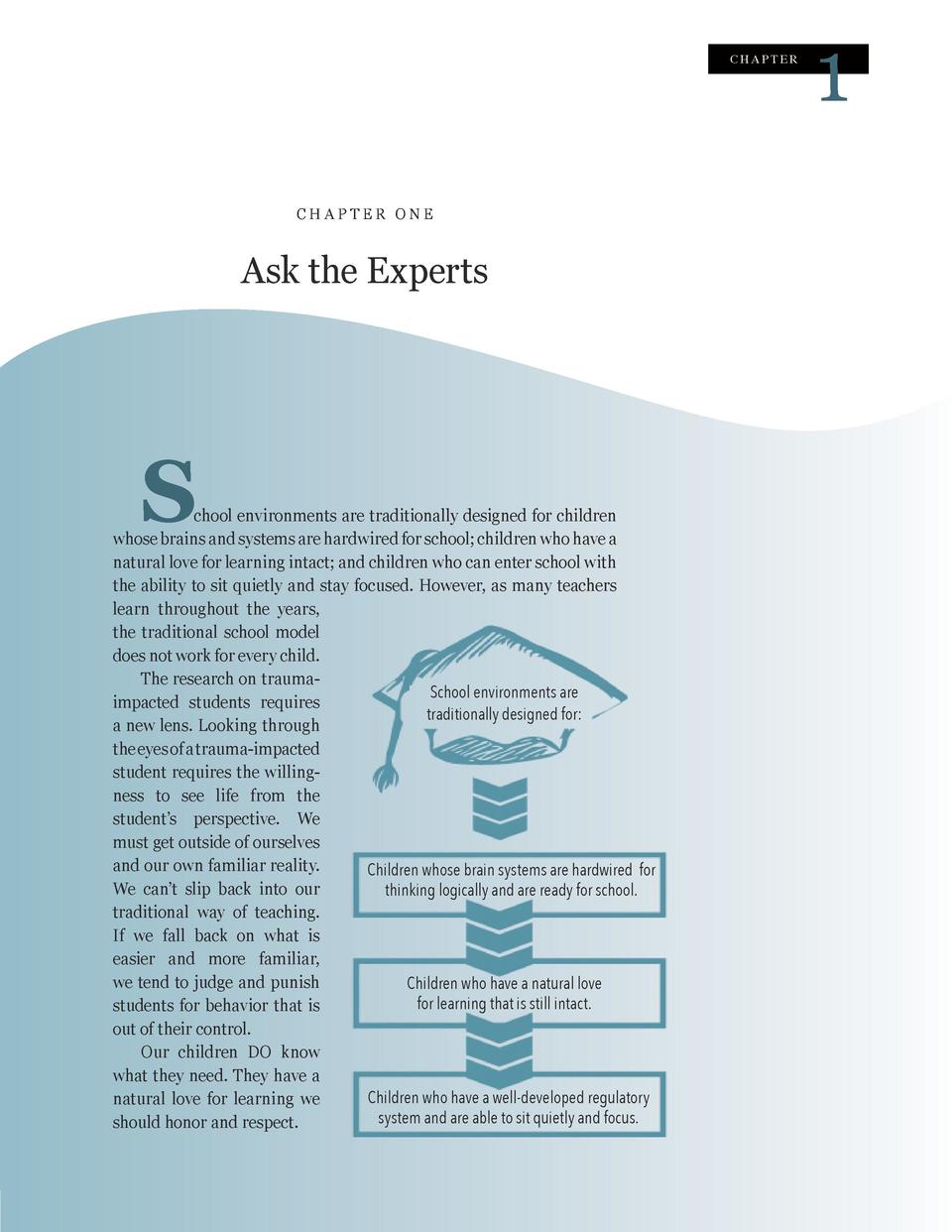 2 | CHAPTER ONE REFL EC T I V E QUE S T IONS 1. Educators are compassionate people. So why do you think we fall back on traditional norms of discipline? "The need to be calm and in balance, instead of stressed and overwhelmed, appears to be one of the student's top needs" 2. The research tells us that traditional methods of discipline do not work with trauma students. In your own words, why is this? - Help for Billy 3. Can you relate a time in your own childhood when a teacher or other adult disciplined you and you felt frustrated that it didn't make sense? Neuroscience gives us a new perspective. We have a deeper understanding of the brain. Therefore, we have a greater understanding of our students. Science has shown us that brain drives behavior.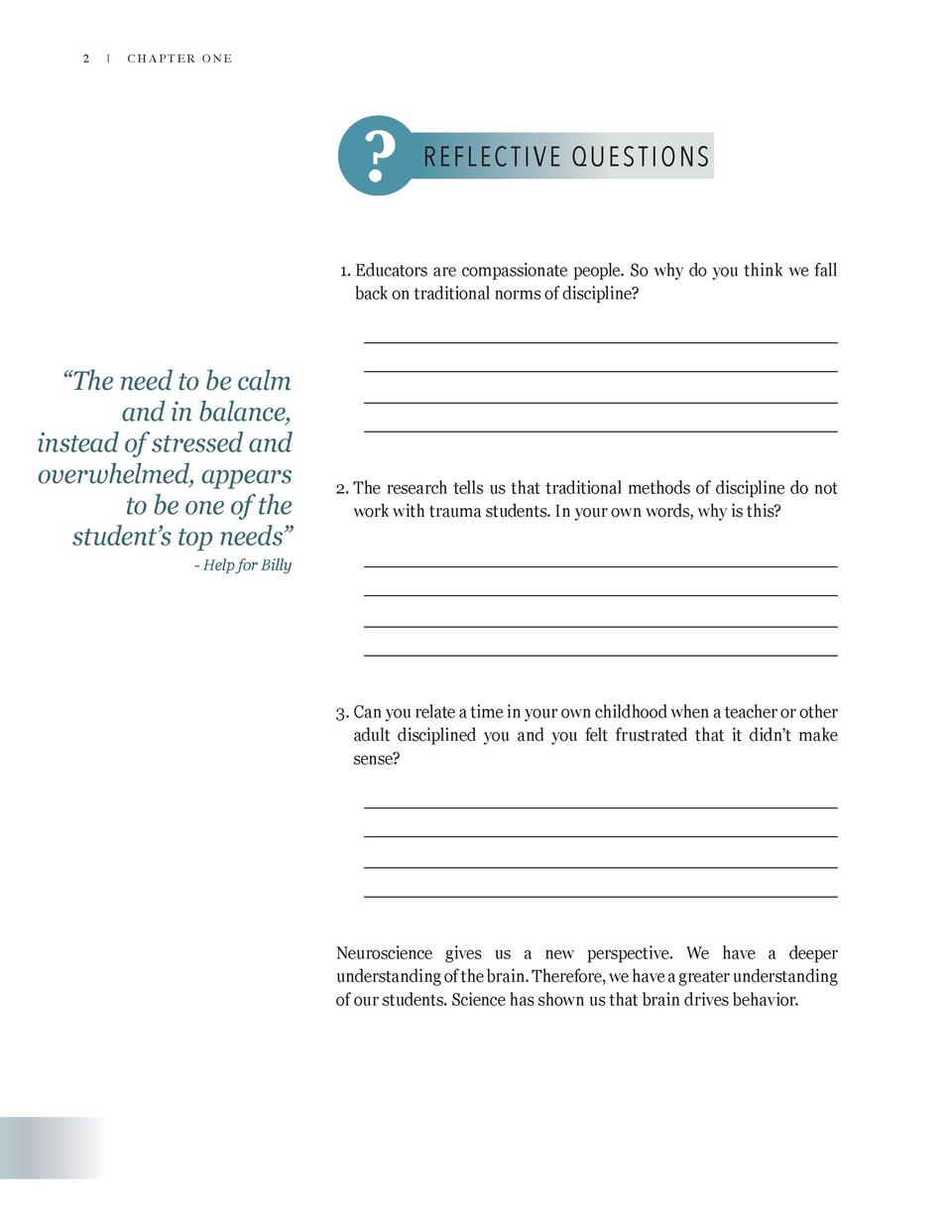 CHAPTER ONE Neuroscience gives us a new perspective We have a deeper understanding of the brain Science has shown that the brain drives behavior. Therefore, we have a deeper understanding of our students Hierarchy of Learning. Due to a child's traumatic experiences, the lower parts of the pyramid must be addressed prior to expecting the child to be able to learn. Motivation, creativity, curiosity, problem solving, and memory all come once the four basic levels of selfesteem, relationship, safety, and physical needs are satisfied. Learning motivation, learning, creativity, problem solving, memory, curiosity Esteem / Self-Love self-esteem, self-respect, confidence, respect of others, respect by others, desire to achieve Relationship / Love friends, teachers, school administrators, counselors, school personnel, family Safety Physiological physical safety, emotional safety, freedom from bullies, freedom from harsh punishment breathing, freedom from hunger and thirst, rested, homeostasis, regulation | 3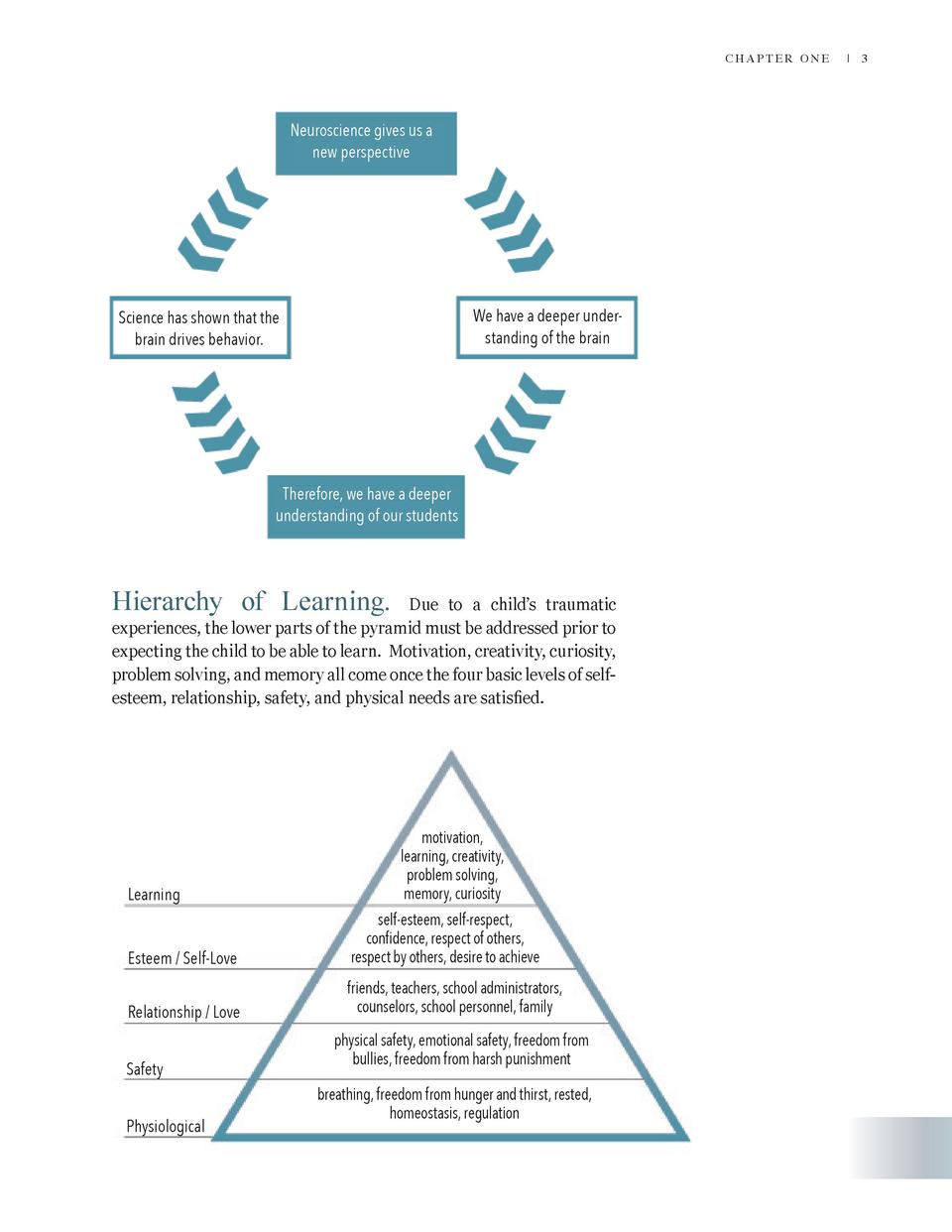 4 | CHAPTER ONE Identify one of the most challenging students you in your classroom (now or have had in the past). On a scale of 1 to 10, rate the level of the needs this "Billy" has met on a typical day (1 being none of the needs are met, 10 being all the needs are met). have Place your scoring in each of the blank boxes corresponding to each pyramid level for this student: Learning Esteem / Self-Love Relationship / Love Safety Physiological Reflect on how this scoring influences Billy's ability to maintain appropriate behavior in the classroom and describe things you can do to help improve Billy's score. NE W TOOL S To be an effective teacher for the trauma-impacted child in the classroom, we need to add more tools to our toolbox.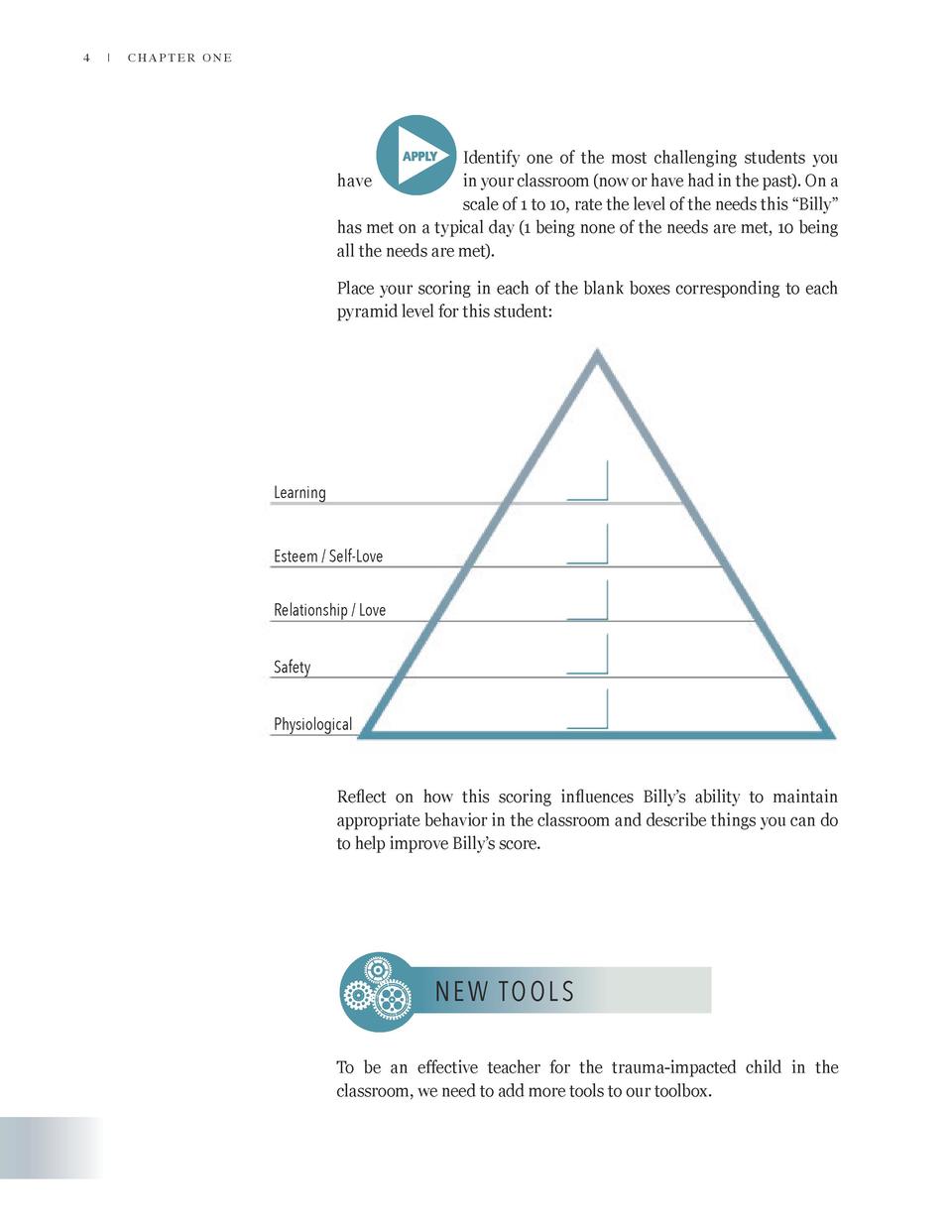 CHAPTER ONE | 5 1. What ideas and thoughts caught your attention in Chapter One? 2. What tool(s) have you found to be most effective with a child who is out of control? "We live in a world that is different than it was fifty years ago, even twenty years ago. As a result, we are teaching different children in the classroom than in the past." - Help for Billy 3. Do the tools you listed above relate to the child at the behavioral level or the relationship level? 4. Are there any effective tools you've witnessed other teachers use? 5. What tools do you see yourself implementing in the future? "When working with trauma-impacted students, we must reach their hearts before we can reach their heads." - Dr. Ken Ginsburg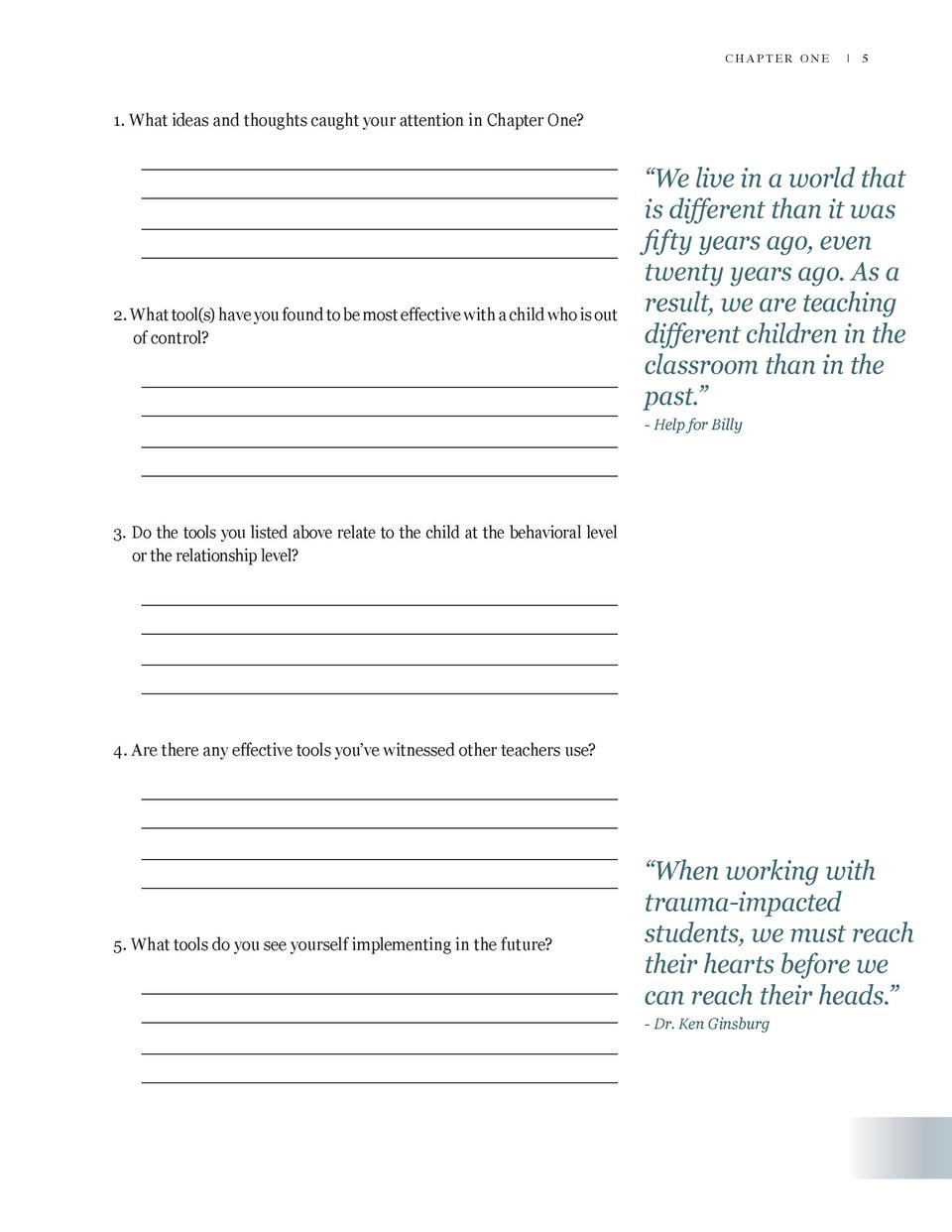 2 CHAPTER CH A P TER T WO Regulation and Dysregulation T he challenge comes in having two very different types of students in the school environment. The first student ("Andy") comes from a childhood background of being loved, nurtured, and feeling safe. The second student ("Billy") comes from a childhood background of being unattached, unloved, and scared. he difference between these two students comes down to one word: T TRAUMA. When the expectations for these two children are the same, Billy is the student who struggles in school. Here are the typical outcomes for students like Billy: 1. We label them as disruptive. 2. We reprimand them for their behavior. 3. We verbally compare them to their peers, saying things like: "Why can't you act like Andy?" 4. We punish them for not following rules. 5. We believe these students are being purposefully defiant. 6. We refer them to special education. 7. We react to their behavior; we don't seek the cause. 8. We remove them from school and send them home. 9. We suggest that they have ADHD. 10. We distance ourselves from these students and we shun them.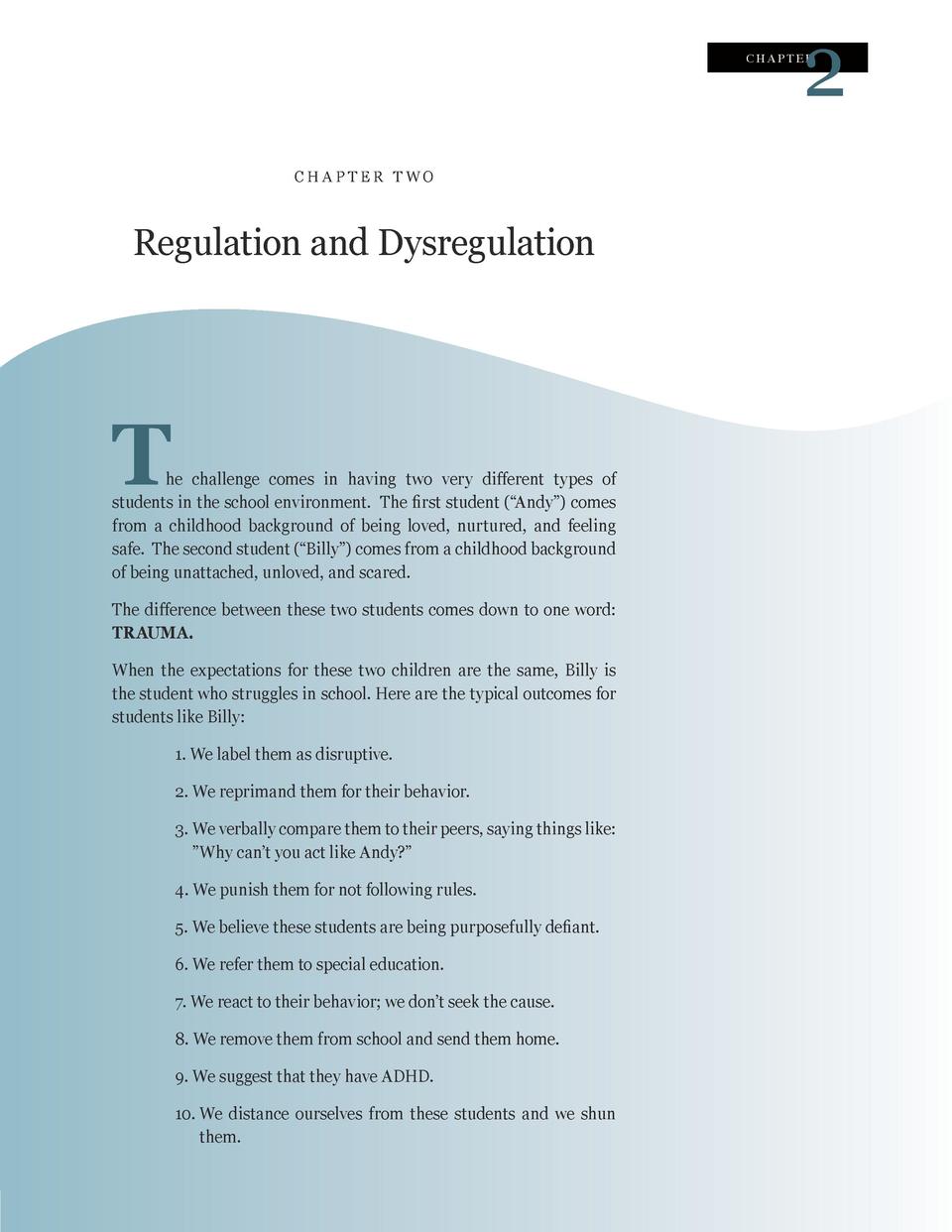 10 | CHAPTER TWO ndy and Billy have drastically different windows of stress tolerances. A We must recognize that Billy is living each moment of every day literally at his breaking point. Instead of seeing Billy as making bad "choices," we must begin to see that Billy needs more external support and relational connection to help him build his level of stress tolerance. Billy's environment is broken up and many pieces are missing. Andy's environment is supportive and stable. All of his pieces are intact. Billy's environment is broken up and many pieces are missing. REFL EC T I V E E X ERCISE Stretch your imagination and envision what it would be like to be Andy as an infant and toddler. Andy's home experience was the following: • Andy's mom was excited about her pregnancy. • Andy's mom had healthy prenatal care. • Andy was breast-fed. • Andy's needs were cared for around the clock. • Andy was nurtured and soothed when upset. • Andy's parents supported one another. • A ndy was encouraged to share feelings and given support during difficult times. Take a deep breath and clear this imaginary experience. Now, what would it feel like to be Billy as an infant and toddler? Andy's environ and stable. All of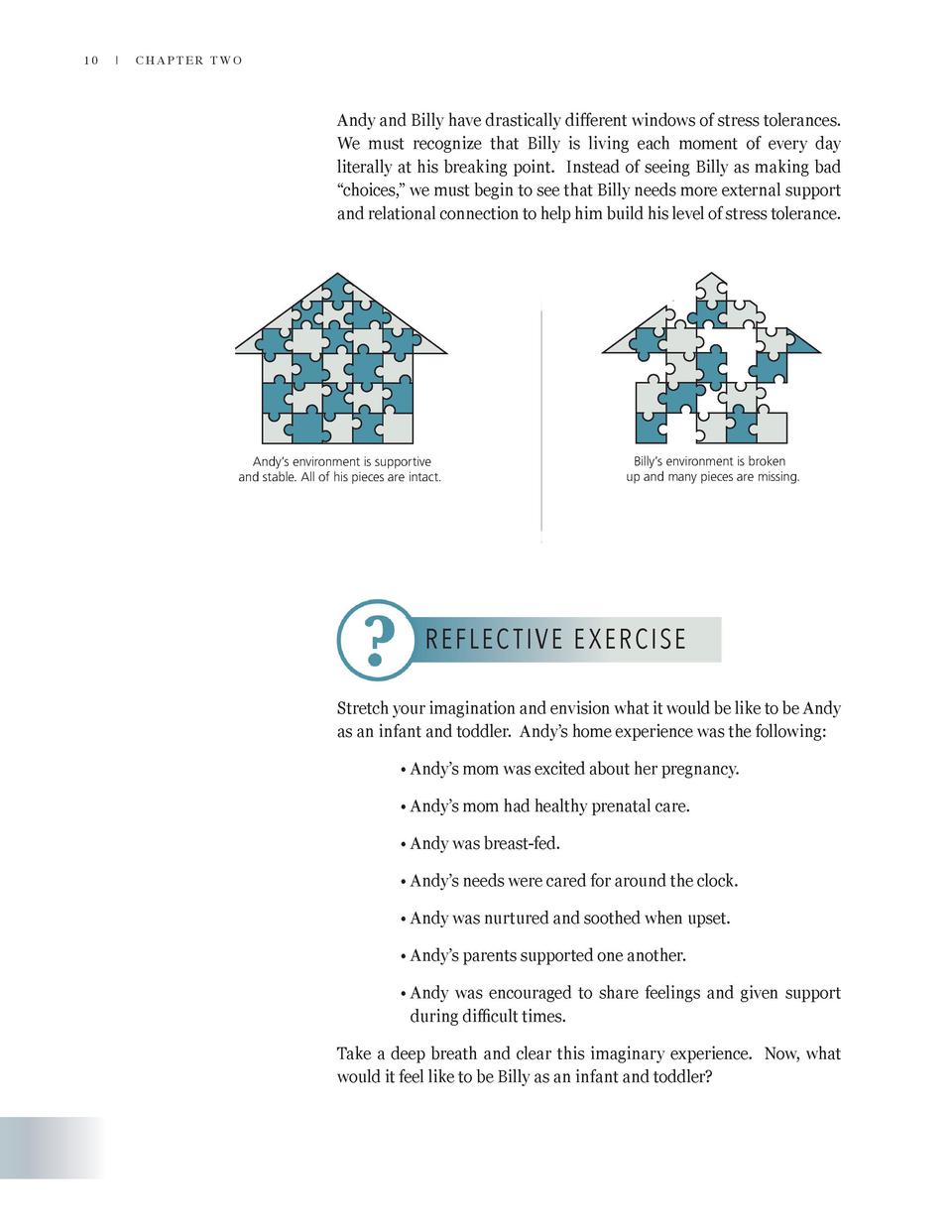 CHAPTER TWO Billy's home experience was the following: • Billy's young mom was furious about her pregnancy. • The pregnancy caused conflict with Billy's mom's boyfriend. • Billy's mom tried to hide the pregnancy from her parents. • Billy's mom's parents kicked her out of the home. • Billy's mom moved in with an abusive boyfriend. • Billy was placed in daycare at six weeks old. • Billy went from one caregiver to another. • Billy's mom was perpetually stressed from work, unresponsive to Billy when she got home. Compare the feelings you had about both children. When both children enter kindergarten, does it make more sense to you why Andy is healthy and ready for school while Billy is unable to respond appropriately and immediately exhibits major behavioral issues? Share what you have learned from comparing both children's start in life. Trauma. Trauma can be experienced early in childhood and/or later in childhood. We often minimize these experiences and fail to recognize them as trauma. It isn't the experience so much as it is the feeling the child experiences during the traumatic event. Examples of traumatic events Often times, Dad comes home angry. He starts to take it out on Mom and Billy tries to step in to save Mom. His Dad then turns on him and tells him that if he ever tries something so stupid again, he'll kill Billy. Mom's angry and tells Billy she wishes he wasn't born and then packs her stuff and leaves for days. Dad leaves too and now Billy must take care of his siblings even though there is little food in the house. Emotions typically correlated with the trauma Worthless Helpless Ultimately leaving the child feeling Powerless Unlovable Forgotten Hopeless | 11