WELCOME to the Club that is more than you think...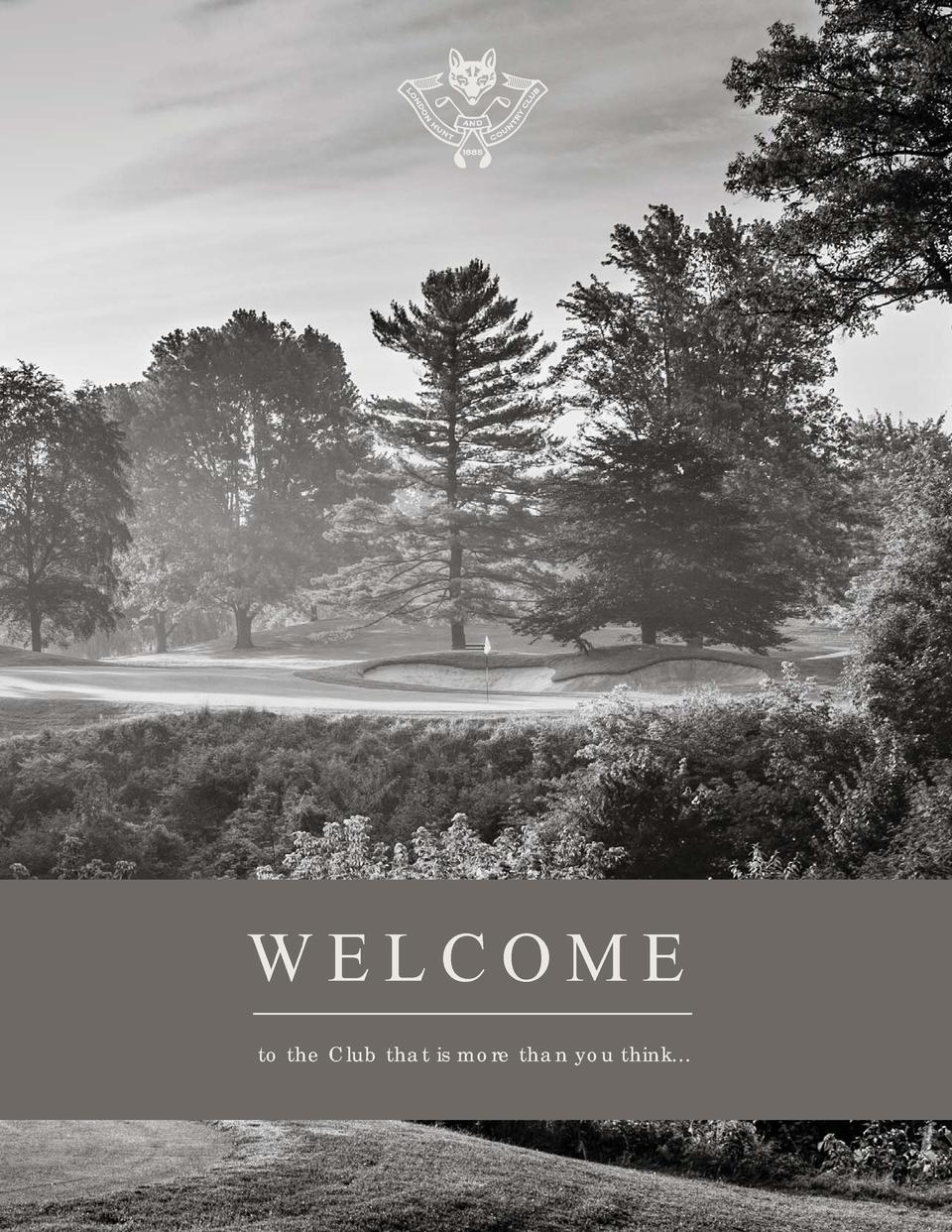 CLUB VISION Our vision is to be one of the premier private golf and country clubs in Canada offering an exceptional total Membership experience.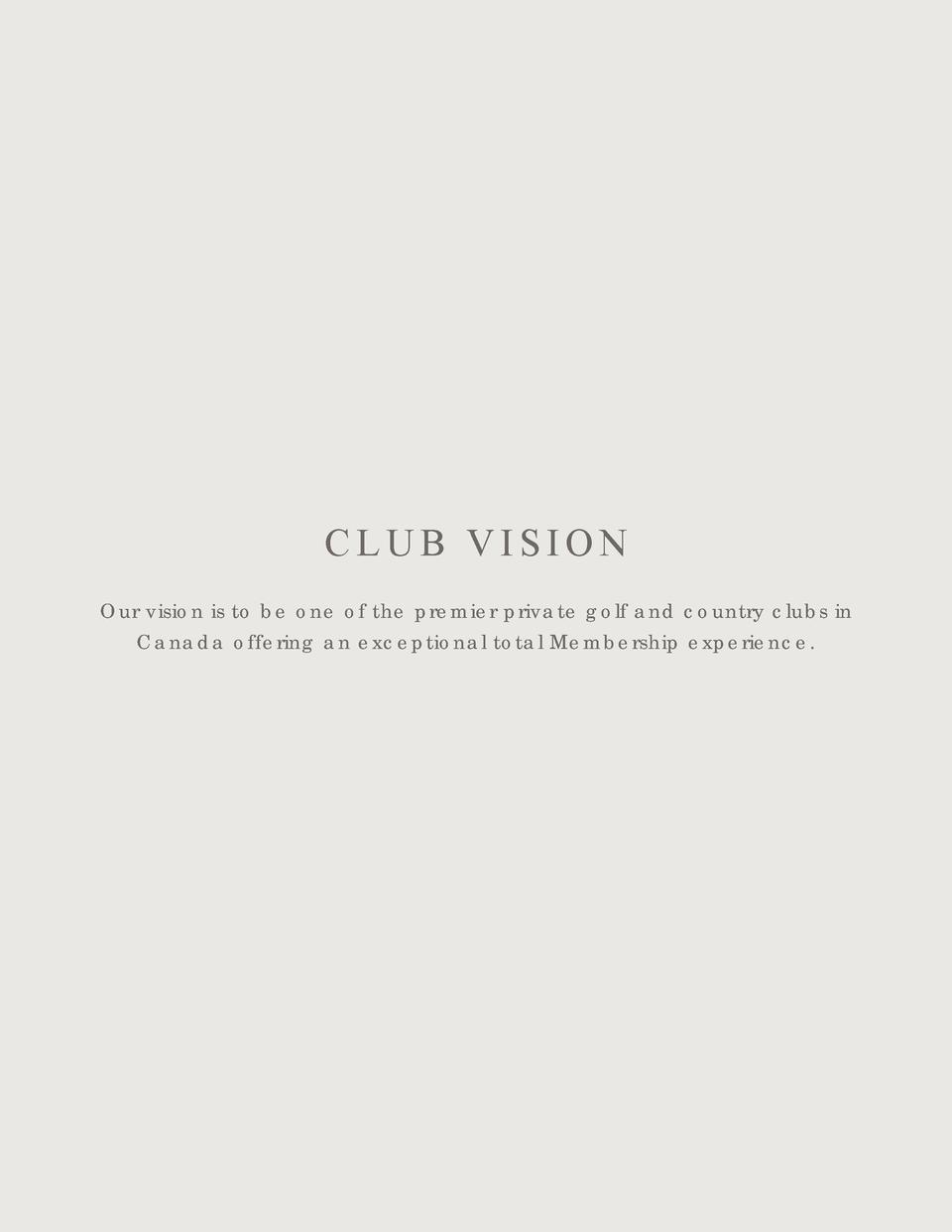 CLUB MISSION The London Hunt and Country Club is a family focused Club providing its Members with an internationally recognized golf course complemented by a first class dining facility. To enhance the enjoyment of Members the Club includes such programs as hunt, tennis, trap and skeet, fitness, and social activities.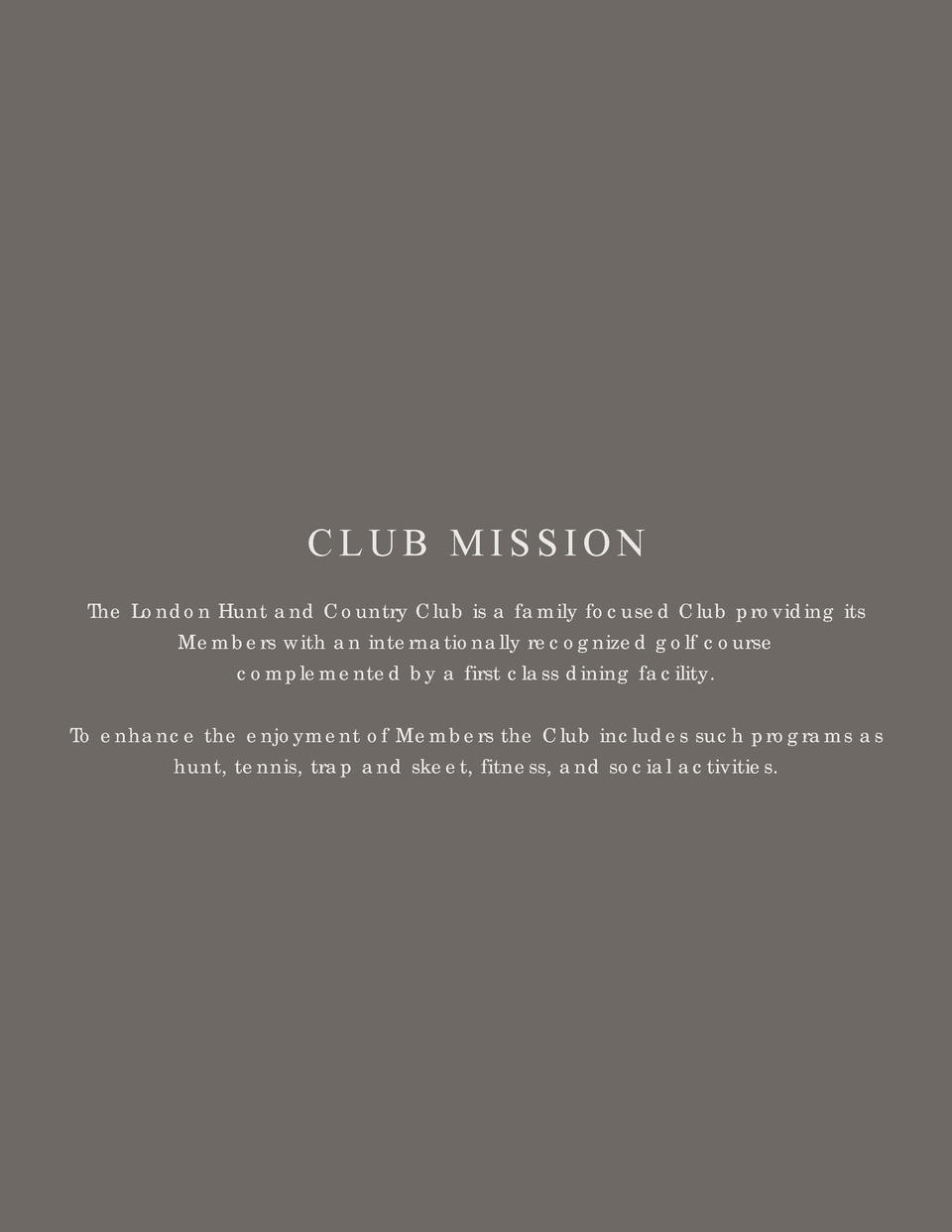 Y O U H AV E A R R I V E D The London Hunt and Country Club is a first-class facility set on 267 acres of breathtaking, panoramic scenery. Positioned in London's reputed west side along the Thames River, this meticulously landscaped Georgian hideaway features a 7200 yard, 18-hole championship golf course, exceptional practice facilities, ten professional clay tennis courts, a fine trap and skeet facility, fitness studio, first-class dining and more. Our distinction as one of the finest country clubs in Canada draws the most successful professionals in the area and abroad to Membership and inspires us to endlessly create an experience beyond all expectations.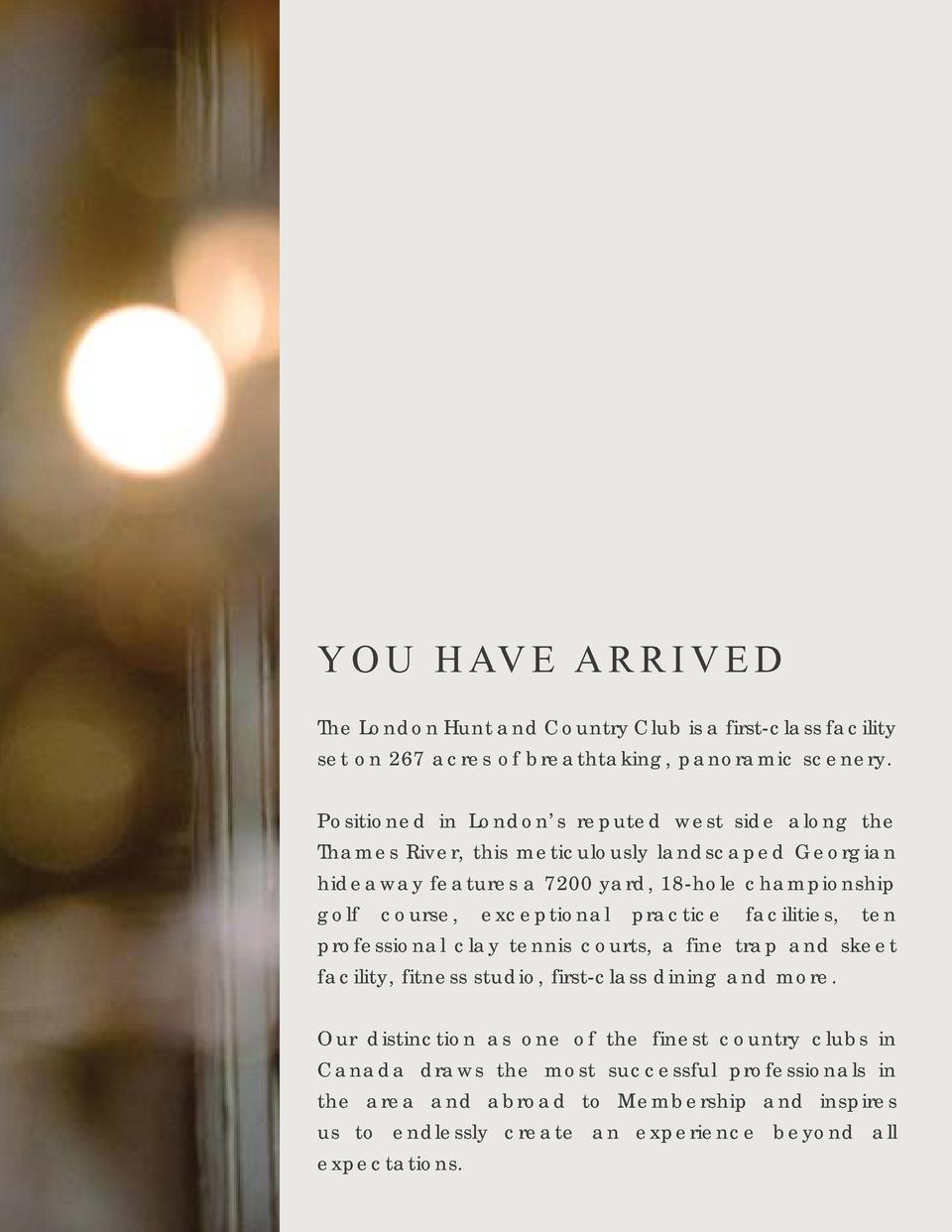 H I S T O RY The London Hunt and Country Club has a distinguished tradition dating back to March 30, 1885 when a group of stalwart equestrians formally organized civilian hunting buffs into the London Hunt Club. By the turn of the century, the Club had moved from its original location to the corner of Richmond Street and Windermere Road where it remained for 61 years until the inevitable expansion of the University Of Western Ontario compelled the Club to relocate to its present location. Although the Club began as a hunting club, over the years, amenities such as golf, tennis, trap and skeet and fitness were added to enhance the Membership experience. With a history of its Members excelling in business, athletic and charitable arenas, it's no wonder the Club continues to host visitors from the all over the world.
Kierney Marsh, Club Professional with H.R.H. The Prince of Wales London Hunt and Country Club, October 26, 1919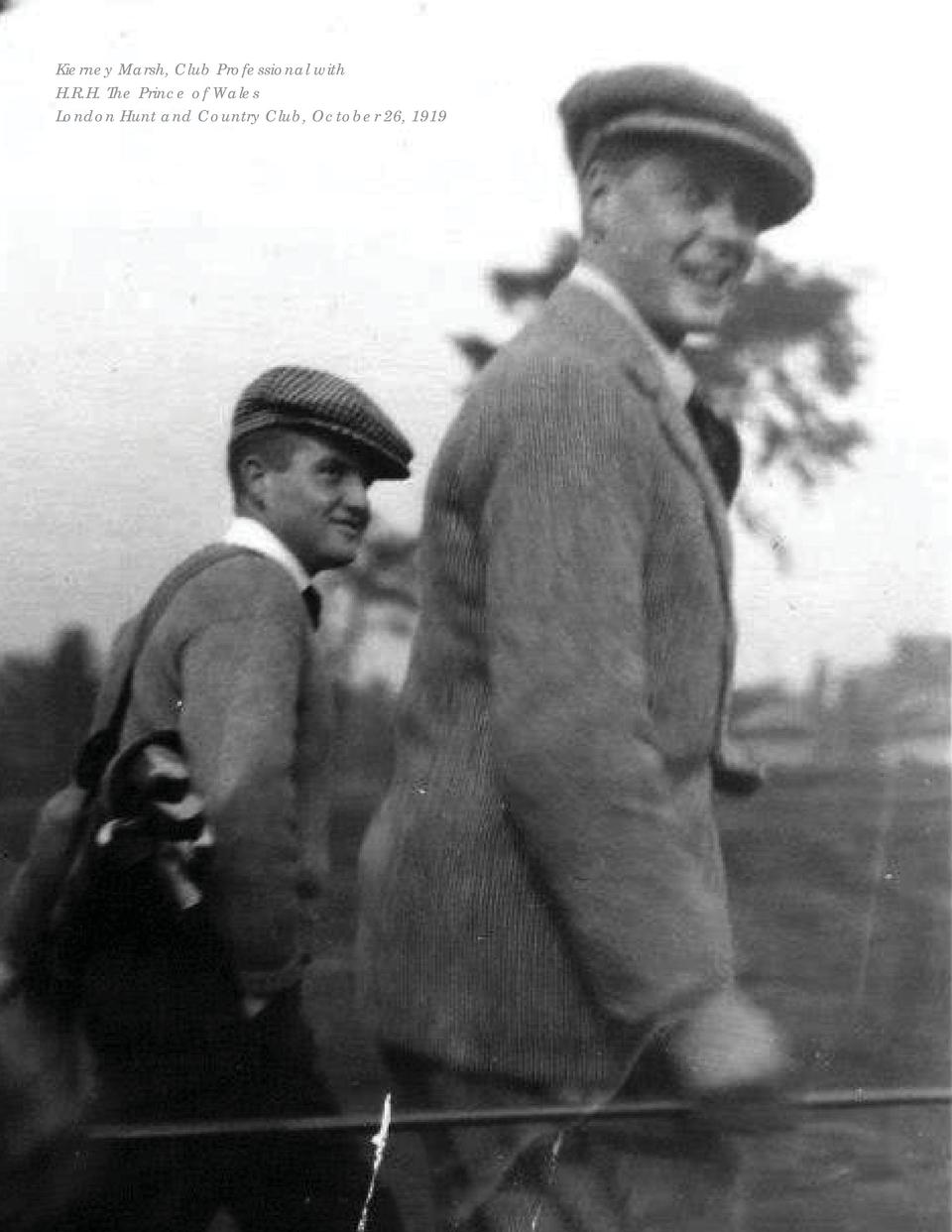 GOLF It's a beautiful morning and your tee time is booked. You wake up knowing that you will play one of the finest courses at one of the most prestigious clubs in the nation, exclusive to Club Members and their guests. The breezy, wellgroomed course takes full advantage of the property's natural setting and is designed with both the average and professional golfer in mind making it just as beautiful as it is challenging. Designed by one of the world's most renowned Golf Course Architects Robert Trent Jones (1960) and renovated by his son Reese Jones (2000), this 18 hole Championship course has played host to major events on the national and international level, most recently, the CP Women's Open in 2014. The Club provides a variety of leagues and programs on this top ranked course and state of the art practice facilities by a team of professionals led by a certified Golf Professional and his staff.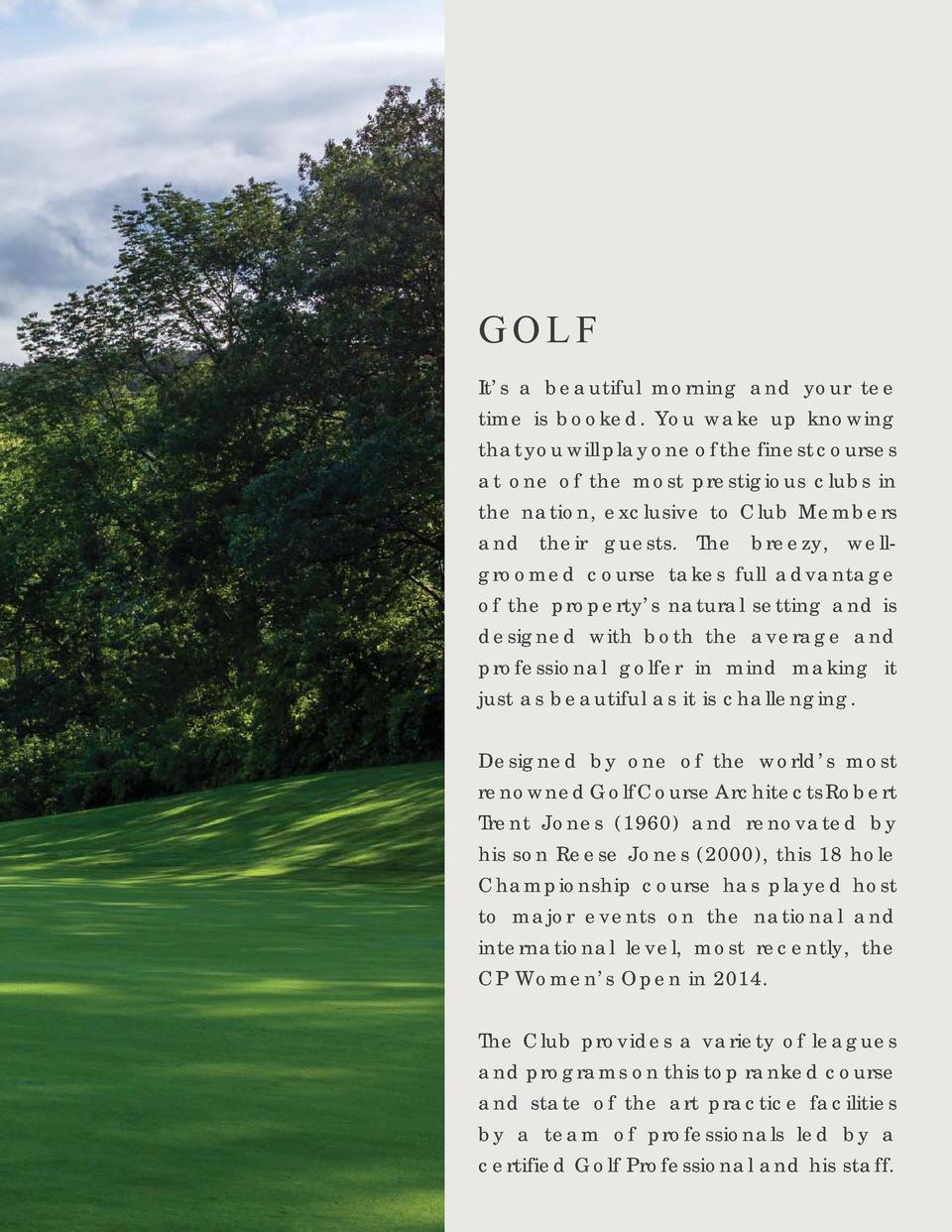 TENNIS Tennis enthusiasts can appreciate the Club's ten professional clay courts surrounded by mature trees for privacy. The courts are complemented by a raised viewing terrace and bar service in the Chalet make it the perfect setting to spend a summer afternoon with family and friends. The tennis programs are designed and supervised by a certified Tennis Professional and his staff to provide leagues, competitions and instruction for all ages and skills.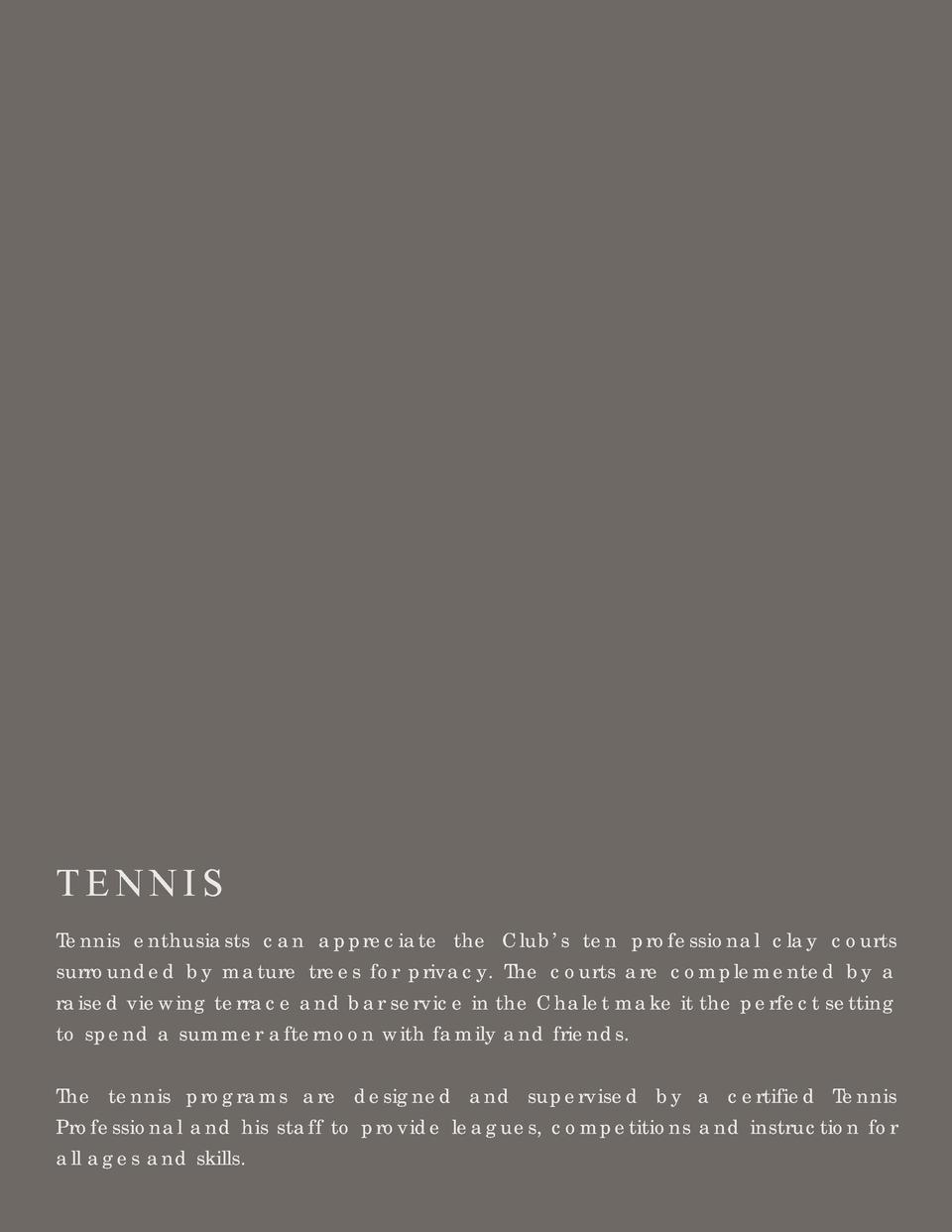 CLUB DINING AND EVENTS Whether you are in the mood for fine dining, casual fare or just want to relax with a refreshing beverage, we have the perfect spot for you. Leather tones, a stone fire place, an impressive wine cellar, modern leading-edge design and a stunning terrace offer a variety of dramatic backdrops for any occasion of all sizes. The London Hunt and Country Club is the most sought after address for weddings in the area. From the engagement party and bridal showers to the ceremony and reception we have you covered for grand affairs or intimate celebrations. Contact us today to learn how our close to 270 acres of tranquil estate can bring your dream wedding to life.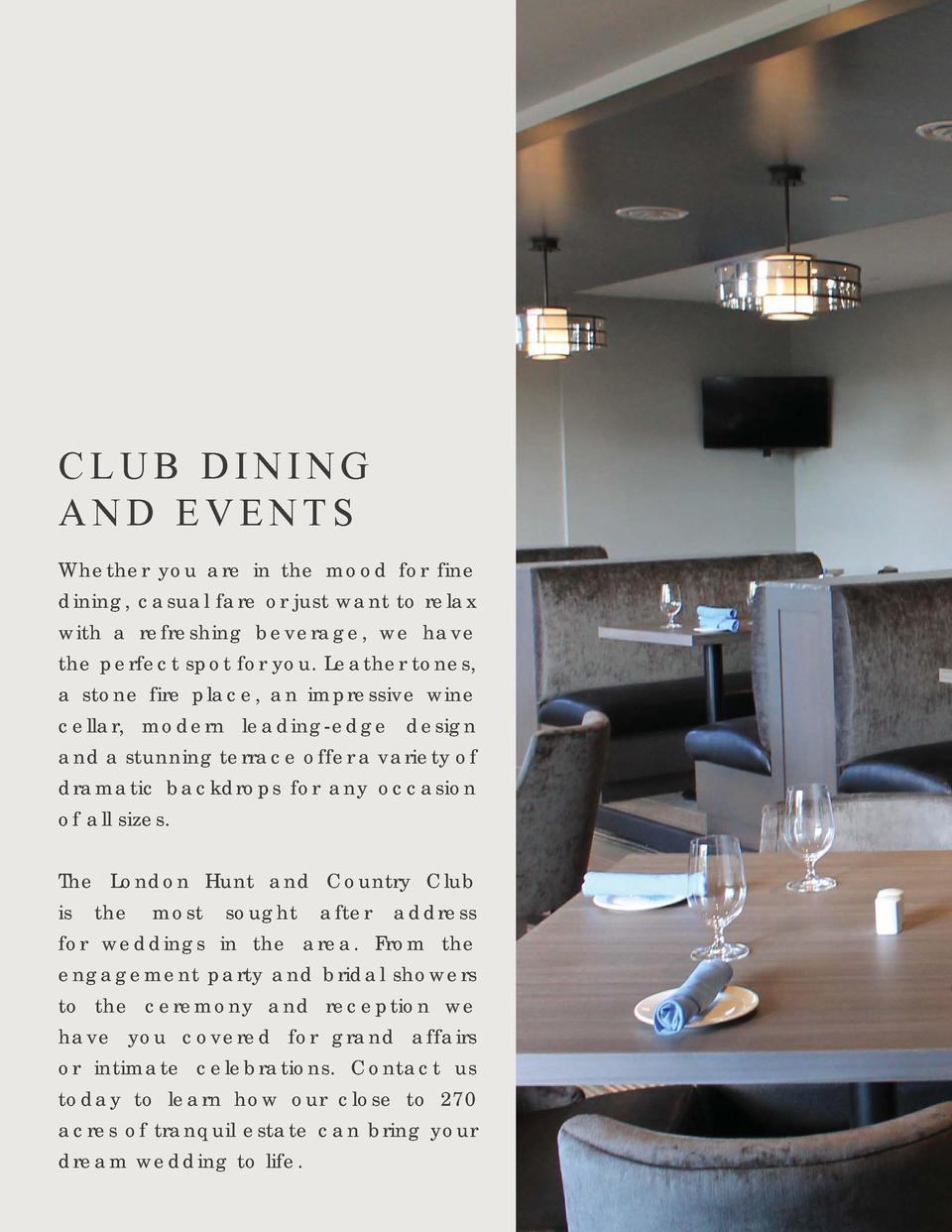 FITNESS The London Hunt and Country Club's Fitness Centre provides a 3,040 square foot fitness studio and gym with up to date equipment, professional instructors and cutting edge classes. All of our instructors are certified professionals leading more than 25 classes weekly including cardio, yoga, pilates, and meditation and relaxation. Whether you are new or experienced in fitness, the Club offers orientations and personal training in addition to equipment access and classes. Don't forget to enjoy a steam in the locker room post workout!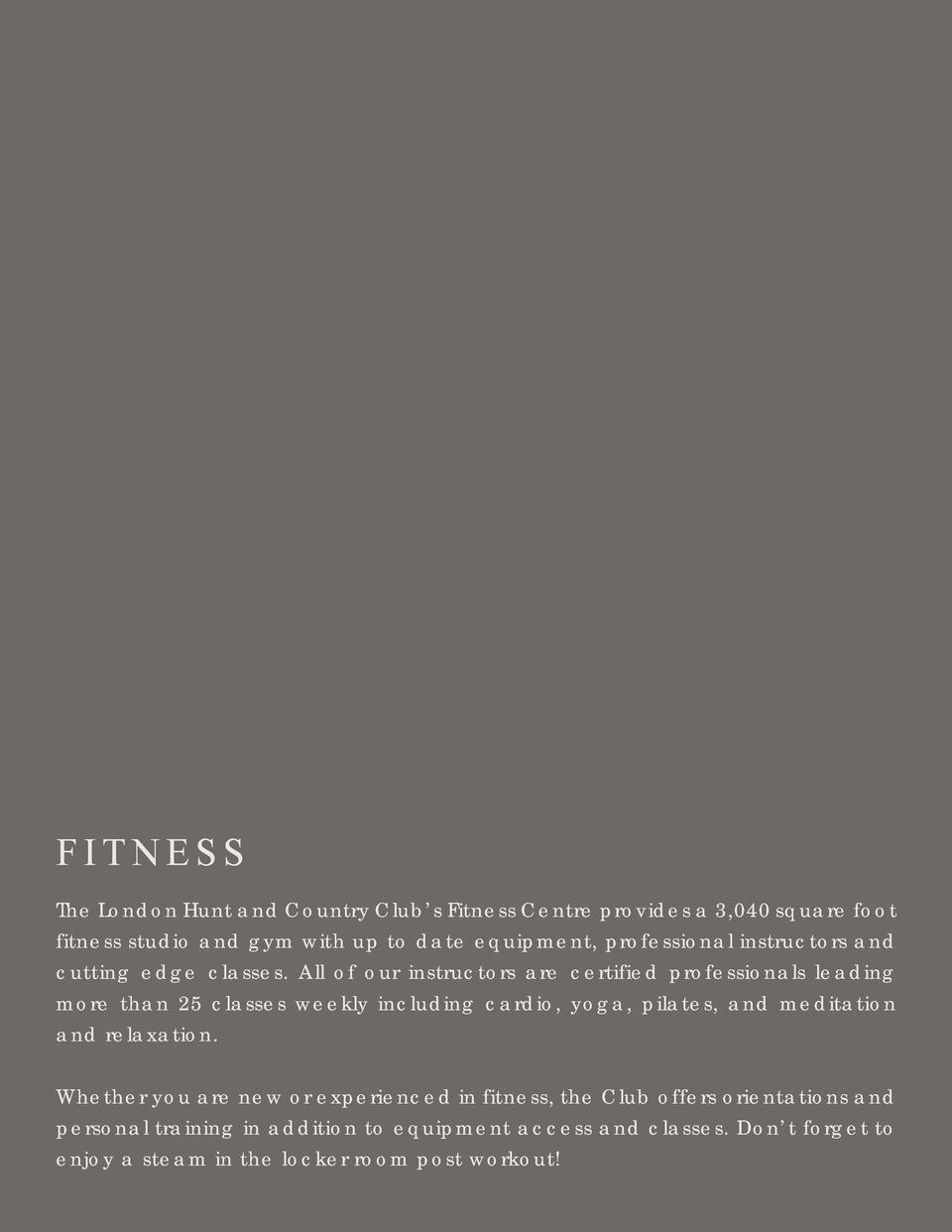 HUNT This is a return to the way the hunt is meant to be enjoyed. Where hunt enthusiasts and spectators of all ages can gather together in a first-class environment for a glimpse into a sport and lifestyle of yesterday. TRAP & SKEET A tradition at the Club for over 100 years Trap and Skeet offers an alternative to golf and tennis in the winter months. Our premier shooting facilities include two trap fields and a skeet field, which have lighting for night shooting making them the most desirable in the area.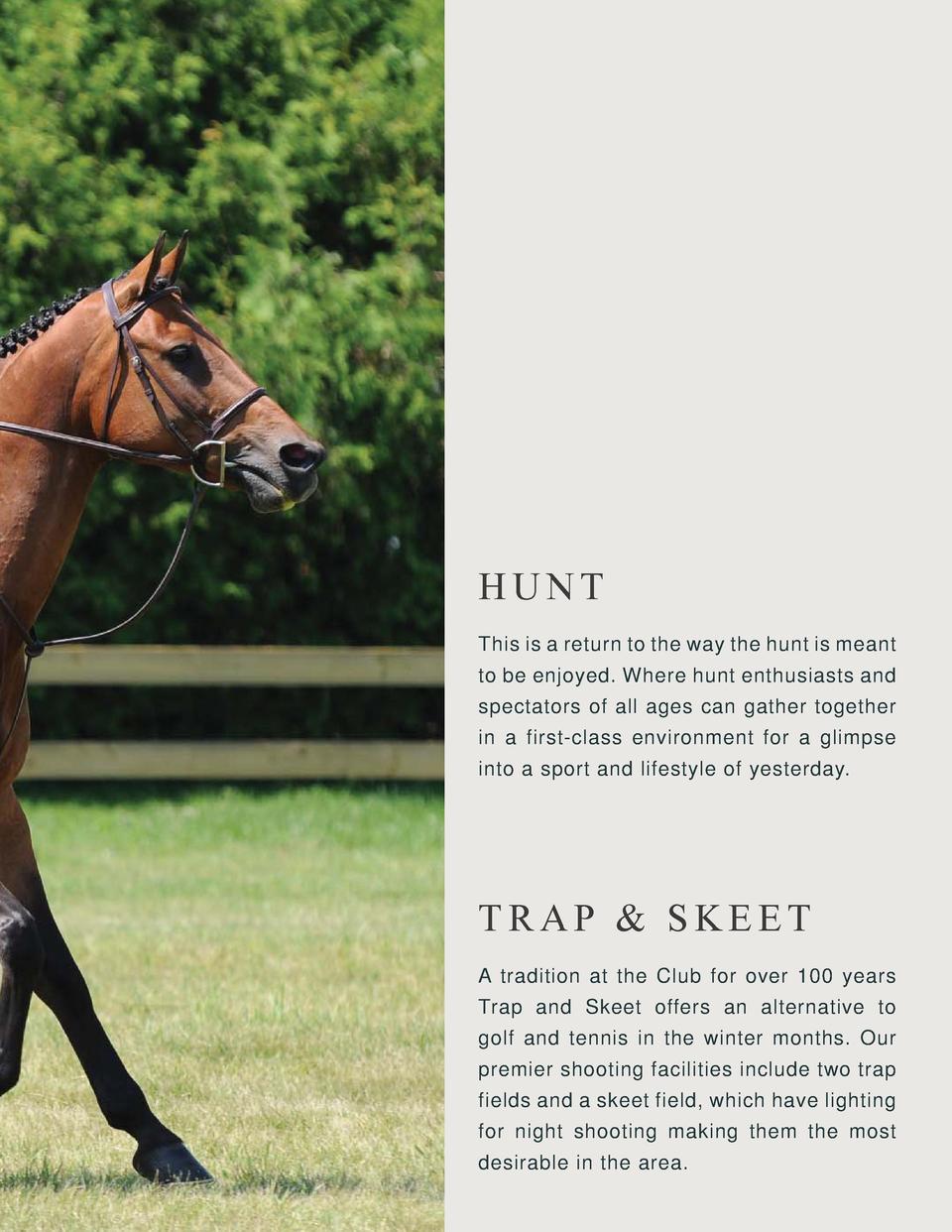 A CLUB FOR ALL AGES We know the time you spend with your family is precious, so we make it our mission to ensure that every moment you have together is rewarding. Whether you are at the Club with small children, teenagers or grandparents, there is something for everyone. We look forward to creating experiences that each member of your family will find enriching, energizing and memorable.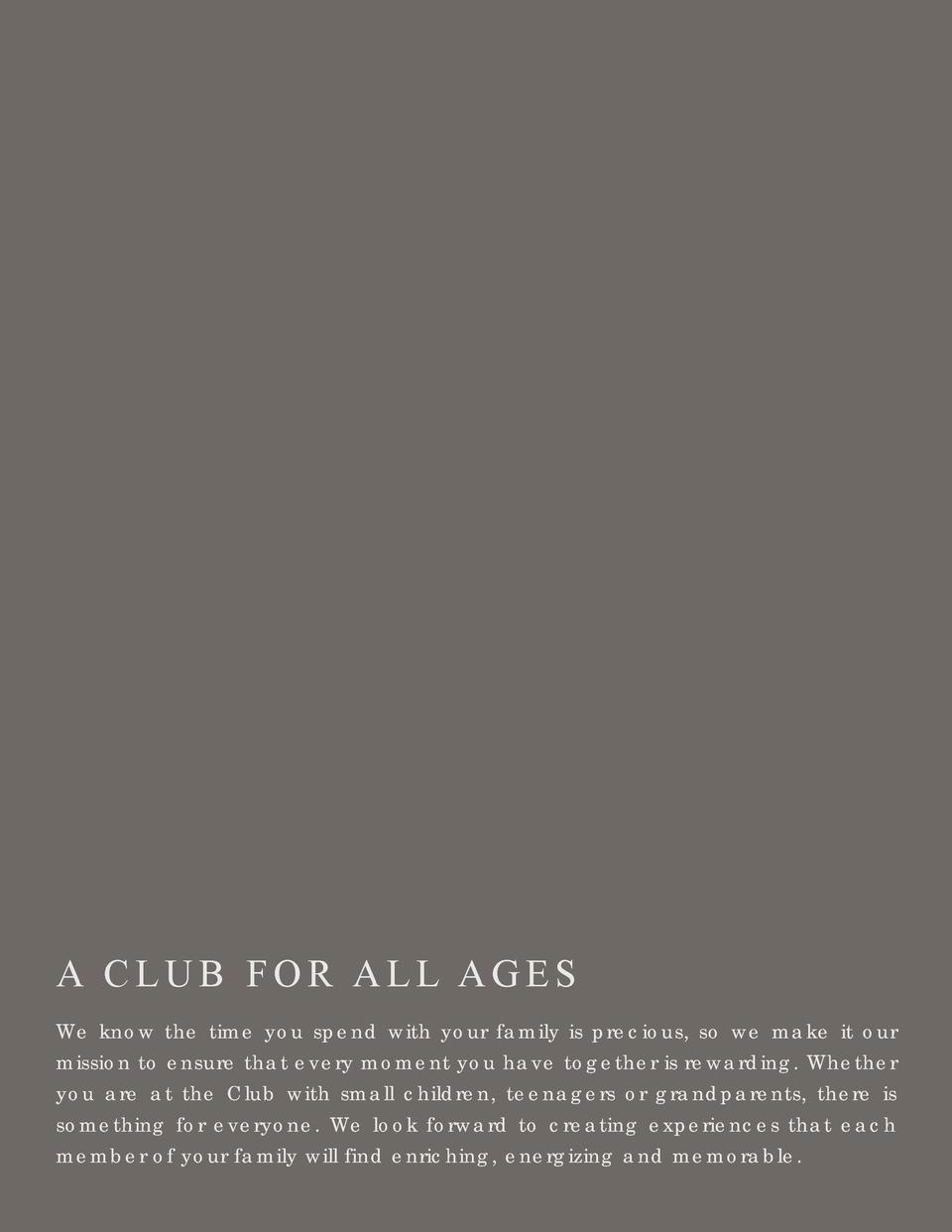 C O N TA C T U S Are you interested in golfing a nationally ranked golf course designed by a world-class designer? Are you interested in a culinary experience created by the best chefs in the area and beyond? Are you interested in calling the place where the area's most successful men and women meet, your Club? Get ready to begin enjoying Membership at this exclusive, newly renovated Club by contacting us to arrange a personal tour.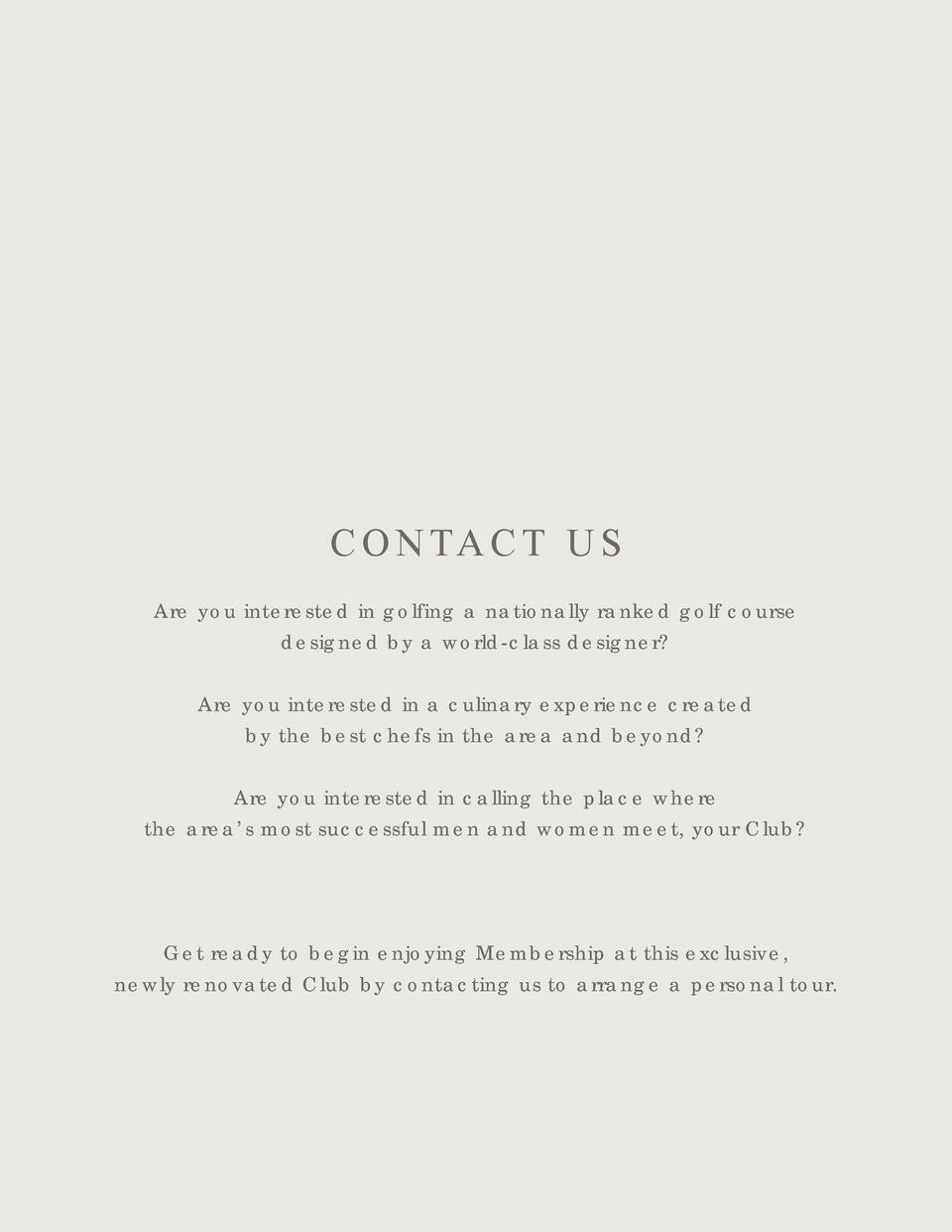 1431 Oxford Street West London ON N6H 1W1 www.londonhuntclub.com 519-471-6430