 Scanning Solutions with OCR & Text Searchable PDFs  Content Search & Retrieval for Documents  Content Search & Retrieval for Email & Attachments  Internet File Sharing & Syncing  Mobile Solutions for iOS & Android  Document & Contact Management  Instant Messaging  File Storage & Cloud Backup  And more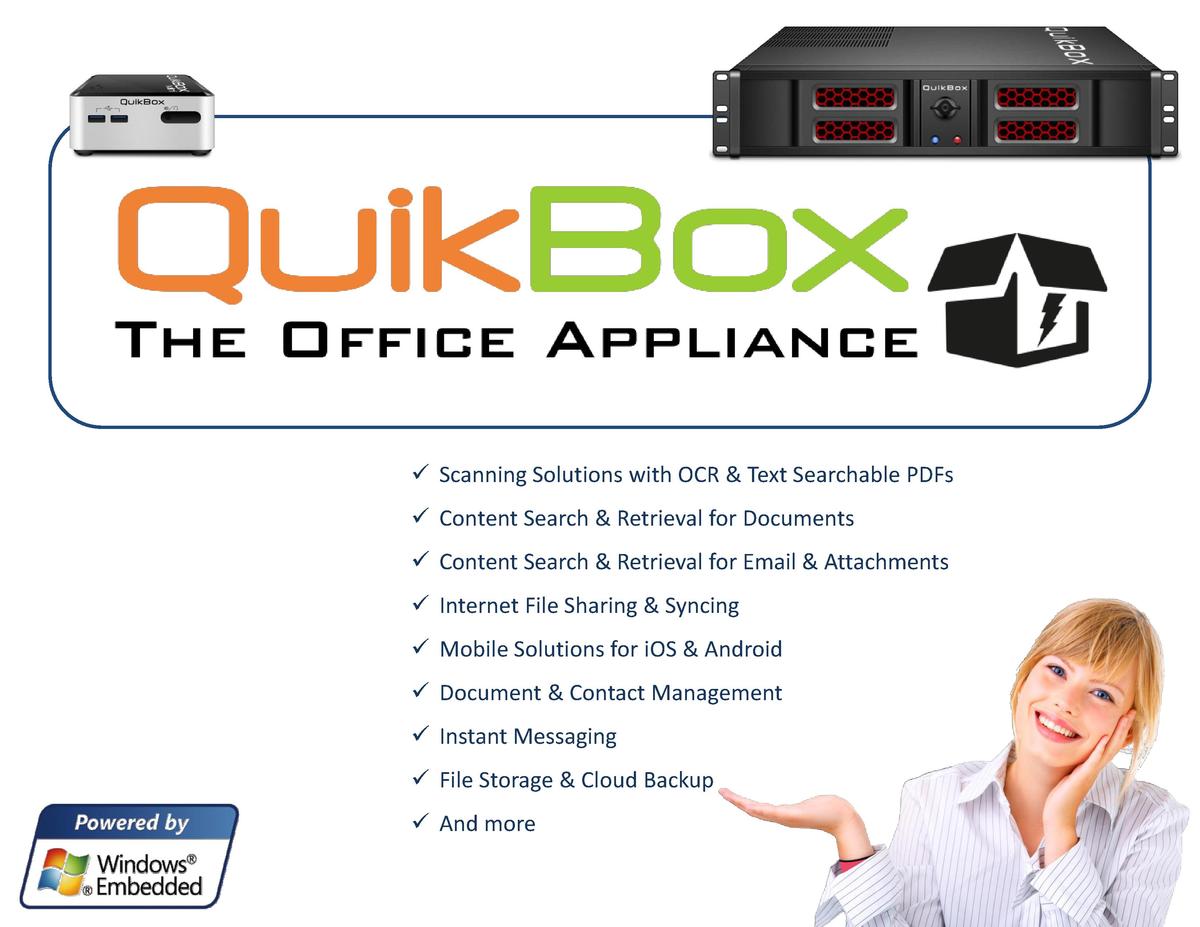 What is a QuikBox? A "Turn Key" Office Solution Appliance for quickly & reliably solving business needs. QuikBox makes common office business processes more effective & time efficient filing, searching, retrieving, sharing, syncing, printing, communicating, being mobile, etc.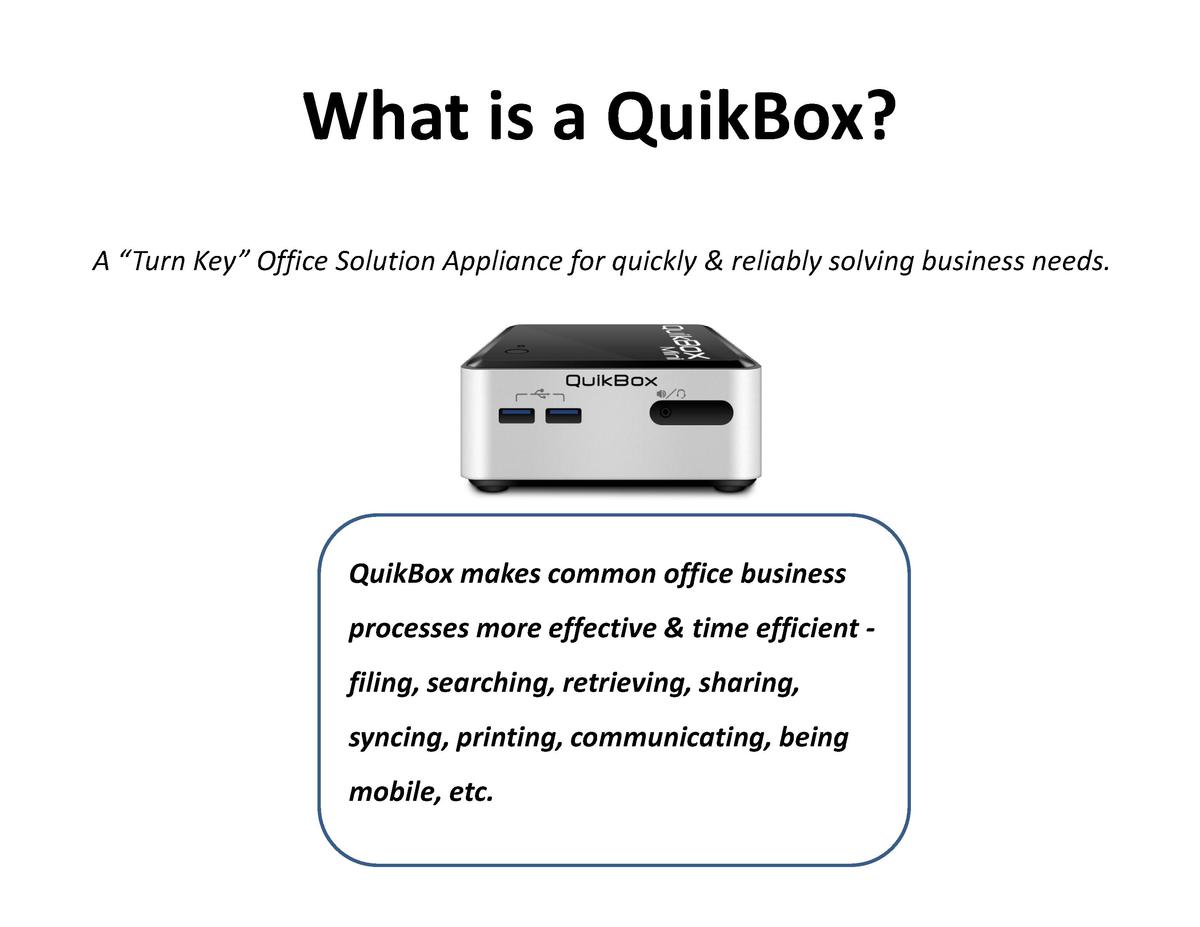 Simple, Powerful Scanning Workflows MFP – Multifunction Printers Maximize your MFP & Desktop Scanner investment • Create powerful workflow processes for scanning paper documents Desktop Scanners • Simple & Easy to use interface for users to quickly select the workflow process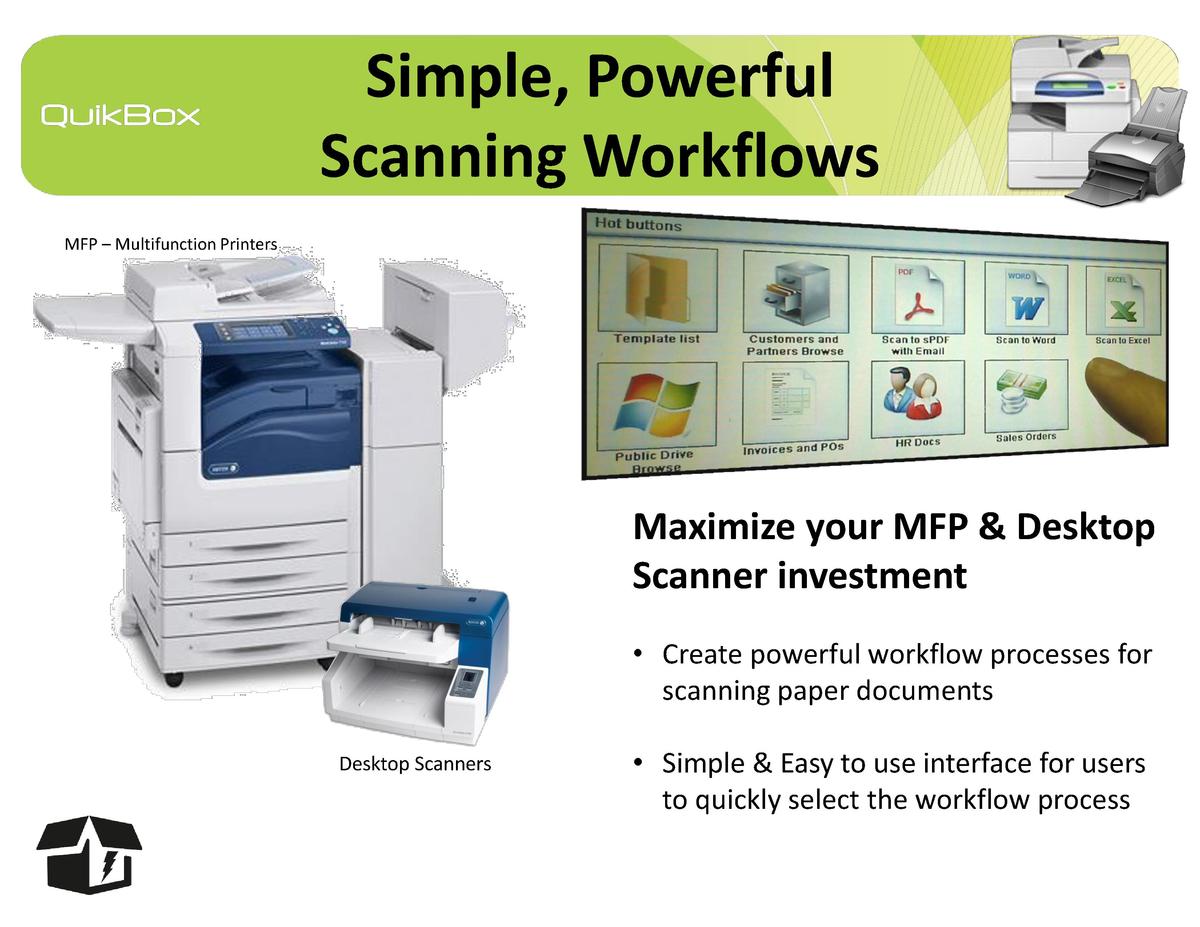 Batch Scan Batch Scanning Separator Page • Save time when scanning multiple documents • Old way - scan one document at a time for each PDF file vs. New way - scan a batch of documents to individual PDFs • Automatically split documents with fixed paged lengths • Automatically split documents with various page lengths using reusable separator pages • Supports large scans – hundreds of pages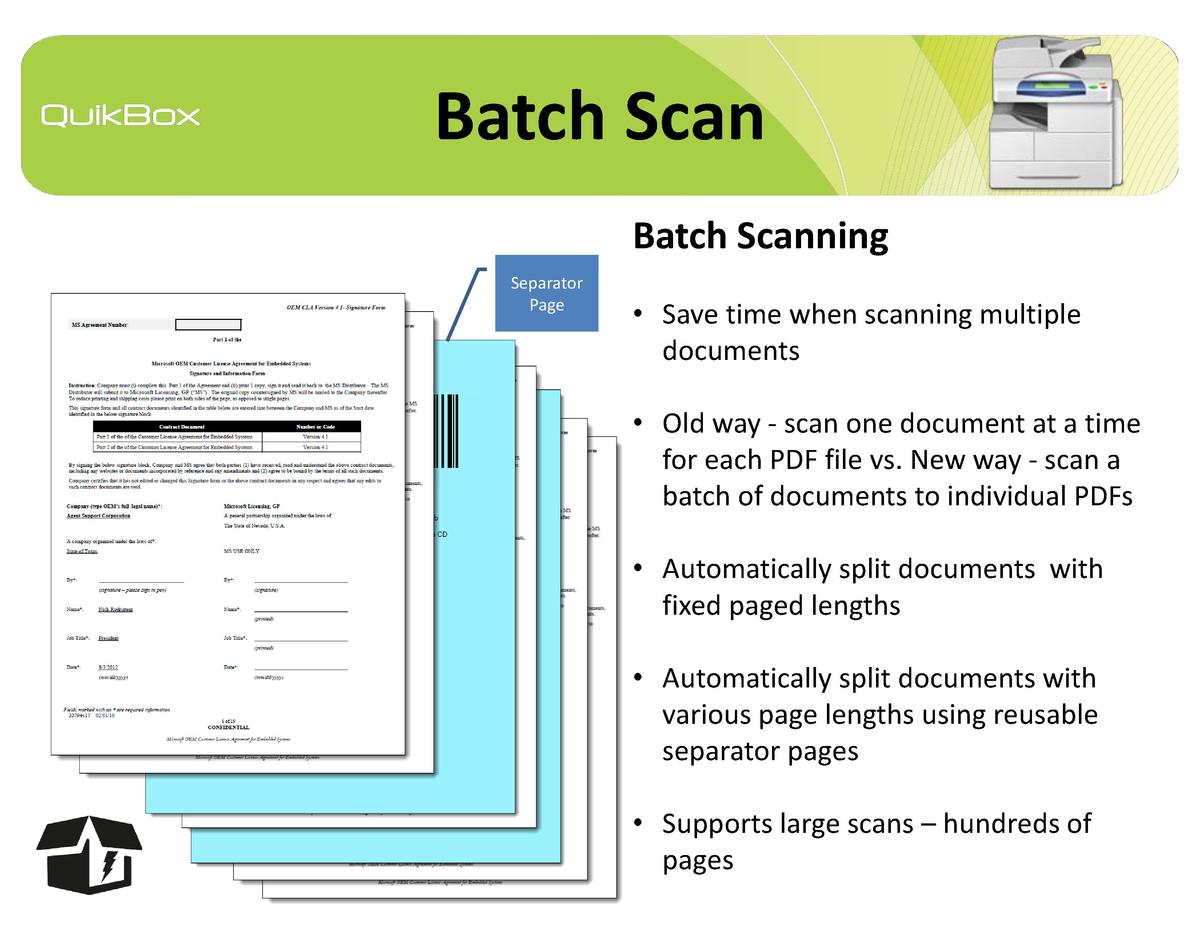 Name Scanned Documents from MFP Name & Index documents before scanning • Automatically prompt users for file name information • Automated file & folder naming using "virtual keyboard", drop-down pick lists, and optional database lookup fields
Scan to Text Searchable PDF Commercial Grade OCR – Optical Character Recognition • Scan directly to text searchable PDF – a must have for archive and retrieval • Much faster than OCR'ing on an MFP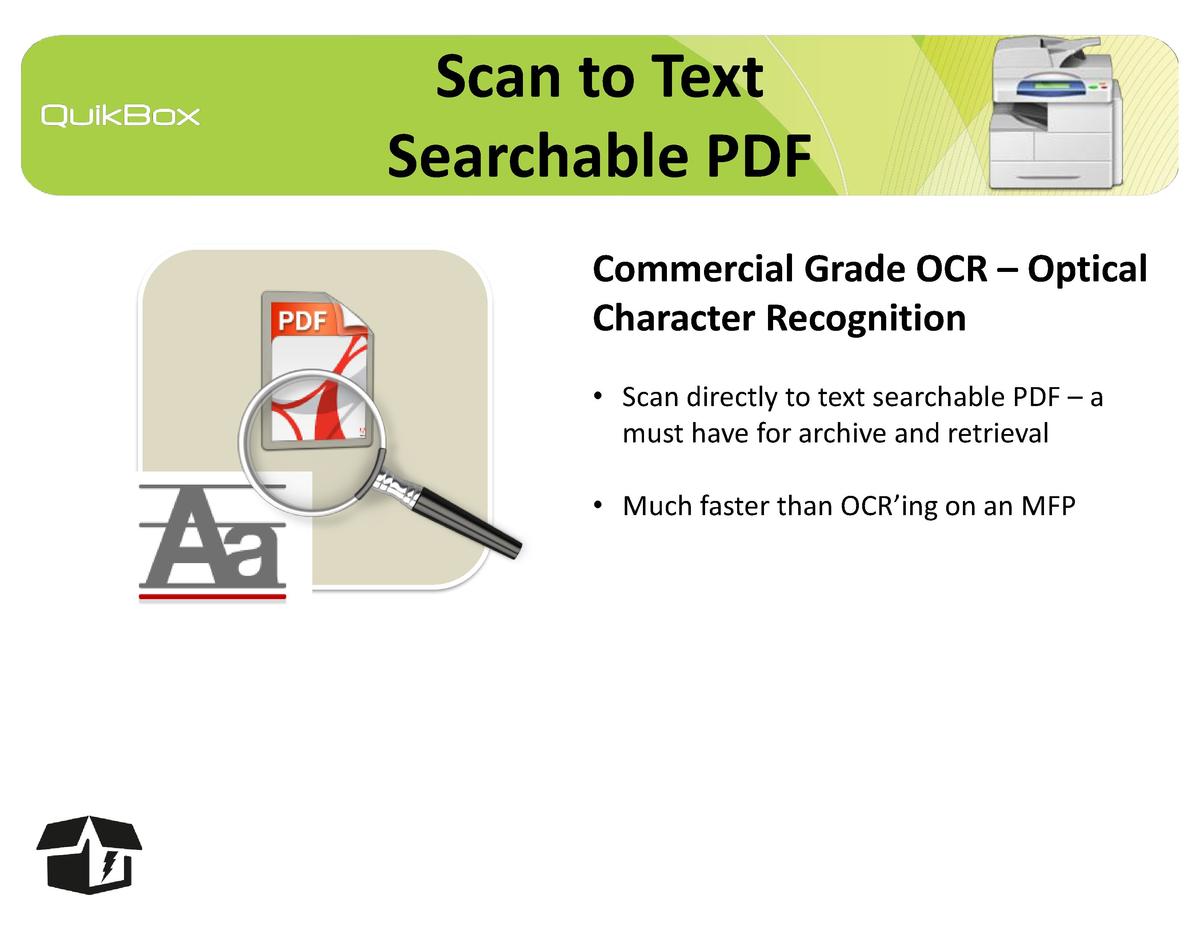 Convert legacy images to Searchable PDFs Convert your legacy image PDFs to text-searchable PDFs • Make all your files searchable • Did you know that one of the largest amounts of disk space used on network share is for non-searchable legacy scans • Search & Convert - simply point to your network shares and let it do the rest • Automatically converts image PDFs to text-searchable PDFs • Great for legacy scans, fax servers, and document management systems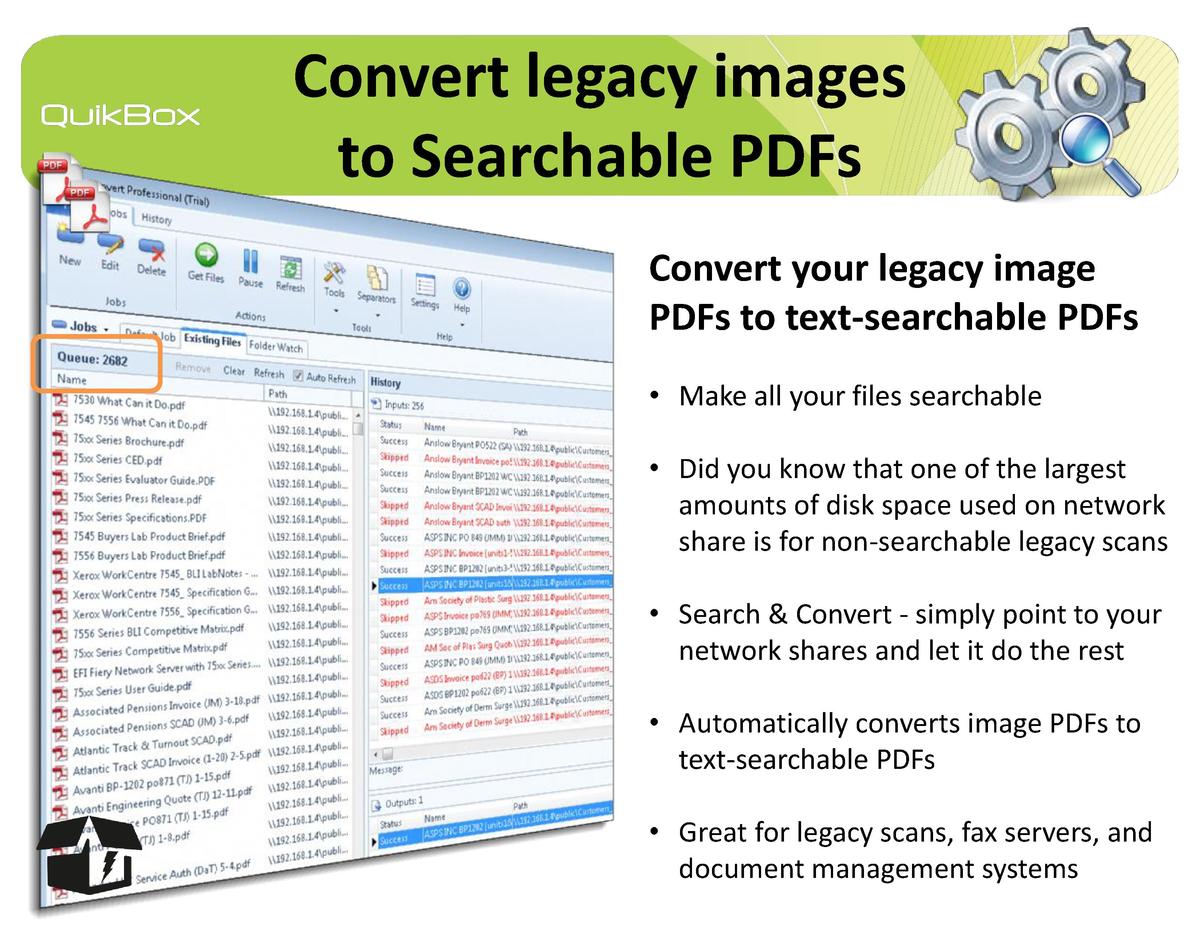 Scan Pack for QuickBooks Save time & cut costs with automated capture for QuickBooks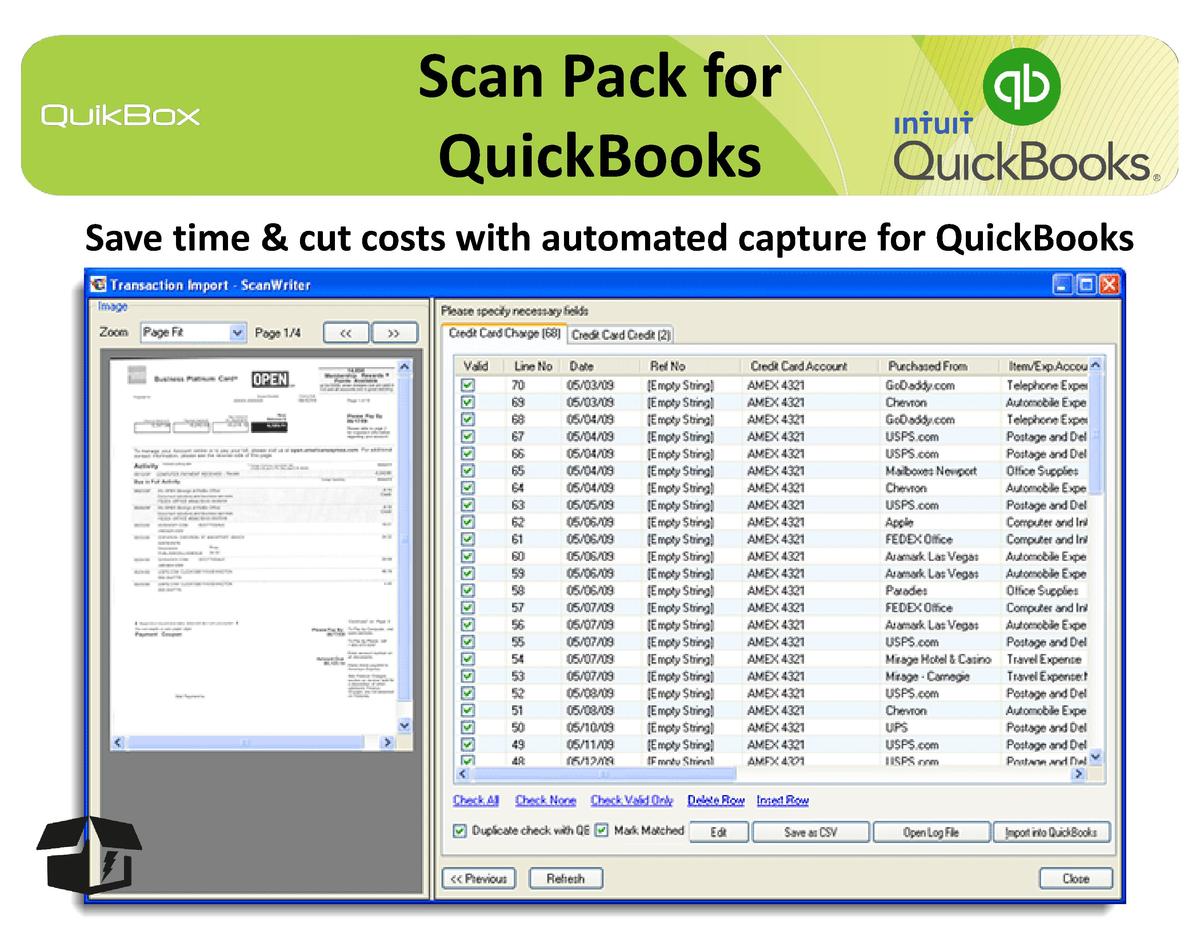 Enterprise Document Search Powerful search for your office & website! • Search your network shares instantly! • Quickly find: o Scanned documents o PDF documents o MS Office documents o Word Perfect documents o and more File Shares • Searches document content, titles & other file properties Web / Intranet Sites Search your Office Docs & Scans Search websites such as intranet sites & competitor sites • Simple & easy to use interface Fast Search Available Search Options: Microsoft SharePoint Microsoft Exchange SuperOffice And more…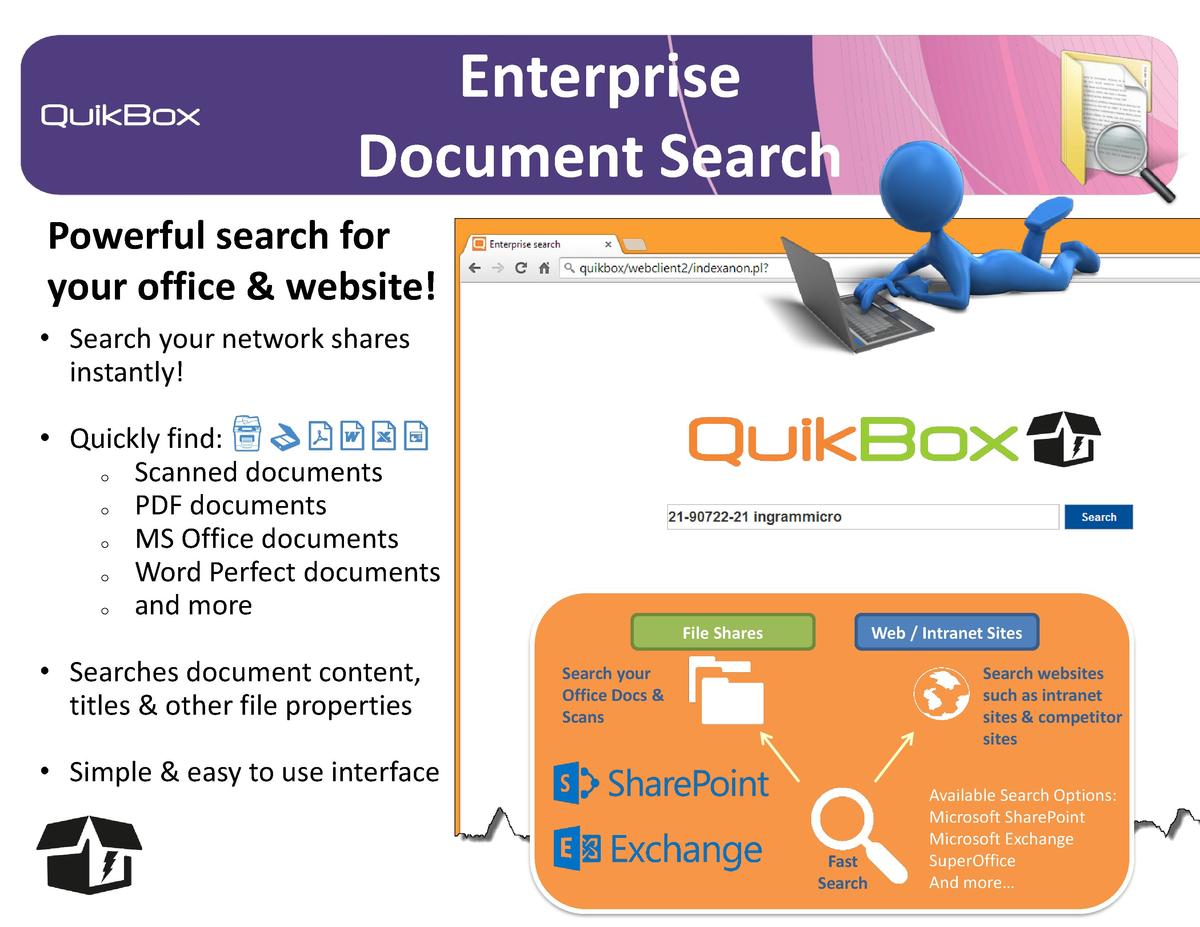 Enterprise Document Search Searches everything instantly! Spend less time looking & more time doing! • Increases productivity & customer service • Easily refine & sort your search results • Friendly search helps – o instant suggestions o spell checking o search stemming Hit Highlighting • Virtually Zero Training Filter your results fast!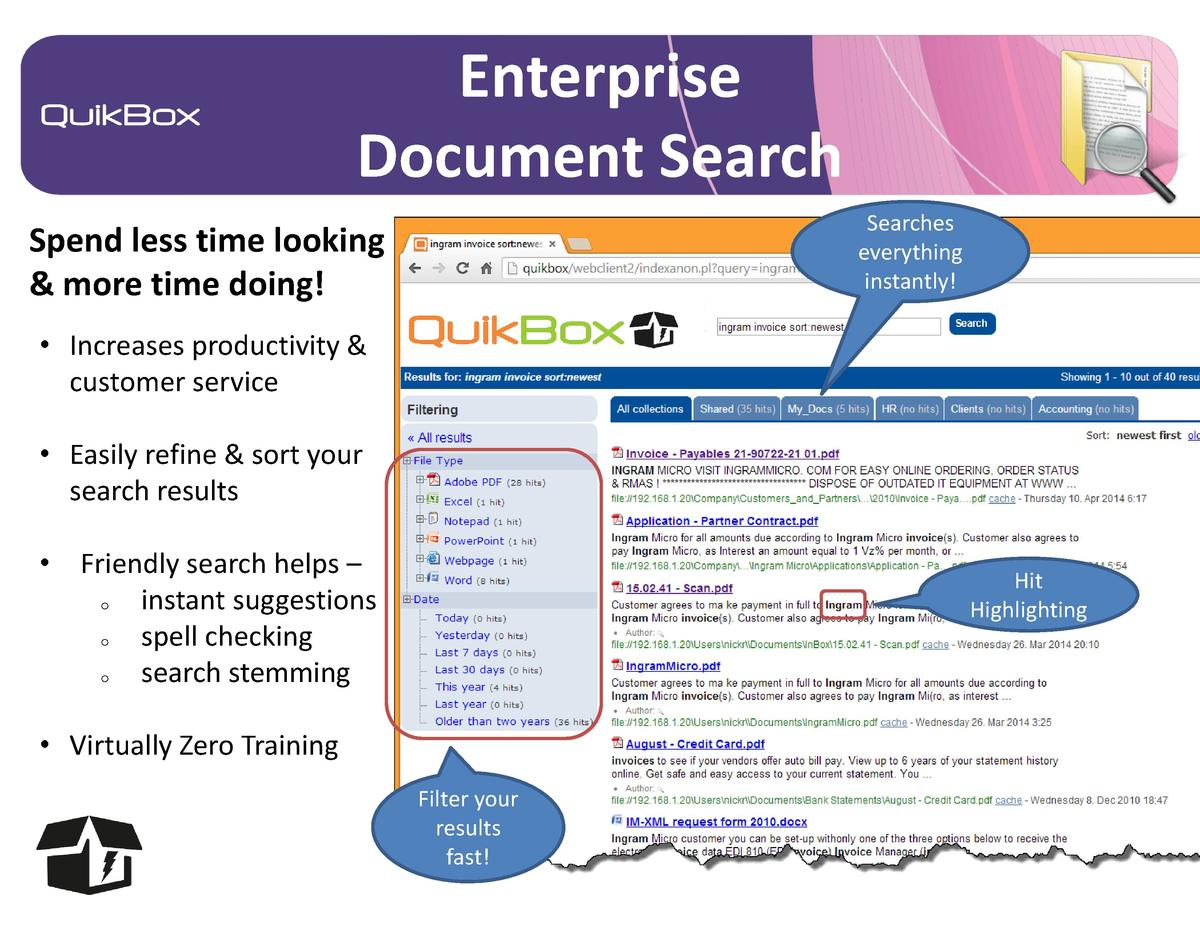 Enterprise Document Search Spend less time looking & more time doing! • Increases productivity & customer service • Great for: o Accounting o Legal o HR, Sales o Customer Service o Engineering o And other knowledge intensive departments & organizations • No document limits! • No desktop software to install Searches the content of your documents, including scans!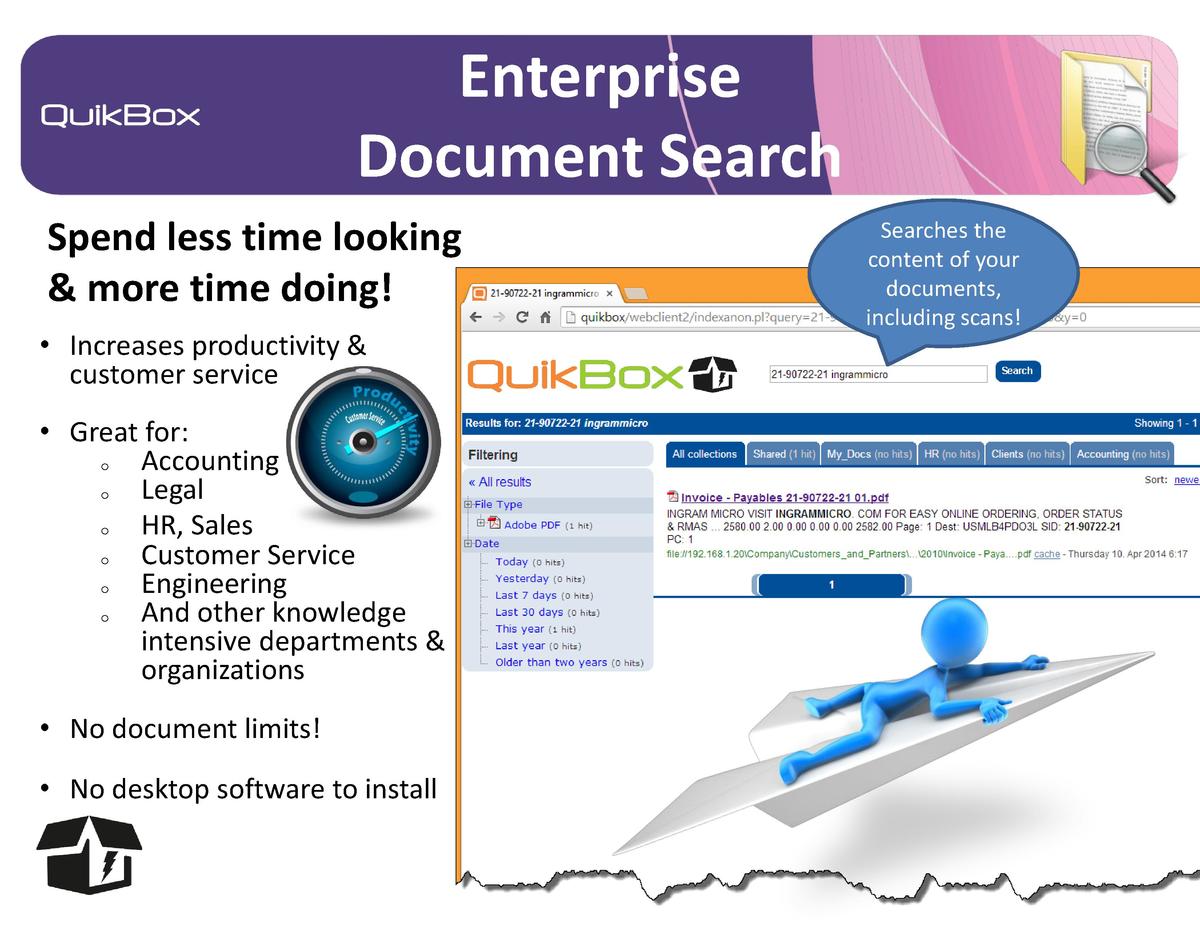 Enterprise Email Search & Archive Search & retrieve emails and attachments by their content - FAST! • Quickly search across all of your mail and archived PSTs • Faster, more accurate results than MS Outlook search • Search for email attachments by searching their content! • Total protection against email data loss – accidental or malicious • Reliable solution for regulatory compliance & eDiscovery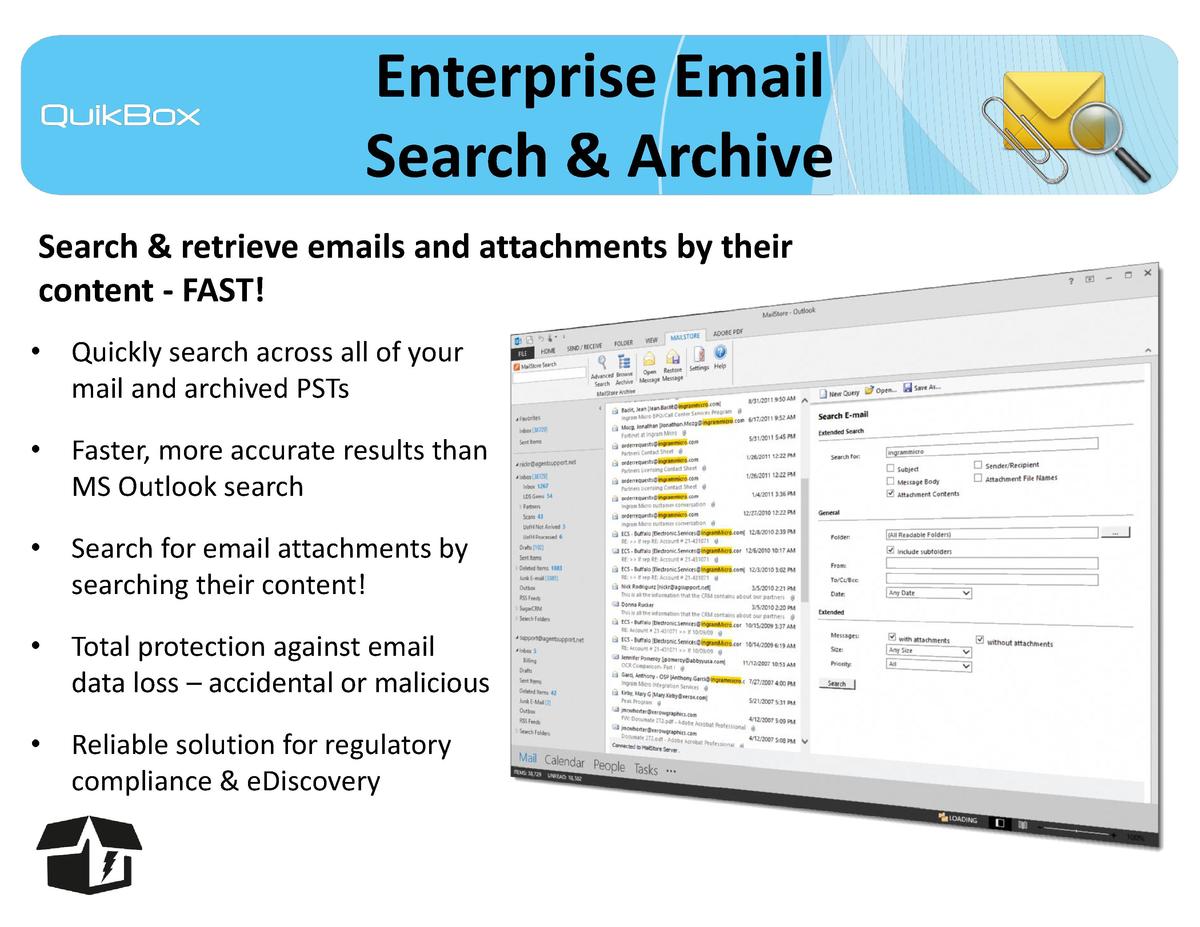 Email Search & Archive Access your archive from anywhere - within Outlook or from your web browser!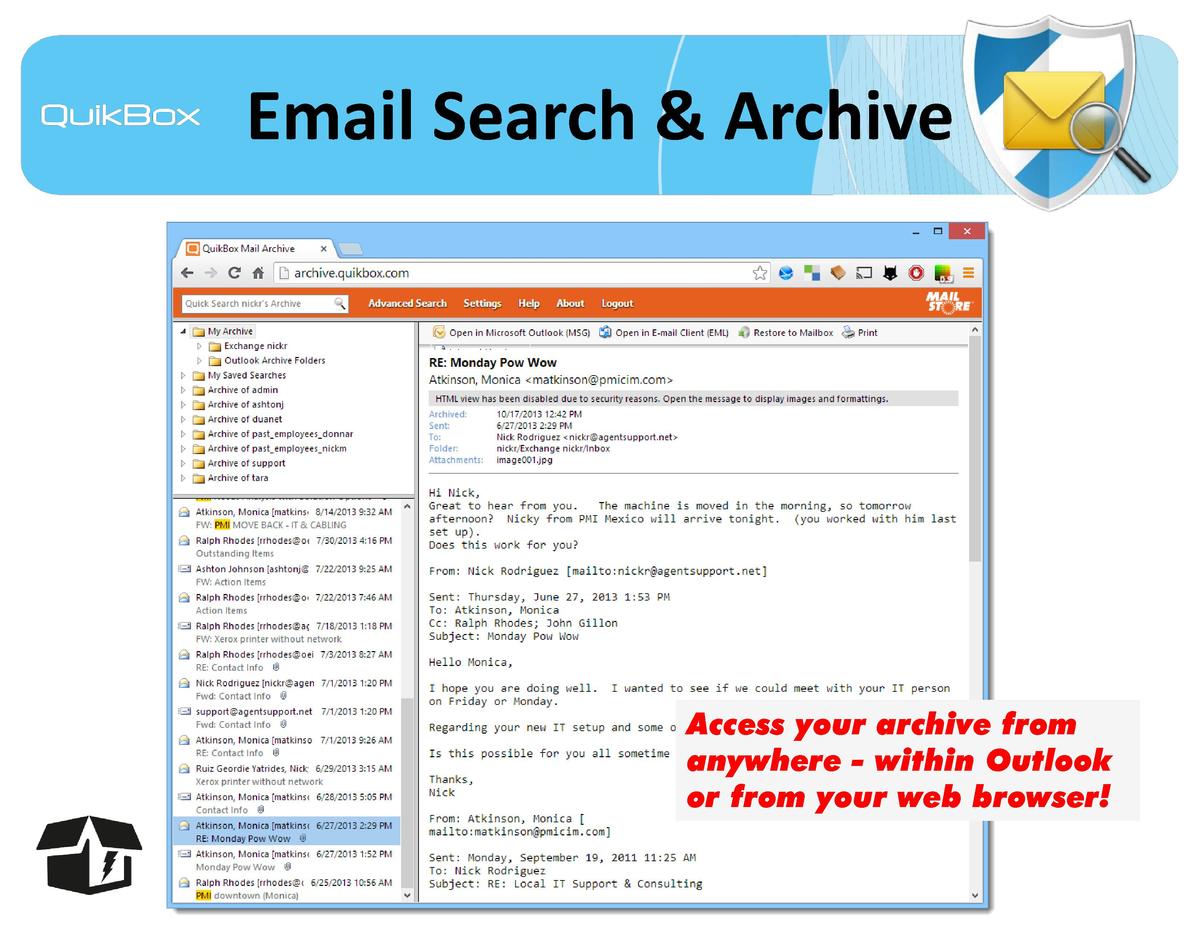 Mobile Printing Mobile Printing at the Office • Print from mobile devices including iPads, iPhones, Android devices, & laptops • Print to virtually any network printer Wi-Fi Printing MFPs and Printers Email to Print Secure Print Guest printing option available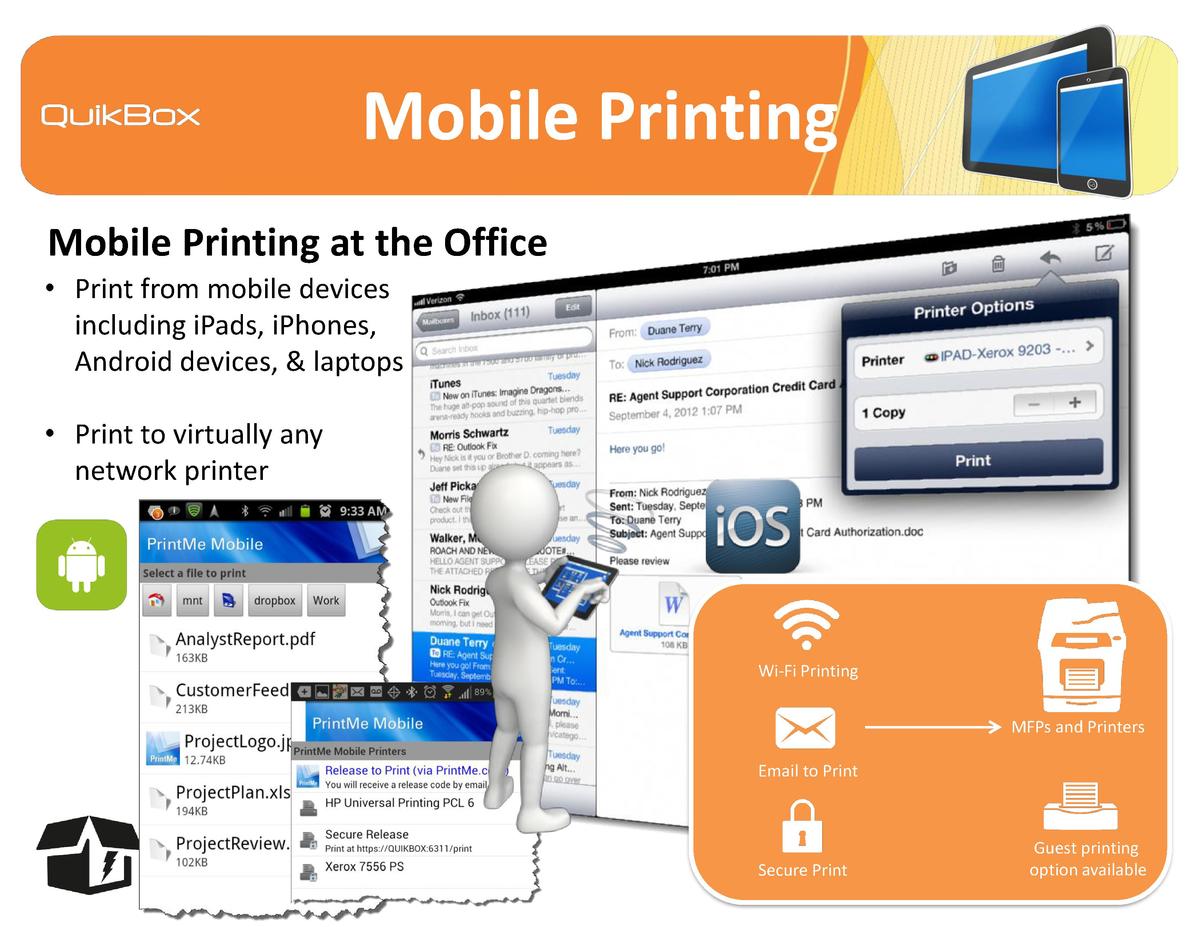 Web File Share Internet File Sharing just got easier! • Share files & folders with anyone - clients, partners & co-workers • No more public cloud services! • No uploading files to a remote server • No limits on storage or download sizes • Share documents from your Intuitive Interface own premise! "Drag and Drop" & "Copy and Paste" features Create a link to any file or folder you want to share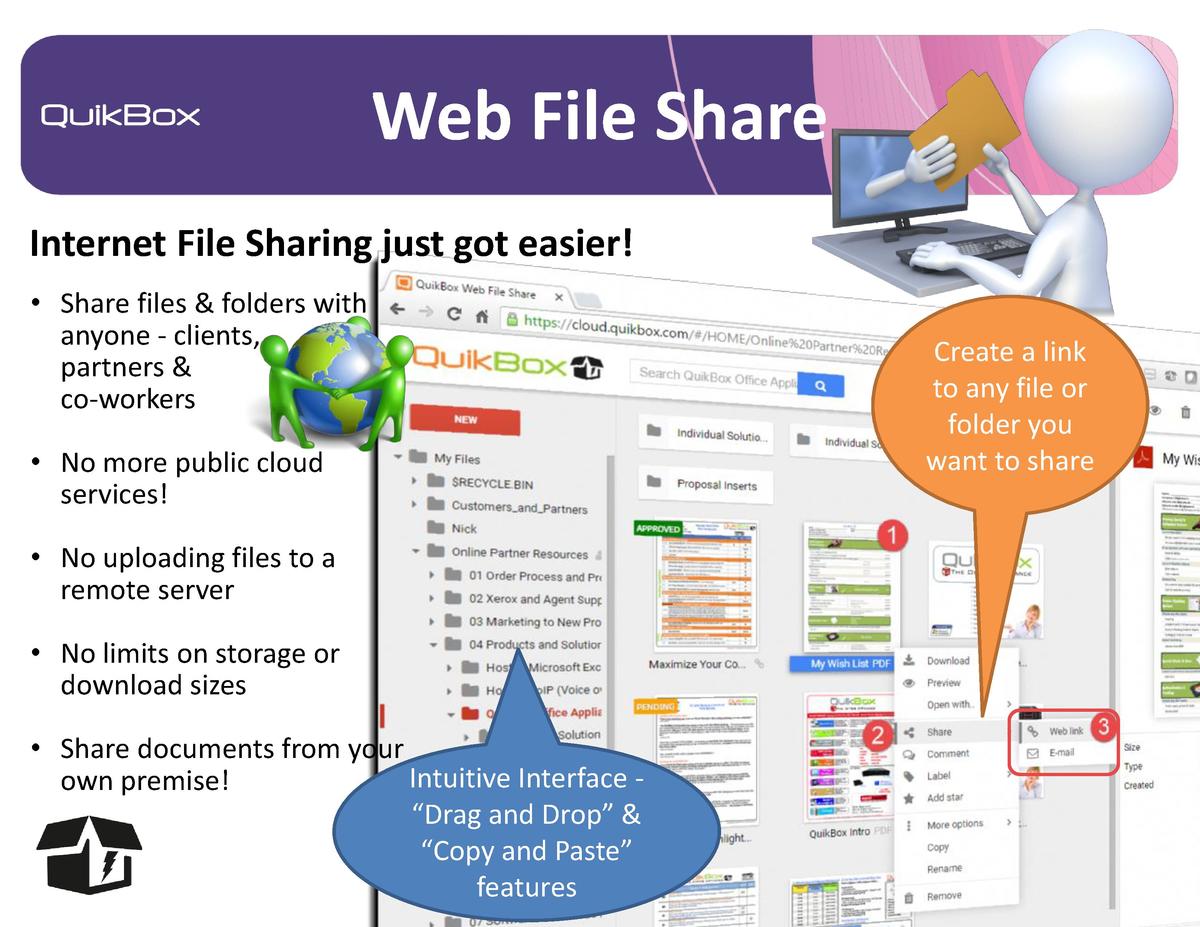 Web File Share Flexible Sharing Capabilities Easy to select security features! Share your file link via Email, LinkedIn, Twitter, Facebook or with a mobile device Get notified on downloads & new version updates!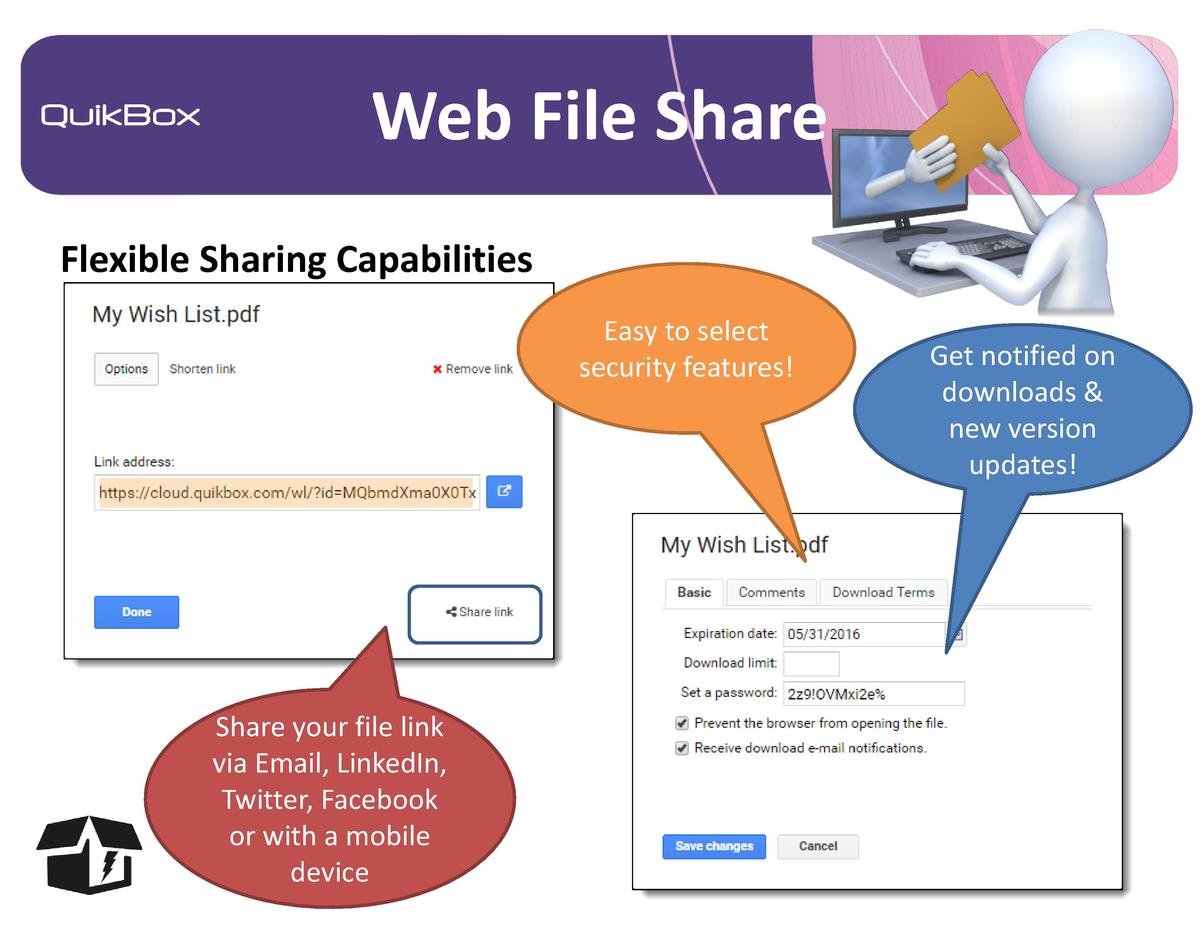 Web File Share Create & add labels to show process updates Built-in Collaboration Tools Add comments to documents View file version history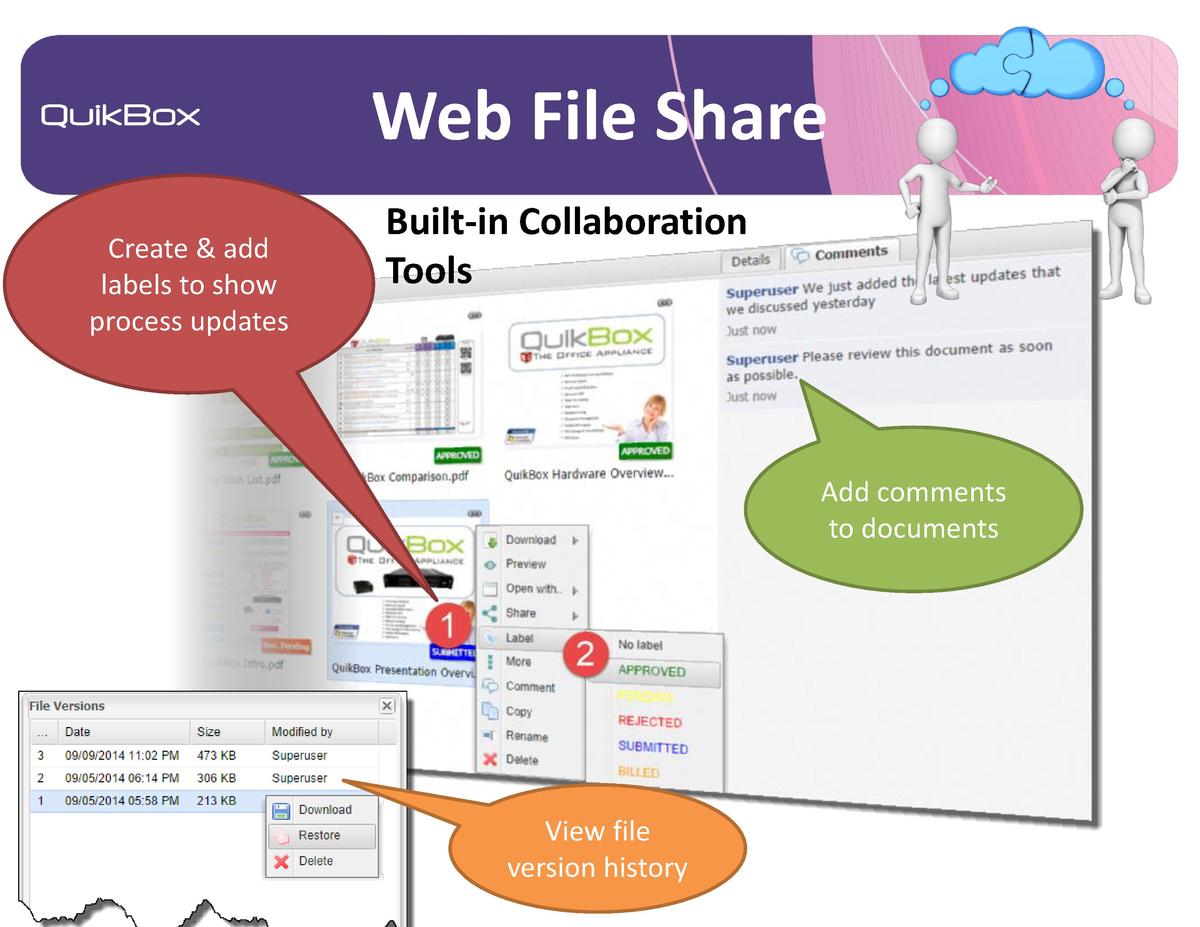 Web File Share Access your company files from your favorite iPad and Android • Optional solution to sync your network files without having to upload them to the cloud • Great for executives and mobile users • Optional digital signing of PDF files from you and your customers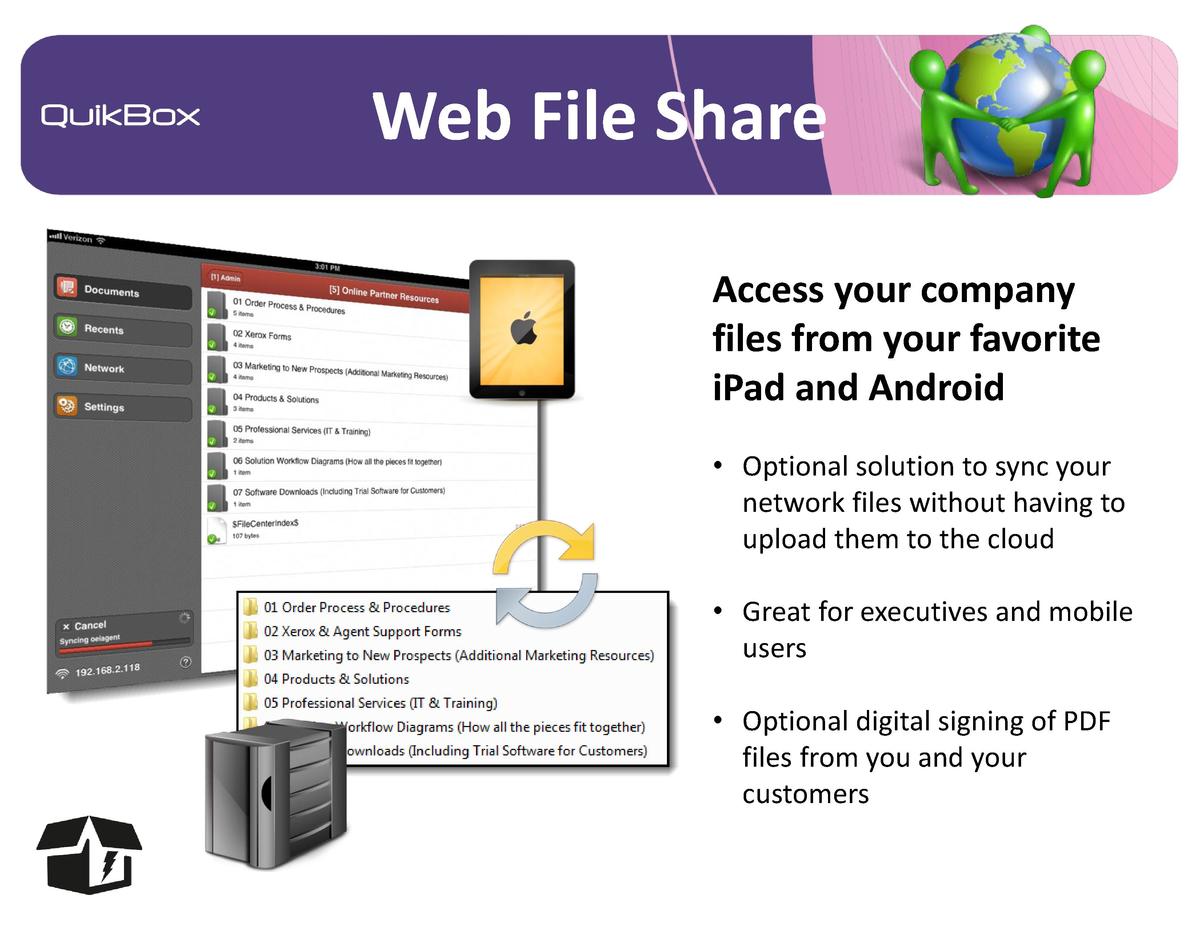 Instant Messaging Stay Connected with the Office, Customers & Partners • Instant & Easy to use! • Real Time Interactive Communication • Better than email – live conversations & reduces mailbox clutter • Can be set up for both inside and outside the office – IM from home & travel • Private instant messaging
Remote Access Work from virtually Anywhere! • Access your computer from home or on the road • Supports all major operating systems • 256-bit AES encryption for accessing your computer • Very user friendly, easier to use than competing solutions After you log in, simply double click on your computer you need to access.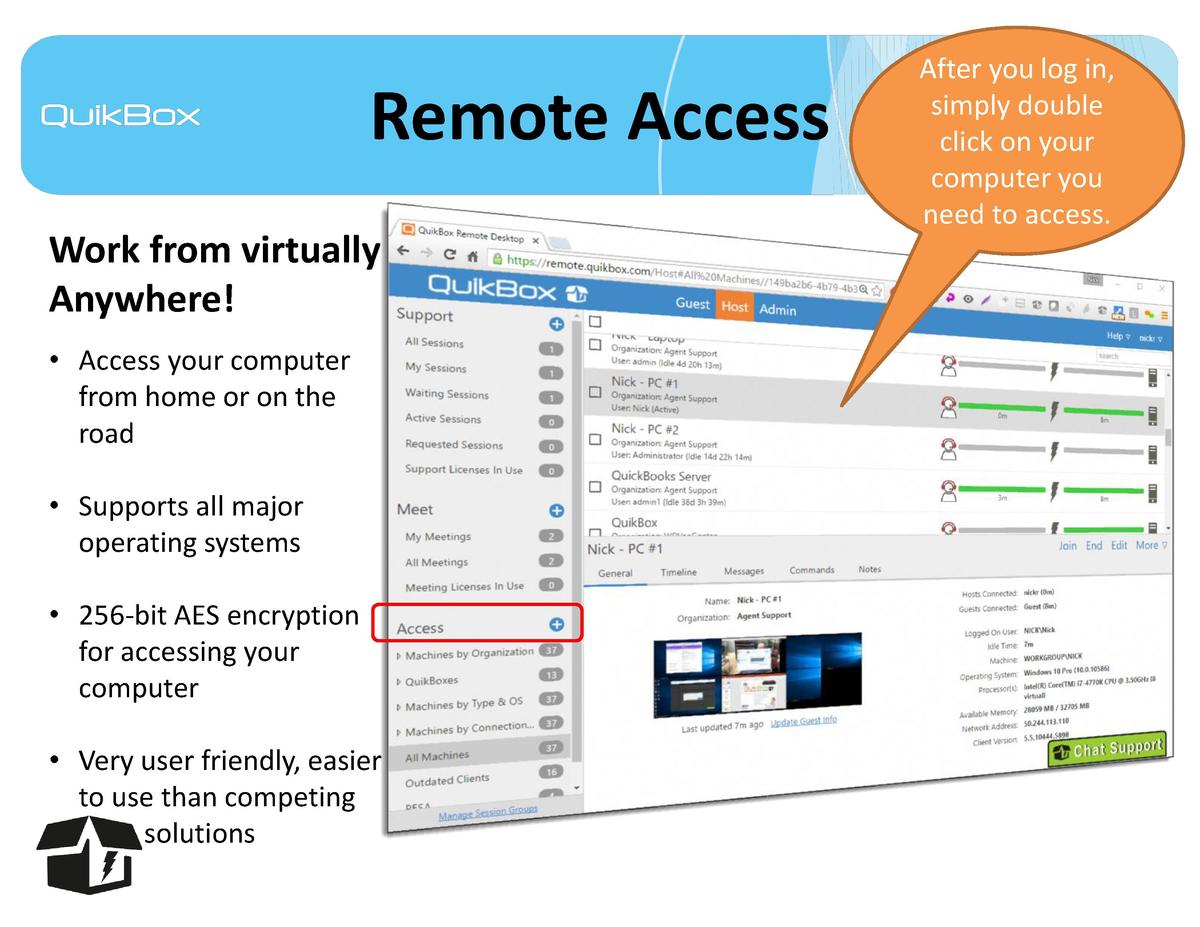 Remote Access Clear display of your desktop! • Work on your desktop as though you were sitting in front of it • Transfer files back and forth • Print remotely • Share your desktop with other users (internal meetings) • Record your screen, blank your desktop, even reboot • your computer Easy to access toolbar with rich functionality!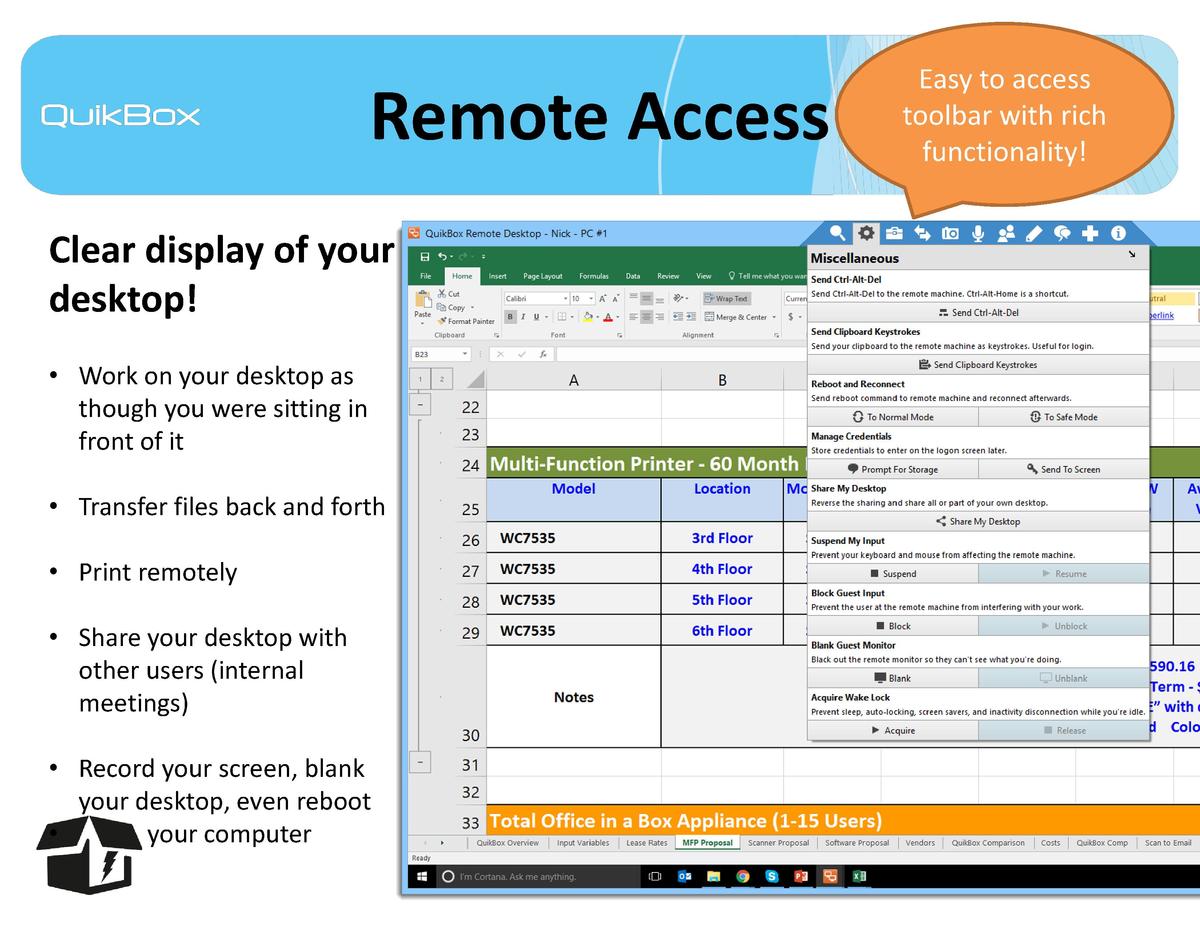 Host Web Meetings Have webinar meetings from your own site! • Share your desktop with other virtually anyone (web meetings) • Extremely easy to setup meetings on the fly • Great for training • and support! Setup public or private meetings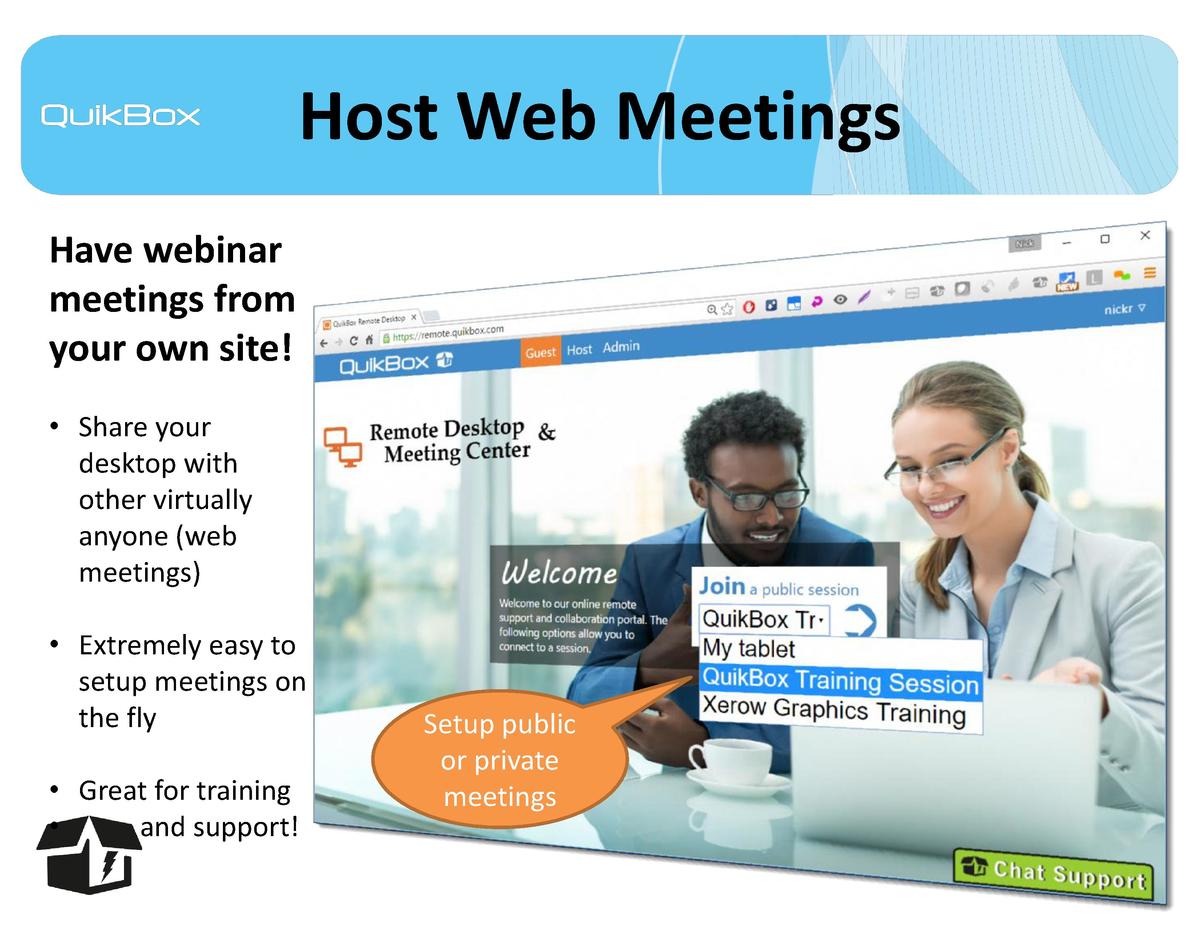 Virtual Desktop Work from virtually Anywhere! • Access your office apps & files from anywhere • Connect using a tablet, home computer, laptop, and more • Easy to use • Alternative to Citrix & MS Remote Desktop Services Home Office Users Windows, MAC, or Linux Desktops & Laptops Your Office Apps & Files • Your private cloud Mobile Users iPad & Android Tablets Laptops & Web Browsers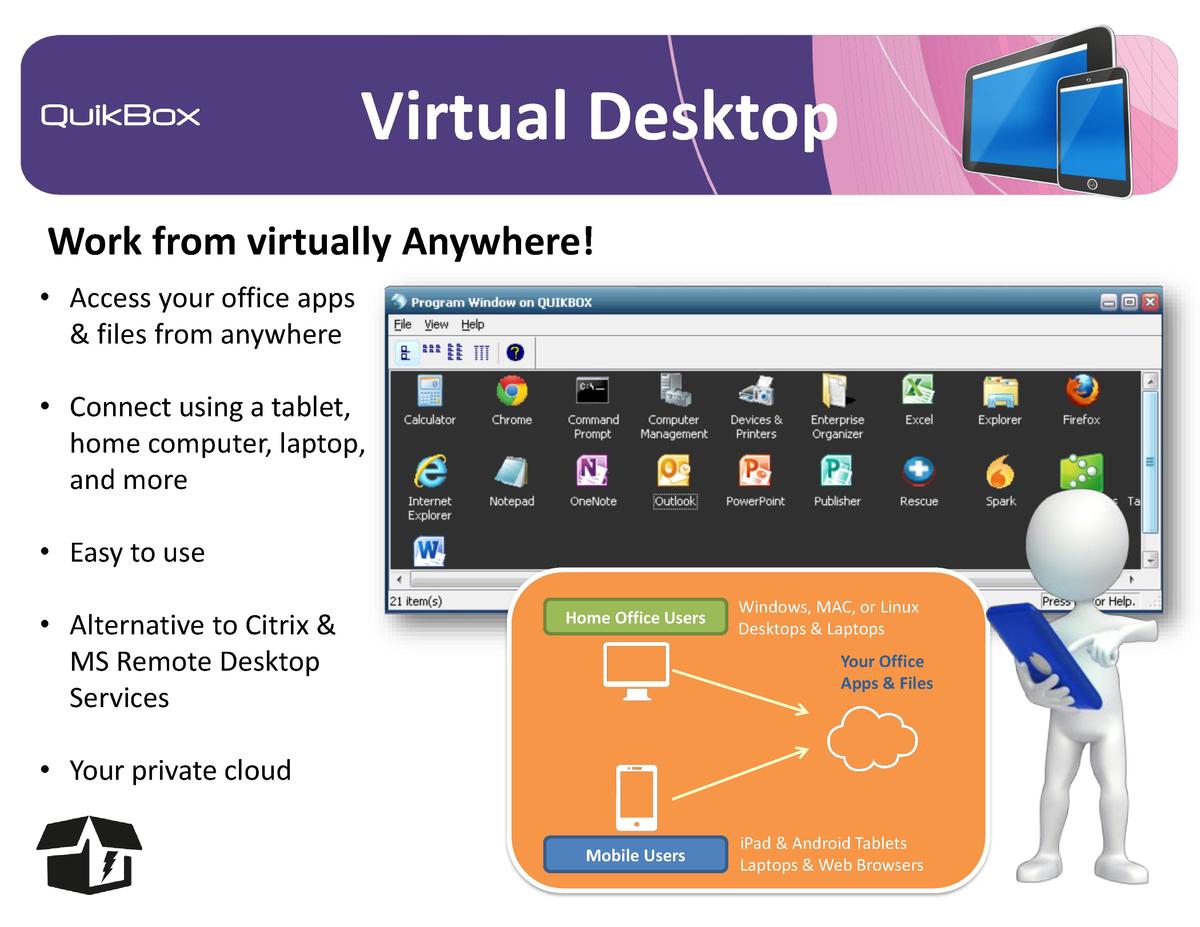 Customer Management Manage your company sales information from one source - CRM • Access your customer information through your browser Keep track of activities, history and notes! • Everyone in the company can now be on the same page • Keep account & contact information up to date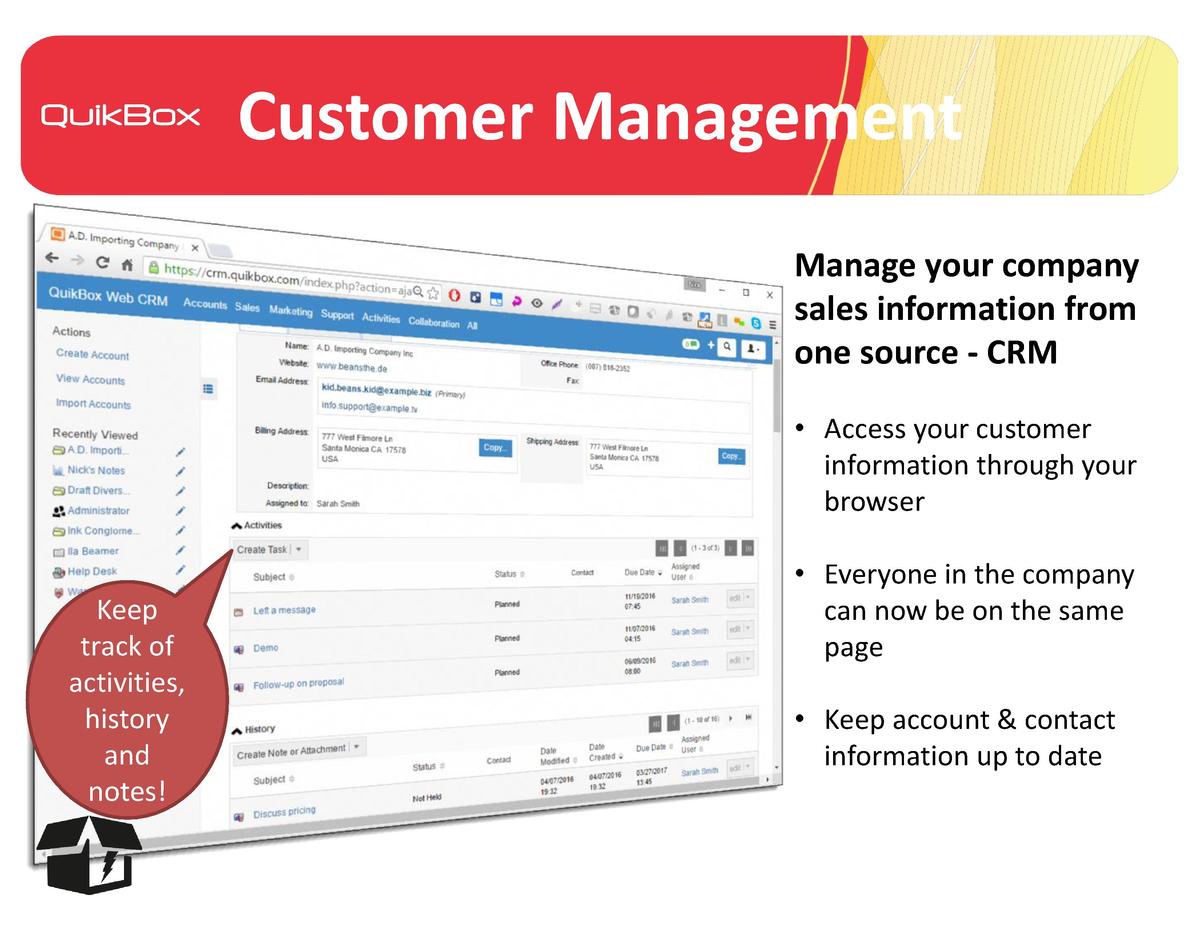 Customer Management Increase your sales efficiency • Powerful report capabilities without programming • Mobile device support – access your contact info from "the field" • Use for marketing to new prospects, handling quotes, sales orders and project management.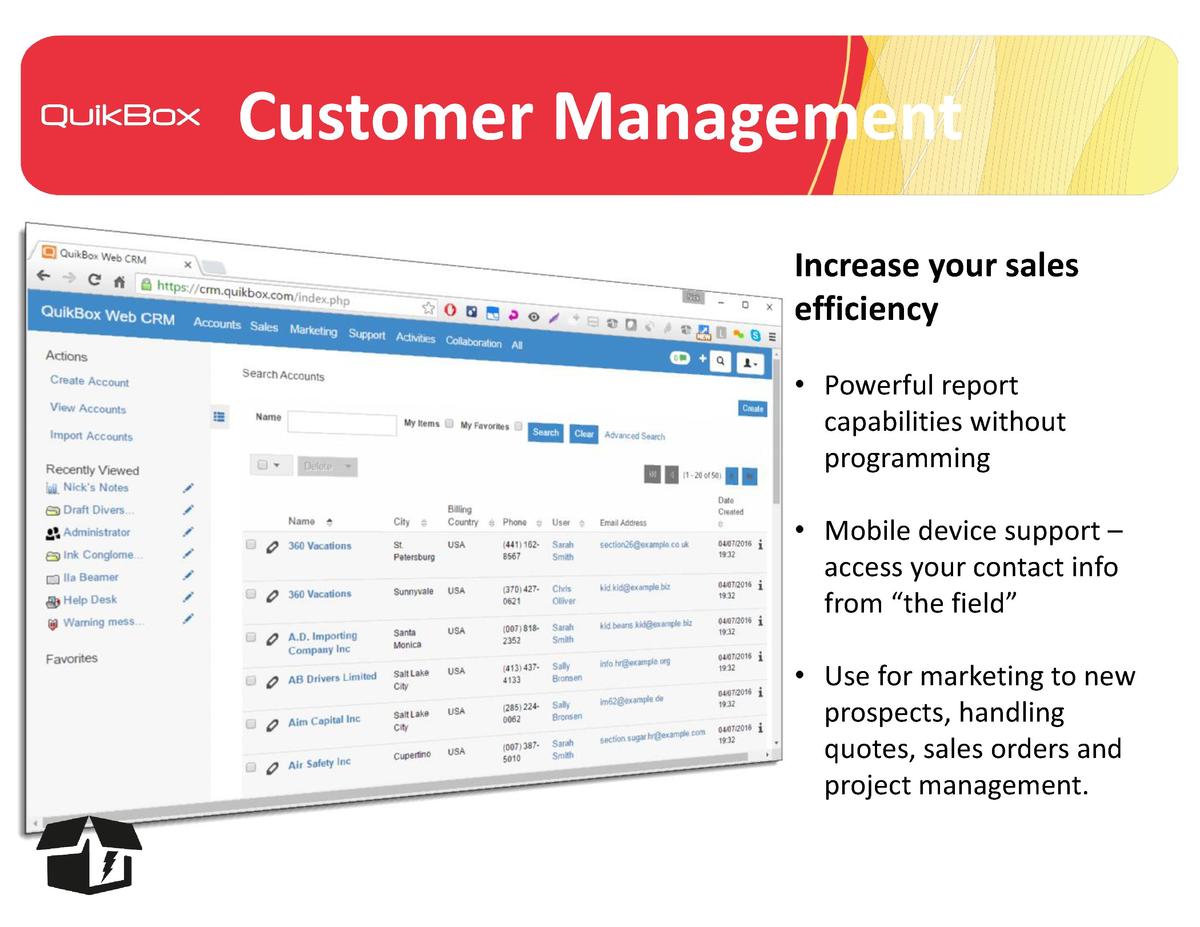 Enterprise Organizer Document Managementorganize, scan & retrieve your information more effectively • Consistent folder organization - create reusable folder layouts that can be applied to any folder i.e. creating new clients or vendors • Quick file browsing - the integrated file previewer provides viewing of files without opening them • Scan more efficiently - batch scan multiple documents that automatically separate into individual PDF documents using special innovative cover sheets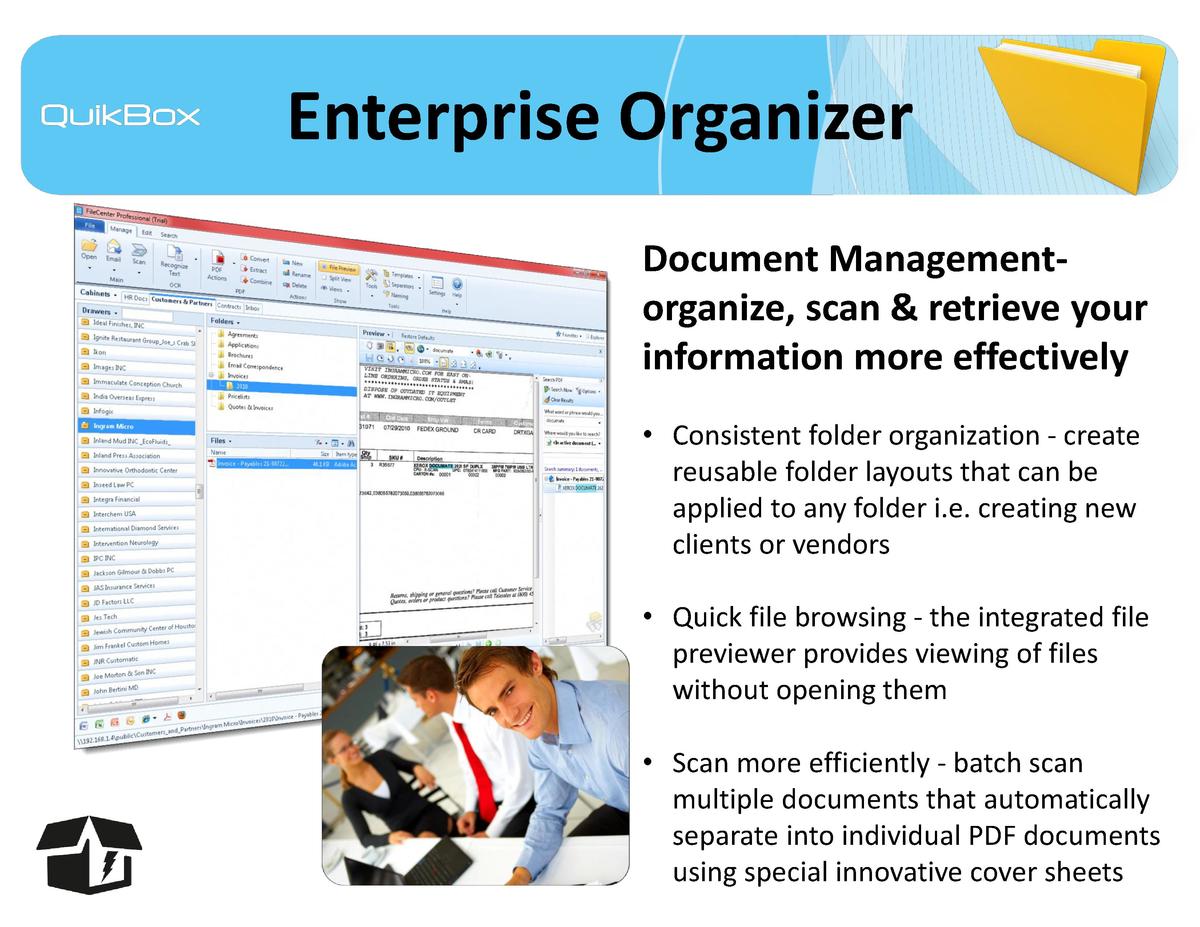 Enterprise Organizer Quickly search across your network and desktop • Finds Outlook emails, Word, Excel, PowerPoint, WordPerfect files and more • Full text search of document content just remember a word or phrase on the document • More powerful than native Windows Search • Share search indexes across the network • Respects existing network permissions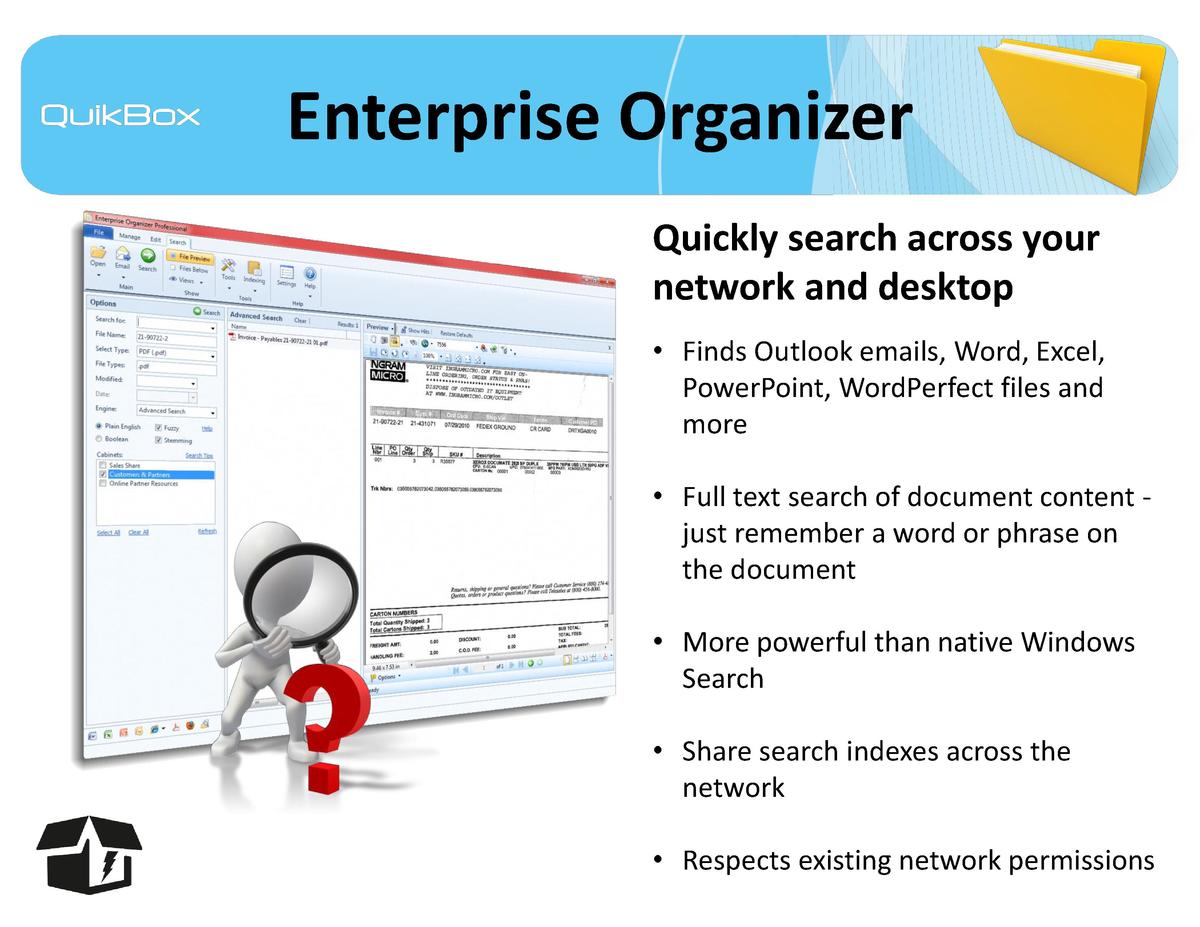 Enterprise Organizer Organize, save & share key email correspondence & attachments to the network • Reduce the amount of "email forwarding" & clutter within the users' inboxes • Quickly & easily saves email and attachments to the network in their native file format • Keep client correspondence with the rest of their files • Reduces mailbox & "Inbox" size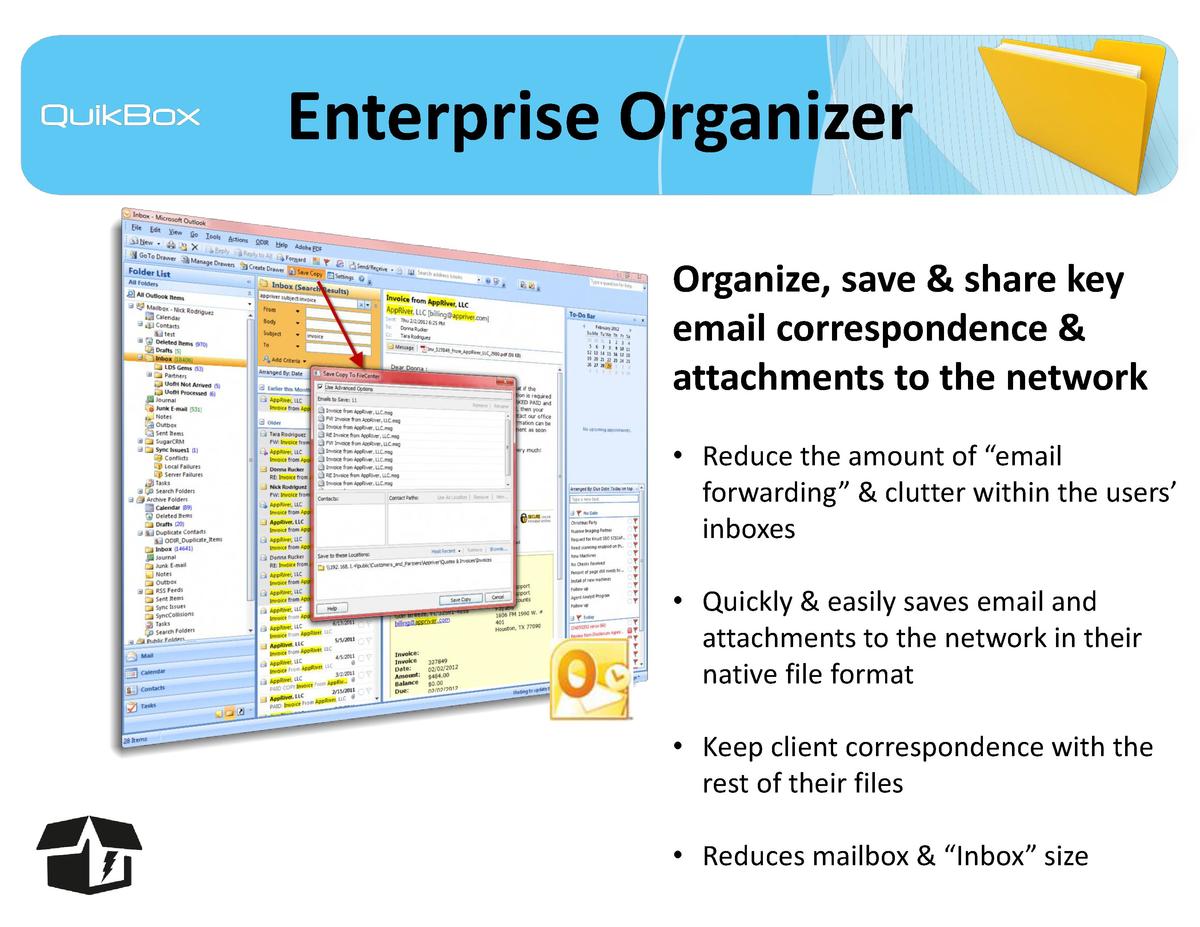 Enterprise Organizer One-click PDF conversion select the file and click "Convert" • Integrated PDF tools - combine multiple files into PDF, extract pages from PDFs, rearrange pages of PDFs by drag & drop • Easy navigation tabs for viewing multiple PDFs • Fill out forms without every having to print them - with or without fillable fields • Markup, comment & annotate your PDFs